In honor of the release of Red (Taylor's Version), I'm showing you how to copy Taylor Swift's street style.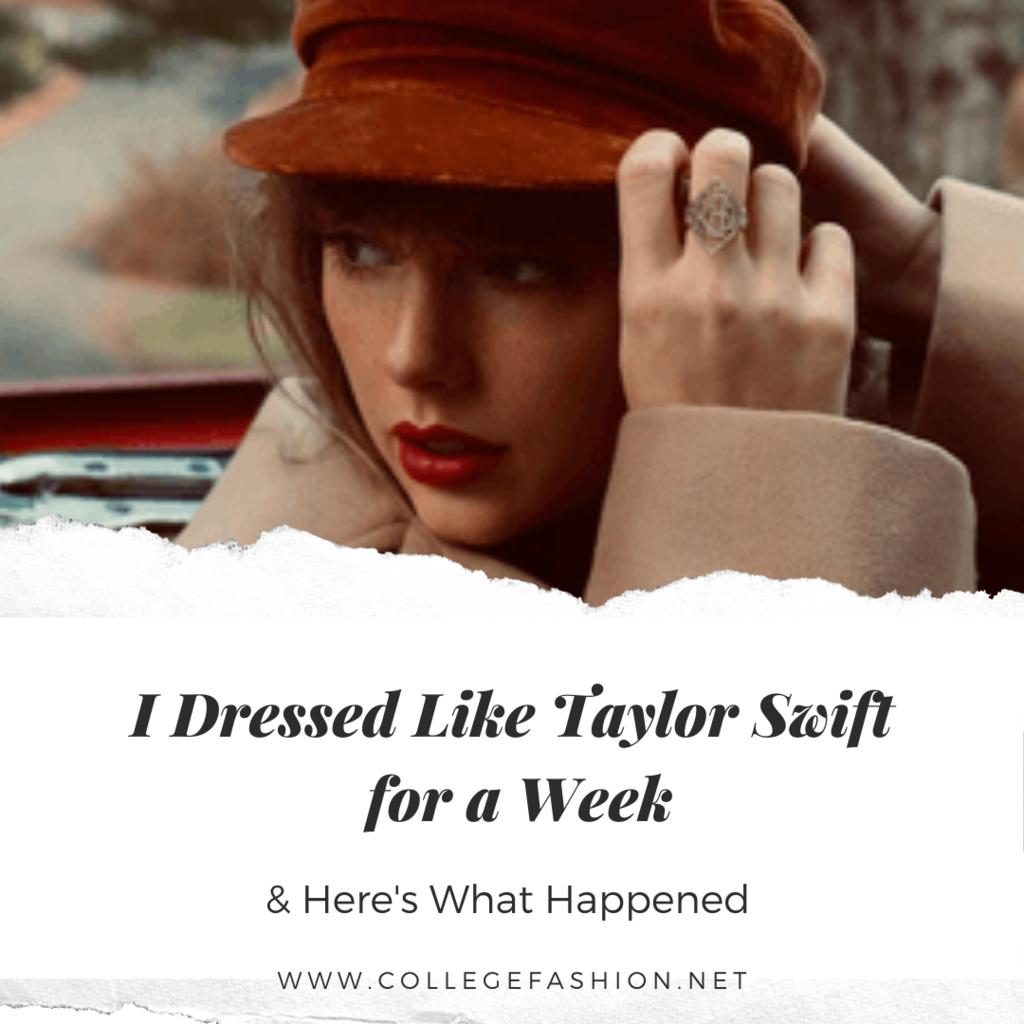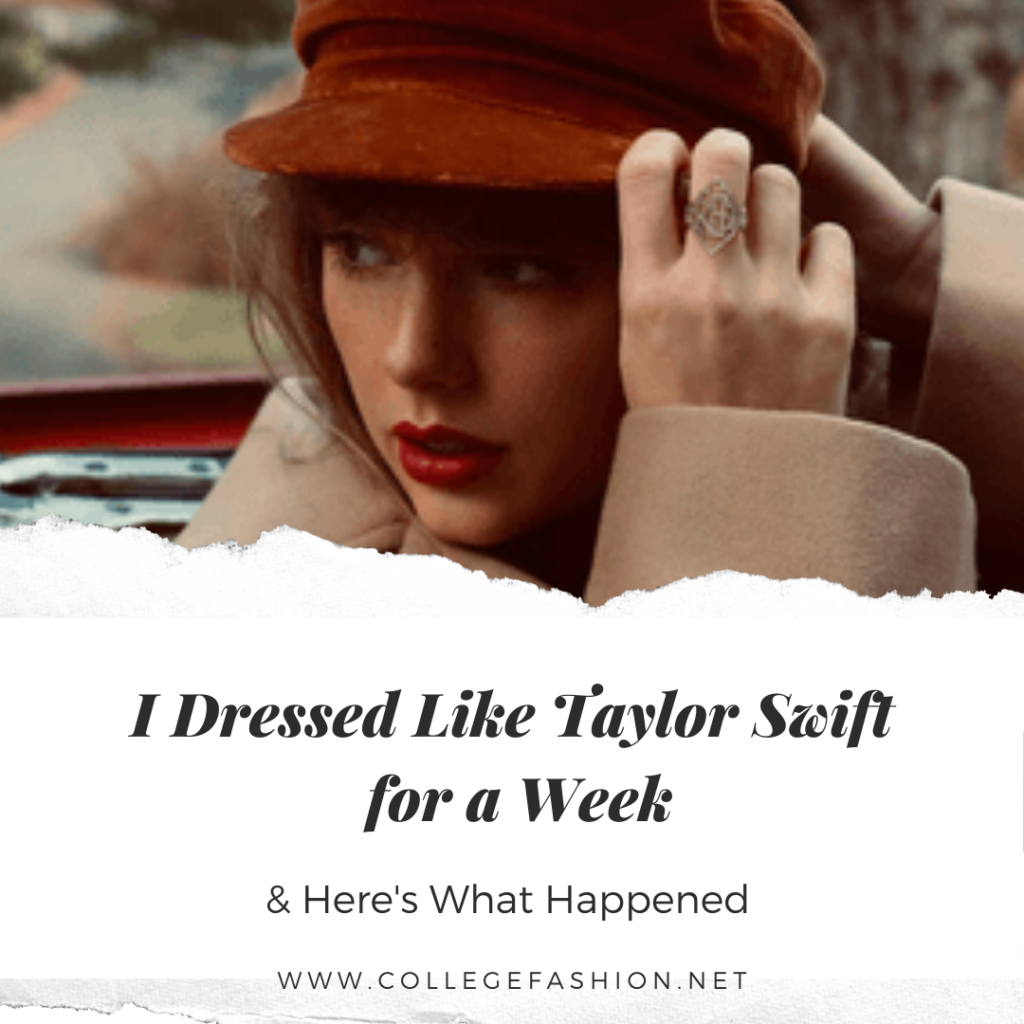 We've all looked to celebrity style for fashion inspiration at some point in our lives. But it's one thing to say "I love her outfit," and it's another to actually copy it in real life.
For this series, I'm going the extra mile and making it happen. Each week, I'm getting inspiration from a celebrity and copying five of her looks as closely as possible. Then, I'm reporting back to you: Did the outfits work in real life? Did I feel comfortable? Did people treat me differently? I'm sharing it all.
In past posts I've covered the style of these celebrities: Zendaya, Gigi Hadid, Grace Kelly, Kendall Jenner, Vanessa Hudgens, Sophie Turner, Priyanka Chopra, Millie Bobby Brown, Hilary Duff, Lily Collins, Taylor Swift Part 1 and Part 2, Selena Gomez, Alexa Chung, Queer Eye's Fab 5, Lucy Hale, Dakota Johnson, Hailey Bieber, Kaia Gerber, Nina Dobrev and Olivia Rodrigo.
I've also covered the style of certain iconic TV and movie characters: Iconic Halloween Characters Part 1, 2 & 3, Iconic Christmas Characters Part 1 & 2, Rachel Green Part 1 and 2, Monica Geller, Little Women's Characters, Gilmore Girls' Characters Part 1 and 2, Iconic Olsen Twins' Movies, Winx Club Characters, Bridgerton Characters, W.I.T.C.H Characters, Power Rangers' Characters, Wanda Maximoff, Disney Characters, Clue Characters, Gossip Girl Characters and Veronica Mars.
This week, in honor of the release of Red (Taylor's Version), I'm dressing like Taylor herself for a week. Here's how it went!
About Taylor's Re-Recordings
After Taylor Swift left Big Machine in 2018, she wanted to either buy her master recordings or the record label itself. Big Machine wanted her to sign another six album contract that would transfer the masters to her slowly over time and never offered Taylor the chance to buy them outright.
Knowing that Republic Records (her current label) would at least give her ownership of her future work, she signed with them and moved on. Then, Big Machine's CEO Scott Borchetta sold the label to Ithaca Holdings, Scooter Braun's company. Braun is a former manager and friend of Kanye West, resulting in a man she doesn't like and who doesn't like her, owning eleven years of her work. While she was angry about this, she decided to re-record her songs later in 2020 to get them back.
Taylor took up the challenge to rerecord all six albums after declining to become an equity partner with Shamrock Records after Braun sold her back-catalogue to the firm. As of late 2020, Taylor has begun re-recording her first five albums: Debut, Fearless, Speak Now, Red, and 1989. (Reputation isn't eligible to re-record yet, but it will probably be at the end of 2022.)
I've seen a lot of confusion about this, so let me clarify: every re-recording is as similar as possible to the original version, that's the whole purpose of them. But each album includes previously un-released songs and new collaborations with other artists, like Phoebe Bridgers.
The first of her previous albums to be released this way was Fearless (Taylor's Version) and it was released this past April. Her latest is Red (Taylor's Version), which was just released on November 12, 2021.
Related reading: What to Wear to Taylor Swift's "The Eras" Tour
About Red (Taylor's Version)
Last week, the second of these re-recordings was released: Red (Taylor's Version). Red was, easily, the most popular album among her fans and critics before folklore and evermore came into the picture.
Naturally, when she announced her plans to re-record all her previous albums, Red was the most anticipated album by fans.
The new version of Red has the deluxe tracklist and fan-favorite 'Ronan' (21 songs) and 9 songs "From the Vault".
Songs "From the Vault" are tracks that had been written for Red that didn't make it onto the original album. Yes, that includes the 10 minute version of 'All Too Well'. Aside from the original collabs with Gary Lightbody in 'The Last Time' and Ed Sheeran in 'Everything Has Changed', there are new featured artists. Sheeran reappears on the track 'Run', Phoebe Bridgers features on 'Nothing New,' and Chris Stapleton is on 'I Bet You Think About Me'.
Even better, Taylor also made a short film to accompany the album's release, "All Too Well: A Short Film". It stars Sadie Sink, Dylan O'Brian, and Taylor Swift. It was directed by Taylor herself and it's a masterpiece. There was even a movie premiere for it on Friday.
She also released a surprise music video for I Bet You Think About Me on Monday. The video was directed by Blake Lively (Yes, Serena van der Woodsen herself) and it was written by Swift and Lively. It stars Miles Teller, his wife Keleigh Sperrey, and Taylor Swift.
About Taylor Swift's Street Style
Taylor's street style is pretty versatile. The reason for this is that she uses her own outfits, nail polish and hairstyles as Easter-eggs for her fans and as a promotional tool for her albums.
Her preferred color scheme, most seen items, types of looks, and her go-to accessories and makeup vary a lot. It depends on what she's promoting or working on at any given time.
Because of this, you can find Taylor's version (pun not intended) of almost any type of style.
With Taylor in mind, you can find inspiration for country princess (Debut, Fearless (TV) & Speak Now), vintage preppy (Red (TV) & 1989), ultra-girly with a modern twist (Lover), edgy street-style (reputation), cottage core (folklore) and dark academia (evermore), just to name a few.
(In case you're interested in the styles from those eras, we have fashion guides for specific albums here: reputation, Lover, folklore, and evermore.)
For my past Taylor Swift inspired posts, I took inspiration from the general aesthetic of her albums without recreating *actual* looks of Taylor's. (If you want to read them, here's Part 1 and here's Part 2.)
For this post, I chose five Taylor Swift street style outfits, which I've seen either on Instagram, Tik Tok, or in regular street style pics.
And before you ask, we have a separate post on the outfits from All Too Well: The Short Film. Check it out for all the looks from the amazing video! And I also did a post on Taylor's outfits from Midnights Mayhem with Me, in case that's of interest.
Taylor Swift's Makeup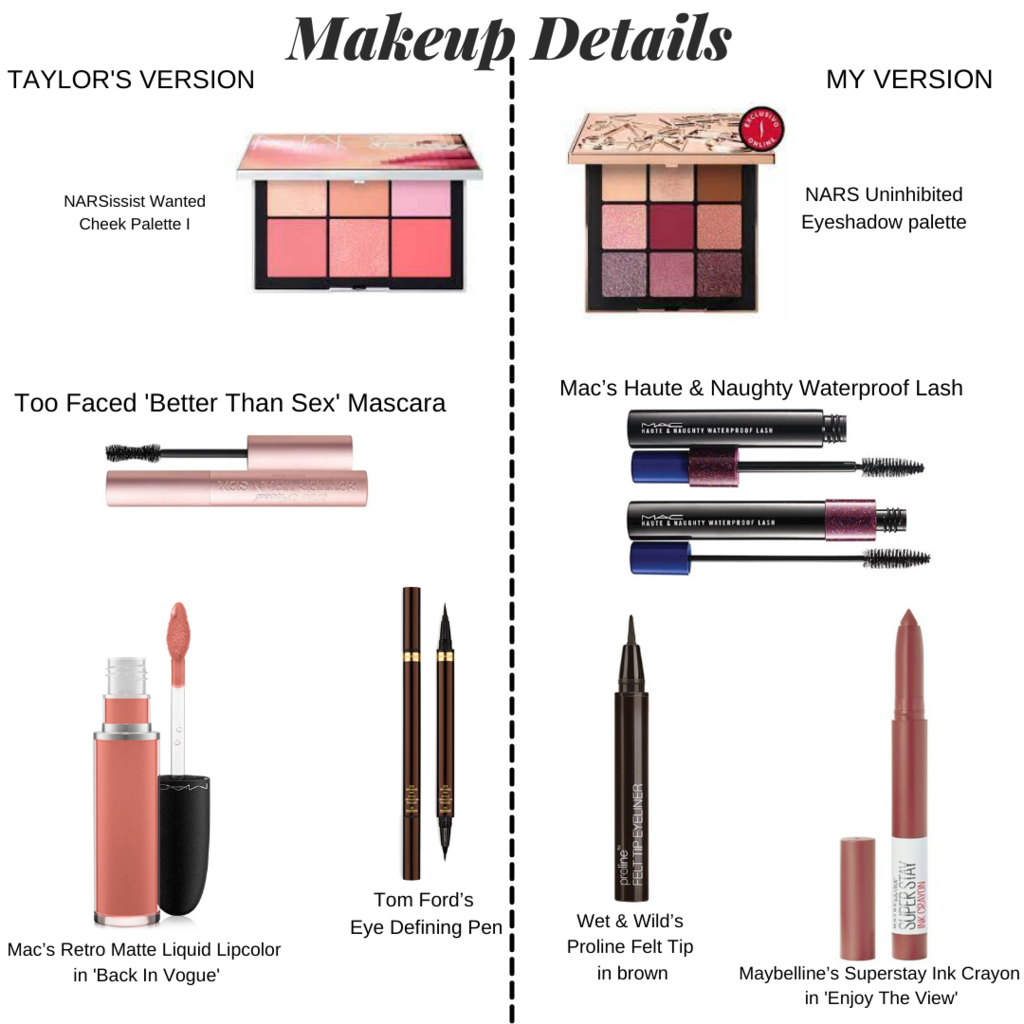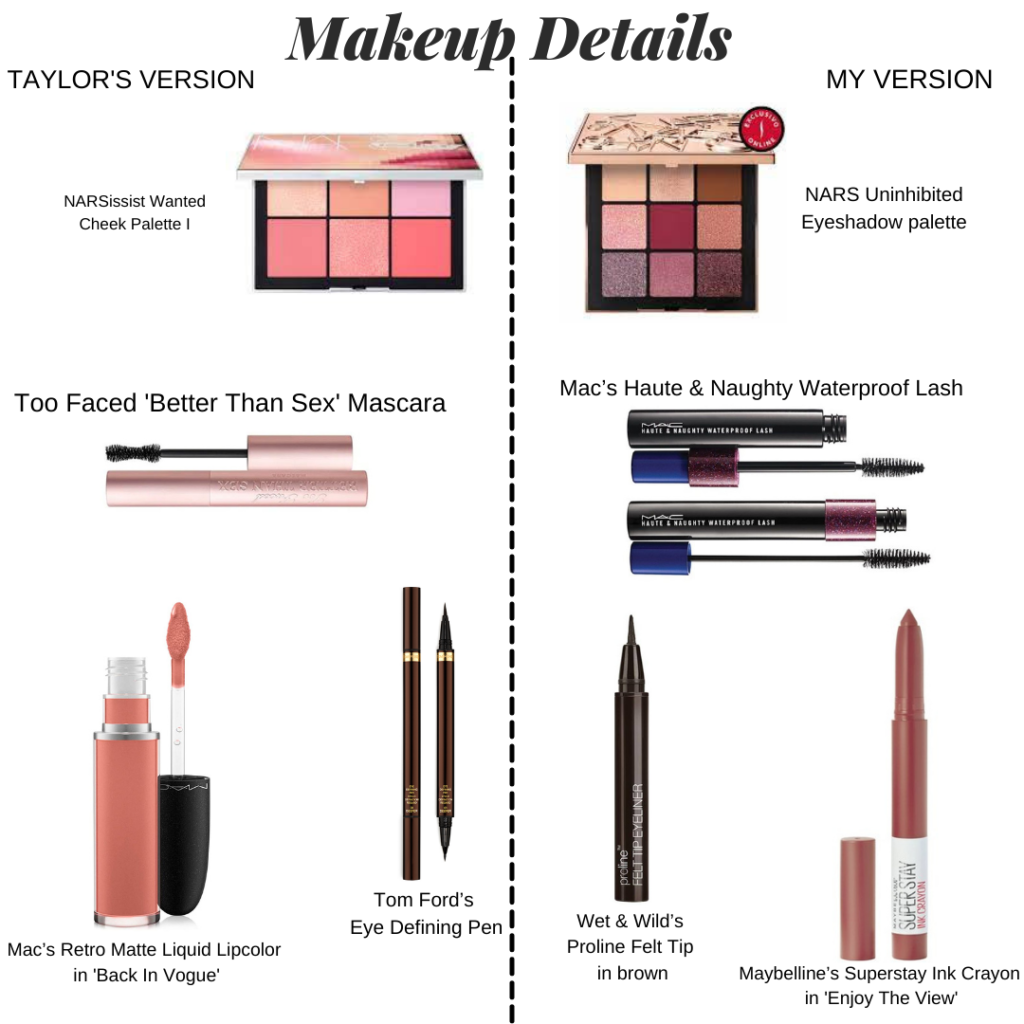 When I was creating this post, I did my makeup the same way all week. When I went back and looked at it, I realized the products I use are similar to what Taylor uses in the documentary Miss Americana.
So I thought it would be worth mentioning what products Taylor uses and what I'm using in my photos, just in case you are curious. Most of them are pretty affordable and are available at Sephora, MAC, or any drugstore.
Taylor Swift's Street Style Guide
Note: I did an updated version of this guide to cover the outfits Taylor has been wearing in 2023; check it out here: How to Copy Taylor Swift's 2023 Street Style Outfits.
Monday, Outfit #1 – "I want your dreary Mondays"
For Monday, I chose an outfit worn by Taylor when she was both directing and filming the music video for Lover's The Man. She can be seen wearing a burgundy shirt, jeans, a flannel, and a pair of Oxford shoes.
I wanted to recreate this look because we don't usually see Taylor in something *this* casual. I thought it would be good to have something more low-key in the post. (We are a site for college students, after all!)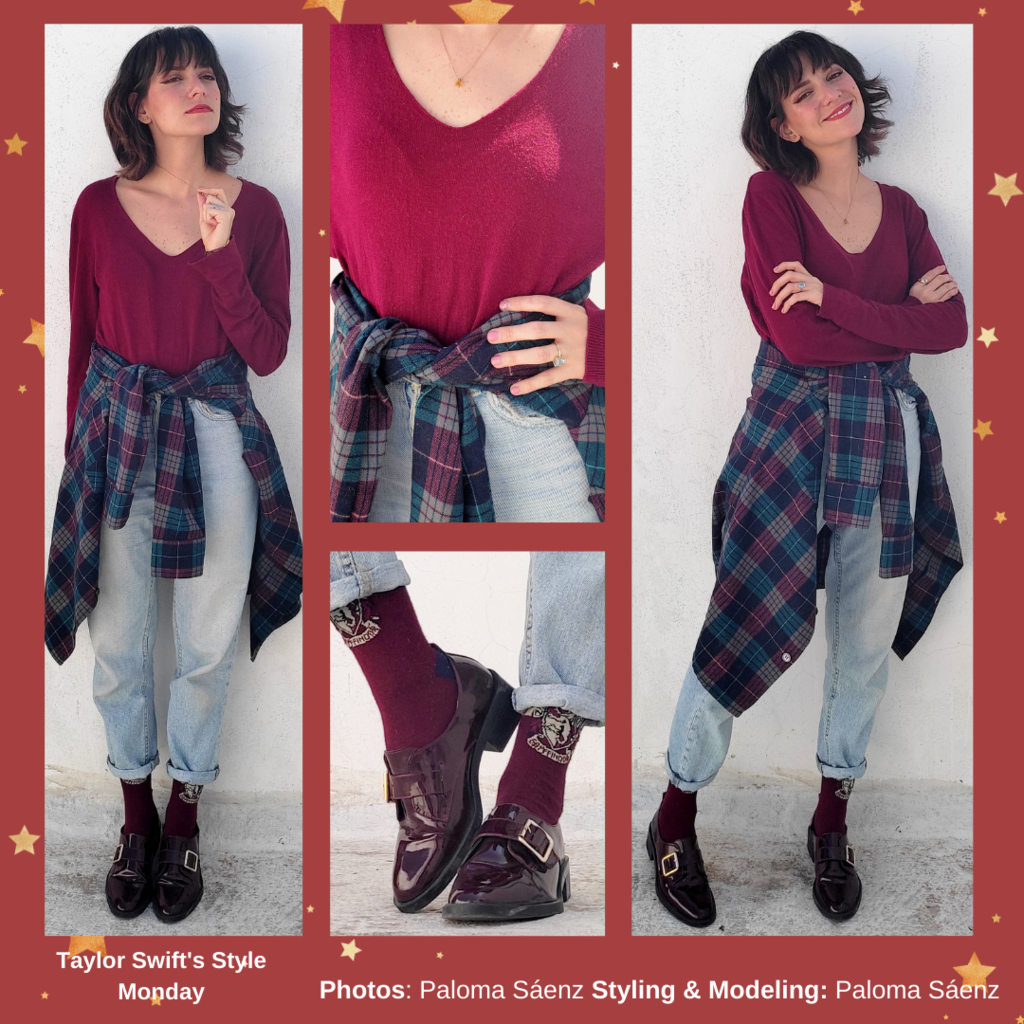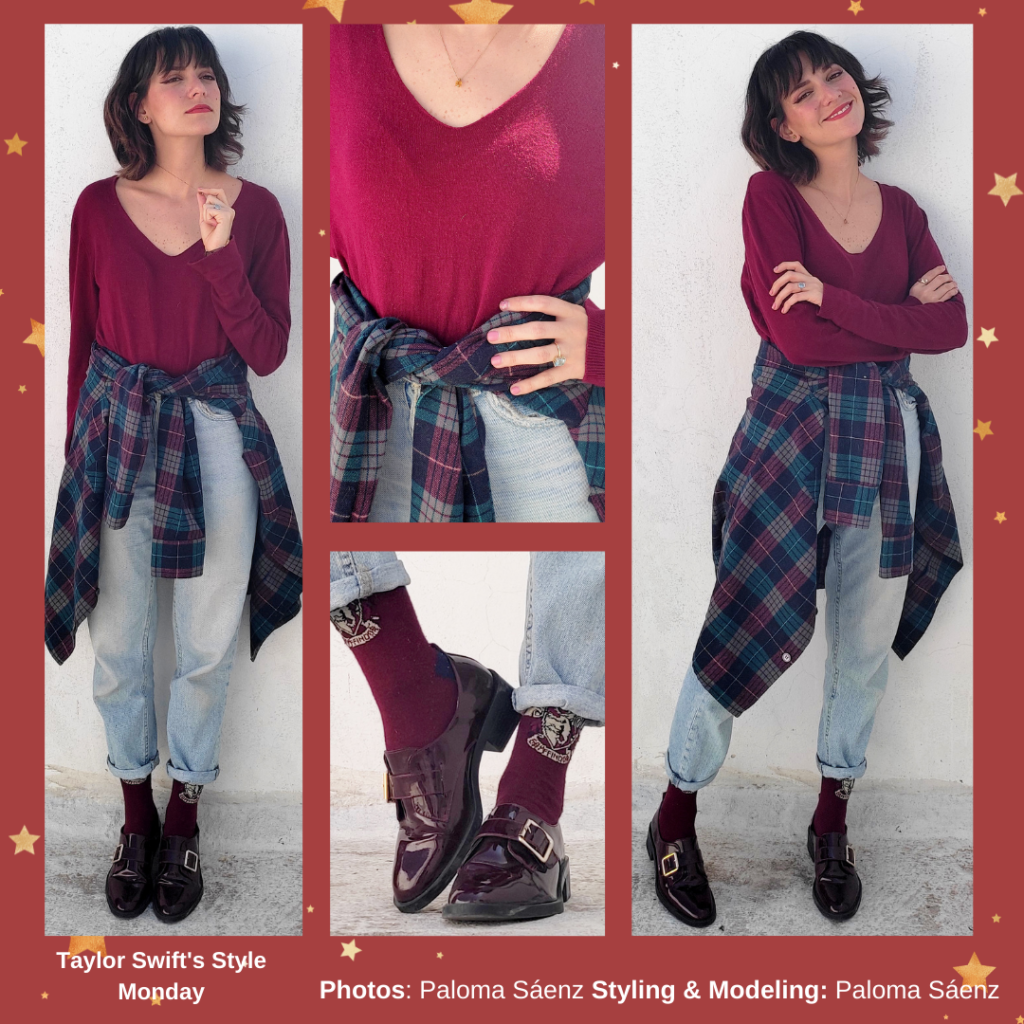 For my version (again, pun not intended), I wore a burgundy sweater with a pair of light-wash mom jeans. Taylor is wearing a long-sleeved t-shirt, so my sweater is of a slightly thicker material but it's similar enough. Then, I tied a blue and purple flannel around my waist.
Taylor's shoes and socks are black. I didn't have a similar pair of Oxfords in black. I did have a pair in burgundy, so I went with burgundy Oxfords and socks for this one. (Ignore the Gryffindor crest and pretend they're just plain socks.)
I really liked this outfit! It was comfortable and cozy, perfect for working and the start of fall weather (at least, where I live). I had worn versions of this exact sweater and jeans combo, but I had never added the flannel or the socks and shoes. Usually, I would wear sneakers or booties with this look. With everything put together, it was one of my favorites parts of the look.
Tuesday, Outfit #2 – "We meet up every Tuesday night for dinner and a glass of wine"
For Tuesday, I chose this street style look from Taylor. It is from a brief clip you see in Miss Americana. You can watch it on Netflix. She is wearing a floral dress with a sweater and sneakers.
I wanted to recreate this outfit because it's something she wore without Easter-eggs in mind, she isn't promoting anything and it isn't part of a press junket. It is a clip of her just living her life and I think represents her normal, day-to-day style more.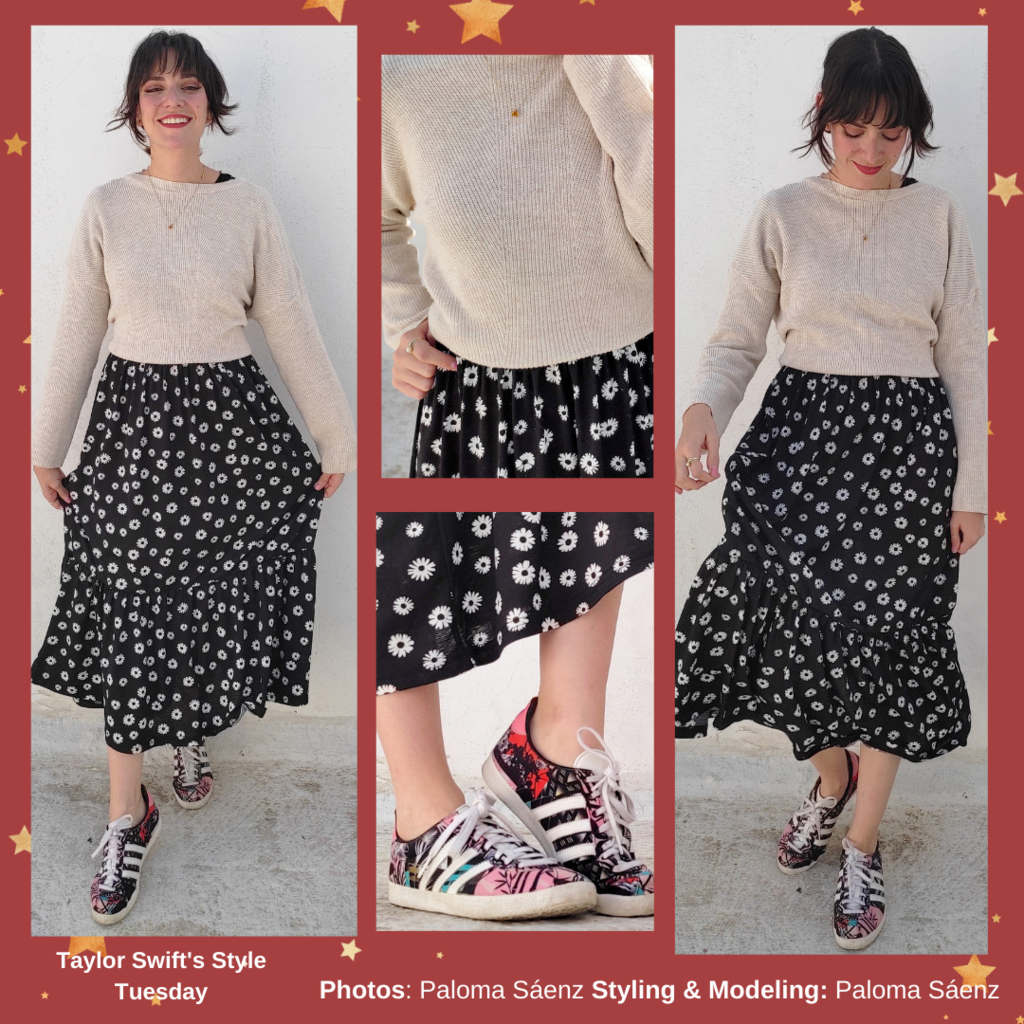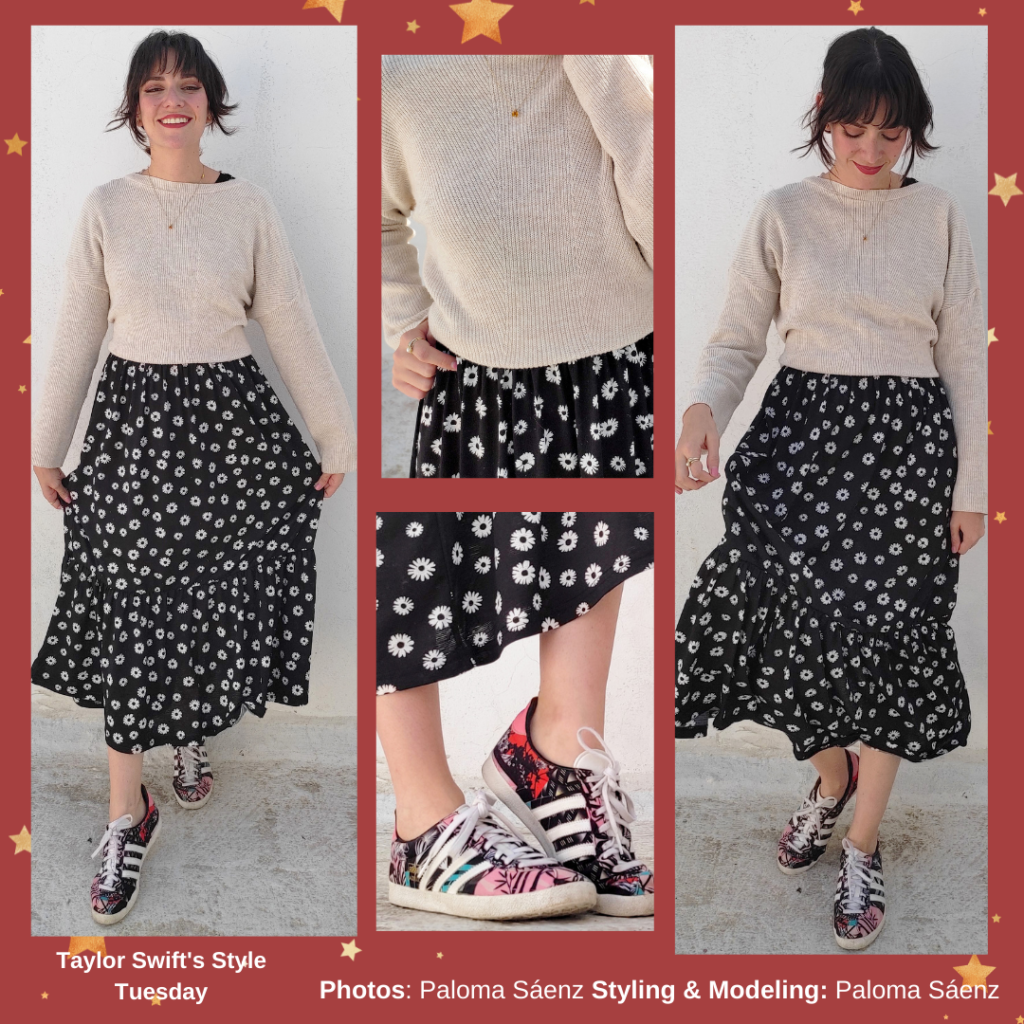 Recreating this look was the easiest part of the week. I paired a midi black floral dress with an off-white knit sweater. My sweater was a bit longer than I needed it to be, so I tried a popular TikTok hack and used some hair ties to crop it a bit. Taylor's shoes seem to be a pair of black Adidas Gazelles. I don't have a pair of Gazelles in black, but I do have a pair of patterned Adidas Gazelles that I broke out today.
I really, really loved this look! It was super cute, comfortable and it made me feel incredibly pretty. This is my first fall with this dress and I'm super happy that it works perfectly with this weather. This outfit combo works for the warmest days of fall as-is. If it gets a bit colder, I can easily wear tights or a thicker sweater without affecting the look of this outfit.
Wednesday, Outfit #3 – "On a Wednesday in a café, I watched it begin again"
Wednesday came and for this day, I chose an old-school Taylor look, one that she wore months before her (first) Red era in 2012.
Taylor's look includes a printed dress, black Oxfords, a black jacket, a brown bag and a green scarf.
I chose this outfit because it was in preparation for the original release of Red, so I thought it would be appropriate to include at least one outfit from that time.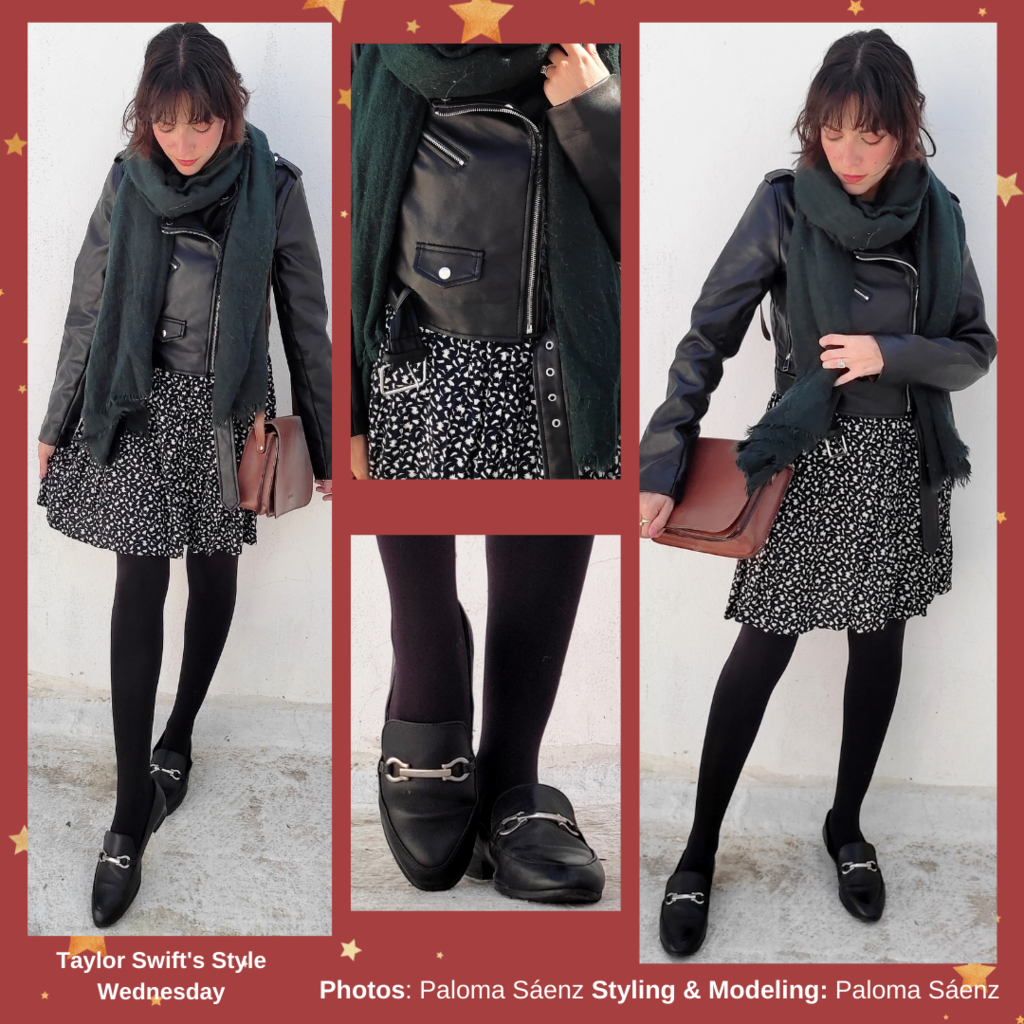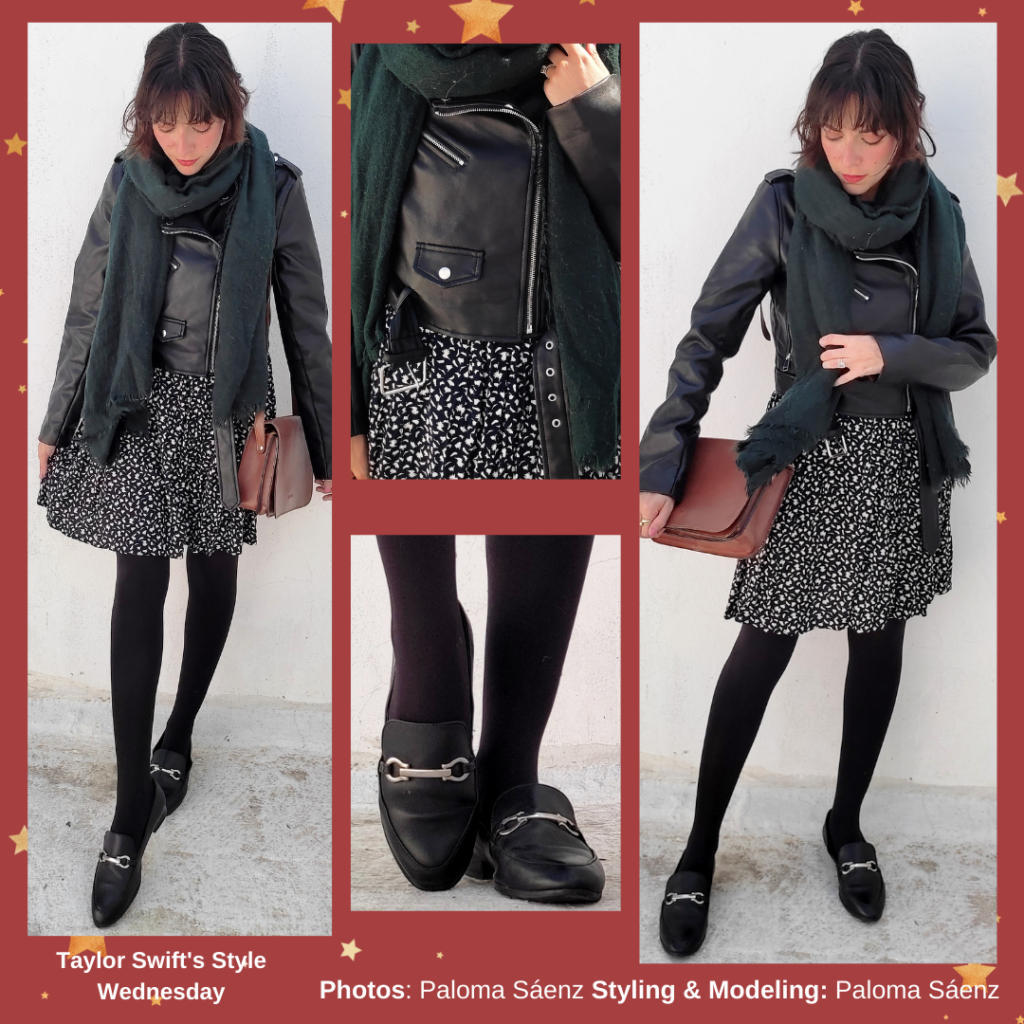 To recreate this Taylor Swift street style outfit, I put on a navy blue patterned dress; the pattern has little white leaves. Taylor's dress is black and has cats on it. I couldn't find a similar one in the right color scheme and cut. Instead, I borrowed this dress from my sister. It has a similar cut, in a dark color and the pattern has the same vibe. Then, I layered it with a black leather jacket and a pair of black tights.
Instead of a pair of black Oxfords, I borrowed a pair of black loafers from my sister. They are kind of the same style and look right with the rest of the items. Finally, for my accessories, I used this oversized forest green scarf and a brown structured bag. The scarf is my mom's.
I was kind of hesitant when I started putting this look together. While I was pulling all the items and seeing the reference picture, I kept thinking it was going to be 'too 2012', if that makes sense. It's a look that I'm 100% sure I saved on my WeHeartIt account when I was 17.
But when I saw the outfit all together, I kind of loved it. Not the same way that I liked the other outfits, but in my head it makes sense and it works. What I will say, is that it was way too much for the kind of Fall weather we're having. And it is too different from what I usually go for. If I changed the shoes to a pair of sock booties, I would 100% wear this again. But, I'll be careful not to leave my scarf at my partner's sister's house when I do.
Thursday, Outfit #4 – "All along there was some invisible string, tying you to me"
For the fourth day, I took inspiration from an outfit Taylor wore during Folklore: the long pond studio sessions. (The special is available on Disney+.) It is very representative of what she has been wearing since before the release of folklore.
What I like about Taylor Swift's street style outfits now is that they are more relaxed, and lean more toward everyday-wear than any of her other eras. They are also closer to what I would personally wear. For this look, Taylor is wearing a flannel dress, a black coat, and brown booties.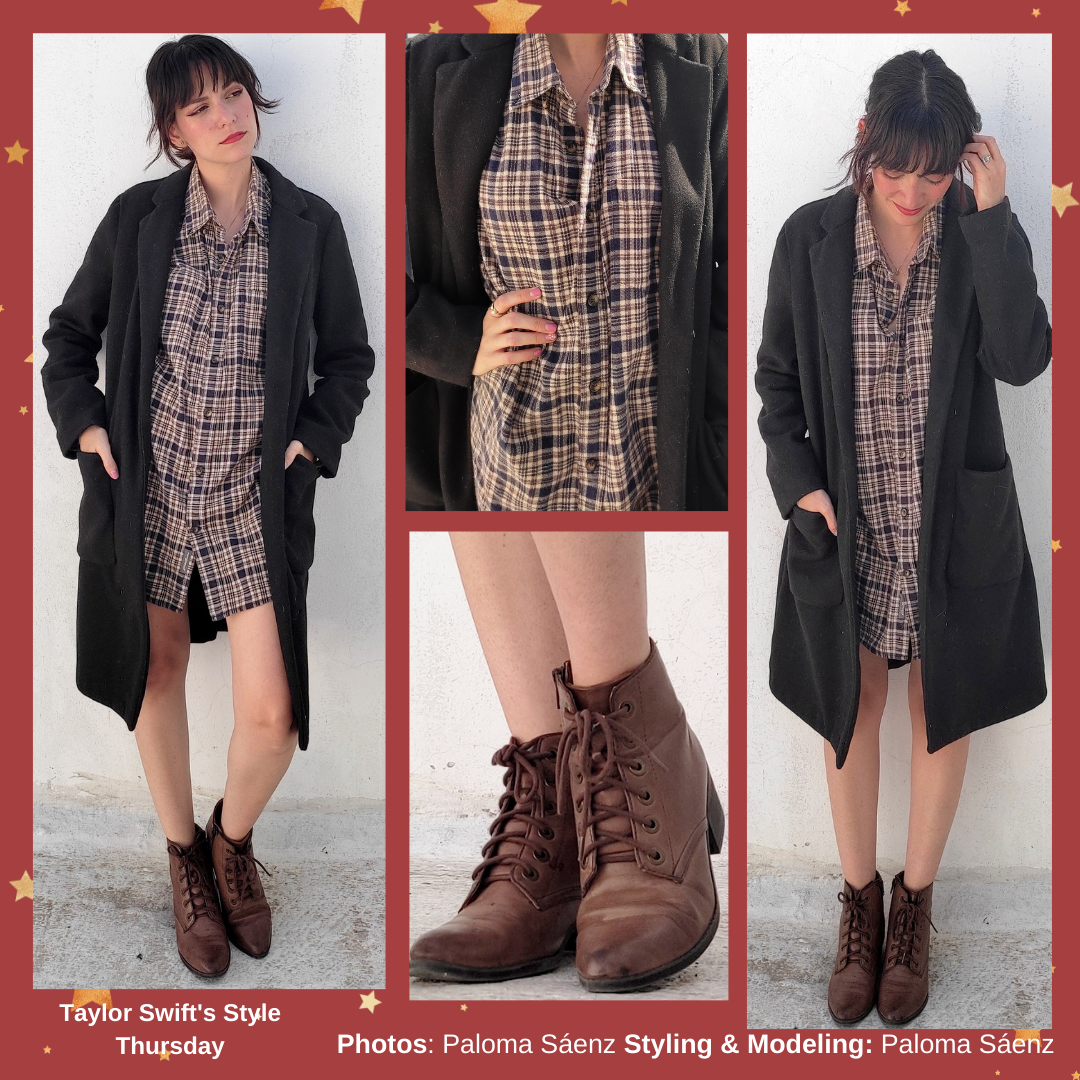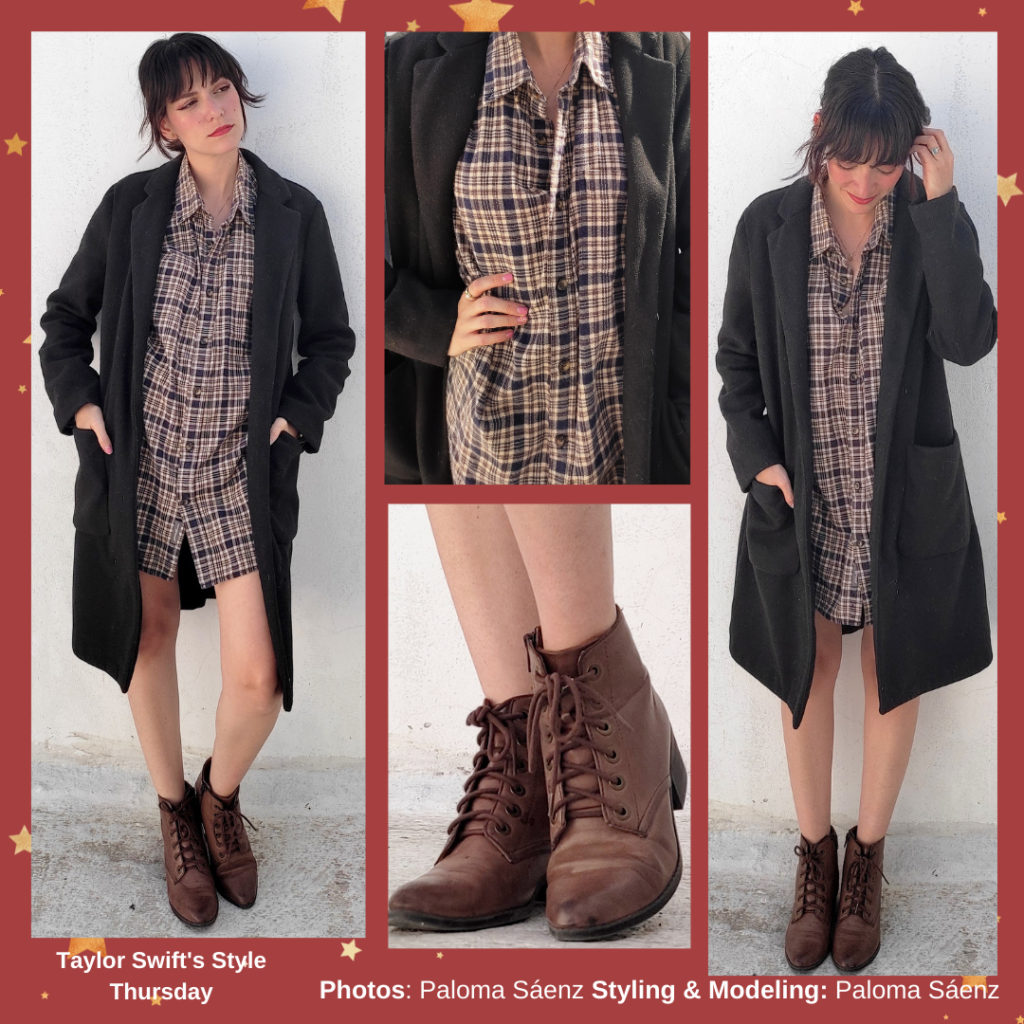 For my recreation of this cozy street style look, I started with an oversized flannel shirt in shades of beige and brown. This used to be my grandpa's shirt, but it works as a dress for this outfit. Then, I threw on my black wool coat. Finally, my shoes are a pair of brown lace-up booties.
I adored this outfit! It looks so cool and effortless. I love it so much and I felt super cute while wearing this. The warmth of the colors and the type of materials made the whole look very fall/winter. But I should've worn the flesh-colored tights like Taylor did. I didn't have any and it hadn't been that cold, so I thought I wouldn't need them. But I wished I had them later that day.
This is my favorite look of the week! One of my favorite songs from this whole folklore/evermore era is 'marjorie', which talks about Taylor's own grandmother, and it's a song that has helped me a lot since my grandfather passed away last year. It felt very appropriate to wear something of my grandpa's for this one.
Friday, Outfit #5 – "Friday night beneath the stars"
The final day arrived and there was a slight change of plans when I was planning everything. I had chosen another throwback look of Taylor's from 2012. Before I started putting the look together and seeing if I had everything I needed, Taylor uploaded her reel about the things she loves about the Fall. You can see it here.
In it, she is wearing this look, and I couldn't let this opportunity pass to copy it. She is wearing a plaid skirt, a beige sweater, patterned tights and brown booties.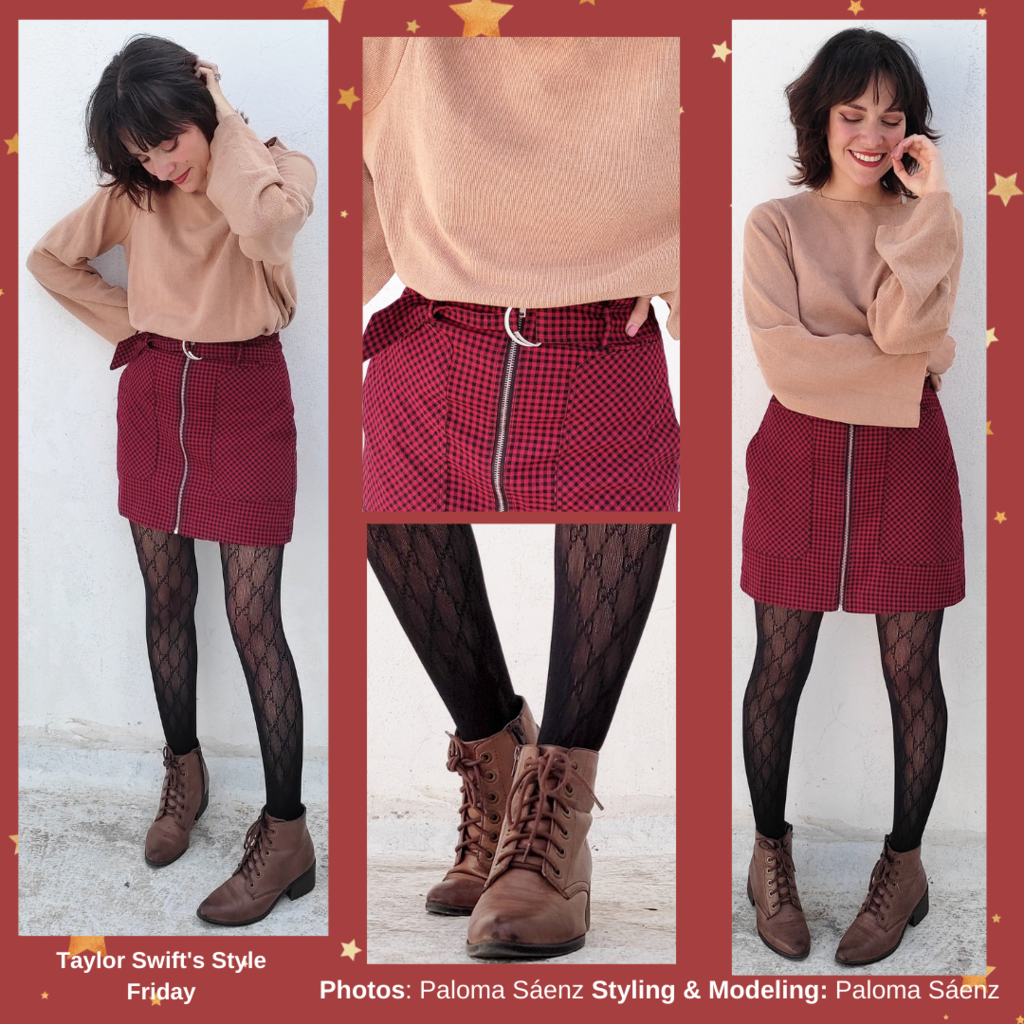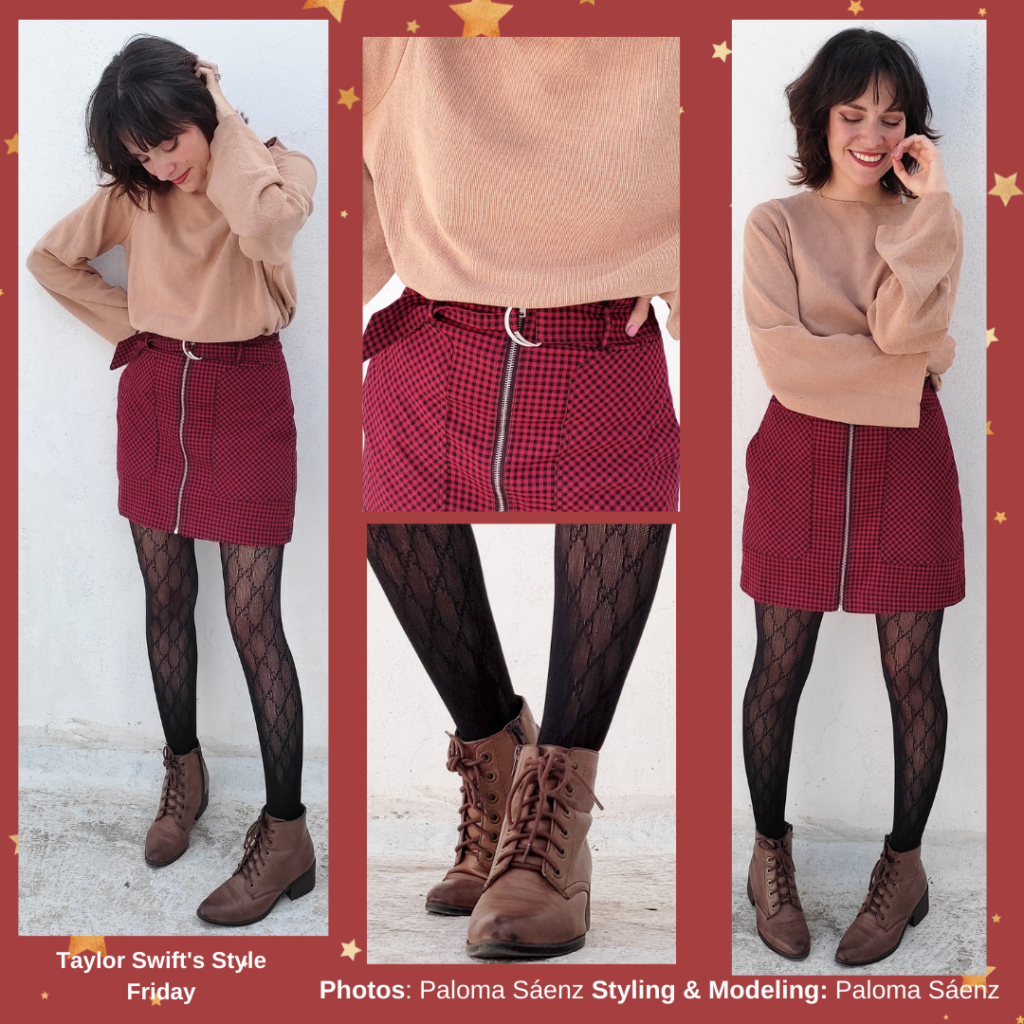 Similar items: Sweater, Skirt, Tights, Boots
For my recreation of Taylor's perfect fall outfit, I paired a beige cashmere sweater and a red plaid skirt. Taylor's skirt is pleated skater skirt, but I have this one that is more fitted that still works. Then, I put on a pair of black patterned tights. Finally, I used the same brown lace-up booties that I wore the day before.
I loooved this look! It was *the* perfect fall outfit. The color scheme, the fabrics, and the patterns all contributed to make it just right for this time of year. It was super cozy, but not too much that I had to change something later on. I also felt really attractive and pretty, I don't know why exactly, but I'm definitely wearing this one again.
Final Thoughts
Red (TV) was amazing and I loved every second of it. I've always loved Taylor saddest and most heartbreaking songs. Relatability had a lot to do with it, sadly. There were so many of those in Red and I latched on to 'The Last Time', 'All Too Well', 'Red', 'I Almost Do' and 'The Moment I Knew' with a passion.
And, while I love every single one of the heartbreak songs and I still blast them in my car, this was the first time that I listened to the album in full without being heartbroken myself.
Just like Taylor revisited her saddest and most heartbreaking piece of work while being happy in a stable relationship, I listened to the new version with a partner who makes the heartbreak songs a thing of the distant past. He also has never-ending patience for my Taylor Swift obsession and I'm thankful every day that we found each other.
Like I mentioned above, Taylor's street style is ever-evolving and, sometimes, it changes drastically. I think we've all had changes in our personal style. This is specially true for people who work in or have a special interest in fashion as an outlet for self-expression. Taylor has showed us, in a very practical way, how every detail in an outfit is a great tool at your disposal. And how effective it can be at communicating something.
Creating Taylor Swift posts is always fun and challenging because her style varies so much. Personally, I might have a preference for the aesthetic of certain albums (folklore/evermore and reputation), but I always find more than one outfit that I like and feel inspired by in every TS era. From this post, my favorite outfit was Thursday's flannel dress. In a close second, I also loved Friday's plaid skirt and tights combo. Wednesday's throwback look was an unexpected but welcomed surprise.
Want to dress like Taylor yourself? I know I'm biased, but give it a go and get inspired by Taylor Swift's street style. Or just get inspired by her lyrics — they're incredibly visual, so you can get outfit ideas just listening to her albums.
Taylor's ever-evolving style means there is a T-Swift outfit for practically anyone. As an FYI, she wears surprisingly cheaper (relatively speaking) brands than most celebrities do.
If you want an artist that is inspiring in more than just her style, Taylor Swift is the source you are looking for.
What do you think of my attempt at copying Taylor Swift's street style?
Do you like Red (Taylor's Version)? Which song is your favorite? Do you want a post based on the short film? Do you have any request or a specific source of inspiration you want me to cover? Let us know in the comments below!