This post shares 13 '90s style clothing items, complete with outfit guides.
It's time to turn that nostalgia into style! From hoop earrings to crop tops, we're breaking down the most essential staple items from the '90s that you can wear right now.
The '90s was an era of many long-lasting fashion trends that are making a strong resurgence today. Several are even now staples in my closet that I'm sure I'll keep around for years to come. These throwback pieces can be styled countless ways and many have also evolved with modern day twists.
We have seen influencers and celebrities rocking these trends and tossing their own flare on them. I love the causal-cool vibe of '90s fashion and how effortless it looks.
This post will break down 13 of our favorite '90s clothing trends and how to style each of them.
Related reading: 15 Super Cute '90s Nail Designs That Are Trendy Again
1. Flared Jeans
The first trend we are showcasing is flare jeans. This silhouette is a classic from the 1990s, along with any loose or oversized jeans and pants. Flare jeans are so versatile, too. They can be dressed up for a night out or dressed down for a casual day around campus.
These flare jeans have an amazing high-waisted fit. They are in a vintage-inspired lighter wash and are styled perfectly with this cropped graphic tee.
I threw this chunky, colorful knit cardigan on top. I am obsessed with this sweater and the '90s vibe it gives. It has an oversized fit, open style front, balloon style sleeves, and a drop shoulder silhouette. It's playful and perfect for this look.
I paired it with some chunky white sneakers, classic gold hoops, and the perfect pink mini shoulder bag. The purse pairs flawlessly with the sweater. It has a croc-embossed and patent faux leather design. It also comes in four other adorable colors if pink just isn't your vibe.
2. Chunky Hoop Earrings
Chunky hoop earrings are a '90s trend that will never depart my wardrobe again. I refuse to leave my house without a good staple hoop in. There's something about a thick hoop that makes you feel confident and fierce.
These silver and gold hoops from Urban Outfitters are a classic hoop with a fuller body. They have a tubular silhouette with an open-ended finish.
I styled them with this drop dead gorgeous blazer dress in hot pink. I cannot get enough of the blazer dress trend and this one has an amazing fit and structure to it.
I dressed it down with some lug sole, nude combat boots. These have a designer feel to them and look super cute on. By the way, if you're looking for combat boots, be sure to check out our guide to the Top 10 Best Alternatives to Doc Martens.
3. Slip Dress + Sneakers
The third trend being styled today is a slip dress. Slip dresses and sneakers are a fan-favorite clothing style of the '90s. Wearing them together is girly and flirty while still being casual and sporty. The sneakers make the dress daytime-friendly, but they can easily be swapped out for heels or booties for a dressier look.
This satin slip mini dress is from Abercrombie and comes in this beautiful statement orange color. I layered a white turtleneck underneath for warmth but you could also throw on a cropped denim or leather jacket to add some flare.
For sneakers, some classic Nike Air Force 1s are the way to go. The extra platform adds a bit of variety from the traditional version. I added some fun, trendy crew socks and a matching claw clip which is, like, sooo '90s.
I finished off the look with a chunky gold statement chain. Who doesn't adore the look of a statement necklace paired with a high-neck top?
4. Bomber Jacket + Jeans
The bomber jacket was a very popular fashion staple in the '90s and it has quickly resurfaced as a versatile new trend. This one from Boohoo has an oversized fit with varsity-style embroidery and is made of faux leather fabric. The jacket is so kitschy and fun. I think it can be styled in multiple ways with simple pieces already hanging in your closet. Since the jacket is such a statement, it doesn't need much to be styled.
I added this high neck, cropped black tank and the perfect pair of light wash, distressed mom jeans from PacSun. They have a high-waisted fit with distressing and rips throughout. The light wash also has a faded, vintage feel to it.
I finished off the look with some chunky black Chelsea boots that have a thick platform. To finish it off, all you need is some thick-framed black sunglasses and classic gold hoop earrings.
5. Overalls + Converse
Overalls are such a fun '90s trend that keep getting revamped over time. I love this mint green pair from ASOS because they have a straight-leg, relaxed fit to them. They have pockets, button sides, adjustable buckle straps, and a classic cord design.
For underneath, I opted for this brown button-up shirt from Forever 21. I love the neutral brown color with light green. These two colors complement each other well, in an unexpected way. For earrings, these gold layered hoops take a twist on the traditional hoop and add something extra to the look. Psst… are you sensing a theme with hoops yet?!
Last, for shoes, these sneakers from Converse are hands-down my favorite shoes of the moment. They are such head-turners. They're made of durable leather with a sherpa lined tongue. Also, they have a platform and an exaggerated, jagged sole with cushioning for comfort.
This super cute, two-tone brown sneaker will create such an elevated, influencer vibe for this outfit.
6. Trench Coat + Loose Jeans
Long, tan trench coats are such a '90s style clothing item and one that I've been seeing a lot more of lately. The trench used to be a dressy coat that was only something one would wear to work, but now it's becoming much more casual.
This is a great coat from Lulu's because it's so versatile and lightweight. It has a large collar, long lapels, and sleeves with banded cuffs. It also comes with a sash belt to cinch your waist.
I paired it with this nude, long sleeve bodysuit and some high-waisted, super baggy jeans. Loose jeans are another popular '90s trend that making a massive resurgence. I added some chunky black loafers with gold detailing and this mini, black backpack.
7. Patterned Dress + Sneakers
This patterned dress fits right into our 1990s theme quite well with its bright vibrant colors, ruffles, and mesh details. It has thin straps, a straight neckline, and a slip silhouette… all very reminiscent of our favorite decade.
I added this oversized, brown leather jacket for layering and this mini nude purse. The jacket makes me think of the '90s grunge scene and I love the thought of pairing it with something more feminine at heart. Opposites attract when it comes to '90s style clothing!
I finished off the look with some platform white sneakers and mini, orange flower earrings that add a whole bucket of playfulness to this outfit. These earrings take me right back to childhood!
8. Crop Tops
Crop tops are a '90s trend that is here to stay! When paired with high-waisted jeans, a crop top crafts the cutest look.
I would wear this outfit in a heartbeat. This rhinestone-embellished cropped tee from Urban Outfitters would be on trend when paired with these high-waisted denim jeans from Abercrombie.
I added some white, chunky-heeled platform booties which are so retro and some silver, mini hoop earrings. For a bag, this bright blue crossbody bag is really giving me the vibe I'm going for.
9. Scrunchies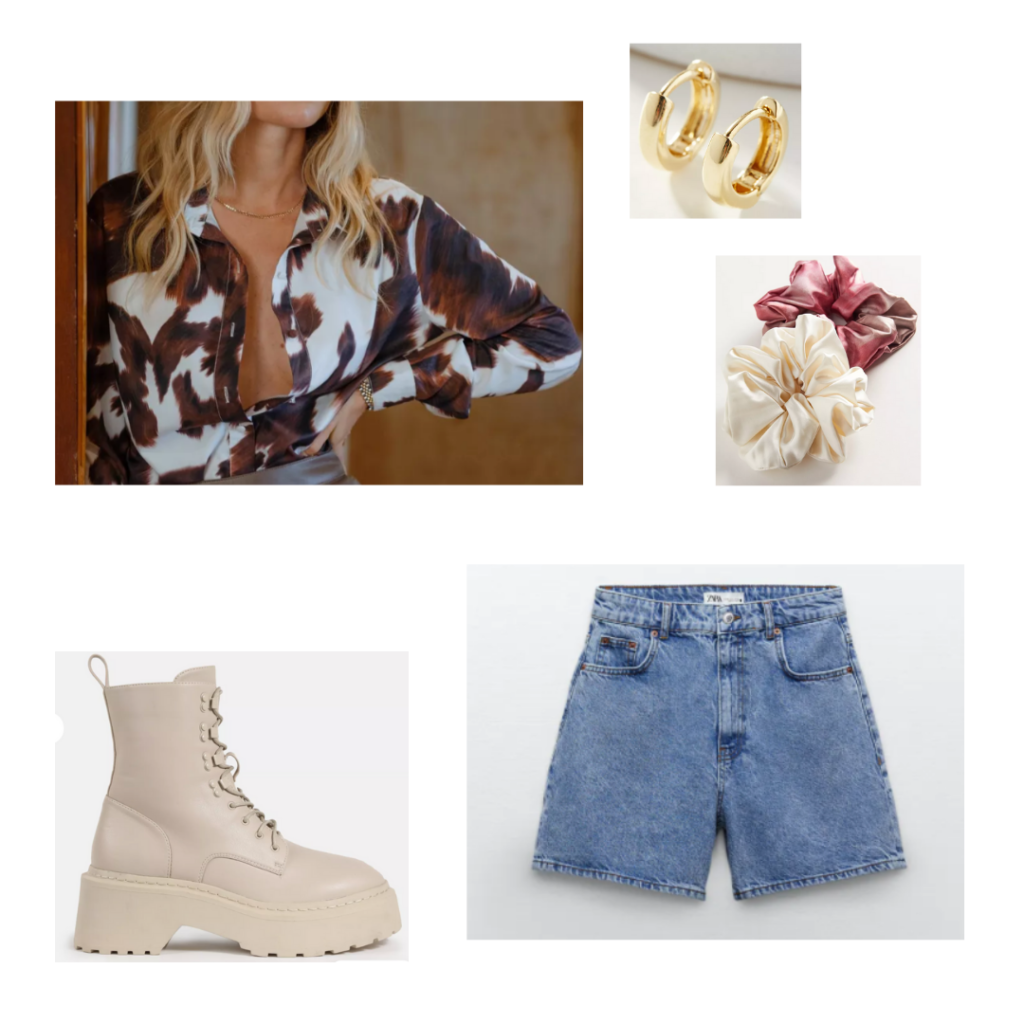 Scrunchies are arguably the most classic '90s trend that has held its own throughout the years. They've come in and out of style, but they've never totally disappeared. That's some serious lasting power!
These scrunchies from Urban Outfitters aren't just adorable, they are good for your hair too. Satin scrunchies make your hair shiny and strong. There's a reason people swear by satin pillowcases, after all!
I paired this delightful hair accessory with some high-waisted mom shorts and this brown and white cow print button-down blouse.
I topped off the look with some chunky, nude lace-up combat boots and some mini gold hoops. This is a classic '90s girl-on-the-go look.
10. Chokers
When you think of the '90s, chokers are definitely one of the first trends that will pop into your mind. Like scrunchies, they have gone through many phases over the years. From elastic tattoo chokers, to cord versions, to blinged-out charm necklaces… we've seen it all. Now, chokers are taking on a more sophisticated approach and I am here for it.
This gold layered choker is from Free People and it pairs so well with high neck tops. This bodysuit is tucked into some faux leather brown pants. I love the monochromatic look with all the different browns and neutrals paired together. Plus, the high-cut neckline of the bodysuit allows the choker to become the statement piece.
I added this printed, sheer button-down blouse on top for layering and some '90s-inspired sandals. These are made of faux leather with a heeled thong-style in another adorable shade of brown.
11. Loafers
One of my favorite '90s style clothing pieces is loafers. They are recently starting to come back into mainstream. These chunky, platform loafers from Lulu's are extra cute because they are white with a black sole. They scream '90s-chic with their retro-inspired shape and tall sole.
I styled them with a brown plaid skirt and this ribbed, collared henley shirt. It has a slightly cropped hem and is made of a soft, stretchy material. The skirt has a flattering high-waisted fit and comes in this cozy, woven fabric. It has an a-line mini hem and belt loops with diagonal front pockets.
Some polka-dot, sheer black socks and an adorable knotted headband are all you need in the accessory department. The headband adds a girly and preppy vibe to the look.
12. Cargo Pants
Cargo pants are a trend that could not be more '90s! Back in the day, you couldn't watch the VMAs without spotting them on several celebrities. This pair from Urban Outfitters is a low-rise pant with a relaxed fit, wide leg, and pocket detailing. I love the black shade because it has reverse stitching that really pops on the seams.
I paired it with this cropped brown sweater from H&M and an oversized, neutral-colored flannel from Boohoo. This is the perfect "boyfriend" flannel for layering. It has an oversized fit and a comfy, casual feel with soft tailoring.
I finished off the look with this black nylon belt bag and some chunky silver mini hoops. Obsessed is an understatement for this look!
13. Pleated Skirts
This last trend is one of my favorites because of how girly it is, but it can also be super edgy. Pleated skirts are a true 1990s staple and can be styled in so many different ways. This trend is clearly Clueless-inspired which is one of my all-time favorite movies.
I styled this skirt with an oversized, varsity-style sweater from H&M. It has a v-neck and is made from a soft, cable-knit fabric. I layered this white, ribbed turtleneck underneath and (surprise!) I added some gold, chunky hoops.
To edge up the look, I picked a pair of black combat boots and some sheer black tights. I love the look of tights, skirts, and boots for winter. It's a tried and true combination!
Which '90s style clothing item is your favorite from this list?
Which outfit are you most likely to wear or try out for yourself? What retro pieces are you going to incorporate into your wardrobe this spring? Let me know in the comments below!