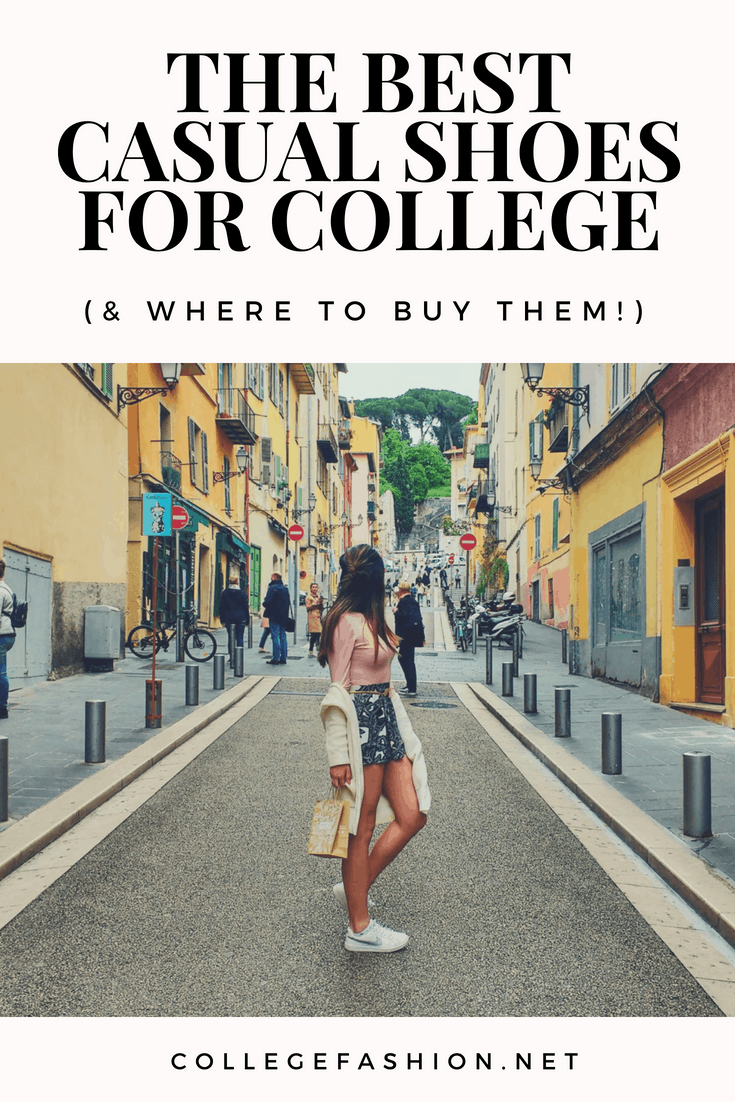 As we mentioned in our guide to the best clothes for college, the best everyday shoes for college girls are comfortable, stylish, and easy to throw on with any outfit when you're on the go. After all, walking all over campus will really increase those steps!
Today, we're sharing the four go-to everyday shoes every college girl should own. Shoes labelled with one "$" are considered a steal, "$$" is average, and "$$$" would be a splurge. Honorable mentions are also listed in each category. Happy shopping!
Bonus: All of the girls featured are genuine, accomplished college girls who are not part-time models despite their lovely features; definitely draw upon their outfits for inspiration!
White Sneakers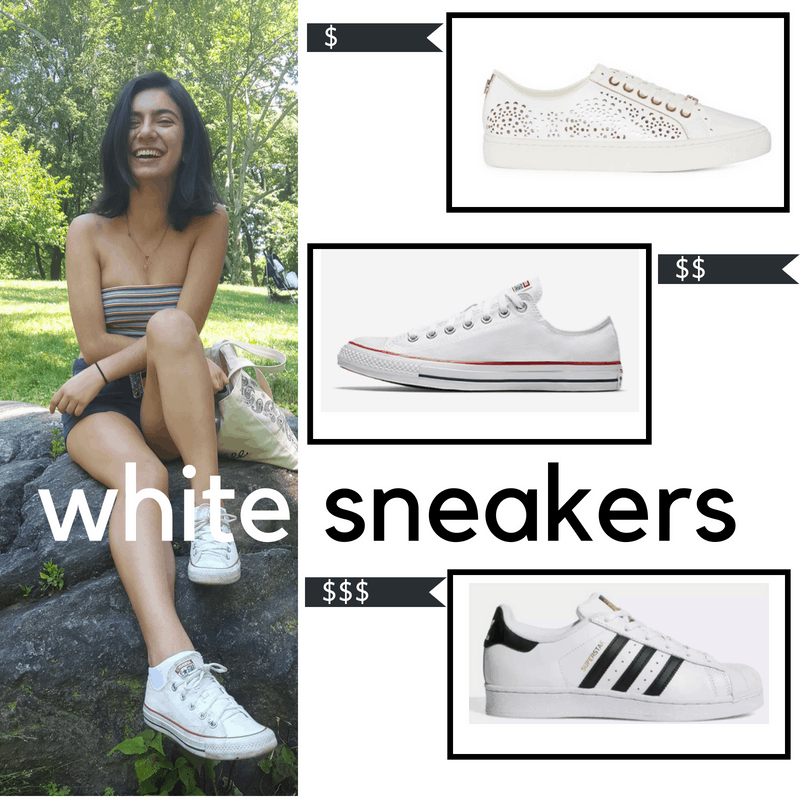 Products: (From Top to Bottom) Liz Claiborne Winslow Sneakers – JCPenney, Converse All-Stars – Nike, Adidas Superstars – Adidas
White sneakers are a classic item that will never go out of style; they're also incredibly versatile! Adidas Superstar shoes became a huge hit during 2016 and they're showing no signs of slowing down; the Stan Smith line is also incredibly popular with college girls. If your style is more classic, white Converse are also a great standby.
Another great option, not pictured here but my personal favorite, is the Nike Court Royale. They're similar to Adidas Superstar shoes, but less common and easy to find at a deep discount.
What We Wear Them With: For class, wearing your sneakers with a pair of jeans and a tee or t-shirt dress is always a great option. I'm also a huge fan of wearing sneakers with dresses or skirts! When it gets chillier during the fall, throw them on with a sweater and leggings.
Pros and Cons of our CF Picks: At just $20, our least expensive option is an absolute steal. The laser cut details also add some feminine flair! However, they haven't been proven to have the staying power of white Converse or the Adidas Superstar in the ever-changing fashion landscape. White Converse are priced in a reasonable range for the average college girl, but they have irritated my high arches in the past. (Plus, canvas shoes get dirty faster than leather shoes.) Adidas Superstars offer the best support, and durability, but they will set you back at least $80 from most retailers.
Honorable Mention: Dad Sneakers – These sneakers are incredibly comfortable and trendy! However, they can be hard to incorporate with existing pieces in the typical college girl's closet, and no word on how long this trend will last yet. I would also feel uncomfortable pairing this trend with skinny jeans! (If this is your aesthetic, I commend you and would like you to teach me how to rock this look in the comments section.)
Related reading: The Ultimate Guide on How to Clean Your White Shoes
Dad Sandals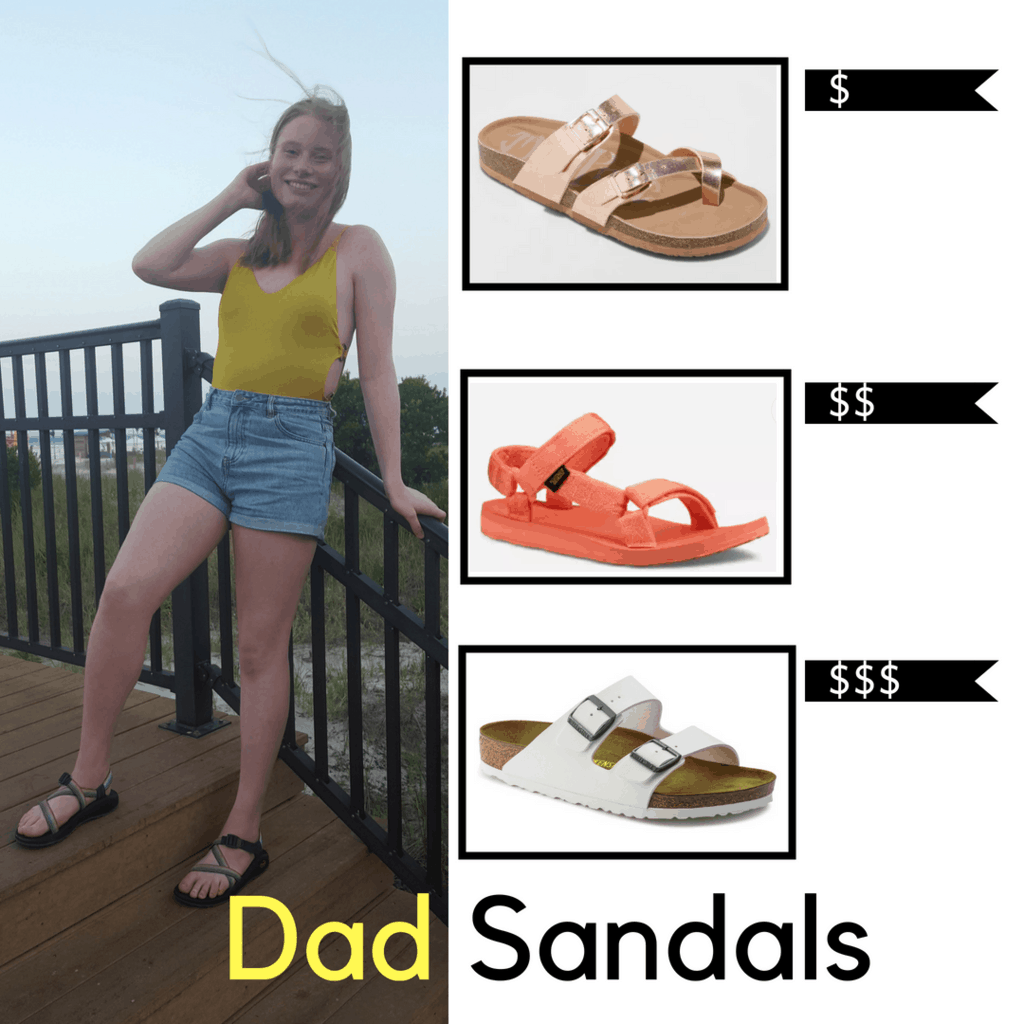 Products: Mad Love Footbed Sandals – Target, Teva Original Universal – Tevas, Birkenstocks Arizona – Birkenstock
The "Dad (insert fashion related term here)" trend has taken over everything from our shoes to hats. Dad sandals are just a natural extension of this phenomenon, and supportive sandals are definitely something that I'm on-board with. Gone are the days of blisters, lack-of arch support, and sandals that you have to throw away and replace every year.
Picking a timeless sandal that you can wear into oblivion is an excellent investment of your money, and you have a few options here. Birkenstocks have officially entered the mainstream fashion consciousness so you can rest assured that you won't be the only college girl wearing shoes formerly dubbed as "ugly".
With a cult-like following, Birkenstock has inspired many imitators to create their own version of their iconic sandals. Chacos are also a fantastic option, particularly if you enjoy hiking! They have amazing arch support and a life-time guarantee; find them at your local outdoors store for the best prices.
What We Wear Them With: Pair with ripped jean shorts or a jean skirt and a tee for a cool '90s-inspired vibe. These also work well with bohemian inspired flowy pants and a cropped tank!
Pros and Cons of our CF Picks: Target is a great place to find inexpensive shoes; these footbed sandals are a dead ringer for Birkenstocks! At $23 dollars and in four colors, and a wide width option, these sandals are a great value for the price. However, they're definitely not as comfortable as the other two options and likely not as durable.
The Teva Originals are a great option to add a pop of color to your summer days and they would work just as well on a hike as on the beach; they're also similar to Chacos for a much lower price.
Birkenstocks are definitely more dressy than the Tevas, but they're also the most expensive. If you can see yourself wearing these shoes for years, invest in a pair of well-known supportive shoes like Chacos, Tevas, or Birkenstocks!
Honorable Mention: Athletic slides – These shoes have really taken over the runway from Gucci to more affordable retailers like Zara; just as comfortable as they were when you used to wear them from soccer practice, they're a pretty functional pick. However, wearing these to class might not be the best bet since they are typically associated with the pool and more casual settings.
Booties or Riding Boots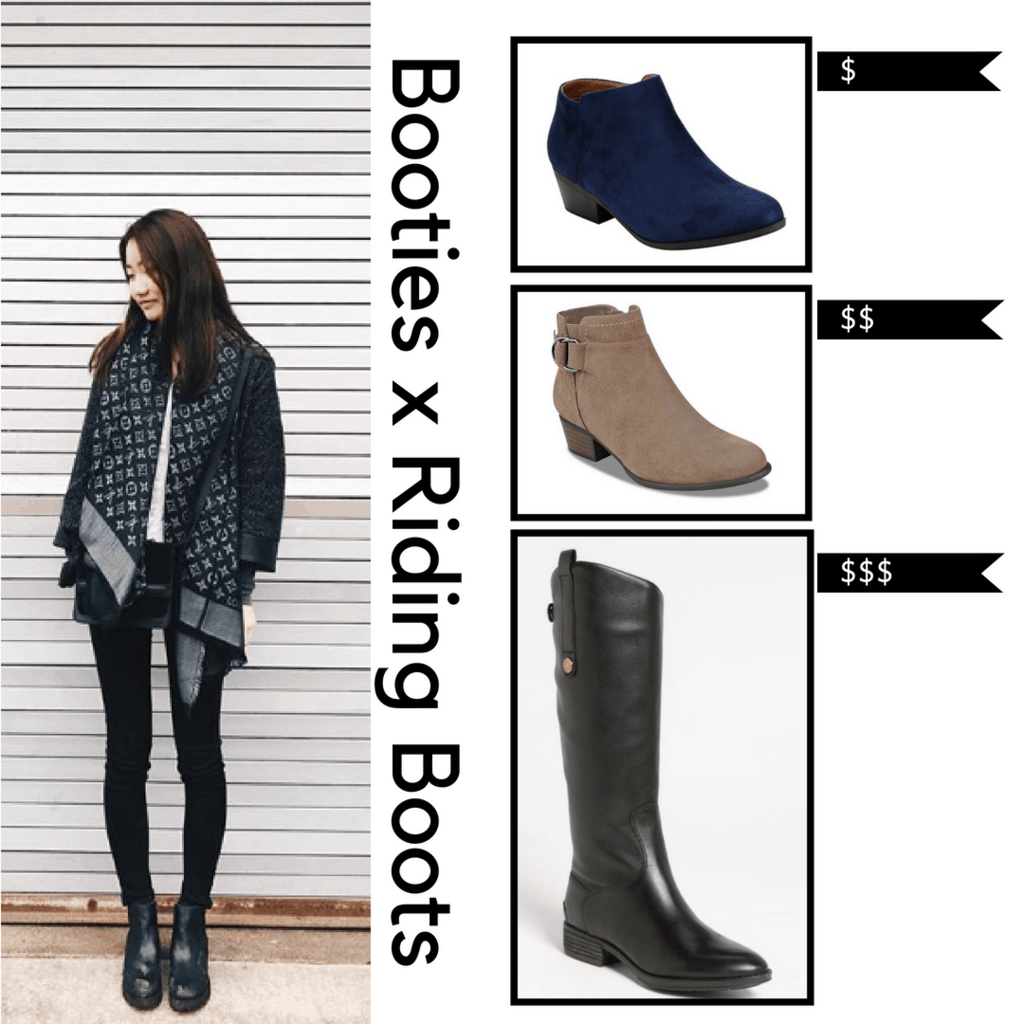 Products – (from Top to Bottom) Bella Marie Booties – Amazon, Unisa Piera Bootie – DSW, Sam Edelman 'Penny' Boot – Nordstrom
Fall is the favorite fashion season for everyone from acclaimed editors to average college girls, especially because that means boot season. Riding boots and booties are constantly fighting for dominance as the "it-shoe" for each fall season, but either option can suit your needs. These boots will instantly make you look more put-together, even if you're just wearing leggings and an over-sized college long-sleeve tee.
What We Wear Them With: Leggings, skinny jeans, and basically any pant that is fitted is made to wear with riding boots. Dresses and skirts also look super classy with riding boots! Booties offer more flexibility; depending on the weather, they can be paired with shorts, boyfriend jeans, etc.
Pros and Cons of our CF Picks: Getting a pair of booties from Amazon for $26 is an absolute steal, especially since they have a four star review from 223 reviews! The color selection is also excellent. If you're unsure about booties, this can be a great place to start for your first pair.
DSW's booties for $60 are a great taupe color that will match every outfit in your closet, and they're more likely to last than the pair from Amazon.
However, if you see yourself wearing boots every day during the fall or even winter, investing in a more expensive pair like these riding boots from Nordstrom will be worth it. The heel is also lower which makes for better walking. I can attest to the need for a quality riding boot since I've seen the heel of riding boots fall out from less expensive options after facing my college campus! However, the Nordstrom ones are expensive so make sure these are shoes you truly want.
Honorable Mention: Combat boots – Ah combat boots, they were a huge trend several years ago, and they do add an air of unmistakable toughness to any outfit. They're not as easy to dress up for formal settings though, which is why a pair of classic booties or riding boots may be a better investment for your money. They are rumored to be coming back in style for fall 2018 though so stay tuned!
Rain Boots or Duck Boots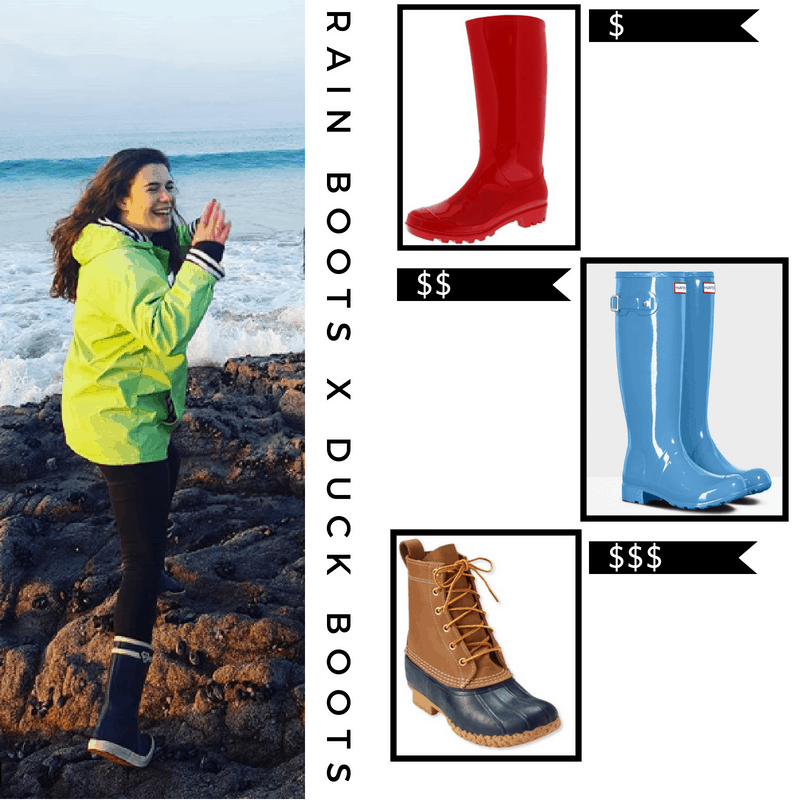 Products: (from top to bottom) Polar Products Snow Wellingtons – Amazon, Hunter Tour Gloss Rain Boots – Hunter, Bean Boots – L.L. Bean 
Walking around on a college campus means facing rain and even snow depending on your region; thankfully there are many great rain boots out there to keep you dry and looking cute! Hunter boots and Bean boots, also known as duck boots, are classic boot styles that have become associated with their iconic brands. Although these boots are typically associated with preppy New England style, anyone can and should wear them to stay warm on the way to class.
What We Wear Them With: Skinny jeans and leggings are top picks for wearing with these boots. If the weather is bad, you definitely don't want to expose your legs or risk a cold draft traveling up your boyfriend jeans! Add on a brightly colored rain jacket, neutral parka, etc. to stay warm. Thick fuzzy socks or wool socks are also a plus.
Pros and Cons of our CF Picks: If you're in a region that rarely sees rain, these $15 Amazon Prime-eligible boots are a top pick. They're inexpensive and they come in a huge variety of colors!
However, if you're consistently facing rain, snow, or cold winters, you should invest in a pair of quality boots now so you're not freezing or wet on the way to lecture. Hunter boots are great for cold and rainy regions that don't see as much snow, while the duck boots are a top pick for snowy places. Although these boots will both usually set you back around $130, the blue Hunter boots are currently on sale for $70! These boots are expensive, but they will last for a long time and help you face bad weather.
Honorable Mention: Moccasins – Considered a standby for high school students on the East Coast during colder months, they're slippers that you can wear in public. However, as a college student who has to walk to class during bad weather, they're just not as practical as a pair of waterproof boots, and they're incredibly easy to destroy.
Best Places for Shoe Discounts:
Marshalls: The selection in Marshalls will vary from location to location and even regionally, but Marshalls is one of my favorite stores of all time, especially for shoes. The discounts are great!
6pm.com: An amazing place to shop for inexpensive shoes online; they have a great selection of well-known brands too!
Outlets: If you happen to live close to an outlet, the deals can be great if you have a particular model in mind. I found my Nike Court Royales, mentioned in the white sneakers section, for $35 at a Nike store in a Tanger Outlets location!
DSW: With great coupons in the mail and online, DSW offers discounted shoes will come to an even better price with these additional discounts. I've found that the selection is pretty wide and varied in stores.
Need more inspiration?
(Or help selecting which pair of shoes to add to your closet?) No worries, CF has you covered! Check out some of these other articles our team has written, including some of my personal favorites:
What did you think of our top picks for everyday shoes? Did we leave out your favorite? Let us know which pair of shoes are your go-to as you're running out the door in the comments below!