With football season finally here, it's time to start shopping for game-day outfits!
At Alabama, it's no surprise we go hard for football. Students love to dress up for games and support their teams.
I've been to more than a few college football games and I'm here to share absolutely everything I've learned about dressing for these events.
Tips for Creating College Game Day Outfits:
First, here are a few things to keep in mind when putting together a game-day outfit:
Comfort, movability, comfort
You're going to be up and about for a few hours, moving to different locations and cheering on your team. Leave the stilettos and that top that slides down at home.
Choose clothes that are easy to dance in and shoes that are comfortable enough for you to wear for a whole day! And lastly, something you feel confident in, you may feel pressure to wear what everyone else is wearing but then you'll just look like everyone else, and that's no fun.
The statement piece
It's a challenge to stand out when there is a dress code. Everyone is wearing the same colors and a lot of times the same pieces since there are only a limited amount of school gear shops on campus. Pick one piece that stands out to you.
Want ideas? Here are some things I've tried in the past: school pajama shorts, a themed or mascot hat, or a funny t-shirt.
Balance
having made my point about standing out, don't throw all of these things into one outfit.
A) Because you'll look like you just dug through a child's costume box.
B) Because you must save the cool pieces for what is going to be a long football season. Style is all about balance, in proportions, colors, fabric, etc.…
Now that we've got all the game-day fashion essentials out of the way, it's time for the fun part, some outfit inspiration. Choose your player and have a great football season. Stay safe and stay masked up!
Here are 11 trendy outfit ideas for college game day, with outfits inspired by a variety of teams.
Also related: How to Dress for College Game Day (If You Don't Follow Sports)
Game Day Outfit Set #1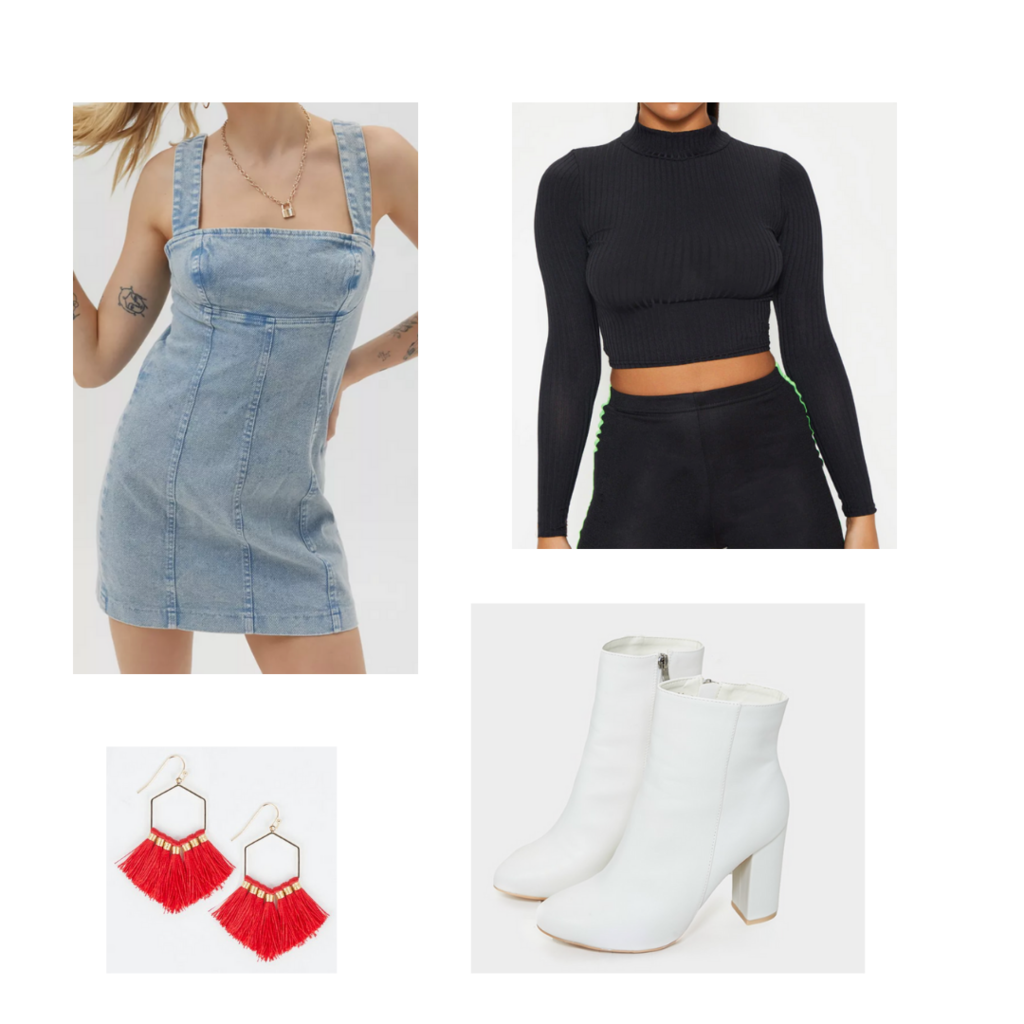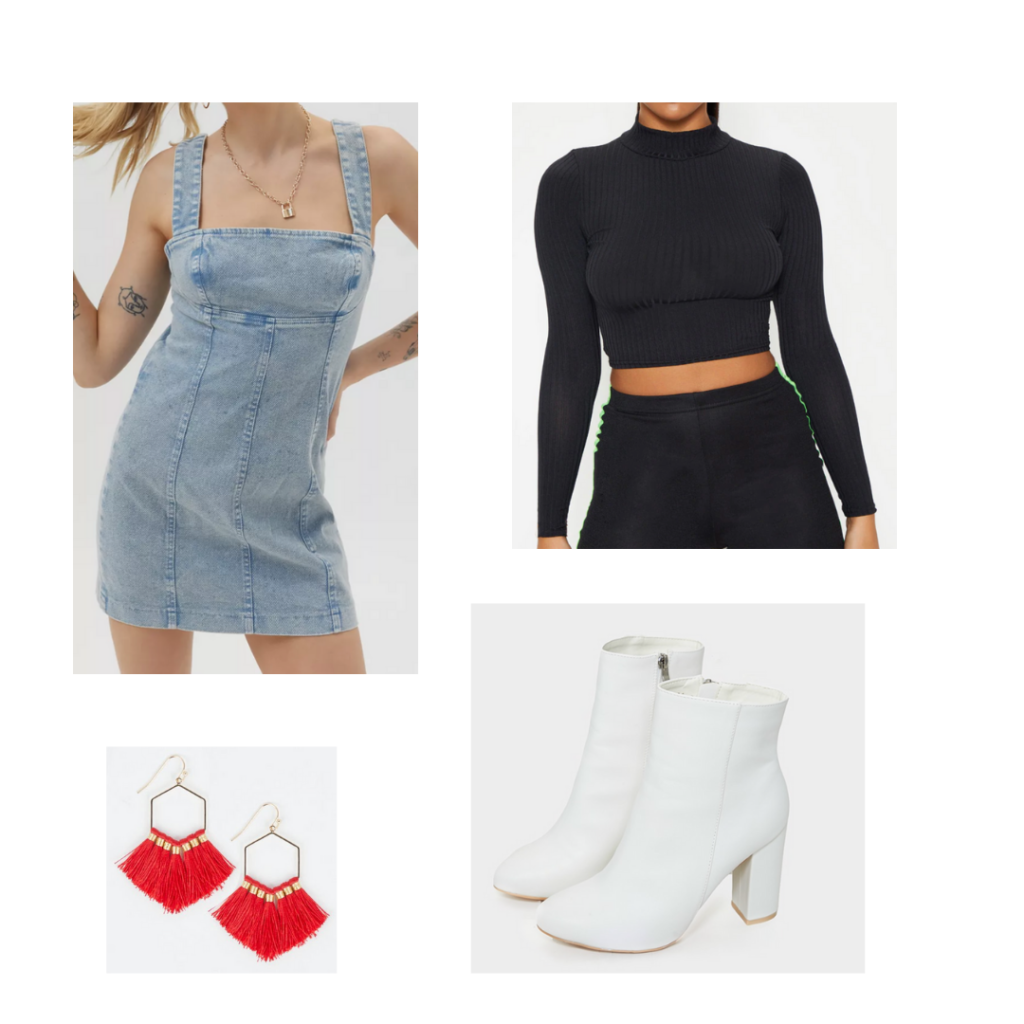 Products:
This cute look is inspired by an outfit I wore to a game day myself last year… and I plan on wearing it again this season!
I found a denim mini dress and paired it with some white chunky-heeled booties. Red tassel earrings showcase my team's colors, which you can obviously swap out for your own.
Here's the part that you can adjust according to the weather: the long sleeve mock neck would be great for a fall day, but feel free to leave it out if it's warm enough early in the season.
Game Day Outfit Set #2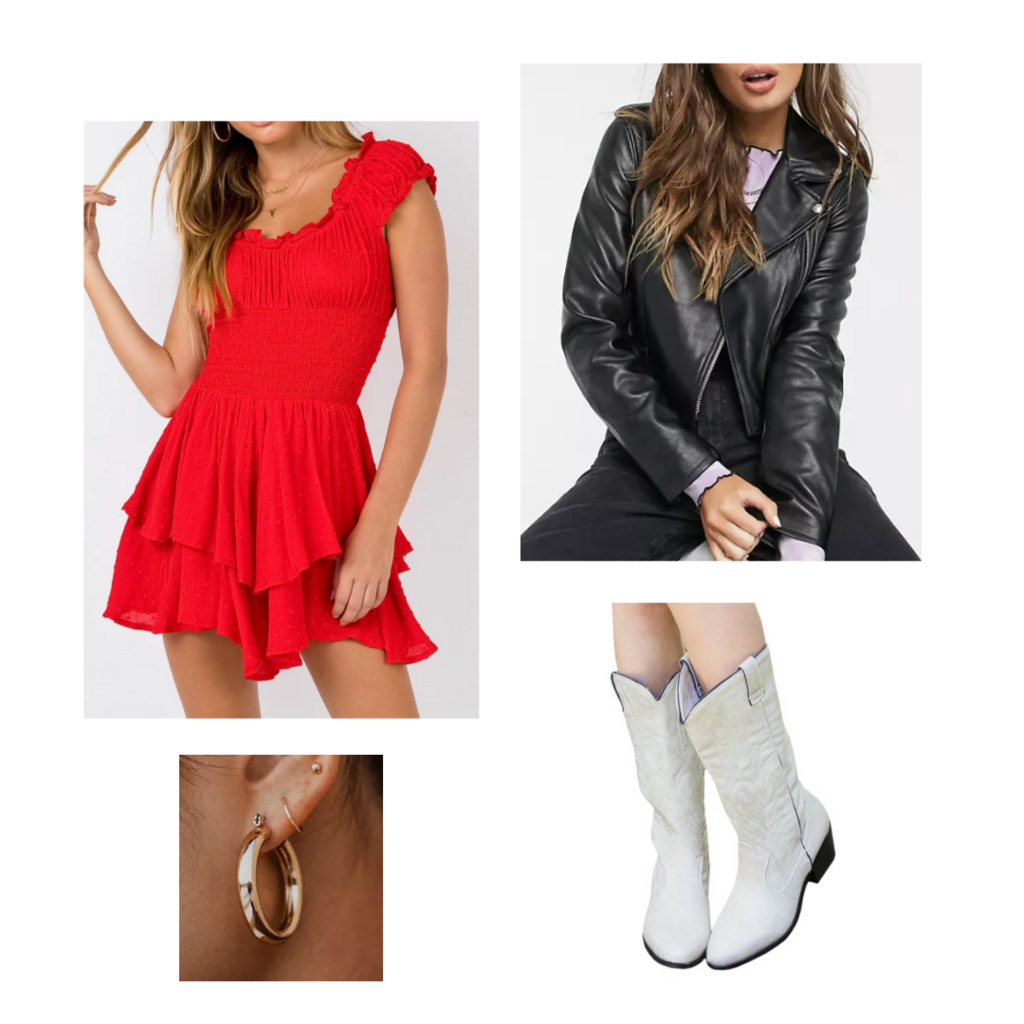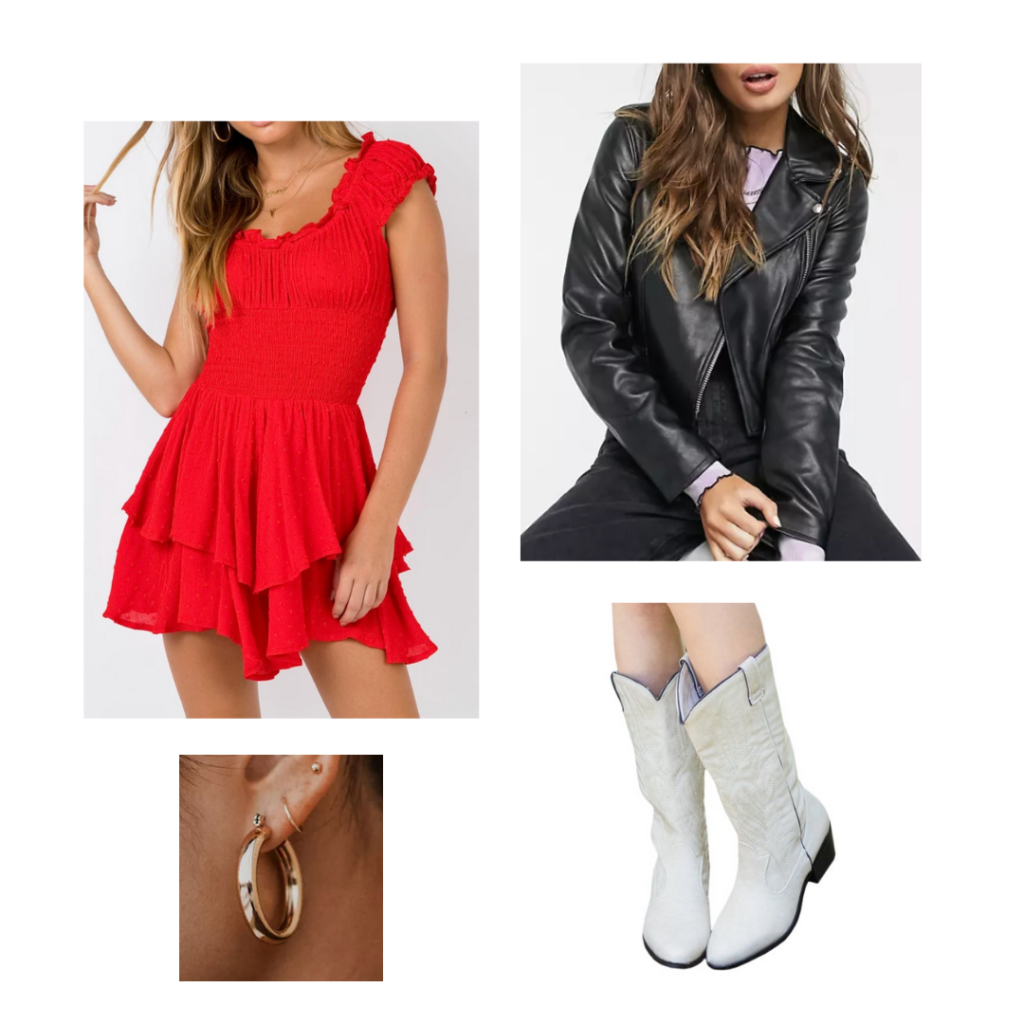 Products:
This next outfit is perfect for day games, especially here in the South.
I styled this adorable red romper with some white cowgirl boots. For extra warmth, I added a cropped leather jacket and some gold chunky hoop earrings. This look is simple and super cute.
Game Day Outfit Set #3
Okay, so wearing a jersey may seem obvious, but it's not done as often as you'd think.
An easy way to make a basic jersey outfit stand out is by adding a fun cowboy hat. I don't know what my fixation is with these hats, but it's a great way to add some fun to the jersey.
Wear some comfy white shorts that can peek out from under your jersey and some leather, being stepped-on-proof, sneakers. You've got a party at the top so balance it out with some fun school spirit socks.
Game Day Outfit Set #4
If you've been to too many game days and this is just another Saturday for you, wear some white jeans with a funky university shirt. Where your styling really comes in is your accessories. Brown and orange are both trending for fall, so wear some brown sneakers.
Layer on the accessories in your school colors, purple is particularly fun, and I'm kind of jealous of anyone with purple in their team colors.
Game Day Outfit Set #5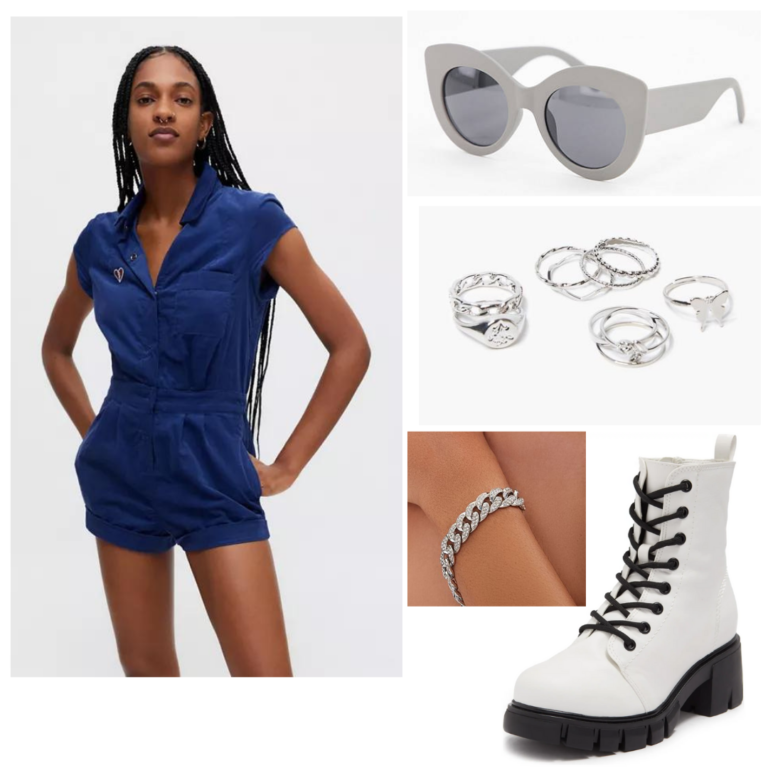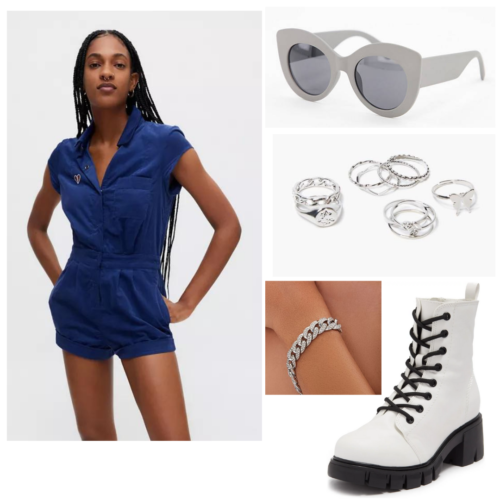 Products:
If game days aren't your thing and are just the first step to a really cool day, or if you just don't like gameday outfits, this is the look for you. Wear a normal cute outfit that also works for a game day. Utility rompers are so cute and give you an edgy vibe, pair them with some white combat boots for a trendy vibe.
Accessories are your best friend, especially when you want to low-key rep your school. Sunglasses and jewelry are perfect for the "I have other things to do" vibe.
Game Day Outfit Set #6
A Hawaiian shirt is simultaneously laid back and a fashion statement. If you live in a sunny state like California, pair it with a bikini top in your school colors and then balance out the colors with some white shorts.
Lastly, add some fun accessories to complete the look, namely an on-trend beaded school pride necklace and some sunnies that are practical and game-day-worthy. And don't forget your game day basics, high-top converse.
Game Day Outfit Set #7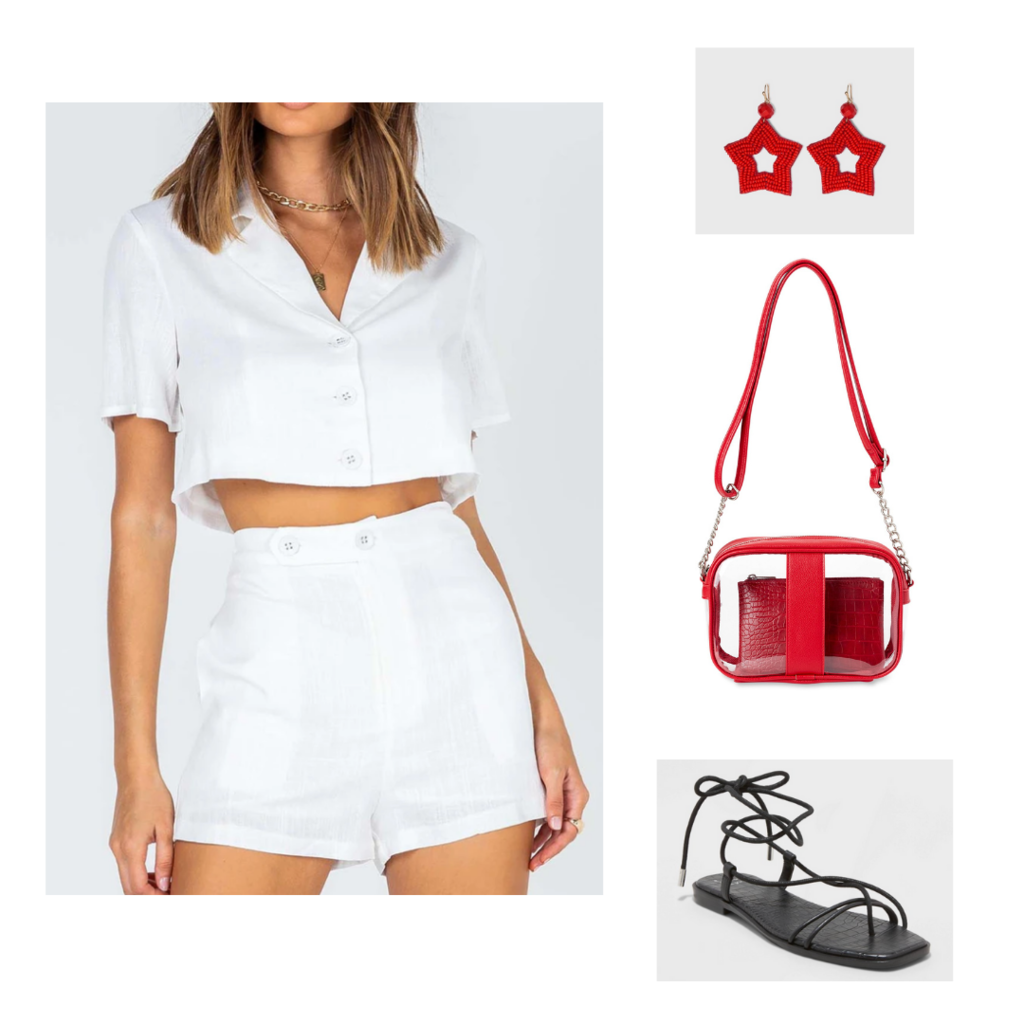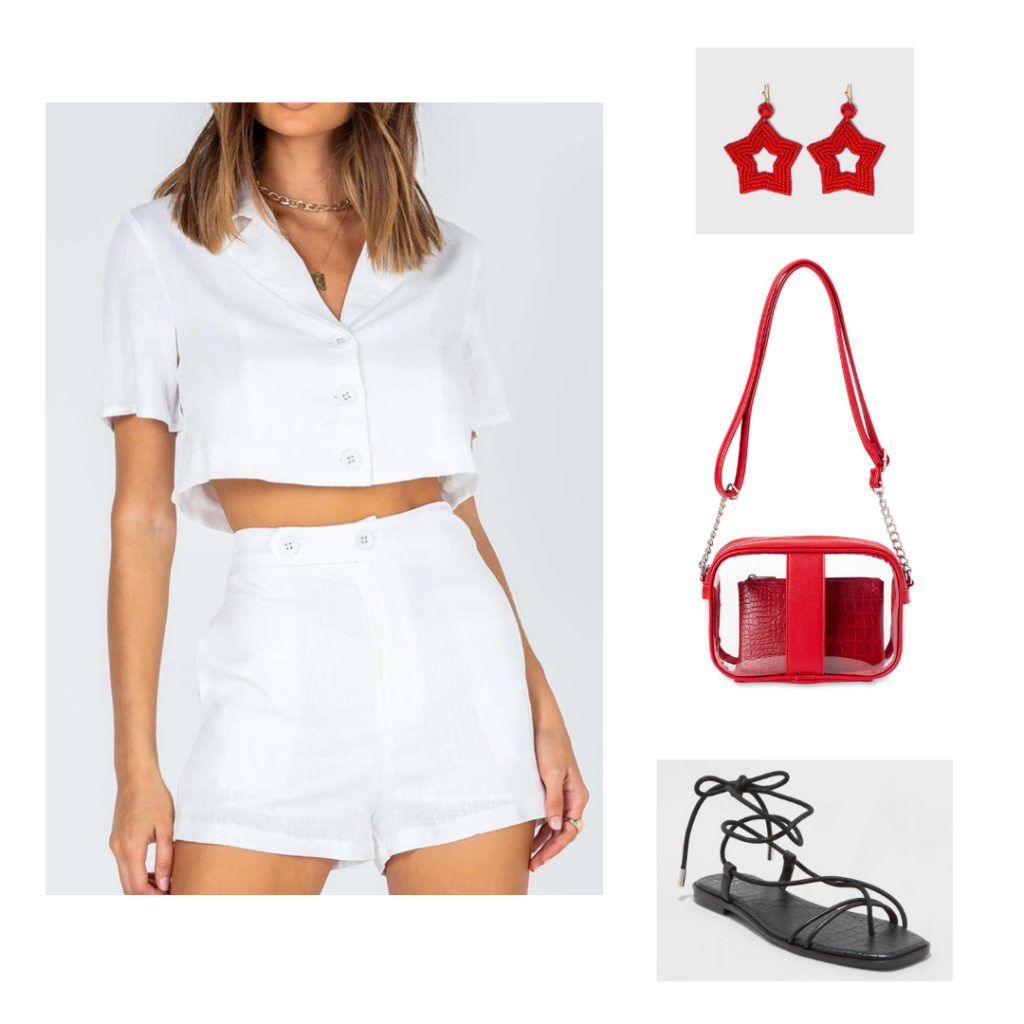 Products:
This matching white set is something you could wear all summer, then turn around and wear to a football game this fall.
It would look fantastic with some lace-up black sandals and these amazing beaded star earrings.
I finished off the look with a clear purse that has red detailing. Clear bags are required for most stadiums and nowadays, there are tons of cute ones out there.
Game Day Outfit Set #8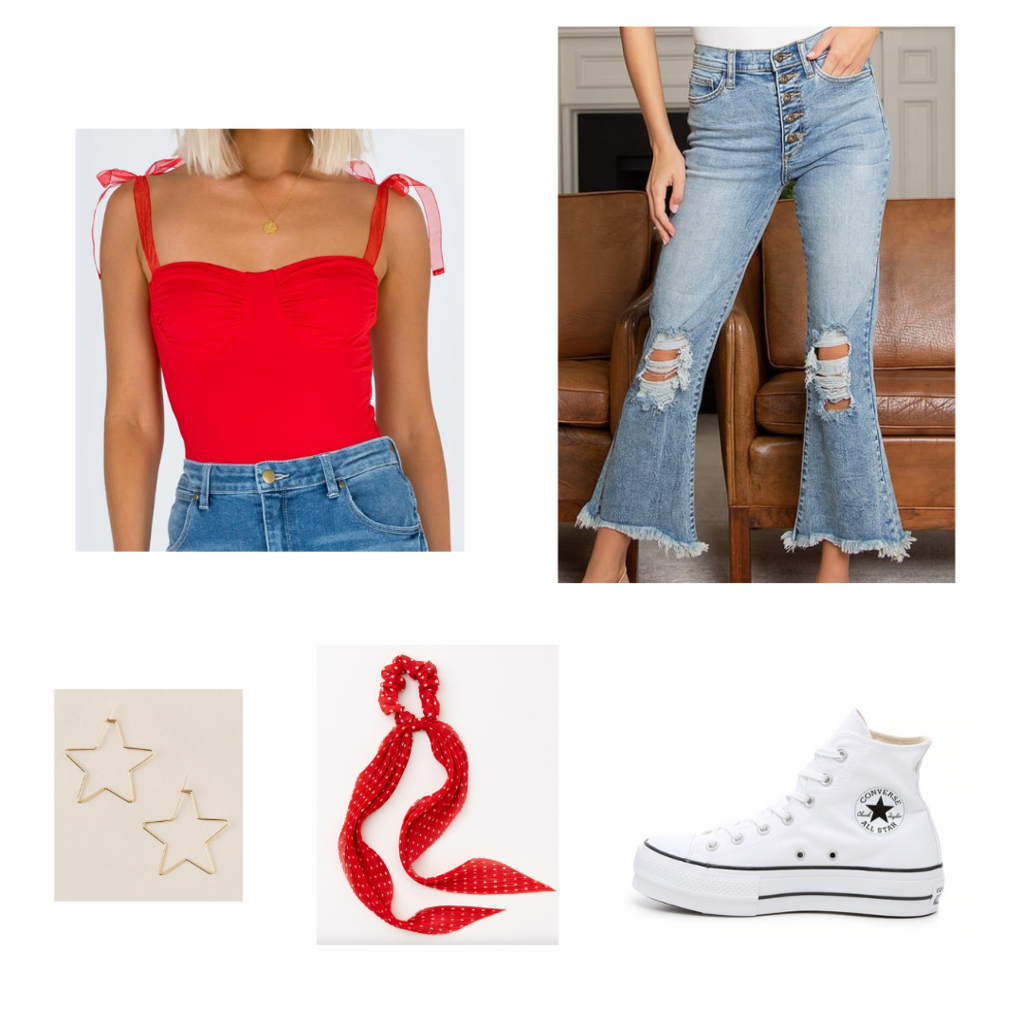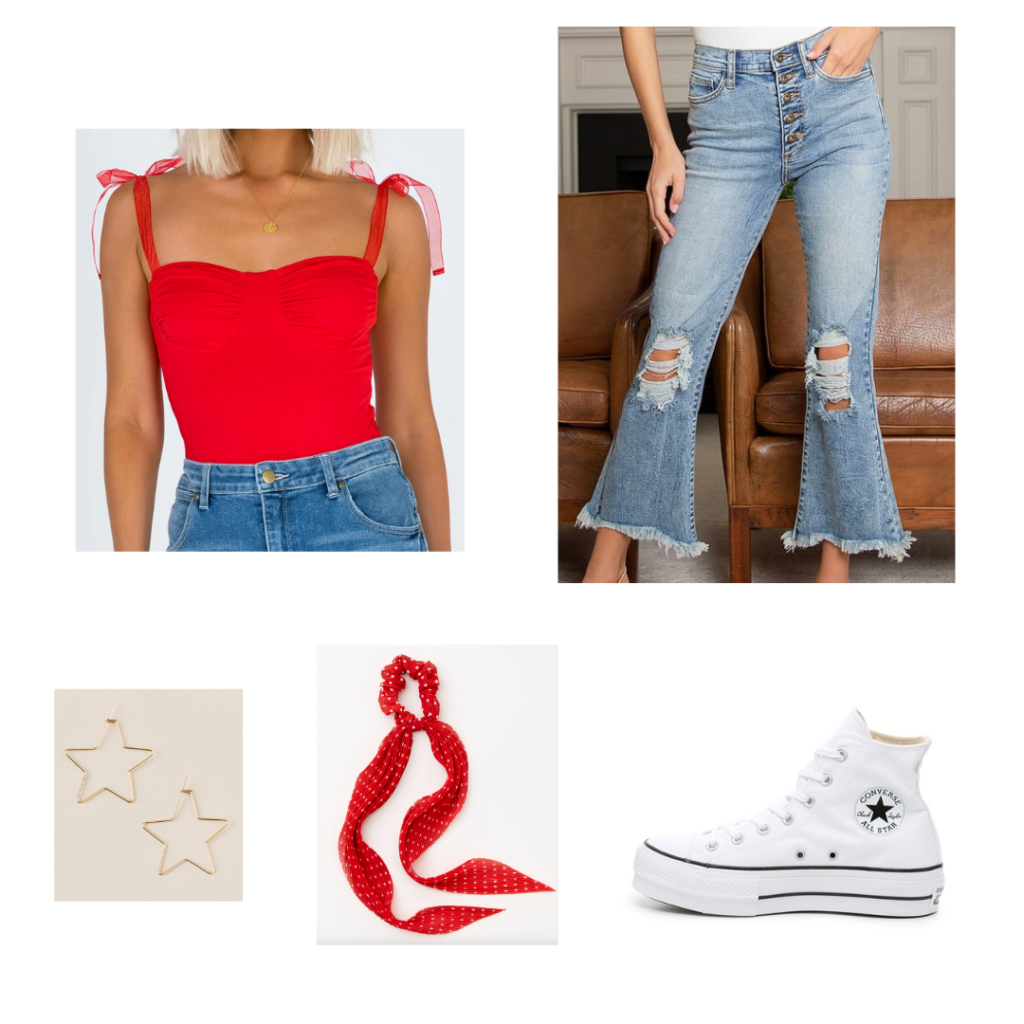 Products:
This outfit is a little more casual for days when you just don't feel like going all out. I styled these flare, cropped jeans with a red bodysuit that has really pretty ruching and details.
Some white high-top sneakers will keep you comfortable since there is a lot of walking at football games.
For accessories, these gold star earrings and this polka dot hair scarf are all you need. It gets pretty hot in the stadium, so something like this is great to throw your hair up and make it look cute!
Game Day Outfit Set #9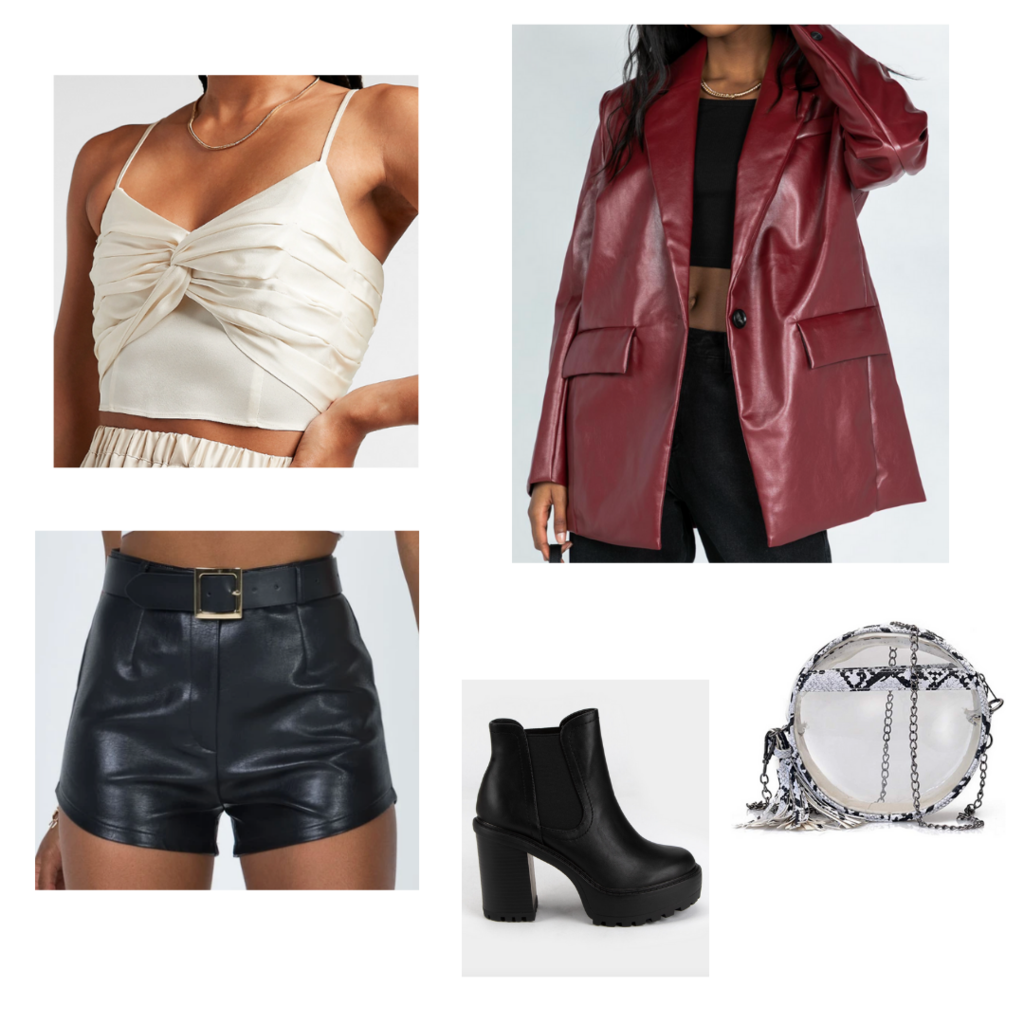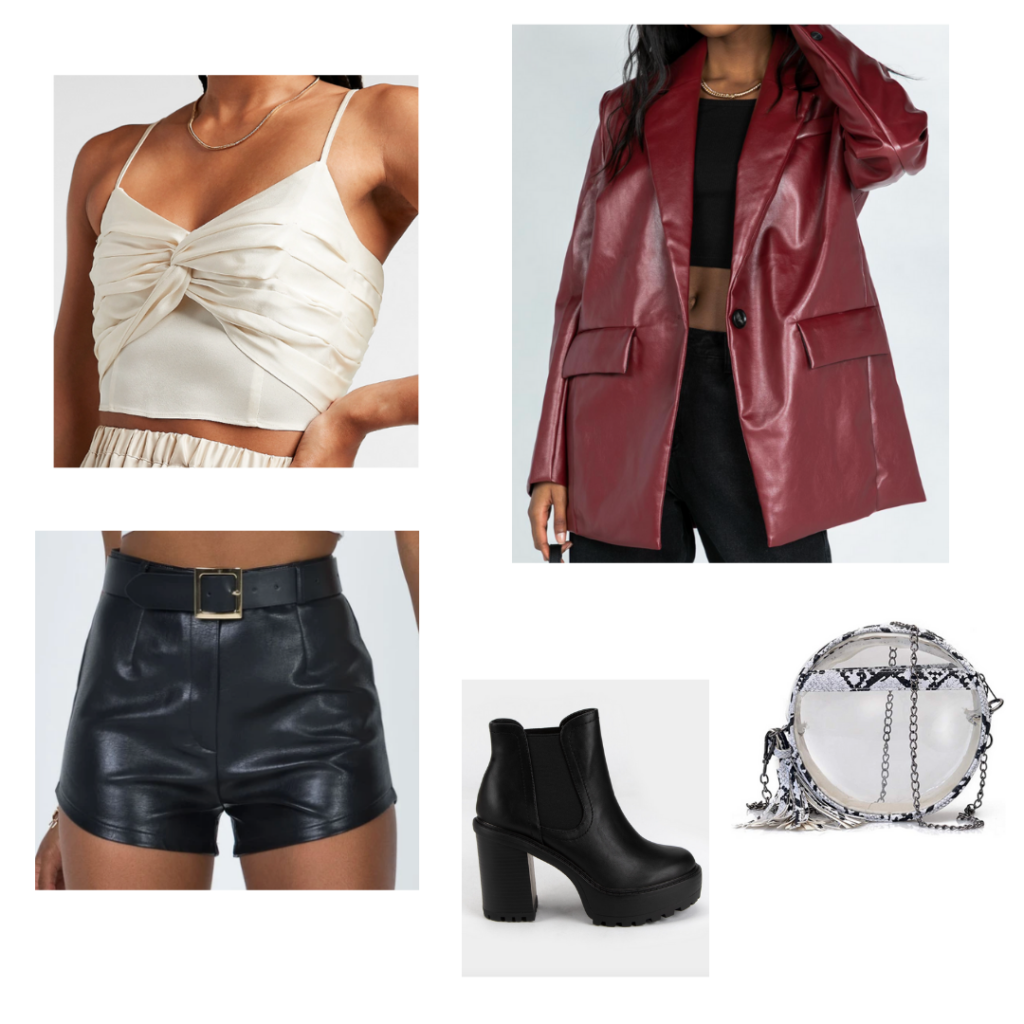 Products:
This outfit is meant for when you want to really go fashion-forward with your game-day look.
I found a pretty, cropped white camisole and paired it with high-waisted faux leather shorts. I opted for an oversized, maroon jacket that will be very versatile to wear this fall.
Chunky-heeled platform booties and a clear purse with snakeskin detailing polish off this outfit.
Game Day Outfit Set #10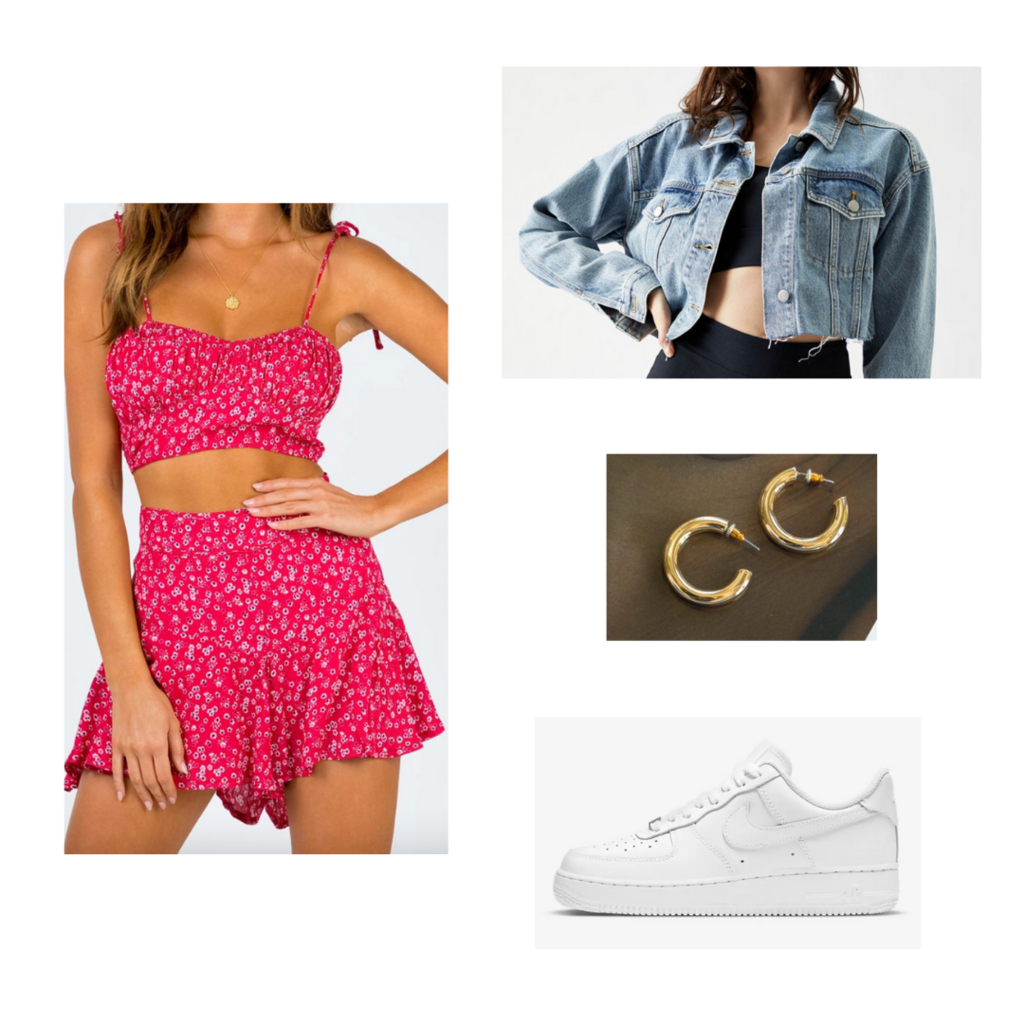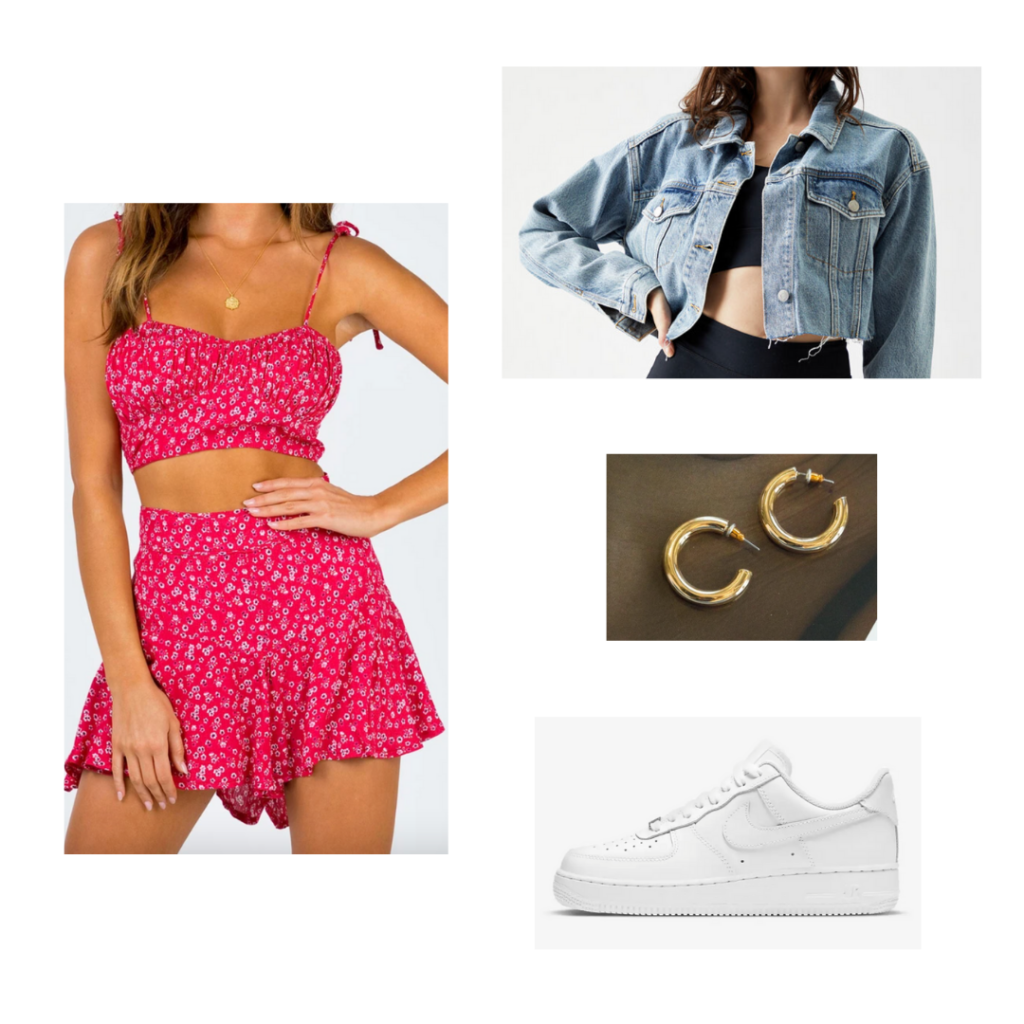 Products:
This next style is perfect for those super hot games early in August.
This matching floral set is delightful and looks very comfortable! Since it'll be hot, you don't want anything too heavy or that would stick to your skin. I added a cropped denim jacket for the night and some chunky gold hoops to keep it simple.
For shoes, some classic white kicks will be very comfortable.
Game Day Outfit Set #11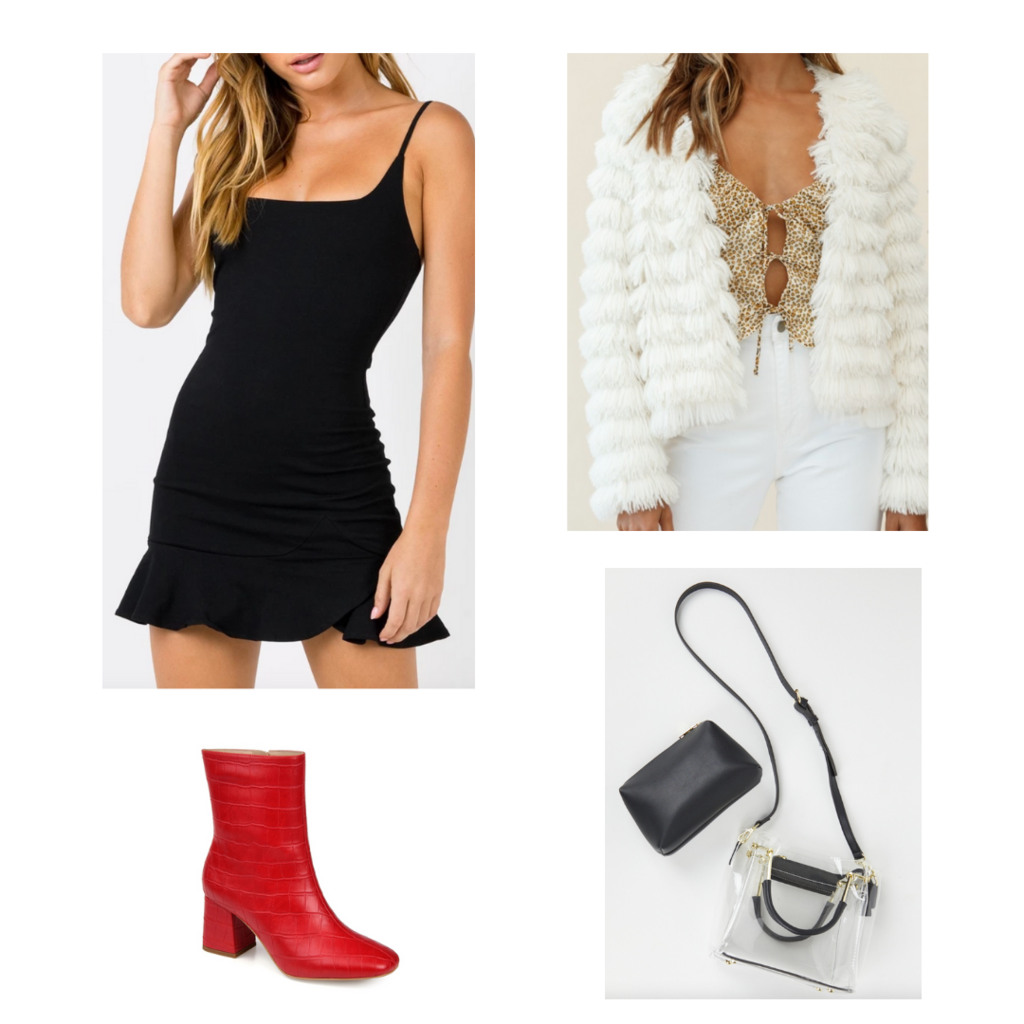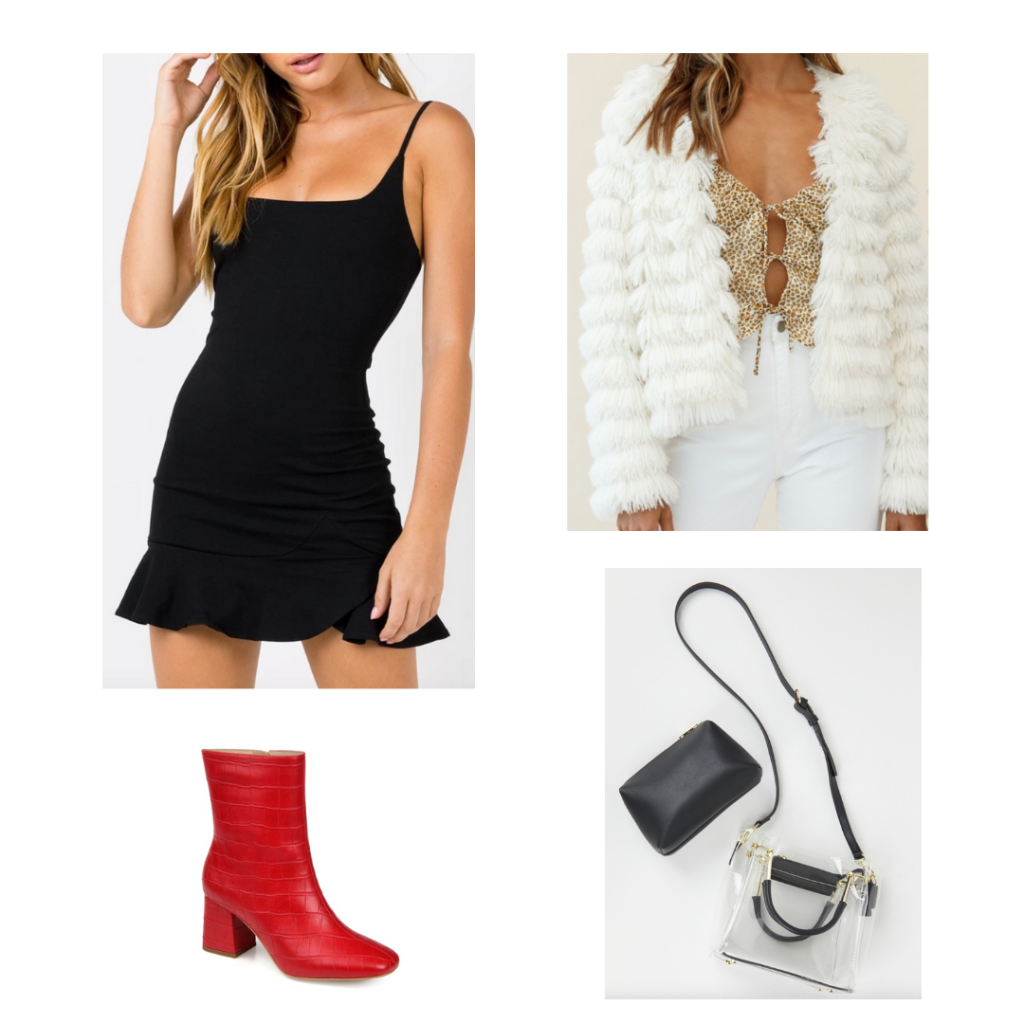 Products:
This last outfit is the most dressy of these seven looks.
I styled this black, feminine dress with some red snakeskin booties to show off my team's colors.
For layering, I opted for this white fur jacket that is super chic and trendy. This clear, crossbody bag has some black accents and comes with a mini pouch for the inside that would be very handy on game day.
Which game-day outfit is your favorite?
What do you like to wear for your college game days? Do you go to a big sports school? Let me know in the comments below!
If you like this college game day outfit, you might want to consider our related posts below –