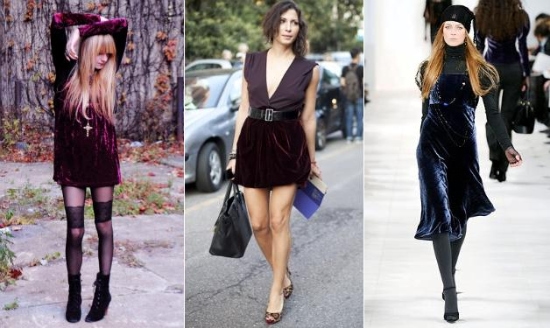 Photo Credits: 1. Lookbook, 2. Elle, 3. Ralph Lauren Fall 2010 RTW
Velvet is a classic fabric that instantly gives off an air of elegance and can dress up even the simplest of outfits. However, velvet has also received a bad rap being that it is one of the trickiest fabrics to wear. It is often associated with little girls' holiday dresses or stuffy older women, but in fact, college girls can rock velvet too!
Need some ideas and advice for looking stylish while wearing velvet? Read on for some tips and tricks, outfits and more:
Four Simple Tips & Tricks for Wearing Velvet
Although velvet is usually synonymous with special occasions, think beyond formal wear. Try and wear velvet in an everyday look to add a glam touch to any outfit.
That being said, velvet also works well with classic wardrobe staples. The best way to wear something you're unfamiliar with is to pair it with non-trendy, classic pieces like opaque tights, denim and basic cotton shirts – try wearing these pieces with velvet items if you're hesitant.
While classic black velvet pieces are always a safe bet, don't be afraid to try bold colors. There are tons of velvet pieces out there in beautiful jewel tones like emerald green and royal blue that can make such a stylish impact.
Since velvet is a visually heavy fabric, pair it with more delicate fabrics for balance. I especially love how velvet looks with satin, silk and lace.
Three Ways to Wear Velvet
If you're still stumped on how to incorporate this material into an everyday look, I created three outfits using different velvet pieces:
How to Wear a Velvet Blazer: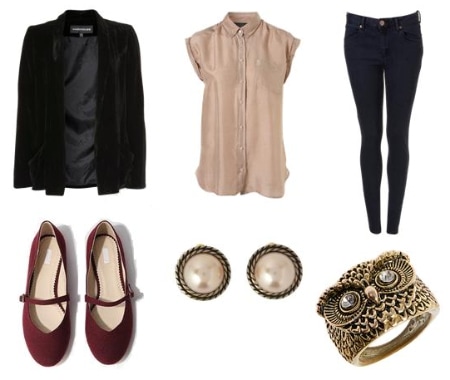 Blazer, Blouse, Jeans, Flats, Earrings, Ring
For this outfit, I chose a classic velvet blazer and created an outfit that would be appropriate for class. Pair the blazer with a feminine silk blouse and some classic dark-wash jeans. Next, add a pop of color with some cute Mary Jane flats. Accessorize with some understated jewelry, like these stud earrings and owl-shaped ring.
How to Wear a Velvet Dress: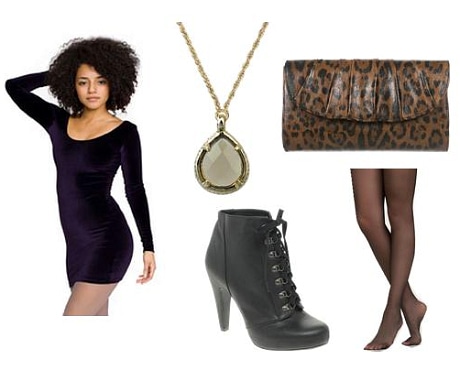 Dress, Necklace, Clutch, Boots, Tights
This is a fun way to wear velvet for a night out. Start off with a pretty velvet dress in a gorgeous purple hue and pair it with some sheer black tights. Add edgy heeled booties and a leopard clutch; these details will keep the ensemble interesting. Since the rest of the outfit is so wild, for jewelry, all you need is a simple drop necklace.
How to Wear a Velvet Skirt: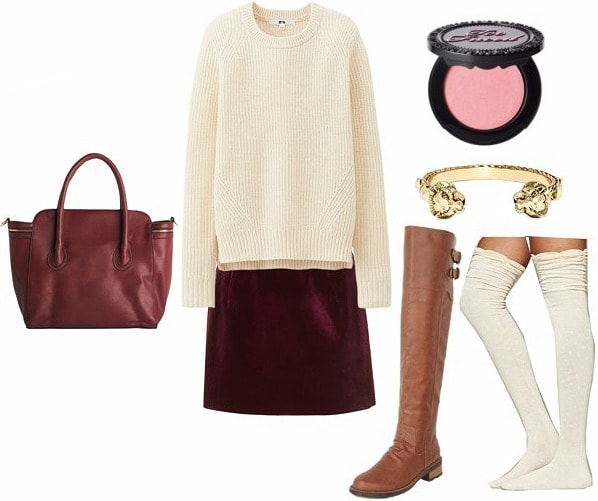 Skirt, Top, Watch, Belt, Pumps
I absolutely love this skirt – from a distance, it looks like it could be a classic denim skirt, but upon closer inspection, it is actually made of a luxe velvet. Pair the skirt with a basic knit top with some unique shoulder embellishments. Add a wrap belt for textural contrast and some matching pumps. Finally, accessorize with a quirky snake-shaped watch.
Other Stylish Velvet Items
Of course, there are tons of other great velvet options out there, so here are some other fabulous velvet pieces I found online: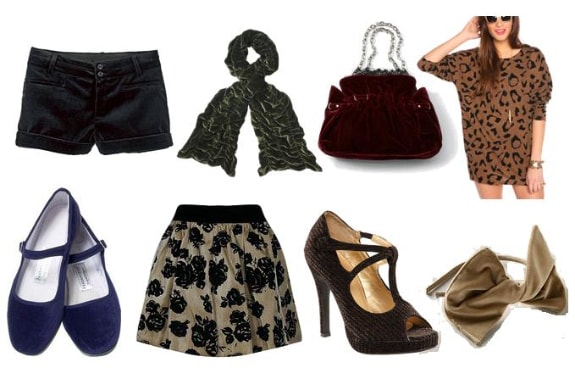 Top: 1, 2, 3, 4 Bottom: 5, 6, 7, 8
If you're still iffy about rocking this fabric, try a velvet accessory such as a handbag, scarf or headband. Another way to ease into velvet is with velvet footwear, such as these adorable flats or elegant heels. Most patterned velvet items — like this tunic and skirt –mix velvet with another fabric. This is a fun way to incorporate velvet into your look, without covering yourself in the material. Finally, velvet shorts are an age-appropriate way to rock this fabric and can easily be dressed up or down depending on the occasion.
What do you think?
Would you wear velvet? Do you already own some velvet pieces? How would you wear velvet? Be sure to leave a comment and let me know your thoughts!