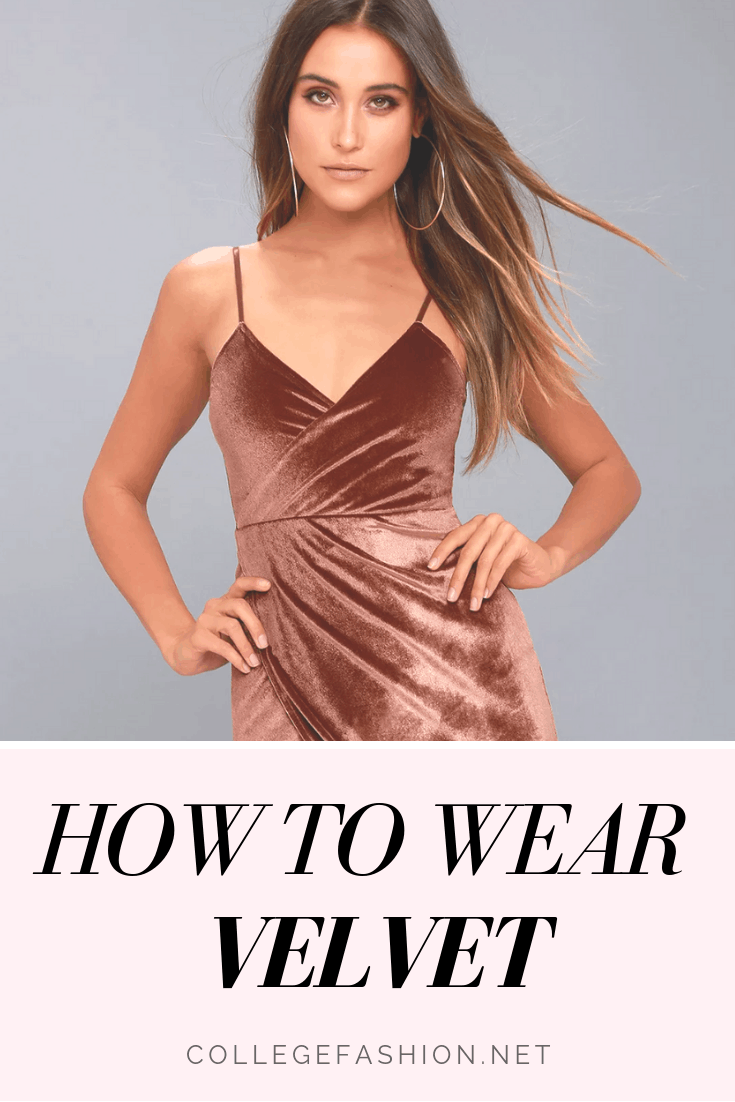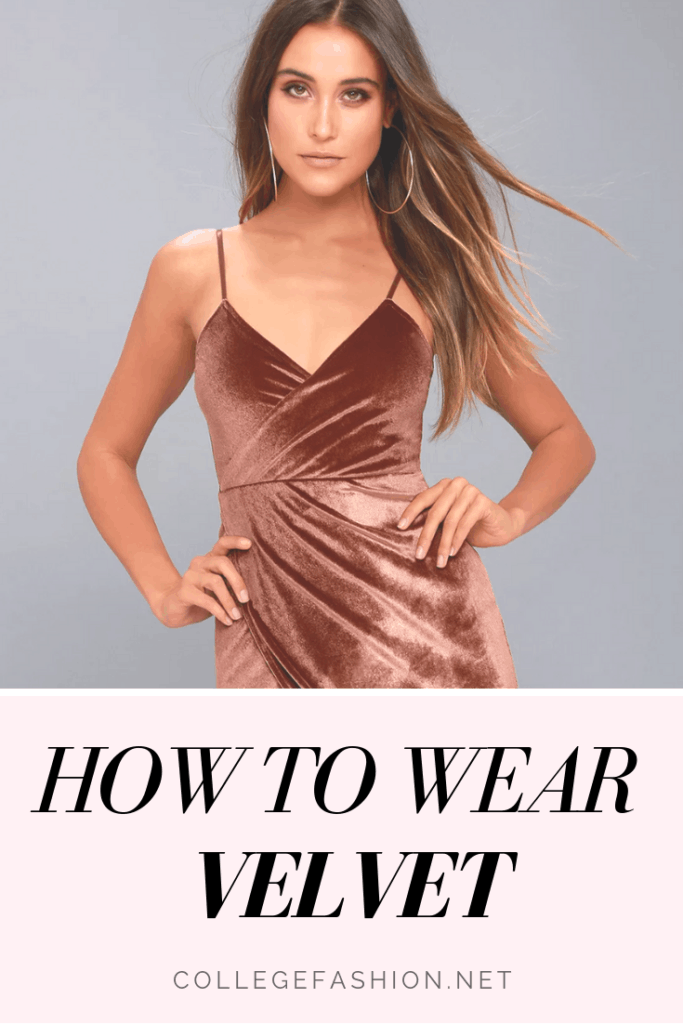 Velvet is a classic fabric that instantly gives off an air of elegance and can dress up even the simplest of outfits.
However, velvet has also received a bad rap being that it is one of the trickiest fabrics to wear. It is often associated with little girls' holiday dresses or stuffy older women, but in fact, college girls can rock velvet too!
Need some ideas and advice for looking stylish while wearing velvet? Here's our ultimate guide to how to wear velvet, with tips and tricks, outfits and more:
Four Simple Tips & Tricks for Wearing Velvet
Although velvet is usually synonymous with special occasions, think beyond formal wear. Try and wear velvet in an everyday look to add a glam touch to any outfit.
That being said, velvet also works well with classic wardrobe staples. The best way to wear something you're unfamiliar with is to pair it with non-trendy, classic pieces like opaque tights, denim and basic cotton shirts – try wearing these pieces with velvet items if you're hesitant.
While classic black velvet pieces are always a safe bet, don't be afraid to try bold colors. There are tons of velvet pieces out there in beautiful jewel tones like emerald green and royal blue that can make such a stylish impact.
Since velvet is a visually heavy fabric, pair it with more delicate fabrics for balance. I especially love how velvet looks with satin, silk and lace.
Three Ways to Wear Velvet
If you're still stumped on how to incorporate this material into an everyday look, I created three outfits using different velvet pieces:
How to Wear a Velvet Blazer: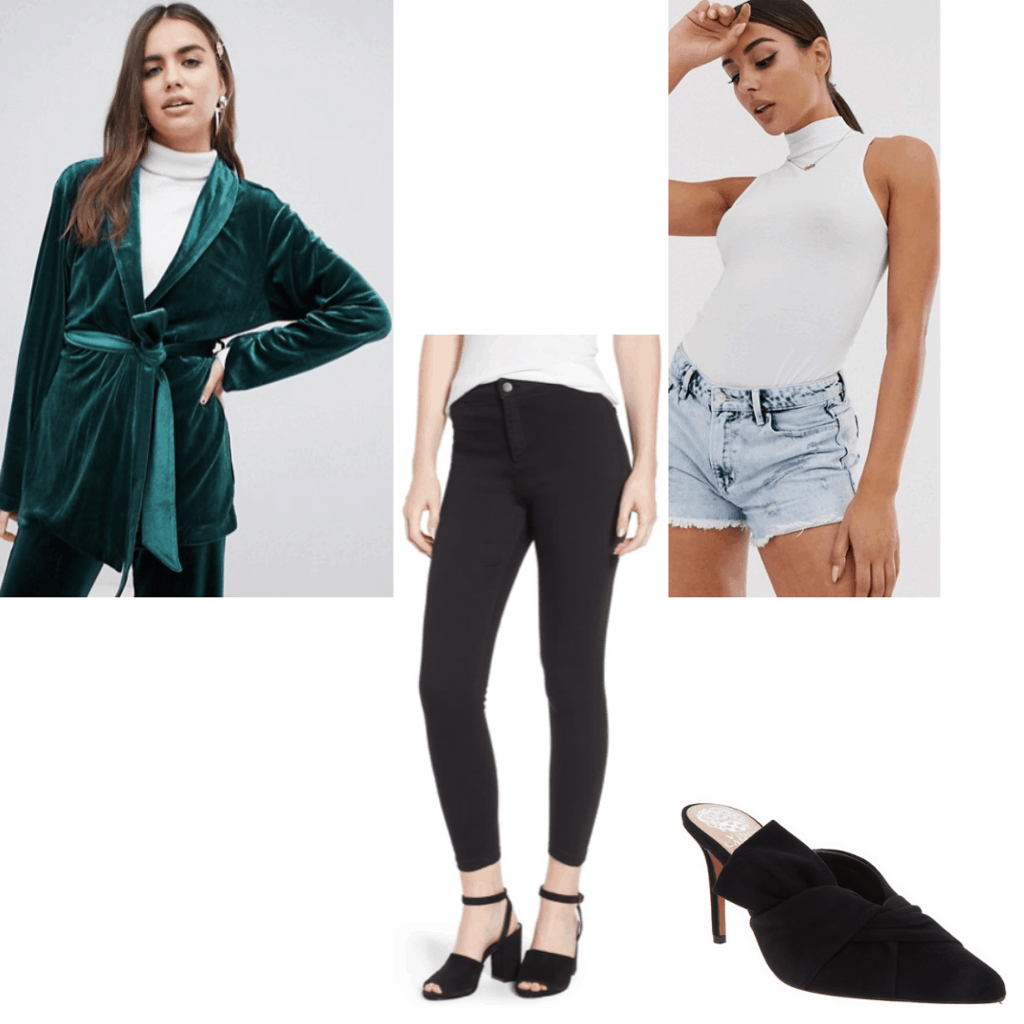 Products: Blazer – Asos, Bodysuit – Asos, Jeans – Nordstrom, Heels – QVC
For this outfit, I chose a velvet blazer with a stylish belt and created an outfit that would be appropriate for class or an outing.
Pair the blazer with a clean, crisp white bodysuit and some classic black jeans. Next, add a pop of height with this small backless heel.
How to Wear a Velvet Dress: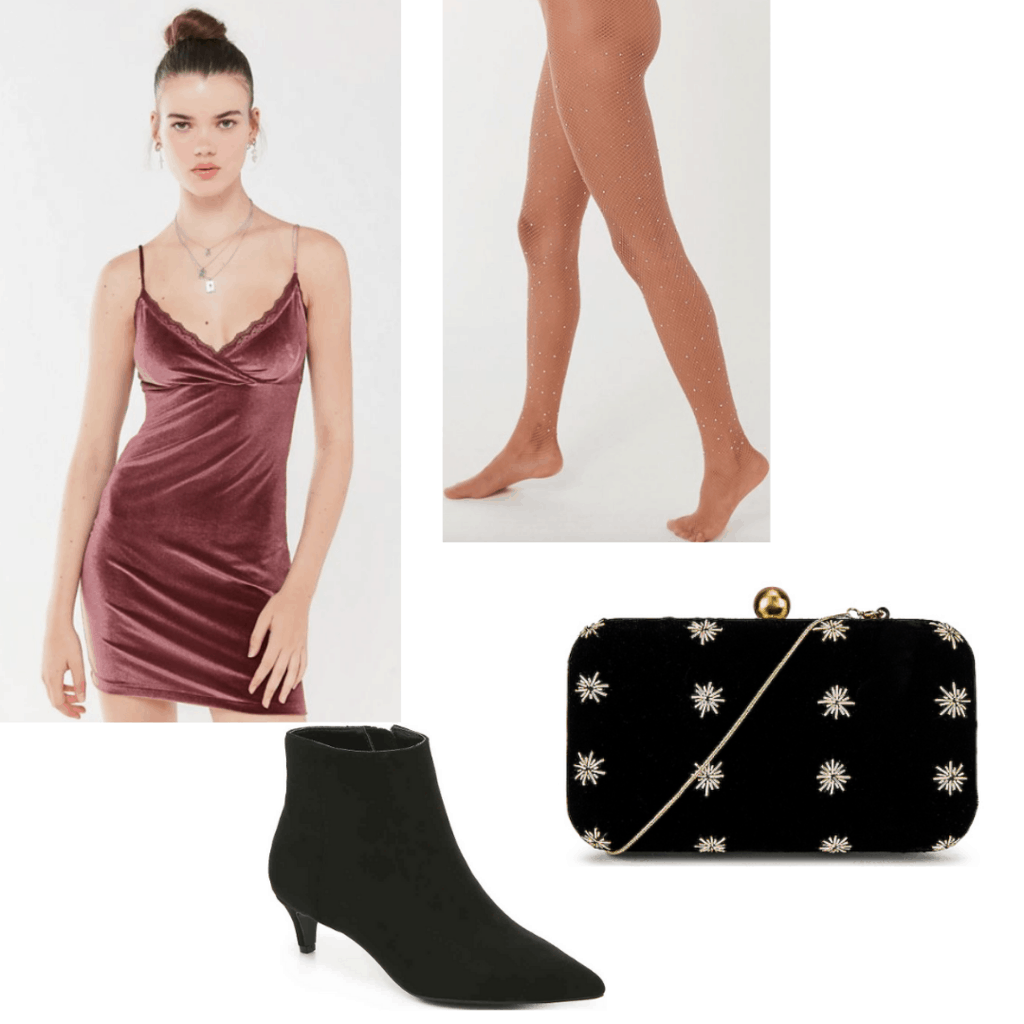 Products: Dress – Urban Outfitters, Tights – Urban Outfitters, Boots – DSW, Clutch – Revolve
This is a fun way to wear velvet for a night out. Start off with a pretty velvet dress in a gorgeous pinkish hue and pair it with some jeweled fishnet tights.
Add short heeled booties and a starlit clutch; these details will keep the ensemble interesting.
How to Wear a Velvet Skirt: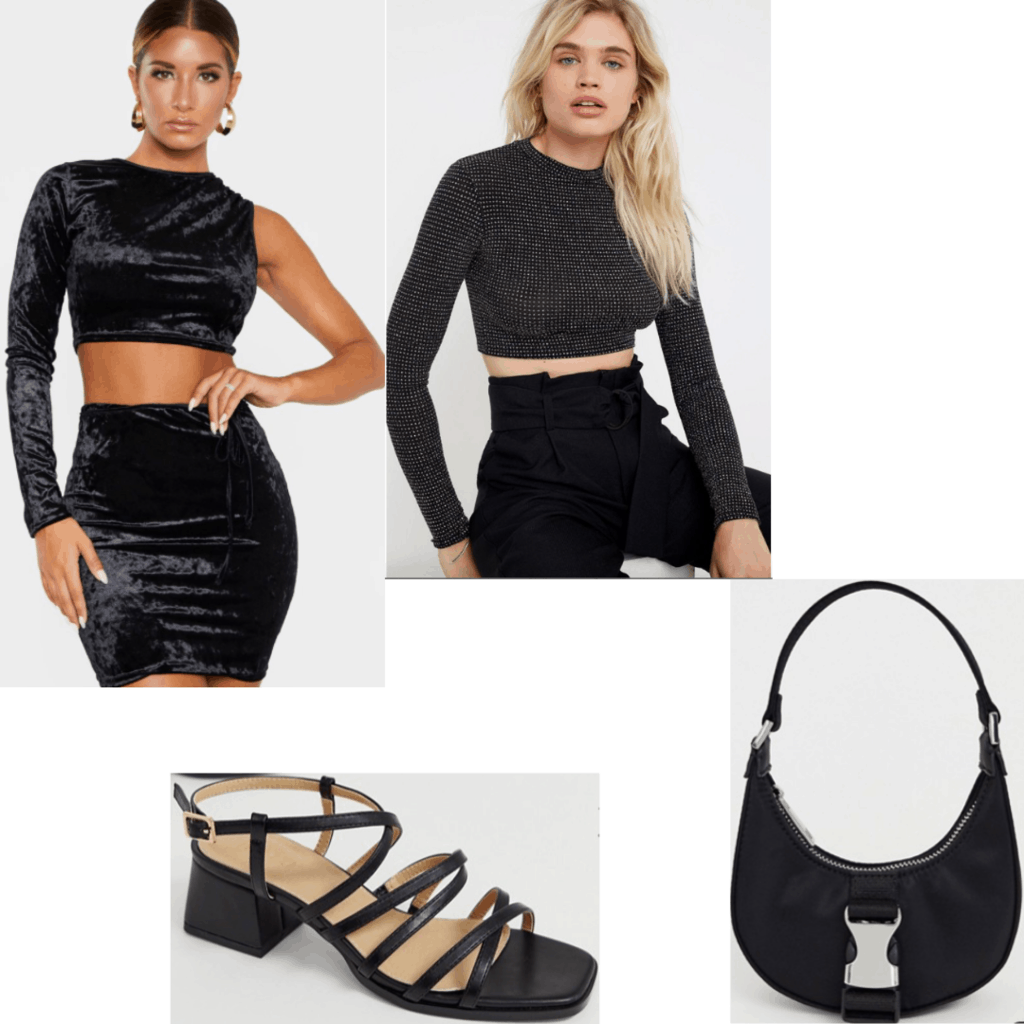 Products: Skirt – Pretty Little Thing, Top – Urban Outfitters, Shoe – Asos, Bag- Asos
I absolutely love this skirt — it's a classic, perfect for any occasion, especially with holidays around the corner.
Pair the skirt with a nice sparkled crop top.
These strappy low heels give the look a nice touch. Finally, accessorize with this '90s-inspired bag to complete the ensemble.
Other Stylish Velvet Items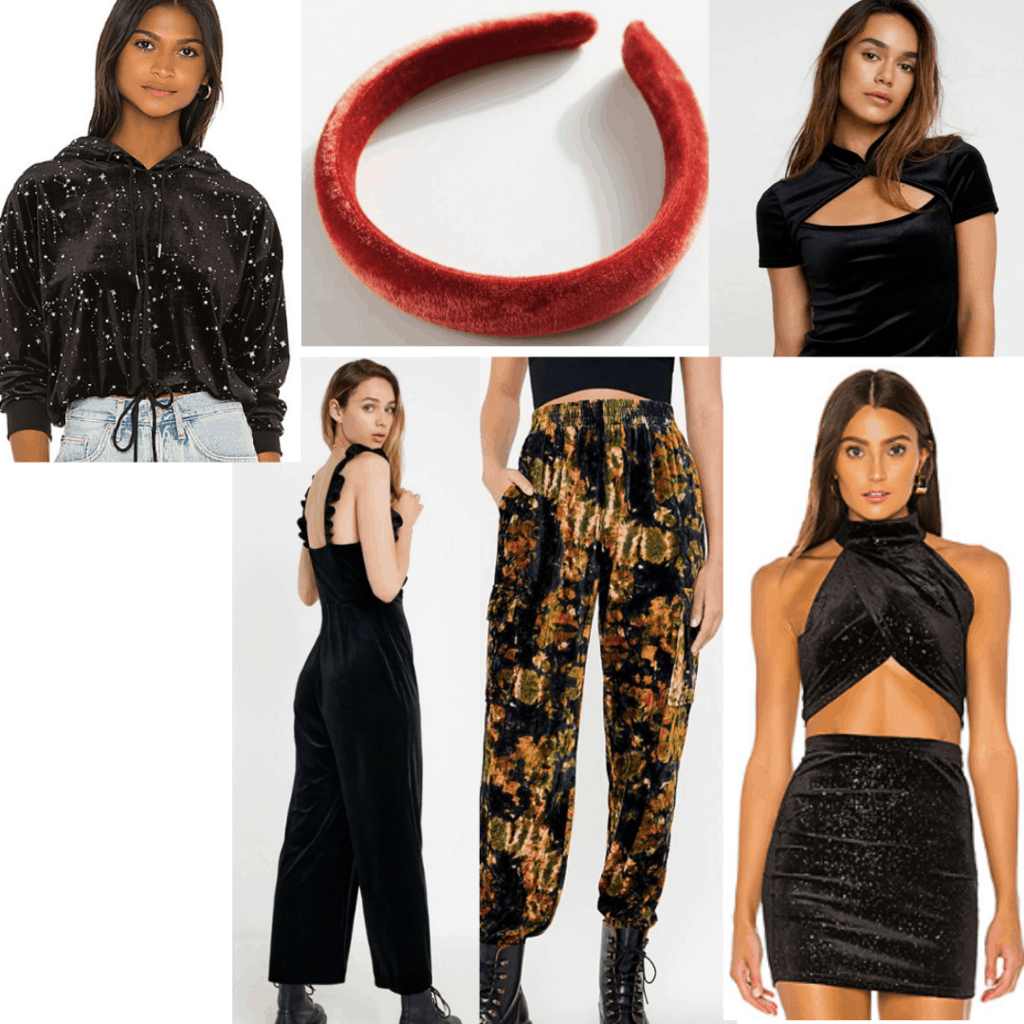 Products: Sweatshirt – Revolve, Headband – Urban Outfitters, Top – Urban Outfitters, Jumpsuit – Urban Outfitters, Pants – Urban Outfitters, Mini Skirt Set – Revolve
Of course, there are tons of other great velvet options out there, so here are some other fabulous velvet pieces I found online:
If you're still iffy about rocking this fabric, try a velvet accessory such as a handbag, scarf or headband.
Another way to ease into velvet is with velvet tops or pants alone. I love patterned velvet items for an extra pop. Or go bold with something extra unexpected, like this mini skirt set. This is a fun way to incorporate velvet into your look, without covering yourself in the material.
Finally, velvet jumpsuits are an easy way to dress up or down for any occasion.
What do you think?
Would you wear velvet? Do you already own some velvet pieces? How would you wear velvet? Be sure to leave a comment and let me know your thoughts!