This post will show you the must-know fashion trends for Spring Summer 2023.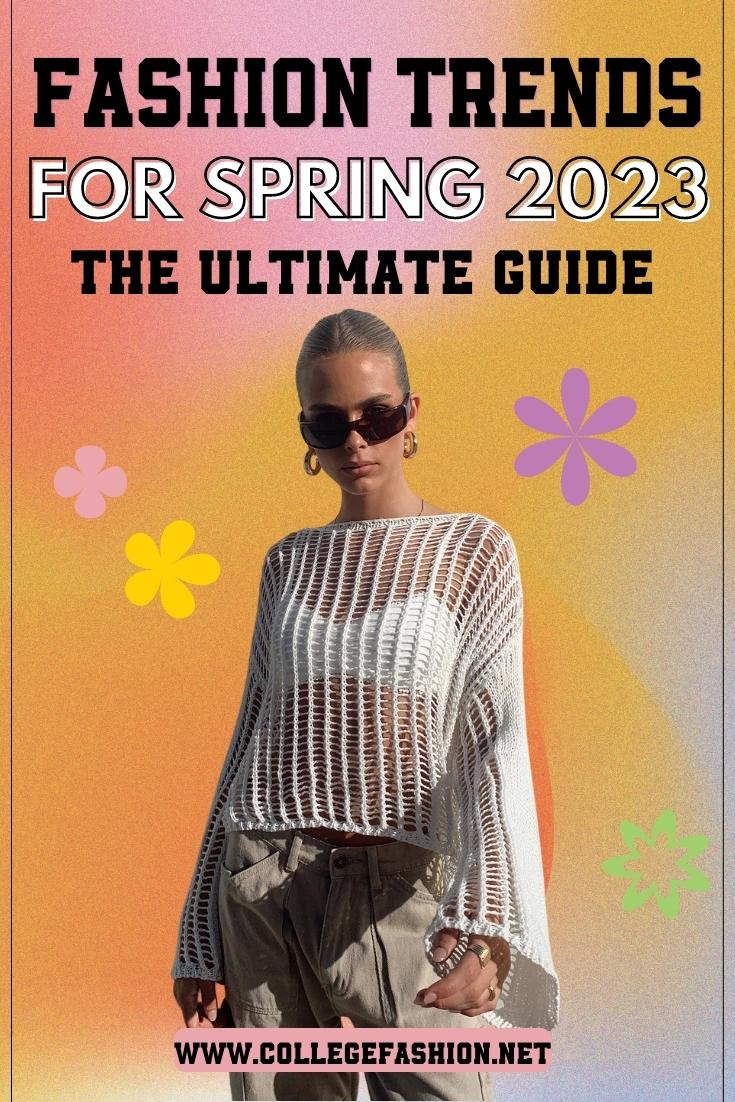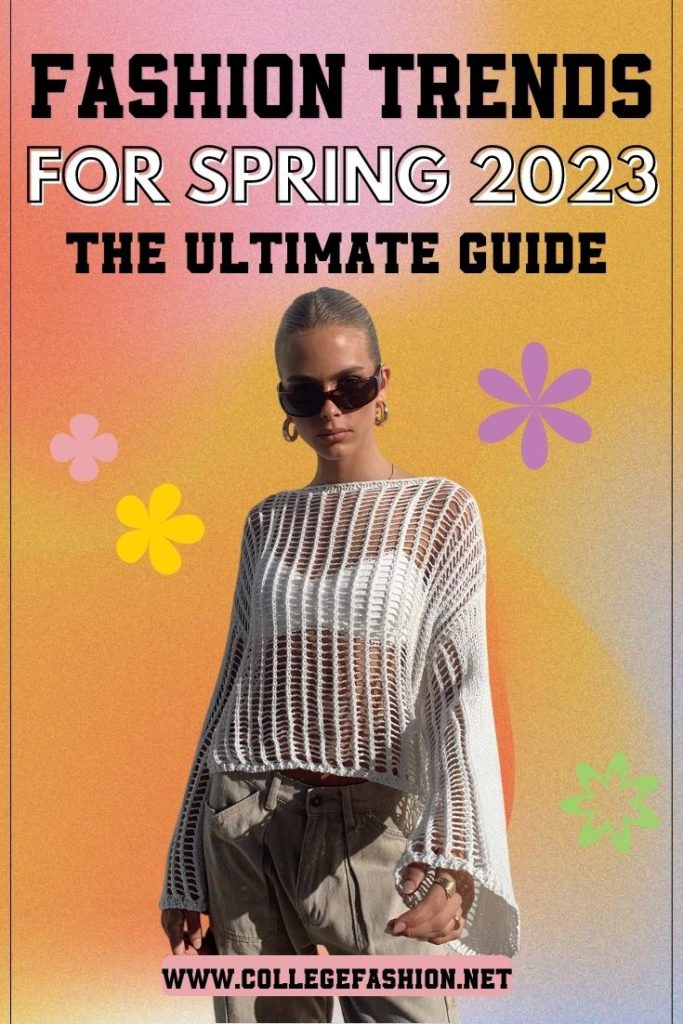 Let's talk fashion trends. It may be winter right now, but spring is just around the corner, and it's time to start thinking about what our spring wardrobes are going to look like. It's never too early to start planning outfits and curating your ideal wardrobe, after all!
Think of this as your comprehensive guide to all the must-know trends for Spring/Summer 2023, where we take inspiration from the fashion runways and adapt the trends to your everyday life, along with nail and hair trends.
Best of all, all the clothing and accessories you'll see are under $100, so you won't have to break the bank in order to freshen up your wardrobe for the spring.
There's a lot to cover, so let's get right to it!
Runway Trends
The fashion world is always a step (or a season) ahead, and though it may be winter right now, designers already showcased their Spring Summer 2023 collections a few months ago.
Looking to designer runway presentations is a great way to get an idea of what kind of fashion styles are going to start trending, and of course, to get serious outfit inspiration.
These are some of the top spring summer fashion trends that could be seen at multiple fashion shows this season, and what you'll want to look for when curating your wardrobe for the upcoming season.
Color Trends
Keep your eye out for these key colors this spring season, which were all over the fashion runways. Wearing these bright, bold hues is going to add major trend appeal to your look!
Pink
Walk into any store right now and there's a good chance you'll see a sea of bright pink clothing, signaling that spring is here! (Well, almost.)
From pops of pink on Miu Miu's runway to head-to-toe hot pink outfits in Versace's collection, it is clear that Barbiecore made a lasting impact.
Ways to Add Bright Pink to Your Wardrobe: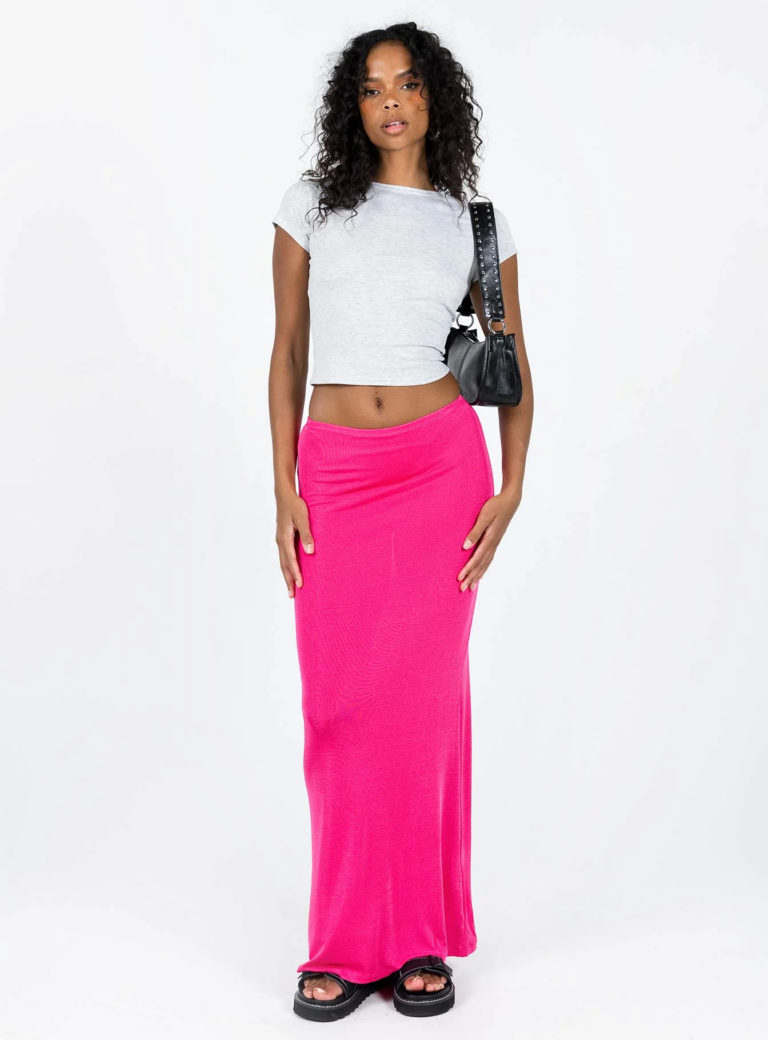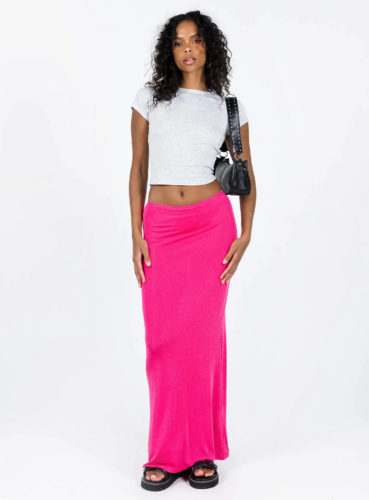 Make a statement in this hot pink maxi skirt. Maxi skirts are a must-have for the upcoming spring and summer, and opting for one in an eye-catching bright pink hue will hit the trend mark.
You can easily dress it up or down, whether you pair it with a simple tee or a flirty corset crop top.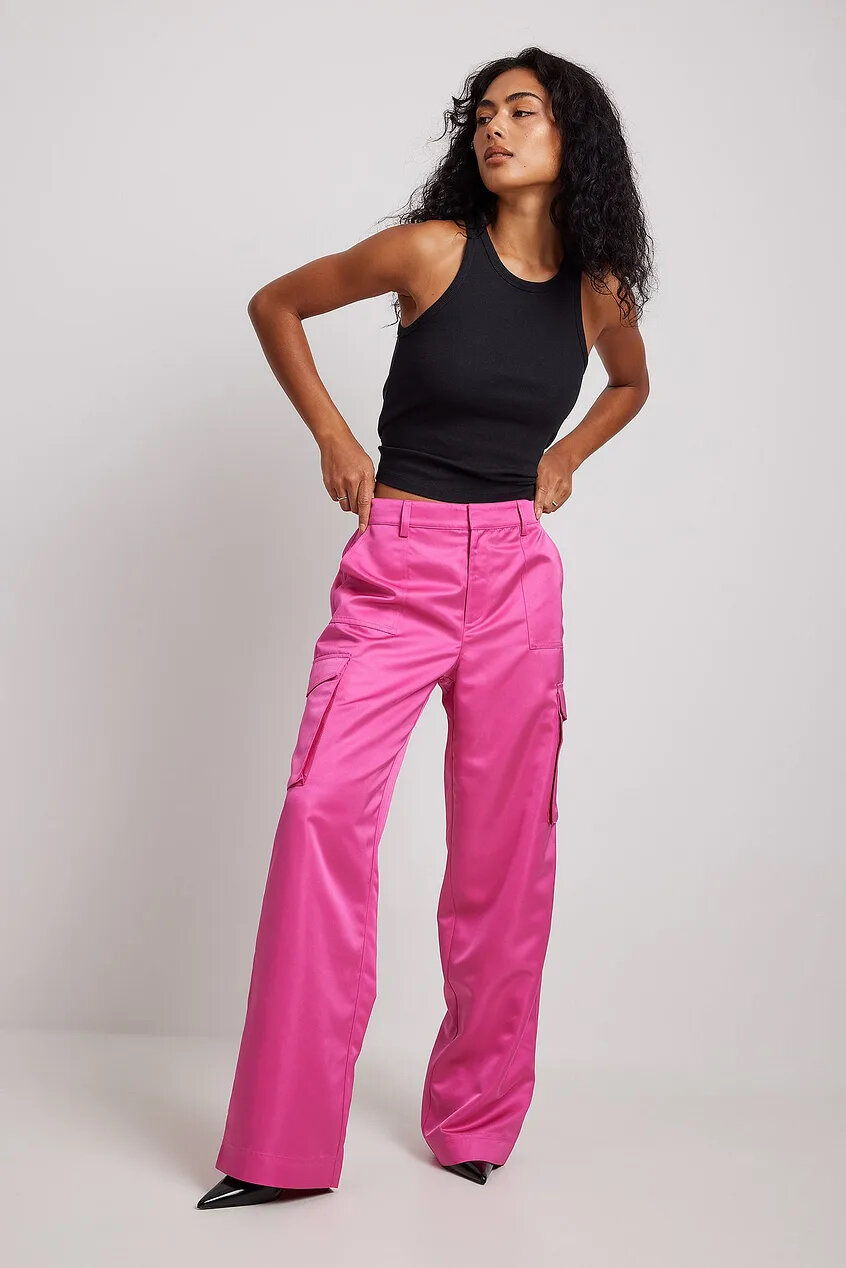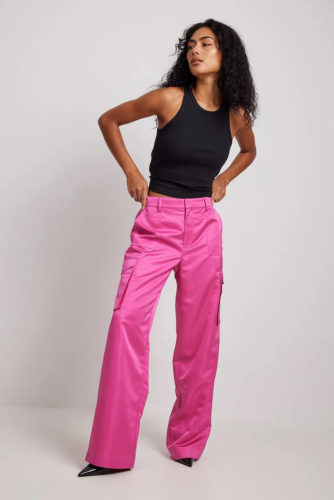 Nail multiple spring fashion trends at once with these epic pink satin cargo pants. Not only is the color Barbiecore-approved, but the wide-leg fit and cargo pockets make these pants a must-have for the upcoming season.
Lime Green
Get ready to look sublime in lime green, one of this spring's trending colors.
While "Bottega green" had us all in a chokehold the last few seasons, this spring, we are shifting towards a lighter shade of green similar to that of limes and kiwis, as fashion brands like Fendi, Sergio Hudson, and Dion Lee favored this shade in their SS23 collections.
Ways to Add Lime Green to Your Wardrobe: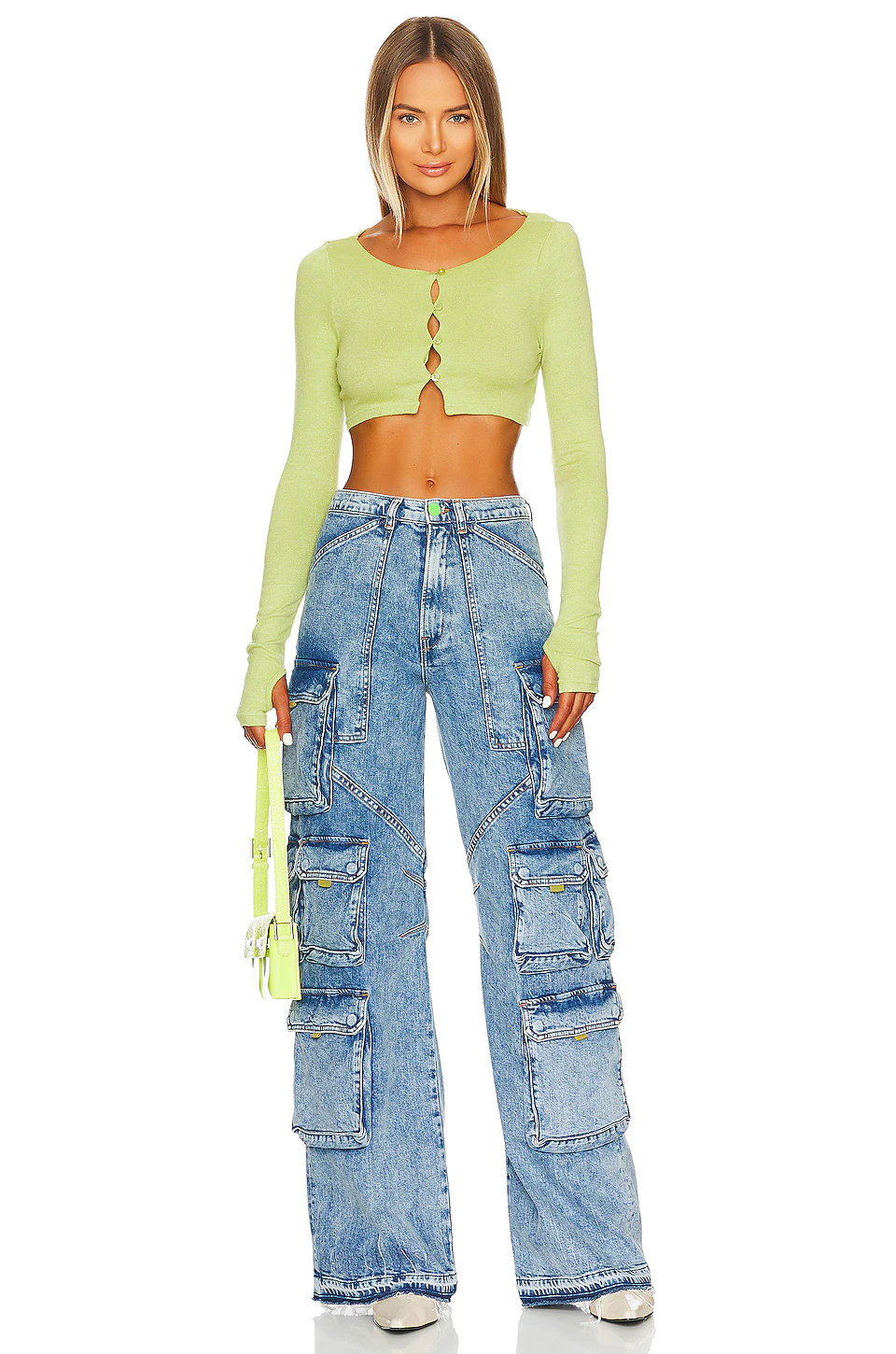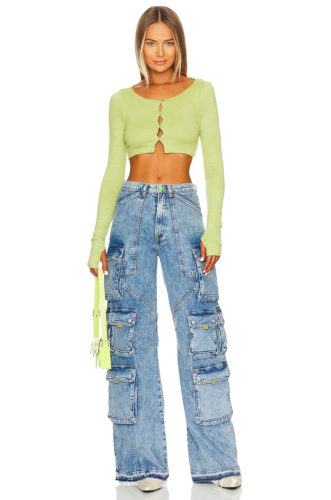 Why not go for a lime green crop top to freshen up your look? With long sleeves and a button-front design, this green crop top pairs perfectly with cargo jeans.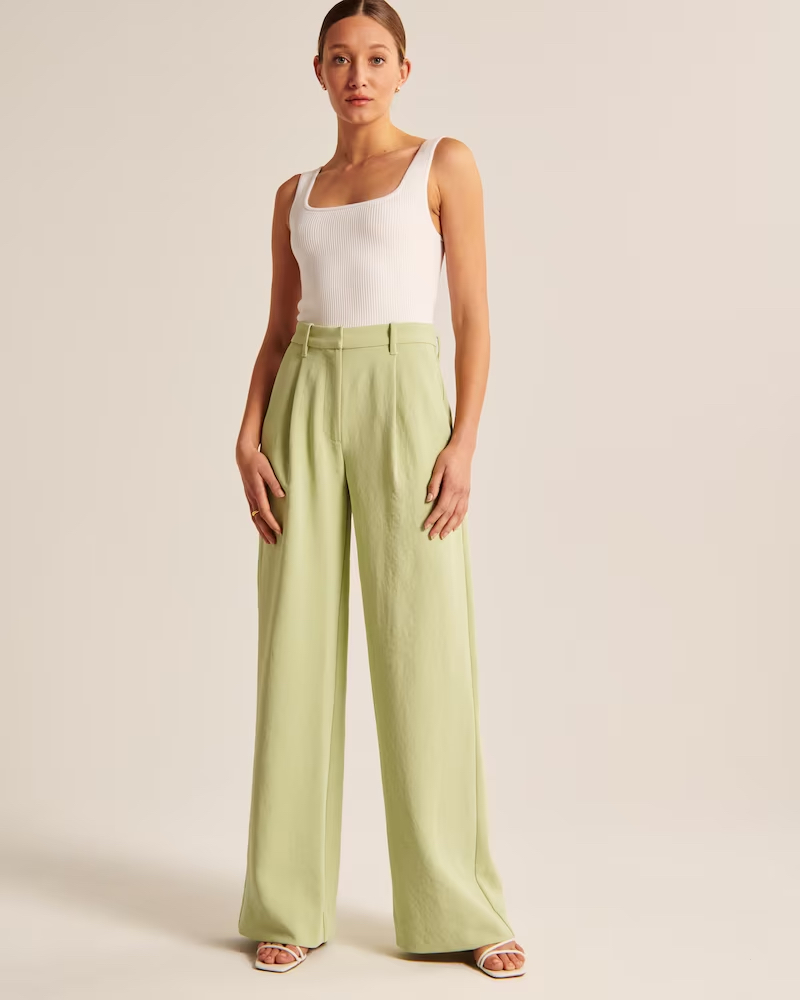 Go for an elevated look with some lime green tailored ultra wide-leg pants. The lime green hue lends a fresh look to the classic vibe of these tailored pants, and the wide-leg silhouette is also very on-trend for spring.
Cobalt Blue
Perhaps my favorite color trend of the season, cobalt blue is a striking hue that makes a major impact and flatters many different skin tones.
It made waves in Jason Wu, Off-White, David Koma, and Alberta Ferretti's S/S 2023 collections.
Ways to Add Cobalt Blue to Your Wardrobe: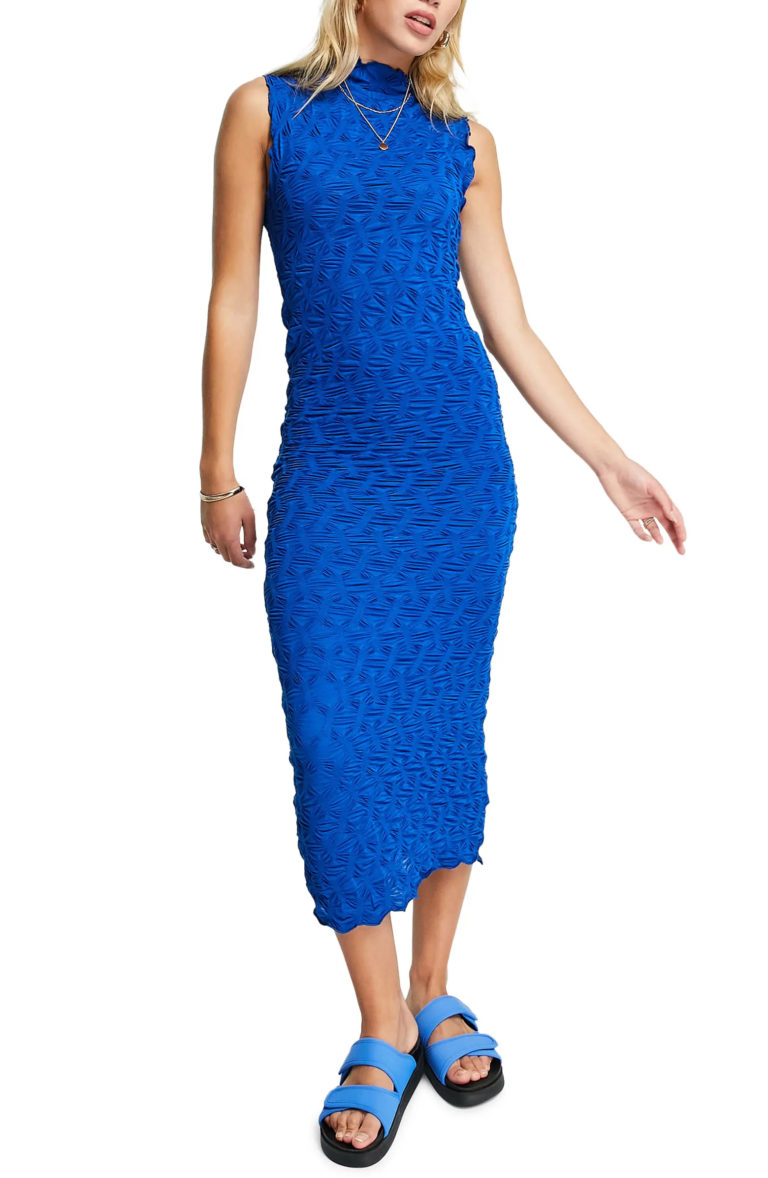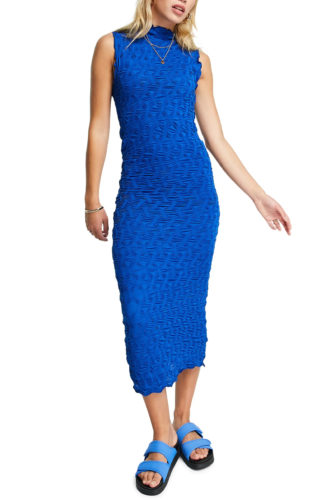 Embrace this bold hue by wearing a cobalt blue midi dress. The textured effect that the artificial ruching gives this midi dress makes it totally unique, along with its ruffled trim and figure-hugging silhouette.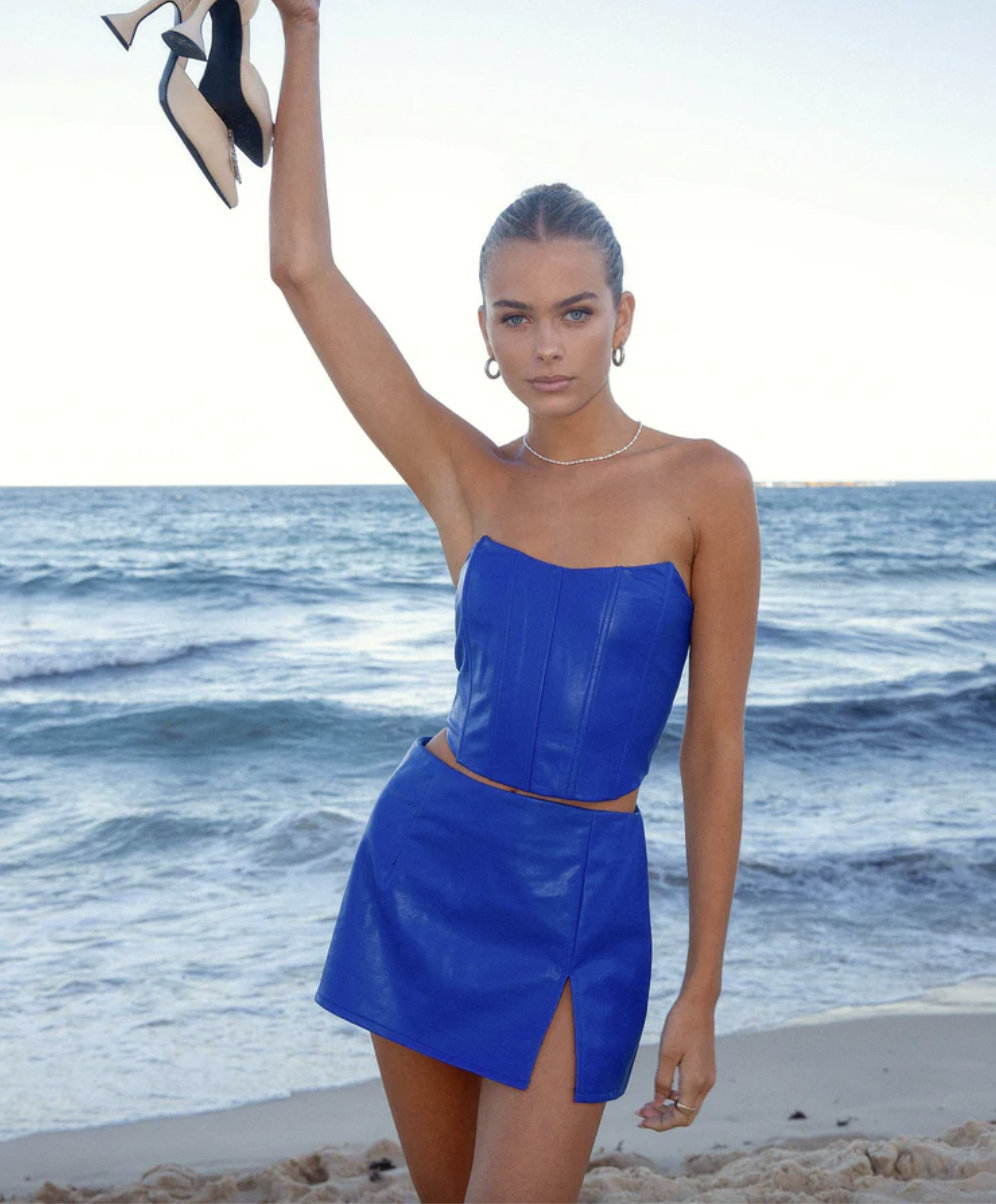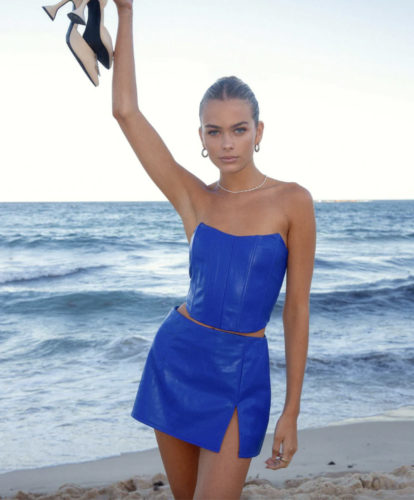 Take things up a notch with a cobalt blue faux leather mini skirt. This skirt is going to turn heads when paired with heels and a corset top or a button-down shirt. You could also style it more casually with lifestyle sneakers and a fitted tee.
Street Style
So you've studied the runways and now you're wondering how to wear these fashion trends yourself this spring – we're here to help! These are the items you'll want to add to your wardrobe this spring to upgrade your street style, taking inspiration from the designer-approved trends.
Related reading: The Cutest Summer Outfits for Women We'll Be Wearing on Repeat This Year
Tops
Your top is often the focal point of an outfit, and these styles are going to score you major style points this upcoming spring.
Silver Metallic Corset Top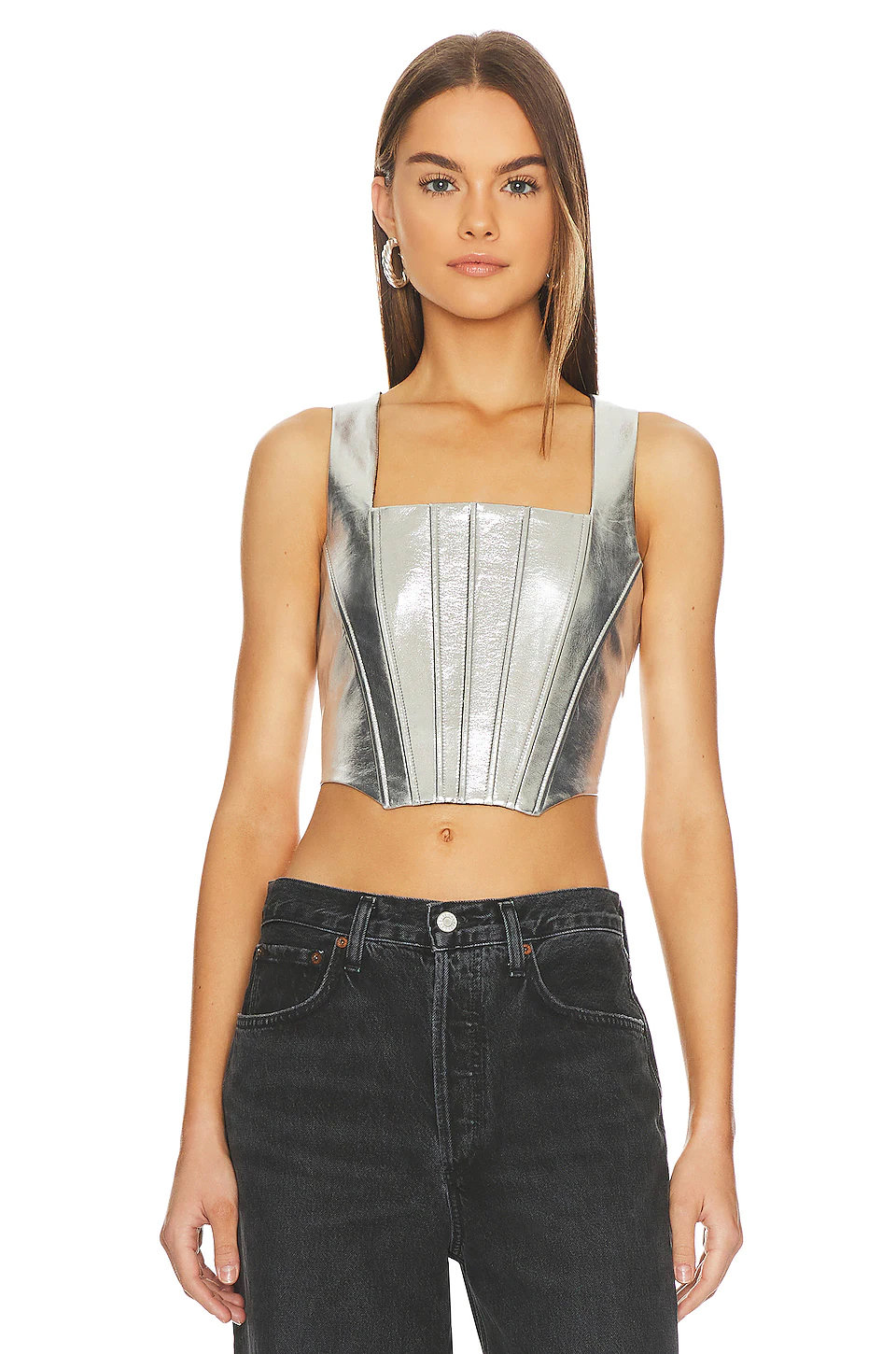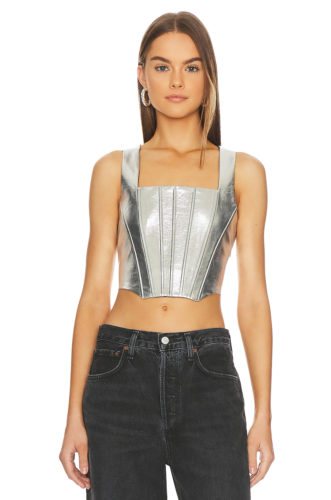 Turn up the shine with a silver metallic corset top. Silver metallic pieces took over the Spring 2023 runway, and this shiny corset top is perfect for your next night out on the town.
Style it with some baggy, loose-fitting jeans for a fashion-forward contrast, along with heels or ankle booties.
Layered Top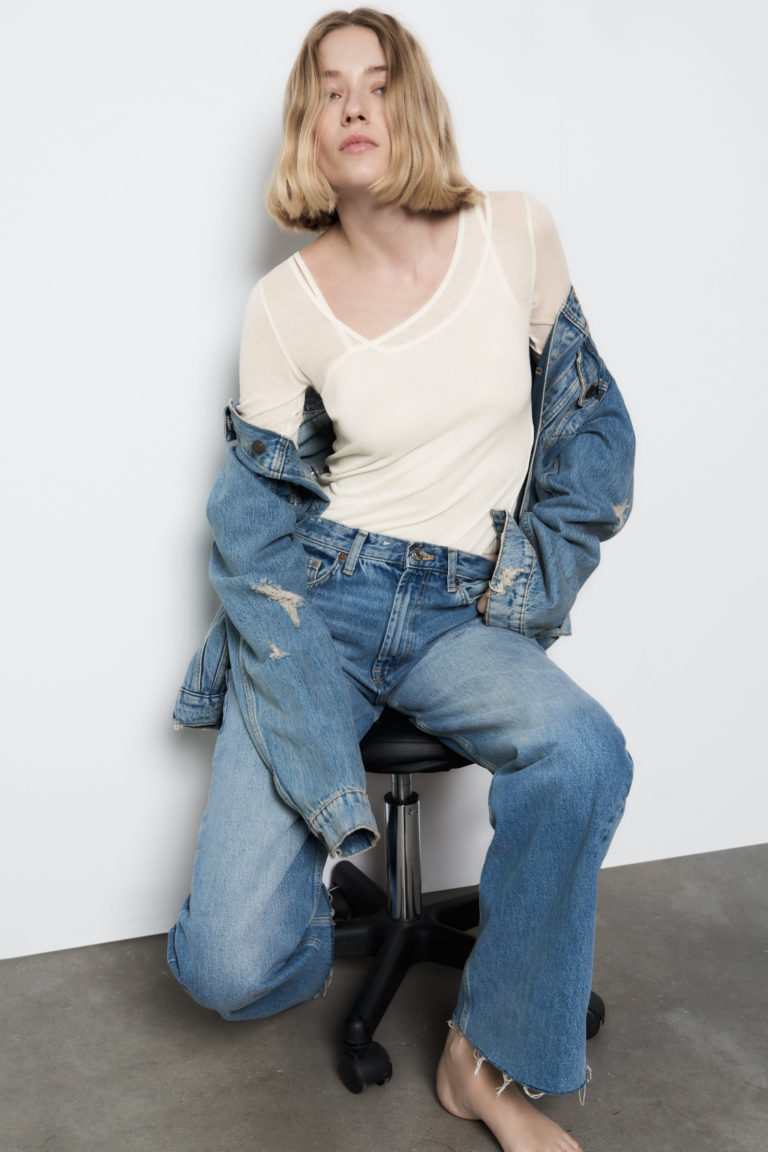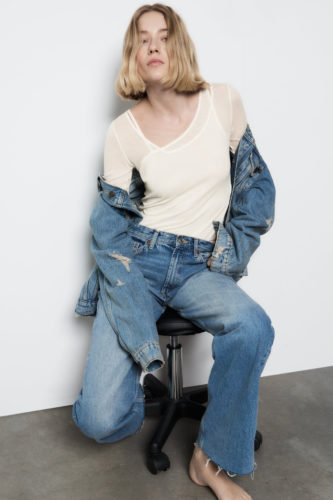 While you can obviously layer multiple tops yourself for spring's layered clothing trend, this top makes it easy for you with its layered design and cool asymmetrical neckline. Think of it as an elevated basic that you'll be able to style in many different ways.
Plus, its thin, slightly sheer fabric adds another spring trend into the mix, making this long-sleeve top a must-have.
Cropped Crochet Sweater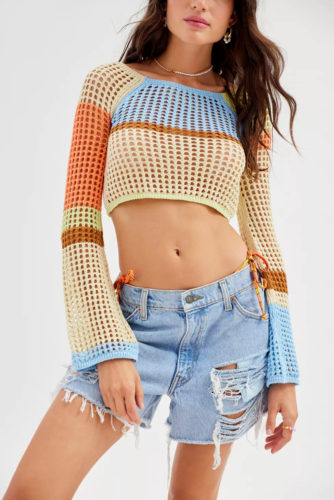 The crochet trend is still going strong, and personally, I am so here for it! It has such a retro, beachy vibe that is perfect for spring and summer.
This colorful crochet cropped sweater is so cute and can be worn on or off the shoulder. Given its open-knit design and cropped length, it makes for a great layering piece to wear over tank tops, dresses, and even your swimwear.
Bottoms
Wondering what to wear with your trendy tops? These pants and skirts are spring's must-haves.
Baggy Jeans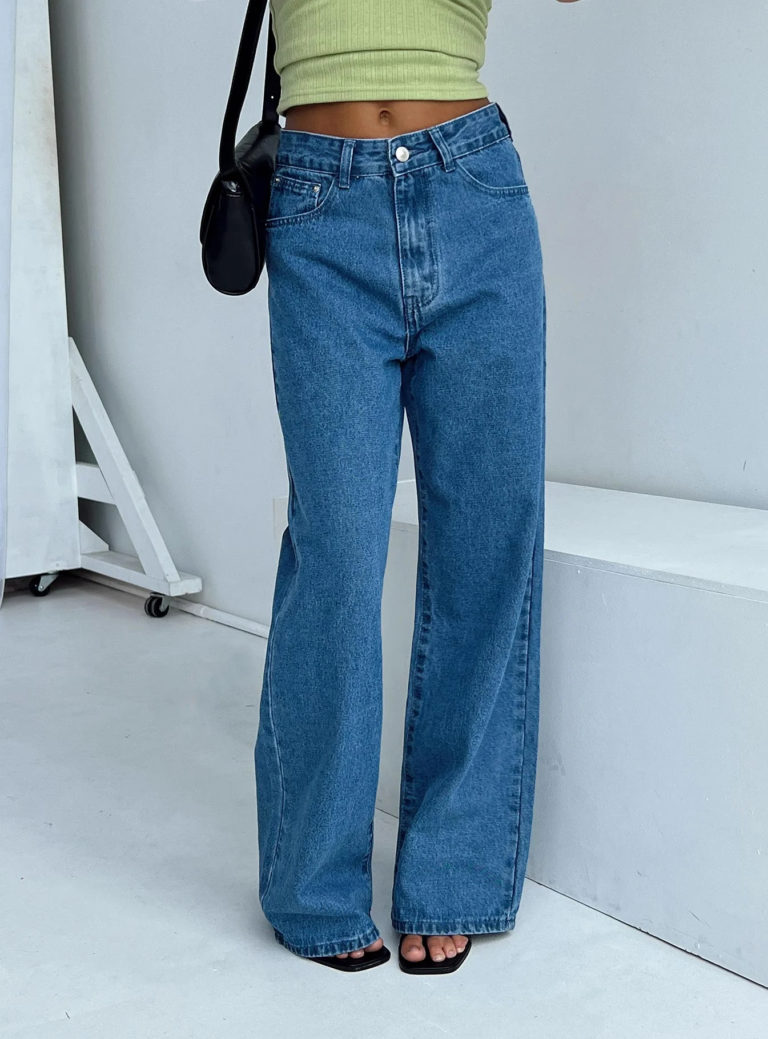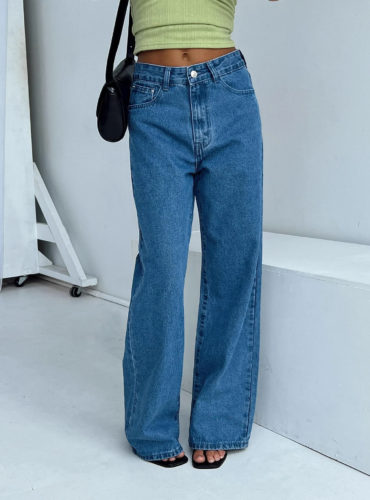 You're going to want to invest in a pair of baggy jeans this season—and the baggier, the better!
A nod to the '90s grunge aesthetic, baggy jeans with mid or low rises are one of the key denim styles to try out this upcoming season.
Keep proportions in mind by pairing these jeans with tighter-fitting tops and/or crop tops in order to balance them out (a.k.a. the "big pants, little shirt" trend).
Cargo Maxi Skirt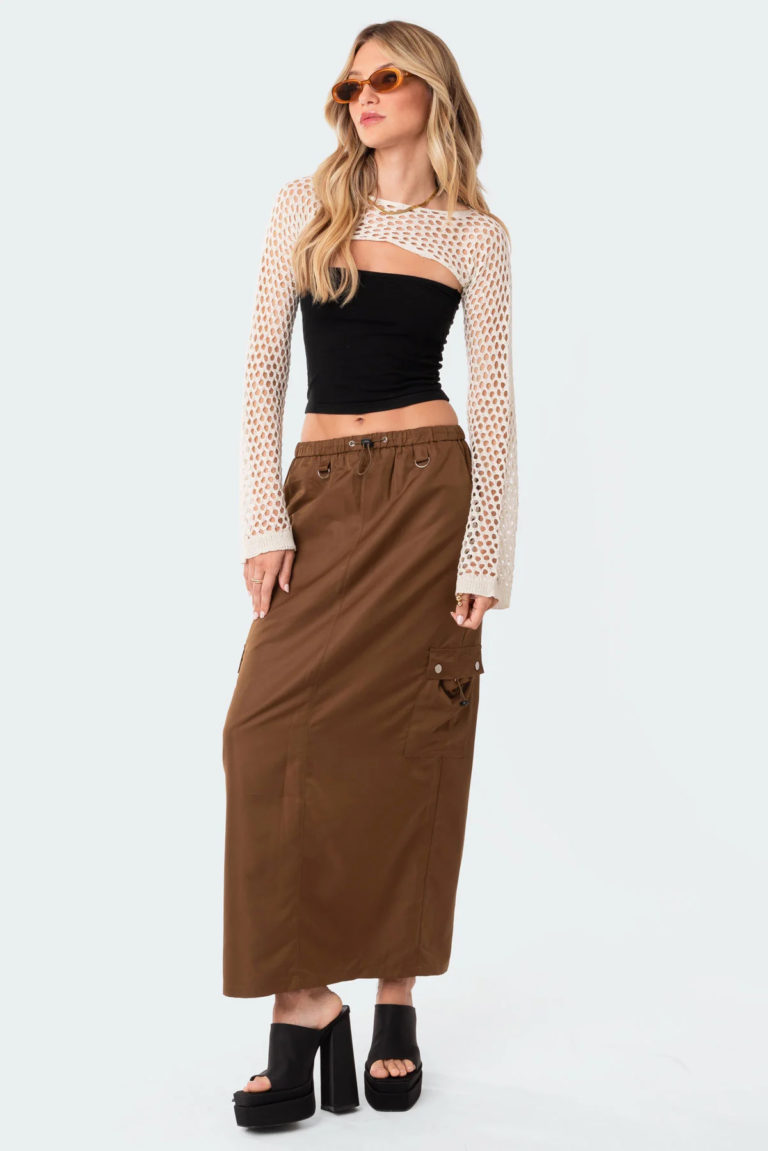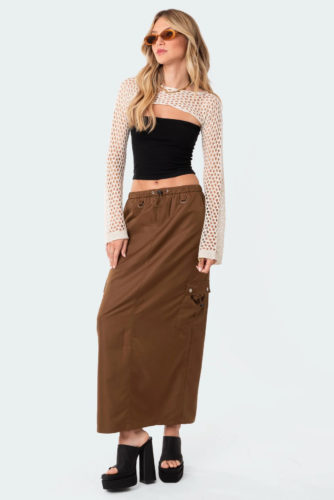 The micro-mini skirts of last season are being phased out in favor of skirts with longer lengths, especially maxi skirts. And you already know that cargo-style clothing is a must, so a cargo maxi skirt is as trendy as it gets!
Cargo maxi skirts are another '90s-inspired trend that has been made modern, and these skirts (which, BTW, look great with low-top sneakers and sandals) make for a cute alternative to cargo pants.
Cargo Pants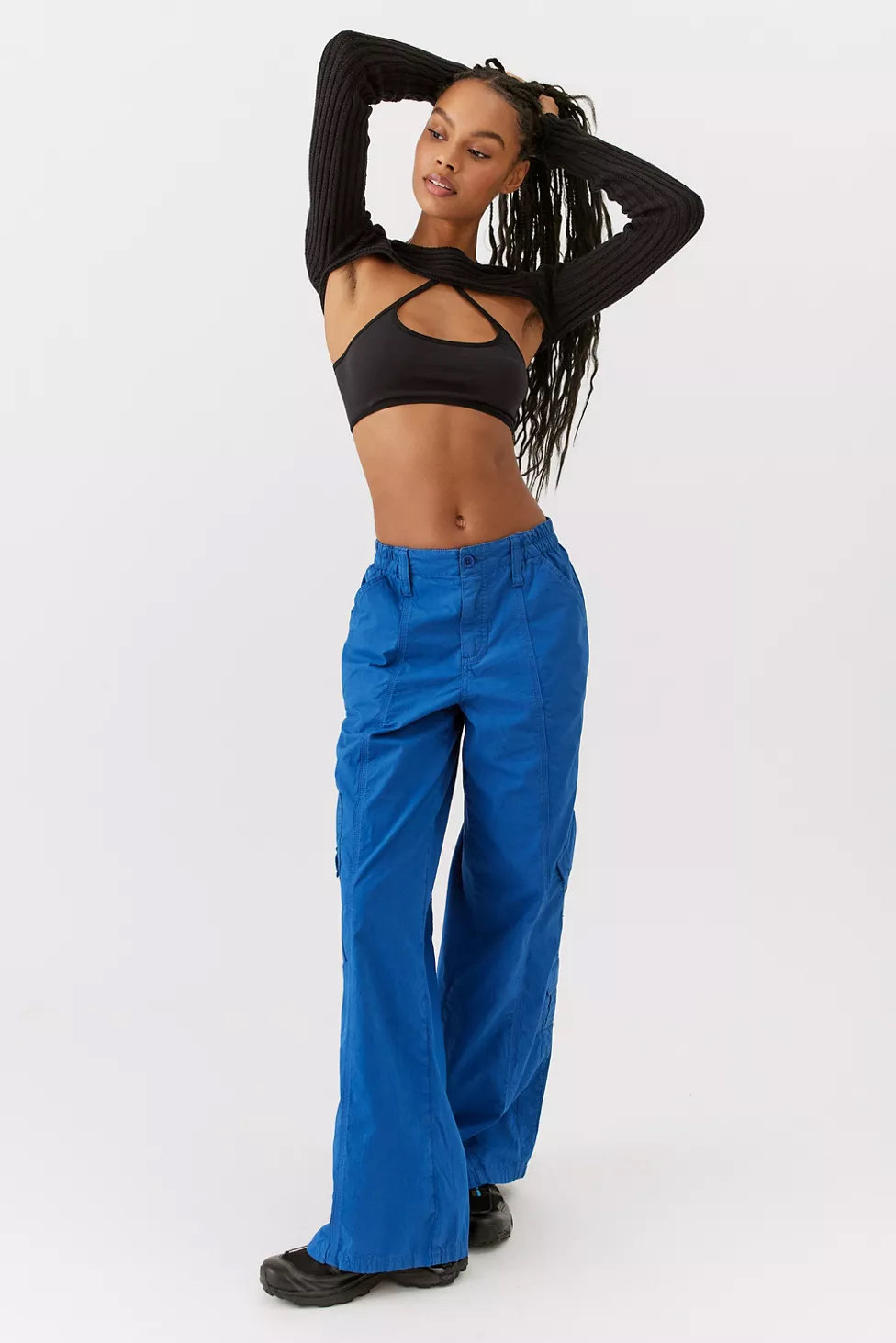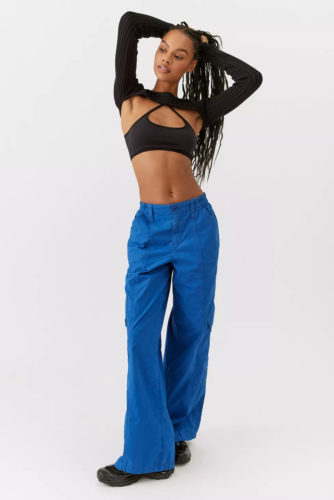 Speaking of cargo pants, of course I had to include some in this trend guide. They are the hottest pants of the season!
Ranging from casual cargos to dressier cargos (made from satiny materials), you can't go wrong with any kind of cargos you choose. This pair features one of the spring's most fashionable hues, cobalt blue (but they come in neutral shades, as well).
Cargo Jeans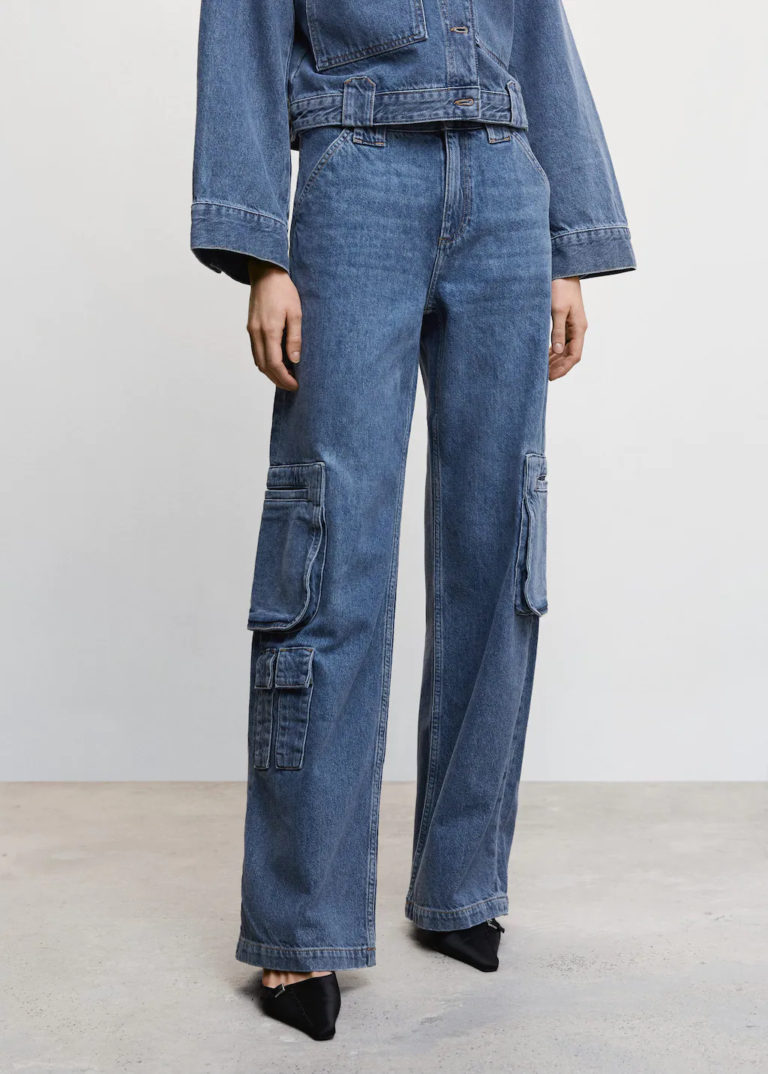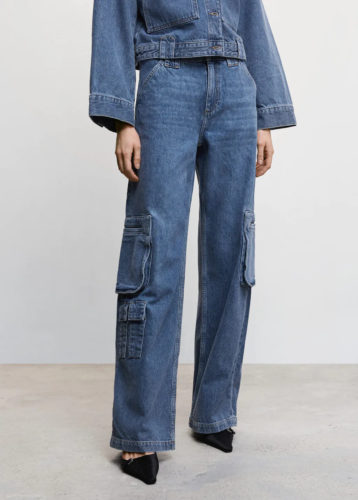 Basically, it's cargo everything this spring. You've got the cargo maxi skirt, the cargo pants, and finally, cargo jeans. They've got a baggy fit, they've got tons of pockets, and they're totally on-trend.
Dresses
Looking for a stylish frock or a statement-making jumpsuit? These are the pieces hitting the trend mark this upcoming season.
Sheer Mesh Dress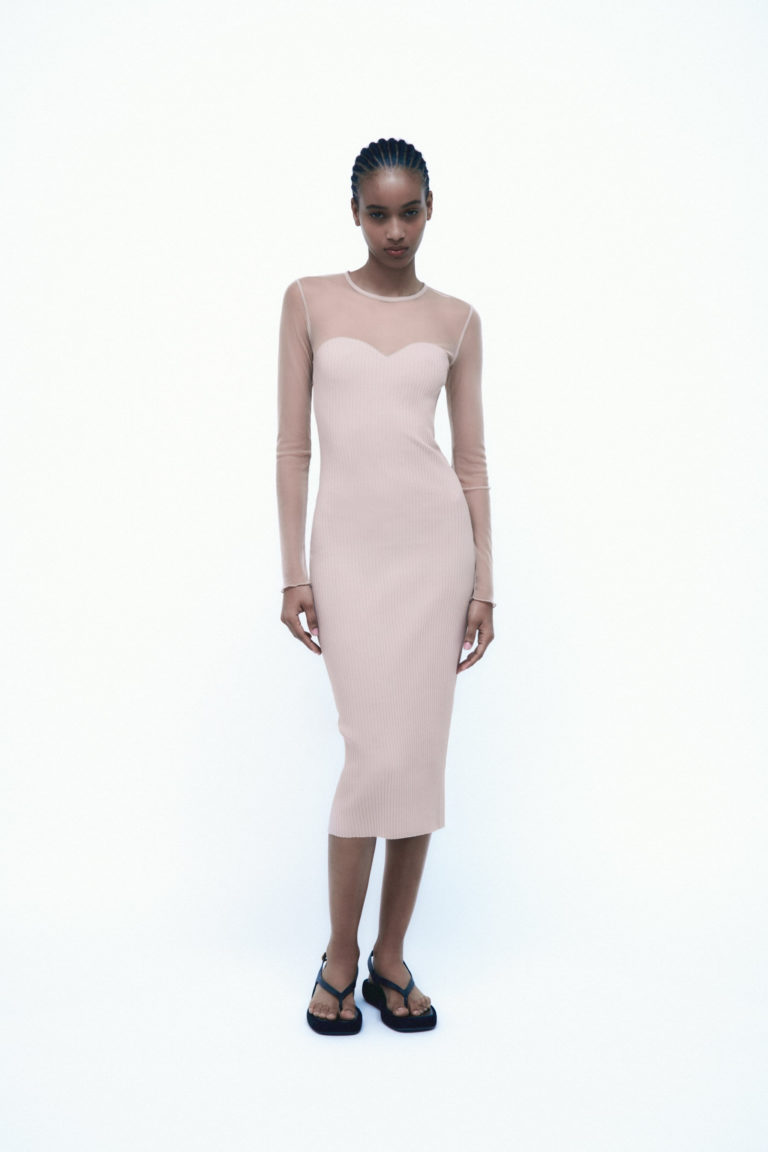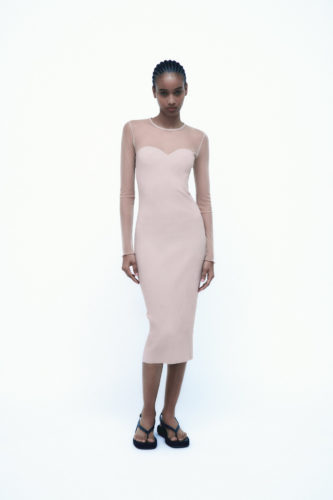 Go for a stylish sheer look with a midi dress featuring sheer mesh sleeves.
The contrasting mesh panel on this dress gives it just the right amount of sheerness for real life (versus the fully-sheer pieces we saw on the runways). Its light mauve hue and sweetheart-style neckline adds to the feminine vibe of this dress, as well.
Tube Dress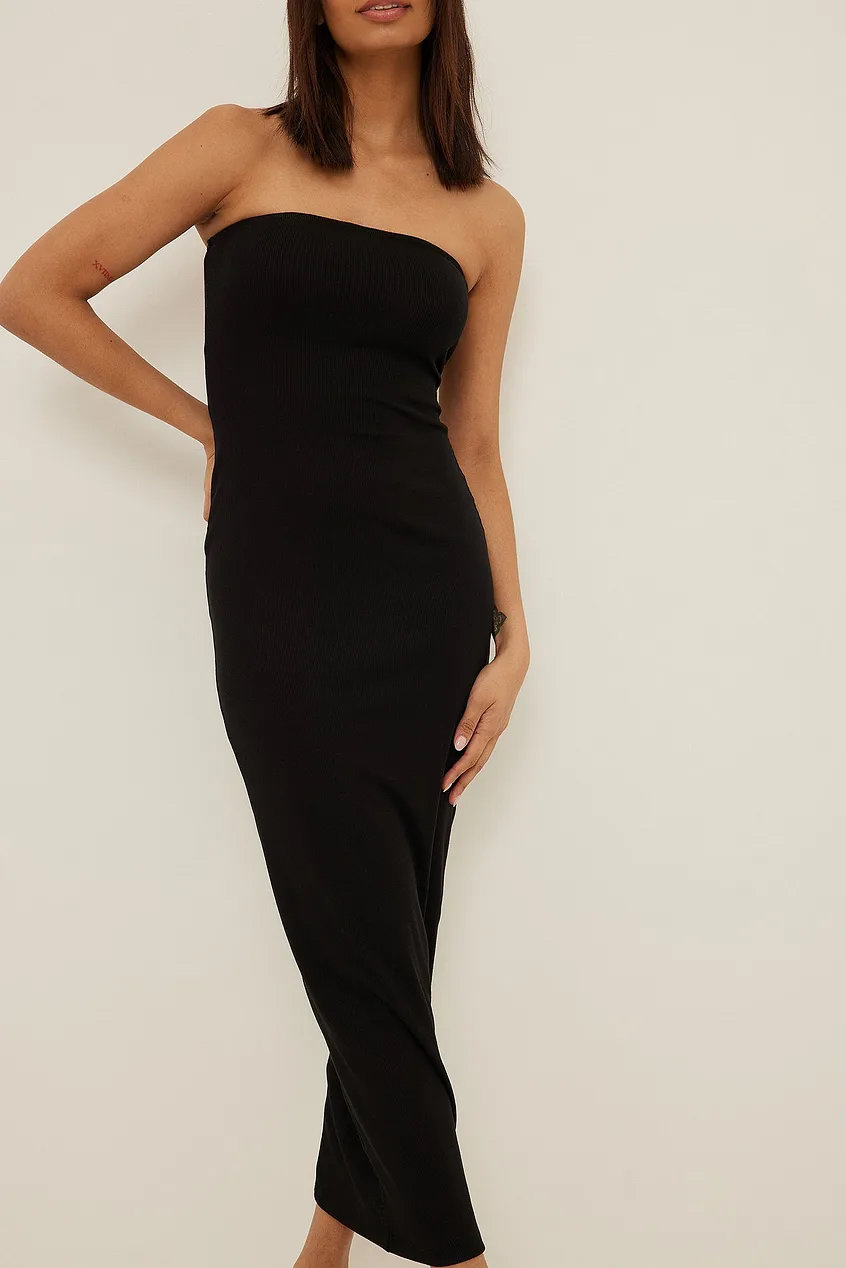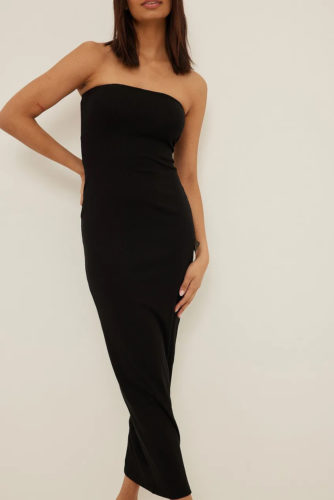 Get ready for tube dresses to take over the spring and summer. A strapless neckline gives even the most basic dress an instantly chic look; these dresses are also surprisingly versatile. Wear it alone, add a ton of jewelry for flair, and/or wear a cute outer layer over top, like a bomber jacket or a lightweight button-down shirt.
Silver Metallic Mini Dress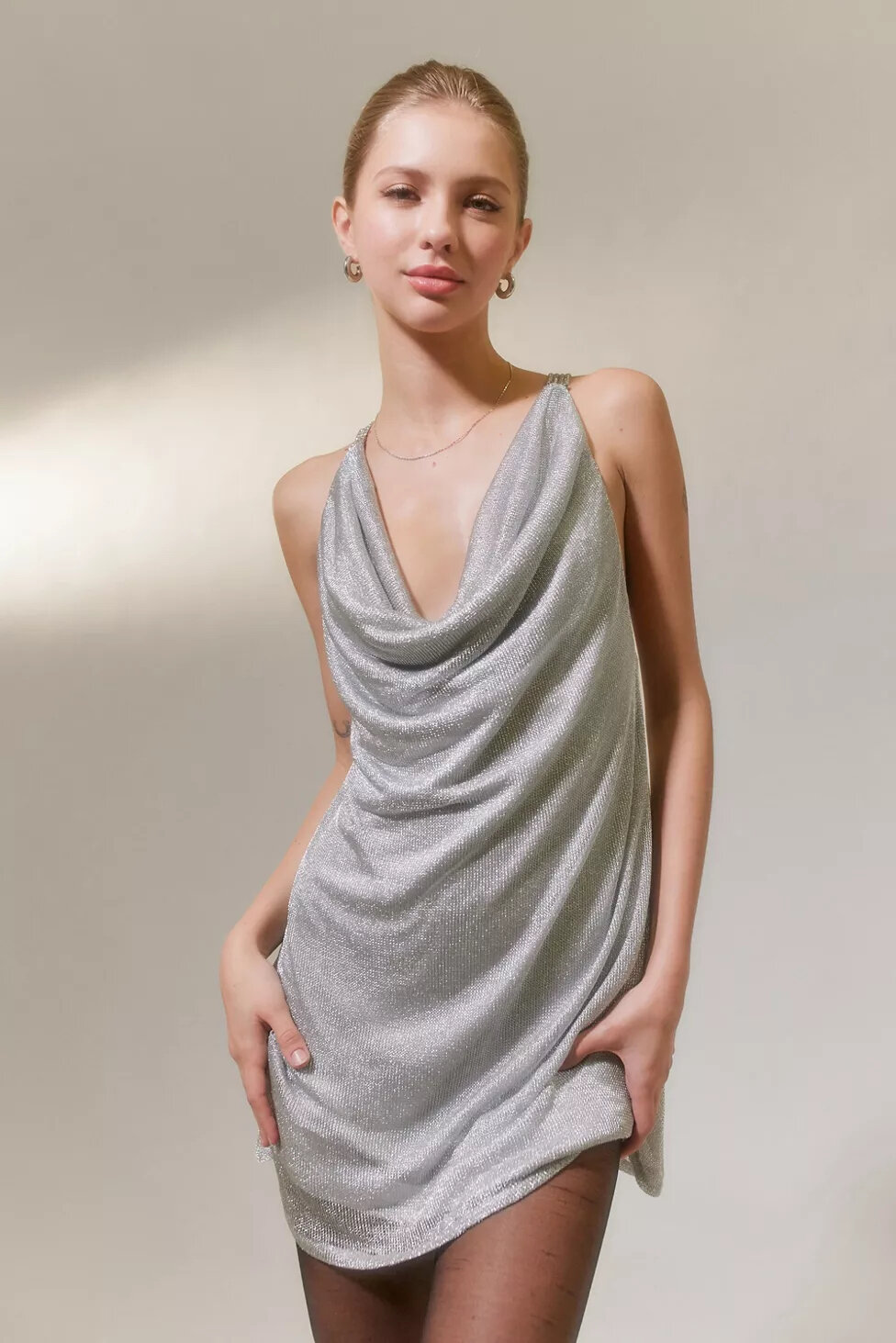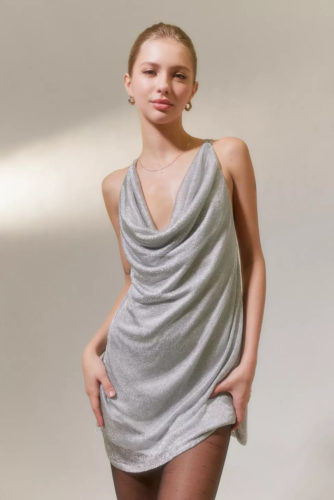 A metallic silver mesh mini dress is sure to make a stylish statement, and will make you the life of any party! Style it with some heels and silver jewelry for the ultimate night-out look.
Outerwear
Cover up in one of these stylish outerwear options for springtime; they're ideal for spring weather when you need a lightweight layer to complete your outfit.
Bomber Jackets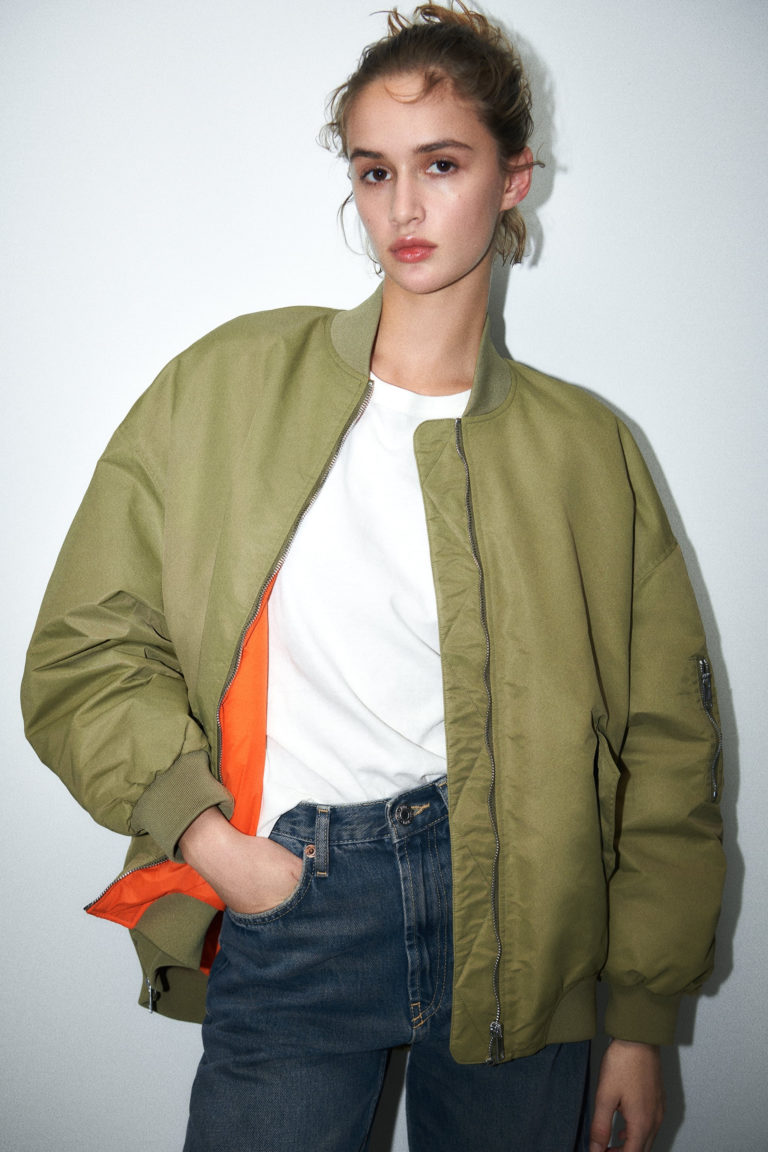 Not that bomber jackets ever really went anywhere, but they are definitely *back* in for the spring.
You'll want to opt for a bomber with an oversized fit (like the one above, which, BTW, also happens to be water-repellent), or try a cropped style. I especially love bomber jackets with a contrasting interior hue for an eye-catching pop of color.
Motocross and Racing Jackets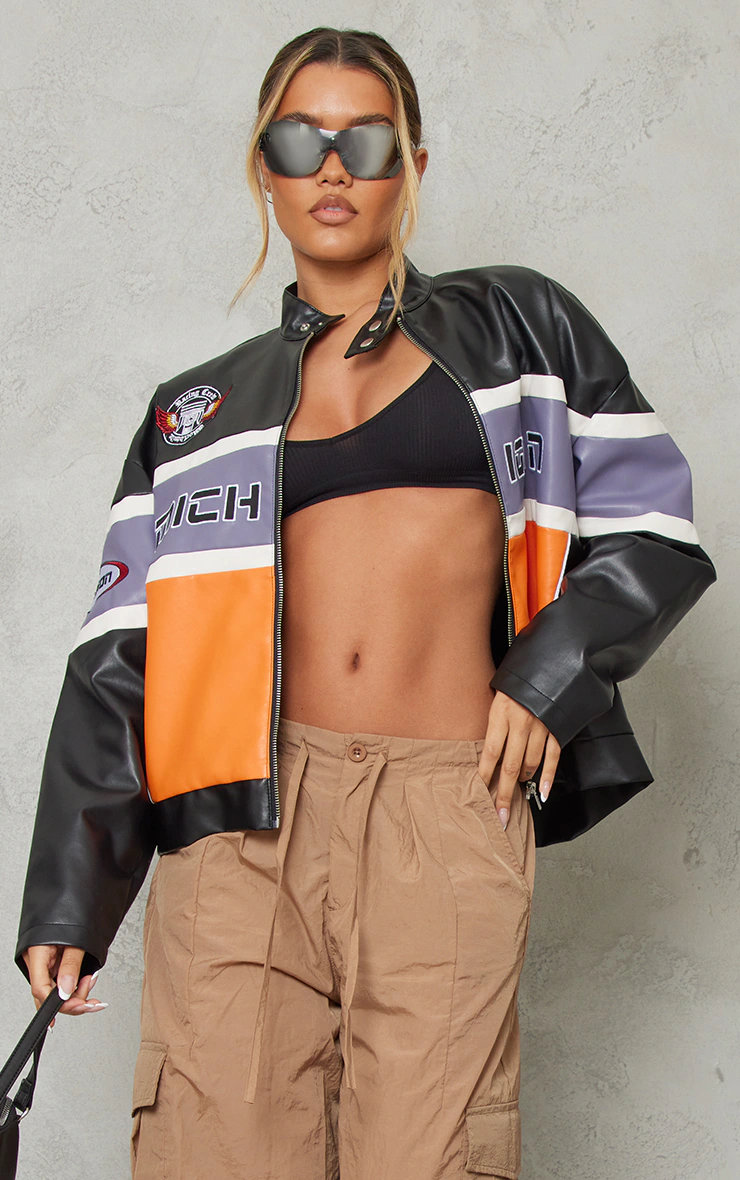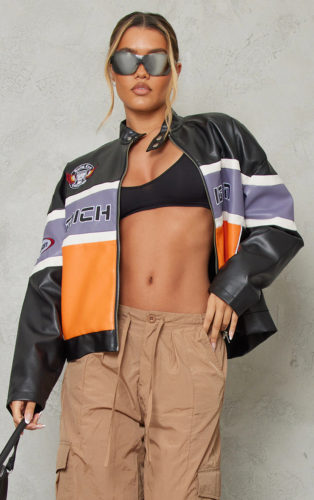 Give your classic moto jacket a fresh upgrade with this season's racing and motocross jackets.
These jackets, which can either be faux leather or nylon, often feature fun patches or graphics that will make you feel (and look) like a racecar driver, but in a fashionable way. Pair them with your cargo pants and sneakers for a cool girl vibe this spring.
Shoes & Accessories
Your shoes and accessories can totally transform even a simple outfit into a trendy ensemble. These are the statement shoes and accessories you'll need this spring!
If you want an even more in-depth shopping guide, see our post on the spring accessories trends you need to know this year.
Low-Top Sneakers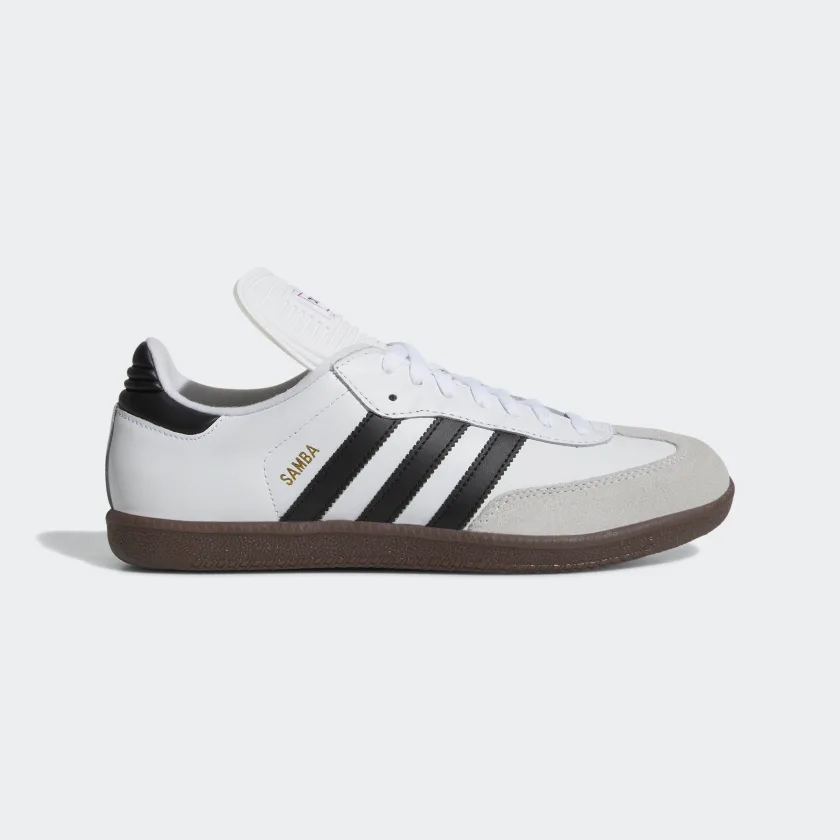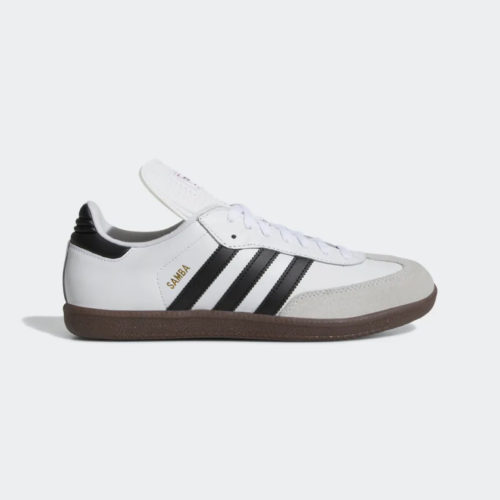 Low-top sneakers—in particular, Adidas Sambas—are the must-have shoe of the season. They go with everything, from your cargo pants to midi skirts and dresses.
The classic, sporty style is timeless and ultra-versatile… the only issue you may face is being able to get your hands on a pair, since they are constantly selling out!
Oversized Pendant Cord Necklaces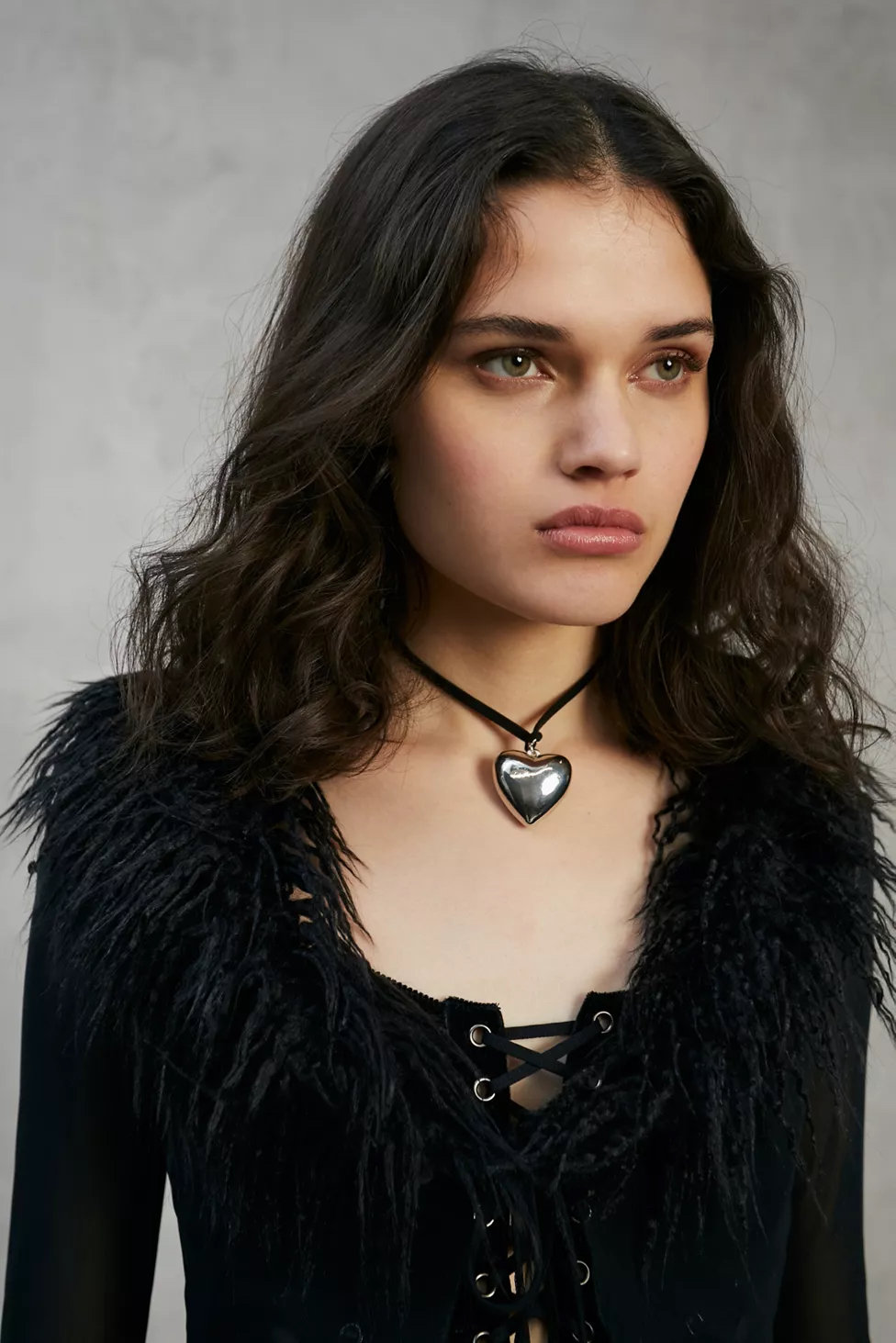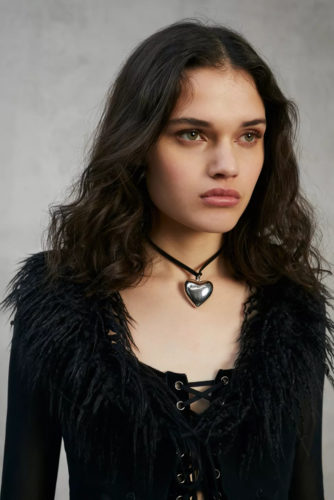 '90s and Y2K trends are still at the center of fashion, and that goes for jewelry, too. Vintage-inspired cord necklaces with oversized pendants like hearts or flowers are one of the hottest styles for S/S 2023, and they look adorable with sheer, mesh, and ruffled fabrics that are also on-trend for the season.
P.S. — these statement necklaces can also be DIY-ed if you're feeling crafty!
Curved and Half-Moon Bags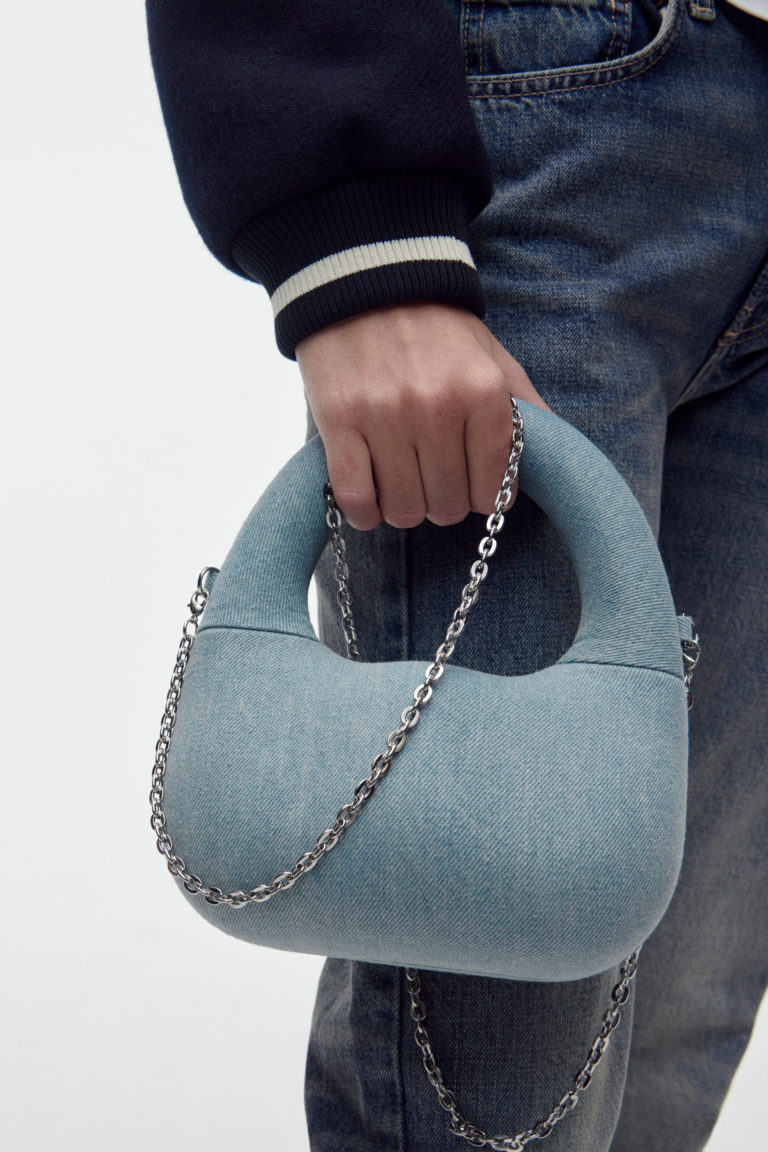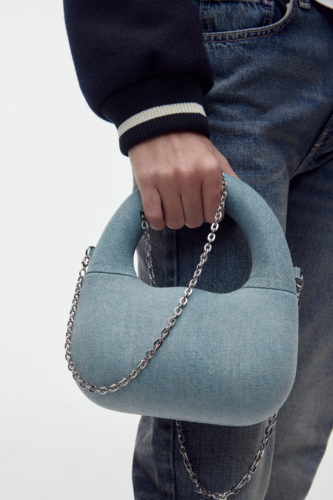 Handbags that are curved or in the shape of a half-moon are the perfect finishing touch to your spring outfits. The curved yet rigid structure makes even affordable handbags look extra luxe and upscale.
The Extras
Go the extra mile with these trendy fabrics, designs, and textures that are the cherry on top of a fashion-focused spring look.
Rosettes and Floral Appliqués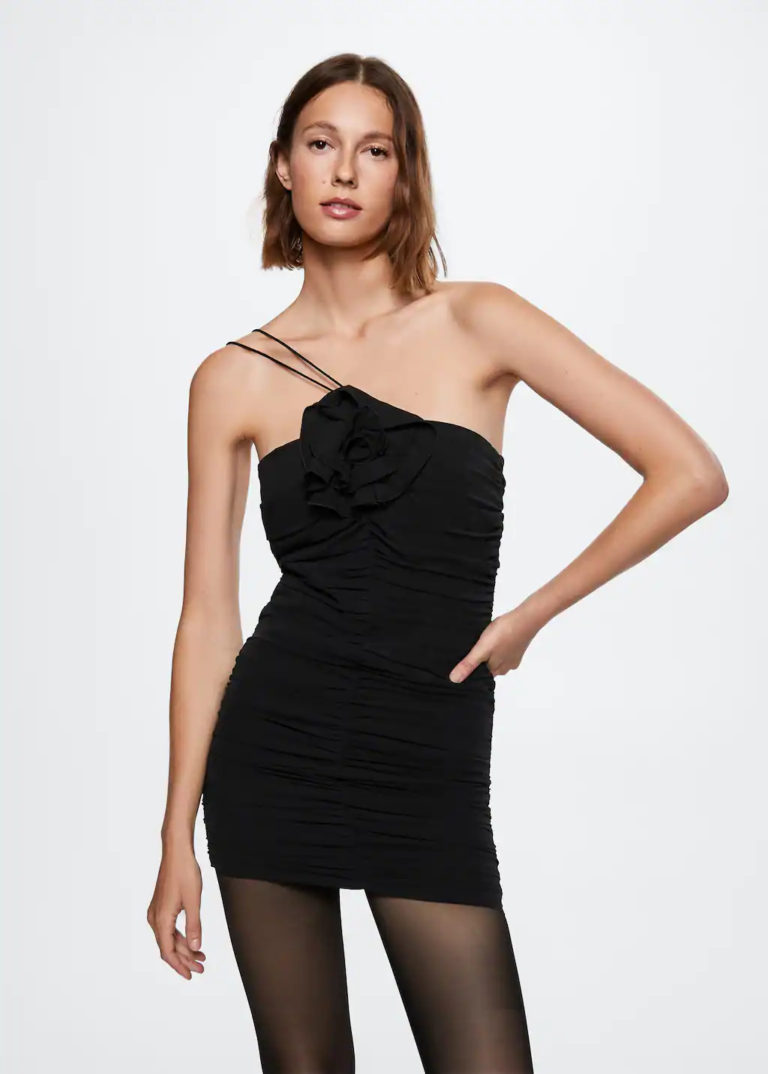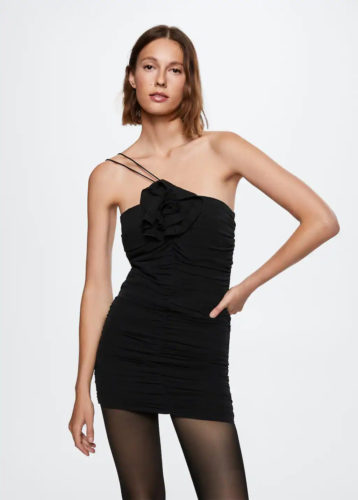 Rosettes and oversized floral appliqués are a designer favorite for S/S 2023, and add whimsical, feminine charm to clothing—even LBDs.
This black mini dress features an oversized rose appliqué that makes it oh-so-chic, along with its ruching and one-shoulder design.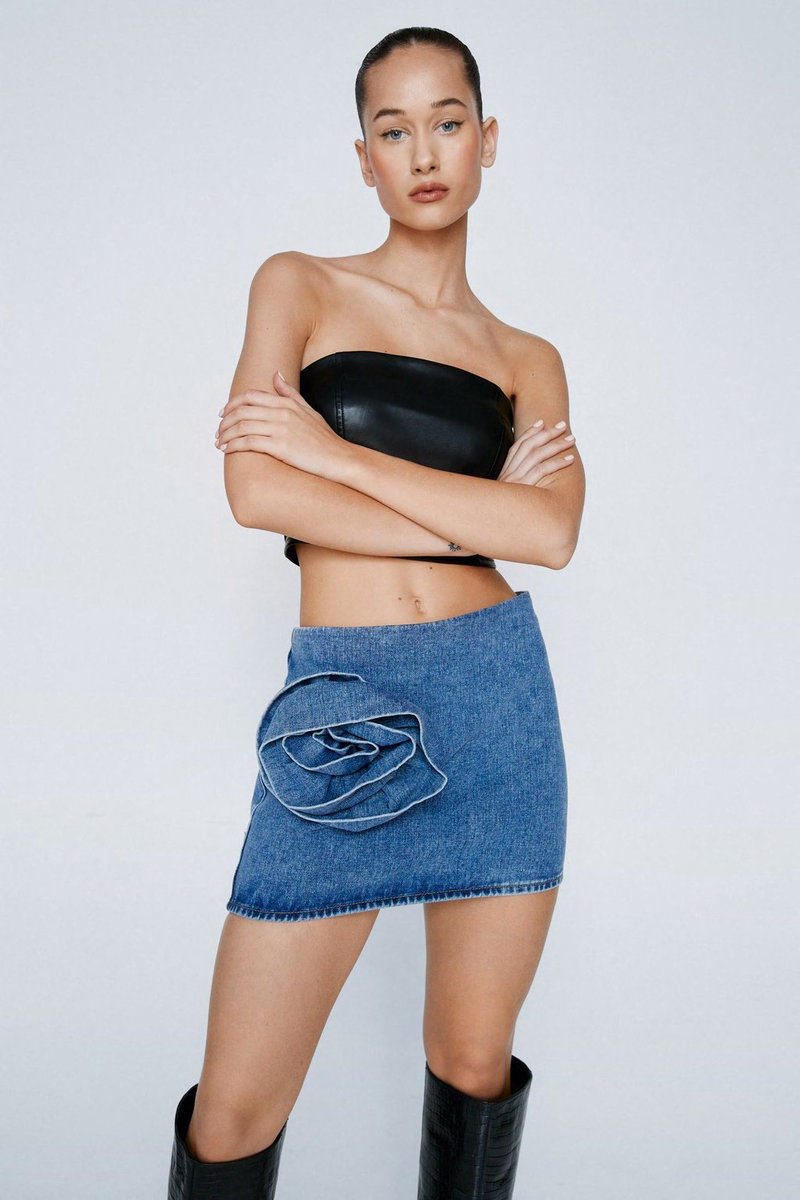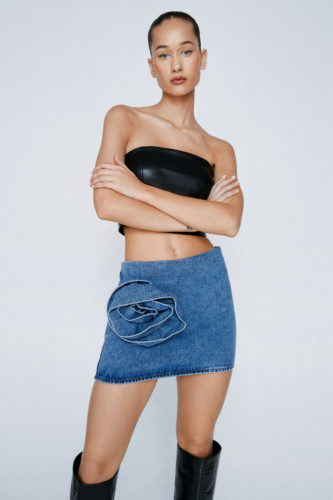 Spice up a laid-back denim mini skirt with an oversized rose appliqué. You'll stand out from the crowd in this unexpected, ultra-trendy find.
Crochet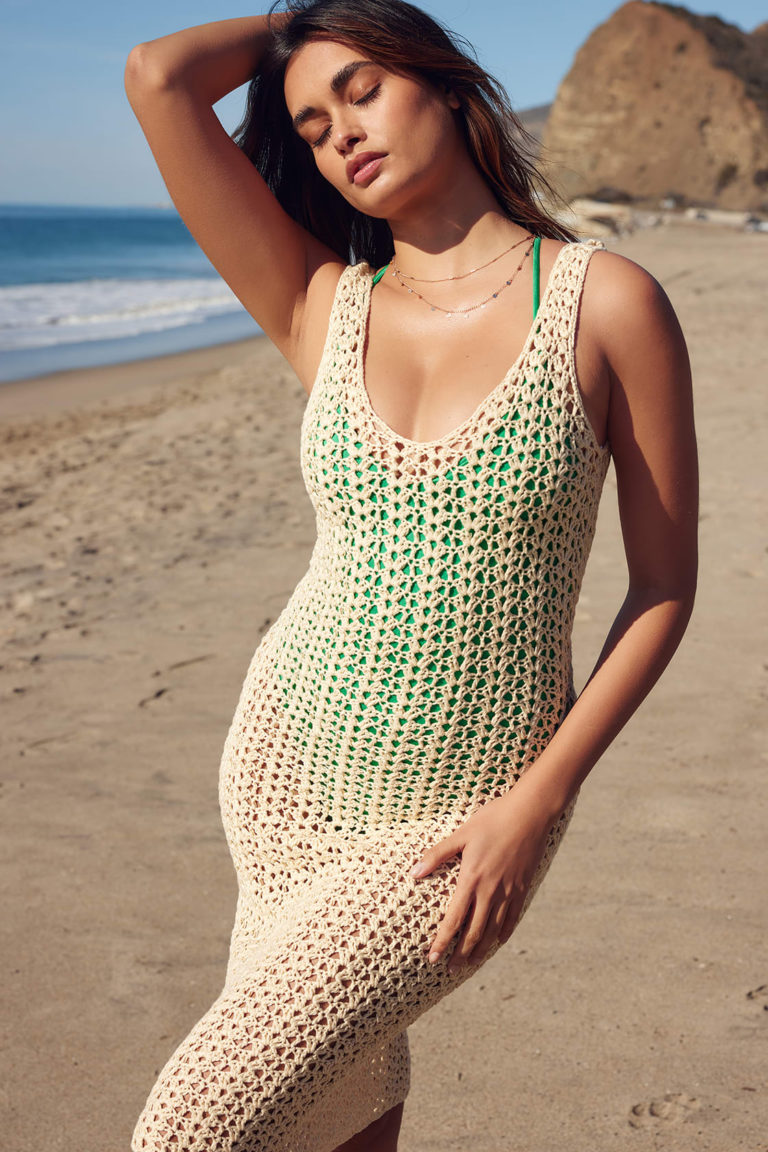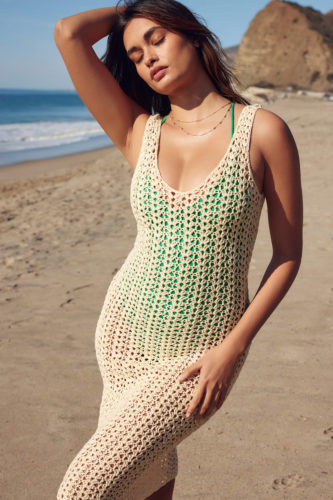 Nothing gives off a bohemian, beachy vibe quite like crochet does.
Get the look for yourself with a crochet swim cover-up dress that is going to show a hint of skin with its open-knit design. It's perfect for your spring break plans if they involve a beach!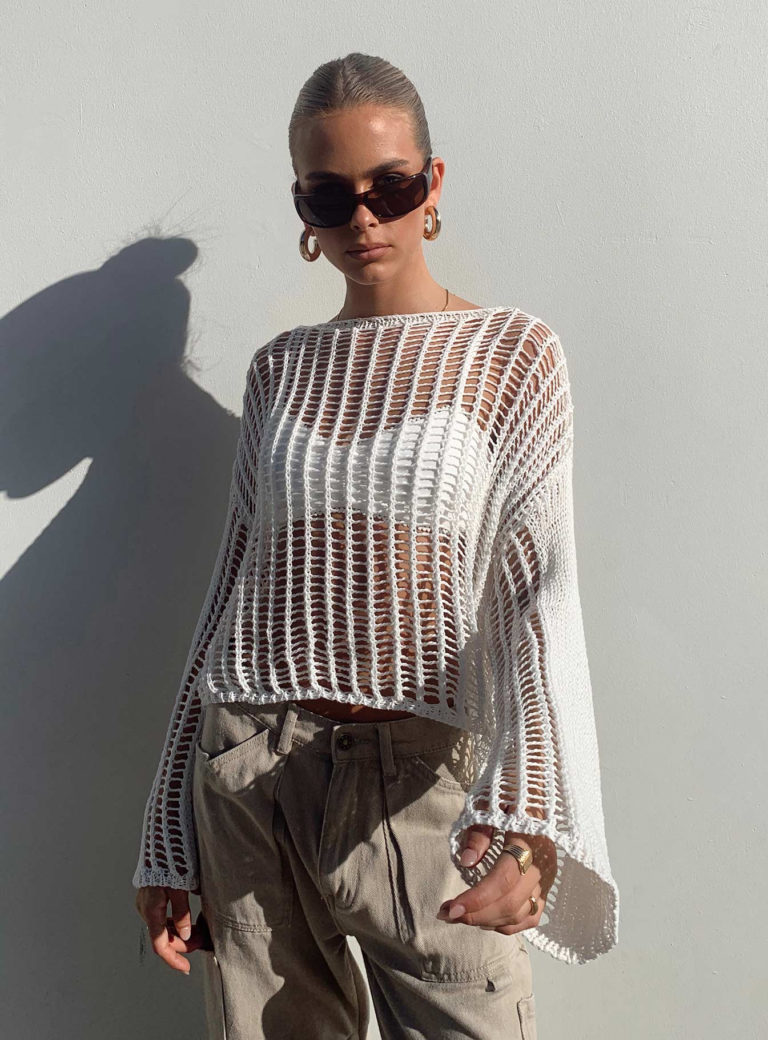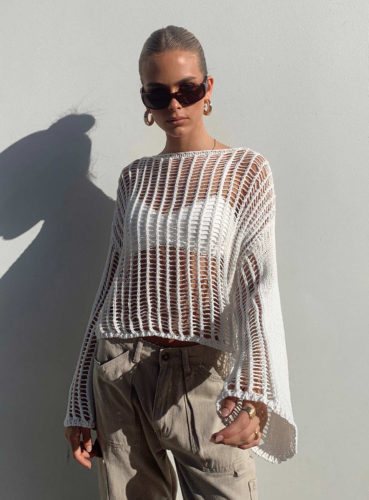 Another fun way to rock this trend is with an open-knit sweater, because crochet isn't just for the beach. This sweater top looks amazing with jeans or cargo bottoms, with its mesh stitch crochet, drop shoulders, and flared sleeves.
(And while a bra looks cool, you can always wear a tank top or cami underneath for a bit more coverage).
Nails
Of course, your spring outfit is not complete without a cute mani! If you're looking for manicure inspiration, these are the top spring nail trends to try out this season.
Chrome Nails
Move over, glazed donut nails—it's all about chrome nails, now! And if you really want to take it up a notch, go for some chrome French tip nails, which Kylie Jenner is a fan of. It's a futuristic take on the classic French manicure, and looks so eye-catching.
Ombré Nails
Another update to a classic French manicure? Ombré nails, with the French tip blending down into another color for an ombré effect.
At the Proenza Schouler F/W 2023 runway show, models sported a black ombré French manicure look for an edgy vibe, but you can use any color you prefer.
Hair
Going Short/Bobs
Leave it to Hailey Bieber to start another trend! She recently switched up her longer hairstyle for a short, bob-style haircut that now has everyone following suit.
The blunt-cut bob has an effortless look that likely requires less maintenance than long hairstyles (as someone with long hair myself, drying and styling it can be quite time-consuming!) and looks super fresh for the new season.
Hailey's light brown hair color is also trending, with caramel-colored brunette shades taking center stage.
Shag Haircuts
Have you heard of the "shag" haircut? A haircut that features various layers, it creates more volume around the upper part of the head, while the ends appear thinner and feathered out (rather than a bob's straight, blunt cut).
Shag haircuts can be done on short hair or mid-length hair (check out Kiernan Shipka's shag here); either way, this hairstyle has an undone, retro vibe that is so fun.
What do you think of our spring summer fashion trends guide?
Will you try these trends? Which trend are you most excited to wear? Leave a comment and let us know!