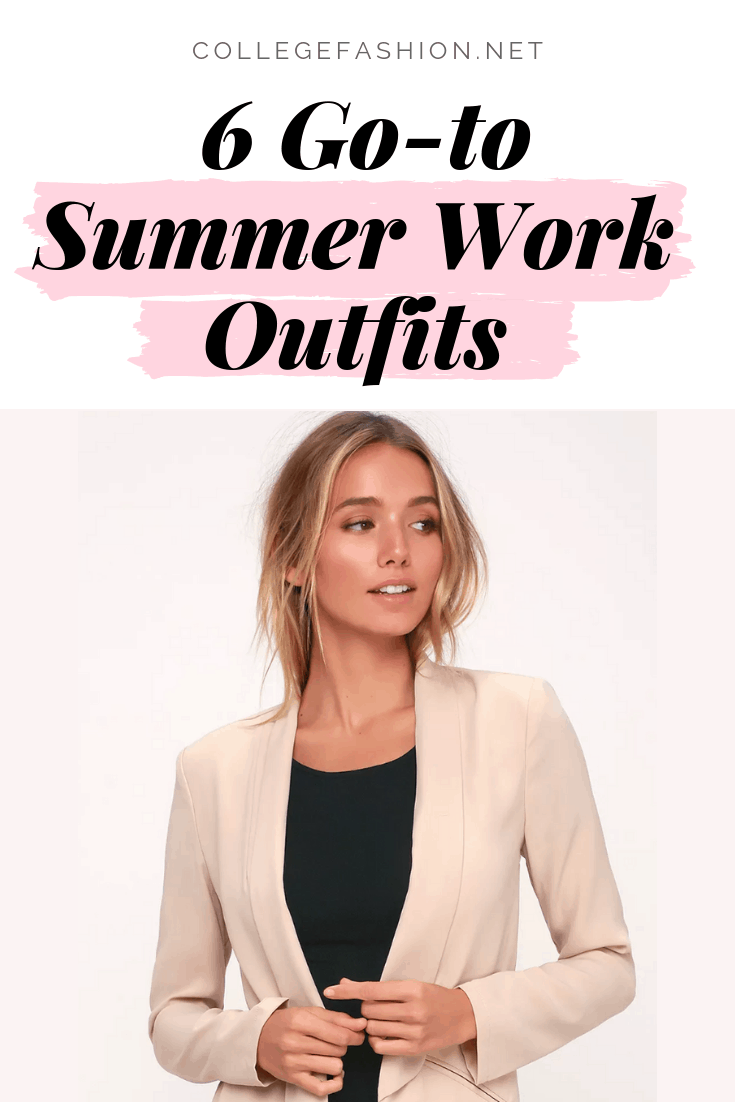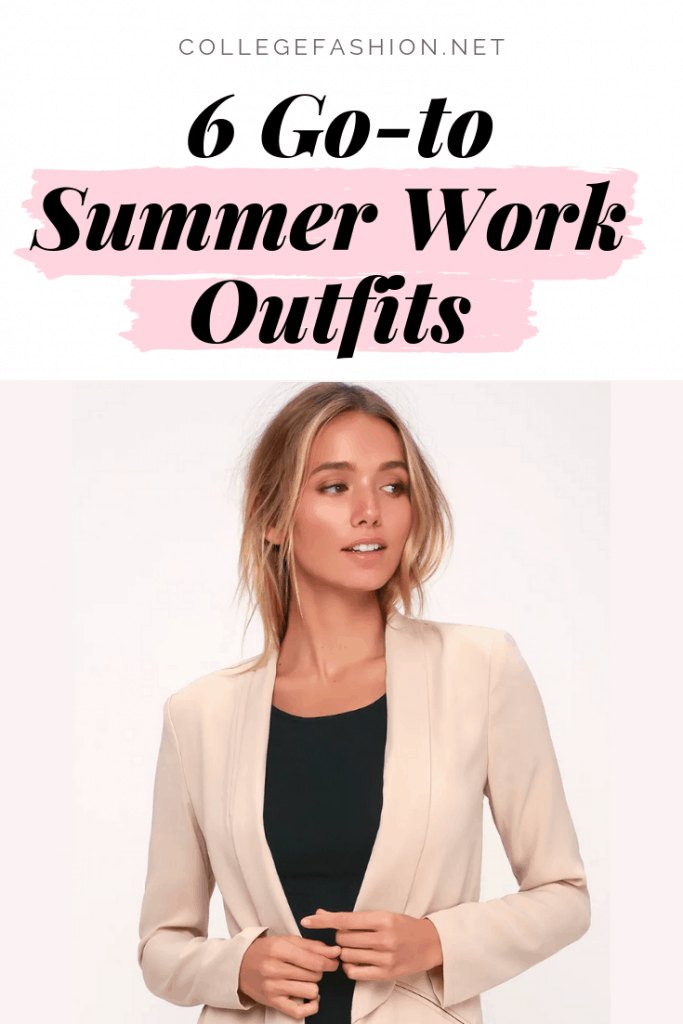 I had a feeling this summer was going to be a scorcher, and so far, it seems I was right – where I am, June has been muggy and the heat oppressive. Dressing in these temps can be tricky and uncomfortable even when you're just hanging out with your friends — add the particular perils of dressing for the office, and it feels impossible. 
Luckily, you've got options — with the addition of a couple of key pieces, you can have a trendy and breezy summer work wardrobe that won't have you planning a move to Alaska. These pieces make dressing in the summer easy, especially when you pair these pieces with the light and neutral accessories you probably already own. 
Here are some summer work outfits for when it's too hot to think:
Related reading: 20 Best Professional Outfits for Women (for Every Dress Code)
1. Loose Dress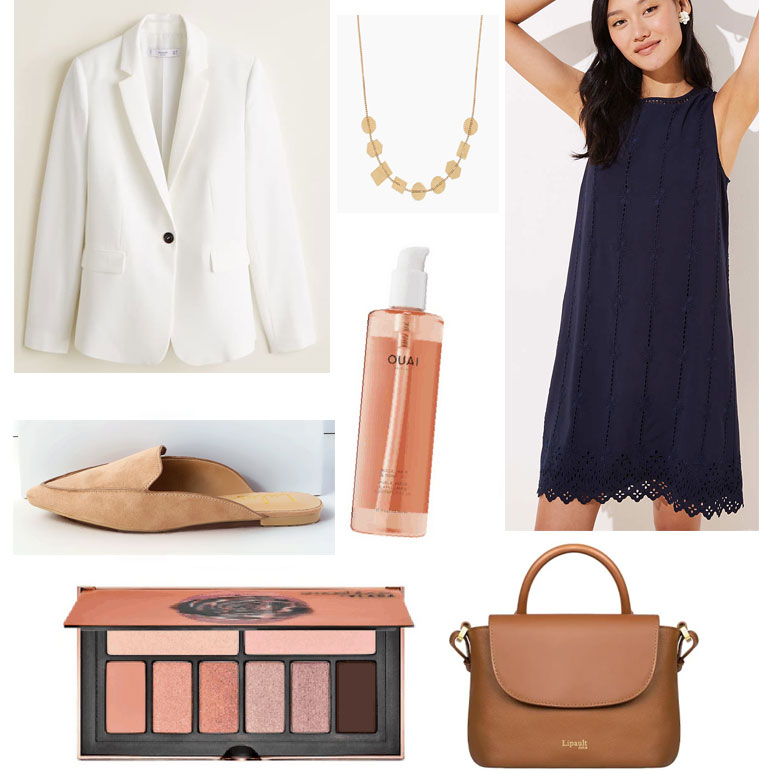 Products
A loose-fitting dress is honestly the easiest thing to throw on in the summer – no thinking about matching, undershirts, or potentially sweaty bottoms. If you work in a more conservative office, don't forget to add a blazer or cardigan, especially if your dress is sleeveless. I suggest a neutral color and/or breathable fabric for extra breeziness, like the cream blazer shown here. 
I love the throwback feel of this classic shirtdress – play up the retro-ness with a cognac bag, but throw in some modern touches too, like dusty camel backless loafers and a gold statement necklace. Finish the look with some soft rosy eyeshadow.
2. Midi skirt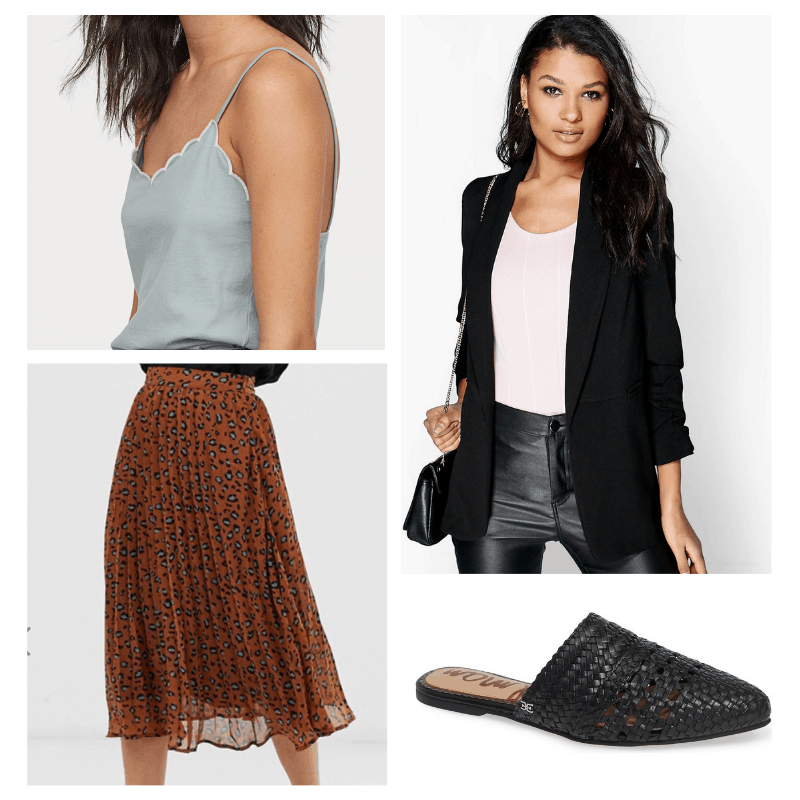 Products:
If you need something a little longer but still want to avoid pants, try a mid-length skirt. Skirts like these are perfect for catching that summer breeze but maintaining that work-appropriate feel.
I love the colors in this leopard print skirt — you can either pair it with darker colors or if you're looking for some fun, try mixing it with a pop of turquoise like above. Wear this outfit with some mules or sandals if you're able.
3. Paper Bag Waist Pants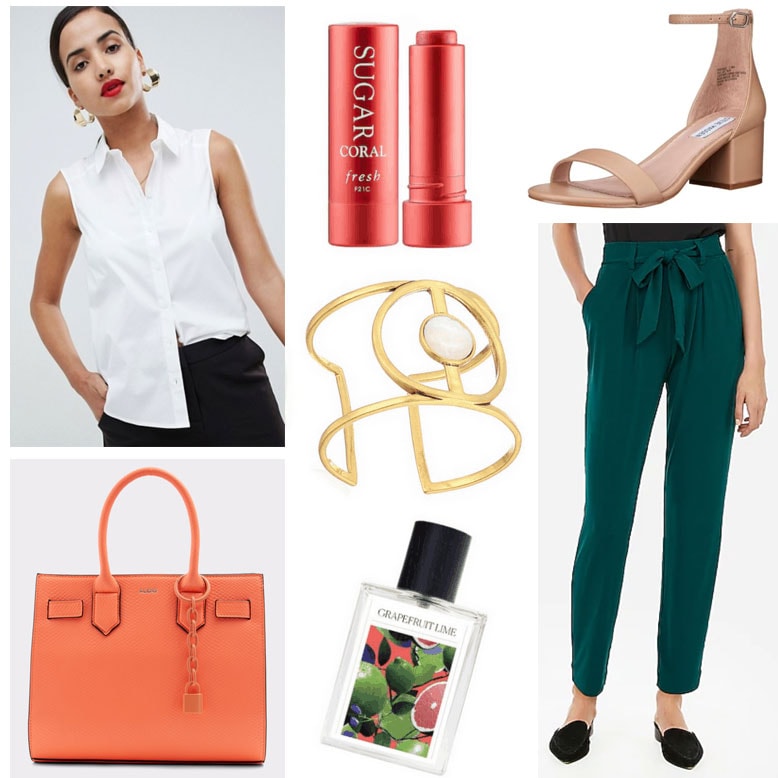 Products:
When it's blazing hot out, the last thing you want to wear is pants, I get it, but consider the paper bag waist that has been popping up everywhere. The wide-leg, cinched waist look is both flattering and fashion-forward and allows for much-needed air flow around your legs. Add a trendy jewel-toned color, like jade or coral, and you have a professional but fun statement piece that all you need to add to is a white blouse and minimal accessories. 
For this look, I've paired these jade-colored paper bag waist pants with a simple sleeveless white button-up and a coral-colored work bag.  A pair of neutral heels and a gold statement cuff add a polished touch, which adds a more professional air to this look. Finish with a tinted lip balm (I can't be the only girl who loathes wearing lipstick in the heat) and a fresh, citrus-y perfume. 
4. Linen Skirt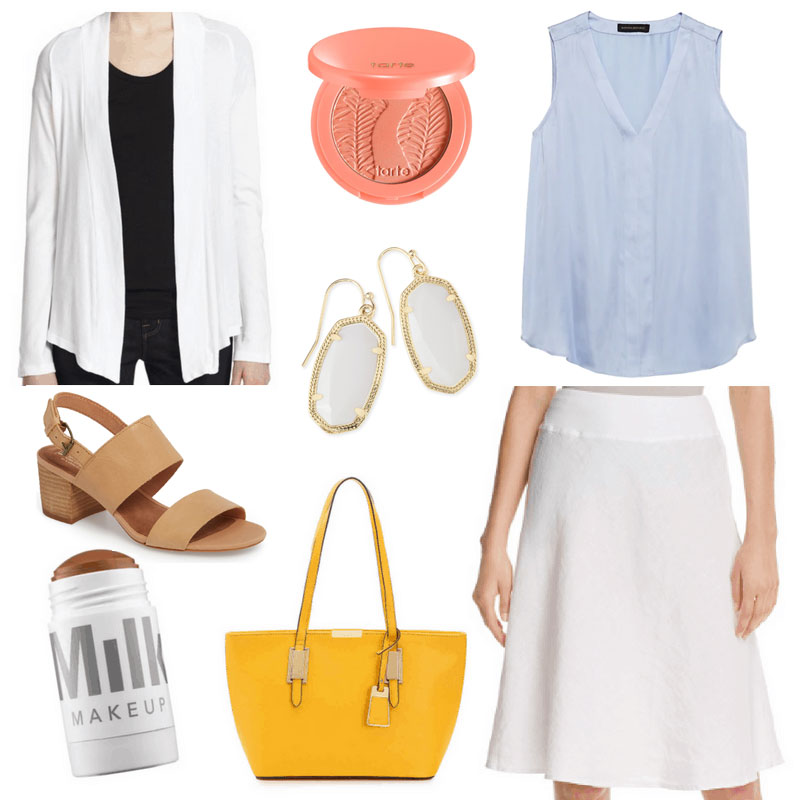 Products:
Ditch your pencil skirts in the summer for something a little more breathable and flowy, like a white linen a-line skirt. White and light colors are much cooler in the summer because they reflect the light, and looser, breathable fabrics ensure you won't feel sweaty or sticky. (There's nothing worse than being too hot when you're trying to give a presentation or meet a deadline!) 
I've paired this linen skirt with a sleeveless blouse and a light cardigan (you know your office will be aggressively AC-ed, right?), and a pair of neutral sandals. If sandals or open-toed heels are a no-go at your office, you can always swap these out for ballet flats or low heels. A bright yellow bag adds a summer-appropriate pop of color, while gold earrings add a touch of glitz. Finish the look with a little bronzer and blush to fake a beach-worthy tan, even if you're stuck in a sea of cubicles. 
5. Shirtdress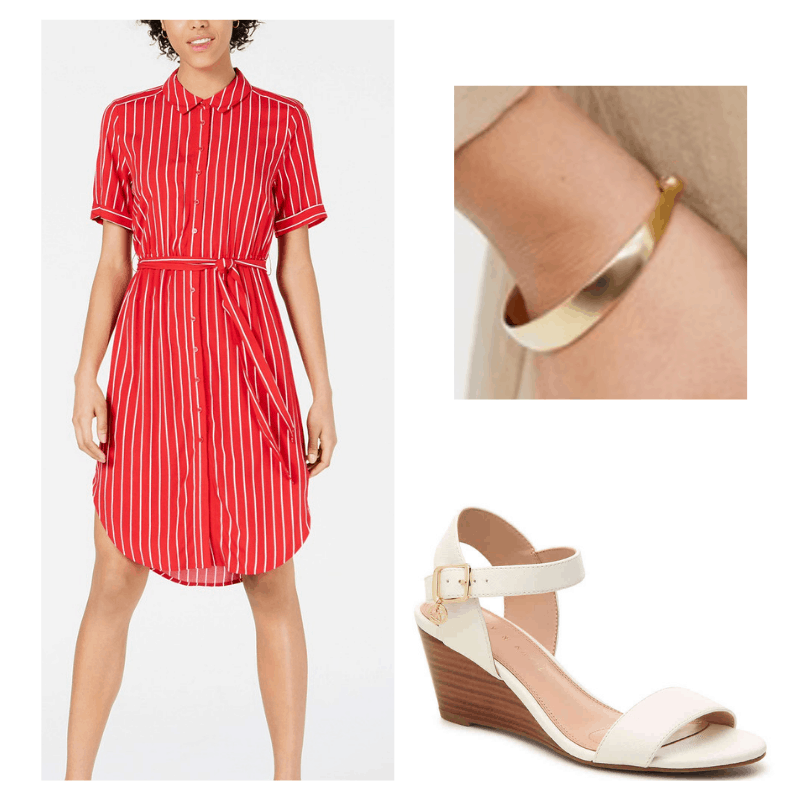 Products:
A shirt dress is a summer classic for every occasion, and it can definitely be a great choice for the workplace. I love this shirtdress from Macy's. The bright red fits with the perfect summery vibe but the length and fit keep things professional. It is great for those hot days when putting on pants seems like an absolute nightmare.
Pair the shirtdress with wedged heels and a chunky bracelet for a simple look that could easily transition to drinks with the girls.
6. Loose, patterned pants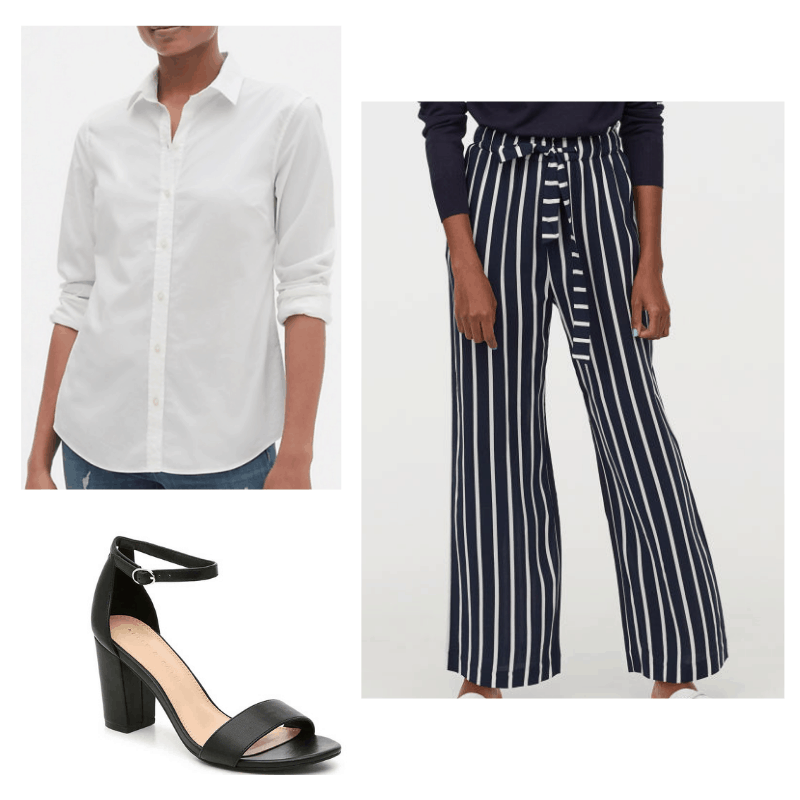 Products:
If you want another pants option for a hot day, wear a loose pair like these blue and white striped ones. They will keep you from sweating but are perfect for the office. Plus, they're interesting due to the pattern, so you can pair them with basics and have a cute outfit in a flash.
Here, I mixed them with a button-down shirt to keep that professional look going. Again, I added sandals for the summer, but flats or pumps would be great here, too.
What do you think of these summer work outfits?
The best summer work outfits are those that keep you comfortable and cool. Above all else, try looking for thin and breathable fabrics when shopping for summer work wear, and when in doubt, stick to lighter colors. With these outfit ideas, you'll make it through your hottest — and most productive — summer yet.
For even more outfit ideas, be sure to also see our guide to plus-size summer work outfits.
What do you wear to work when it's too hot to think? Would you wear any of these looks? Let me know in the comments below!
Editor's note: This post was originally published in 2018; it was completely updated and revamped in 2023 with new photos, outfit sets, and information.
For more fashion tips like these summer work outfit ideas, check out our favorites below —