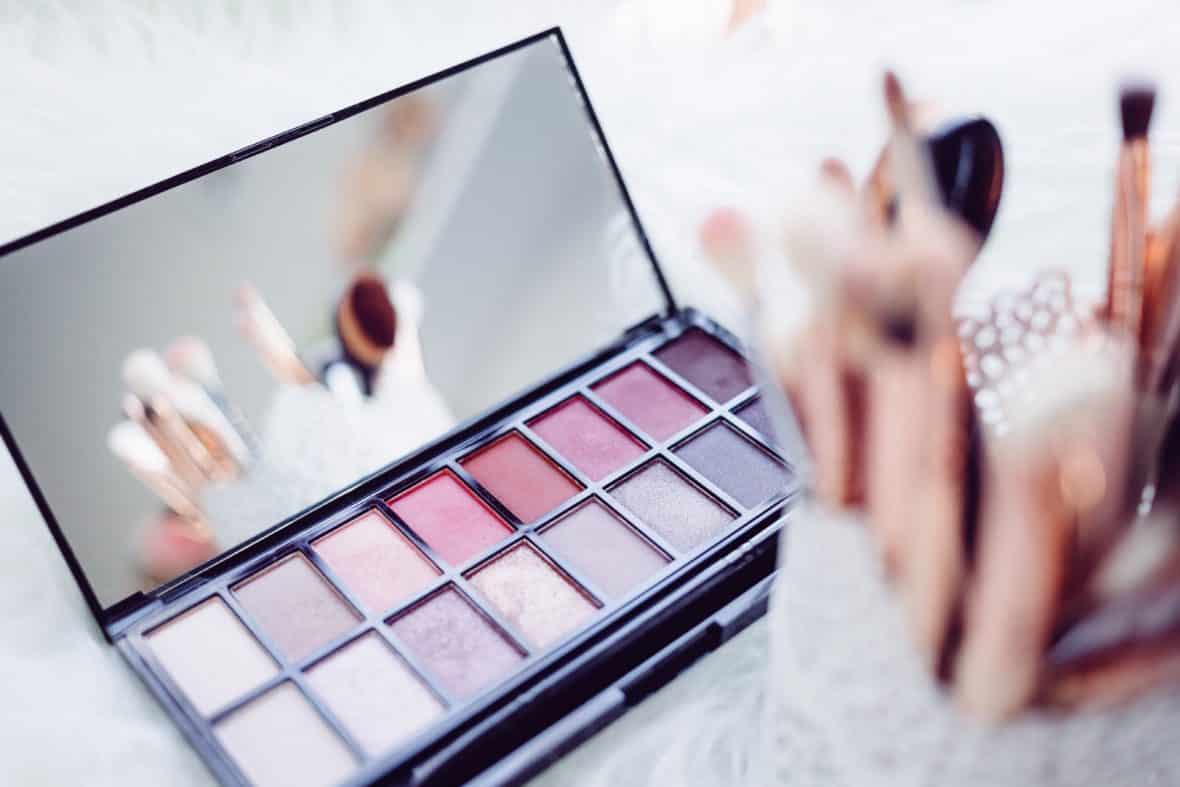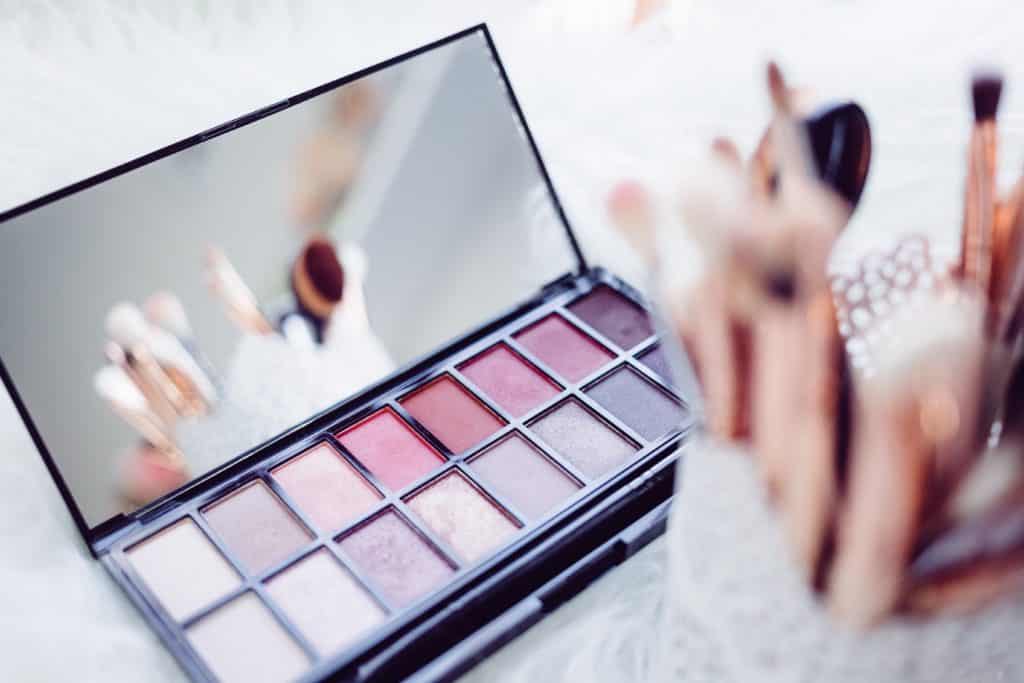 Whether you're a makeup novice or have been experimenting with cosmetics for years, it's crucial to have a collection with makeup essentials that will allow you to create a go-to everyday look. After acquiring the makeup basics, it is that much easier to add playful or trendy makeup products to your collection and incorporate them into your beauty looks.
That's where I come in.
In this article, I'm going to take you through the most important makeup products for young women, whether you're a makeup novice who prefers the no makeup makeup look, or you already have some experience under your belt and are looking to fill some gaps in your collection.
So, keep scrolling to see my list of makeup essentials for your face, eyes, and lips, as well as essential tools for applying and storing your makeup.
Related post: The 15 Best Hair Products for College
Makeup Essentials – Face:
1. Face Primer
While some people don't think that face primer is necessary, I personally view it as a vital step in my makeup routine.
Face primers' exact effects on your skin and makeup can vary, but overall, their main purpose is to keep your skin looking smooth and your makeup looking fresh all day long.
Regardless of your skin type, there is a primer for you, whether you're looking for a formula to control oil and/or acne, moisturize, smooth out uneven texture, color correct, etc.
My favorite face primer is Fenty Beauty's primer — it's expensive but a little goes a long way and the bottle will last you forever.
2. Foundation
Foundation is probably the hardest part of your makeup routine to get right, as you not only have to consider the type of coverage you want (i.e. sheer/natural, medium, or full), but also your skin type and undertones.
If you are new to wearing foundation or aren't sure what type/shade is right for you, I'd highly recommend going to your nearest Sephora, MAC, or department store and have a makeup artist help you pick out one that matches your complexion and fits your coverage needs. It's also a good idea to request a sample if you want to see how a formula feels on your skin before buying.
Even if you would prefer to buy foundation at the drugstore, I still recommend getting matched at a higher-end store first. This will give you a better idea of which shades to look for.
Also, there are lots of online foundation-finding tools you can use, such as Temptalia's Foundation Matrix, Sephora's Color IQ tool, and Findation.
My personal favorite foundation is Estee Lauder Double Wear — it has incredible coverage and stays in place forever.
Want some more foundation recs? See our guide to the best foundations, with our picks for liquid, cream, and powder foundation.
3. CC Cream
Personally, I prefer CC cream to regular foundation, as I find it to be much more natural-looking. It is a great option if you're looking for something that has skincare benefits such as moisturizing or priming (some CC creams have primer built in).
In addition, if you are new to the makeup world, a good BB or CC cream is an even better place to start than foundation, as it feels lighter on the skin, is hard to overdo, and can be applied with your fingers.
There is one major downside to BB and CC creams, which is that they usually come in limited shade ranges and don't cater to darker skin tones. However, I was able to find this article which provides a list of BB cream options for those with darker complexions. (P.S. If you have any recommendations for BB or CC creams for women of color, don't forget to leave a comment!)
The most popular CC cream on the market also happens to be my favorite — IT Cosmetics' Your Skin But Better CC+ Cream. It boasts an SPF of 50+ and has tons of skincare ingredients to improve your complexion.
4. Concealer
If you have acne, dark circles, or any kind of discoloration, concealer is a must-have.
Concealers come in full-coverage and sheerer-coverage formulations, and which one you should choose depends on how much you're trying to cover up.
When choosing a concealer for acne and/or discoloration, find a shade that is as close as possible to your foundation/BB cream shade for the most natural look.
Dark circles are a bit more complicated, since there is so much variation in their shades and how they look on different skin tones, but in general, it's a good idea to use a peach or pink-toned concealer to cover them up.
I have two favorite concealers — for blemishes or discoloration, I love Estee Lauder Double Wear. For dark under eye circles, I can't live without Bobbi Brown's Corrector in Bisque.
Want more help buying a concealer? See our list of the best concealers for every budget, and our guide to the best concealers at Sephora.
5. Blush
Putting on blush can have a huge effect on your overall look, and I personally never leave it out of my makeup routine. Blush is especially necessary if you're wearing a foundation with more opaque coverage, which can sometimes leave your complexion looking a little bit flat.
Blush comes in powder, gel, and cream formulations, with powder being the most popular. Recently, though, cream and gel blush have become very popular as well.
When choosing a blush color, pick something that'll give you a natural flush. Regardless of your skintone, be careful not to go too bright or to use too heavy a hand when applying, as these things can make you look clownish.
In general, pink and peach tones work best on fair-to-medium skin, while mauve, purple, and maroon shades work best on darker skin tones.
Something that I recommend trying, no matter your face shape, is applying blush both on the apples of your cheeks and diagonally up towards your hairline. This will not only give your face a healthy wash of color, but will also serve to emphasize your cheekbones and highlight the natural contours of your face. It also looks more natural than simply applying blush to the apples of your cheeks, as long as you blend well.
You really can't go wrong with blush. I love all brands, to be honest! My go-to is Clinique's blushing blush, but I'm also loving the Rare Beauty cream blushes that are out right now — everyone on TikTok is obsessing over their pigmentation.
Get a rosy glow with our roundup of the best blushes ever.
6. Highlighter
Speaking of highlight, I couldn't leave highlighter off of this list!
Like many other beauty products, highlighter comes in various different forms: powder, cream, liquid, stick, and powder/cream hybrid. Each of these forms has its own unique benefits, but for beginners I recommend either powder or stick, as they are the easiest to work with.
My fool-proof method for applying highlighter is to lightly apply it along the bridge of your nose, the tops of your cheekbones, your cupid's bow, and just below your eyebrows.
You can even multi-task and use your highlighter as eyeshadow!
Lastly, much like finding the perfect shade of foundation, finding the right shade of highlighter depends on your specific skin tone and undertones, so it's a good idea to test out different colors in person if possible.
My go-to highlighter is this Anastasia palette since it has four different options to create any type of makeup look.
Our guide to the best drugstore highlighters has even more choices that are super affordable.
7. Bronzer
As someone who loves being pale, I don't really use bronzer; however, if you are trying to get a sun-kissed look, using the right shade of bronzer is essential.
I recommend going no darker than one or two shades deeper than your natural skin tone, and either lightly dusting it all over the high points of your face for a healthy glow, or simply in the hollows of your cheeks (below where you'd put your blush) for a more chiseled look.
Either way, be sure to use a light hand and to blend well!
As for matte vs. shimmery, that depends on the rest of your look: If all the other products you're using on your face are matte and you want to add some radiance, go for something with a bit of sparkle. But, if you're already using other shimmery products, stick with a matte formula to avoid shine overload.
Though I don't use bronzer often, Too Faced's Sun Bunny Bronzer is a favorite of so many of my friends. One compact lasts forever and the powder looks incredibly natural on the skin.
Love the bronzed look? See our list of the best bronzers for a sun-kissed glow.
8. Setting Spray/Powder
Much like face primer, setting spray/powder works to keep your makeup in place all day.
There are different formulations depending on what type of finish you're after (e.g. matte, radiant, etc.) and what skin care benefits, if any, you would like your setting spray/powder to have (e.g. moisturizing, oil-absorbing, etc.). If you want your makeup to last, though, don't skip this step!
I personally love Beauty Bakerie's setting spray (bonus — it's a black-owned business), but Urban Decay's All-Nighter is THE cult favorite everyone raves about.
See our posts on the best setting powders and the best setting sprays for our favorite beauty buys!
Makeup Essentials – Eyes:
9. Eye Primer
Eye primer has been a lifesaver for me, as before I started using it, my eye makeup would literally be nearly gone within two or three hours.
A good eye primer should not only prevent your eye makeup from sliding off, fading, and creasing, but should also be in a formulation that keeps colors looking true to how they're supposed to all day long.
Keep in mind that eye primers aren't just for those with oily skin–there are many formulations on the market with moisturizing, color-correcting, and anti-aging benefits.
My all-time favorite eyeshadow primer is this one by Too Faced. My shadow never, ever, ever creases when I wear this.
10. Eyeshadow
Along with highlighter, eyeshadow is my favorite makeup product, simply because it comes in so many different colors and finishes, and can be used in so many different ways!
Personally, I prefer to buy single eyeshadows rather than palettes, since I don't have to worry about wasting money on shades that I won't use. (See our guide to the best eyeshadows for specific product recs.)
However, if I didn't already own similar single shades, I'd definitely look into buying one of the Urban Decay Naked Palettes, all of which are great for beginners.
11. Mascara
Mascara has a magical way of pulling your eye look together, and comes in countless different formulas that lengthen, thicken, and curl your eyelashes.
Black is fine for most people, but if you have very light-colored lashes, you may want to look into getting a brown mascara instead for a more natural look.
My go-to mascara will forever be Benefit's Bad Gal Lash. I've tried so many over the years and I always come back to it. Nothing beats its volume.
Love mascara? Check out our guide to the best mascaras for perfect lashes. Love falsies? We have a guide to the best false eyelashes too!
12. Eyeliner
Eyeliner, like mascara, can also add the little extra something needed to really make your eye look pack a punch.
While black eyeliner is often considered a staple, consider giving brown or dark gray a try if you have lighter skin.
There are countless ways to apply eyeliner, but my favorite way is to simply draw a thin line at the lashline and wing it out just a touch beyond my eye.
You can also use eyeliner to line the waterline if you want to make your eyelashes look thicker. In fact, there are eye pencils and kohl products that are made specifically for this sensitive area.
Finally, if you want to try liquid eyeliner but are afraid of messing up, I would recommend first lining your eyes using a similarly-colored eyeshadow or pencil liner, and then going over this line with the liquid liner.
For products, I recommend picking up a kohl liner like this Lancome one, plus a liquid liner — this influencer favorite from KVD is the best on the market.
For more on eyeliner, be sure to see our guide to the 10 best eyeliners for beginners and our list of the best gel eyeliners.
13. Eyebrow Product
I'll admit, I don't do my eyebrows, as I like how they look naturally. But, if you are looking to up your brow game, there are lots of different eyebrow products out there to really make them stand out.
(For an in-depth guide to this, see our list of the best eyebrow products around.)
Eyebrow products come in various formulations, including pencil, powder, mascara, pomade, wax, and gel, and which one you choose will depend on your needs.
Whether you're going for a natural look or are going for something a little more dramatic, be sure to use a light hand and slowly build up intensity to avoid the artificial, drawn-on look. Also, dramatic fades and sharp edges can often be too much for real life, so, when in doubt, simply follow the shape of your own natural brows.
Pro tip: You do not have to spend a lot of money on an eyebrow pencil! This NYX pencil is an exact dupe for the popular Anastasia Brow Wiz for a fraction of the price.
Makeup Essentials – Lips: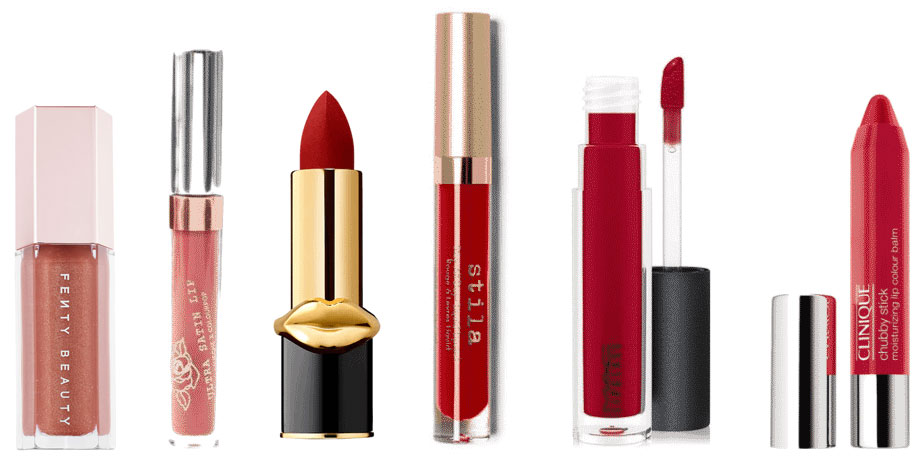 Products: Lip Gloss – Fenty Beauty, Liquid Lipstick (pink) – ColourPop, Bullet Lipstick – Sephora, Liquid Lipstick (red) – Stila, Lip Gloss (red) – Macy's, Lip Balm – Bloomingdale's
14. Lip Gloss
Lip gloss was popular in the early-mid 2000s, but recently has been regaining traction, with trendy brands like Anastasia Beverly Hills, Glossier, and Fenty Beauty all serving up their own versions.
Use lip gloss when you're in a rush, don't have access to a mirror (it's hard to mess up), or when the rest of your look is more dramatic and calls for a subtler lip.
Want a foolproof lip gloss? Fenty Beauty's Gloss Bomb comes in a universal shade that looks amazing on everyone.
Psst – check out our roundup of the best lip balms, tints, and glosses you can buy.
15. Lipstick
You can't deny that lipstick is having a major moment right now: Whether you go for a liquid or bullet formula; a glossy, satin, or matte finish, there is definitely a lipstick out there that'll meet your needs!
For beginners, I'd recommend starting off with a color that is close to your natural lip shade, as this is the easiest to just put on and go.
Once you've gotten the hang of that, it's a good idea to find a classic, goes-with-everything red that you can wear to class or for special occasions. Experiment with a glossy formula or a lip balm for a softer look, or a matte formula for a more glamorous look.
Furthermore, I suggest pairing a red lip with very natural makeup, or none at all.
There are so many amazing lipsticks out there, but my all-time faves are by Pat McGrath, Colourpop (super affordable), and Stila.
See our list of the best lipsticks ever for even more product recs!
Makeup Essentials – Tools:
16. Brushes
Be sure to look for high-quality brushes from brands such as MAC and Sephora Collection, as they should last you years with regular cleaning and proper storage.
Brushes to look for include a face brush (for applying foundation), a smaller, fluffy angled brush (for applying blush and/or bronzer on the cheeks), a fan brush (for applying highlighter), a fluffy powder brush (for applying finishing powder or bronzer all over your face), and a basic eyeshadow blender brush. For more details, see our list of essential makeup brushes.
PS – Our guide to cheap makeup brushes gives you all the details on the best affordable beauty tools.
17. Applicators
As for other types of applicators, I sometimes like to use an original beautyblender instead a makeup brush for applying foundation, as I like the finish that it gives. (Also, Real Techniques makes what is apparently a great dupe for a fraction of the cost.)
Furthermore, if you choose to apply your powder using a powder puff, then you don't necessarily need the powder brush (unless you want to use the powder brush for bronzer).
Best Makeup Storage Containers:
Now that you've got all of the essentials, you need somewhere to store them!
For all brushes and makeup products, simple makeup bags/pouches work well, while brush rolls are great for storing–you guessed it–brushes, and are also great for traveling. Pencil cups and even empty mason jars are also great options for storing makeup brushes.
If you have a larger collection of makeup, consider investing in a plastic storage drawer.
When in doubt, just do what I do and sort everything into plastic bags based on category (e.g. face, eyes, and lips). It's not the most glamorous option, but hey, it works!
I hope this article has been helpful to you, whether you're a makeup novice or a fully-fledged expert! Also, if you have any questions about anything in this article, feel free to leave them in the comments, and I'll do my best to answer them!
What do you think?
For more tips, be sure to see our article on The Best Makeup For People Who Hate Makeup, as well as our list of the best waterproof makeup products.
Do you own all of the makeup essentials listed here? What are some of your favorite makeup products? Are there any essentials that I didn't include in this list?
Let me know in the comments!
Editor's note: This post was originally published in 2011; it was completely revamped in 2022 with updated items and tips.