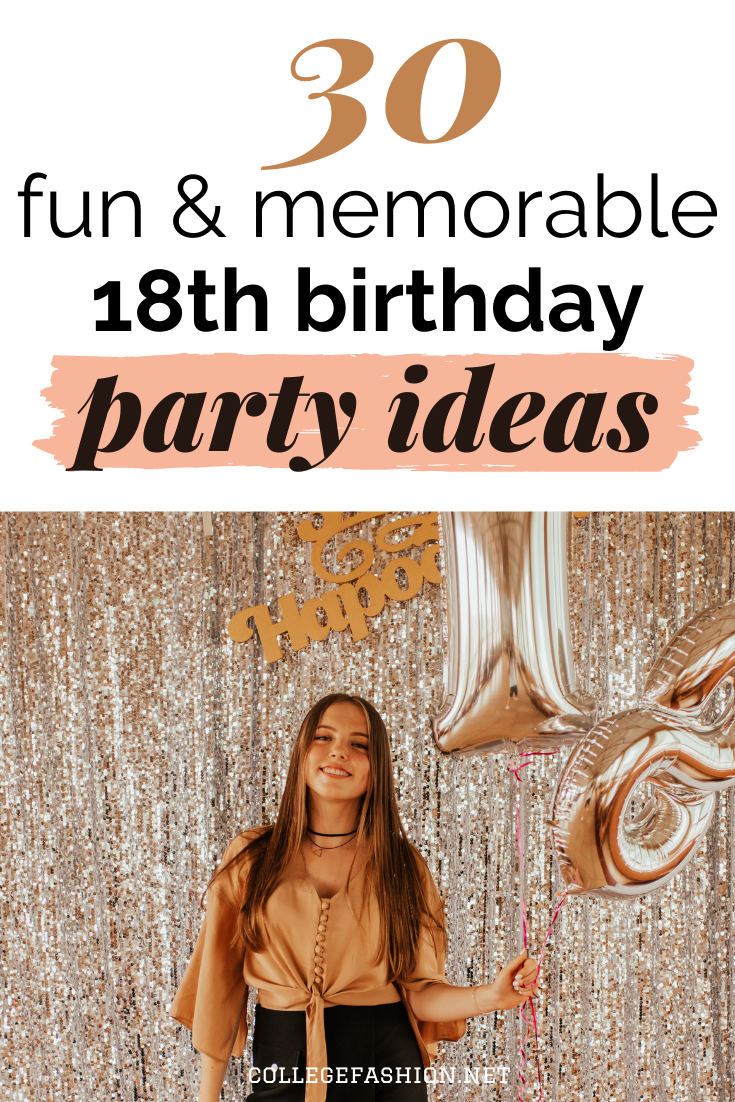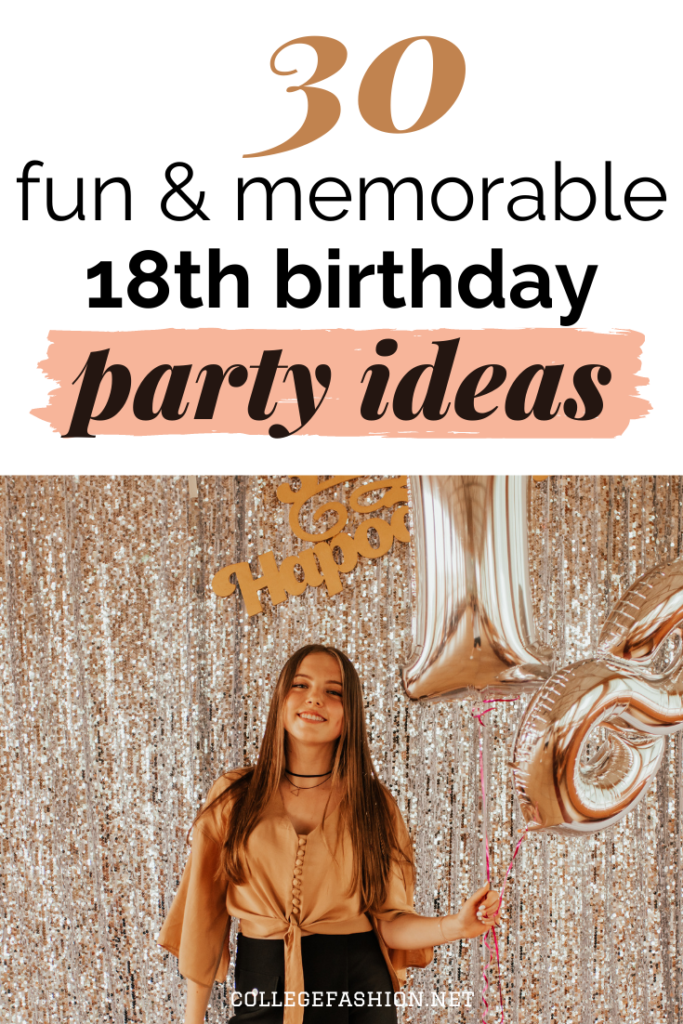 An 18th birthday is an incredible milestone that deserves an incredible celebration!
There's definitely some pressure to celebrate your 18th right, but planning an 18th birthday party doesn't have to be stressful — there are so many fun ideas out there that are memorable and easy to put together.
To help you throw an 18th birthday party that your friends will be talking about for years to come, here's our ultimate list of the best 18th birthday ideas for a memorable celebration.
Related reading: How to Throw the Best 21st Birthday Party Ever
18th Birthday Party Ideas
Before we get to all the party details (decor, games, etc.), here are the most popular 18th birthday party ideas to get your inspiration going!
Take a Birthday Vacay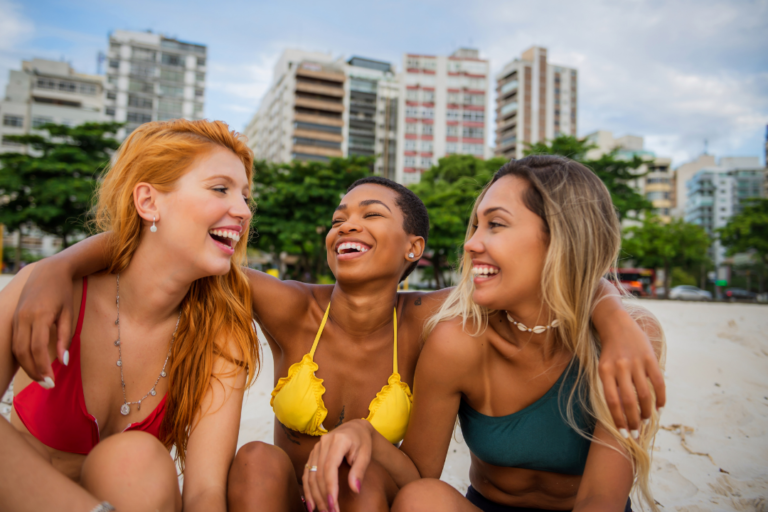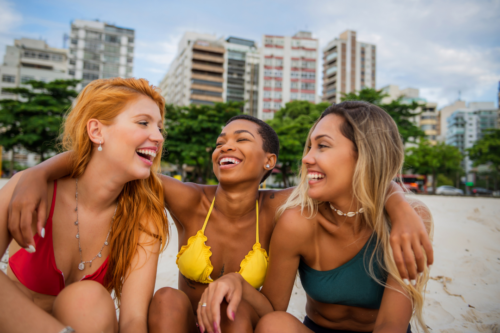 This is my favorite 18th birthday idea if your budget allows! A birthday vacation is a great way to celebrate with a few of your closest friends and make memories that will last a lifetime.
Whether you opt for a dream destination or just spend the night in a nearby city, you're sure to have a blast.
Plan a Themed Party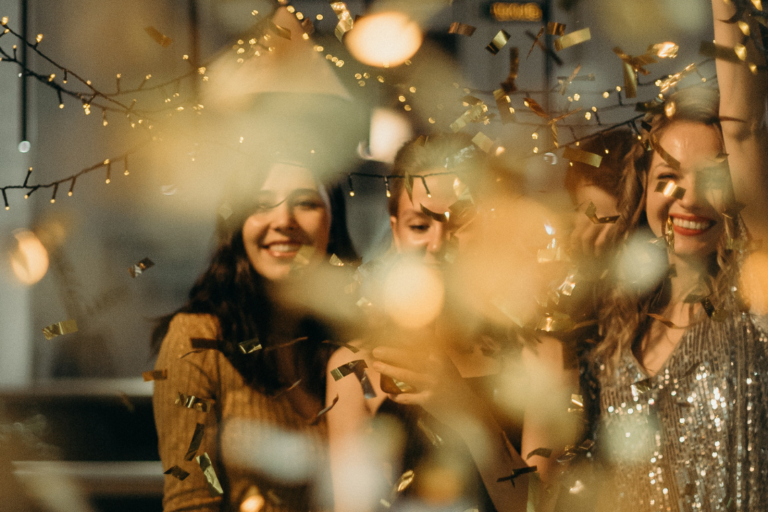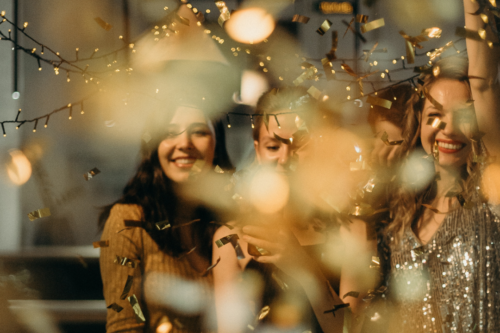 This is always a fun one. Choose a party theme and invite all of your friends for a night to remember. Get decorations from Amazon or Etsy, or DIY them yourself.
Some fun 18th birthday party theme ideas include Gatsby theme, disco party, black tie party, casino night, bohemian party, '80s theme, Coachella theme, slumber party, tropical party, glow in the dark party, beach party (if it's summer or you live in a warm climate), white party, neon party, and rainbow party.
Karaoke Night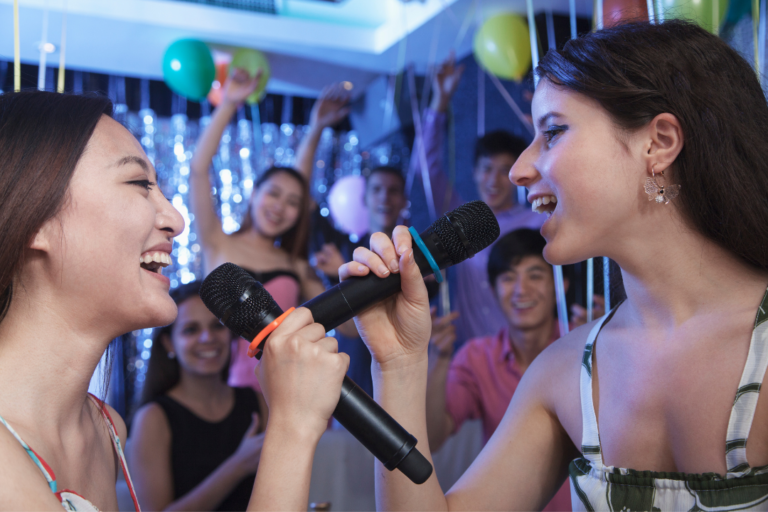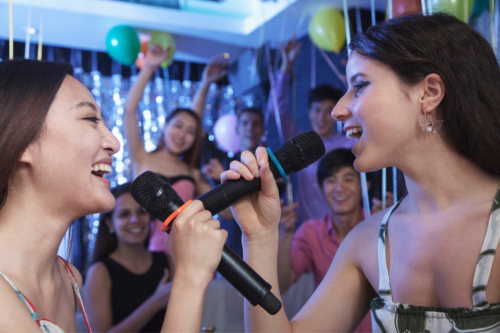 You may not be old enough to go to a karaoke bar yet, but you can totally host your own karaoke night at home for your 18th birthday!
This is the perfect 18th birthday party idea if you and your friends love music, and it's so easy to set up at home.
All you need is a karaoke microphone (this rose gold one from Amazon is so cute), a TV or laptop, and maybe a disco ball light for ambience (this one is less than $15). Then just cue up some Youtube karaoke videos and you're good to go!
Scavenger Hunt
A scavenger hunt is a really popular 18th birthday party idea right now and there are so many ways to do this one!
I love the idea of getting some printable scavenger hunt clues from Etsy and finding a really great prize, like scratch tickets or a gift certificate to everyone's favorite restaurant. This will amp up the competition and get everyone excited to play along.
You can combine this with some of the other party ideas on this list as well!
Pool Party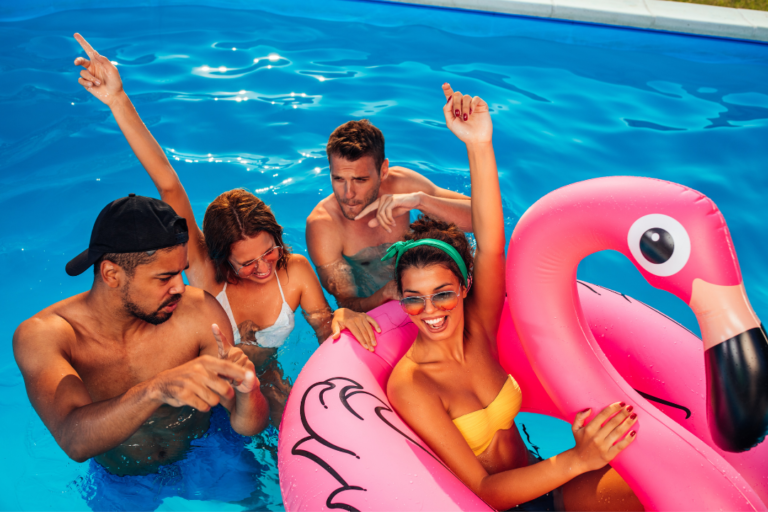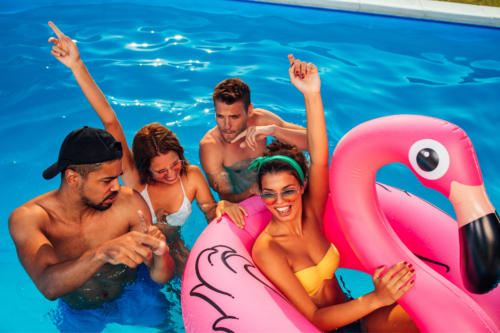 I have a summer birthday so this is always one of my go-to party ideas.
If you have a summer birthday, this is an easy go-to, but you can also do it in winter if you have an indoor pool or live near one you can rent out. The fun basically takes care of itself so there isn't a ton to plan!
Retro Roller Skating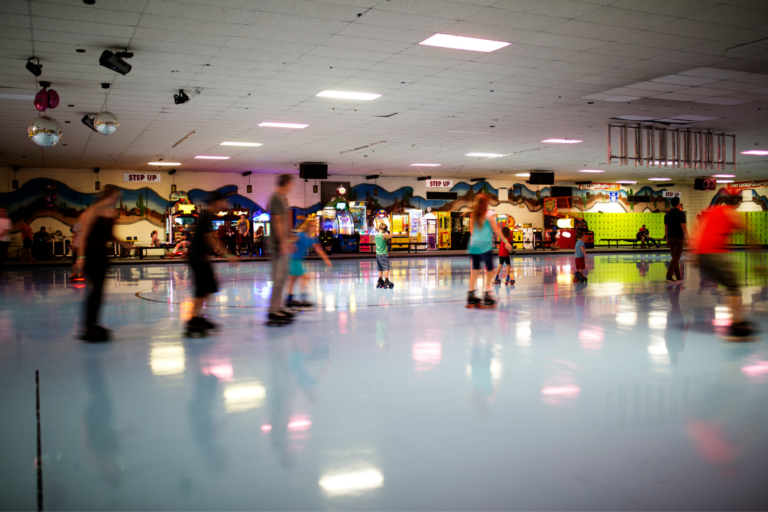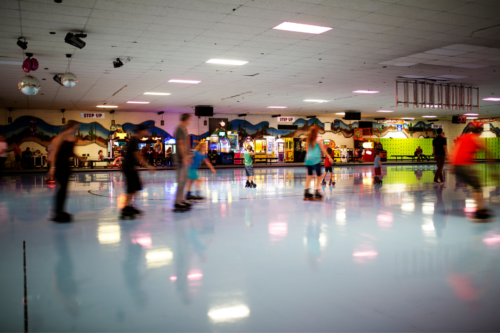 Roller skating rinks are still a thing and if you have one near you, definitely consider it for your birthday party! You and your friends can dress up in retro styles (hello vintage shopping), eat pizza and snacks, and roller skate to your favorite music.
Most roller rinks will allow you to rent them out for parties and most have party packages to make your planning super easy. You will get the coolest Instagram photos and have an absolute blast.
Hotel Party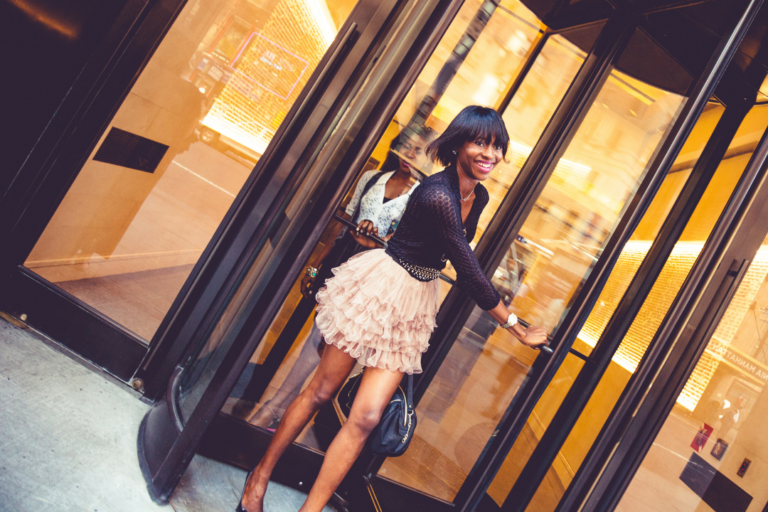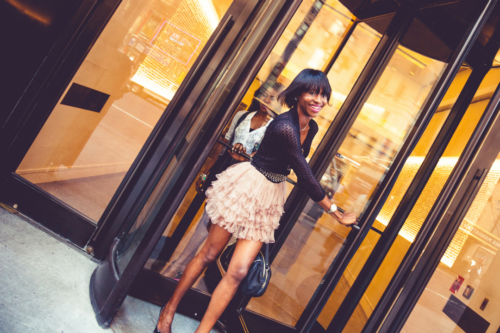 This is kind of similar to the trip idea above but you do it in your own city. It's always fun to get away for the night, so have a group of your friends chip in to rent a room or suite at a nice hotel in your area.
Go to dinner at the restaurant at the hotel, then head back to the room. Stay up late, wear matching pajamas, watch movies, and order dessert from room service. Maybe even hit up the spa and swim in the pool. A perfect low-key but glam birthday party idea.
Fancy Dinner Party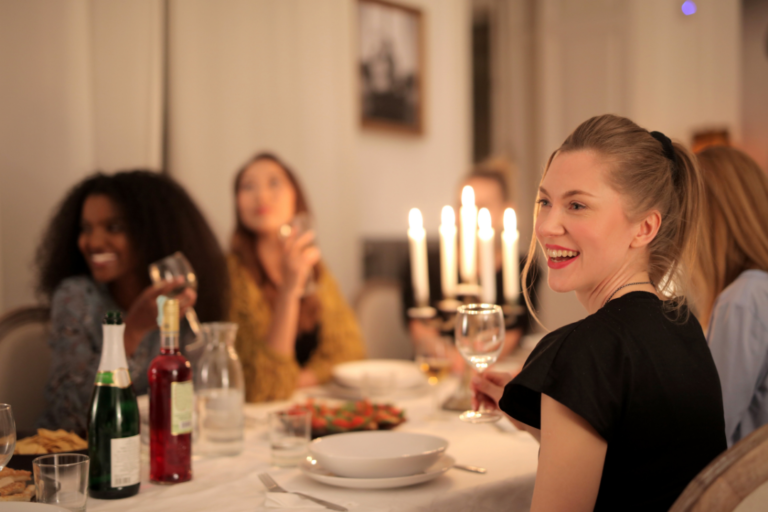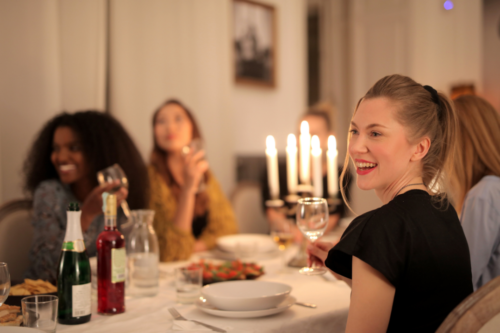 I love the idea of a fancy dinner party for an 18th birthday! It's so grown up and chic, and it's a really intimate way to connect with your best friends.
If you love to cook, think up a menu that will be fun and easy for you to prepare. Alternatively, you could get fancy and have dinner catered! Or do a potluck with your friends for an easy option. No matter what, you'll have a blast.
Related reading: 13 Birthday Nail Ideas to Celebrate Your Special Day in Style
Outdoor Movie Night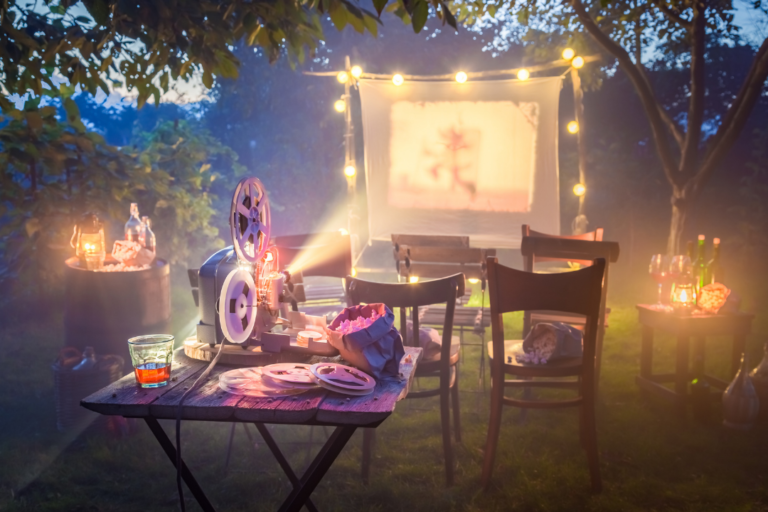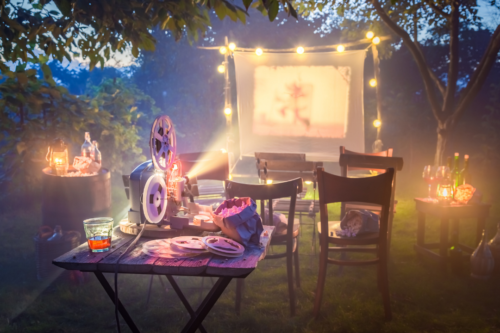 This idea is perfect for the warmer months or if you live in a warm climate in the winter. An outdoor movie night is a blast and you can share one of your favorite films with your friends.
To set up an outdoor movie night, you'll need a portable projector, a screen, some chairs, and plenty of delicious snacks. I also love the idea of using string lights to really set the scene.
Amusement Park Party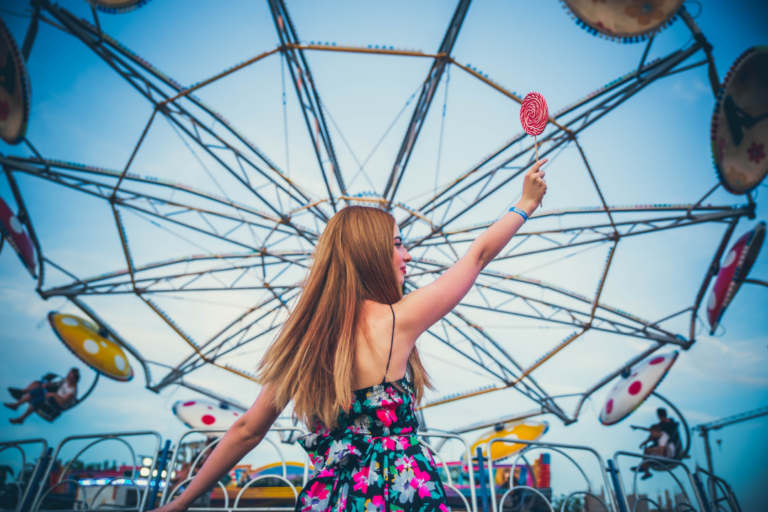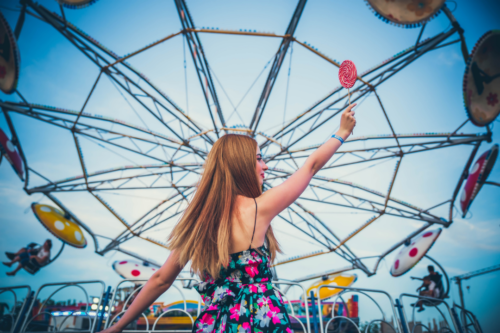 This one is so much fun because although you're now a legal adult, you get to act like a total kid again.
Disneyland or Disney World are super popular options for 18th birthdays but definitely pricey. You can definitely go to an amusement park that's closer to home, like a Six Flags or even a water park in the summer months!
Again, many of these theme parks have party planning services to make your life super easy, so definitely find out if yours offers this.
Best 18th Birthday Decorations
There are so many cute decorations out there made especially for 18th birthdays so here are some of the best ones, all CF-approved.
18 and Adultish Banner
This one is too cute. It's a simple banner that reads "18 and adultish" and since it's neutral gold, it will literally go with any type of party decor. Plus, it's super affordable!
DIY Photo Booth
DIY photo booths are super popular at 18th birthdays and they're incredibly simple to set up.
You just need a good backdrop, an iPhone, and a tripod. Set it to timer mode and snap away, or enlist someone to be the photographer for the night. Props are optional but always fun (see below).
Ultimate 18th Birthday Party Pack
I love this 18th birthday party pack because it literally has everything you need to throw your 18th birthday party! From balloons to a backdrop and props, for less than $30 you get everything.
Happy Birthday Banner
Happy birthday banners are classics and I love this one — it's so cute with its mix of tassels and rose gold lettering. So pretty!
18th Cake Topper
A custom cake topper is such a cute idea to take your birthday cake over the top. This one from Etsy can be customized with your name in pretty glitter script lettering.
18th Birthday Twinkle Garland
This twinkle garland is the perfect wall decor for an 18th birthday. You can place it anywhere around the room to add a little extra ambiance to the party.
Rose Gold Birthday Balloon Set
I love these rose gold 18th birthday balloons from Etsy! As opposed to your typical giant "18" number balloons, these ones are clear with rose gold confetti inside! More unique and so pretty.
18th Birthday Confetti
Confetti is always fun, so why not get yours in the shape of the number 18? You can never have enough glitter if you ask me, so this gold glitter confetti is perfect.
18th Birthday Tiara
An 18th birthday is a great chance to go over the top with your outfit, so why not rock a tiara? Honestly, have fun! This one from Etsy is super cute and affordable.
Rose Gold Glitter 18th Birthday Table Decoration
Here's a super cute table topper for an 18th birthday that coordinates with the rose gold glitter theme. (It seems like rose gold glitter is the current go-to for 18th bdays!)
18th Birthday Door Banner
You can even dress up your door for your 18th birthday! This pretty door banner incorporates pink shades and diamonds for a glam look.
Candy/Dessert Table
If you're wondering what to serve at an 18th birthday party, you cannot go wrong with a dessert table. The Youtube tutorial above shows you a bunch of different candy table treats you can whip up for your special day!
18th Birthday "Friends" Shirts
Okay, not a decor item per se but how cute are these 18th birthday "Friends" themed shirts? These would be perfect for any fan of the TV series "Friends," or even a 2000s themed birthday party.
18th Birthday Party Ideas: Games
Need some game ideas to play at your 18th birthday celebration? After some research, I found the most popular 18th birthday party games out there right now.
Minute to Win It Game
Minute to Win It was a popular TV show a while back, and while the show isn't on anymore, "minute to win it games" are super popular at parties!
Basically, these are minute-long competitions based on funny activities — flipping cups, stacking pennies, balancing as many objects as you can, etc. The video above shows you a bunch of different ideas to do your own Minute to Win It competition at your party.
Pick Your Poison Game
I have never played Pick Your Poison, but when doing research for this article, I saw this mentioned a lot for 18th birthdays.
Basically, Pick Your Poison is a "Would You Rather" game that focuses on wacky combinations (e.g., "never see the sun again" or "live without music"). It's sure to spark tons of interesting conversations and get your friends talking. There's also an adult edition if you want to get wilder.
Birthday Girl Trivia Game
How well do your friends know you? Test them with a custom birthday girl trivia game. You can buy a printable game on Etsy to make it super easy.
The prize can be similar to the scavenger hunt idea above — you could go for scratch tickets, a gift certificate to a favorite restaurant, or even something fashion-related like a Nordstrom gift card.
Virtual Games
We all have smartphones, so we might as well put them to good use! There are so many virtual games you can cue up during your party that are so much fun.
Some of my favorite virtual party games are Heads Up, Who Can't Draw, and Psych!
Birthday Party Game Bundle
This makes the party games super easy. You can download a whole birthday party games bundle on Etsy that has tons of cute game ideas based around the birthday girl.
Incohearent Party Game
From the makers of the popular party game What Do You Meme? comes Incohearent, a game that has you decoding gibberish with hilarious results.
The game gives you cards with gibberish phrases that are actually pop culture names, and everyone has to guess. This will definitely have you laughing!
Cards Against Humanity
Cards Against Humanity is a total classic adult party game that honestly never fails to get everyone laughing.
The game is all about making hilarious combinations that will shock and crack up your friends. It's definitely for adults, which, hey, you now are! A great choice for an 18th birthday.
What are your favorite 18th birthday ideas?
For more birthday ideas, see our guides to the best 22nd birthday ideas we're obsessing over, the best 23rd birthday ideas, fun 24th birthday ideas, and our 20 favorite 20th birthday ideas.
Have you celebrated your 18th birthday recently? If so, what did you do for your special day? Any great 18th-birthday ideas we missed? Please leave a comment down below, and let's discuss!