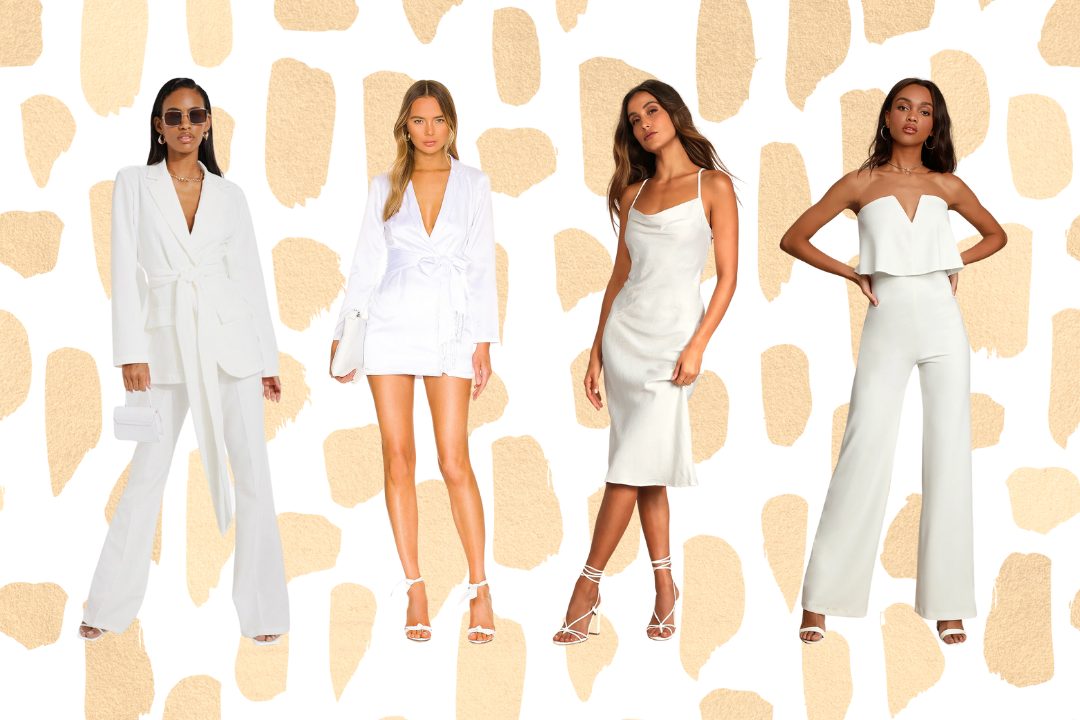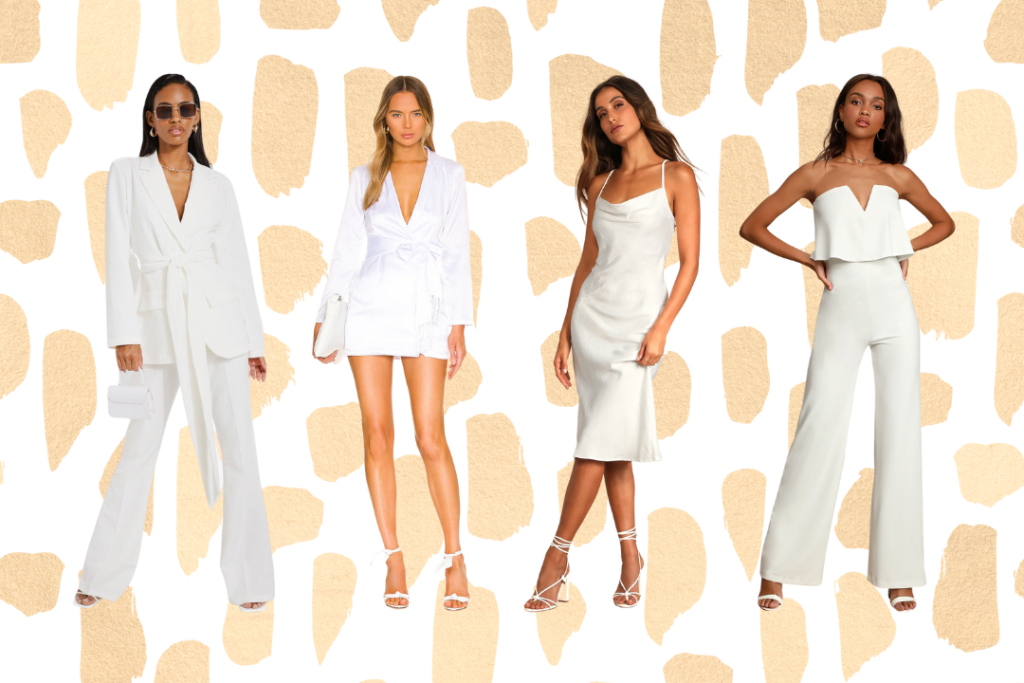 With summer coming up, you might receive an invitation to a white party. First comes excitement, then comes the dreaded what do I wear?
While the dress code of a white party is simple, dressing for the event can be anxiety-inducing. You have to wear white head to toe, but what about shoes, bags, accessories? There's a lot to consider.
To help you out, I've put together everything you need to know about what to wear to a white party, plus tons of cute and on-trend white party outfits for women.
Related post: 25 of the Best White Dresses You Can Buy This Year
What is a White Party?
A white party is a party theme revolving around the color white, featuring all-white decor and an all-white dress code. Guests are expected to come wearing white head to toe. White parties are most popular during the summer season, although they can be held at any time of year.
Some of the most famous white parties are held annually in cities around the globe. P Diddy in particular became famous for the celebrity-studded white parties he held in the Hamptons each year during the '90s and 2000s. These days, anyone can replicate the glamorous vibe by holding a white party of their own.
Classy & Chic White Party Outfits for Ladies
Wondering what to wear to a white party that's a glam, upscale event? Here are some classy and chic outfits that will have you looking *expensive.*
(Look to the next section for more casual white party outfit ideas.)
1. White Sequin Bodycon Dress & Silver Heels
Fancy white parties are the perfect time to incorporate some sparkle into your look.
I'm obsessed with this white sequin bodycon dress. It's all white but it's anything but boring, and it looks amazing paired with silver hoops and metallic heels.
2. White Ruched Dress & Silver Accessories
Here's another take on a white dress and silver accessories. This time, the dress is super simple but eye-catching, just a white body-con dress with ruching.
What brings this look over the top is the accessories. Here, they've gone all out with a glam necklace, silver strappy heels, and statement earrings. Since the dress is so simple, it all works together flawlessly.
3. White Strapless Jumpsuit & Heels
When you think "white party outfit," your first thought probably goes to a dress. But why not switch it up with a cool jumpsuit?
This strapless all-white jumpsuit from Lulus is SO cool and chic! It looks amazing paired with simple white heels and minimal jewelry. I'd add a white clutch to finish off this monochrome look.
4. Sleek White Dress & Black Heels
Model Oliva Culpo absolutely kills it in this white party ensemble. Her white dress is super sleek and she accessorizes it minimally with a black clutch and black strappy heels.
Don't think that you have to wear all white accessories to a white party! Black can work, so long as your black pieces are small and minimal.
5. White Satin Midi Dress & Ankle Wrap Heels
Speaking of chic and minimal, this white party outfit idea is just that, yet it's also super glam at the same time.
In the outfit above, a white satin midi dress is paired with strappy white lace-up heels. The combo is so simple but it somehow doesn't look boring! If you wanted to dress this up even more, you could add a metallic clutch or a couple of small layered necklaces.
6. White Wrap Dress & Heels
Here's another take on the satin dress for a white party. This time, we have a satin wrap long-sleeve mini dress paired with cool white heels and a white clutch.
Again, you don't need tons of jewelry for this look! I'd wear some cool earrings and a few gold rings and call it a day.
7. White Satin Gown & Simple Hair
I can't be the only person who was absolutely obsessed with Hailey Bieber's outfit at the 2022 Grammys. She wore this stunning strapless cream satin column gown by Saint Laurent, accessorized with a few small diamond layered necklaces.
While we can't all afford Saint Laurent, we can get inspired by Hailey's vibe! This dress from Hello Molly is an amazing dupe for Hailey's. (And it's under $100!) Pair it with nude heels and a few layered necklaces, and keep your hair simple as Hailey did.
8. White Cutout Dress with a Neon Heel
If you want to go bolder with your white party look, all eyes will be on you in this white cutout dress.
For an extra pop, consider adding neon heels like these. I'd finish with a white clutch to bring in some more of the white color, then add your jewelry of choice. The perfect white party outfit for ladies who aren't afraid to turn heads!
9. White Wrap-Front Suit & White Heels
A white suit set is another chic outfit idea for a white party. (Plus, you can wear it as separates all year round!)
I particularly love the belt detail at the waist on this Boohoo blazer set. It makes the look even fancier, perfect for a party. Finish with white open-toe heels for a glam vibe.
10. White Square Neck Jumpsuit with Nude Heels
Here's another cool jumpsuit to wear to a white party, courtesy of Lulus. This one has a flattering square neckline and is very simple all over, perfect for accessorizing!
Here, the model is wearing huge hoop earrings (which I love), but you could also add bracelets or a cool necklace instead. I'd grab a metallic clutch to give this look some extra interest. You could also add a belt to this jumpsuit to really emphasize your waist.
Also read: Splurge vs Save: Nude Heels
11. White Suit with a Colorful Shoe
Here's another take on the suit outfit for white parties, this time with a statement-making blue shoe!
I love that the suit is a bit oversized — it looks so comfortable and definitely wins fashion girl points. The cobalt shoe is mostly hidden by the pants but gives just the right little pop of color when you walk.
Cute Summer White Party Outfits for Ladies
Got a more casual white party coming up, maybe something during the day or for the Fourth of July? Here are some perfect summer white party outfit ideas for ladies that are super cute but a little less glam than the ones above.
12. All White for Daytime
Model Jasmine Tookes wore this all-white look to the 2022 Revolve Festival at Coachella and I want to copy this outfit immediately.
This outfit is all about the accessories. Jasmine mixes a simple white maxi dress with cool lace-up pumps, a thin white and gold belt, tons of cool jewelry, and sunglasses. Take a note from her and don't be afraid to accessorize your white outfit to add personality.
13. White Romper & All White Accessories
I love the idea of wearing a romper to a white party! It's so cute and super unexpected, plus you don't have to worry about a short skirt riding up.
This outfit is honestly perfection as-is: It's just the romper paired with white heels, a white clutch, and giant white hoop earrings. I might add a thin necklace or two to finish this off.
14. White Wrap Skirt, Crop Top, & Heels
The Bachelor's Hannah G absolutely nails her white party outfit in this look, consisting of a white satin wrap skirt, tie-front crop top, and cream woven heels, accessorized with a white clutch.
This would be the perfect white party outfit to copy for a daytime bash like the one Hannah is attending. It's chic and glamorous but still romantic and fun, perfect for a day sipping drinks by the water.
15. White Bodysuit, Pencil Skirt, Lace-Up Heels
Kim Kardashian has mastered the art of the all-white outfit, which is why she appears twice on this list (see her second look below). This outfit is so pretty and easy to put together. It's just a white bodysuit paired with a white pencil skirt and minimal wrap heels.
The only tricky part of putting together this outfit is finding a skirt that won't be see-through. Personally, I'd layer nude shapewear shorts in between the bodysuit and skirt for extra coverage.
16. White Ruffle Dress, Square-Toe Heels
If you just want a simple, easy-breezy outfit for your white party, look no further than this look. It's a chic little white ruffle dress paired with white square-toe heels.
These heels, in particular, are so trendy this season and you can wear them with everything you own, from ankle-length jeans to dresses like these. They're definitely something you'll wear over and over again!
17. White Mini Dress, Metallic Heels
Here's our second Kim K look, similar to the first but with a bit of a dressier feel. Here, she's wearing a white off-the-shoulder dress paired with silver metallic heels and a simple, minimal necklace.
This outfit is a great example of how you don't have to go crazy with accessories to look chic and glam. Kim would look at home at any white party and she's only wearing a single piece of jewelry!
18. White Jeans, Button-Up, Sandals
If you have a casual white party to attend and want to wear something a little less expected, this all-white jeans and button-down shirt combo would be perfect!
Here, the model pairs the look with white Birkenstock-style slides. While those are trendy this season and could certainly work for backyard barbecues, etc., I'd probably swap in a white mule with a bit of a heel for a dressier feel.
19. All White Set & White Combat Boots
Calling all edgy girls! If you want to wear something a little more rock and roll to your next white party, here's a perfect white party outfit for ladies with edgy vibes.
Actress Peyton List wore this cute 'fit to Revolve Fest 2022, consisting of a white two-piece crop top and skirt set paired with chunky white combat boots. She accessorized her look with a trendy chain belt around her waist.
This outfit is a less traditional look that still fits the white party theme. It would be perfect if your style is on the edgier side or you're attending a daytime event where you want to be cute yet comfy.
Also read: How to Wear White Boots?
20. Off-Shoulder Midi Dress & Mules
This breezy summer outfit says "garden party" to me. It would be perfect for a white party held on the beach or in someone's backyard.
This white party outfit couldn't be easier to put together — just grab this beautiful, breezy midi dress from Lulus and accessorize with simple earrings, white mules, and a woven purse.
21. Lace Midi Dress & White Heels
Traditional girly girls, this is your perfect white party outfit!
This simple and beautiful white lace midi dress looks amazing with simple white strappy heels. Add some minimal jewelry and curl your hair for a classically feminine vibe.
22. White Two-Piece Suit Set
If you want a more casual take on the white suit outfit for your next white party, switch it up with this cool girl set, consisting of a white vest-style crop top and wide-leg white pants.
This set makes a statement on its own so you don't need to do much to accessorize. Just add metallic heels and your favorite jewelry. You could also grab a white or metallic clutch to match.
FAQs
What shoes should I wear to a white party?
There's a ton of variation here! If you're attending a very formal or traditional white party, I'd opt for white, nude, or metallic heels. However, if you want to push the envelope or you're attending a less formal affair, I love the look of a brightly colored shoe or even a black shoe if it's strappy and minimal.
What jewelry looks best with a white dress?
Honestly, anything goes! As you can see in the examples above, white dresses look amazing with gold, silver, colorful, or white beaded jewelry. So long as you don't over-accessorize, any type of jewelry can work.
What color purse should I bring?
The safest purse option for a white party is a white, beige, or metallic purse. That said, many of the looks above feature purses in different shades, from black leather to brown raffia. And those can totally work! The key here is to make sure your bag is small if it isn't one of those classic colors, so your look still reads as mostly white.
What do you think of our white party outfits for ladies?
Would you wear any of these outfits? Do you have any white parties to attend this summer? Have you ever attended a white party before? (If so, what did you wear?) Tell us in the comments down below.
If you love these tips on creating white party outfits, you might also want to read our related posts below —