This post will show you the best short nail ideas that are trending this year.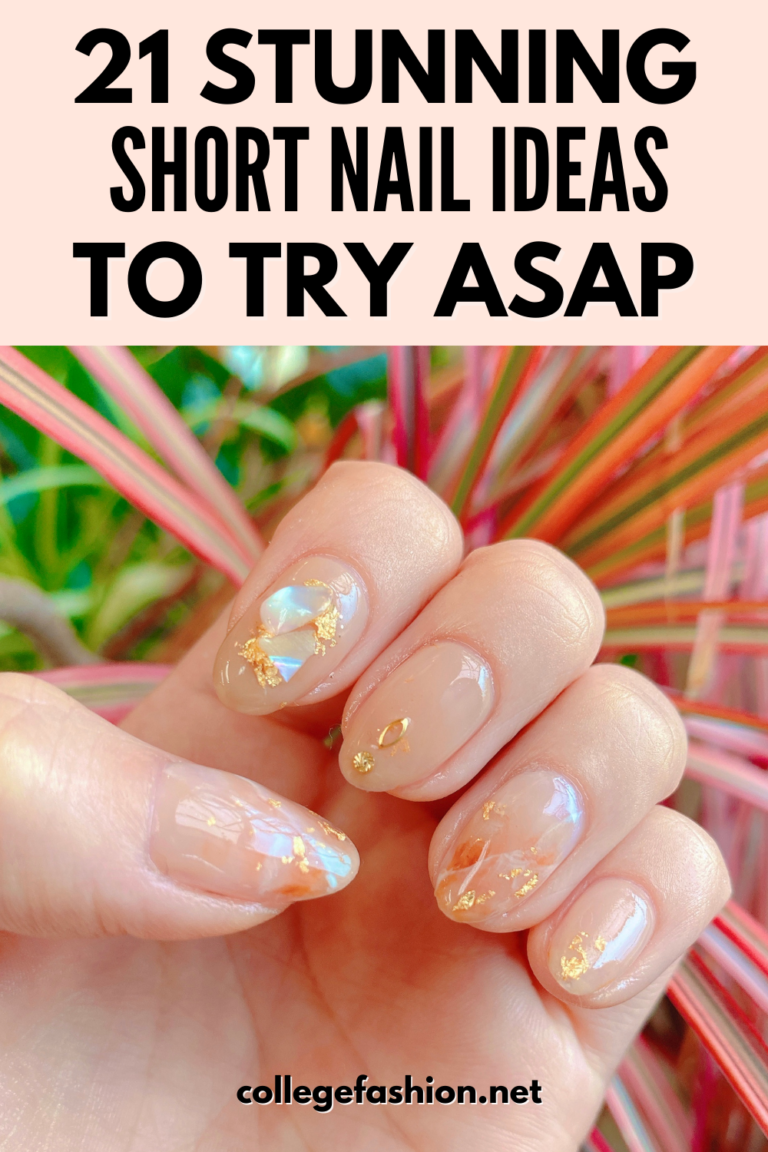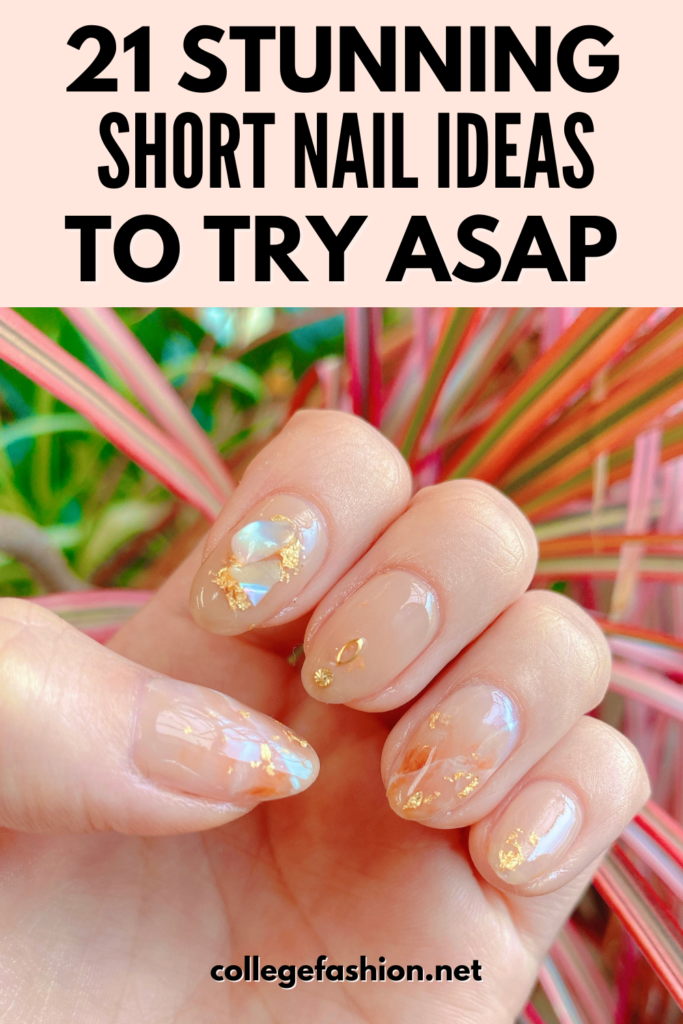 If you've been on social media at all this year, you probably know that every celebrity seems to be rocking super long, colorful, and creative nails. These long styles are beautiful, but what if you, like me, prefer short nails?
If you don't want to rock super long nails, there are so many cute short nail styles you can try. I promise you, short nails don't have to be boring and they can still be super trendy!
Below, I've rounded up 21 of the cutest and most popular short nail ideas that will have you looking amazing this year. Let's get to it!
Related reading: 50 Extremely Cute Fall Nail Trends to Try This Year
Cute Short Nails
Marble Short Nails Design
I have always loved marble nails because they look so luxe but are incredibly easy to achieve!
If you want a fancy design, I'm obsessed with these blue and purple marble nail wraps with gold flecks. I also love this marble nails tutorial on youtube, if you want a simpler design you can DIY.
Related reading: 21 Stylish Blue Nail Ideas for Your Next Manicure
Short Nails with Golden Glitter
This is one of those classic short nail ideas for the holiday season (it features in our winter nails guide for a reason) but to be honest, I love it year-round. Short nails with golden glitter tips have been trendy for a few years now and I still see them all over the place.
You could also do this design with silver or multicolored glitter, or mix it up by layering a different color of nail polish as the base. This can be totally customized to your style so it's just another reason to love it.
Sunflower Floral Nails
I'm sure you've seen floral nails all over, but I love sunflower nails for the late summer and fall seasons. They're just so happy and bright!
For this design, you could definitely draw the sunflowers on yourself, or to get a super professional look, just buy these nail press-on Amazon. They're less than $5 for a super cute mani that looks like it came from a salon.
Related reading: 21 Gorgeous Floral Nail Design Ideas to Try This Year
Polka Dots
Polka dot nails are a total classic and they go with everything. There are so many variations you can do on this look too, depending on which colors you use.
The photo above features these short press-on nails, which is the easiest-ever way to get this look, but you could also use a dotting tool (this one from Amazon is less than $5) to DIY this on your natural nails.
Related reading: 12 Simple Nail Ideas That Are Perfect for Beginners
Strawberry Short Nails
Okay, it does not get much cuter than these strawberry nails! If you have a girly sense of style, these are adorable and would match so well with your outfits.
You could definitely get these nails done at a salon, but if you want to save a lot of money, the nails above are just $4 nail stickers on top of pink polish. So simple!
A Simple Flower Nails Design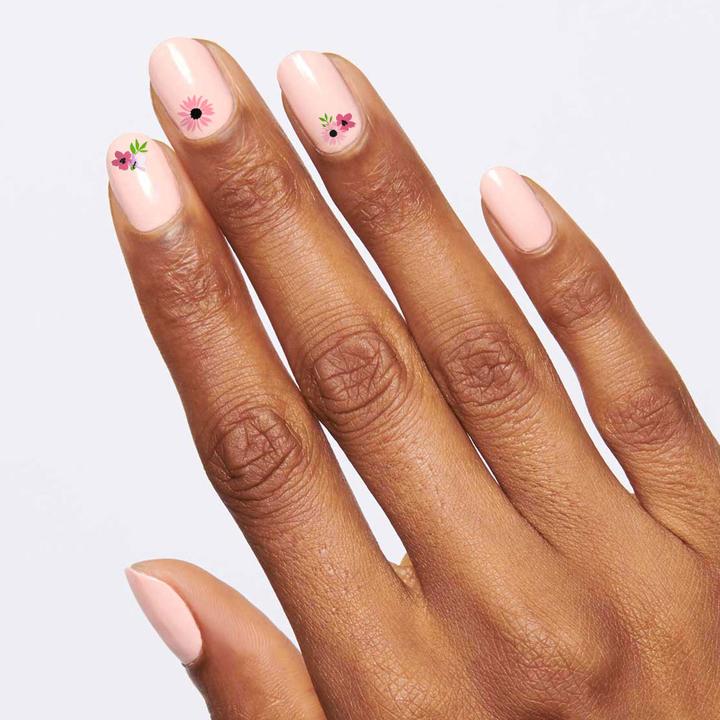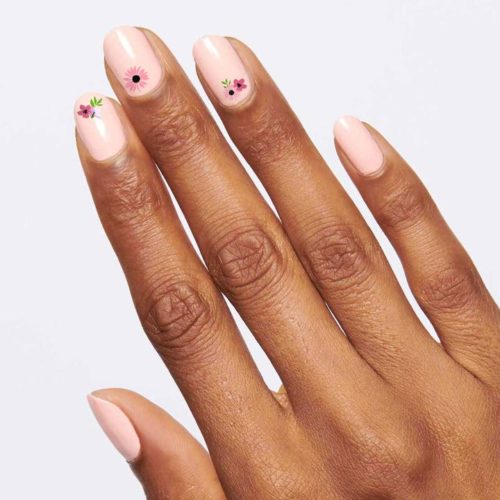 When I think of flower nails, my mind definitely goes to nails that are ultra-girly and statement-making. But despite their girliness, these simple flower nails from Olive and June are so wearable for every day!
This design is insanely easy to achieve because it's just these floral nail stickers on top of pink polish. Literally, anyone can do this and it doesn't require a trip to the salon!
Rhinestone Accent Nails Design
Rhinestone accents are so much fun to add to your nails, especially for special occasions like weddings and holidays!
The tutorial above from Cutepolish shows you how to add rhinestones to your nails using this top-rated set of rhinestones from Amazon and this special top coat for rhinestones.
Classy Short Nail Designs
Classic French Tip
French tip nails are one of those classic nail ideas that works for any setting. And before you ask, yes, you totally can rock a french tip on short nails!
The tutorial above shows you a super easy way to do it and it doesn't require any special tools or expensive kits.
Related reading: Cute and Trendy French Tip Nail Designs to Try This Year
Dark, Classy Nails
There is something so classy about a short nail in a dark color. Burgundy, dark green, and black are popular choices but I think dark navy nails are SO unexpectedly chic!
The shade above is HJ by Olive and June, described as "a shimmering inky navy." It's so beautiful and would be perfect for the fall and winter seasons.
Related reading: 17 Classy Nail Ideas for Sophisticated & Elegant Vibes
Purple and Glitter
I cannot get over this purple and glitter mani from Olive and June! I'm obsessed with their nail polishes and this is so insanely beautiful. (This one uses two polishes, OMG and Exclamation Point.)
I'm not even usually a colorful nails girl, but this purple nails idea would be so perfect for the holidays or new Year — I can't stop thinking about it!
Black and White Short Marble Nail Design
This black and white marble nails look is so insanely cool! This is my favorite type of nail art — simple, statement-making, and in a neutral color.
I love that this short nail idea just uses regular nail polish and a nail detail brush, so it's super affordable. I really think anyone could pull this off.
White Glitter Nails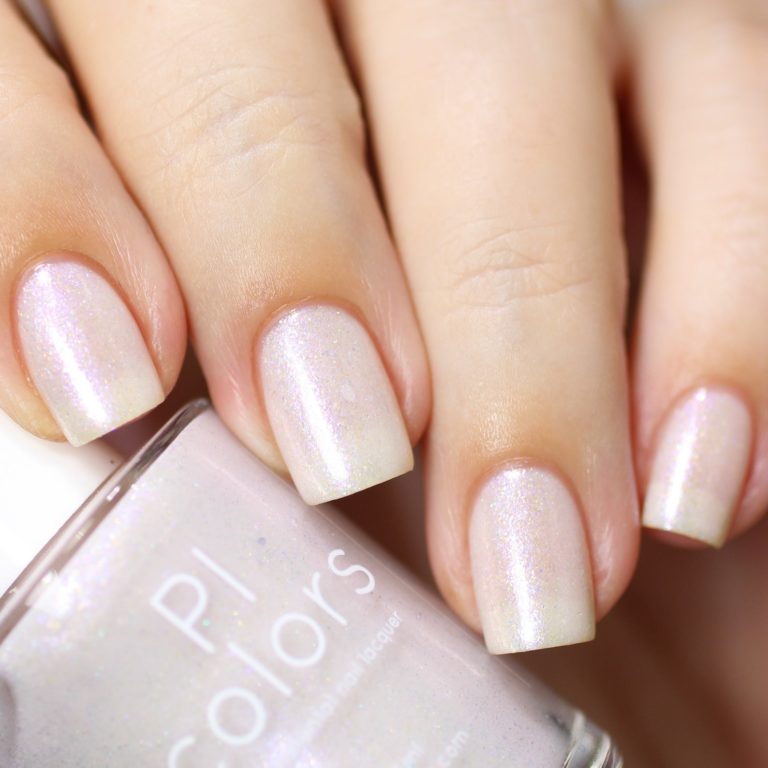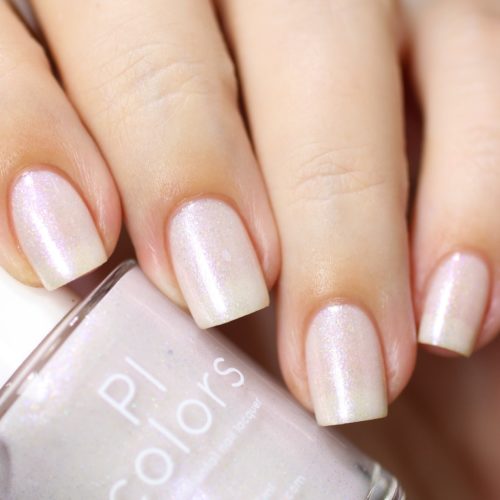 I'm a huge fan of a white manicure on short nails, and you can spice up this classic by opting for a white glitter nail polish like this one from PI Colors.
I love that this nail polish is opaque enough to cover your nail (a lot of glitters are so sheer), and it has just enough glitter to be fun, but not so much that you couldn't rock these nails to the office. It's the perfect mix of cute and classy.
Black Short Nails
Black Short Nails with Sparkle
I practically gasped when I saw these black sparkle nails — I've never seen a nail polish quite like this one before!
This nail polish is called "Dark Forces 2.0" by EmilydeMolly and it's described as a "holographic silver dot glitter in a black base." To me, it gives the look of galaxy nail art in a single polish — the dot glitter looks like planets in a starry sky. So unique and beautiful.
Rhinestone Black Nails
If you love to be glam, you can definitely incorporate the rhinestone nail trend into darker nail looks. In particular, I love this black nail polish look with a rhinestone accent nail. The rhinestones really stand out from the dark polish.
Related reading: 21 Gorgeous Black Nails Ideas You Will Love
Solid Black Nails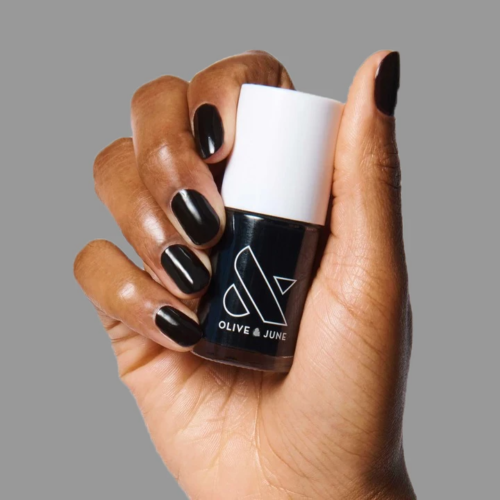 I am obsessed with black nail polish on short nails! It's been one of the chicest manicures around for 10+ years now and it comes back every single season.
There is something so cool about black, short nails — depending on what you wear with them, they can be edgy or highly sophisticated. It's completely your choice.
Just make sure you remove the polish if it starts to chip at all — dark polish is super unforgiving in this way!
Short Acrylic Nail Designs
I don't usually do acrylic nails but I know tons of girls live or die by them. They do last so much longer than regular manis.
If you're looking for some short acrylic nail ideas, look no further than the cute looks below!
Note: When it comes to acrylic nails, "short nails" is a relative term. Short acrylics would be considered long if you were talking about natural nails since acrylics can reach insanely long lengths. The more you know.
Light Pink Short Acrylic Nails
If you're going for acrylic, light pink is a really classic choice that will look great with almost any outfit. These nails take it up a notch by incorporating a ton of trends into one nail look — we're talking rhinestones, nail art, glitter, and more!
This look is definitely for those with a super girly sense of style. You are sure to get a lot of compliments on these super feminine nails.
See related: 30 Stunning Pink Nails Ideas to Try This Year
Leopard Short Acrylic Nails
Leopard print nails have been trending for a while now and I love this trend because it's fun but so classic. (Leopard is neutral after all!)
If you're going for acrylic press-on nails, these nails from Amazon are a great choice. I love the short style and the matte finish. You're sure to get tons of compliments if you rock this short nail idea, and you can do them yourself.
Short Acrylic Marble Nails
I'm obsessed with this grey and rose gold marble look on short acrylic almond-shaped nails. These are such showstoppers!
Almond nails have been the hottest shape to rock this year, and they make every nail polish appear a little more modern, this one included.
Sparkly Short Acrylic Nails
These sparkly, short acrylic nails give me Disney Princess vibes. The ombré glitter is stunning and I love the pale, neutral pink. They're a little bit the 2000s and I could totally see them working with tons of Y2K outfits.
The best part is, you don't have to go to the salon to copy this short nails idea. You can buy the whole set on Amazon here.
Pretty Nails with a Flower Accent
This is the trendiest floral nail idea on this list and definitely my favorite of all the nail ideas. I love the look of the subtle flower accents and multicolored french tips on these short acrylic nails.
Once again, these are acrylic press-on nails so you can buy this exact set if you like the look!
Simple, Nude Acrylic Nails
This is definitely my favorite nail look of them all — I had to save the best for last!
There is nothing better than a smooth, glossy nude nail. It's my favorite nail look ever because it works for literally every occasion and looks so incredibly classy.
Related reading: 25 Stunning Nude Nails Ideas to Try ASAP
What do you think of these short-nail ideas?
Do you like to rock short nails or do you prefer longer nails these days? What's your favorite short nail design from this list? Tell us your thoughts in the comments down below.
If this post helped you learn how to style your cute short nails, you might want to consider the related posts below –