This post will show you cute planners for 2022 that will keep you organized while also looking amazing on your desk.
The new year is almost here! So, you should start thinking about what your goals will be for 2022. A great way to help you accomplish the goals you set for yourself is by purchasing a planner.
There are so many cute planners for 2022 that you can choose from, and I've rounded up 15 of my favorites to help you make the new year your most organized yet.
Read on for 15 of the cutest 2022 planners to keep you motivated to accomplish your dreams, then scroll down for tips on exactly how to use your planner.
Related reading: The Best Planners for College to Keep You Organized
1. Butterfly Planner

Butterflies are super popular in fashion right now! So, why not get a cute planner that also has butterflies on it?
This butterfly planner is absolutely adorable, and it comes with a weekly and monthly plan, so you will always be organized.
2. Floral Planner

Sometimes it can be hard to find unabashedly girly planners, but I found this one! If you are looking for a planner that is super girly, I suggest going for a planner with cute flowers on it like this floral planner.
You will definitely be excited to use this planner next year!
3. Planner with Bookmarks

If you are one of those really busy people, planners are definitely a must-have item. However, there are also times when a planner isn't enough to stay on track.
You might also need some extra accessories like bookmarks to keep you focused on your most important tasks ahead.
If this sounds like you, you should get this cute planner with bookmarks because it is not only cute, but it comes with these extras for free. They're great for being able to flip to the exact page you need in one second flat.
4. Believe in Yourself Planner
Sometimes we all need a little extra motivation to get us through our tasks. I absolutely love planners with inspirational quotes on them; they're sure to keep you inspired all year long.
This believe in yourself planner will do the trick because it has an adorable design with flowers, and the quote will make you smile whenever you see it. Plus, this planner has even more motivational quotes and sayings inside that you're sure to see as you go about your tasks.
5. Strawberry Planner
Most planners are spiral-bound, but some of us might want a planner that looks more like a journal.
If you prefer this type of planner, you should go for this strawberry planner.
It looks just like a journal, but this cute planner has full functionality. Also, it comes with a bookmarker, so you will always know where you are in your planner.
6. Marble Planner

Marble is also a very popular design, and if you love marble, you can definitely find a planner with this look to fit your aesthetic.
Instead of the regular grey and white marble, this marble planner comes in a super cute pink and gold design to make it more girly.
Also, to help keep you organized, this planner comes with tabs for each month.
7. Cheetah Planner

Animal print is always a fun way to spice up anything from outfits to dorm decor! If you're a fan of animal prints, why not choose an animal print planner for 2022 like this cheetah planner?
Not only will this cute planner keep you organized, but also the cheetah print design will keep you feeling fierce.
8. Solid Color Planner

If you want a more laid back planner, but you still don't want the regular black planners that you usually see, this is the one for you. You can spice your planner up just a little by getting one in a different color like this grey planner.
This planner's design is not too busy on the outside or inside, so you won't get too distracted by the design. You can always add more interest to it with colored pens and highlighters, or other note taking accessories.
9. Planner with Notes Page
A lot of planners only come with a weekly or monthly plan, but there are some cute planners out there that also come with a notes page.
This feature is perfect for jotting down any goals that you want to accomplish or any other extra tasks that you might have during the week. It's a feature we're seeing more and more often in planners and we love it!
If you want something like this, you should get this planner with a notes page.
Not only will you be able to write down extra things that you want to achieve, but also the notes page comes in a super cute design to keep you motivated.
10. Planner with Stickers

You may not have seen this before if you usually stick to basic planners, but some planners come with special stickers. And, who doesn't love stickers? You will definitely love the adorable ones that come in with this planner.
If you aren't the most artistic but want your planner to be decorated, you can't go wrong with using stickers.
11. Plants Planner

If you want a girly planner, but you don't want something too pink, you can always go for a cute planner with a design like this plants planner. (Who else is dreaming of Coachella now?)
You won't be overwhelmed with pink if you purchase this planner, but you will still be able to have a girly, kind of bohemian design with these adorable plants.
12. Planner Kit

Sometimes you need to get organized and you aren't messing around. If you want to go all out with your planner for the new year, you should get this ultimate planner kit.
This cute planner kit comes with absolutely everything you need to totally customize your planner and make it as colorful and detailed as you want with markers, stickers, etc.
13. Lilly Pulitzer Planner

Most people know Lilly Pulitzer for the clothing line, but the brand also makes a lot of other items, even cute planners!
So, if you love the Lilly Pulitzer designs, you can also enjoy them on your planner, such as on this Lilly Pulitzer planner that comes in a super cute seashell design.
14. Polka Dot Planner
There are some companies that make really cute planners like Ivory Paper Co. This year, their planners are super cute — case in point, this polka dot planner.
This cute planner comes with list pages, address pages, and even a password keeper, so it's super functional. The polka dots and the pink design will add a girly touch to your planner to make it fun.
15. Tie-dye Planner
Tie-dye is also a really trendy design nowadays, so you should think about getting a planner with tie-dye to spice it up!
If you want a tie-dye design, you should get this tie-dye planner that comes in a gorgeous shade of blue. It has weekly and monthly pages with tons of space for everything you need to get done.
How to Make the Most of Your Cute Planner – Quick Tips: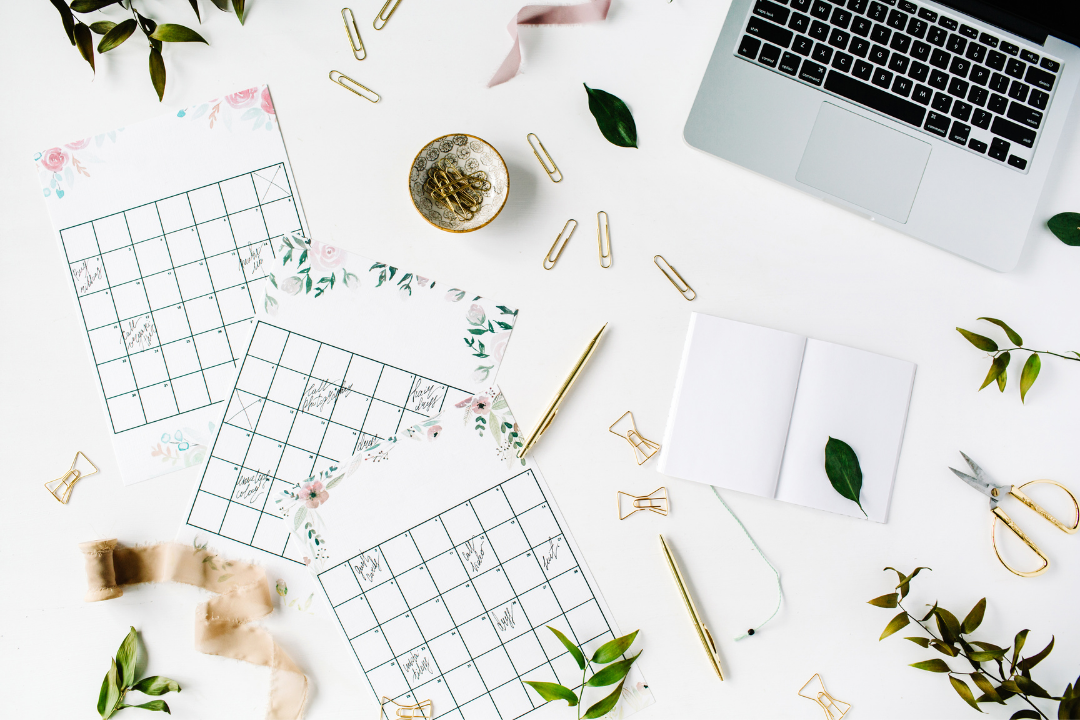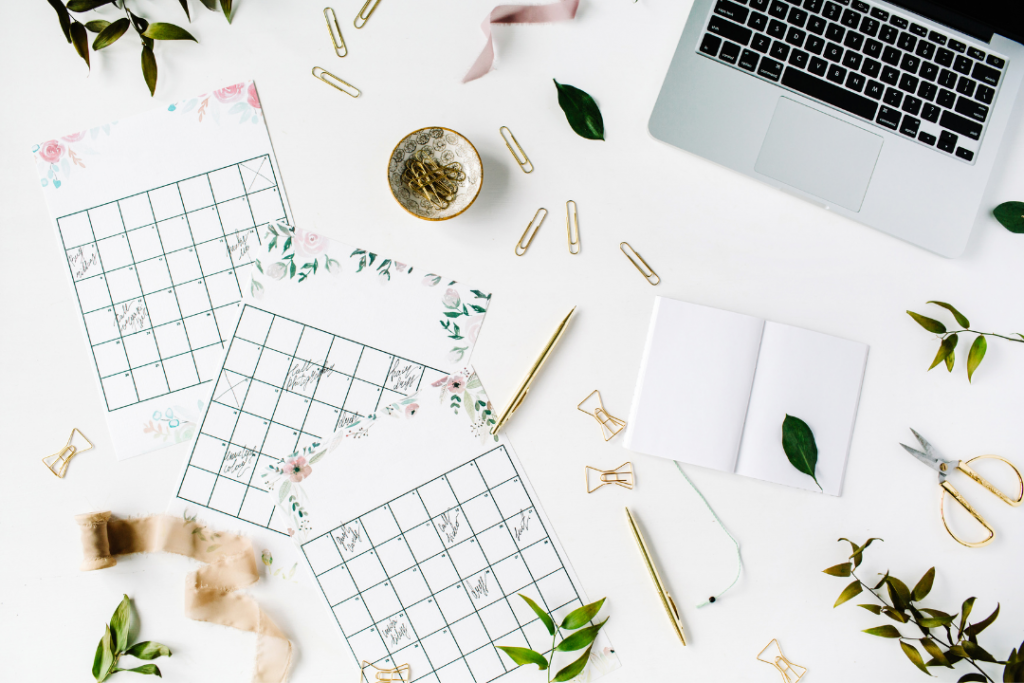 Color-code the day's events based on class subject, level of importance, due date, time — your choice! Having a visual representation can do wonders for better organization. Use the same color codes for your calendar so everything's connected and easier to interpret.
Try making a to-do list and then giving each task a value based on urgency, so that altogether they add up to 100. For example, any large projects you'd like to get done that day, label them 25 or even 30 (depending on how many other tasks you have lined up), then break the remaining into 15s, 10s, 5s, etc. That way, you'll know exactly what to prioritize.
You may have heard of this one — make a not-to-do list in addition to your regular agenda. If you have trouble staying focused, write that reminder to stay off social media, as well as to leave behind any other bad habits. Sometimes we just need to see it written down.
Highlight, doodle, underline, circle! Do anything you want that makes your planner feel more personal. A cute, decorated schedule may get you more in the mood to go out there and be productive.
A lot of planners have other features in addition to the built-in calendar — look for any included stickers, address log, note-taking space, or infographics.
Enjoy! This is your personal space and we hope you have lots of fun staying on top of your scheduling game and rocking out these fun, fresh styles.
What should you include in your planner?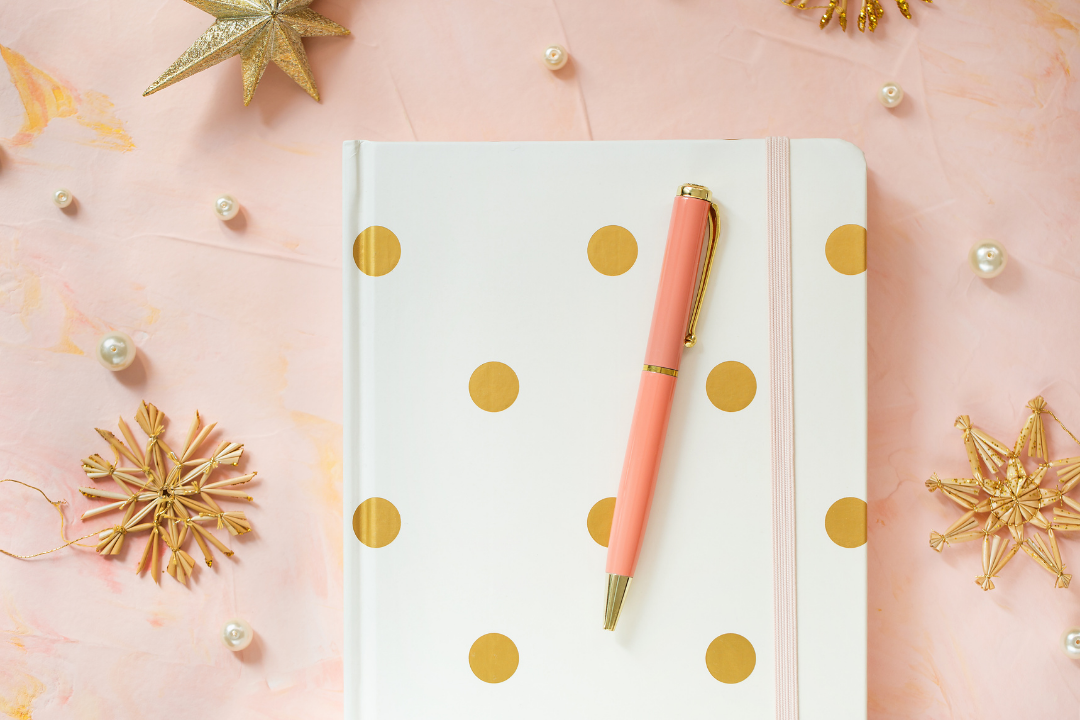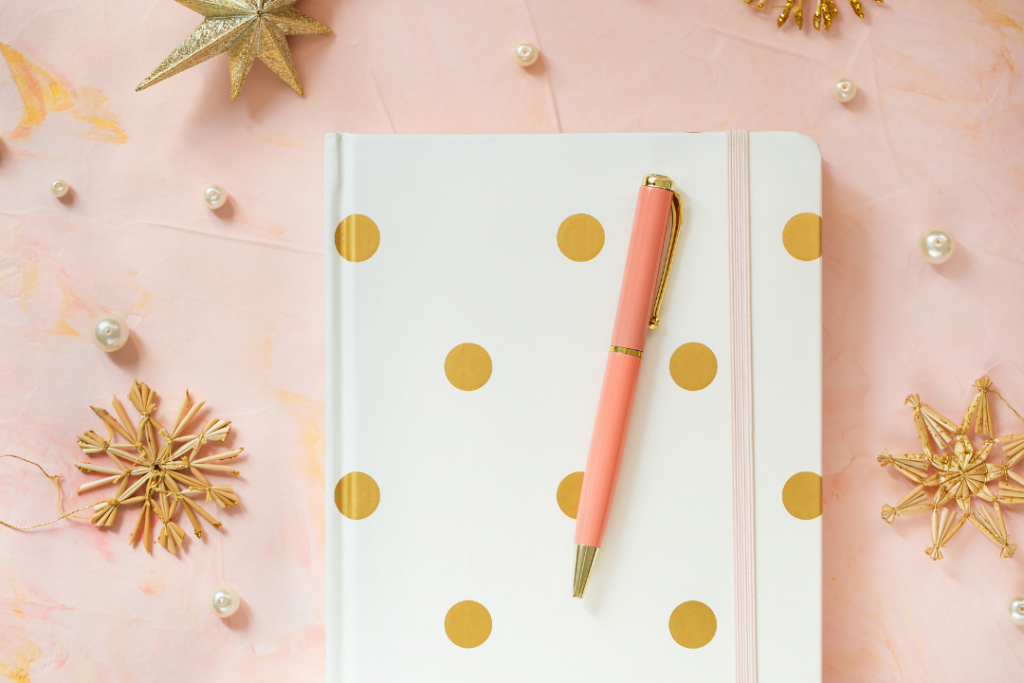 Planners can make you the best friend/child/significant other on the planet. You don't have to keep tons of dates in your head, because you can write them all down.
A few examples: Write down birthdays and parents' anniversaries to keep up with dates from back home. Add exam dates, project deadlines, and student group meets/events, etc. And as soon as you decide you may want to go to something on campus, write it down!
Also, we repeat this advice all the time on CF, but as soon as you get your syllabi for various classes, you have something to do: write down ALL of the exams and ALL of the project/assignment/homework deadlines. You will be so happy you did this.
Here's my master list of things you should put into your planner:
Home-related events. (Parents' anniversary, friend's birthday, brother's school concert)
School-related events. (Exam dates, project deadlines, club meetings)
Your study schedule. (See how to keep a schedule, then just do this in your planner.)
Schedules for your hobbies and down time. (Play piano for 30 minutes, read that book you just checked out, take time to watch that Netflix documentary)
Health priorities. (Schedules for exercise, meal planning, doctor's appointments)
How should you decorate your planner?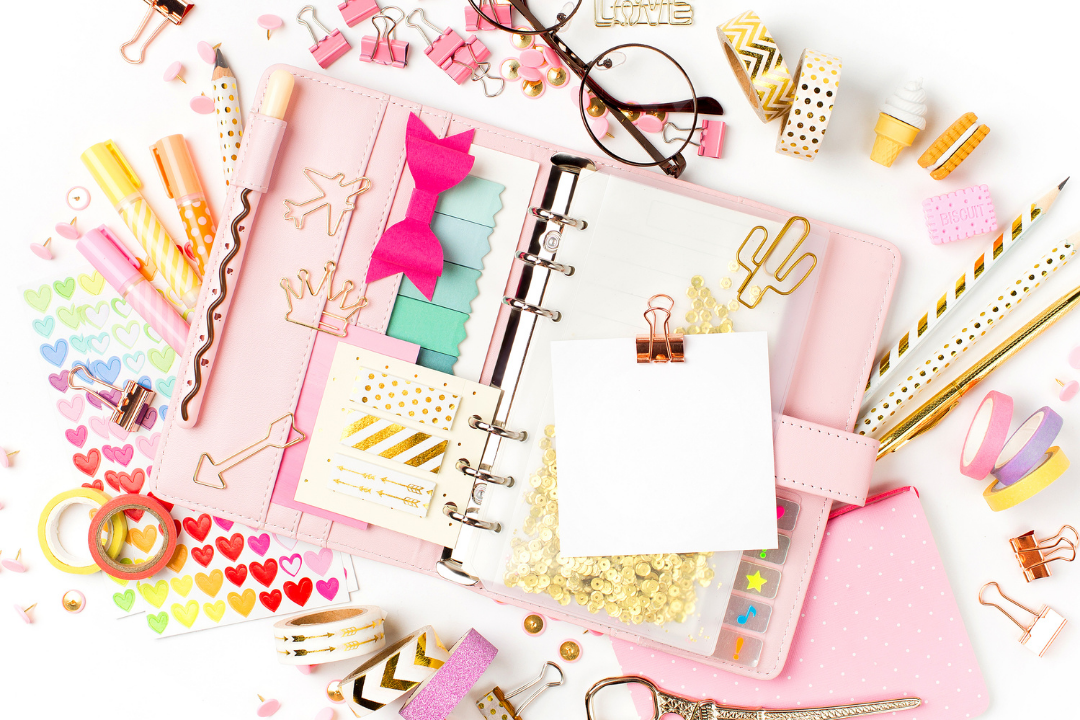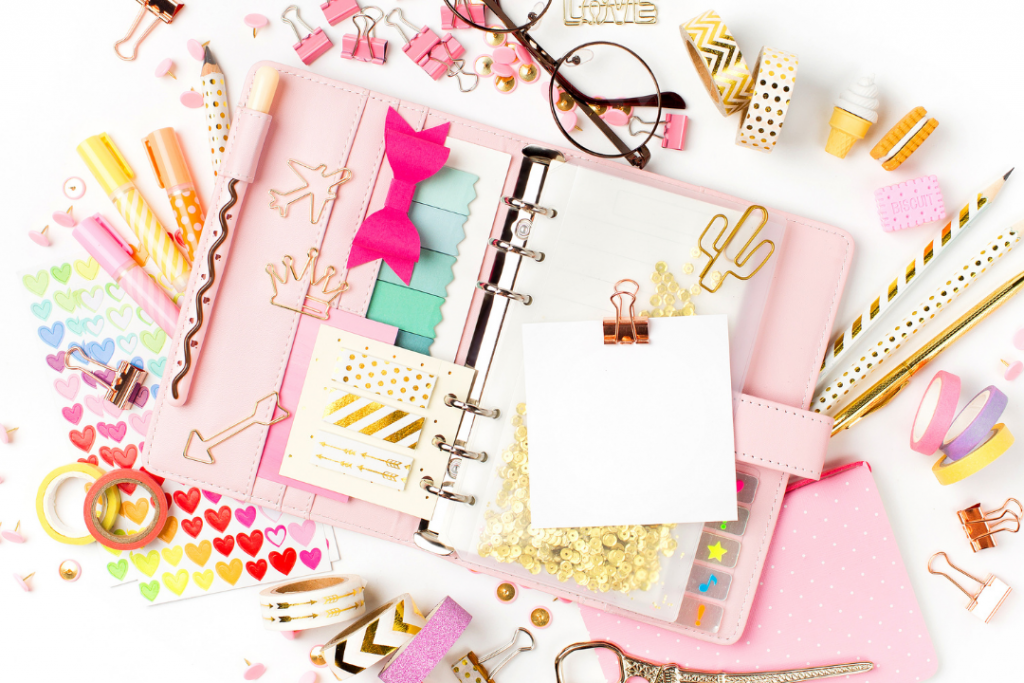 It's all up to you! We've done a whole post on this type of thing here before, but in case you need other ideas, here are some items that will help you pretty-fy your planner:
Different colored pens
Stickers
Post it Notes
Customizable flags
Special colors of paper (great if you have a Filofax or binder-type planner)
Glue and glitter or GLITTER GLUE (you say 4th grade, we say right now)
What are some other uses for a planner?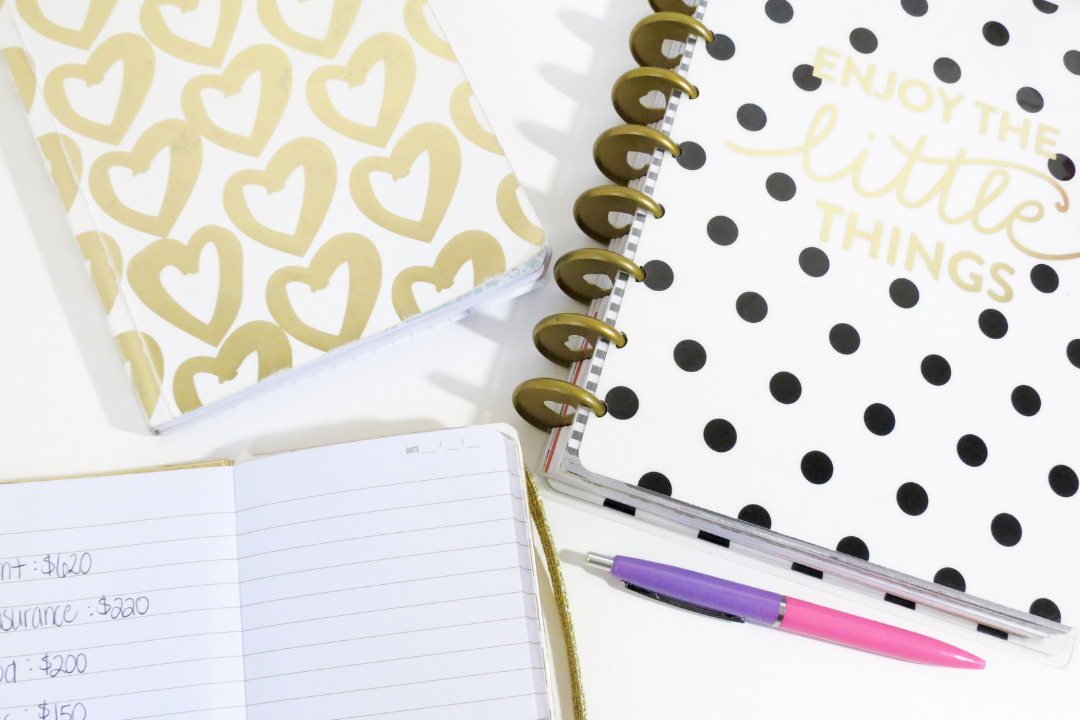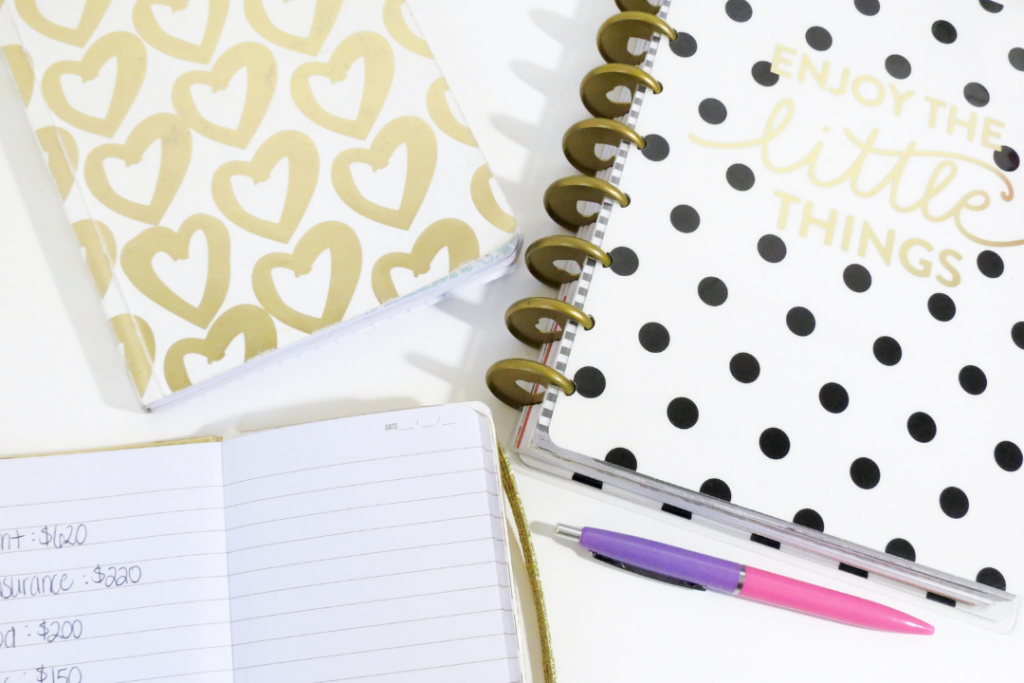 A cute planner doesn't have to be reserved solely for scheduling and, well, planning. If you want to get even more creative, there are so many possible uses for one. Here are a few ideas:
Turn your planner into an art journal à la the above after each week. (Here's a great Pinterest board with a zillion ideas.)
Add newspaper clippings/magazine pictures that inspire you.
Tape items from the week into your planner (Ex: Receipts, printouts of your Instagram photos, stickers from a club on campus)
Have friends write notes in it – these will keep you happy and inspired when planning!
Include a daily/monthly budget if you prefer to track your money with pencil and paper.
Include a log for your daily health, with your exercise and eating habits.
Related posts:
What cute planners from this list are your favorite?
Which planner do you think you'll love? Which planner are you going to purchase?