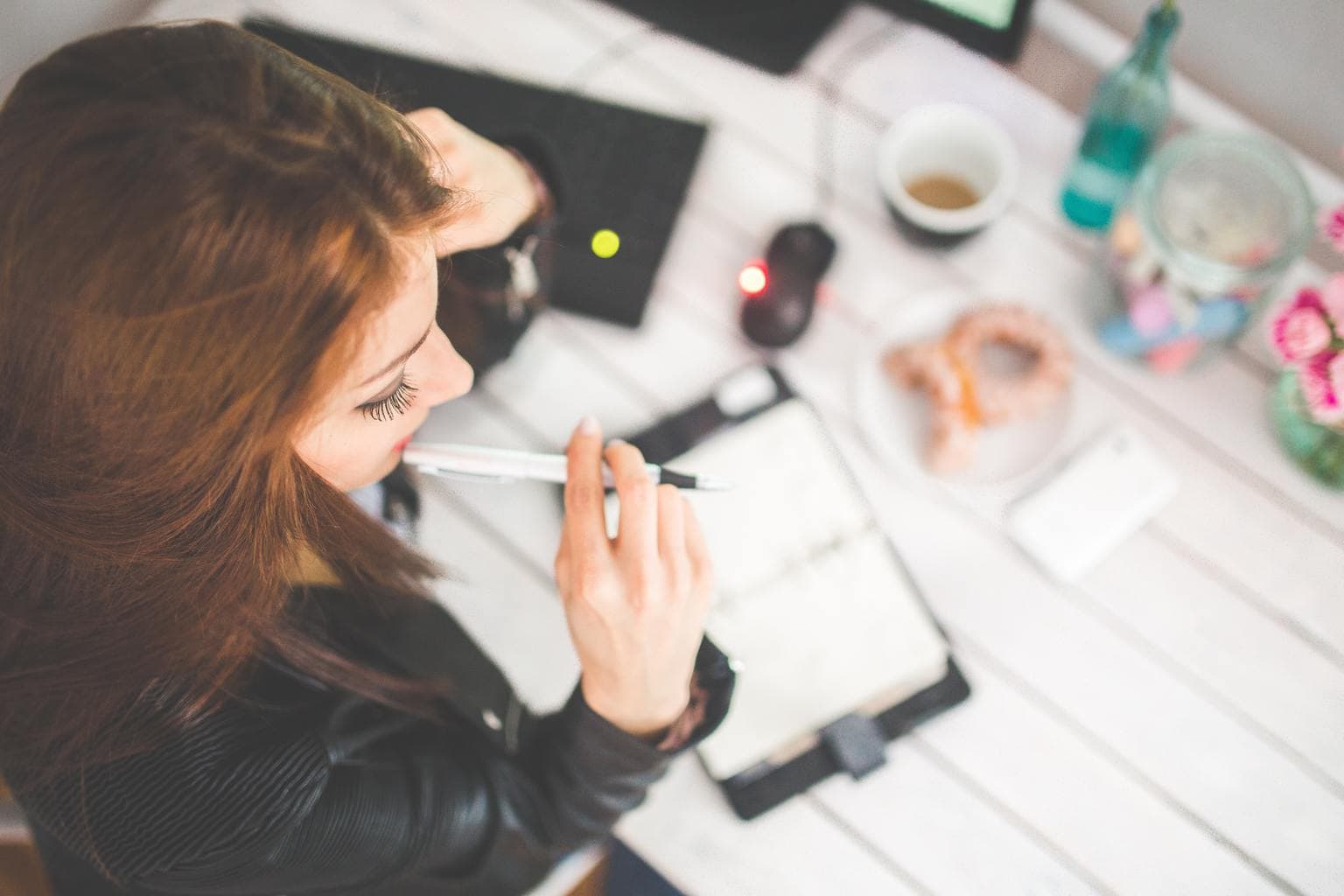 We recently rounded up and revamped our list of our favorite places to shop for affordable fashion here at CF – a round up that included fast-fashion favorites like Forever 21, H&M, and Zara. But what are the best stores for affordable workwear?
It seems like you can't sneeze without hitting a $10 crop top that will fall apart after one summer, but you can't find a well-made white button-down without dropping your entire paycheck. Or, the cheap workwear you find in malls is clearly not marketed towards fashion-forward millennials. Except…
The places I turn to over and over again to refresh my work wardrobe are, more often than not, the same places I get my favorite sundresses and cute footwear. In fact, every store on my list is on CF's 20 best stores list. You just need to know where to look!
These are the top five best stores for affordable workwear:
1. MANGO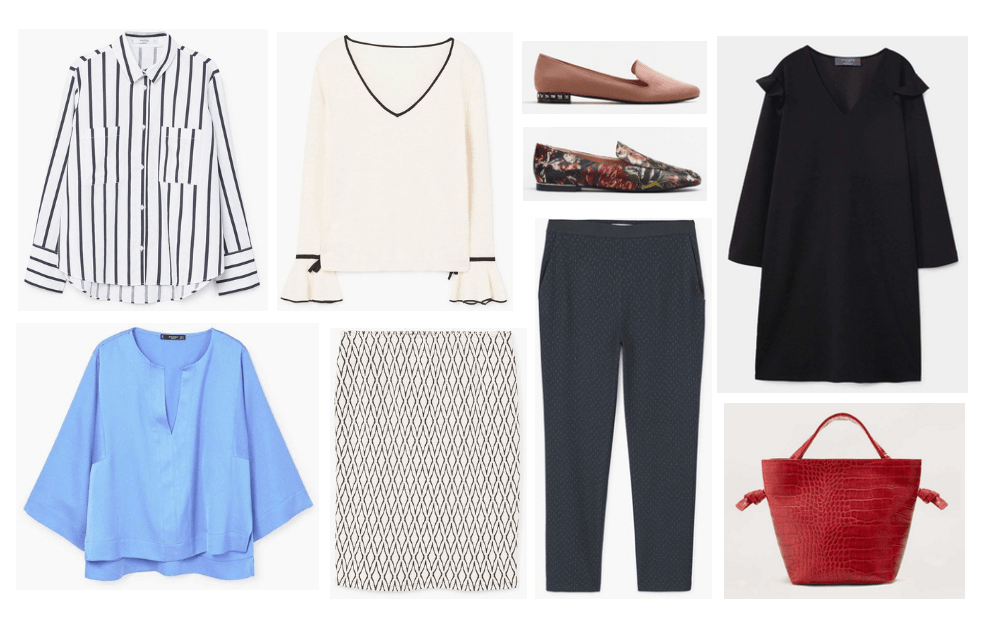 Top row: Blouse | Blouse | Blush flat | Floral flat | Dress | Bottom row: Blouse | Skirt | Pants | Bag
Lowkey, I have to really restrain myself every time I'm on the MANGO website because I love their workwear so much. If minimal, creative, and feminine is your thing, MANGO should definitely be one of your go-to places for workwear.
I absolutely love the blouses and blazers I've bought from them – they are comfortable, well made, and I haven't had to throw out anything yet for giving out on me. (Granted, I only hopped on the MANGO train recently).
MANGO also has an excellent plus-size line called violeta that offers similar (and super-flattering) wares, and their accessories and bag game is absolutely on point. The only downside to MANGO is that it is a little pricier, but their sale section is always well-stocked and they have sales often, so definitely sign up for their email blasts to keep an eye on their offerings.
2. Target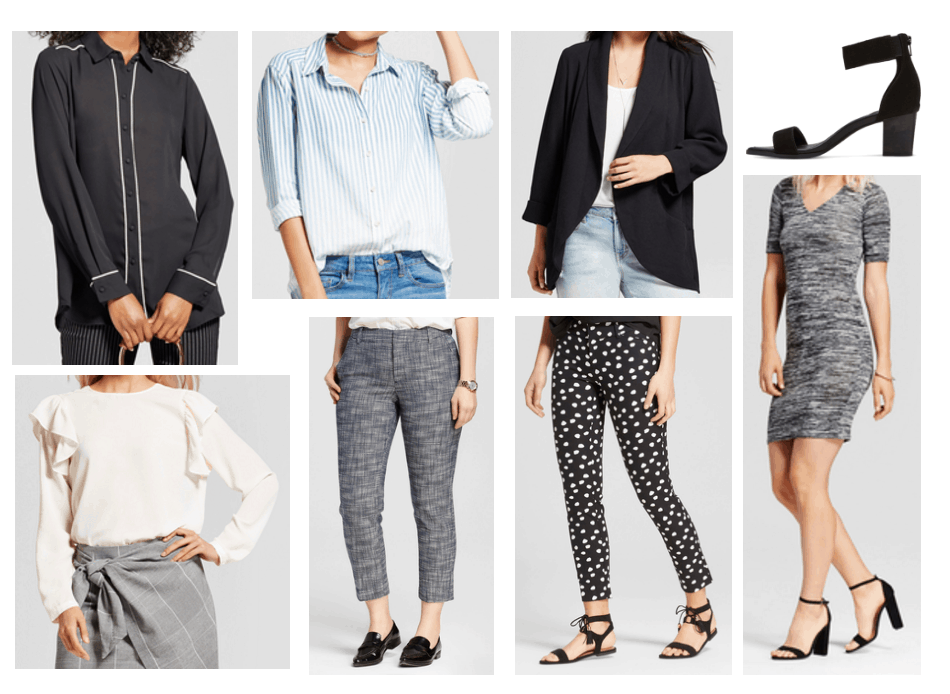 Top row: Blouse | Blouse | Blazer | Heels | Bottom row: Blouse | Pants | Pants | Dress
When folks ask me where I got a cute blouse or work dress and I tell them, "Target!" their eyes pop out of their sockets a little.
Sure, it's easy to blow your Target budget (what, you don't have one?) on statement tees, stationary, and desk accessories, but dig a little deeper and you'll find an excellent selection of fashion-forward work blouses, on-trend pants, and, of course, cute af work heels.
I love the Who What Wear collab line (which, bonus, extends well into plus sizes) and SUGARFIX, BaubleBar's line for Target, for extra polished and trendy workwear and accessories at Target price points. The only downside is that these pieces aren't always of consistent quality – I have had some pieces die on me after a couple of wears, while other work blouses I've bought from Target have lasted me years. It's a toss-up.
3. Modcloth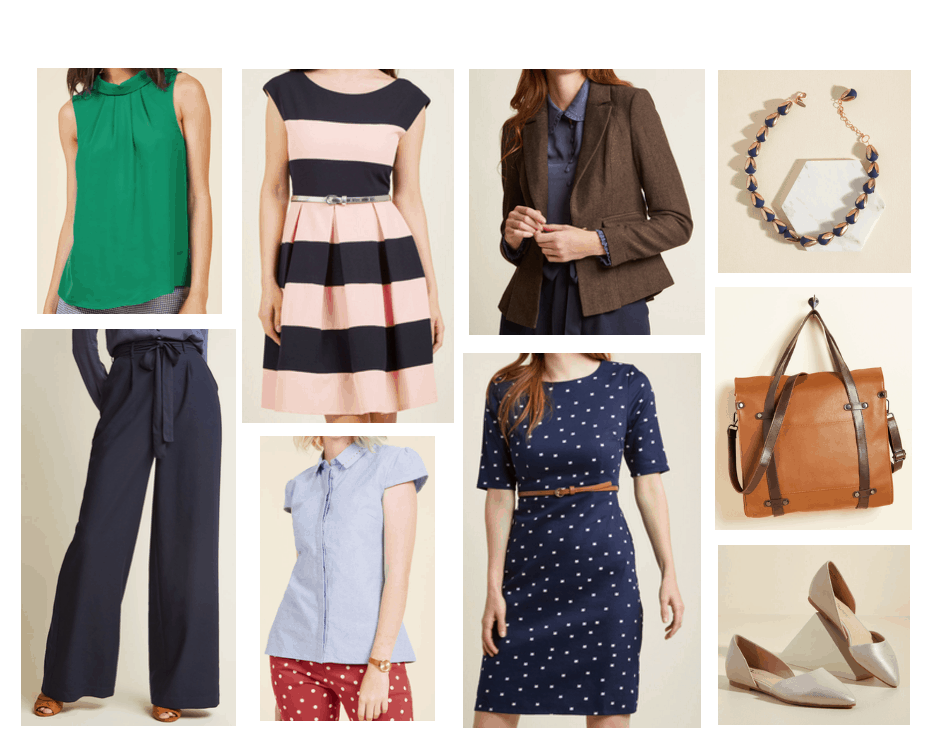 Top row: Blouse | Dress | Blazer | Necklace | Bottom row: Pants | Blouse | Dress | Bag | Flats
I waffled a little bit about including Modcloth on this list because of their recent acquisition, but I relied on Modcloth's sale section a lot when I was starting to build a work wardrobe, so I'm including it here in the hopes that it doesn't change too much.
Modcloth's selection of quirky, vintage-inspired, and colorful work-appropriate clothing (including plenty of cat and dog prints!) is perfect for a recent college grad entering the workplace, and their quality is usually pretty good.
Like MANGO, Modcloth's clothing can be on the spendy side, but they also have some pieces that are as low as $25, so there is something for every budget. Plus, they restock their pieces based on customer demand, so if something you absolutely love sells out, chances are it will be back in stock again soon!
4. J.Crew Factory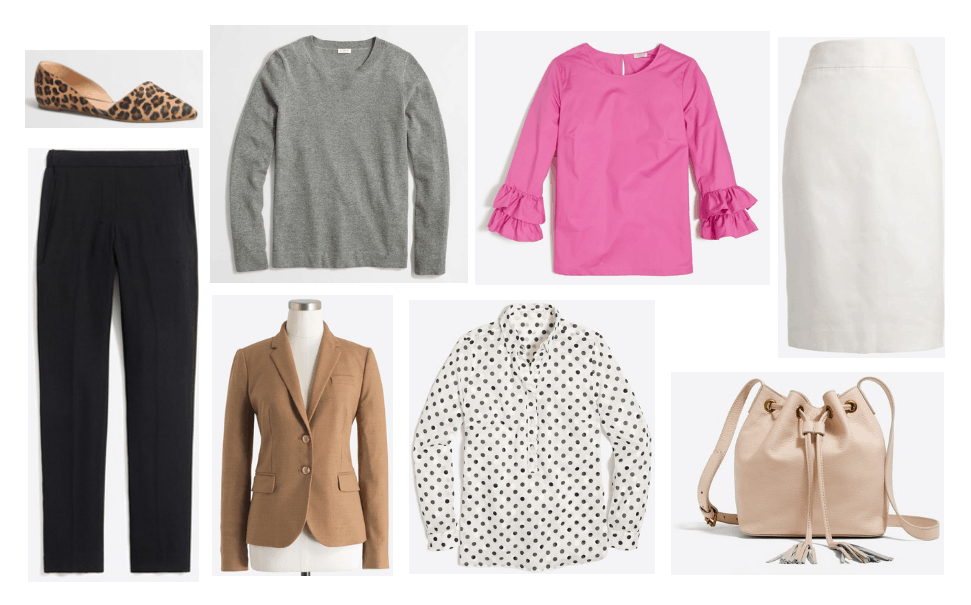 Top row: Flats | Sweater | Blouse | Skirt | Bottom row: Pants | Blazer | Blouse | Bag
If you're looking for high-quality basics at low(ish) prices, or you love the J.Crew brand but don't love their crazy prices, check out J.Crew factory. Their pieces skew more towards the basic side and they aren't always the same as the pieces sold at J.Crew (though sometimes they are!), but the quality is still much better than what you generally find in fast-fashion stores.
They do sell some trendy pieces (like the ruffled, orchid-colored blouse show above) as well as shoes and accessories, but for the most part their fare skews preppy-basic, which is honestly perfect for any girl who is just starting to put together a professional wardrobe.
5. H&M
Top row: Blouse | Blouse | Bag | Heels | Bottom row: Blazer | Blouse | Dress | Pants
Of course, I couldn't include a round-up of workwear without nodding to H&M. When I still wore straight sizes, I loved scoping out trendy blouses and patterned pants at H&M to supplant my basic blacks and button downs.
They have an excellent selection of blazers in trendy (and classic!) colors at very affordable prices, which is great because nice blazers can be reaaaaaalllly expensive.
H&M does also have a plus size line and, of course, a super cute collection of shoes and bags of moderate quality. If you've already got the basics down and you're looking to add a couple of trendy, cheaper pieces to your work wardrobe, H&M is a great choice.
6. Loft
Loft is a best place to buy work clothes on a budget because they have many sales and discounts.
Cute sweaters and seasonal party dresses are available at Loft, but if you're looking for more office-appropriate attire then the store has an entire section dedicated just to that!
7. Saks Off 5th
Saks Off 5th is a great place to buy work clothes on a budget. You can find name brand clothes at a fraction of the price. They also often have sales, so you can save even more money.
You'll find dozens of items that are sure be staples in your wardrobe during busy work days and nights!
8. ASOS
ASOS is a best place to buy work clothes because they have good prices and a wide variety of clothes to choose from.
Recently, their workwear line has expanded significantly. You can use a student discount to make it more affordable, making it even higher on my list
9. Uniqlo
Uniqlo is a best place to buy work clothes on a budget because they offer good quality clothes at a low price.
This brand offers clean, sophisticated office clothing that won't empty your wallet. Spend some serious money at Uniqlo on some of your basics. Also, you can splurge on quality investment pieces without resorting to luxury prices, such as a jacket or a blazer.
10. Express
Express is a great place to buy work clothes on a budget because they have many different styles to choose from and their prices are very competitive..
11. Kohl's
Kohl's is a best place to buy work clothes on a budget because they often have sales and discounts on work clothes.
Workwear options at Kohl's are both chic and affordable. Furthermore, they always have sales, like today, when they're offering an extra 20% off.
What do you think?
Where do you go for work clothes? What workwear items do you splurge on a little? Where is your favorite place to get work accessories? Let me know in the comments below!
If you love these best stores to buy work clothes on a budget, you might aslo want our related posts below —