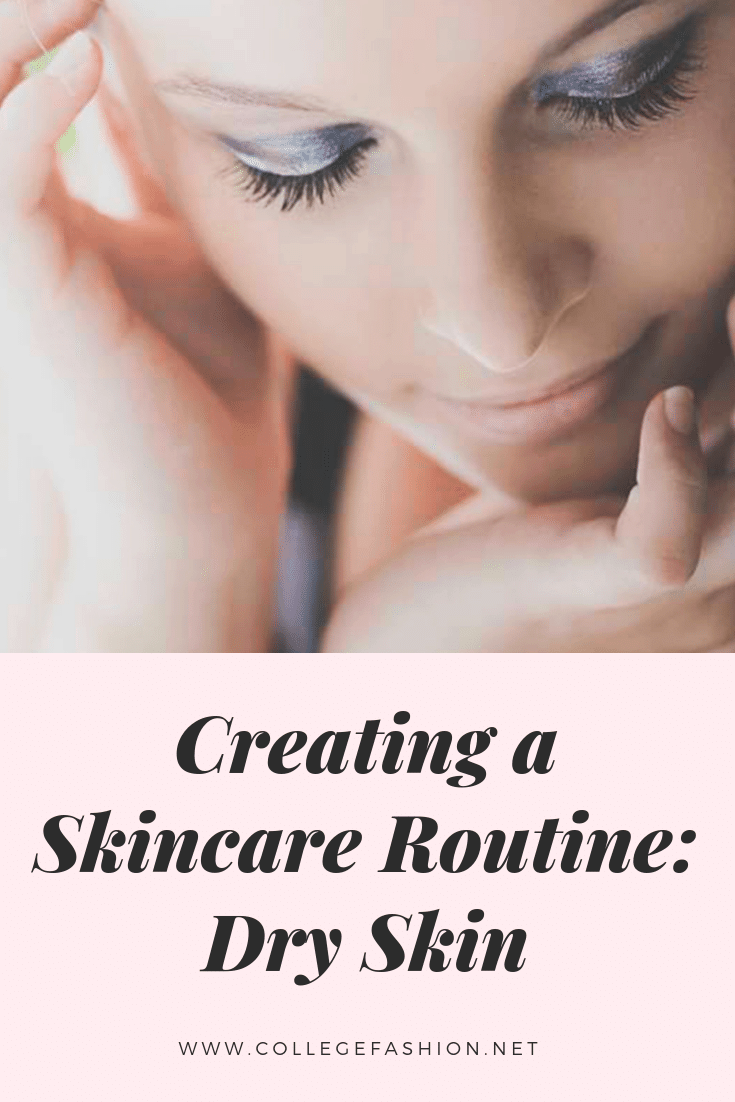 Building your own personal skincare routine can be a difficult task to do on your own. So, I am here to help you. This is the first post in our series on How to Build a Skincare Routine. Over the weeks ahead, I will be addressing different skin types and showing you exactly how to create a routine for your skin. First up is a dry skin routine.
In this post I will be providing product recommendations, things to look out for, and some tips and tricks for treating dry skin. For a basic primer on what each product does, read our article on creating a basic skincare routine. And for some tips on how to stick to your new routine, check out my article on keeping your skincare resolutions.
Cleansers
First things first, you need to take everything off of your face. For dry skin, I strongly suggest staying away from makeup wipes. Most makeup wipes contain alcohol which will only dry your skin out even more. Instead opt for an oil or balm makeup-removing cleanser (product recommendations below), this way you will have no problem getting all of your makeup off and will also be protecting your skin.
While you can use a makeup removing cleanser as your only cleanser, I suggest a double cleanse if you are wearing a significant amount of base makeup or any kind of long wear makeup. Essentially, just follow up your makeup removing cleanser with another cleanser that's meant for your skin type (see suggestions below). This cleanser can also be used by itself in your morning routine. A double cleanse can be drying but you can always experiment to see how your face reacts.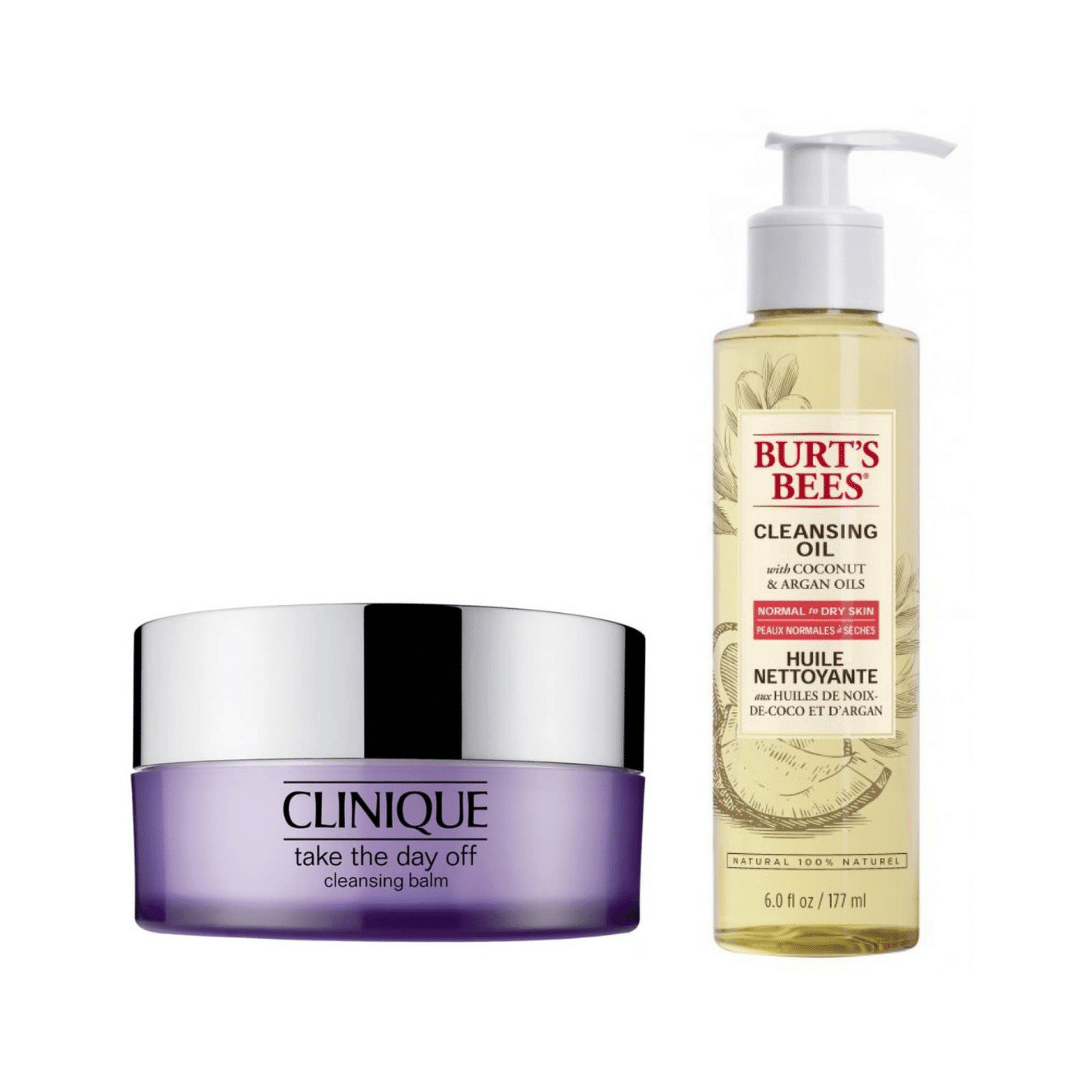 A great balm cleanser that is well loved by many is the Clinique Take the Day Off balm cleanser. At a lower price point Burt's Bees has a cleansing oil made specifically for normal to dry skin. When using balm or oil cleansers, it is important to first apply them to a dry face, then massage in small amount of water to emulsify the product (you will see it turn slightly white in color). This helps to break up the makeup. Then you can wash off as usual.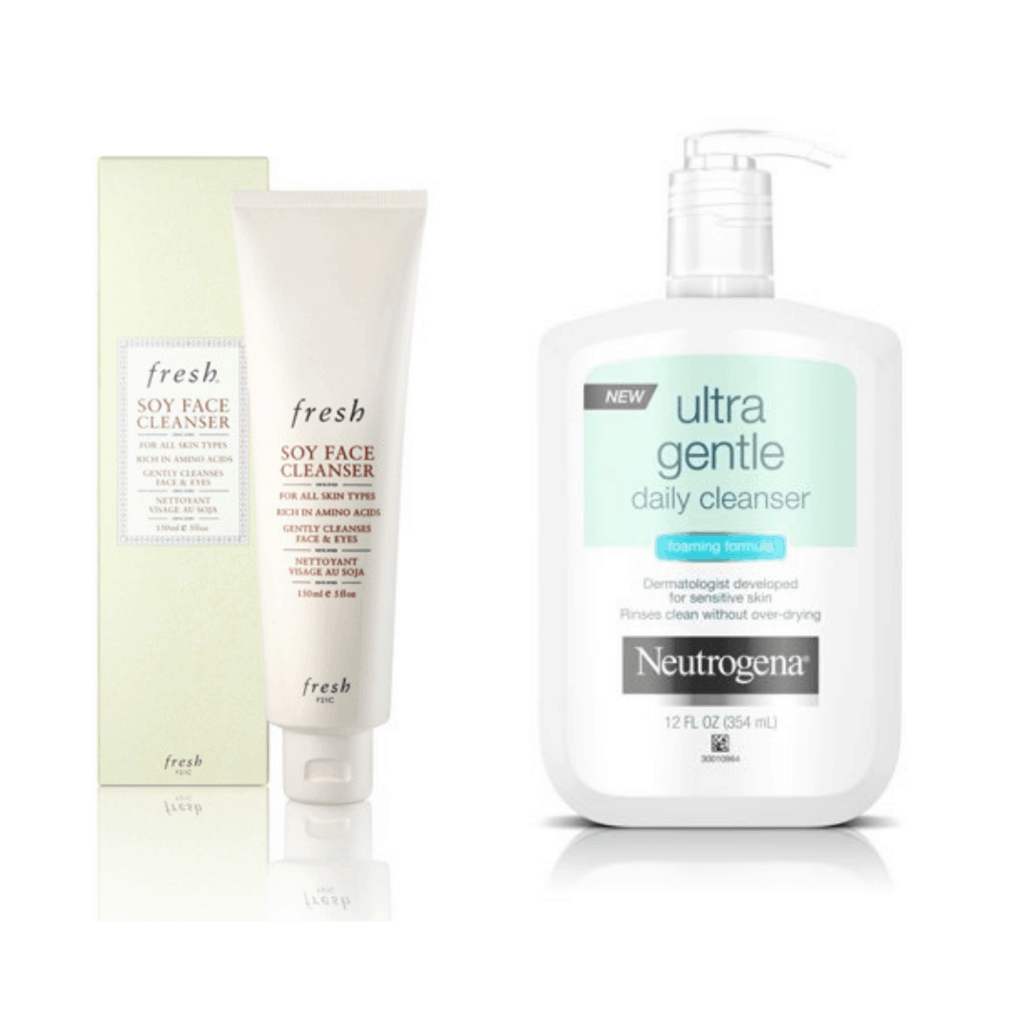 For the second cleanse you want to stick to something on the gentler side so that it doesn't dry out your skin. The Soy Face Cleanser from Fresh is a very gentle cleanser that is safe for use on face and eyes. Or you can pick up a gentle cleanser from the drugstore, the Neutrogena Ultra Gentle Daily Cleanser is made to not dry skin.
Toner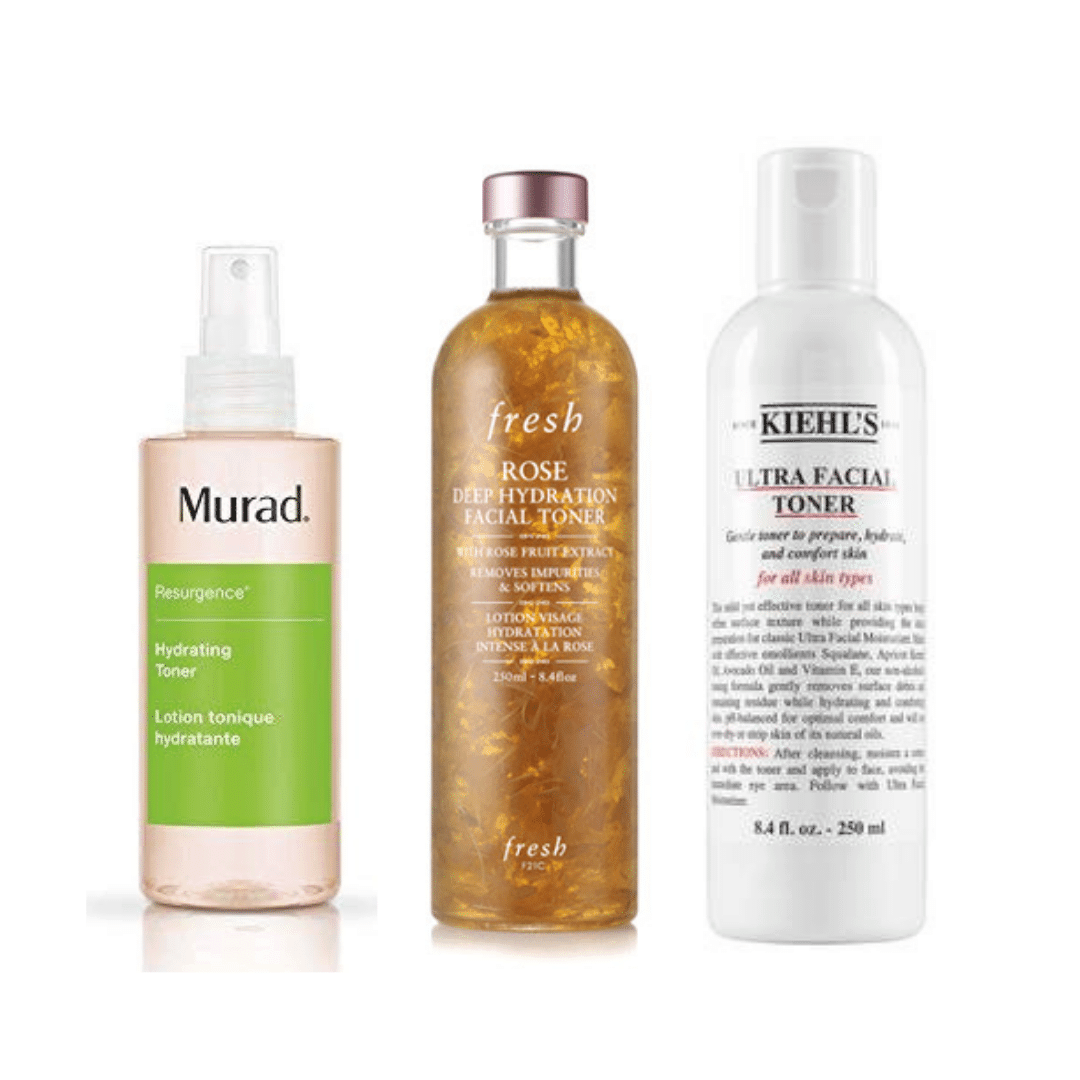 Toners are great for adding a bit of extra hydration and they prep the skin to better absorb any products that you apply later. There are many different types of toner, so I suggest looking for products that explicitly state that they are for hydration. It is important to look at the ingredients because many toners contain alcohol. Instead of alcohol, you want to be looking for ingredients like rose for its toning properties and hyaluronic acid for its hydrating properties (it draws water into the skin).
The Fresh Deep Hydration Rose Toner is a great product that has both rose and hyaluronic acid. It is the upgraded version of their original rose toner and packs a much bigger punch in the hydration department. And it has real rose petals in the bottle so it looks beautiful on your vanity!
If you prefer a spray toner the Murad Hydrating Toner is a great option that balances the water levels in your skin and locks in hydration. It uses seed and fruit extracts to do this and also has witch hazel which is well known for its benefits to the skin, such as its soothing and acne-preventing properties.
And if you're looking for something a bit cheaper, I suggest the Kiehl's Ultra Facial Toner. Not only does it help hydrate your skin but it also helps to smooth rough skin. It uses various oils as well so it helps with both the hydration and moisture levels in the skin.
Serums
Serums are a great way to take care of a number of different skin issues. They have more concentrated ingredients and pack a punch. You can of course pick up a hydrating serum to really keep your dry skin away but you can also pick up a serum to take care of any other skin issues that you may have. An exfoliating serum can be a great option if you struggle with flaky skin or dullness. If you find that you want to boost hydration and take care of another skin problem as well you have two options.
You can either try and find a serum that does both, or you can layer your serums. Just remember to apply the thinnest product first. There usually is not a problem with layering your serums but if you decide to layer up I would suggest doing some research on the main ingredients or asking a store associate to confirm that the potent ingredients will not react with each other. Below I will outline some different types of serums but keep in mind there are many others out there that will treat your specific needs.
Hydration Serums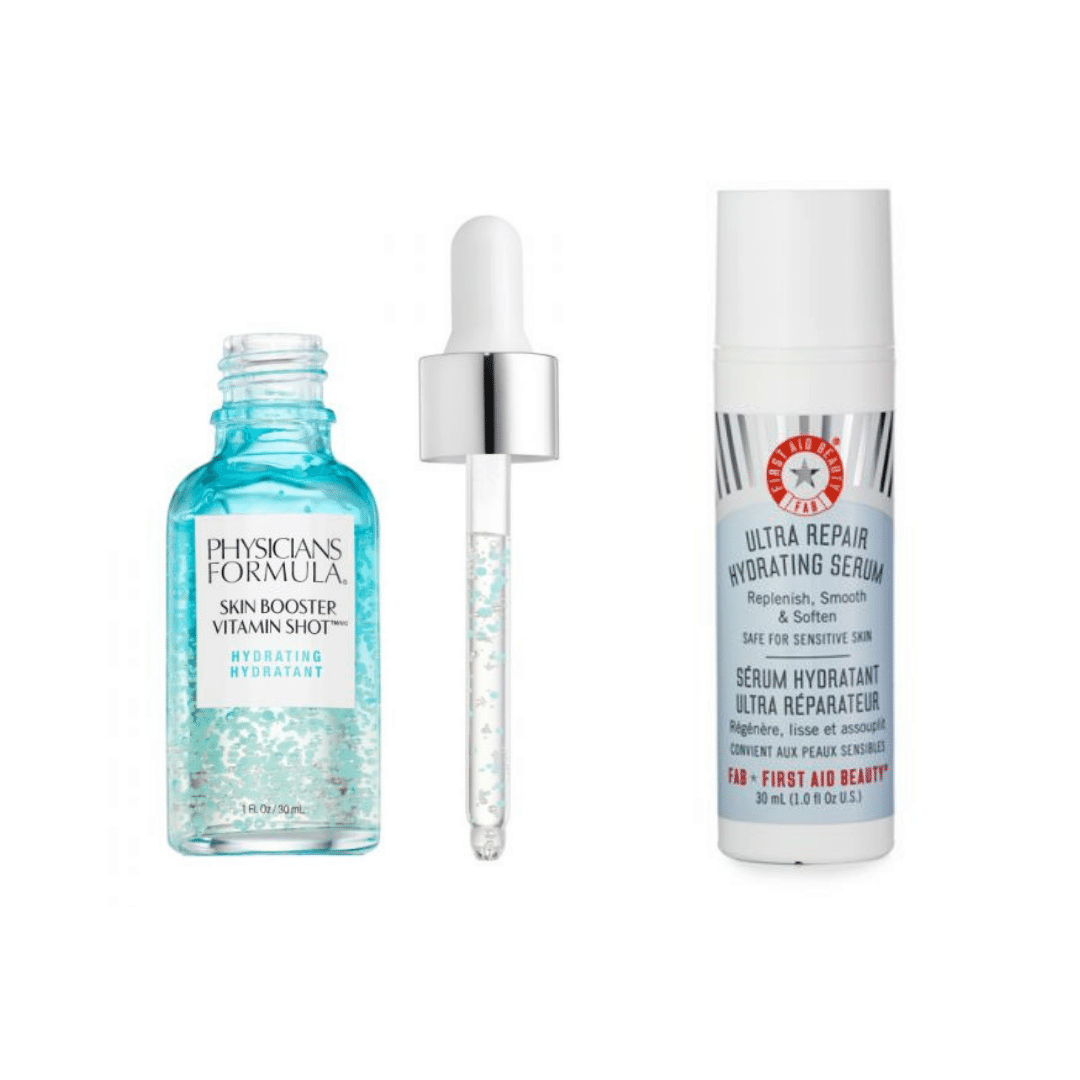 The First Aid Beauty Ultra Repair® Hydrating Serum is a great product for hydration. It has a nice feeling and is part of the same Ultra Repair® line as their very popular Ultra Repair® cleanser and moisturizer.
There is also a great new option at the drugstore: Physicians Formula has just come out with a new line of serums including their Hydrating Skin Booster Vitamin Shot. While there are not many reviews yet, previous serums from Physicians Formula have had very good reviews and this new product has some great ingredients and it's fragrance free!
Exfoliation Serums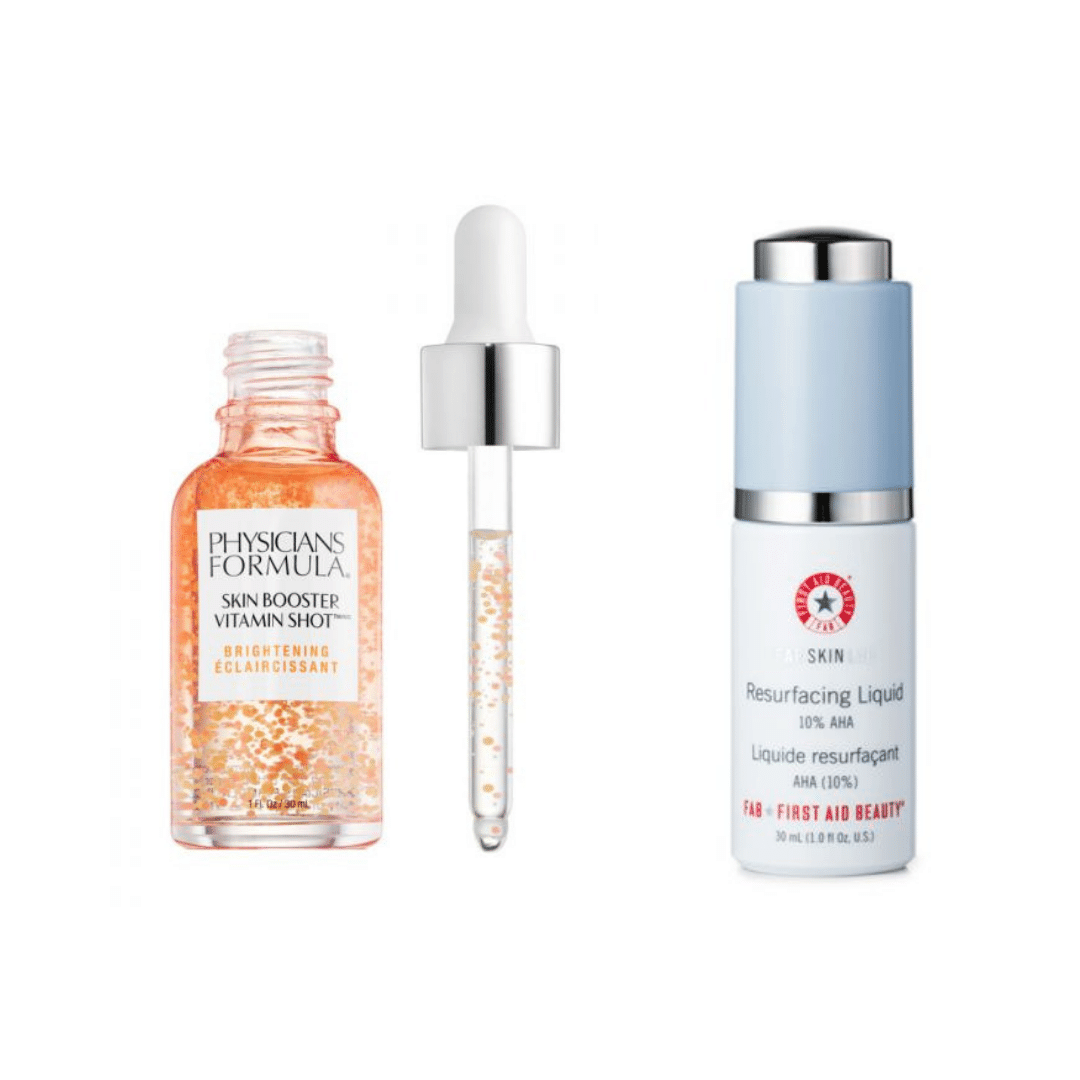 Exfoliating serums are a great way to get your exfoliation in, especially if your skin is sensitive to a physical exfoliant. These serums have ingredients like vitamin C and glycolic acid that eat away at your dead skin and help to release the bonds between your new skin and the dead skin. These will also help if you find you have dark spots or a dull complexion.
One of the top rated exfoliating serums around is the First Aid Beauty Skin Lab Resurfacing Liquid which has 10% AHA (AHA is the resurfacing ingredient). It is also formulated to support the moisture barrier of the skin.
Another one of Physicians Formula's new serums will help you with exfoliation as well. The Physicians Formula Brightening Booster Vitamin Shot is a great drugstore option. It contains a great exfoliating ingredient and lots of brightening and soothing ingredients as well.
Moisturizer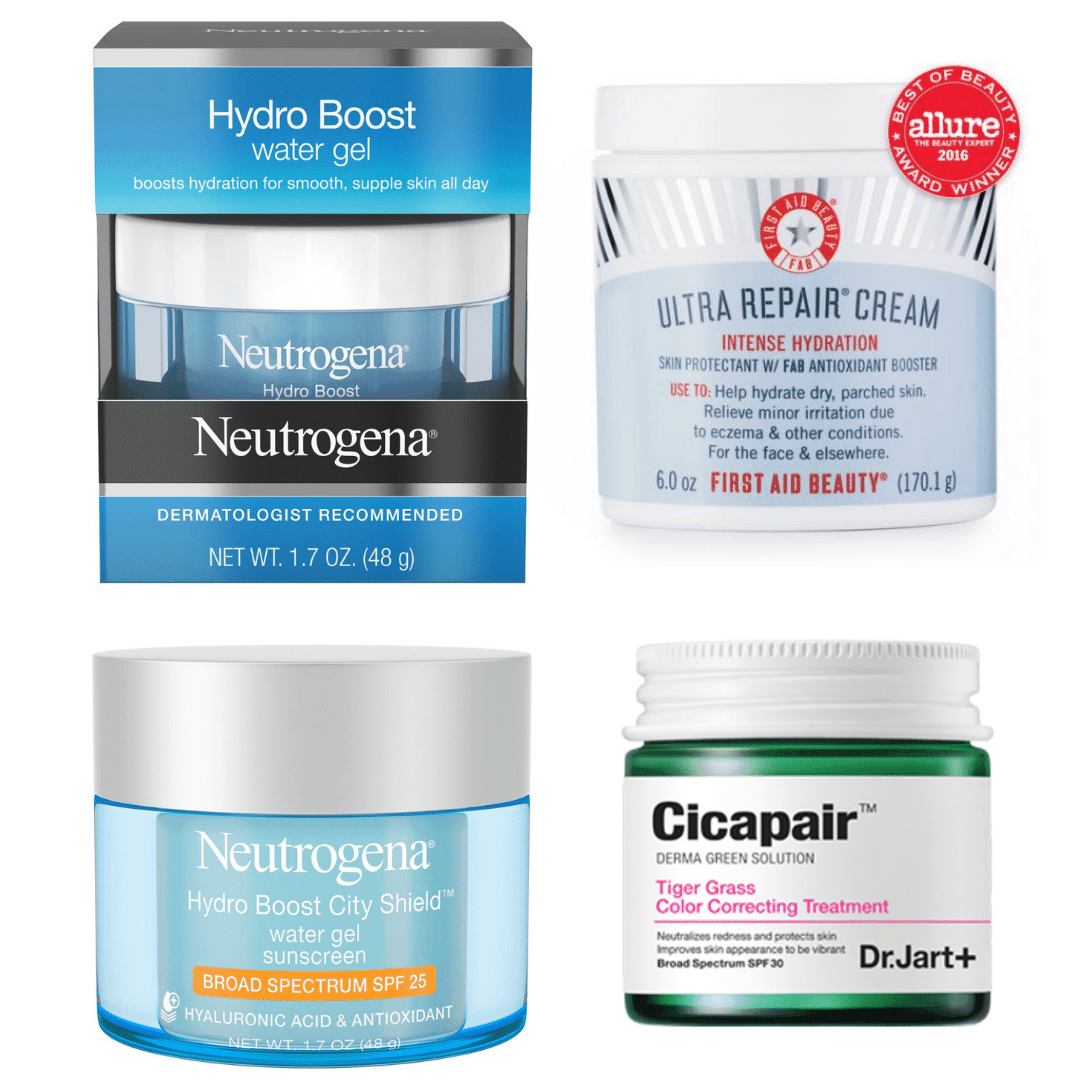 Moisturizer is a savior for dry skin and it helps to seal in your toner and serums. Moisturizer is a step you cannot skip over if you have dry skin, especially after cleansing your skin. When choosing a moisturizer, not all are made equal, moisturizers are made to do a variety of different things in addition to adding moisture to the skin.
As I mentioned earlier the First Aid Beauty Ultra Repair® Cream Intense Hydration is a very popular product. It is intensely hydrating and soothing, and, as with the other Ultra Repair® products, it helps to strengthen the skin's moisture barrier.
Another great option for dry skin is the Cicapair ™ Tiger Grass Color Correcting Treatment SPF 30 from Dr. Jart+. This particular cream is very highly rated at Sephora and does double duty as it also includes SPF 30. Because of this it can only be used as a daytime moisturizer (never put SPF on at night) but it also helps you out with your makeup application. This moisturizer is tinted green to combat redness.
The drugstore option that I recommend is the Neutrogena Hydro Boost Water Gel. Not only does it have a nice light feel due to it being a water gel, it also contains hyaluronic acid, which we know draws water and hydration into the skin. Better yet, this moisturizer comes in an SPF City Shield™ version. It has SPF 25 and contains antioxidants which help to protect against environmental stressors such as pollution.
Eye Cream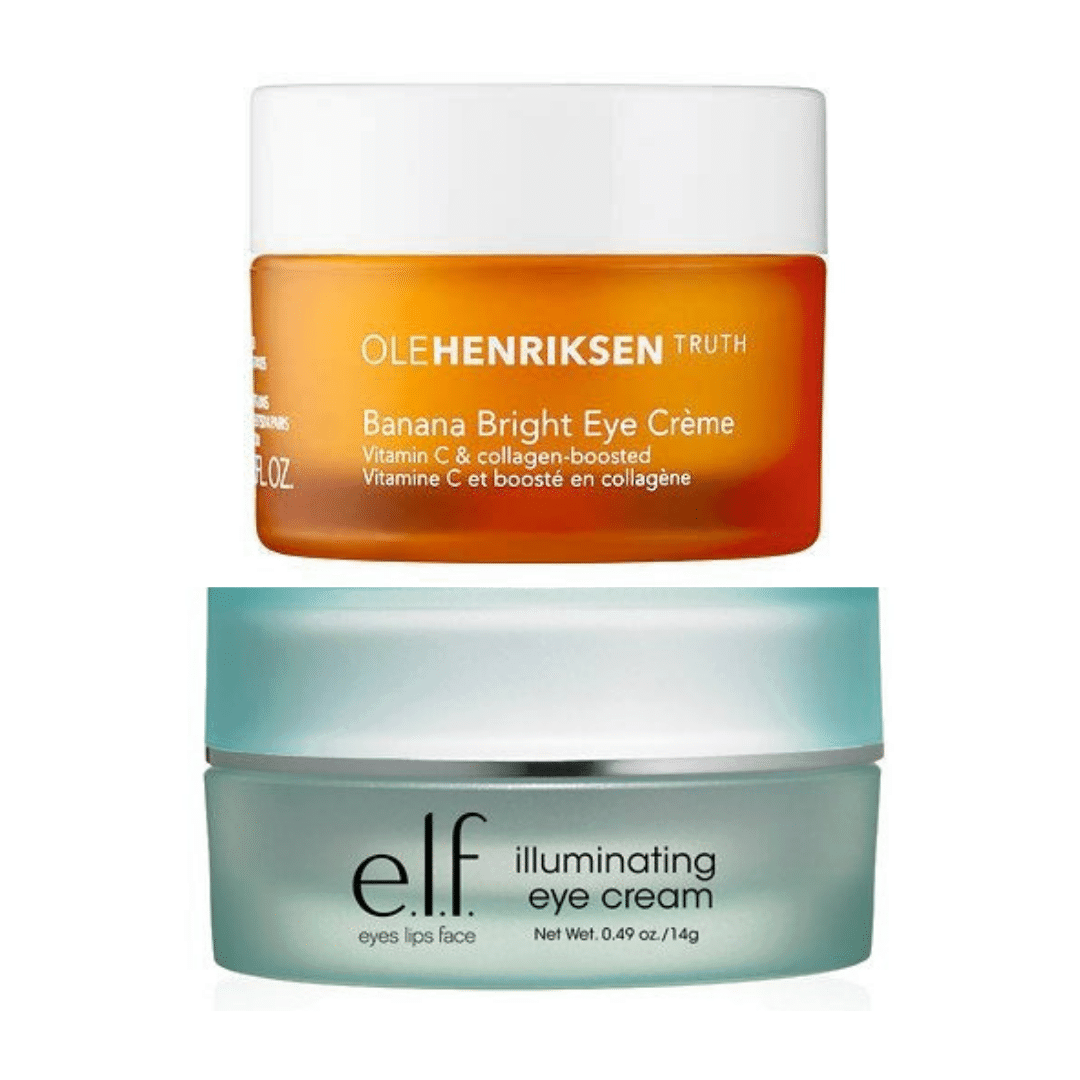 Time to take care of some of the most sensitive skin on your face. Under eye cream is super important and something that I suggest you start using right now if you are not already. As the skin around your eyes is so sensitive, it also shows aging the fastest and with the late nights we all pull at school, a good eye cream can help with our dark circles too.
A new and very well-reviewed under eye moisturizer is OleHenrikson's Banana Bright Eye Crème. This one has vitamin C to brighten your under eye and get rid of dark circles and collagen to help keep the elasticity in your skin.
For a less expensive option take a look at the e.l.f. skincare line. Their illuminating eye cream utilizes vitamin E to get rid of dark circles as well as jojoba and cucumber to hydrate.
Extras (Masks, spot treatments)
Now you have your basic everyday skincare routine! Of course, if you want to, there are many things that you can add in to supplement your routine.
These can be products that you add into your everyday routine as needed, like adding a drop or two of oil to your moisturizer at night to amp up the moisture (take a look at this Forbes article to find one that works for you).
They can also be items that you use a couple time a week or just when you want to pamper yourself, like these Cucumber De-tox Eye Patches from Peter Thomas Roth. You could also pop on a sheet mask for some extra hydration and concentrated ingredients. If you're looking for the best sheet mask for you, check out our review of all the cult favorite Tony Moly face masks: here is part one, two, three, and four.
Another great option if your skin is struggling is to pop on an overnight mask. You just pop these guys on at night and wash them off in the morning. For firmness and extra hydration, try out the Farmacy Sleep Tight Firming Night Balm. And for everything else, Sephora Collection has a great selection of one time use overnight masks.
Still have questions? Let me know below!
If you have dry skin, what do you use? What products do you need help finding? What's your skin type, and what are your skin concerns? Tell us in a comment below.