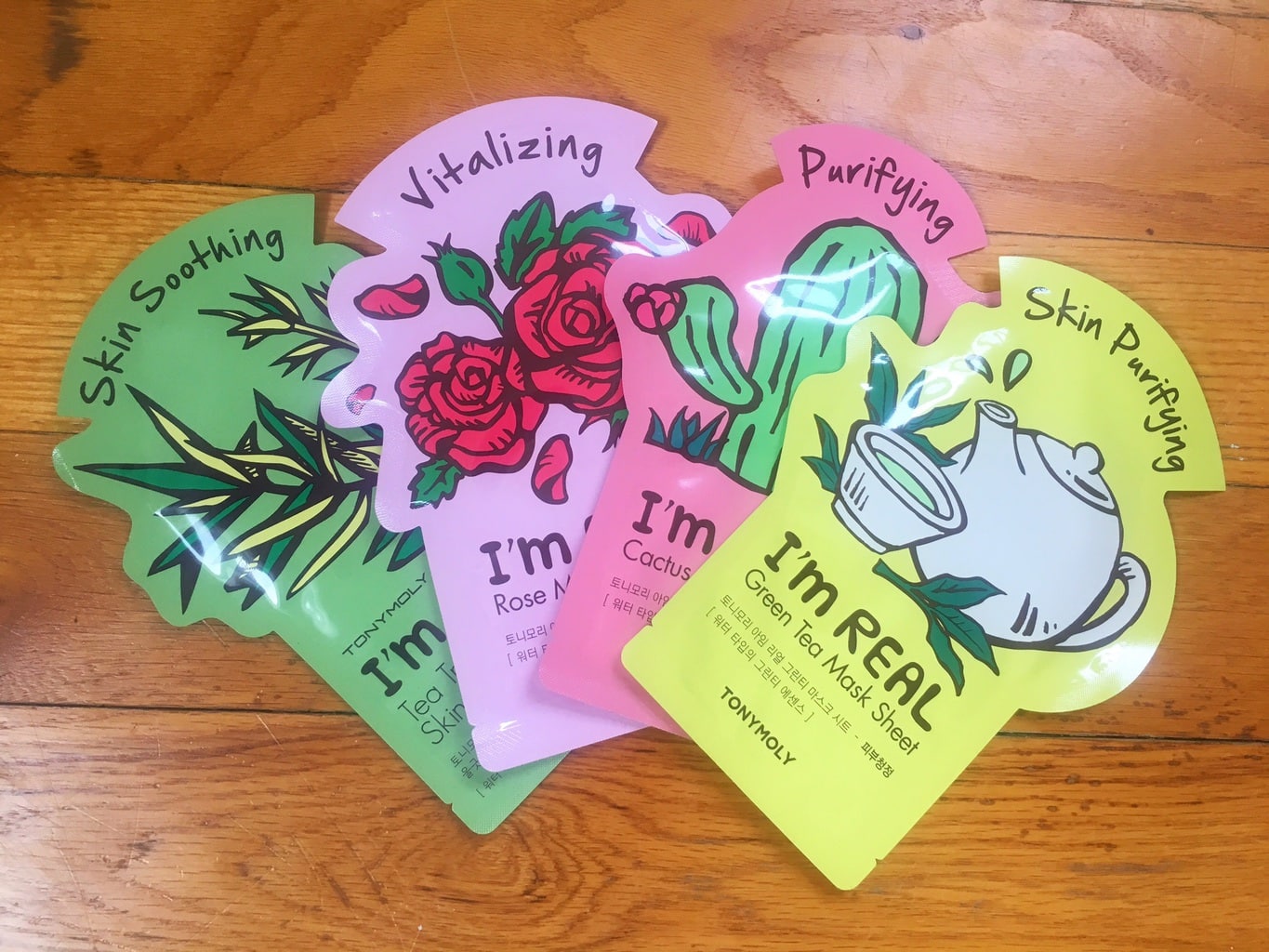 Hey babes, here's part three of my review of TONYMOLY's 18 I'm Real Sheet masks. If you missed them, be sure to check out parts 1 and 2.
These masks are among the most popular products to come out of the Korean beauty craze, and they are also fairly cheap (especially if you buy them in bulk on Amazon – you're welcome) and readily available. Plus, the packaging is super cute.
The only issue – there are 18 mask types available and most of the text on the packaging is in Korean, which can make figuring out which one to try a crapshoot at best. That's why I'm reviewing them for you!
For part 3, I'll be reviewing the Green Tea, Cactus, Rose, and Tea Tree sheet masks. Read on for more!
(For reviews of the other masks, see my posts on Makgeoli, Broccoli, Lemon, Avocado, and Aloe; Rice, Seaweed, Pomegranate, Red Wine, and Tomato; and Pumpkin, Orange, Pearl, and Lotus.)
Green Tea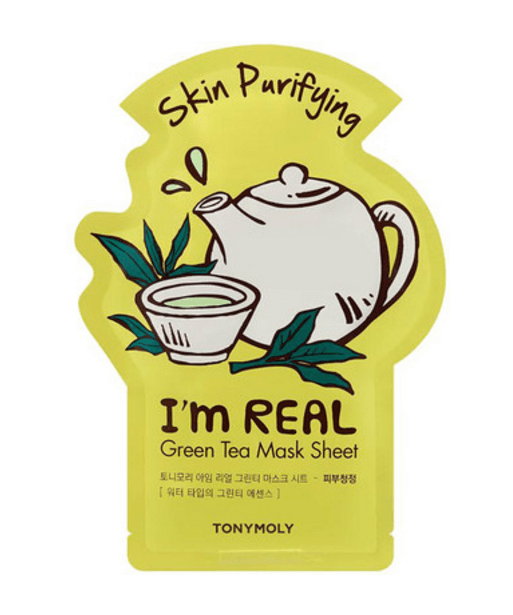 The Skin Purifying Green Tea sheet mask is one of the newer masks added to the I'm Real line. As far as I can tell, it's only available at the TONYMOLY website right now.
Unlike the previous sheet masks I've reviewed (and the tea tree mask that's part of today's review) this is my first time trying out this mask. Here we go!
The English on the packaging states that the "green tea mask brightens skin tone with freshness of the earth", which, lol, okay. Seaweed's got a run for its money. Green tea products generally promise to help with redness, skin tone, and brightening, though, so I'm going into this hoping for brightening and some soothing for redness and irritation.
I really love green tea (see: my ridiculously overflowing tea stash) and green tea scented products, so I was really hoping that this scent would deliver. I was disappointed. I got some hits of jasmine, but for the most part the serum reminded me more of the tomato mask. Granted, green tea scent is so subtle that I imagine it's hard to recreate in a mask like this, so I'll give it a pass there.
The serum is sort of thick and gummy compared to some of the previous serums, though it's not milky like the makgeoli or avocado masks. There was a lot of soothing cooling/tingling action while I was wearing the mask, which was nice.
I was a bit broken out when I tried this mask, and while it didn't do much for the breakouts I had, my skin was noticeably brighter and even-toned immediately afterwards. All in all, this is a solid mask that would be good for uneven skin tones or sensitive skin prone to redness.
Cactus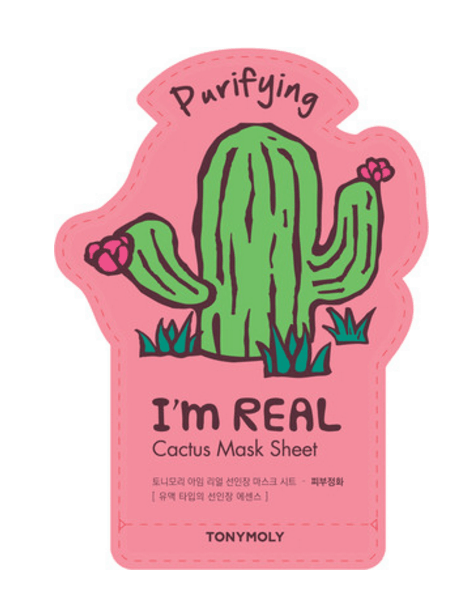 Lowkey I love that TONYMOLY put out a cactus mask – cacti are having a moment right now (see Kate Spade's entire cactus themed line), and even though I haven't heard much about the skincare properties of cactus (prickly pear for this mask specifically, according to the TONYMOLY website) I admire their dedication to staying on trend and putting out a playful product.
Like the green tea mask, the Purifying Cactus Sheet Mask is a newer mask for the I'm Real line, but it and the rose mask are available at Urban Outfitters (of course) as well as on TONY MOLY's website.
The mask's description promises to "make uneven skin tone look radiant and glowing", so I'm hoping it will be a bit similar to the Green Tea mask in regards to skin tone and brightening.
I don't really know what to expect for the scent of the mask – it smells a little bit vegetal, a little bit floral, and a little bit bitter – almost like the jasmine scent of the green tea mask. It's not unpleasant and pretty subtle, but it's not my favorite.
The serum is watery and runny, and the mask seems to be SOAKED with the serum. I wore this mask for almost 30 minutes and it still was pretty much wet when I took it off.
I was very happy with the results, though – even more so than the green tea mask, the cactus mask delivered an even skin tone and decreased redness. 10/10, would recommend.
Rose

The Vitalizing Rose mask is honestly the new mask that I'm most excited to try. I love love LOVE rose-scented products. Glossier's Milky Jelly cleanser is my absolute jam, and I swear by THIS toner. Even my favorite kombucha is rose flavored, fam, so I had high expectations coming into this.
The rose mask promises to "provide revitalizing energy to tired skin", which I'm assuming means providing some glow to dull skin. (Seriously, I understand why skincare products are sort of vague with their promises, but what does 'revitalizing energy' mean here???).
Like the cactus mask, there is a LOT of serum in this mask – it's practically completely soaked when I pull it out, and it looks almost clear (like rice paper) when I put it on my skin. I wore it for almost an hour before it dried out, and even after I took it off, it gave up even more serum when I squeezed it.
But the SCENT, fam, is loooovely but weird af. When I opened up the packaging for the mask, I got an overwhelming smell of peanuts (???!?), so much so that I had the husdude smell the mask. (He said it smelled like 'lavender, maybe' …boys.) After I took it out of the packaging and put it on my face, though, it smelled much more like roses, and pleasantly so. Maybe my nose is broken.
I was pretty happy with the results of this mask – it did make my skin feel a bit firmer / bouncier and a bit more of a glow, but it left a heavy residue, even more so than the Lemon or Red Wine masks. So much so that I almost wanted to wash my face afterwards. This mask would be great for anyone looking for a bit of glow and bounce.
Tea Tree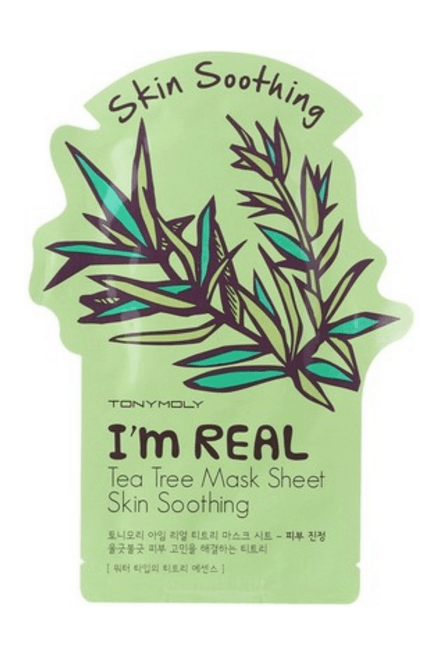 TONYMOLY Skin Soothing Tea Tree Mask
The Skin Soothing Tea Tree sheet mask is a regular part of my rotation, and one of my favorites for when I need something heavy-duty.
The description says "tea tree mask gets ride of uneven skin tone", but I also find it to be bomb at controlling crazy breakouts. I have sensitive skin, so as much as I like tea tree products for controlling acne, they can also be too much. I don't find that to be the case for the tea tree mask.
Unlike the serum scents for other masks, I find the serum for this to be a bit overpowering. It smells fairly strongly of tea tree, which is astringent smelling. It doesn't smell as strongly as, say, Desert Essence products, but there are some days where I rip the bit under the nose and flip it away because it makes me feel a touch light-headed. There's also some variation in the masks – some smell a bit stronger than others.
When I tried the tea tree mask this time, my skin was pretty broken out, so it tingled/stung a bit on my broken skin, but I noticed an immediate reduction in the redness in my skin afterwards. The next day, it seemed like my pimples had dried a bit and reduced in size, but my skin didn't feel super tight or dry like it can with other tea tree products. I recommend this product for anyone who gets bad breakouts or has sensitive skin prone to redness. 
What do you think?
Have you tried any of these masks from TONYMOLY? Are you a fan of sheet masks? Do you have any other recommendations for sheet masks? Let me know in the comments below!