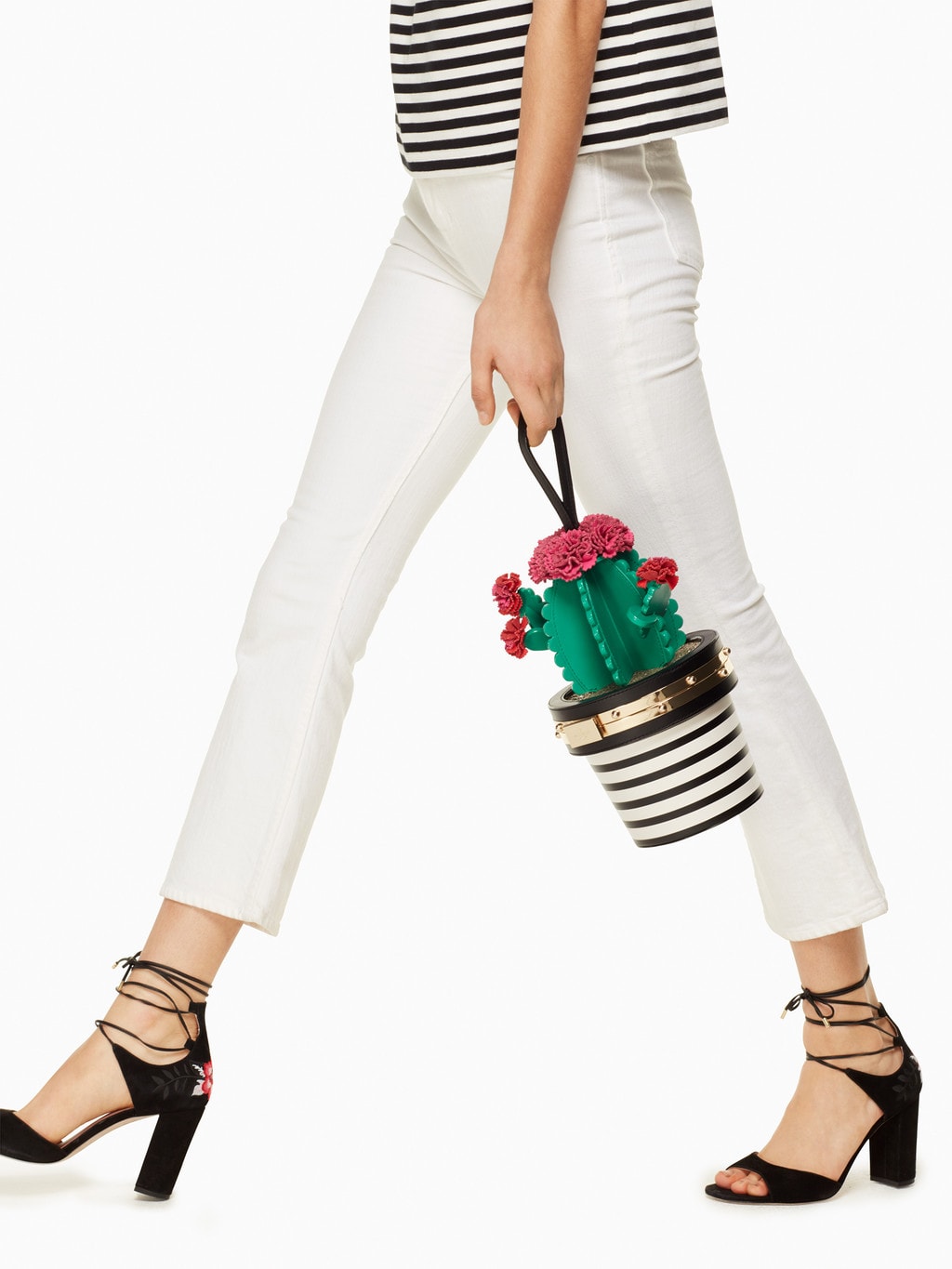 Last week, Coach announced its $2.4 billion acquisition of competing handbag and accessories brand, Kate Spade. Preppy with a twist (their novelty shop includes 32 cactus-themed products, like the quirky bag featured above), Kate Spade's products are fun, light, and pleasing to the eye.
Because I'm a huge fan of Kate Spade (their holographic coin wallet is holding my most important cards as I write), I thought I'd take a moment to browse their online store and find you the best picks PC (Pre-Coach).
So, sit back, relax, and enjoy the collection of cute meets zany-in-a-Zooey-Deschanel-kind-of-way products!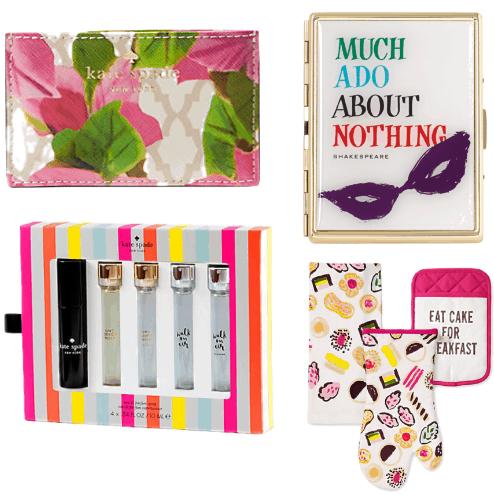 Kate Spade products (clockwise from top left): 1. Cardholder | 2. I.D. holder | 3. Kitchenware set | 4. Purse sprays
1. Featuring a conventionally attractive floral pattern, leather trimming, and slots big enough for your three most important cards — what more could you want? — Kate Spade's tiny Bayard Place cardholder delivers. The only question is, will you buy it?
2. Shakespeare fans will be happy to know that this Much Ado About Nothing I.D. holder comes with an iconic quote on the back (Benedick's "I do love nothing in the world as well as you — is that not strange?"). Kate Spade fans will marvel at the gold plated metal and imported details.
3. This 3-piece kitchenware set calls to mind the very essence of Kate Spade: sparkly, classy, and an instrument of "colorful living." Not only is the potholder's "Eat cake for breakfast" a message we all can stand by, but the potholder's accompanying friends, the oven mitt and kitchen towel, are equally sweet as well!
4. Exclusively available to U.S. shoppers, this purse spray coffret bottles up two delicious scents: Kate Spade's Live Colorfully and Walk on Air. Awaken your senses with fresh top notes of clementine, linden blossom, and Sicilian lemon!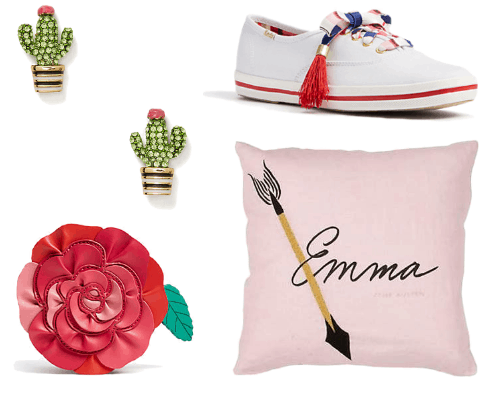 Kate Spade products (clockwise from top left): 5. Cactus studs | 6. Sneakers | 7. Emma pillow | 8. Rose purse
5. These whimsical cactus stud earrings are sure to strike your fancy! Made up of 12-karat gold plated metal, they're a Kate Spade bargain at only $48.
6. The classic canvas sneaker gets a makeover with these Keds for Kate Spade New York sneakers. Available in sizes 6 to 10, these striped, lace-up kicks look just as good at the gym as they do in the mall!
7. My personal favorite of the bunch, this Jane Austen-inspired Emma pillow is both straightforward and unequivocally elegant (unlike Emma herself at the beginning of the novel!). Beautifully and delicately made, it is comprised of linen and down fill. The back of the pillow reads (Warning: 200-year-old spoilers): "It darted through her with the speed of an arrow that Mr. Knightley must marry no one but herself." Aww!
8. A rose by any other name would smell as sweet, but would a rose purse by any other brand look as pretty as this one? In the words of Cher from Clueless (which, incidentally, is a modern adaptation of #7, Emma), "I don't think so!"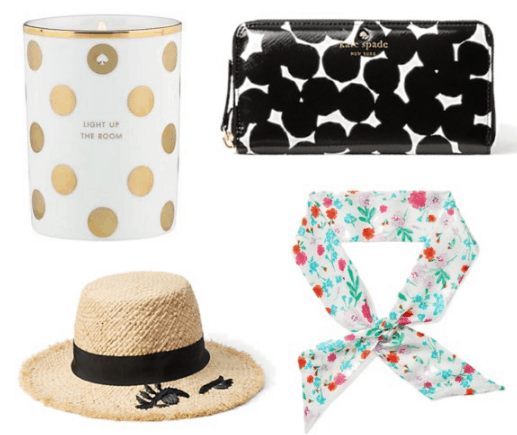 Kate Spade products (clockwise from top left): 9. Scented candle | 10. Dot wallet | 11. Scarf | 12. Winking cloche
9. Unless your dorm has a strict no-candle policy, there's never such a thing as owning too many candles. With this elegant "Light up the room" fig scented candle, you're even guaranteed up to 60 hours of slow burning!
10. Discounted over 50% percent, this final sale Cedar street blot dot lacey is stylish and functional. You won't want to miss out on this fabulous deal — the wallet includes custom woven lining, 14-karat gold plated hardware, and plenty of space for your credit cards and change!
11. Another U.S. exclusive (the first is #4), this 100% silk greenhouse skinny scarf is available in both black and fresh white. Whether you tie it around your neck like a flight attendant or style it around your head à la Grace Kelly, you're bound to look glamorous wherever you go.
12. Want to master the art of beach chic? Step 1: Buy this winking sunhat from Kate Spade. Step 2: Wear it out to the beach. It's that simple.
Thoughts?
Which of these twelve Kate Spade accessories do you plan on getting today? What are your thoughts on the recent Coach acquisition? Do you own a Kate Spade accessory that's near and dear to your heart?
Don't be shy: Tell us your story in the comments box below!