This article will show you the cutest wedding guest dresses for 2021.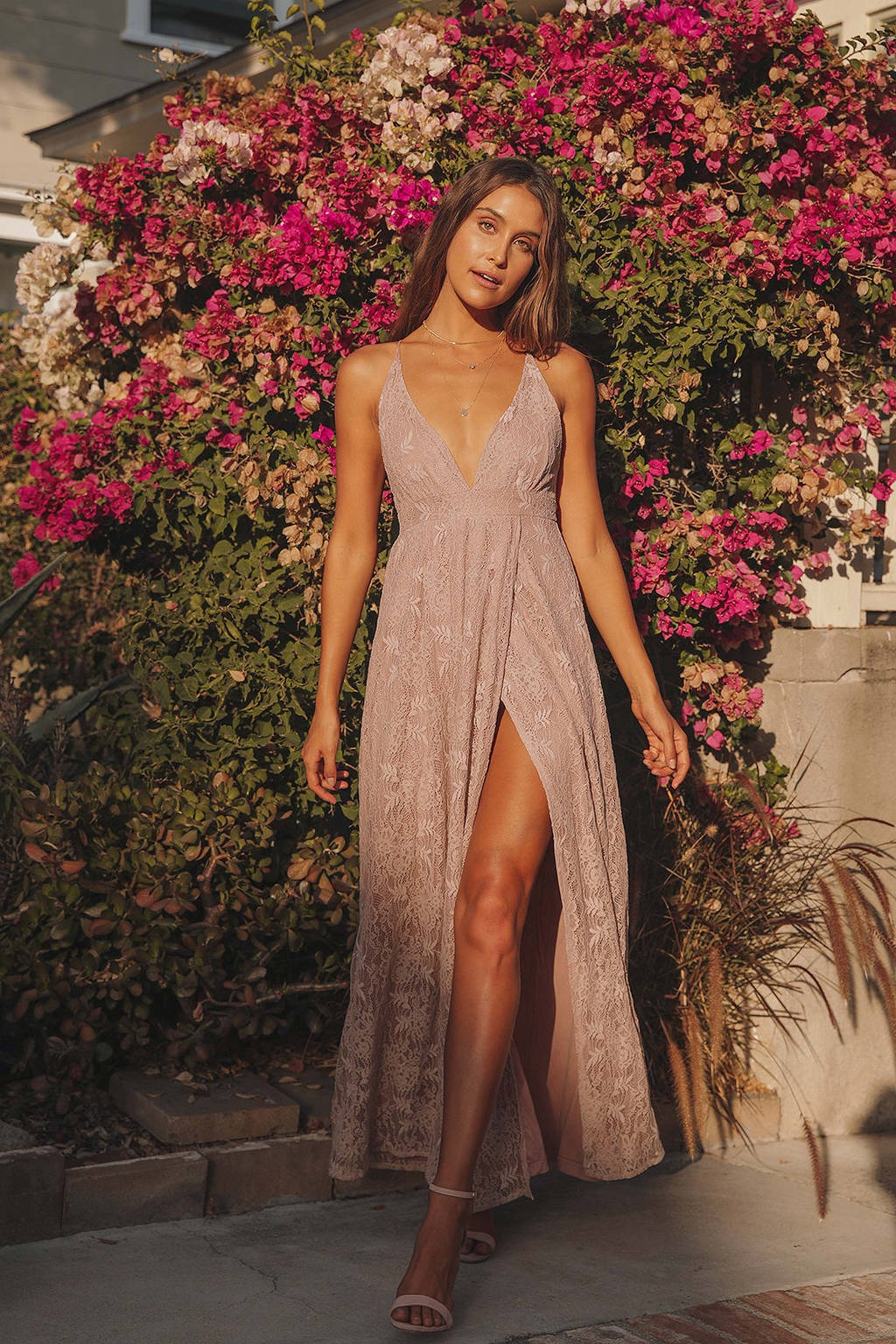 Wedding season is coming up, so it's time to start planning your outfits. Shopping early is always a good idea so you don't have to scramble for a wedding guest dress at the last minute!
Going to weddings is such a fun event, but what makes going to weddings even more fun is being able to pick out super cute dresses to wear.
If you have never been to a wedding before or if you are looking for that perfect wedding guest dress for your upcoming event, this post will show you 17 of the best wedding guest dresses you'll love this year.
1. Chic Black Dress
Everyone knows the classic little black dress can work for almost any event and weddings are no exception.
If you want to rock the classic black dress look to your next wedding, you absolutely can't go wrong with this iconic moment black bodycon midi dress. (Here's a similar one available in extended sizing, too.)
This dress will make sure you look chic at your next wedding, and it even has a slit in the front to make the dress more fun! Plus, you can wear it over and over again for years to come.
2. Boho Slate Blue Maxi Dress
Weddings are the perfect time to take advantage of being able to wear long dresses.
If you are looking for the perfect maxi dress you can wear to a wedding, you should buy this I'm all yours slate blue ruffled maxi dress. (And if you're plus sized, here's a similar one that comes in extended sizing.)
I love that this dress comes in this gorgeous blue color; it's a little unexpected but so fun. It has such a pretty boho style to it. And you will definitely be feeling girly in this dress because of the cute ruffles and slit in the front!
4. Glam Forest Green Dress
A new trend in fashion recently is the forest green color! This color has been seen on all types of clothing items and it's rising in popularity for 2021.
Therefore, you can take advantage of this trend and purchase a forest green wedding guest dress like this photo finish forest green sequin lace-up maxi dress!
You will look trendy thanks to the color, and you will also sparkle in this dress because it comes with a pretty sequin design.
5. Cream and Coral Floral Print Dress
If you are looking for a wedding guest dress that is very girly, you should go for this elegantly inclined cream and coral floral print wrap maxi dress. It's so pretty and feminine.
This dress comes in cream and features a super cute floral print in coral to make you feel extra girly when you wear this dress!
While you can't wear white to a wedding, a printed cream with a bold color is almost always fine — and a fun statement to make.
If you're looking for a plus size option, this tropical maxi dress also has island vibes and is available in size 16.
6. Pretty Pink Embroidered Dress
Another option for wedding guest dresses that works great is the midi dress! It's classy but still a lot of fun and not overly formal.
You may be wondering where you can find the perfect midi dress for a wedding so I did the work for you. This delectable delilah blush pink embroidered midi dress will do the trick! (Here's a similar pleated dress in up to size 20.)
It comes in a pretty, but subtle pink color with an embroidery design and flowy bottom to make you feel elegant at your next wedding.
7. Burgundy Satin Maxi Dress
If you have worn satin before, you know how pretty and glam it can make you feel!
This is such a great material for dresses, especially if you are looking for something for a more formal wedding.
If you want to find the perfect satin dress, look no further than this constantine burgundy satin maxi dress! (And here's a similar one that comes in sizes up to 26.)
The burgundy color, the slit in the front, and the satin material make for the perfect combination for a dress. It has so many positive reviews, plus it comes in a bunch of different colors.
8. Dusty Pink Maxi Dress
One other material that you should think about when looking for a super cute wedding guest dress is lace!
Lace always can make any clothing items look more fun and it's an especially cute choice for a spring or summer wedding.
If you want to wear lace, try out this stolen moments dusty pink lace-up lace maxi dress!
Not only will the lace material make you feel gorgeous, but it also comes in this beautiful mauve color that's chic and unexpected.
9. Off-the-Shoulder Chic Black Dress
A simple, but also elegant dress option for a wedding is an off-the-shoulder dress.
Off-the-shoulder dresses are known for being perfect for any fancy occasion. This also makes it a perfect wedding guest dress as well!
So, if you are looking for an off-the-shoulder dress for a wedding, don't hesitate to scoop up this classic glam black off-the-shoulder bodycon dress. (For extended sizing, this one is available in up to 3x.)
It is a simple yet elegant off-the-shoulder black dress that will make you look stunning at any wedding, and can be worn to tons of other formal events.
10. Navy Blue Maxi Dress
Want a dress that is a little bit more out there and unique? Go for this bloom wildly navy blue floral organza maxi dress!
The design of this dress matches perfectly with its name because it comes with an insanely gorgeous floral design. It's a little bit boho and is sure to turn heads.
You will definitely be noticed if you wear this dress, especially with its beautiful navy blue color.
11. One Shoulder Dress
12. Champagne Satin Dress
The cowl neck dress is also popular in fashion recently, so why not take advantage of this trend and wear one to your next wedding? Dresses like these look amazing for fancier events.
If this is the look you want to go for, get this malmuira dress in champagne satin. (And here's a similar one available in 1X.)
The satin material and the pretty champagne color will make you feel stunning, and this dress looks so much more expensive than it is.
13. Forest Green Maxi Dress
If you are loving the forest green trend, you should also try it out in a maxi dress!
This combo can be the perfect wedding guest dress, especially if you purchase this dreamy romance forest green backless maxi dress, which comes with a super cute slit in the front as well. (For extended sizing, this plus size option has the same color and a super cute silhouette.)
The flat material and minimal silhouette gives off old school Calvin Klein vibes while being so affordable.
14. Strapless Floral Print Dress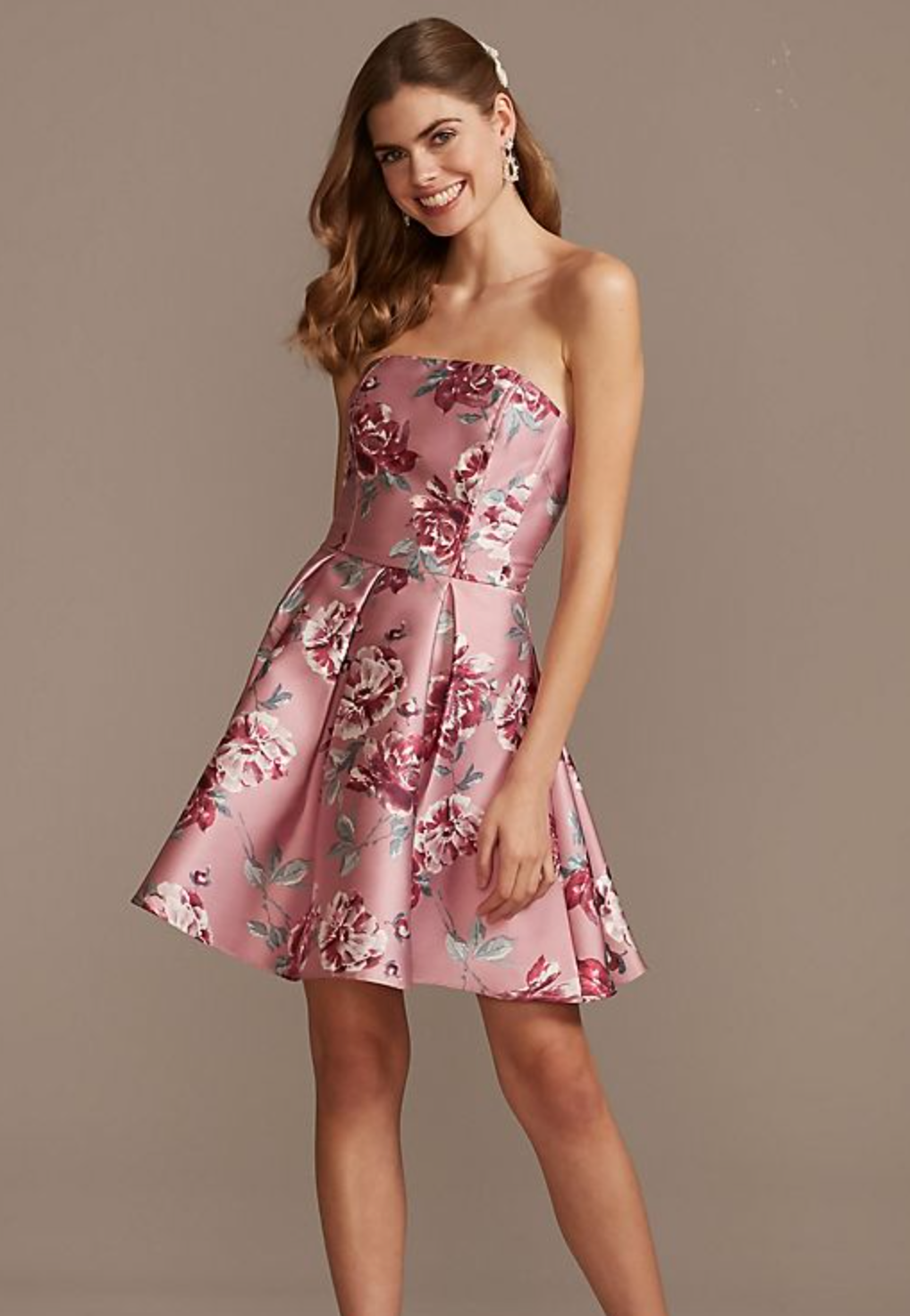 15. Chic Mauve Maxi Dress
If you really want to sparkle at the next wedding you attend, you should wear this truly dazzling mauve multi glitter sleeveless maxi dress! (For a plus size option, this mauve maxi dress has the same shape sans-glitter and is available in up to size 26.)
Not only does it come in a gorgeous mauve color, but also it is covered in sparkles to make you feel like a movie star. Who wouldn't want to wear this glam dress?
16. Convertible Dress
Looking for a dress with a cool design for your next wedding? You should definitely get this always stunning convertible burgundy maxi dress! (Similar in sizes up to 3x here.)
Not only does this dress come in a gorgeous burgundy color, but it also has a cool design for the top with a choker included. And if you aren't feeling the choker design, don't worry — you can wear this dress literally dozens of ways!
17. Rusty Rose Dress
If you want to wear pink, but you don't want a bright pink-colored dress, go for a rose-colored dress like this tricks of the trade rusty rose maxi dress. (Similar here in up to size 30.)
You will still feel girly in this dress, but it comes in a rose color, which is a more subtle and elegant than the paler pinks featured earlier.
Which wedding guest dress is your favorite?
Which one are you going to purchase? Which one are you excited to wear to a wedding?