This post will show you the 40 best wedding guest dresses for 2023, all under $300.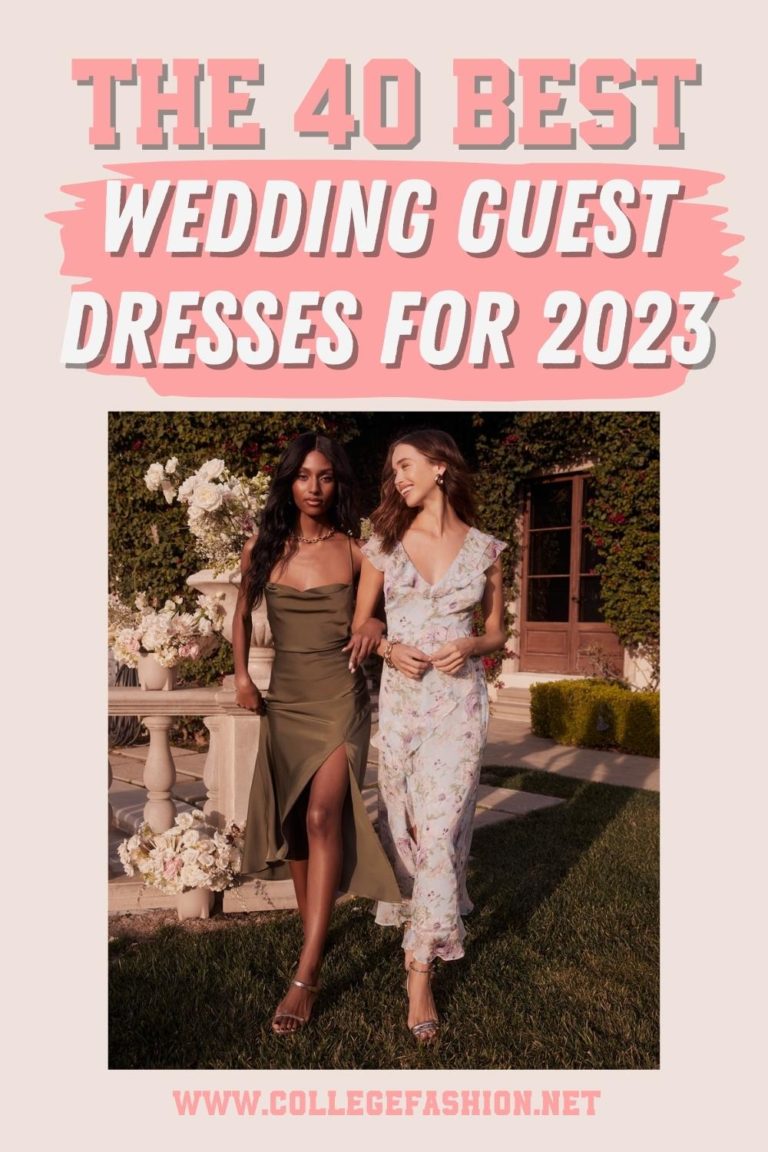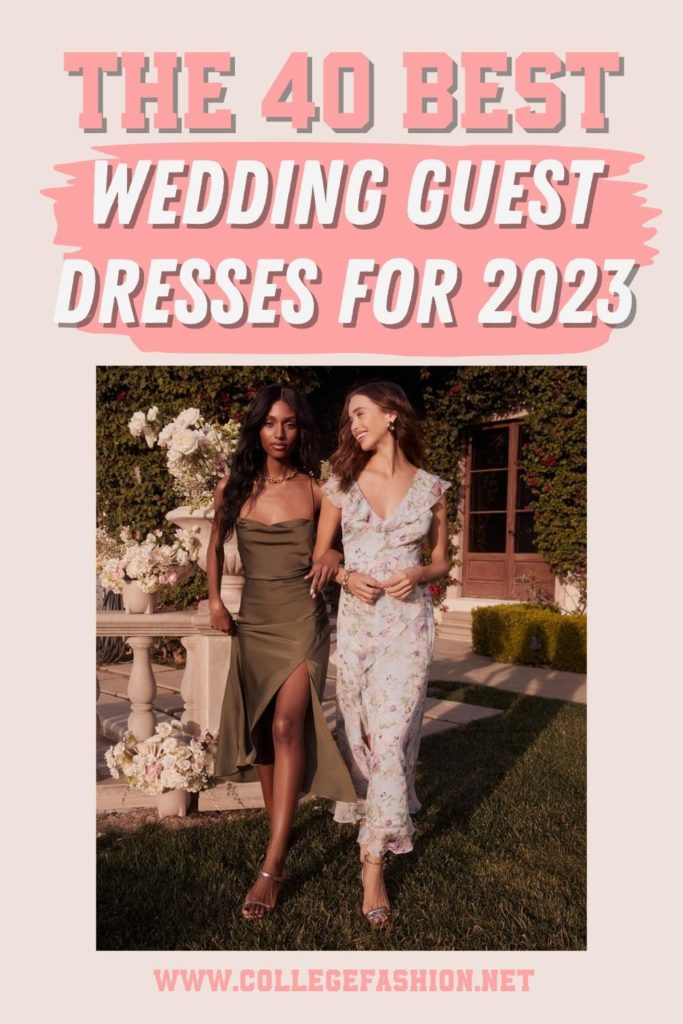 Wedding season is coming up, so it's time to start planning your outfits. Shopping early is always a good idea so you don't have to scramble for a wedding guest dress at the last minute!
Attending weddings can be a blast, and there's no doubt you'll want to look your best as a guest. When shopping for a wedding guest dress, be sure to keep in mind the wedding's suggested dress code (such as cocktail or black tie), the venue (be it indoor or outdoor), the weather, and of course, opt to wear colors other than white.
I've scoured the web to find the 40 cutest wedding guest dresses for 2023 for all types of weddings—and these dresses won't break the bank either since they are all under $300.
Read on for the 40 best wedding guest dresses that will put you on the best-dressed guest list, plus check out the top 10 stores to shop for wedding guest dresses.
Spring and Summer Wedding Guest Dresses
Spring and summer tend to be the most popular time of year for weddings, and because of the nice weather, this means you can comfortably wear a cute dress that features colorful prints, lightweight fabrics, and cute design details.
1. Black Sleeveless Midi Dress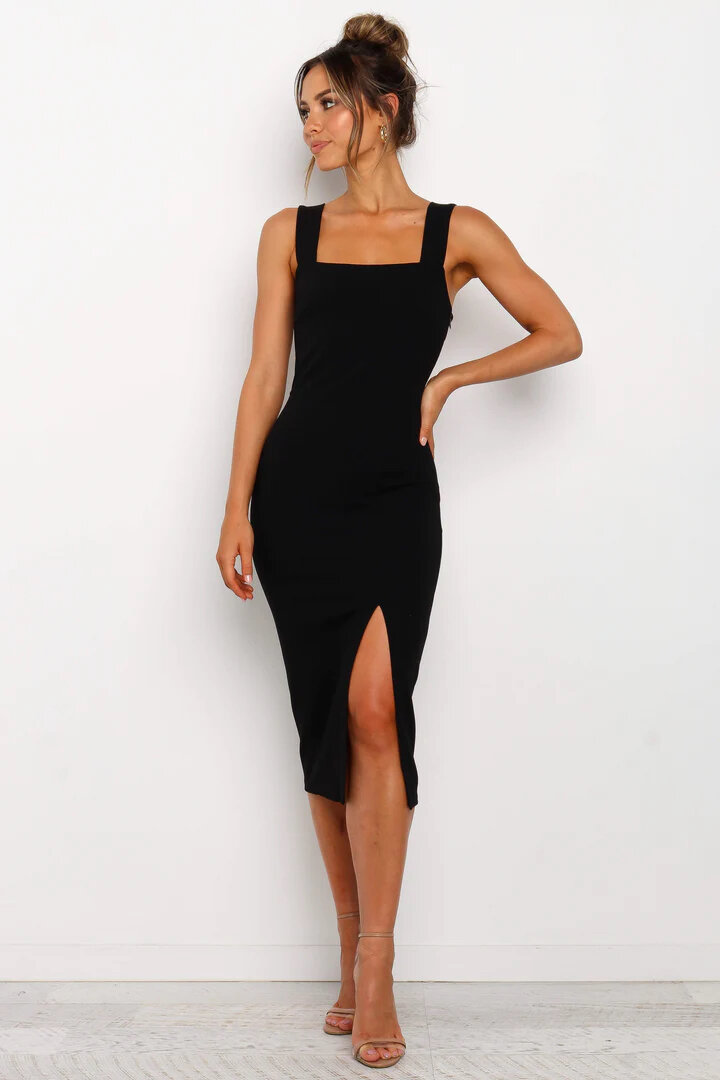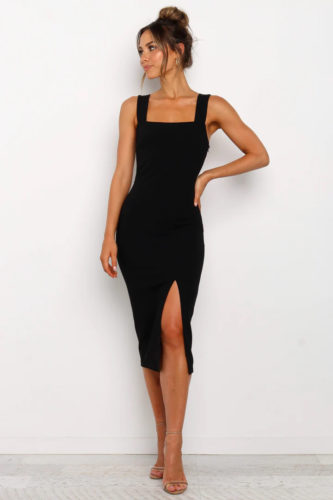 If there's one dress you can wear over and over again, it's this classic black midi dress.
Its timeless design, with a square neckline, wide straps, and a front slit, makes it versatile and flattering on many different body types. Add some cute accessories, including jewelry and a clutch bag, to make it wedding celebration-ready.
2. Pink Floral Print Midi Dress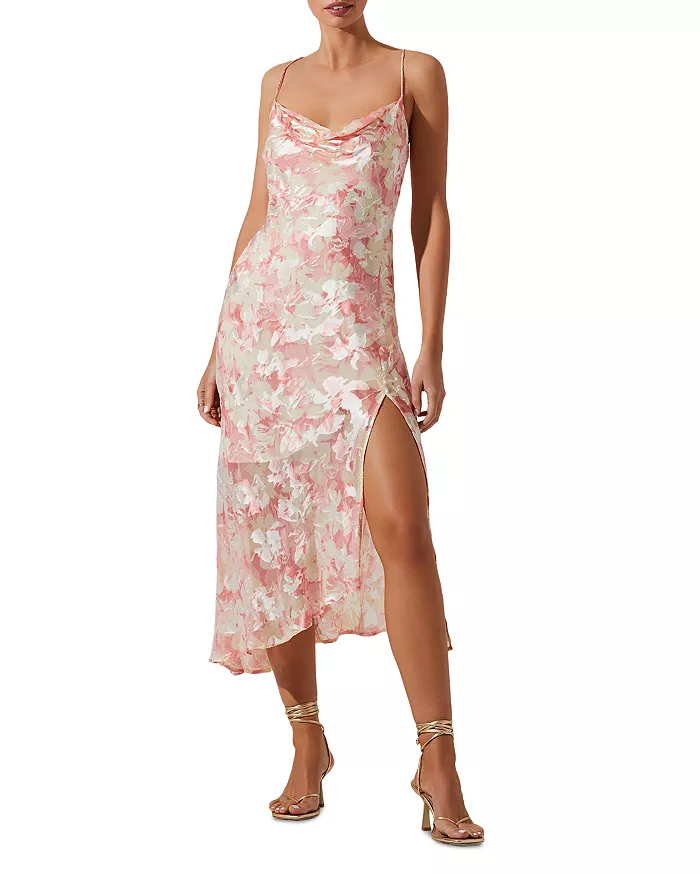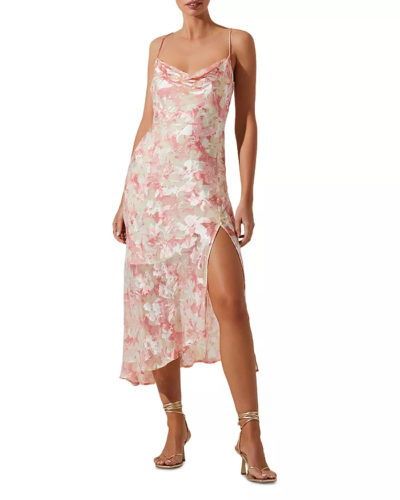 Florals are a go-to print for spring and summer wedding guest dresses, and this pink floral print midi dress is too pretty to pass up.
It has a flowy design with a cowl neck, slit, and tie detail at the back for added style points.
3. Pleated Cut-Out Maxi Dress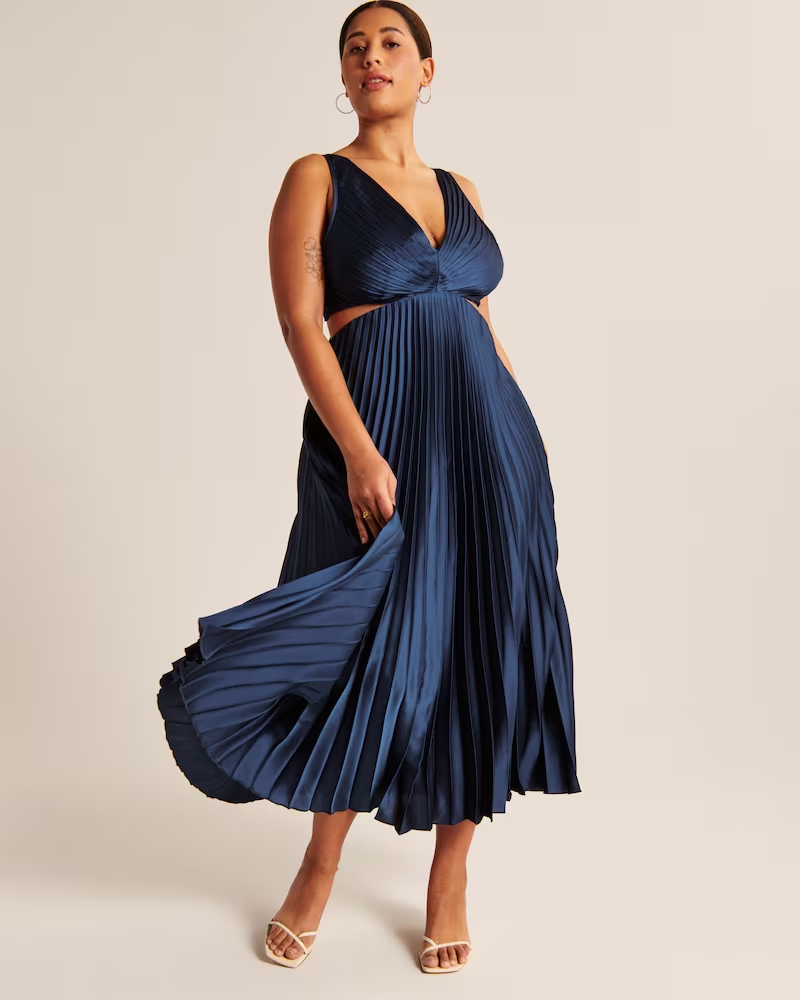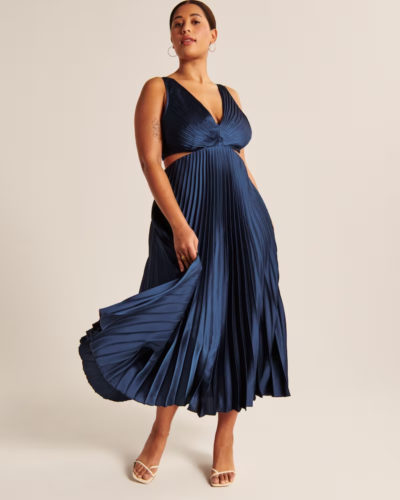 You'll feel like a Greek goddess in this navy blue pleated maxi dress with side cut-outs. Available in sizes XXS-XXL, its satin material gives it an elegant look, and its cut-out details aren't overly revealing, making this dress wedding-appropriate.
BTW, it also comes in black, pink, light blue, and green!
Related reading: The 10 Best Shoes to Wear with a Navy Dress
4. Slip Midi Dress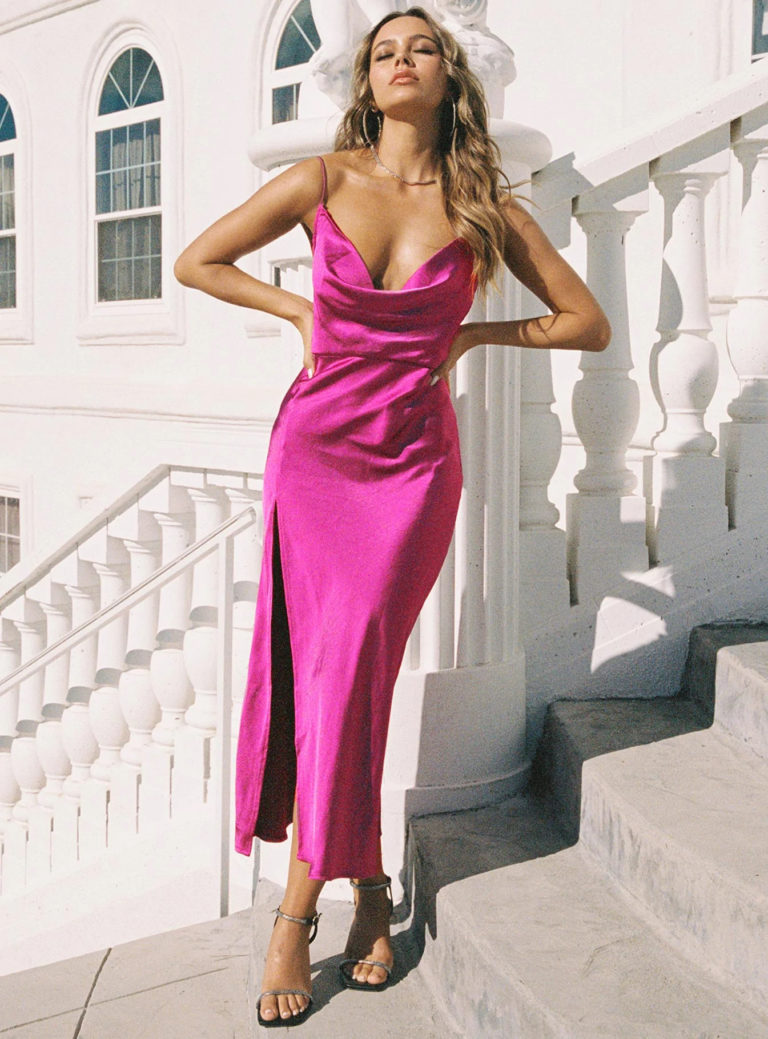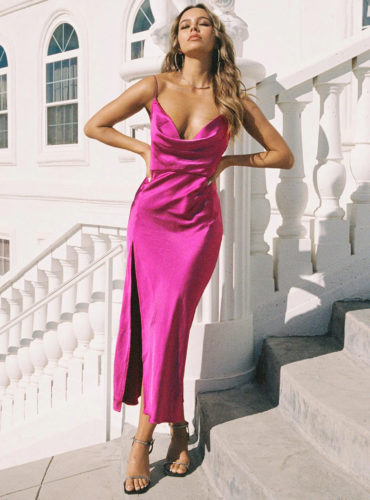 A midi-length slip-inspired midi dress is a classic dress silhouette that is perfect for weddings, and this one's vibrant magenta hue is totally on-trend for spring and summer (though it comes in green, blue, and champagne, too).
5. One-Shoulder Satin Dress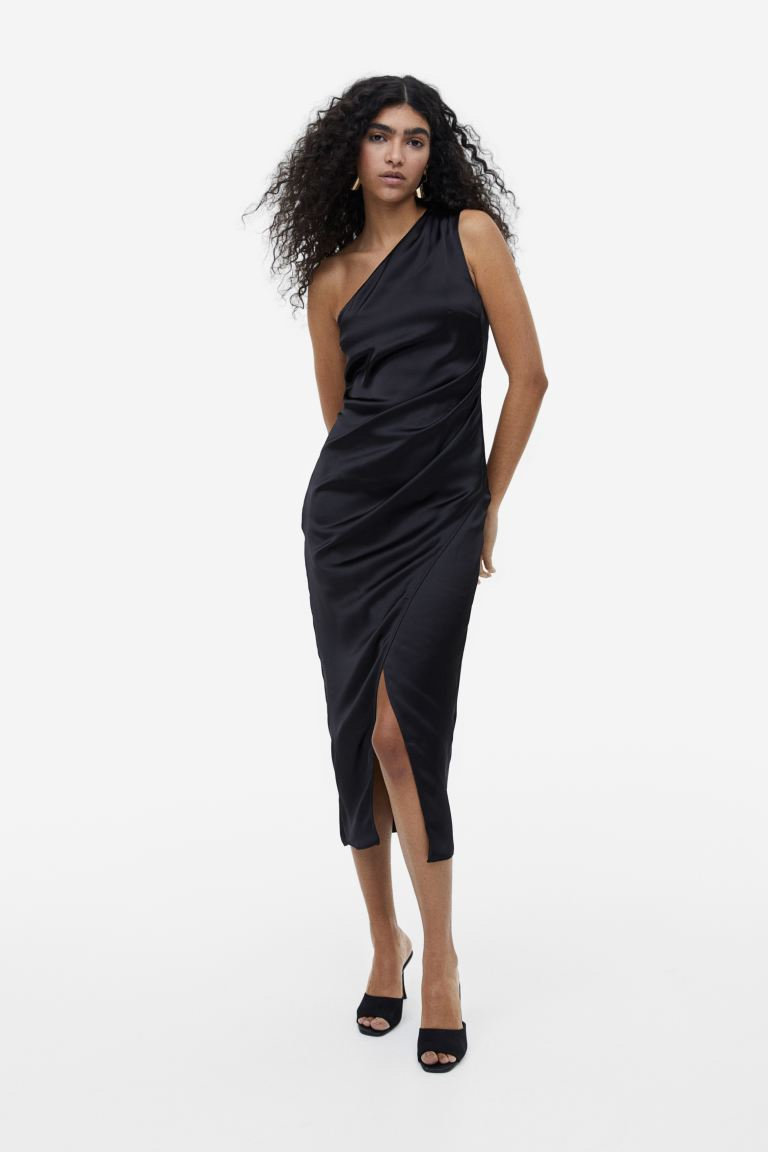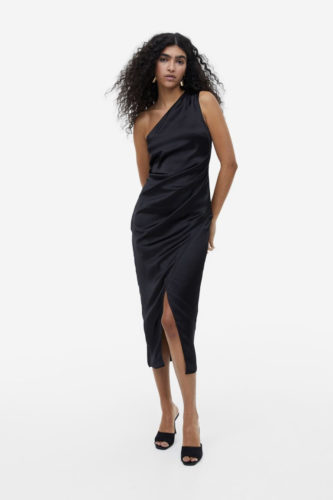 This black satin one-shoulder dress will make a classy impression at a wedding. Its wrap-front skirt, wide single strap, and shiny satin material give this dress a striking look while still being classic. (This one won't go out of style!)
6. Blue Satin Camisole Dress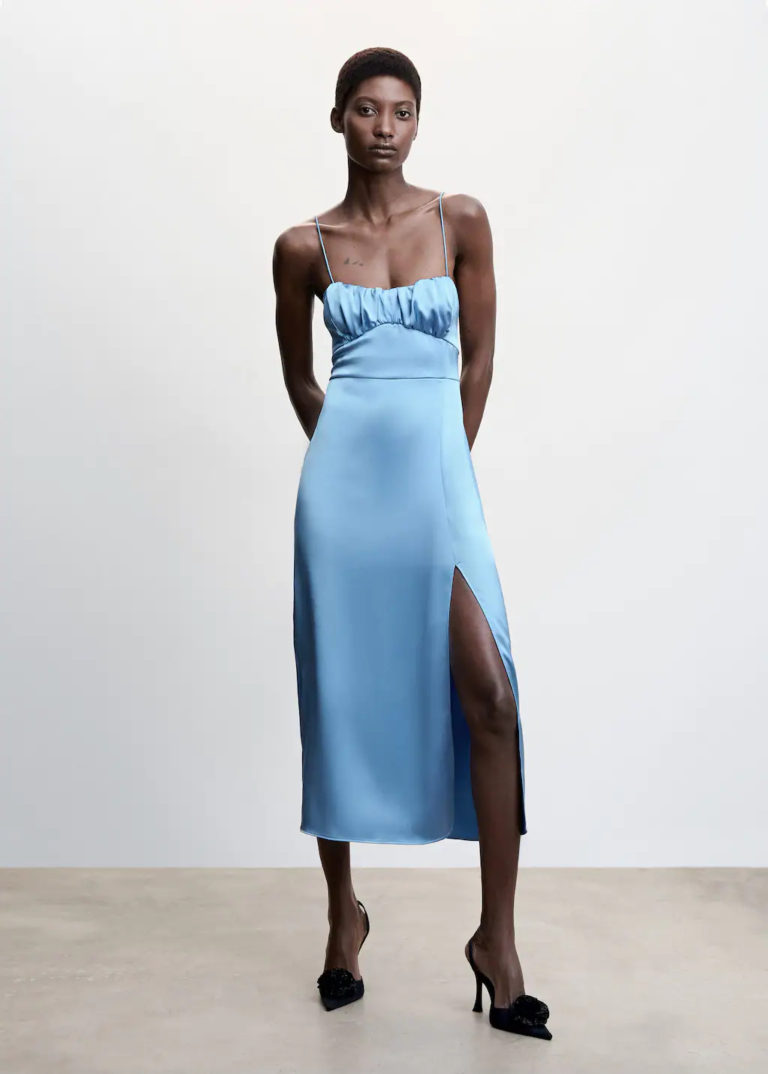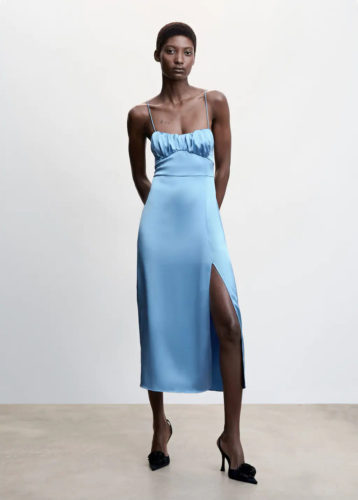 I adore the dreamy blue hue of this satin camisole dress, along with its gathered bust. The satiny fabric really makes its color pop! Plus, it features a lace-up on the back for added flair.
7. Lace Cami Midi Dress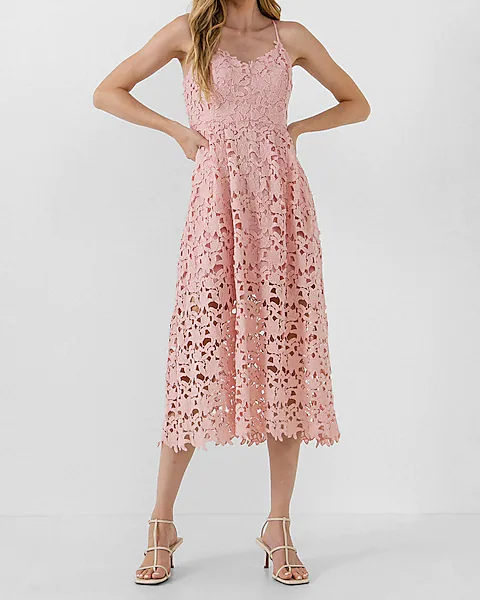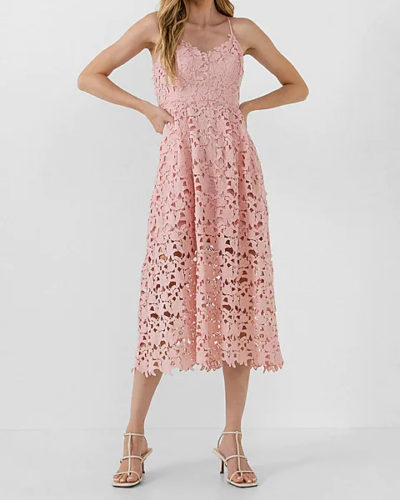 Lace is always a good idea for wedding guest dresses, particularly in the spring and summer. It will give your dress a textured look that stands out, while still being elegant and classic.
This lace cami midi dress comes in six different colors to choose from and will work for a multitude of wedding dress codes.
8. Strapless Floral Print Dress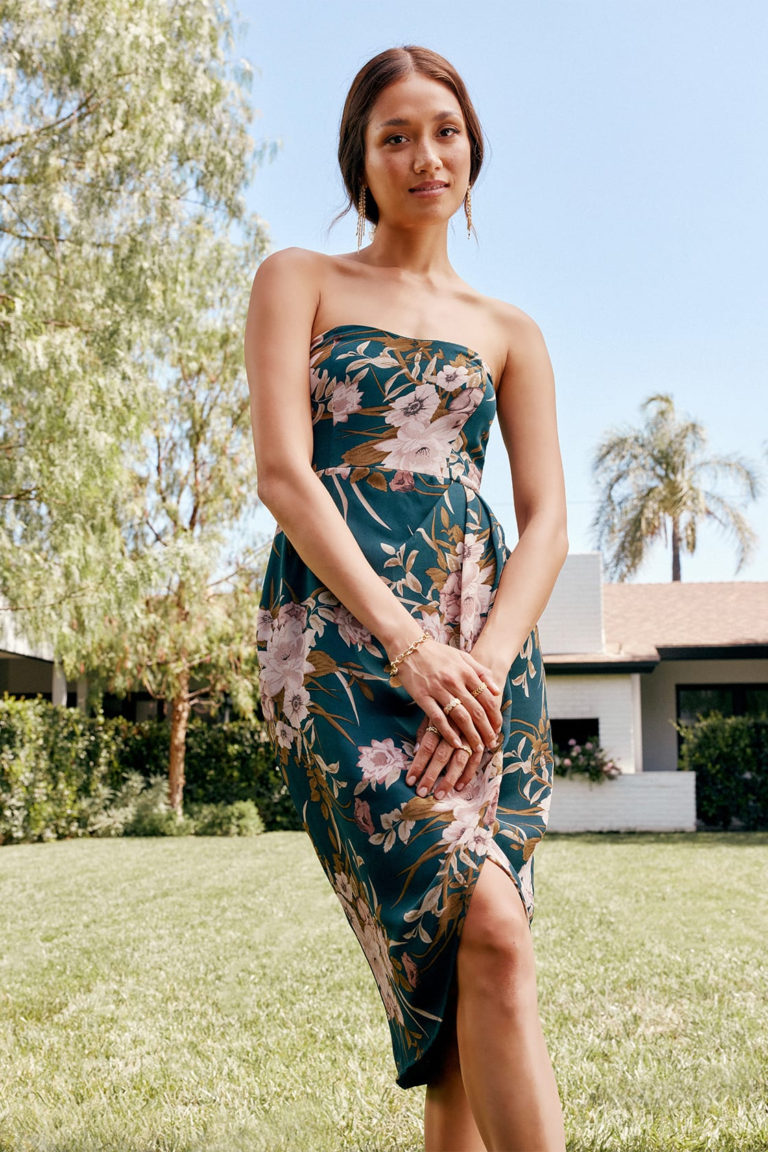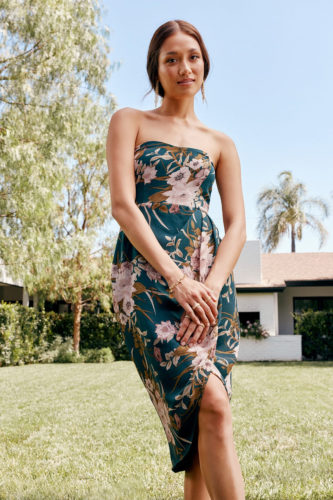 Try a strapless dress for a sleek look; this one features a super cute floral print and no-slip strips to help ensure that it won't fall down as you dance the night away.
9. Neutral Ruched Midi Dress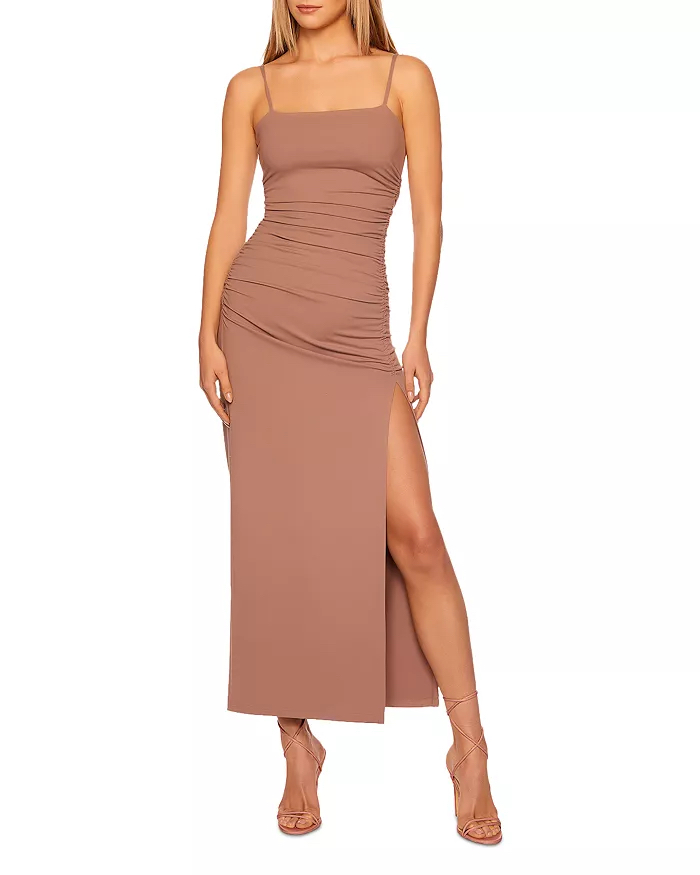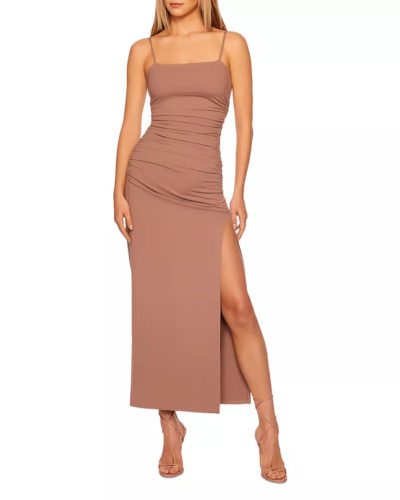 Are you into neutrals? This neutral-colored midi dress is simple yet stylish, with ruching along the sides and a sleek square neckline. Its simplicity means it will withstand the trend cycle and can be glammed up with sparkly jewelry and heels.
10. Ruffled Floral Print Dress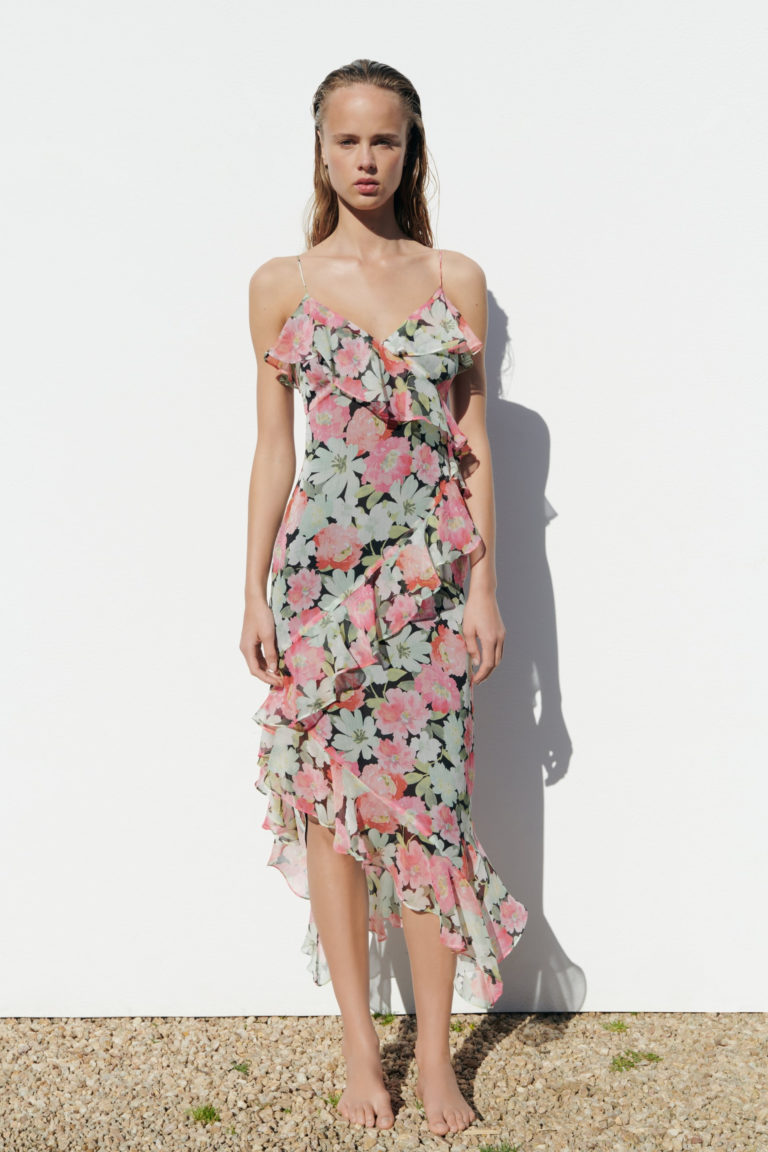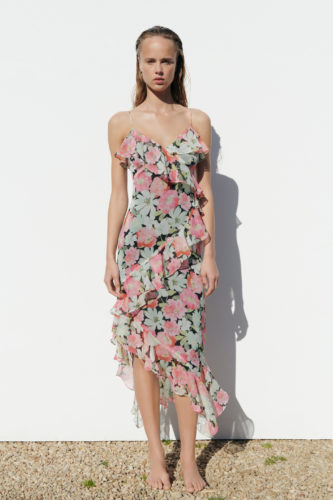 Ruffles adorn this pretty floral print midi dress, adding feminine flair and movement as you walk (and dance). Its oversized floral print feels especially fresh for the spring and summer seasons.
11. Gold Pleated Maxi Dress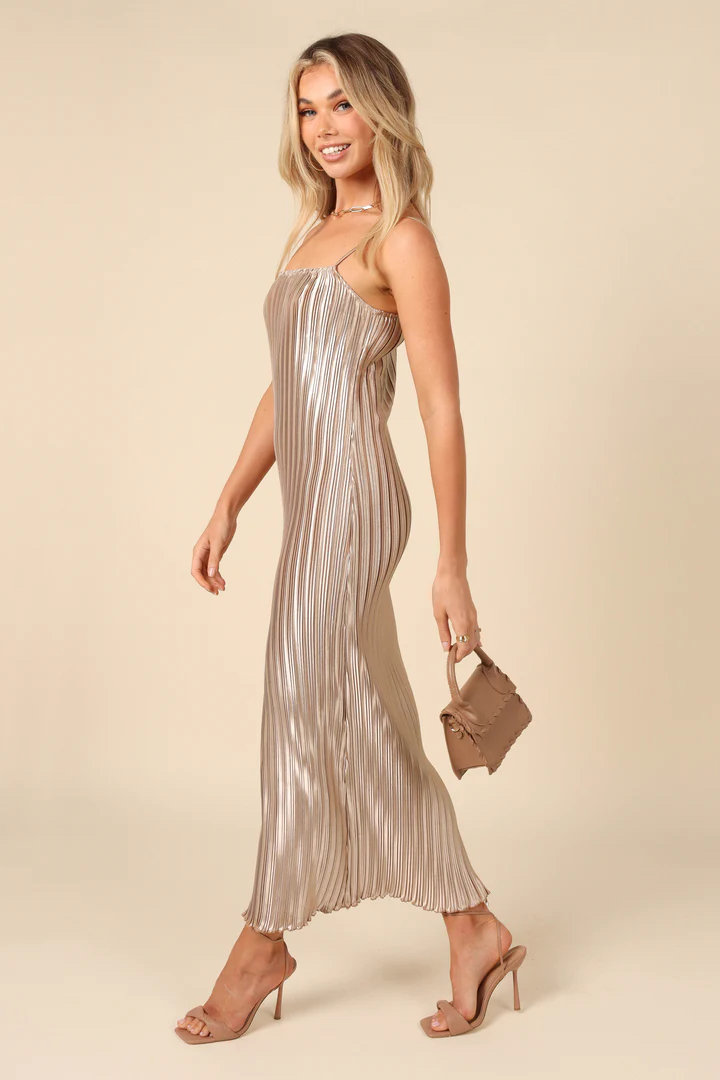 Go for the gold in this fabulous gold-colored pleated maxi dress. Its bubbly metallic hue makes it super unique, while its pleated design keeps it elegant. Accessorize this dress with nude accessories for a chic wedding guest look.
12. Short Sleeve Swiss Dot Midi Dress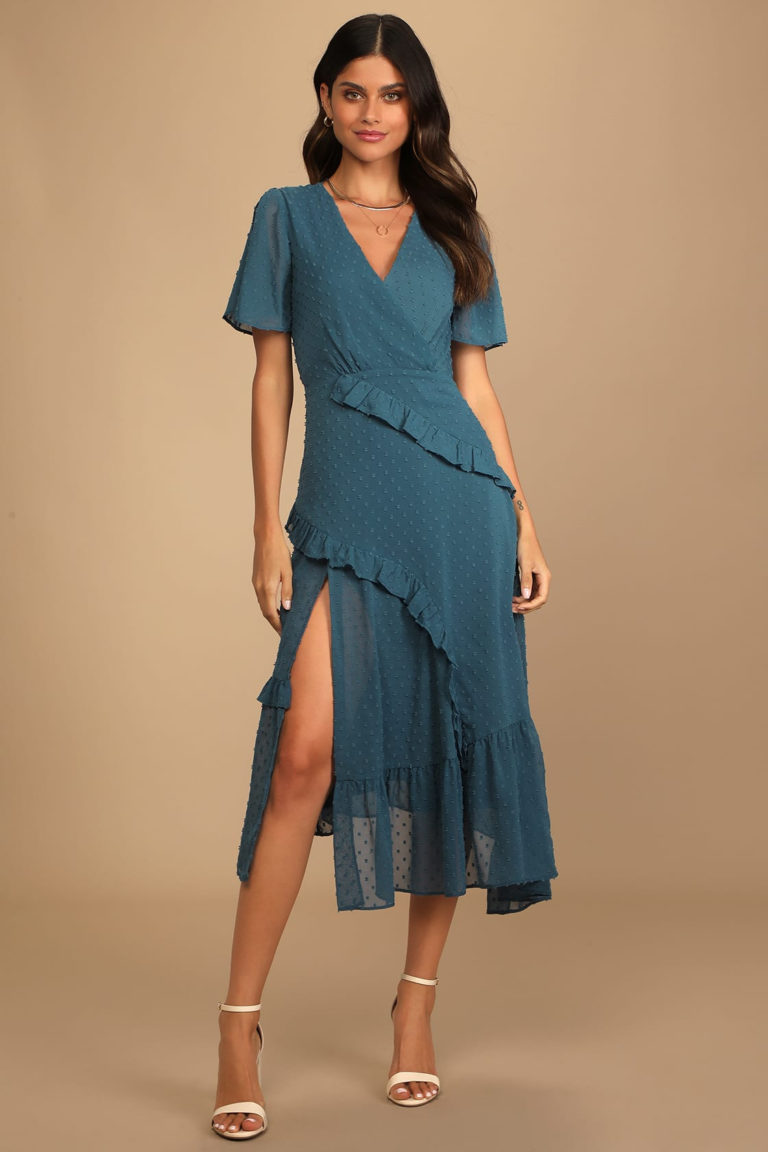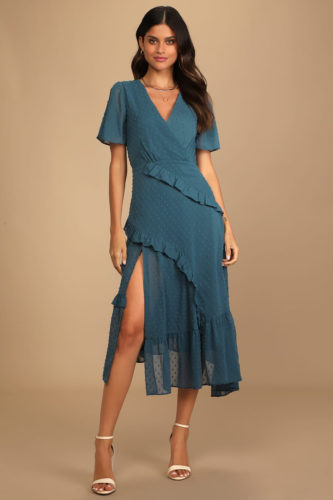 Looking for a bit more coverage? Try this short-sleeved midi dress with an adorable swiss dot texture throughout, plus ruffle detailing. It comes in many different colors and can be dressed up or down depending on the wedding's dress code.
13. Silky Maxi Dress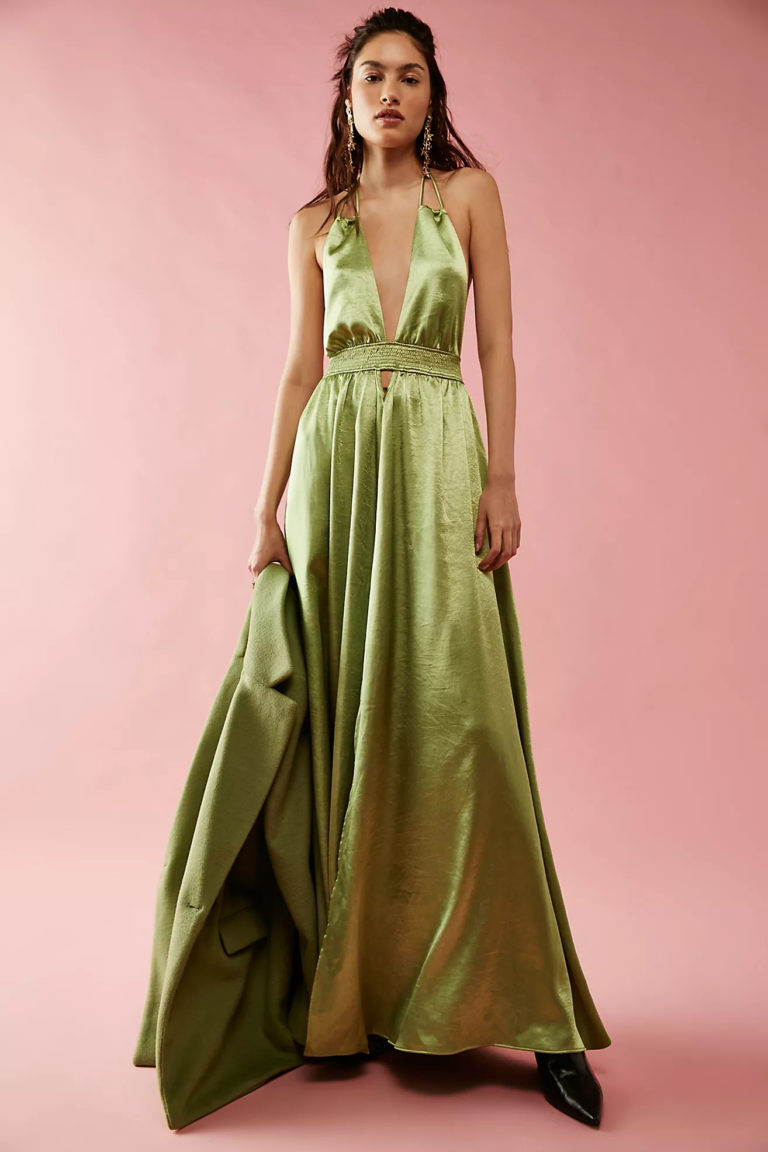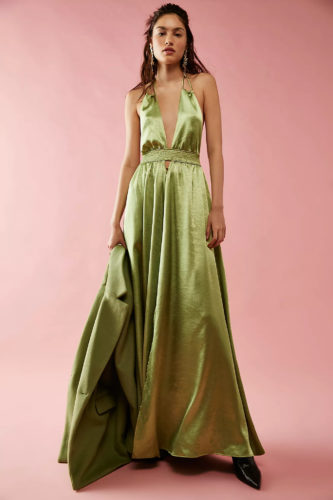 For a beachy wedding, consider this silky maxi dress with a deep V halter-neck and open back. While it has a summery design, its silky fabric keeps it looking polished—and you could totally wear it with flat sandals (or even barefoot) on a beach.
14. High-Neck Mini Dress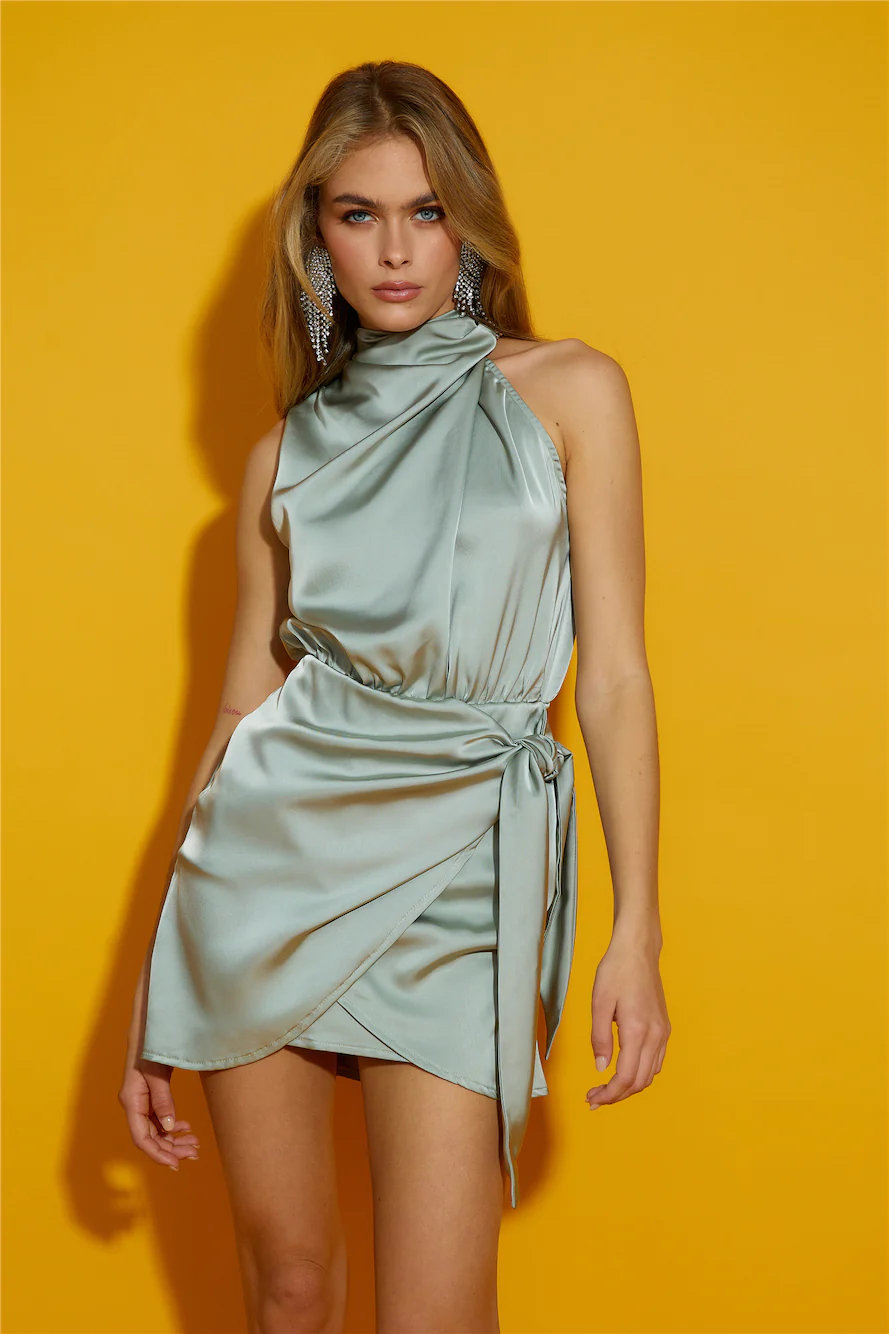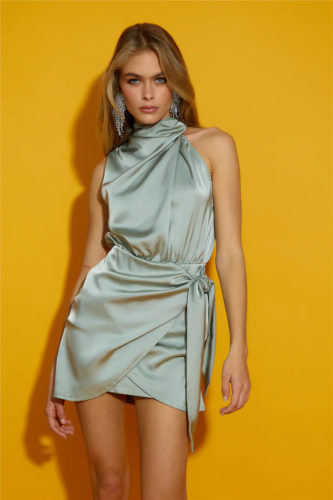 If you want to wear a mini dress to a wedding, be sure to consider both the fit and fabric of the dress. This sage green mini dress has an elevated look because of its silky material and elegant draped design. Also, its high neckline helps to balance out its shorter length, so that it comes across as classy rather than overly revealing.
15. One-Shoulder Crepe Cocktail Dress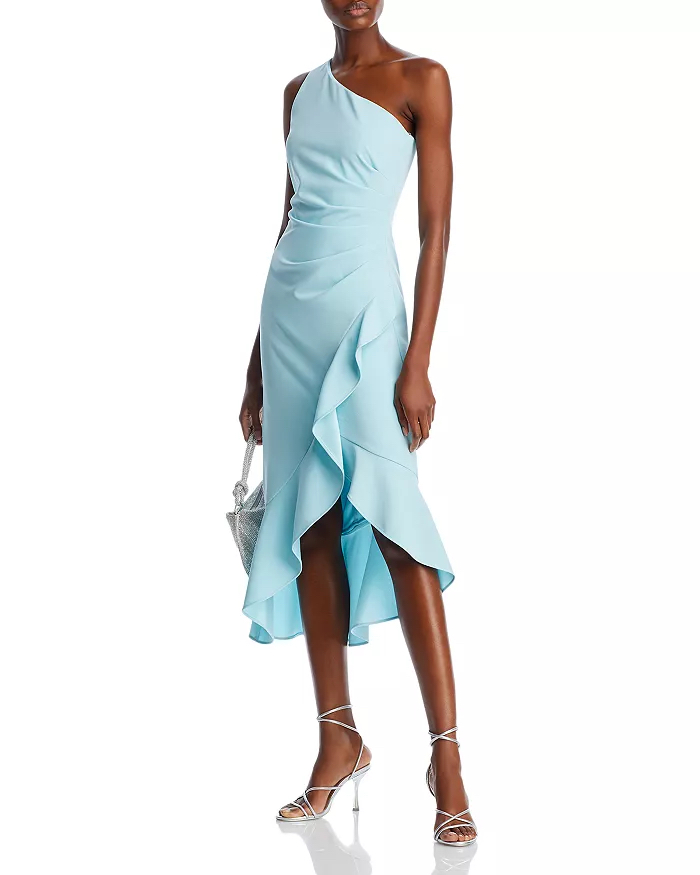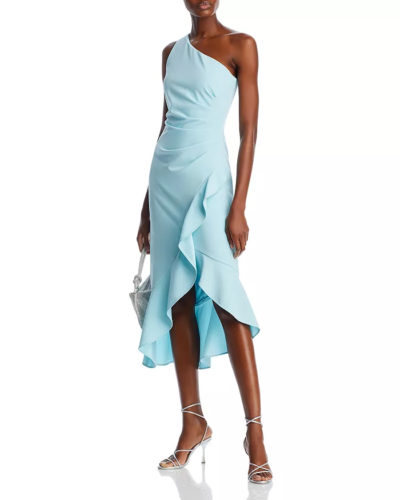 Does the wedding invite say cocktail attire? Then this blue one-shoulder crepe cocktail dress makes for a great choice. It comes in sizes 0-18, with a body-hugging fit and stretchy (read: comfortable) fabric. Its front-vent flutter skirt is also perfect for dancing!
16. Backless Lace Mini Dress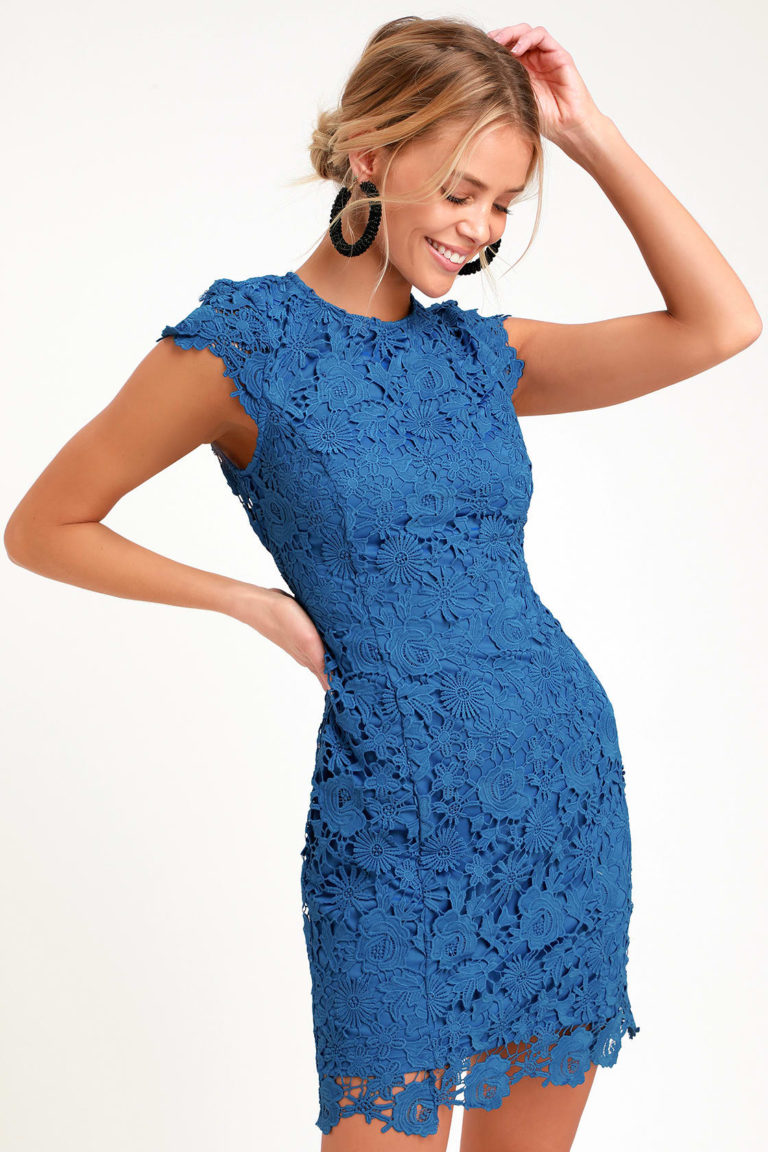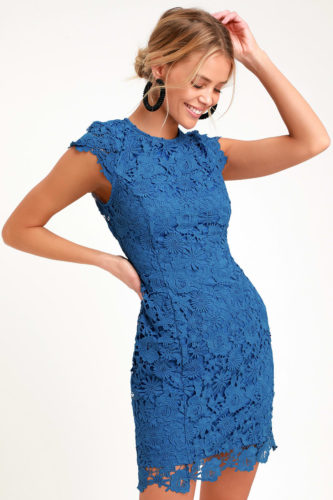 Lace fabric and cap sleeves help to balance out the backless design of this cute mini dress that would work for a not-super-formal wedding. Style this frock with some oversized drop earrings for a romantic vibe.
17. High-Low Gown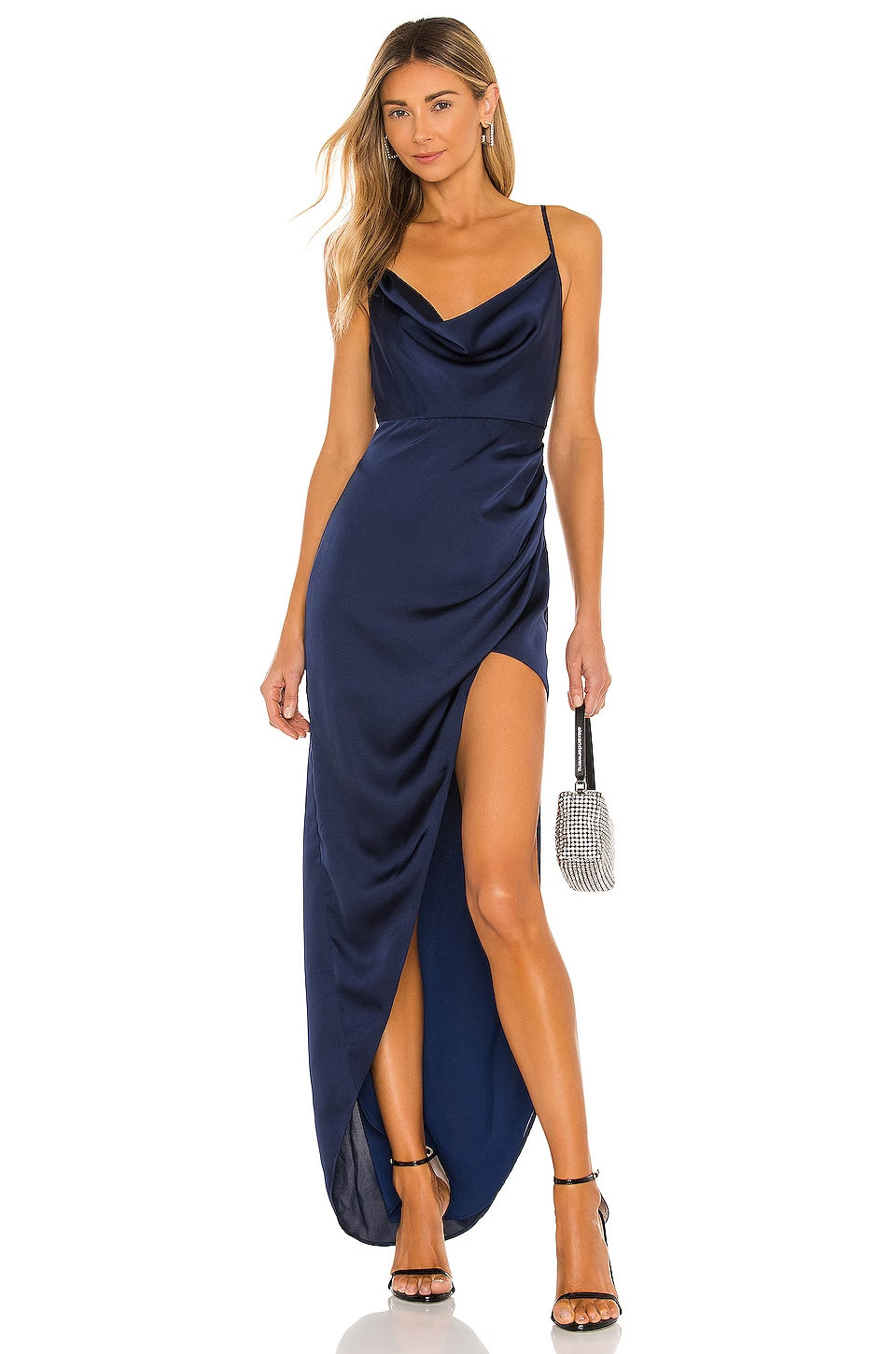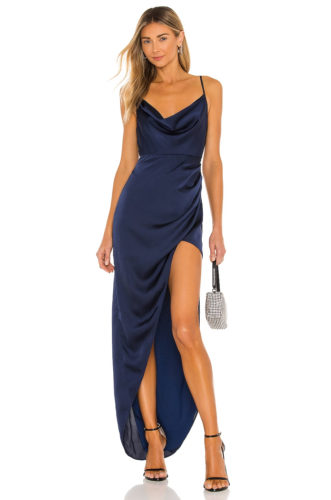 For a fancier wedding, this navy blue high-low gown will make a statement. It features an elegant cowl neck with a slit that gives it a high-low effect for a super stylish look.
18. Polka Dot Slip Dress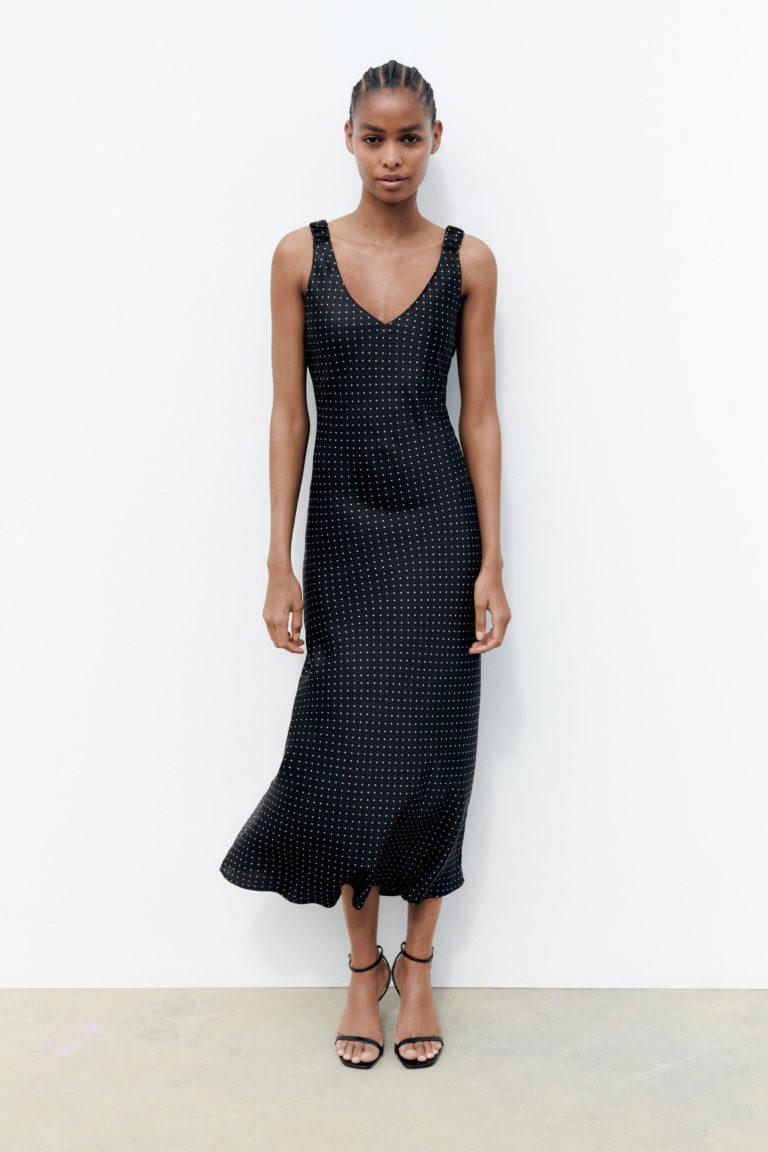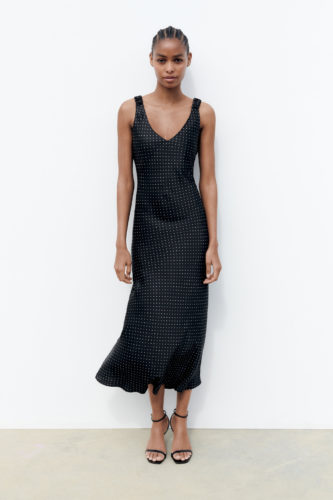 While floral prints are a popular choice, why not try polka dot print for a different look? This polka dot slip dress has a chic silhouette and a classic black-and-white color scheme.
19. Puple Halterneck Mini Dress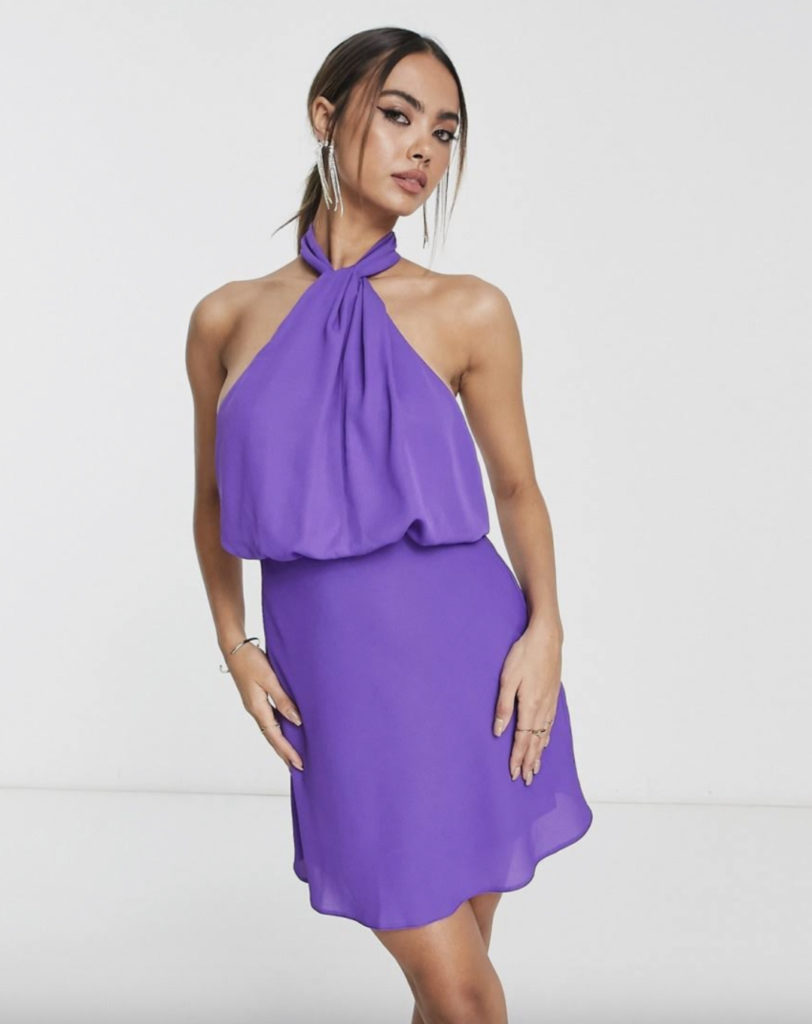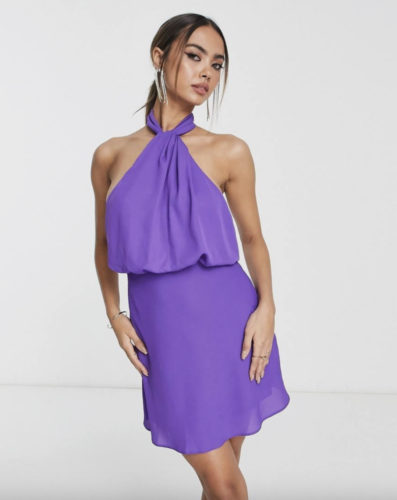 In spring and especially summer, bright colors are a fun way to add personality to your wedding guest outfit. The color of this purple mini dress is super unique, adding a summery feel to its floaty, halterneck design.
20. Cowl Neck Maxi Dress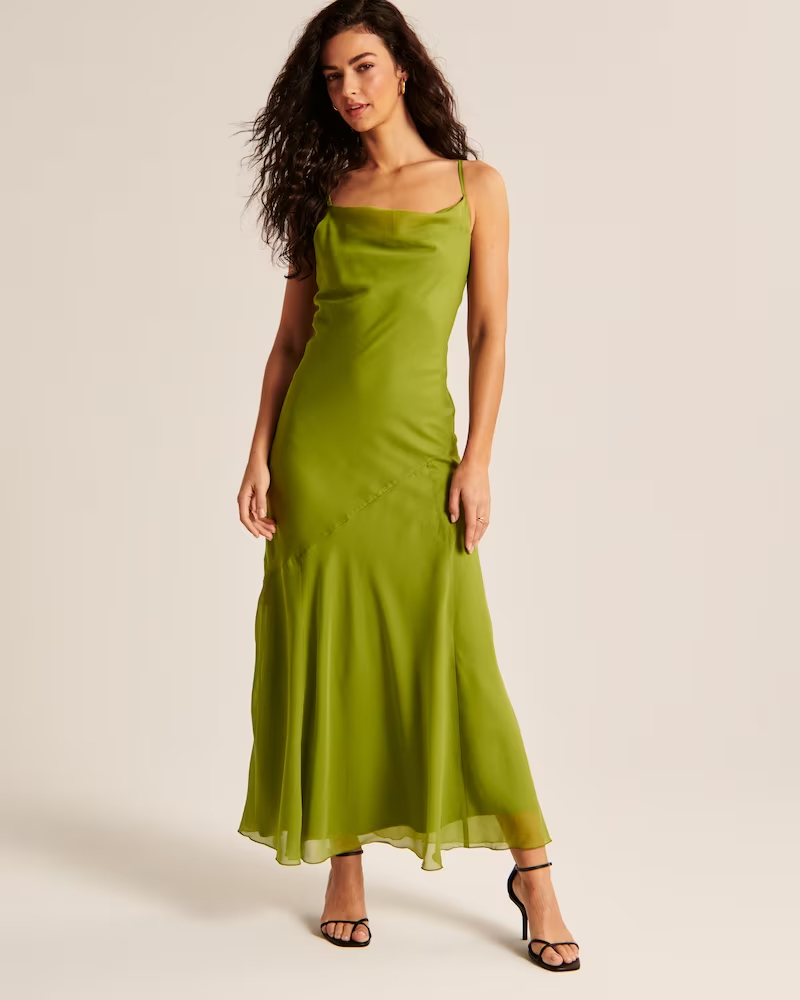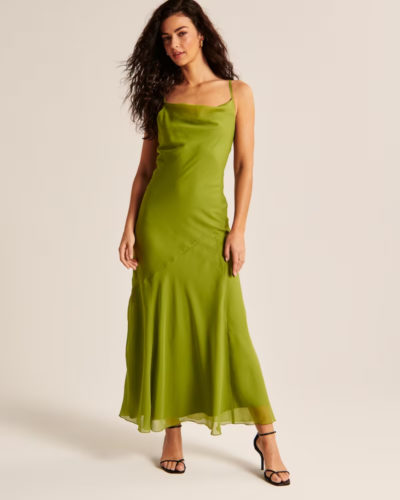 Speaking of unique colors, I am so into this maxi dress's shade of green (it also comes in two different floral prints). I doubt that anyone else at the wedding you attend will be wearing the same hue—nor will their dress flow as effortlessly as this one will!
21. Lace Cut-Out One-Shoulder Short Dress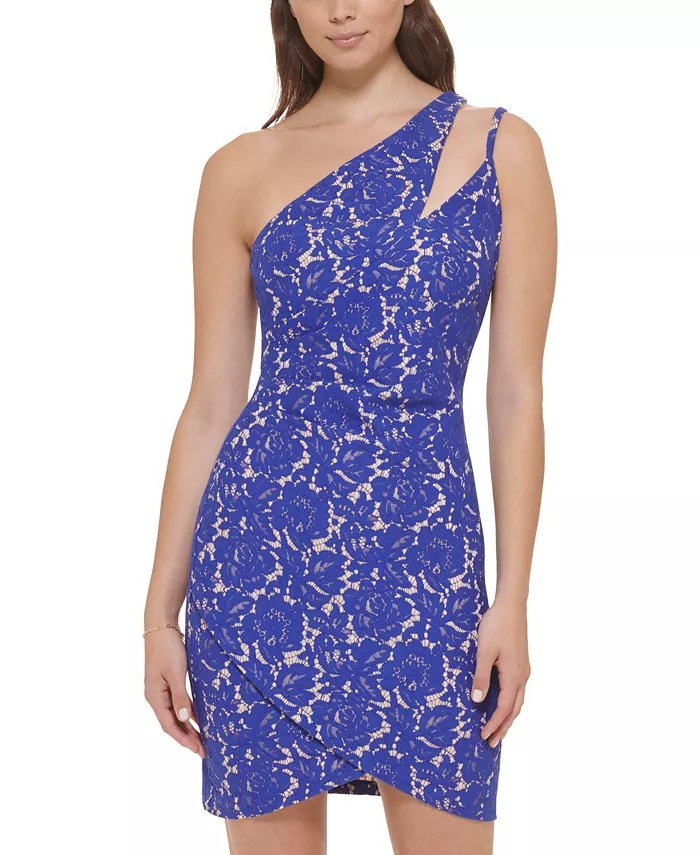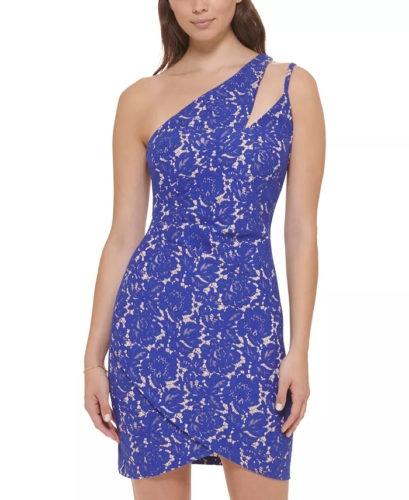 Bonded lace fabric? Check. One-shoulder design? Check. Cut-out detail? Check. This dress has got it all going on!
Still, its high neckline and short but not too short hemline keep it wedding-appropriate, especially if paired with some neutral-colored heels.
22. Off-the-Shoulder Trumpet Midi Dress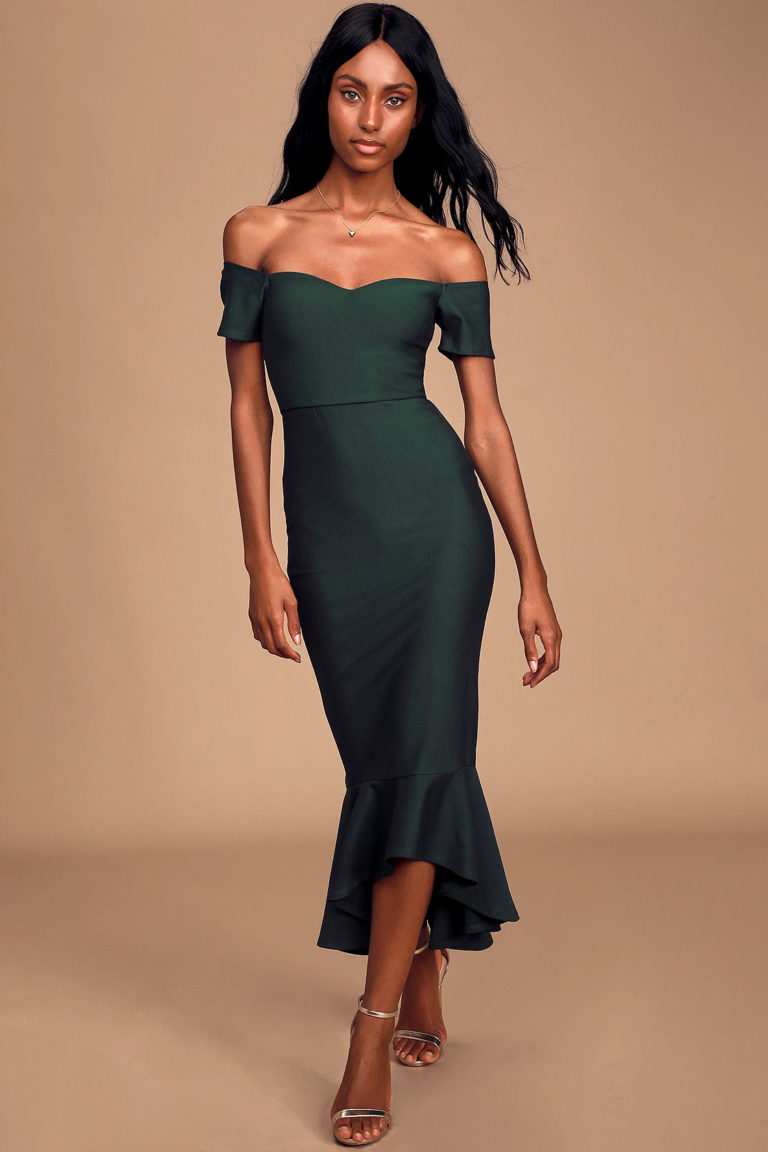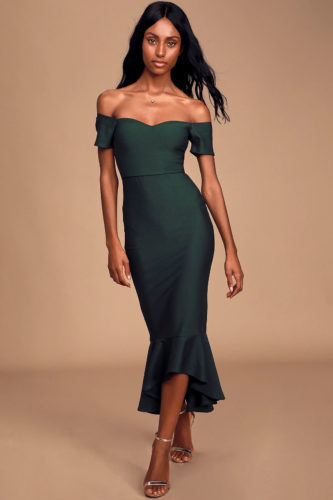 It doesn't get chicer than this dark green off-the-shoulder midi dress with a ruffled trumpet skirt. This dress has a super flattering silhouette with a darted bodice and is made of stretch-knit fabric that will help keep its shape throughout the festivities.
23. Floral Print Pleated Cut-Out Midi Dress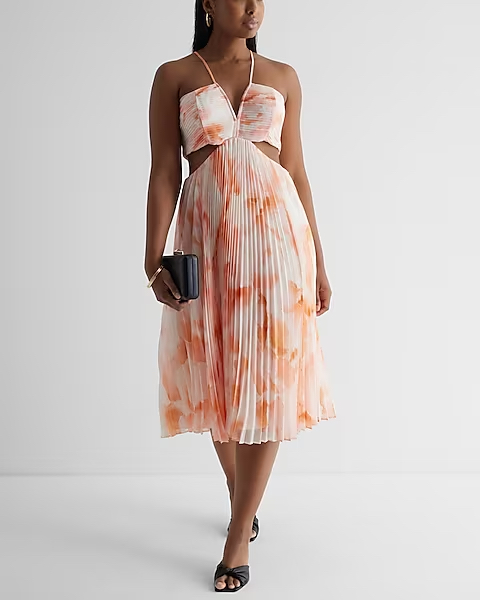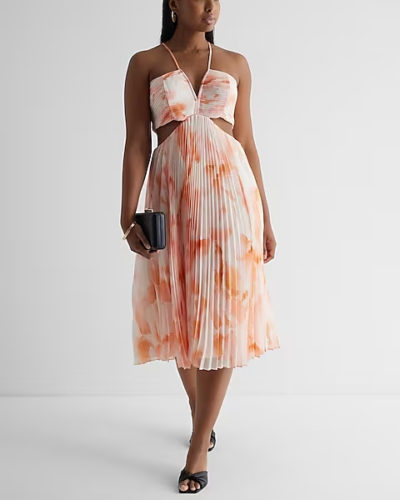 This floral print pleated midi dress is giving major spring and summer vibes with its pastel orange color palette and flowy pleated skirt. Plus, its side cut-outs are perfectly sized, showing a hint of skin.
24. Strapless Trumpet Maxi Dress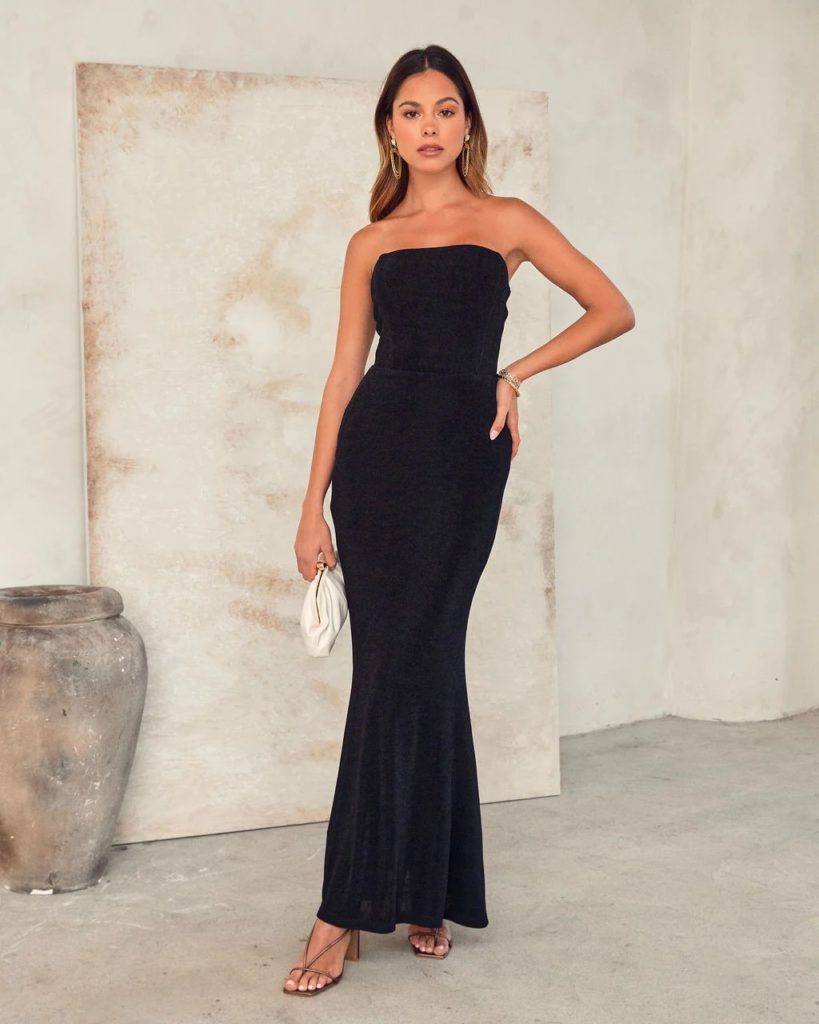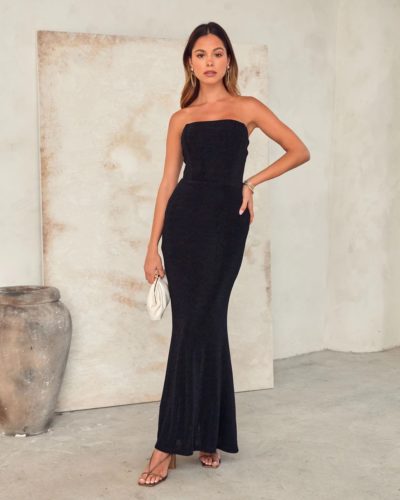 You don't always need a ton of *extras* to make an impact with your outfit. Though simple in design, this strapless black maxi dress makes a major statement, especially with the right shoes and accessories.
This dress will never go out of style, making it a great wardrobe investment that you can reinvent for years (and weddings) to come.
25. Floral Ruffle Midi Dress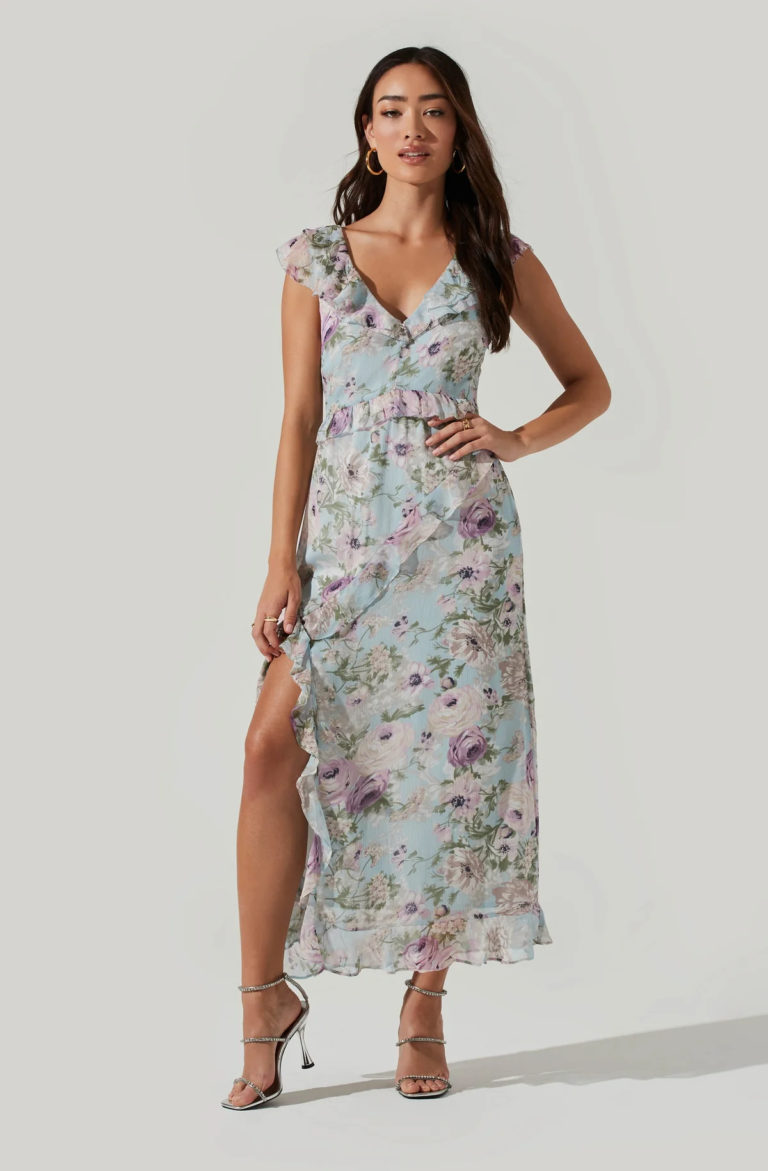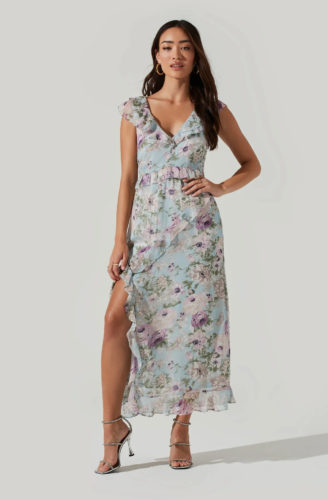 How sweet is this floral print ruffled midi dress? With ruffle trim running along the hem, neck, and waist, it has a feminine charm that you can enhance with your jewelry and handbag.
26. Satin Lace-Up Back Maxi Dress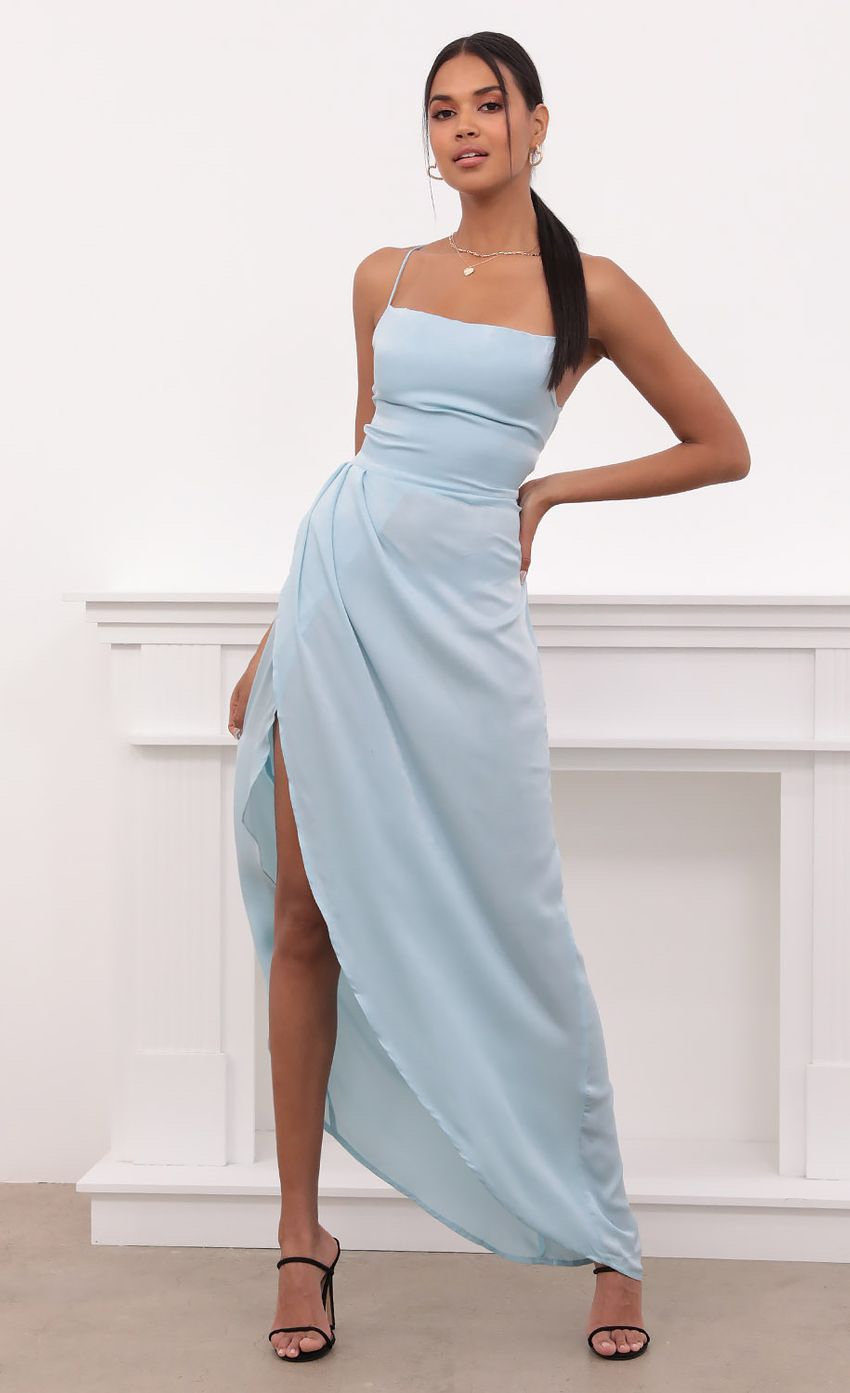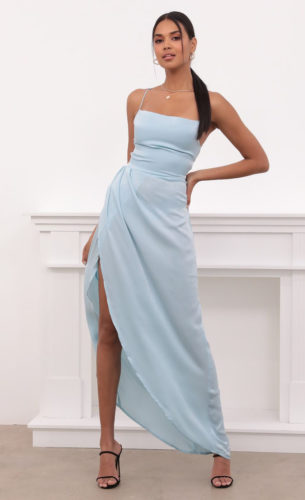 This satin maxi dress is as gorgeous from the back as it is from the front, since it has an eye-catching lace-up back design. Its slit also gives it an effect similar to a high-low dress which adds interest, along with its fabric's subtle matte shine and texture.
27. Ruched Midi Dress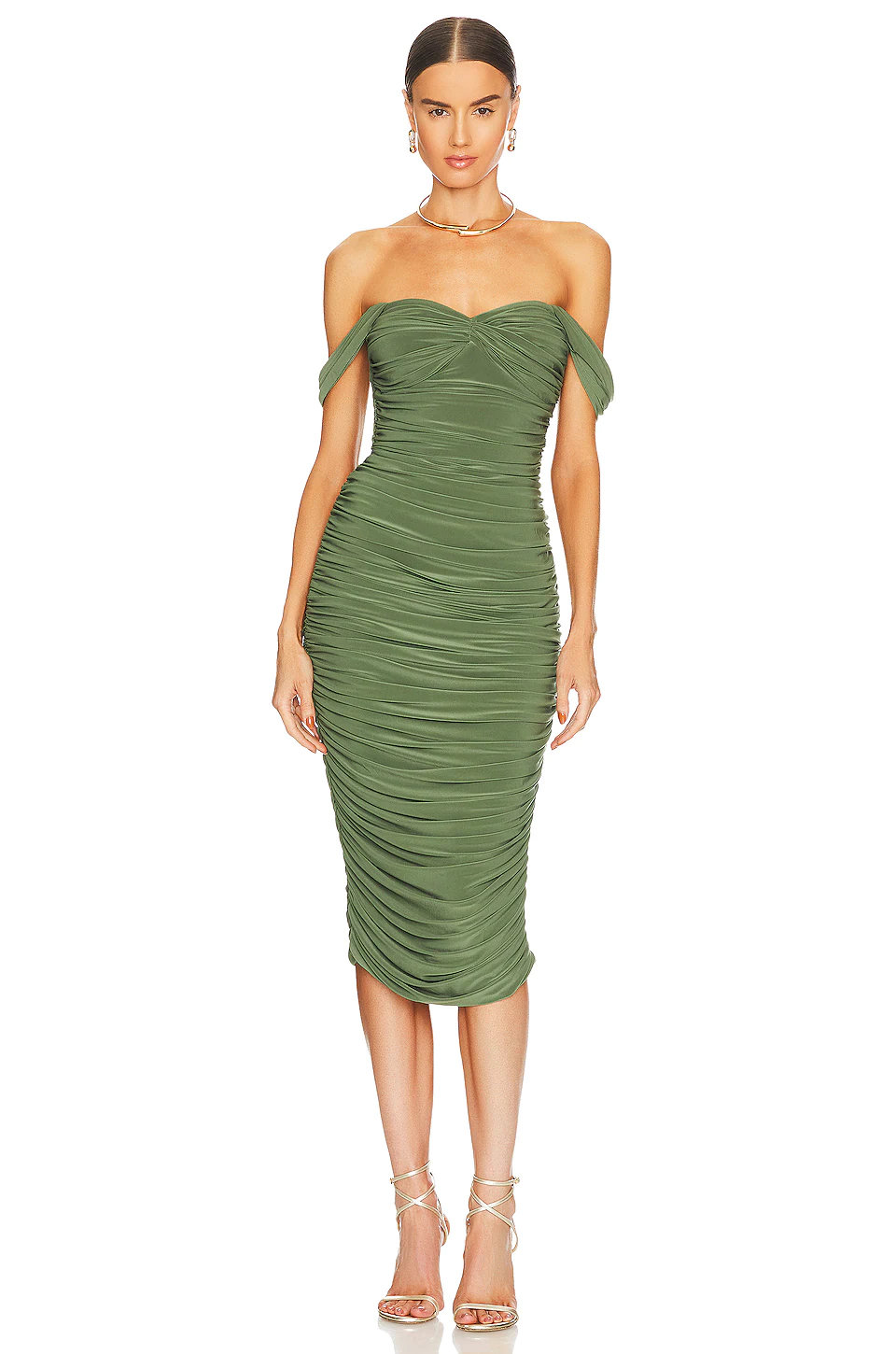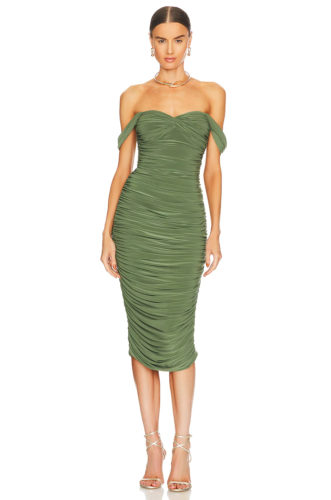 Allover ruching on this midi dress is going to enhance your curves in a classy way. Its off-the-shoulder styling also makes for the perfect canvas to show off a statement necklace!
28. Yellow Floral Print Midi Dress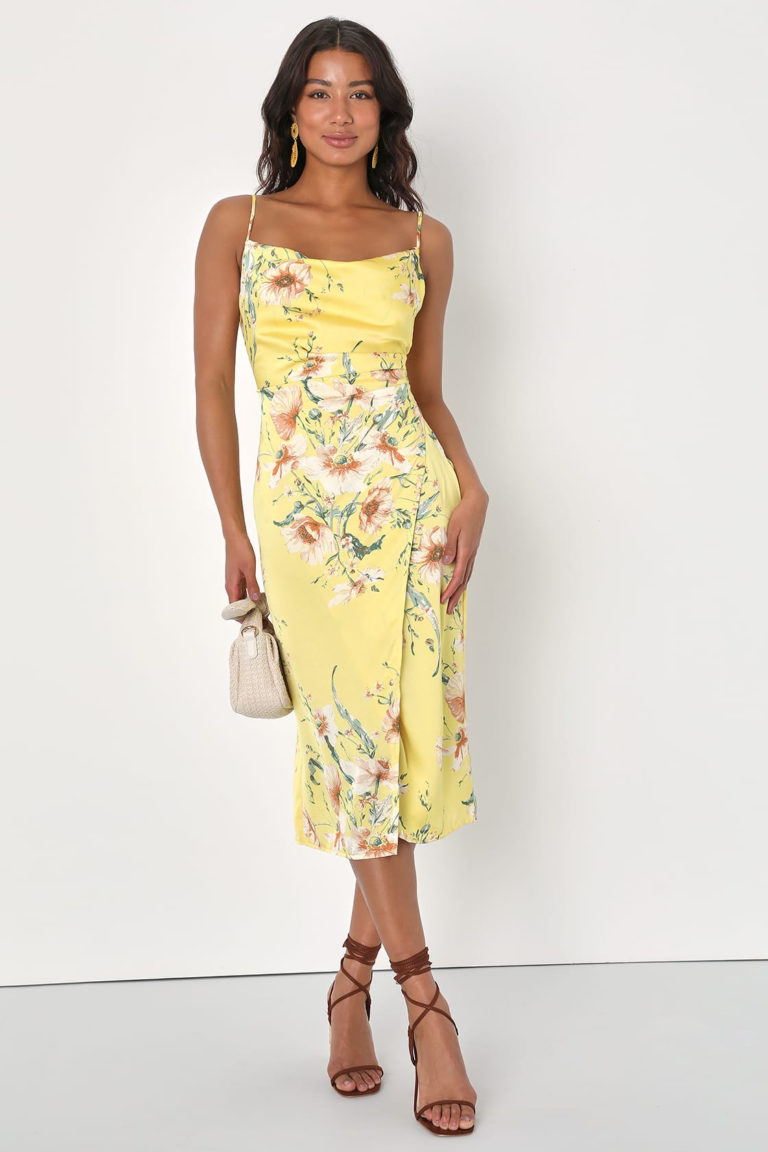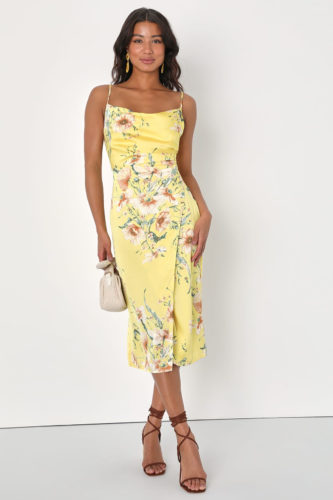 Yellow is such a happy color, so wearing it to a happy occasion like a wedding makes perfect sense! The yellow floral print on this midi dress with a cowl neckline and fitted bodice gives it such a cheery feel, while also being ideal for spring or summer.
29. Floral Tiered Skirt Dress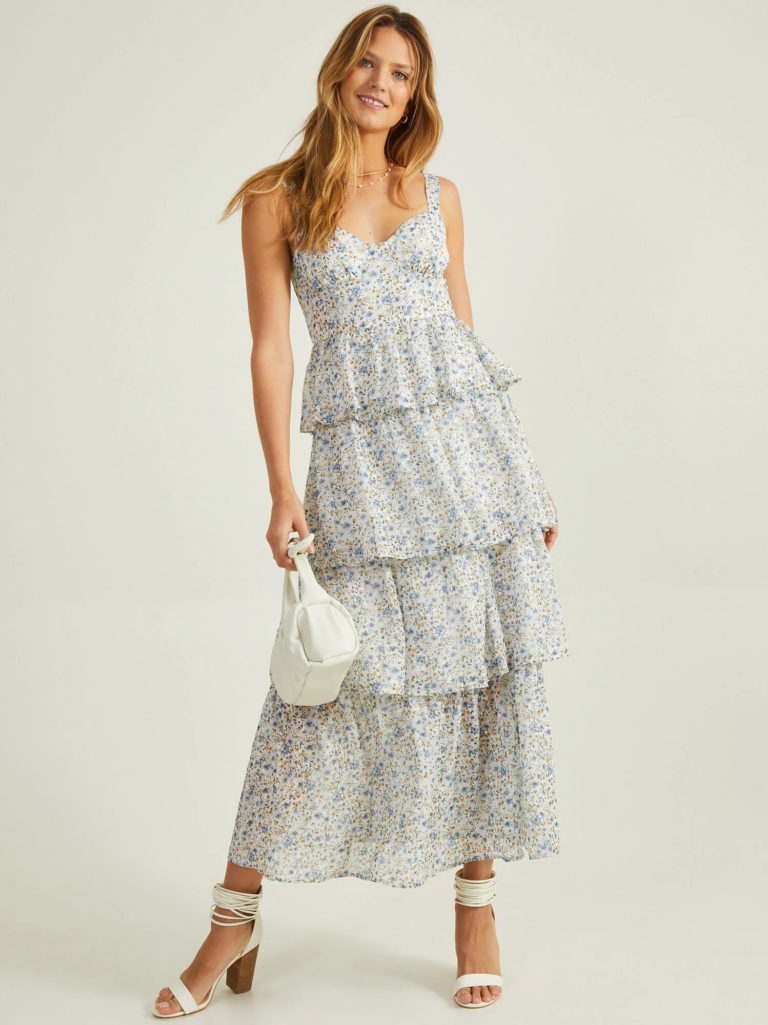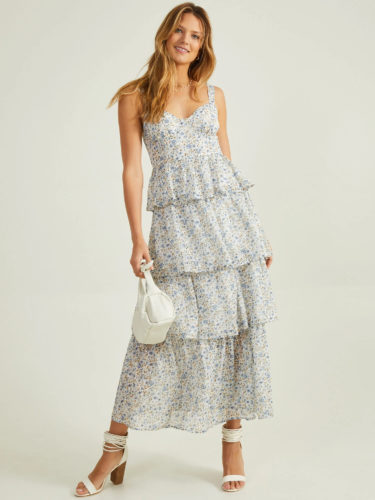 A ruffled, tiered skirt makes this floral print dress a blast to wear, since it will move along with you and gives the dress a distinctive look. Its cups at the bust and fitted bodice help balance the fuller skirt for a feminine fit.
Fall and Winter Wedding Guest Dresses
Fall and especially winter weddings can be a bit trickier to dress for…or at least it can feel like it when you're searching for a dress that won't leave you shivering as you partake in the celebrations. Don't worry, though—I've rounded up some gorgeous dresses that are just right for weddings during colder seasons,
30. Off-the-Shoulder Maxi Dress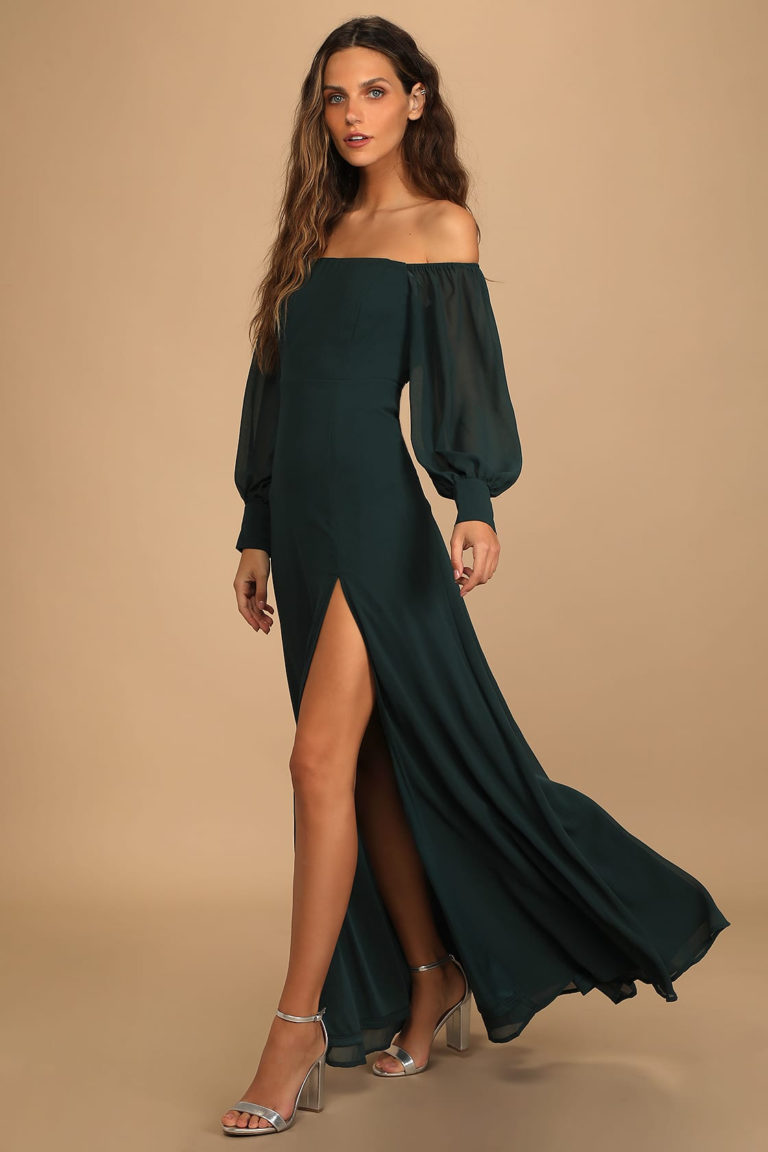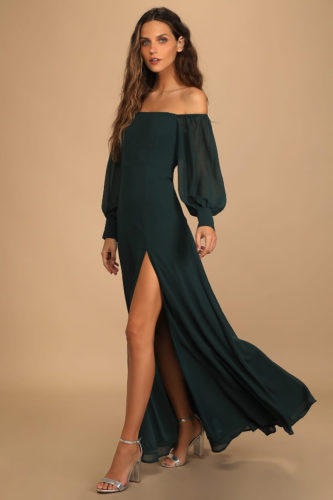 From its rich emerald green hue to its long sleeves and maxi length, this maxi dress is perfect for a wedding during the fall or winter. The gauzy fabric lends a flowing silhouette to the dress, while an off-the-shoulder design, balloon sleeves, a princess-seamed bodice, and a front slit all add to its glamorous look.
This dress is available in sizes XS-3X, and also comes in black, burgundy, and gray.
31. One-Shoulder Gown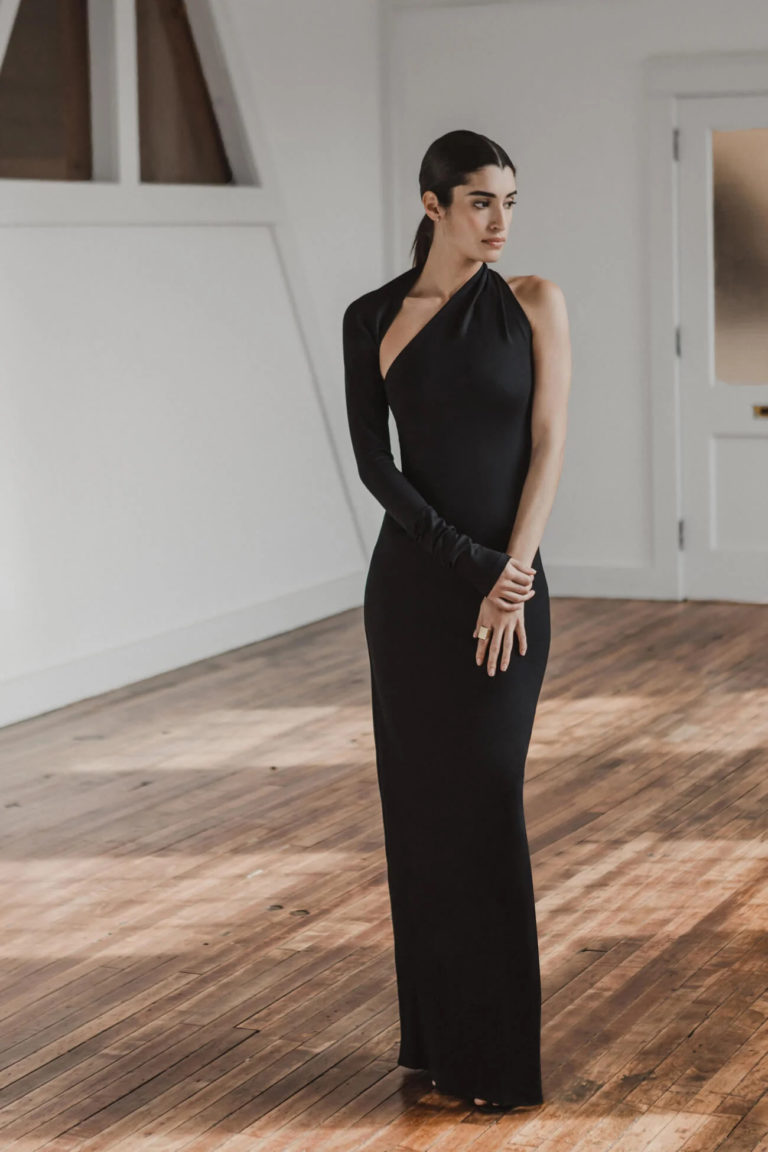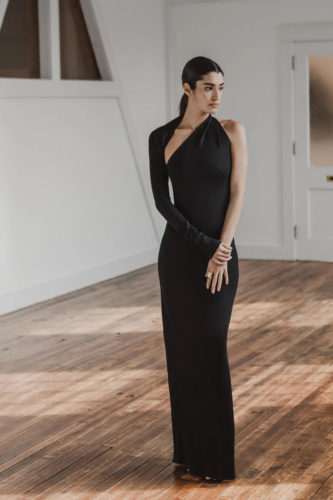 You're going to feel like a million bucks in this stunning black one-shoulder gown (but without breaking the bank since it is under $150!).
This elegant dress is ultra-flattering with its halter neckline that continues to a long sleeve framing an open back. The long sleeve and maxi length, plus the black hue, make this gown ideal for weddings in the fall and winter.
32. Satin Wrap-Front Midi Dress (Under $40)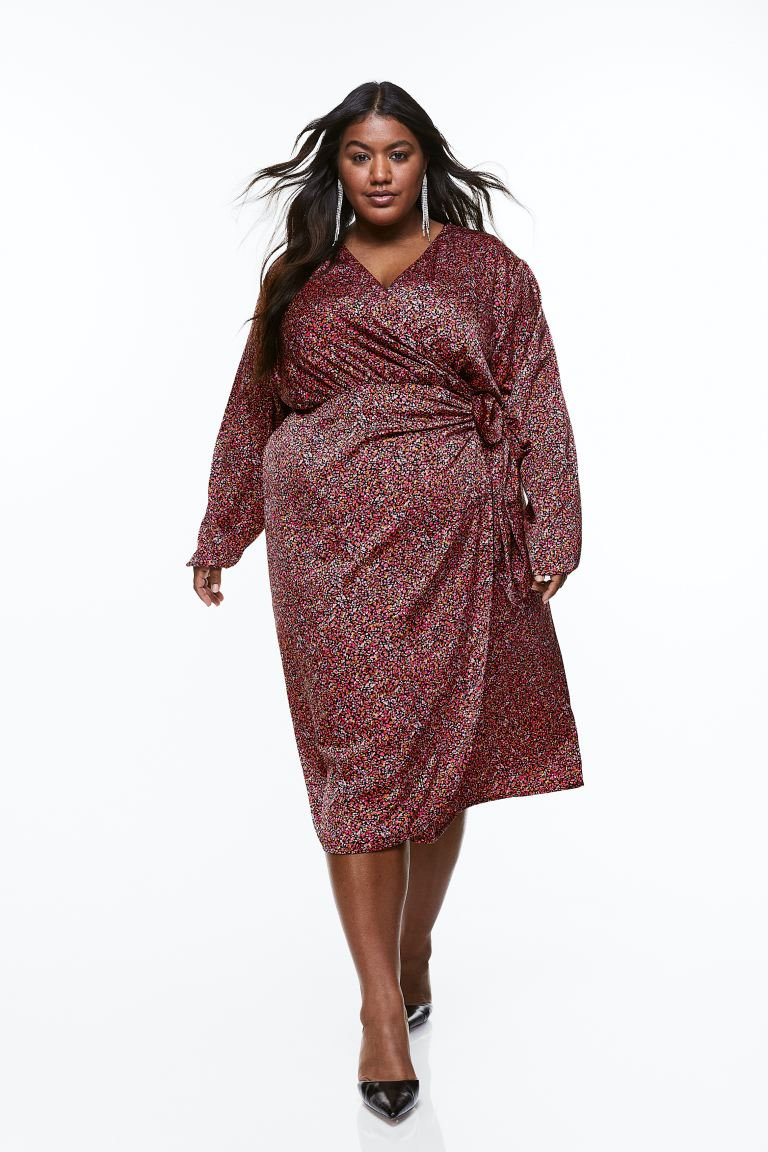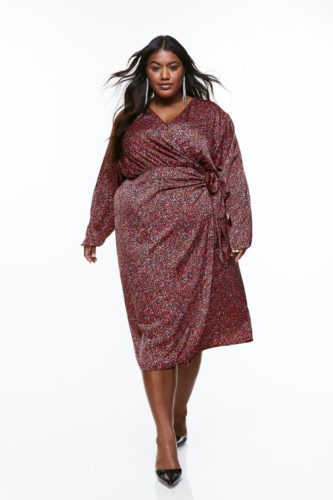 If a floor-length dress isn't your thing, try this long sleeve wrap-front midi dress. It has a shiny, satiny material with a colorful print that will look incredible with some cute jewelry, heels, and a clutch bag. This dress is available in sizes XS-XXL, and also comes in black and burgundy.
33. Velvet Long Sleeve Backless Maxi Dress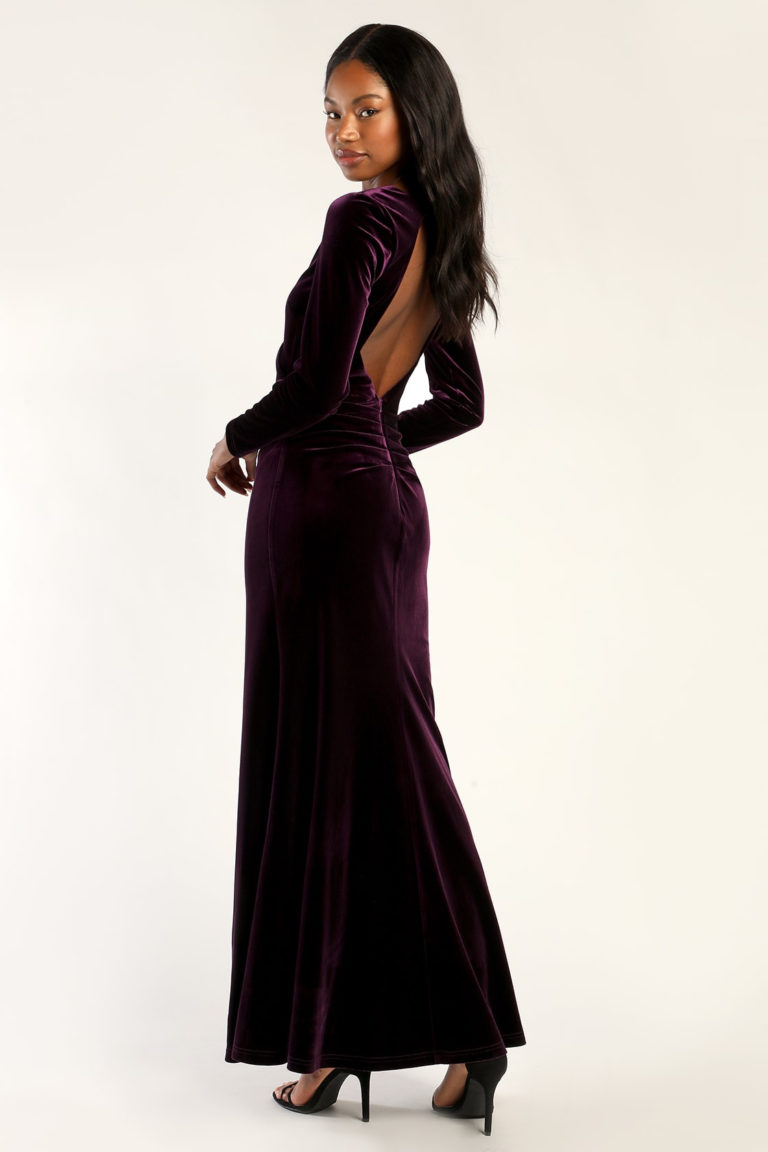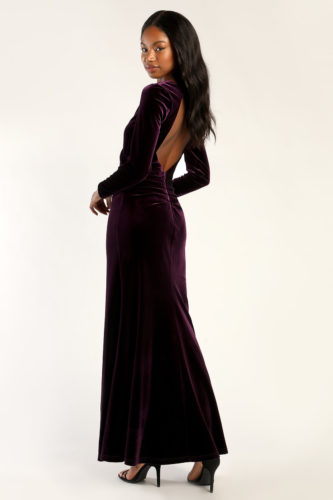 Velvet is one of the best fabrics to opt for when looking for a winter wedding guest dress because it's heavier than other traditional dress fabrics but still has an elegant, dressy look.
This plum-colored velvet long-sleeve maxi dress is a stunning option, especially because it features an open-back design that makes it stand out. It also has flattering gathered details at the sides and back, along with a fitted bodice.
34. Long Sleeve Off-the-Shoulder Midi Dress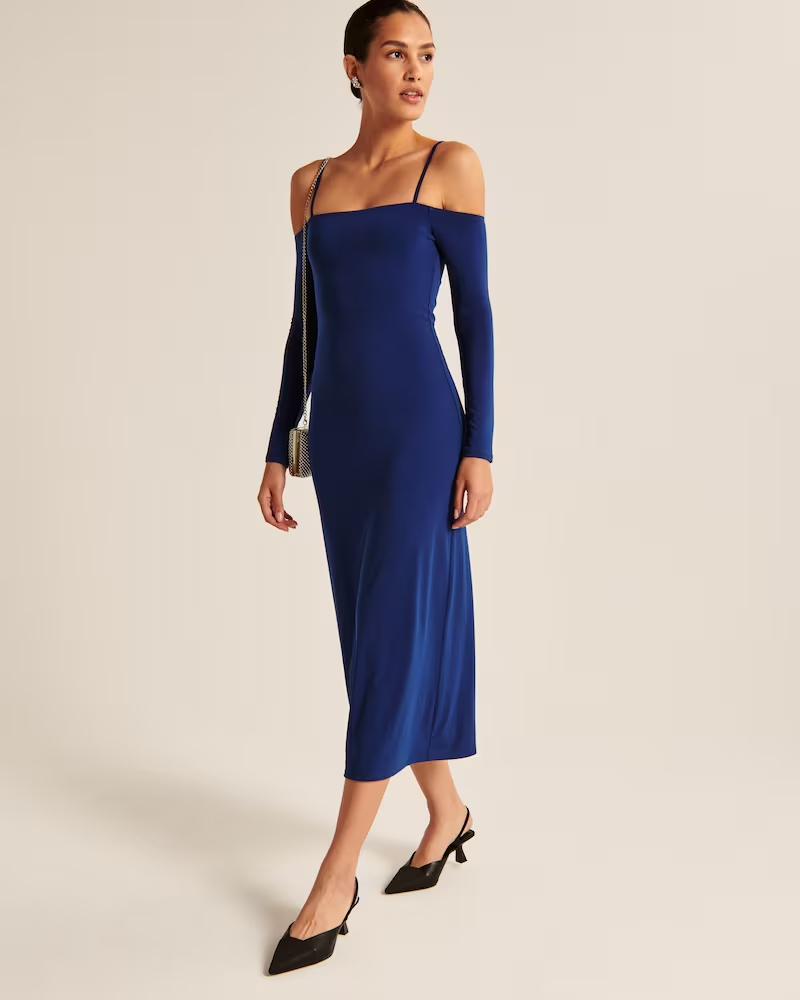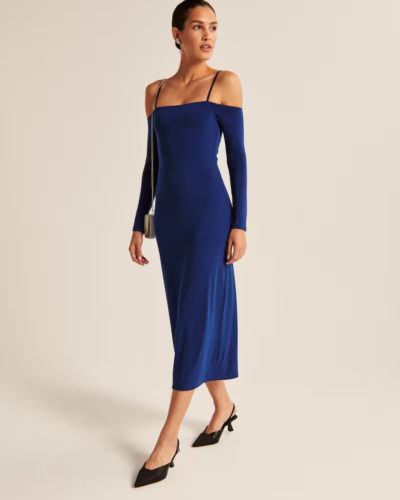 The vibrant blue hue of this midi dress makes it stand out, as does its cold shoulder long sleeves with shoulder straps for a unique touch.
This dress is made from a slinky knit fabric that is perfect for the fall and winter and will look beautiful with a neutral-colored pair of pumps.
35. Chiffon Sleeve Midi Dress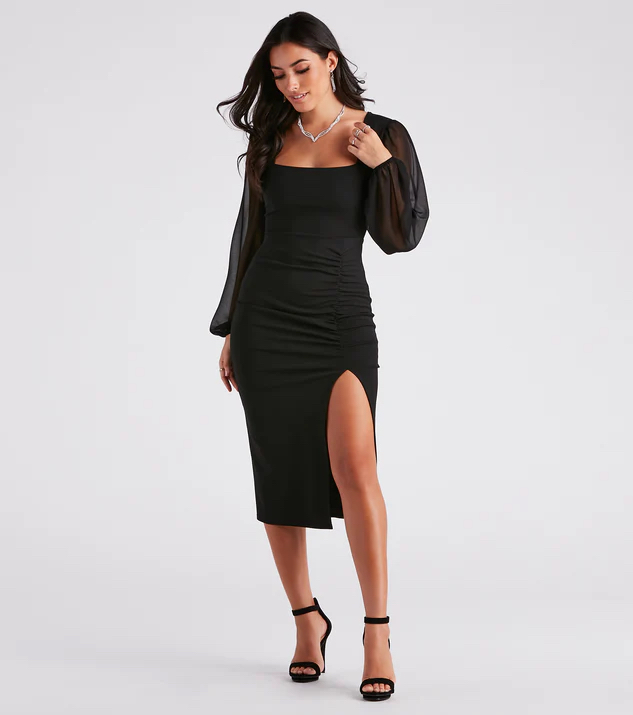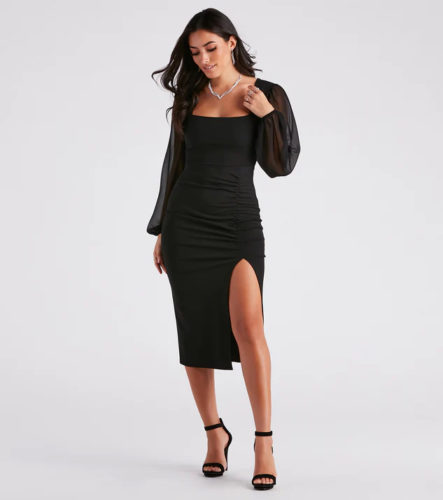 As mentioned before, you really can't go wrong with a classic black midi dress when attending a wedding, and that goes for the fall and winter too. This one features chiffon peasant long sleeves to give it more coverage, with a sleek square neckline and front slit.
Jazz it up with some sparkly earrings and a necklace, plus a cute handbag.
36. Dark Floral Print Maxi Dress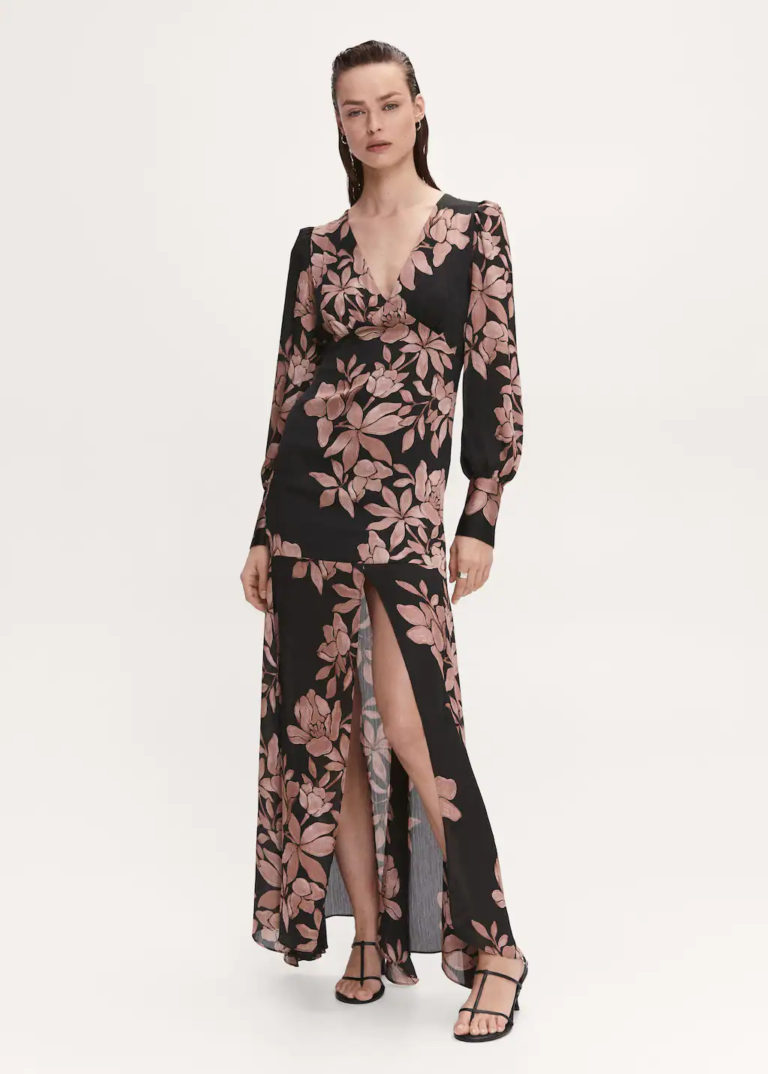 While you may think of floral print only for the spring and summer seasons, you can absolutely wear a floral print with a dark color scheme in the fall and winter.
This long sleeve maxi dress with a dark floral print has an elegant silhouette with a V-neck, blouson sleeves, and a front slit that will allow you to dance freely as you celebrate.
37. Velvet Wrap-Front Mini Dress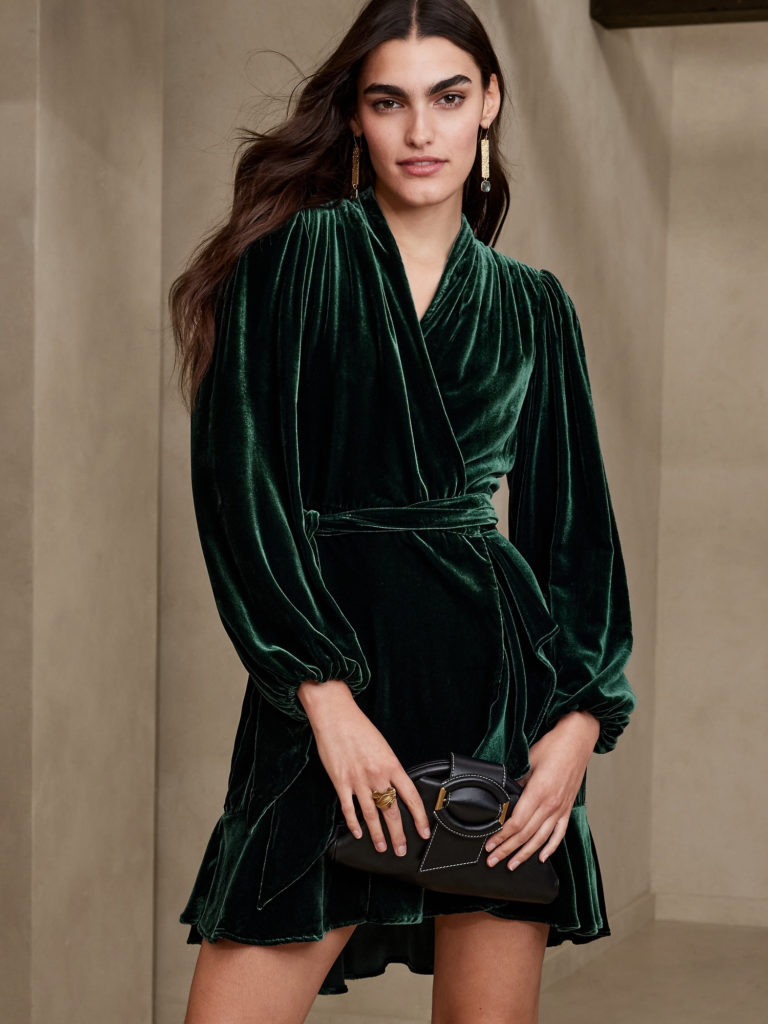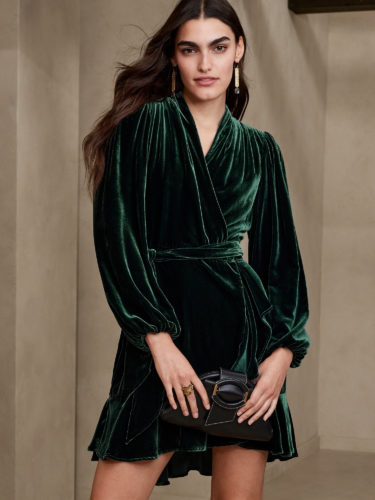 If the fall or winter wedding you're attending suggests cocktail attire, consider this velvet wrap-front mini dress in a rich green hue. Its luxe velvet fabrication, ruffled hem, and wrap-style design make it a winner, and you can wear it with tights for extra warmth if needed.
38. Floral Print Long Sleeve Midi Dress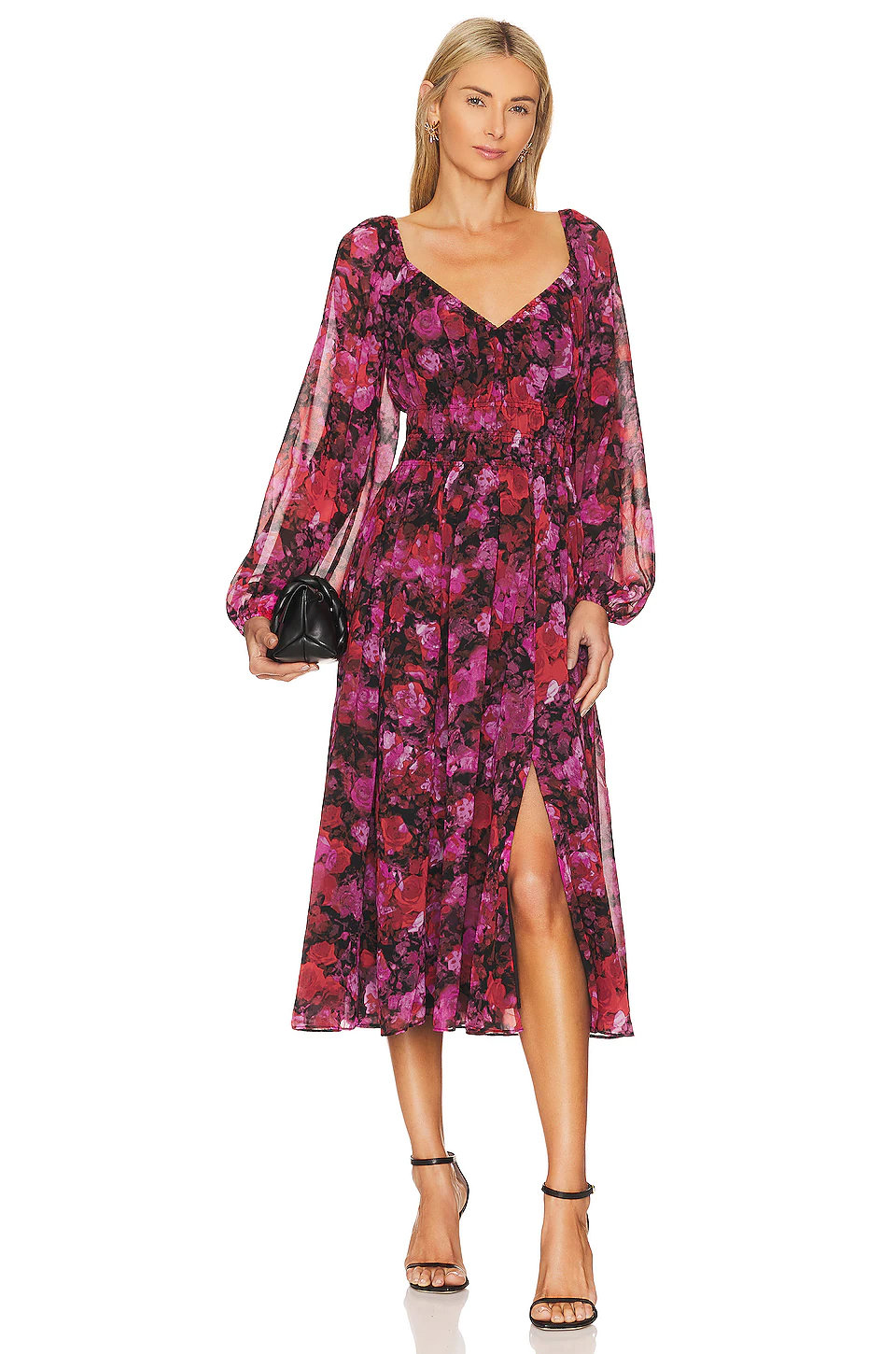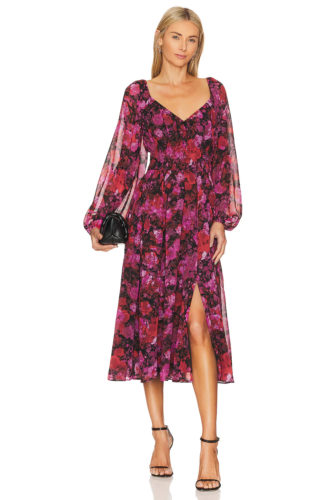 A floral print for all seasons! This floral print dress could be worn year-round thanks to its black, red, and magenta color scheme and midi length, though its long chiffon sleeves will give you coverage during chillier months.
I also adore its feminine neckline and smocked waist, which helps to make you look snatched.
39. Floral Jacquard Long Sleeve Midi Dress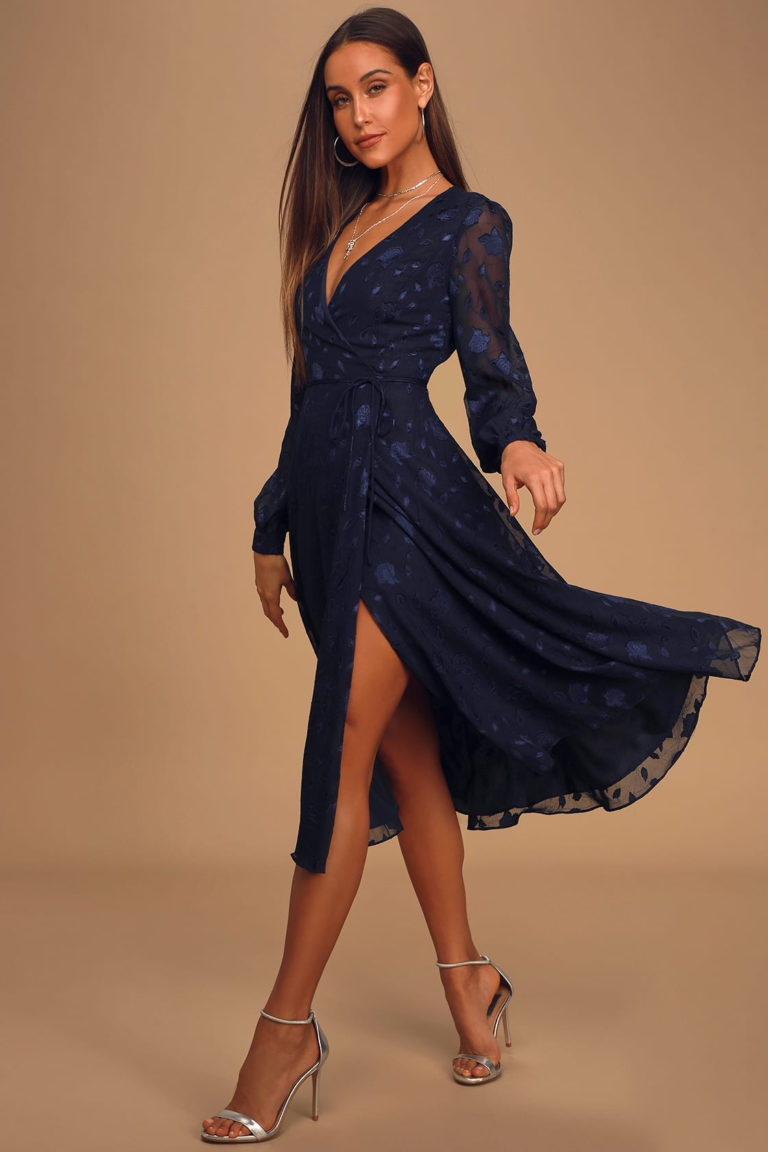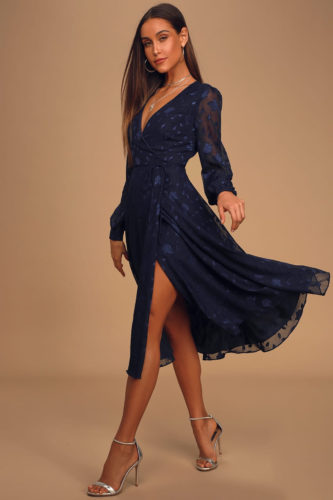 Available in navy blue and burgundy, the flowy design of this long sleeve midi dress was made for the dance floor. It features a floral jacquard pattern that adds interest to the woven fabric and an adjustable wrap-style waist (which can come in handy after the endless buffet or three-course meal!).
40. Sequin Mermaid Dress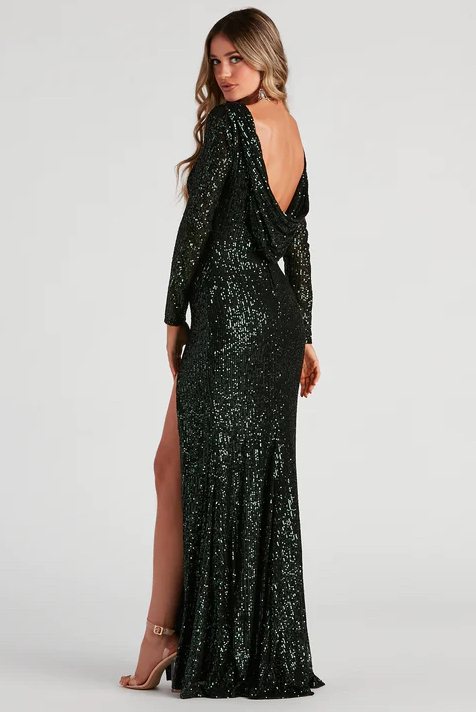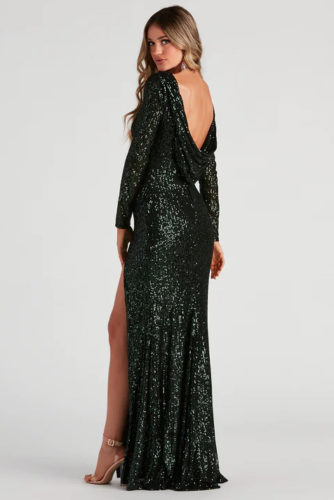 If you're headed to a fancy black tie wedding in the winter, consider this incredible sequin mermaid dress with long sleeves and a partially open back with draping.
Sequins can be appropriate for weddings with very formal dress codes, and this dress's dark hunter-green color helps balance out the sparkle so that it's not overly attention-grabbing (we don't want to upstage the bride).
Can you imagine how lovely this dress would look for a wedding during the holiday season?
Where to Buy Wedding Guest Dresses
Want more options? Check out these stores for great wedding guest dress options at affordable prices.
What do you think of our wedding guest dress picks?
Would you wear these wedding guest dresses? Which dress is your favorite? Leave a comment and let us know!