This post will show you 10 outfit ideas to wear on the 4th of July, plus a selection of cute red, white, and blue clothing under $65.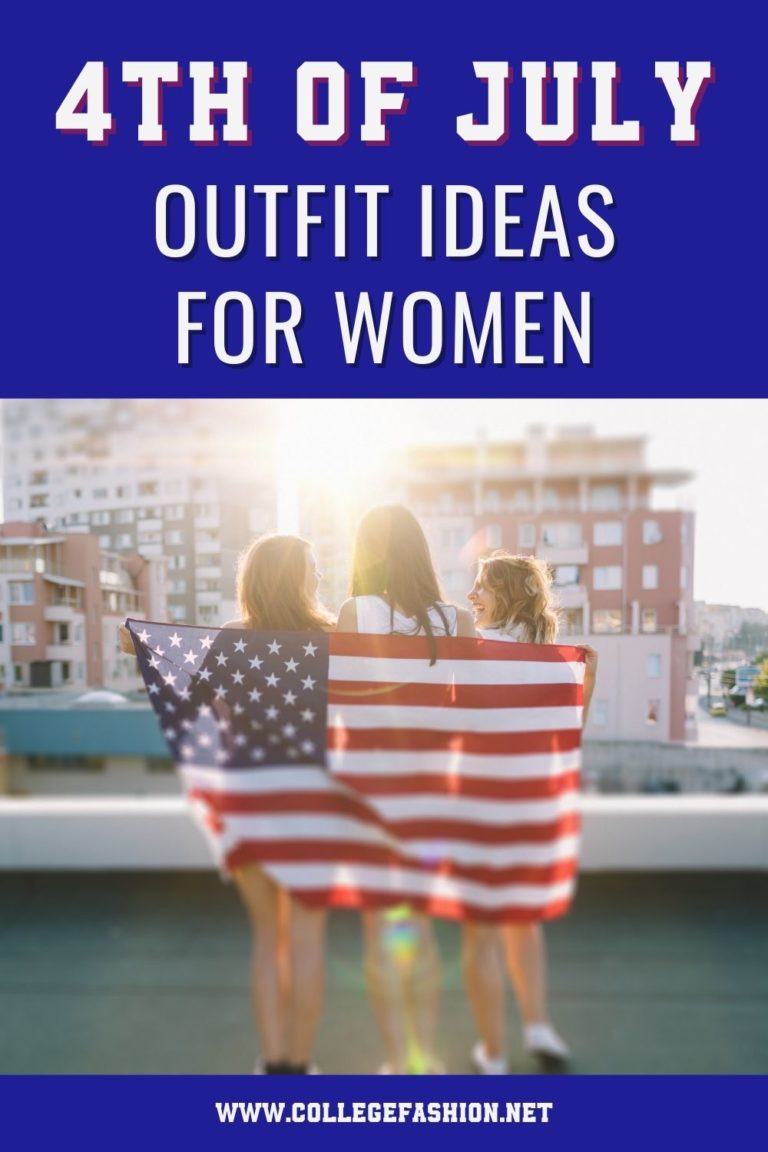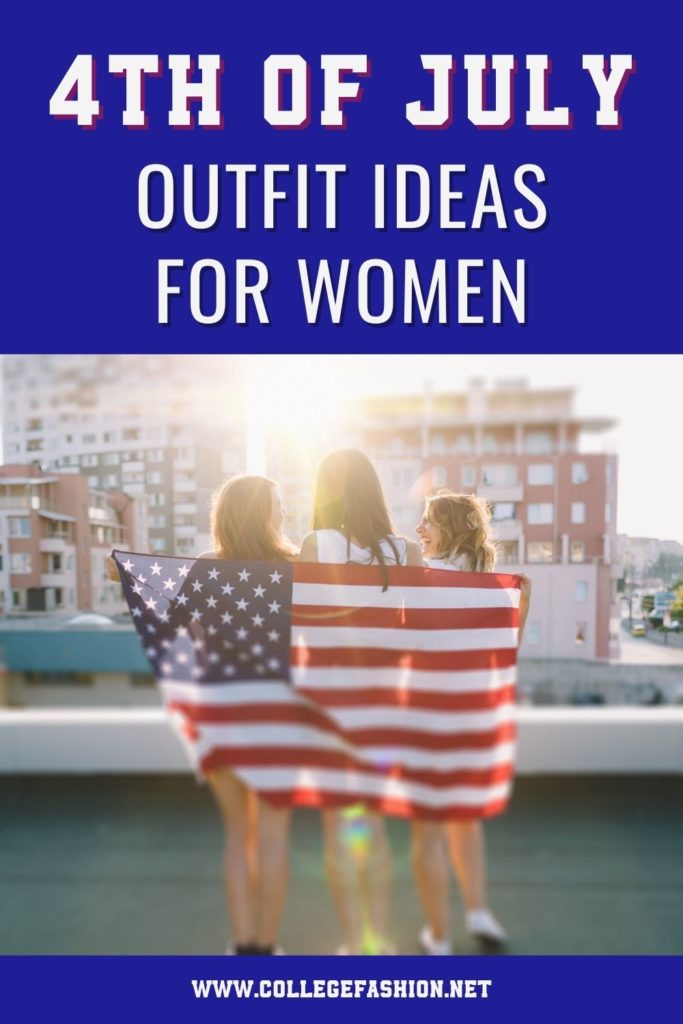 Fireworks, BBQs, and red, white, and blue everything… the 4th of July is right around the corner, which means it's time to put together a cute outfit to mark the occasion. If you're wondering what to wear on the Fourth of July, this is the post for you!
I've come up with 10 Fourth of July outfit ideas for the many different ways you might be spending Independence Day, with options ranging from ultra-casual to dressy. These red, white, and blue outfits are on-trend and non-cheesy, so you won't have to sacrifice your style while dressing for this fun summer holiday.
Plus, read on for a selection of Americana-inspired clothing items under $65 that are perfect for the Fourth of July.
4th of July Outfit Ideas
Get inspired with these outfit ideas for the 4th of July. Whether you're heading to a party with friends, a family BBQ, or have no official plans at all, you're sure to find a look that is perfect for any way you'll be spending the Fourth.
Trendy 4th of July Outfit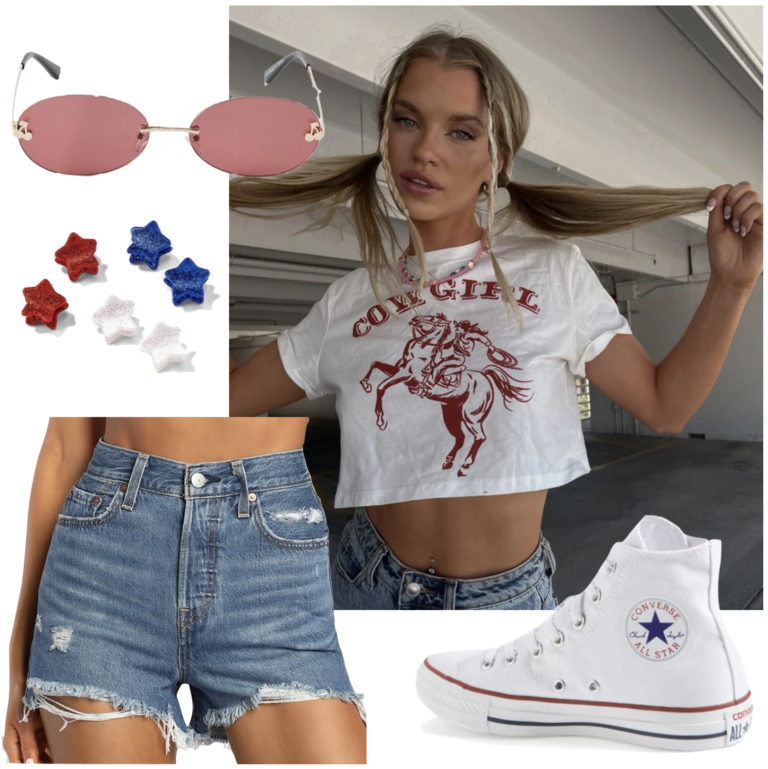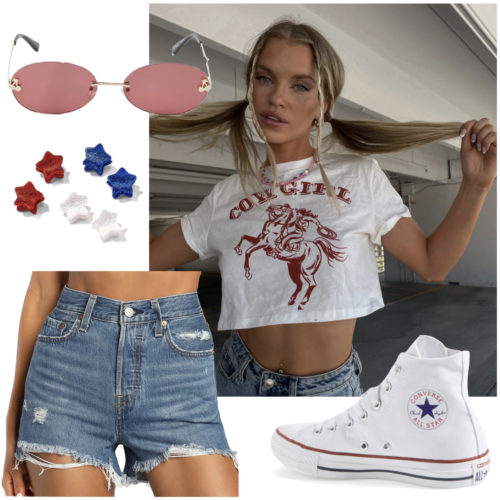 Products: T-Shirt, Shorts, Sunglasses, Hair Clips, Sneakers
First up is this casual, trendy Fourth of July outfit which might be my favorite of them all. It's on-theme without being over-the-top, featuring a cropped white t-shirt with a red "Cowgirl" graphic print and some classic denim shorts with a high rise.
Wear a pair of white Converse Chuck Taylor high-top sneakers that match the outfit and keep it feeling laid-back.
Accessorize with these red rimless sunglasses that have a trendy Y2K vibe with the cutest cherry details on their metal frame.
For a final touch, try wearing some mini red, white, and blue glittery star hair clips that you can play around with for a fun hairstyle.
Western-Inspired 4th of July Outfit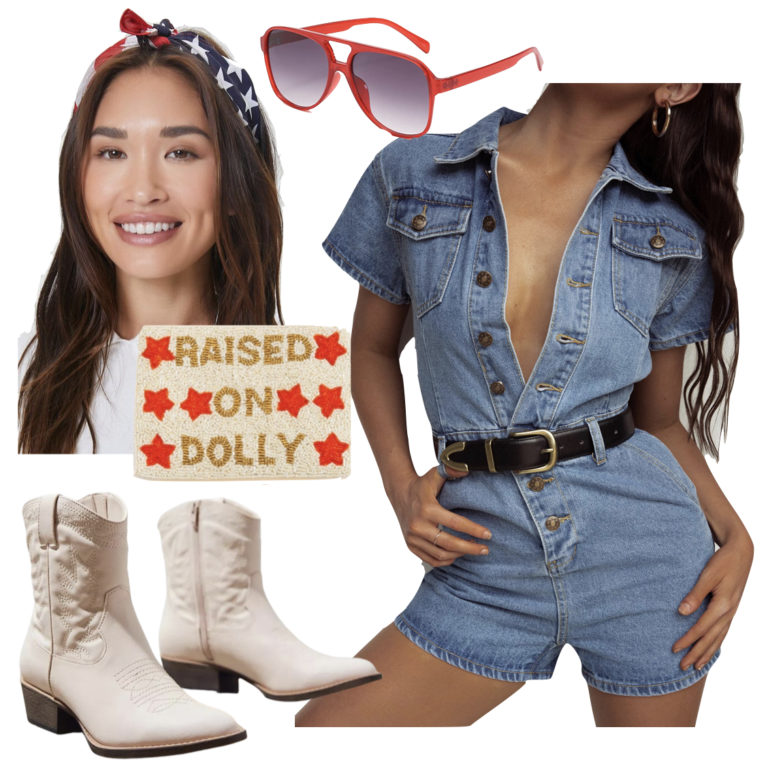 Products: Romper, Sunglasses, Head Scarf, Clutch Bag, Boots
A western-inspired look feels appropriate for the Fourth, especially when it involves cowboy boots and a super cute denim romper.
You'll be the life of the party in this blue denim romper and a pair of light-colored western boots that are perfect for prancing around in. Tie an American flag print headscarf in your hair for a Rosie the Riveter vibe, and rock some red retro aviator sunglasses if it's sunny out.
My favorite part of this outfit? The "Raised On Dolly" beaded clutch bag – you gotta love our American queen Dolly Parton!
Feminine 4th of July Outfit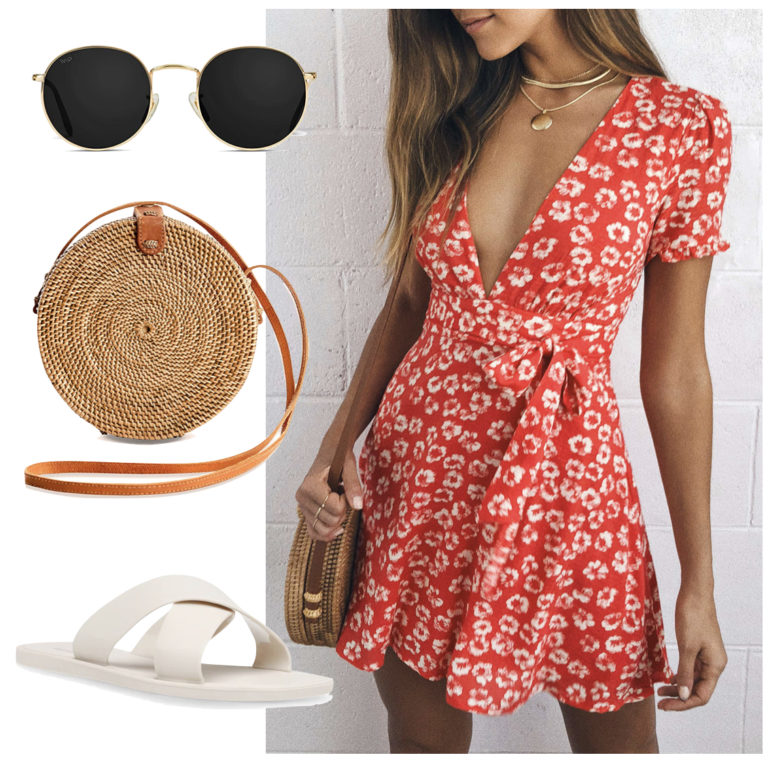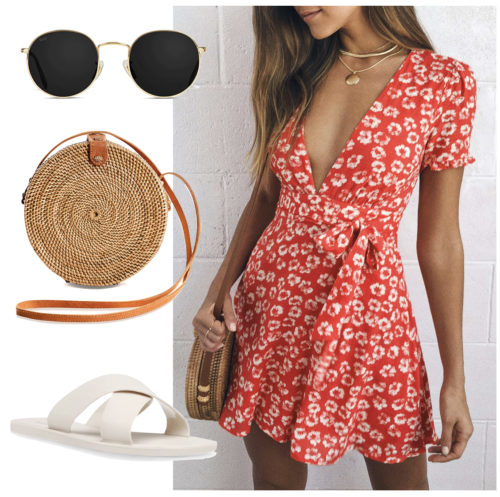 Products: Dress, Sunglasses, Bag, Sandals
If you don't want to go full-on Americana, I totally get it. A feminine dress like this red and white floral print mini dress is far from costumey and can be worn all summer long, but its color palette works well on the Fourth, too.
Dresses like this one are perfect for warm summer days when you want to look cute but need something lightweight and airy to beat the heat!
Pair the dress with some effortless white slide sandals and round metal sunglasses. A round straw crossbody bag makes for the ideal summer accessory that takes you anywhere from picnics to boat days.
4th of July Pool Party Outfit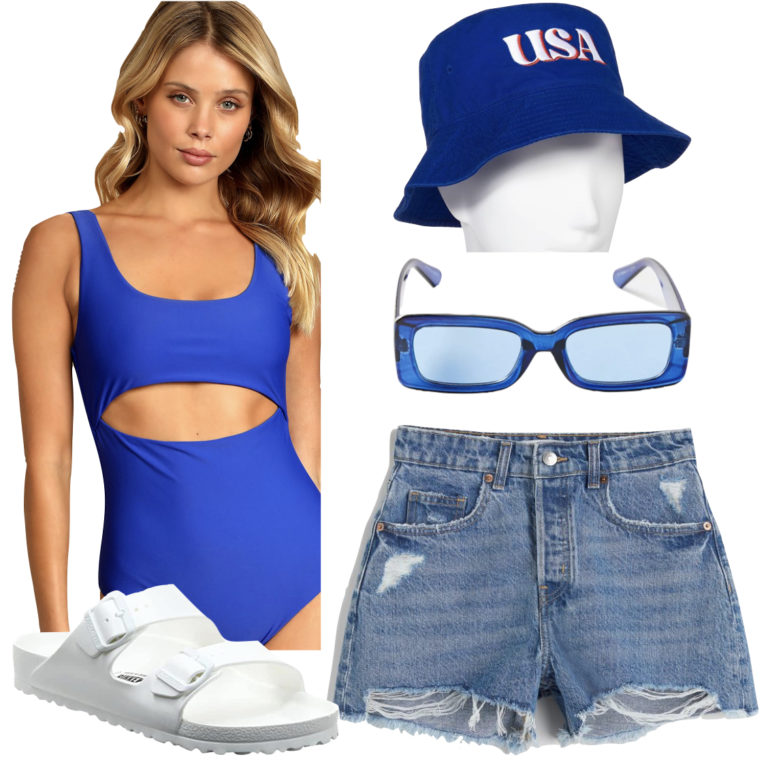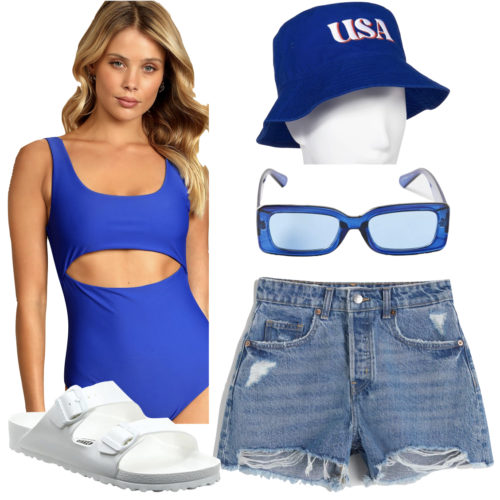 Products: Swimsuit, Shorts, Hat, Sunglasses, Sandals
If you're heading to a pool party celebration on the 4th of July, this outfit idea is perfect for your day spent poolside.
You can't go wrong with some high-rise distressed denim shorts worn over your bathing suit. This royal blue one-piece swimsuit with a front cut-out looks like a bodysuit when worn with the shorts, but you'll be able to splash around in it, too. (You could also wear a bikini with this outfit; for example, the American flag bikini set you'll see later in this post.)
Accessorize with a festive item like this adorable USA bucket hat, which happens to match the swimsuit to a T, and some fun sunglasses like this chunky rectangular pair. Opt for white rubber slide sandals that are comfy, water-resistant, and complete the color palette.
Related reading: The Ultimate Guide to the Best Swimsuits of 2023
Dressy 4th of July Outfit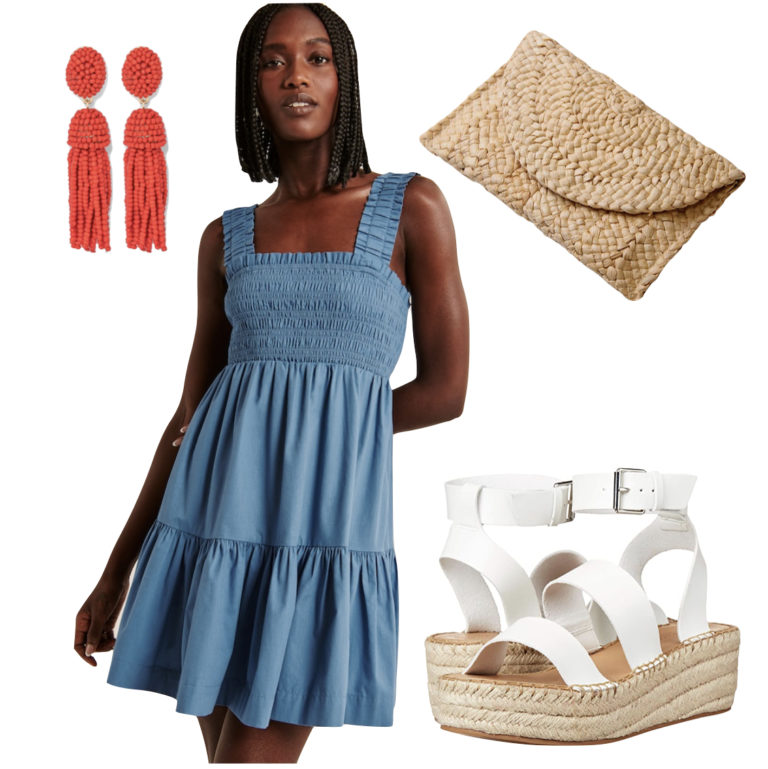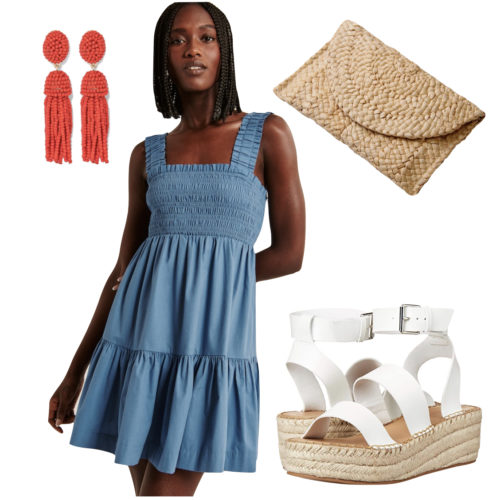 Products: Dress, Earrings, Clutch Bag, Sandals
For a dressier Independence Day outfit, wearing a sundress is a must! This blue poplin mini dress with a smocked bodice, wide ruffle straps, and a tiered skirt is an item you can wear all summer long but will look especially fabulous on the Fourth when paired with red and white accessories.
Some beaded red tassel earrings make a bright statement, while white espadrille sandals add a summery touch. Plus, their low wedge heel is ideal for outdoor parties (since stilettos will sink into the grass!). Carry a woven straw clutch bag to tie the ensemble together.
Casual Cute 4th of July Outfit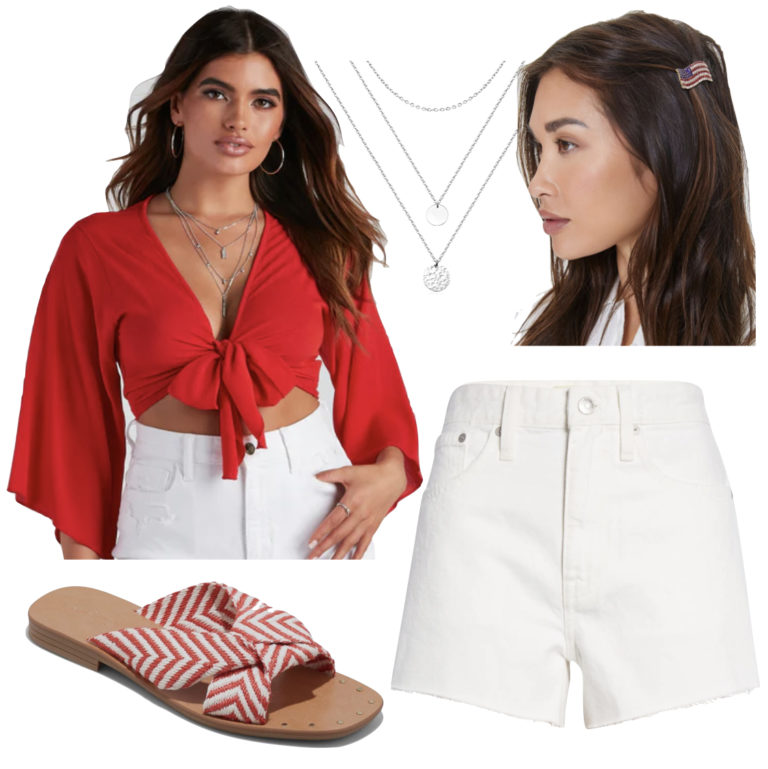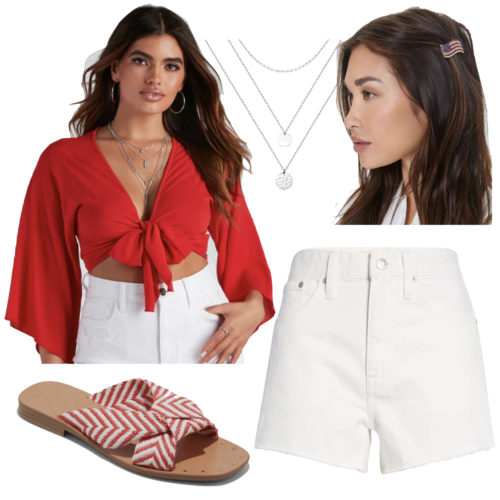 Products: Top, Shorts, Necklace Set, Hair Clip, Sandals
This casual yet cute Fourth of July outfit can be worn for a ton of different types of celebrations, from BBQs to picnics to parties with friends.
Wear white high-rise denim shorts with a red tie-front crop top in a breezy woven fabric. The lightweight gauze fabric is ideal for beating the July heat!
These red and white chevron print knotted strap sandals perfectly tie into the red and white color scheme of this outfit and are easy to slide on and off.
Add some sparkle with an adorable rhinestone American flag gator clip in your hair and a layered silver necklace.
Beachy 4th of July Outfit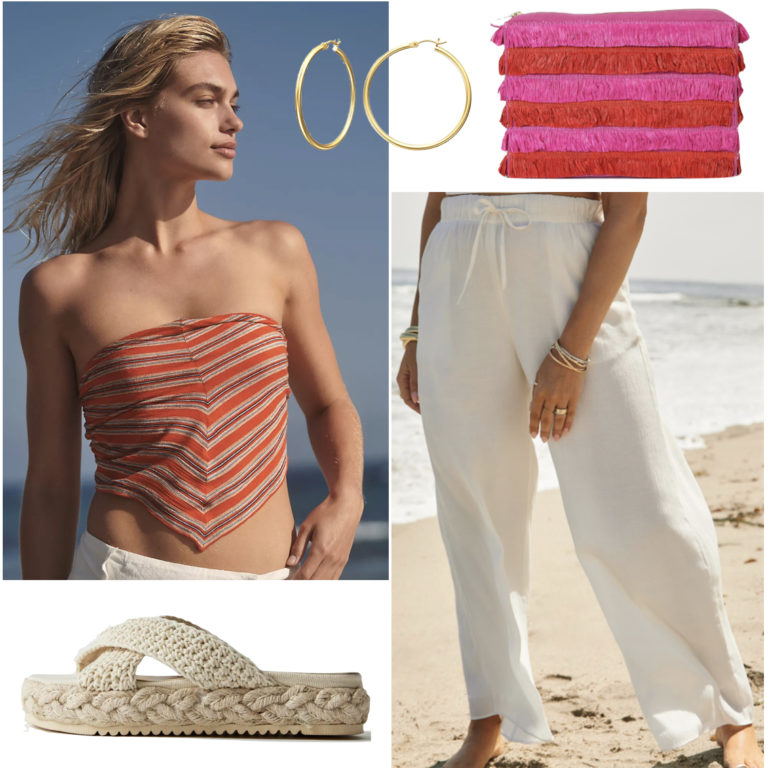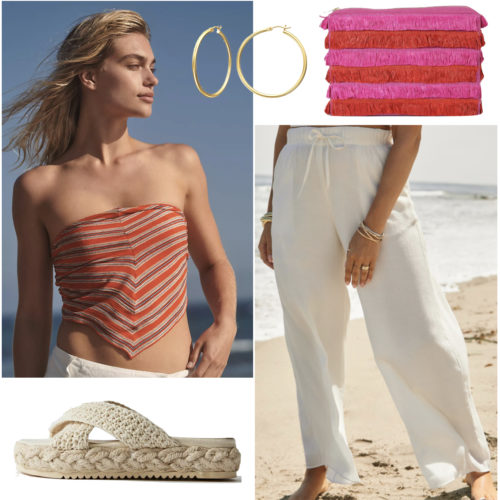 Products: Top, Pants, Earrings, Clutch Bag, Sandals
Will you be spending the Fourth by the beach? If you are, (or if you're just going for a beachy look) flowy white pants are the move. These white crinkle pull-on pants are lightweight and have a high, elasticized waist.
Wear them with a cute crop top, like this strapless red bandana top. Its bandeau-style fit and ruched elastic back make it easy to pull on and instantly look stylish. And of course, red bandanas are a classic choice on the 4th of July!
Opt for a couple of statement-making accessories like gold hoop earrings and a clutch bag – this fringe clutch bag with pink and red stripes of raffia is such a cute option.
Complete the look with a pair of woven slide sandals that have a jute-wrapped low platform heel, giving them an easy-breezy vibe that works on the sand or in the grass.
City Girl 4th of July Outfit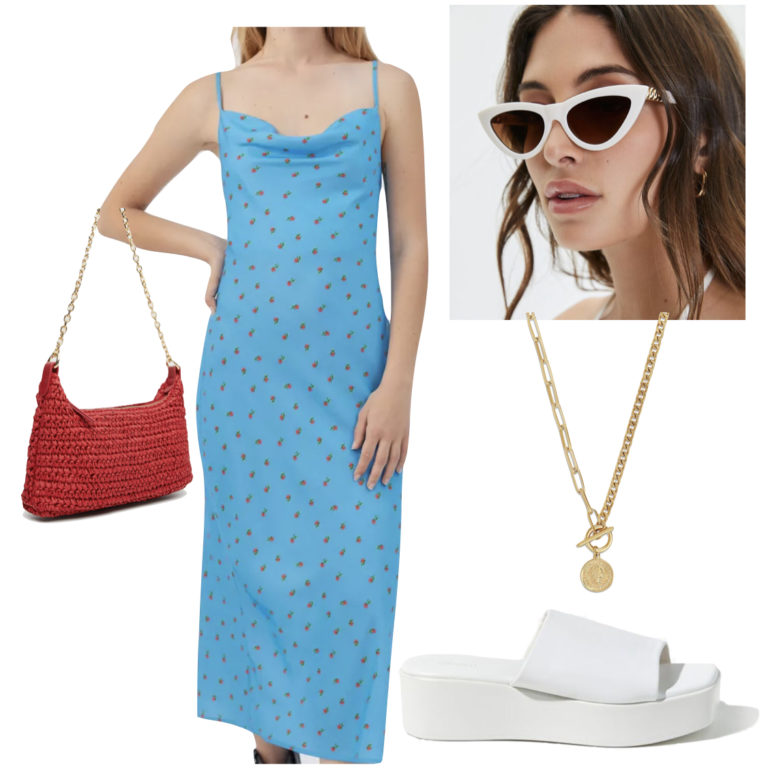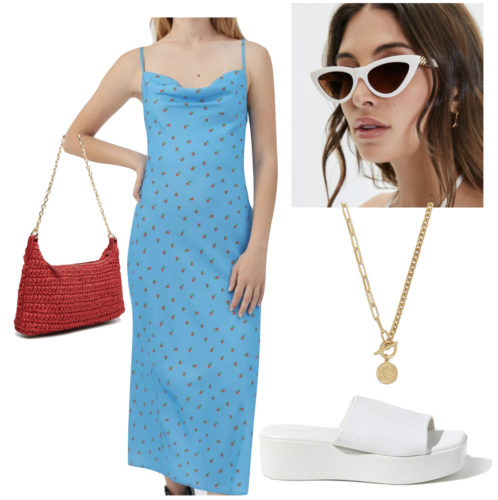 Products: Dress, Sunglasses, Bag, Necklace, Sandals
This look is for my girlies in big cities that are going to be hitting the bar and restaurant scene with their friends on the Fourth. A chic outfit that is subtly on-theme is going to give you the ultimate cool-girl vibe.
Opt for a slip dress like this blue midi-length dress with a darling strawberry print design. Add to the pop of red with a red raffia baguette bag that features a luxe gold chainlink strap. Continue accessorizing with a gold toggle chain coin necklace and some white cat-eye sunglasses.
For a '90s touch, rock some white flatform slide sandals that strike the perfect balance between dressy and casual.
Fun 4th of July Outfit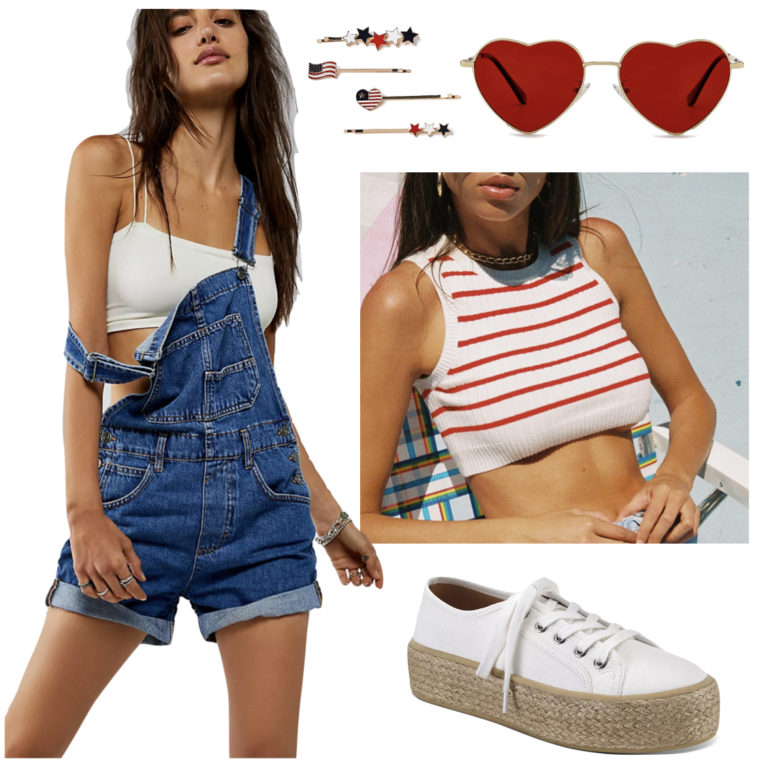 Products: Shortalls, Tank Top, Hair Pins, Sunglasses, Espadrille Sneakers
Have fun with your Fourth of July outfit by wearing some denim shortalls. Like overalls except with shorts, this denim piece has a relaxed fit and plenty of pockets (which is always a plus!).
Underneath it, you can wear anything from a t-shirt to a swimsuit, but I adore how this red and white striped cropped tank top looks.
There's no denying the summery vibe of a pair of white espadrille sneakers, although any white sneakers would work, too. These espadrille sneakers have a slight platform heel wrapped in jute for a seasonal touch.
Go for playful accessories like some adorable heart-shaped metal sunglasses and American flag bobby pins in your hair.
Laid-Back 4th of July Outfit
Keeping things chill this Independence Day? No worries! Even if you don't have any official plans, there's no reason why you can't get into the holiday spirit with your laid-back outfit.
This blue and cream striped polo shirt has a preppy yet relaxed vibe thanks to its loose fit and cropped length. Wear it with some matching cream-colored high-waisted sweat shorts and lifestyle sneakers like a pair of New Balance kicks to keep the outfit comfy.
A USA baseball hat adds a patriotic touch without being over-the-top, while this functional, classic canvas tote bag adds a hint of red to the blue and white look. Wear this outfit to run errands, go on a walk, or chill with friends or family.
4th of July Clothing 2023
Looking for a standout piece to plan your 4th of July outfit around? Check out these affordable Americana-inspired clothing items that are perfect for the Fourth, all of which are under $65!
'American Woman' T-Shirt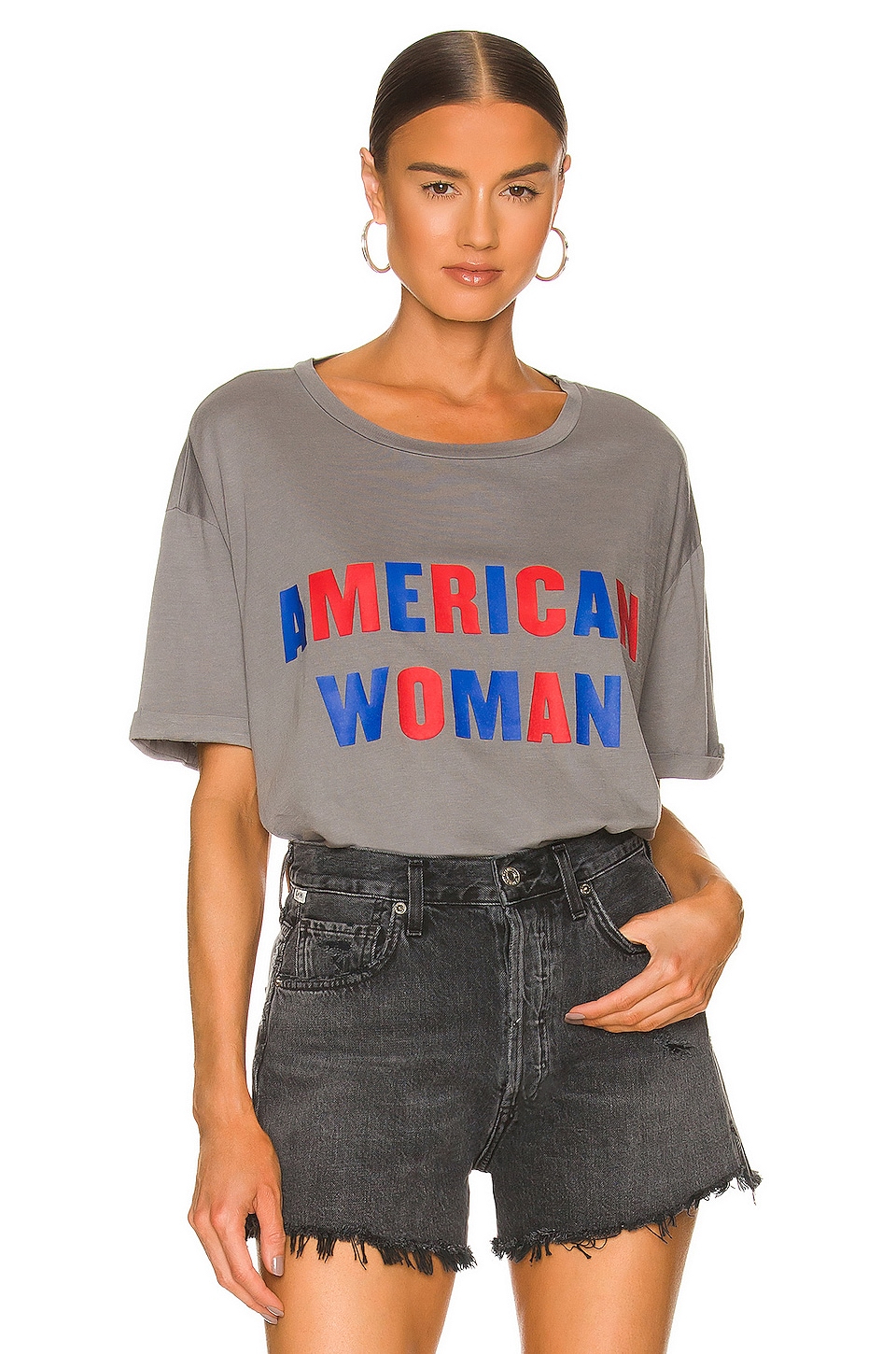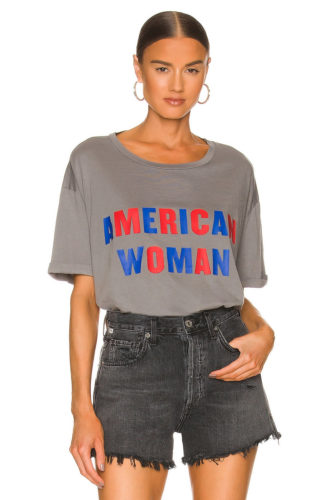 Need I even explain why this 'American Woman' t-shirt is perfect for the 4th of July?! In addition to its patriotic vibe (which instantly calls to mind Lenny Kravitz's voice singing this classic song), it is stylishly oversized and ideal for pairing with denim.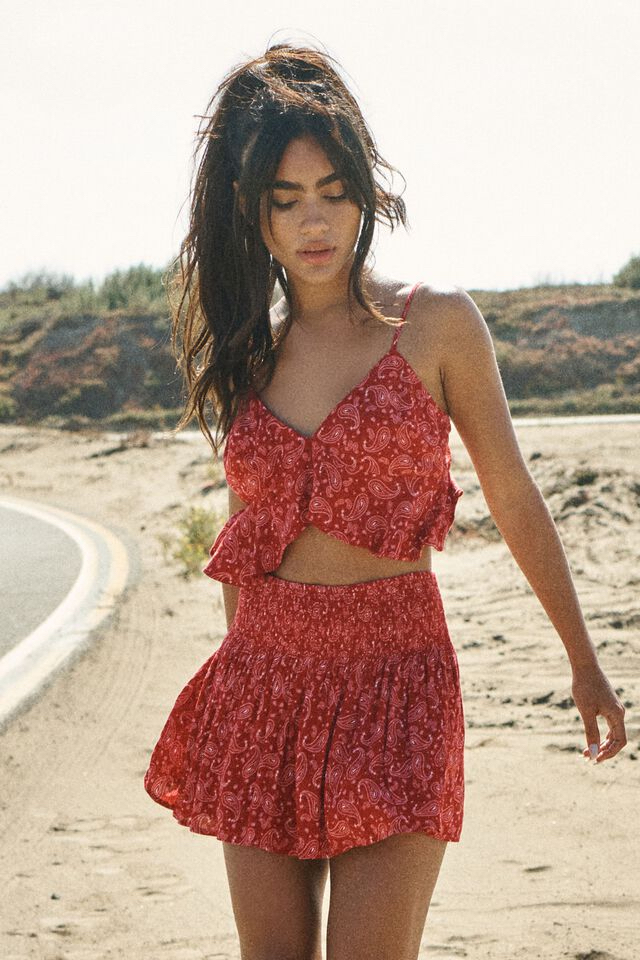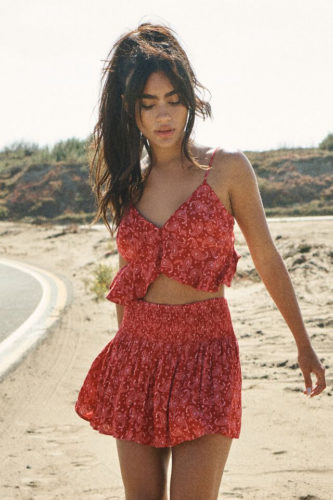 Bandana, but make it fashion. You can wear these adorable coordinating red paisley print pieces all summer long, but it definitely has an Americana vibe that will make a statement on the Fourth.
The cropped ruffle cami top and smocked mini skirt both have a flirty fit that will look amazing with cowboy boots or white sneakers.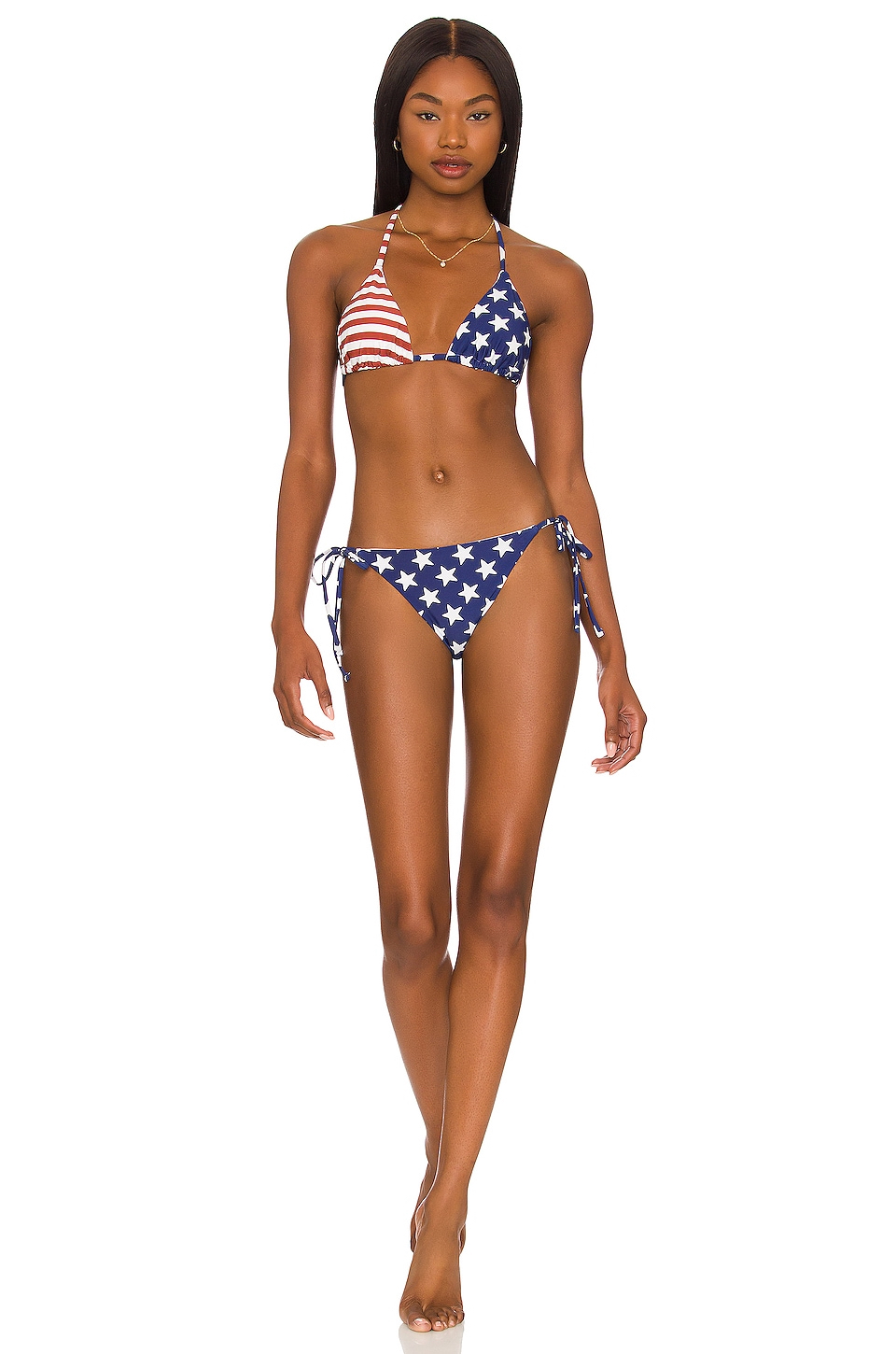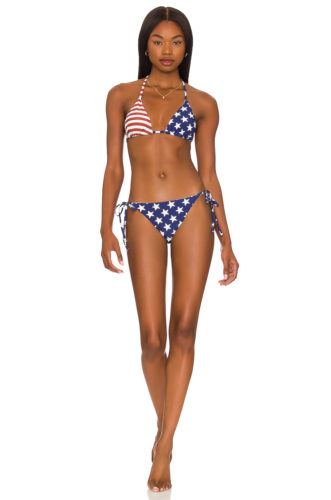 Make a splash in this American flag print bikini set. Ideal for an Independence Day celebration at the pool, beach, or lake, this Stars and Stripes bathing suit is all you'll need to show off your spirit.
Gingham Tie-Front Mini Dress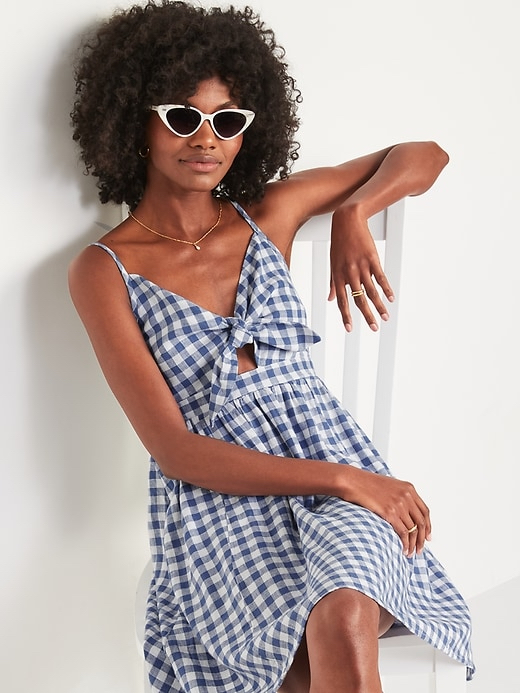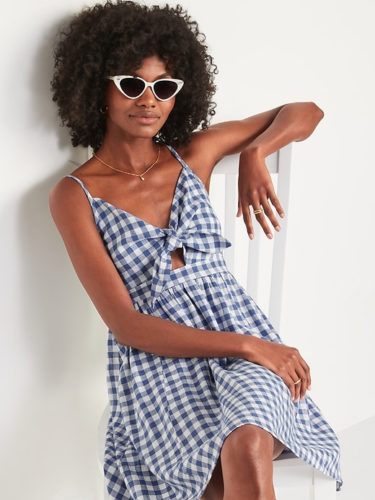 Stars and Stripes are a no-brainer, but gingham is another print that is also perfect for the Fourth. And while gingham might make you think of a picnic blanket at first, I can assure you that this gingham fit and flare mini dress with a tie-front couldn't be further from that!
This dress features sweet details like a banded waist, smocked back, pockets, and a knotted keyhole front, all of which give it a flattering fit. You can wear this frock just as easily with sandals as you could with white low-top sneakers, making it quite versatile, too.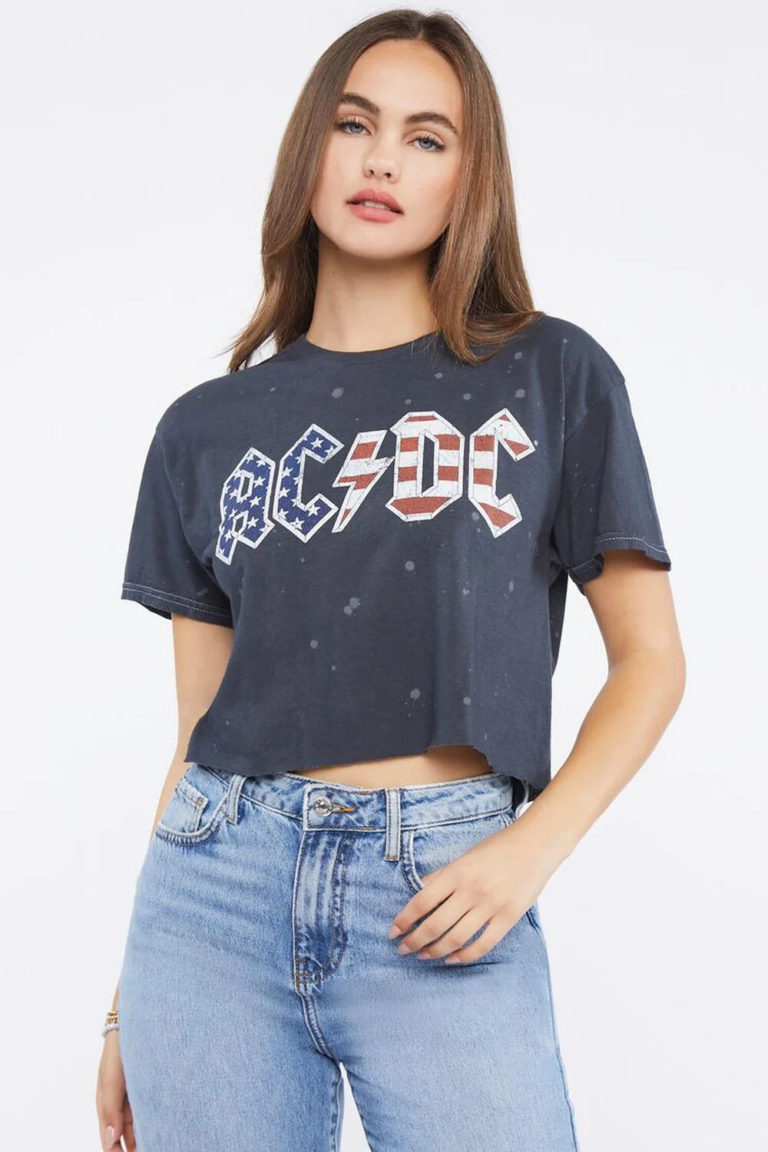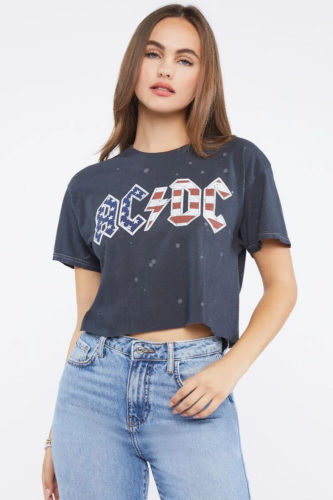 Put an Americana twist on a classic band tee. This cropped AC/DC 1980 Tour t-shirt features the band's logo with an American flag print that will look amazing with denim shorts on the 4th of July.
Star Print Denim Shorts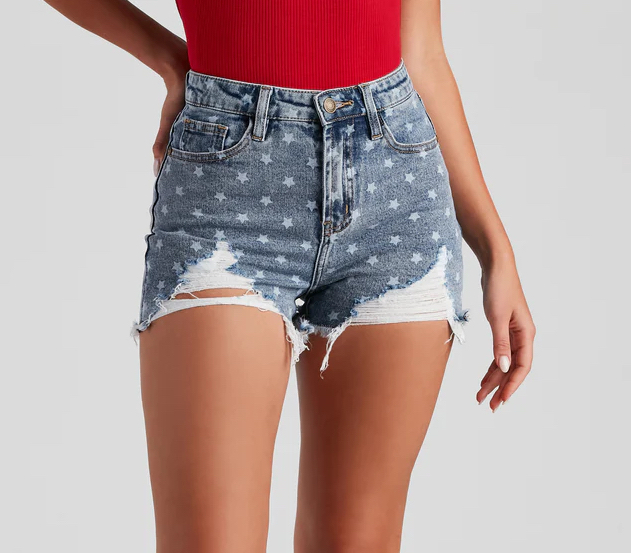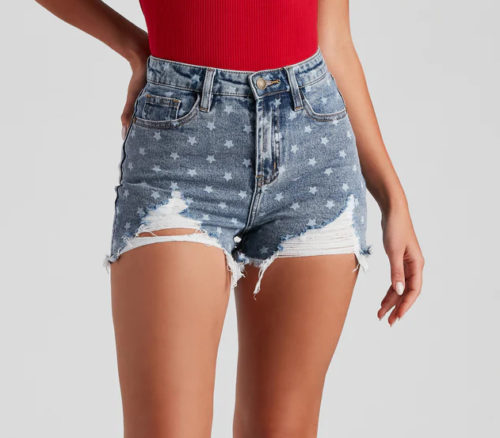 Denim shorts are a classic option to wear on the Fourth, but give yours an Americana twist with these high-rise star print jean shorts. With a medium wash, all-over star pattern, and stretchy denim fabric, these are going to make a statement even with a simple white tank top.
Tie-Dye Halter Neck Top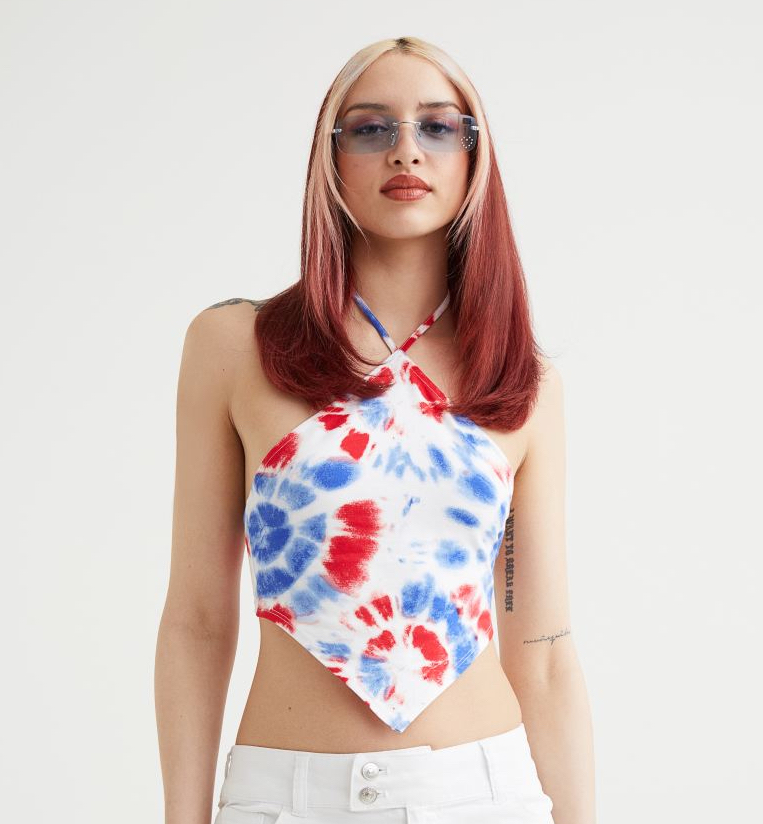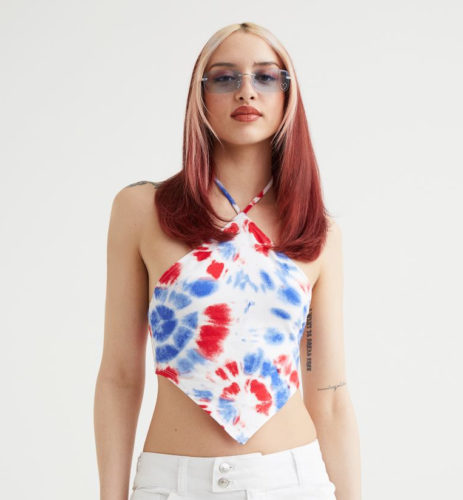 Go for a Y2K aesthetic with this red, white, and blue tie-dye halter neck top. Its halter neckline and cropped, V-shaped hem give it a trendy Y2K vibe while flaunting the colors of the American flag.
American Flag Denim Shorts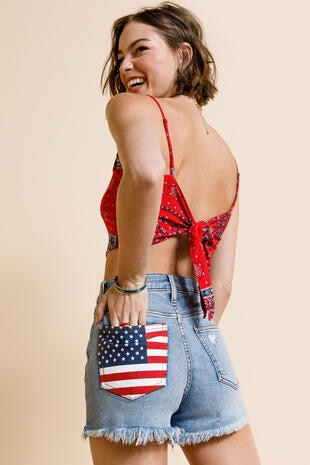 Rep the U.S.A. with these adorable distressed denim shorts that feature the American flag on the back pocket. With a high rise and frayed hem, they're a classic summer style.
Crochet Star Halter Neck Top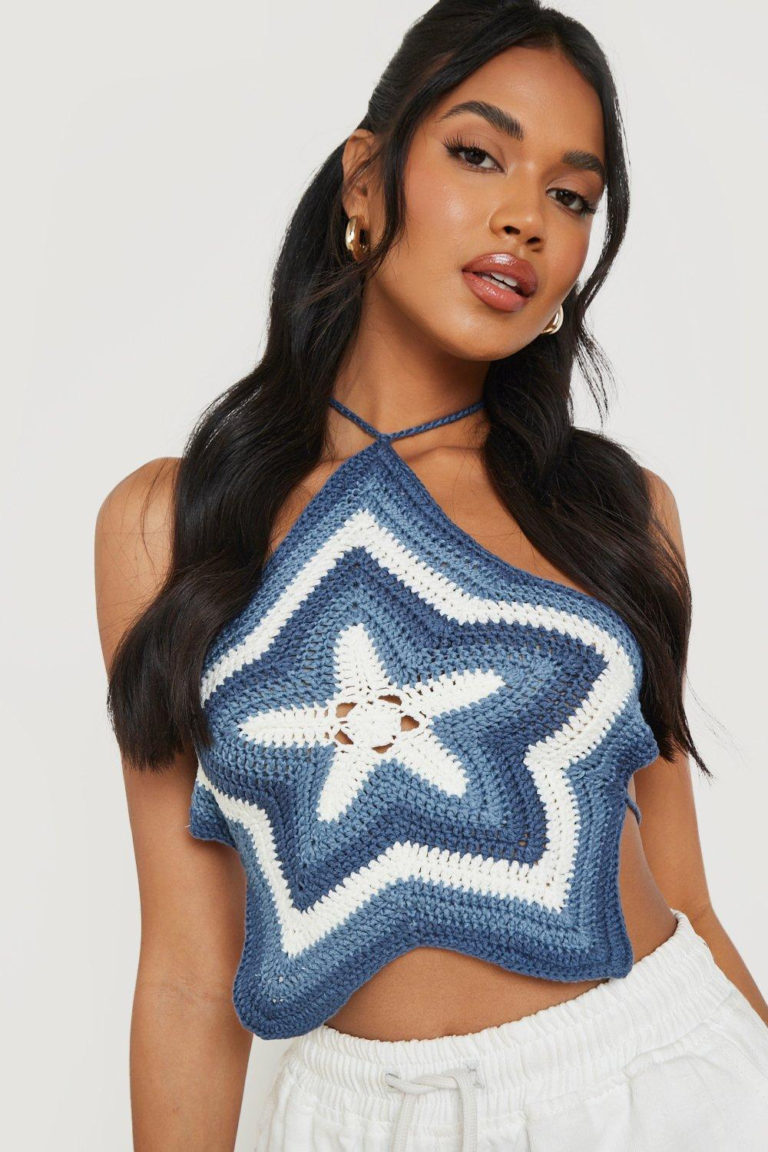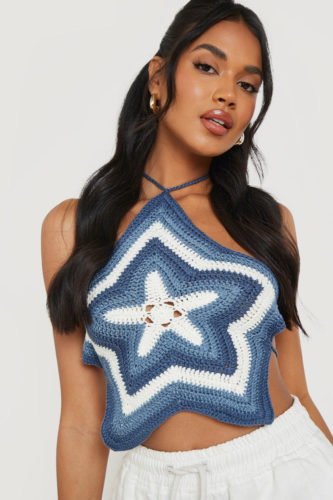 Stars and Stripes… minus the stripes. This crochet star halter neck crop top is a statement-making piece that's going to look incredible with denim on the 4th of July.
Crochet is a huge fashion trend this season, and this top is a great way to get in on the trend. It features a halter neckline and an open back with string ties.
Paisley Mini Dress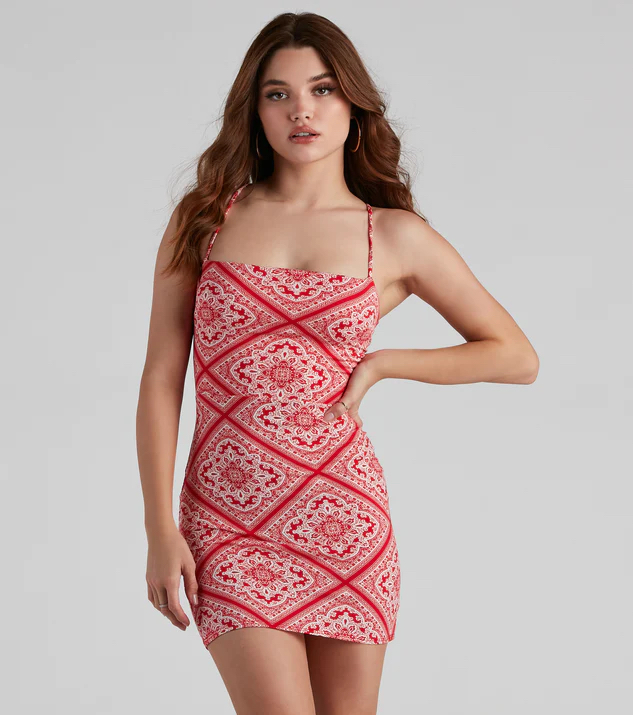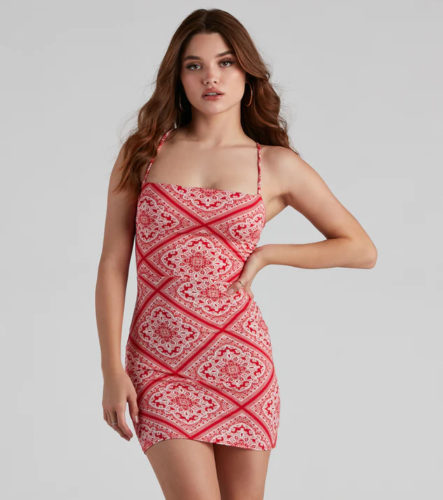 This red paisley bodycon mini dress has the look of a classic bandana that makes it so cute… and so appropriate for the Fourth! It features an eye-catching lace-up back and stretchy fabric that keeps it comfy.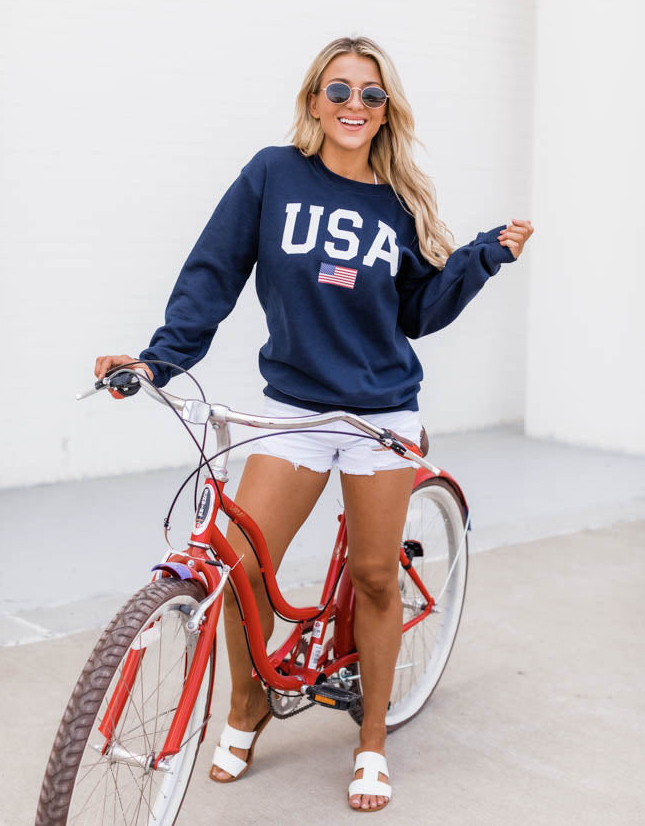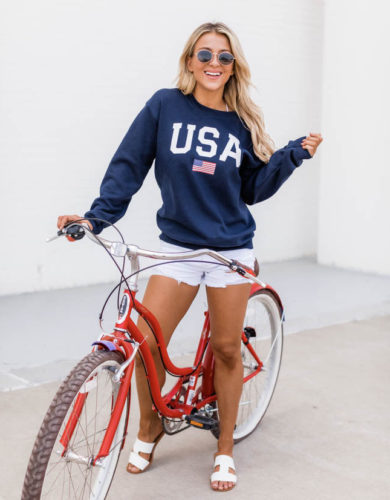 Everyone could use a cozy crewneck sweatshirt to throw on when there's a chill, and this USA flag graphic sweatshirt is soft and lightweight. It also comes in light blue and gray, so take your pick of this patriotic piece.
The Rolling Stones America Cropped Tank Top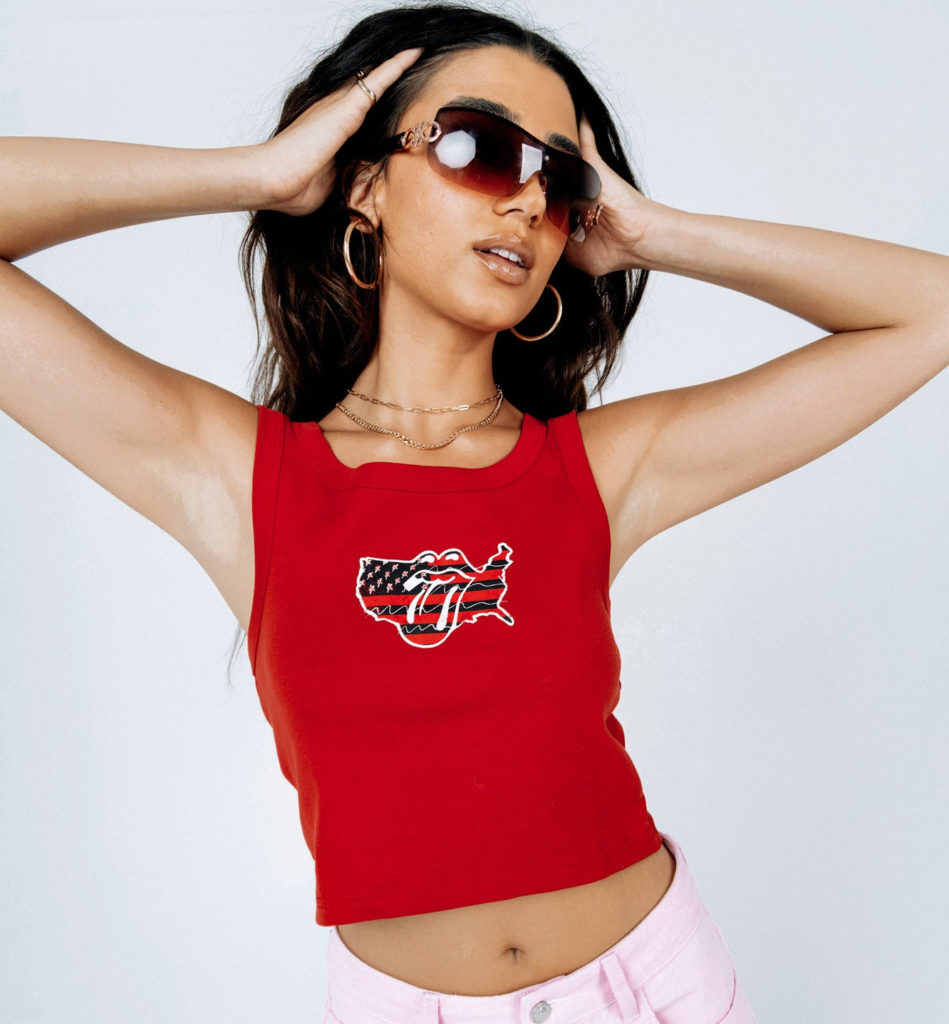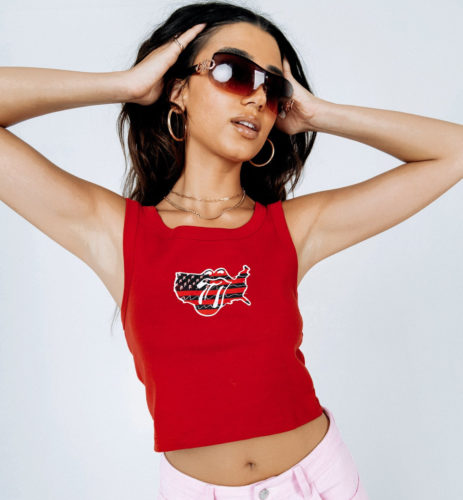 The Rolling Stones may be an English rock band, but this red cropped band tank top features the band's logo with an American twist. It's a fun spin on a classic band tee, and the bright red hue is totally going to pop when you wear it.
American Flag Graphic Knit Sweater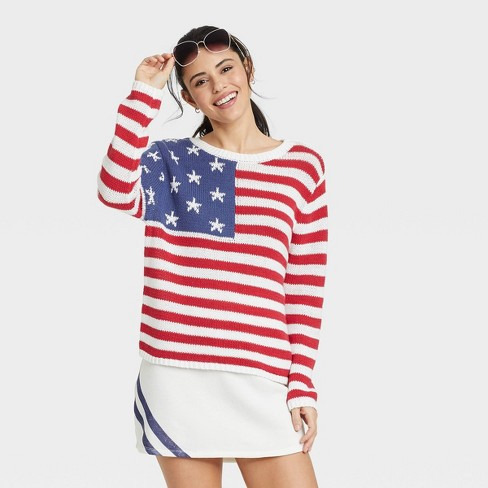 This lightweight American flag print sweater is perfect for a bonfire at the beach or backyard Fireworks viewing. It's cozy, patriotic, and the ideal knit fabric for a cool summer evening.
Handkerchief Cami Top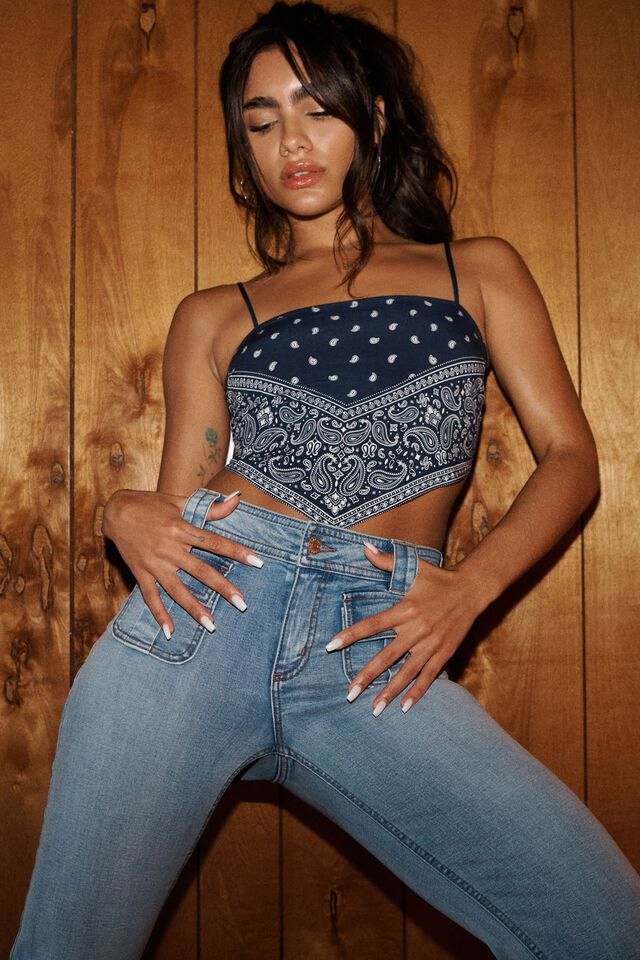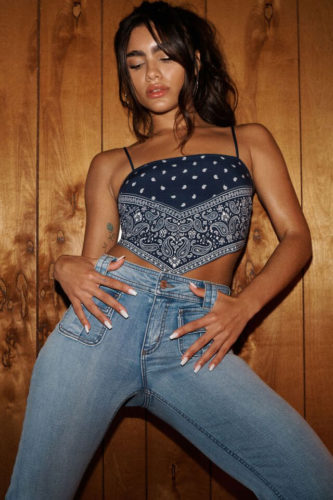 Rather than struggle to wear an actual bandana as a crop top, just get this cute cami top with a handkerchief silhouette and classic paisley print. It comes in navy blue or red, making it a must-have.
Ruffled Midi Dress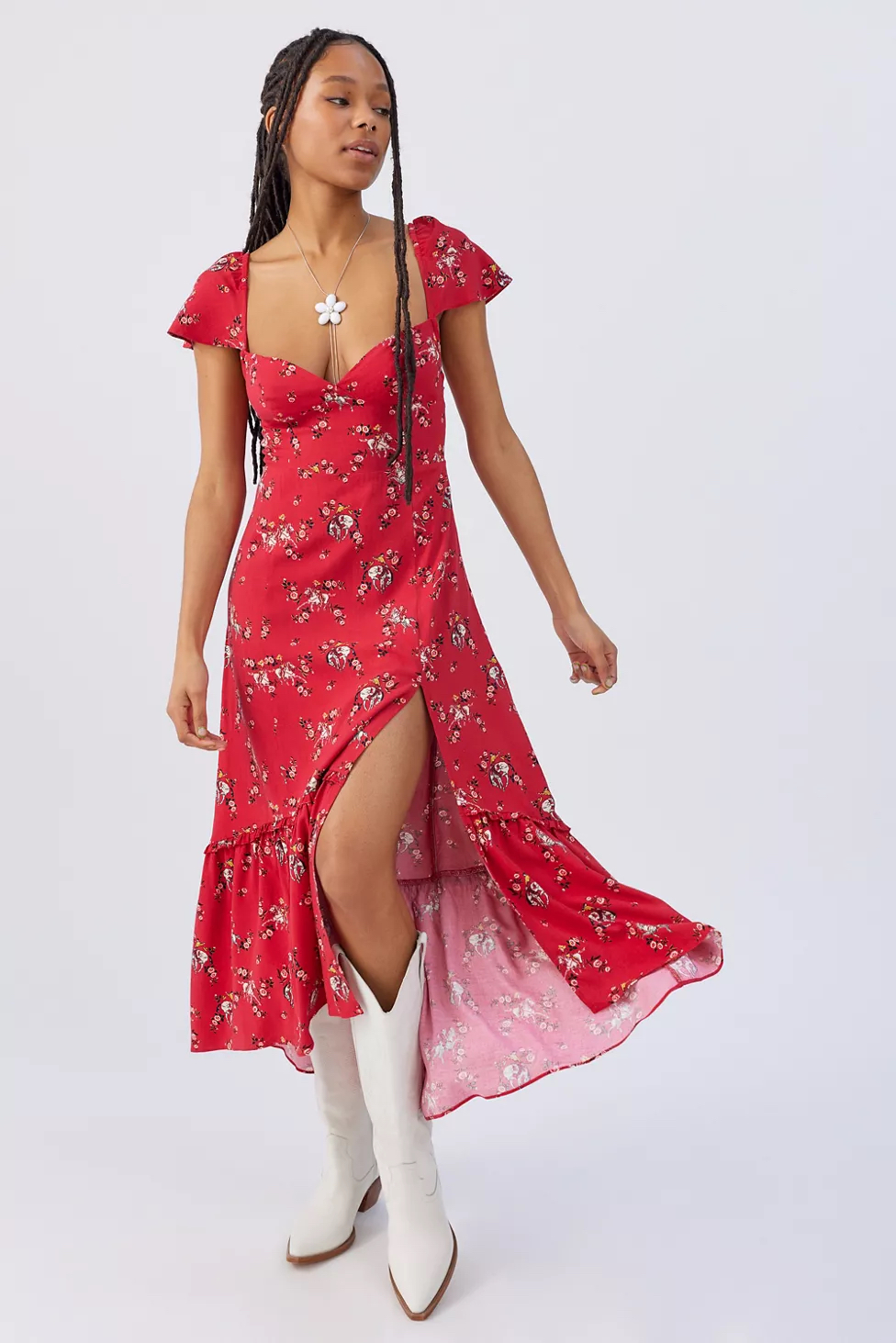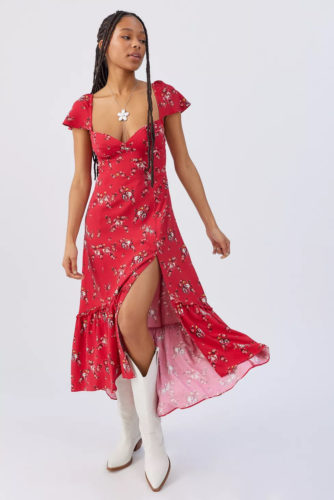 Flowy and feminine, this beautiful red midi dress has a floral print with a ruffled hem, fluttery cap sleeves, and a sweetheart neckline. While it will look adorable with cowboy boots (as styled above) on the Fourth, you'll be able to wear it with sandals the rest of the summer, too.
U.S. Flag Graphic Gender-Neutral Jean Jacket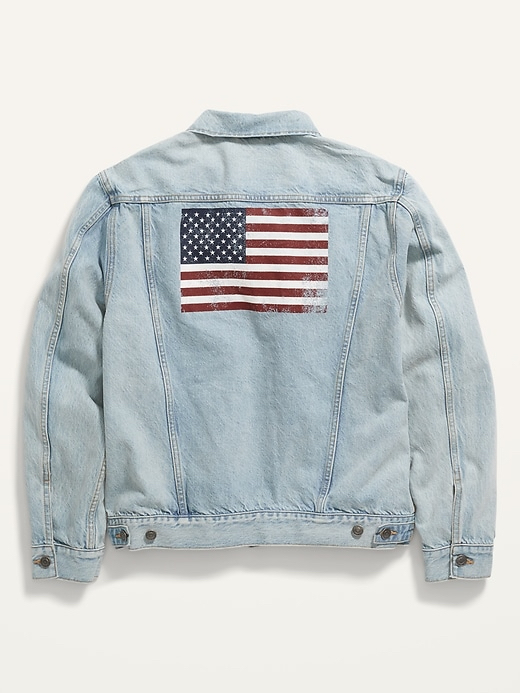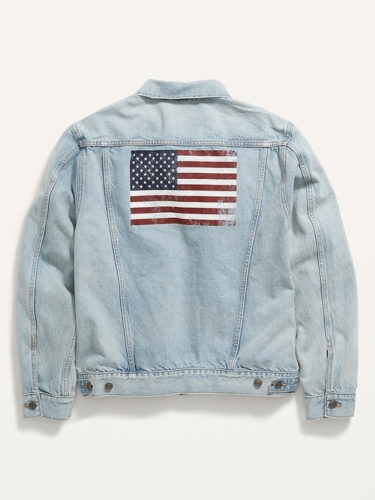 This jean jacket features an American flag graphic on the back and is gender-neutral, available in sizes XS – XXXXL. Throw this on over your 4th of July outfit for the perfect finishing touch.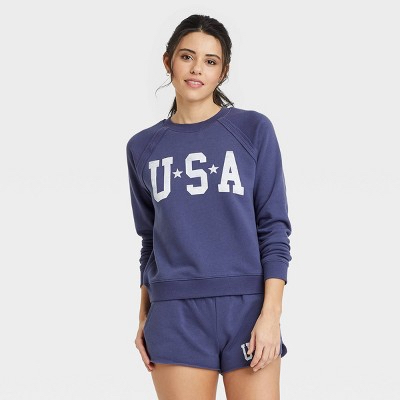 Keep it casual and cozy with this USA graphic print sweatshirt and jogger shorts combo. The lightweight sweat material is great for throwing on when it gets chilly at night, or when you are lounging around at home.
Plus, you can wear these pieces as a set, or separately with other items in your wardrobe.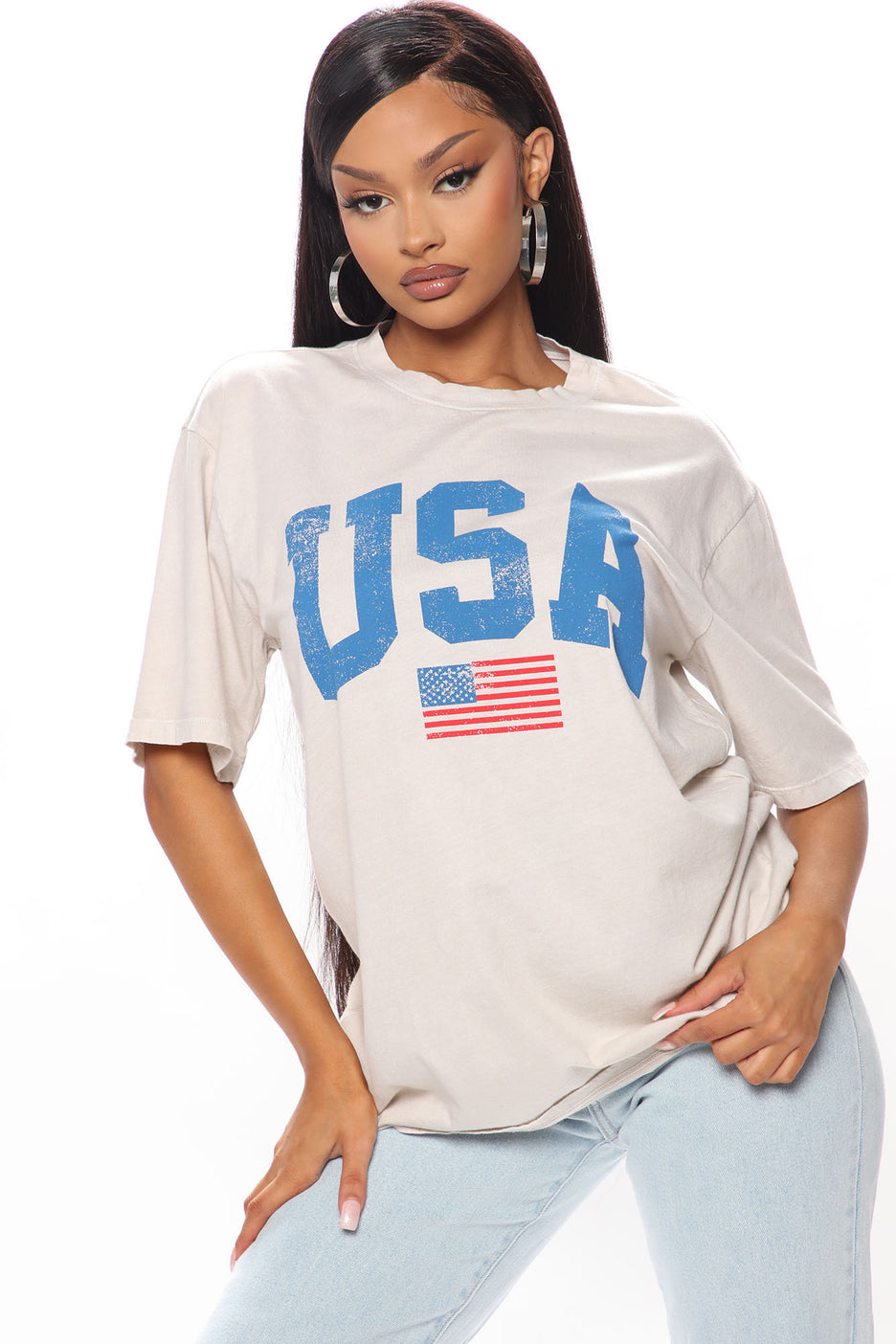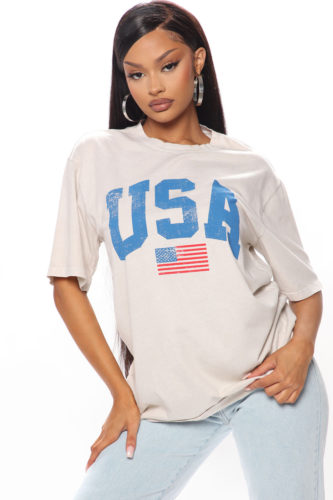 You can't go wrong with an oversized USA t-shirt that you can style with jeans or shorts. This one is available in sizes XS – 3X and has a "washed" effect that gives it a vintage vibe.
What do you think of our 4th of July outfit ideas and clothing guide?
Would you wear these outfits? Which look is your favorite? Leave a comment and let us know!