Need a cute Fourth of July outfit idea? We've got you covered with this outfit guide.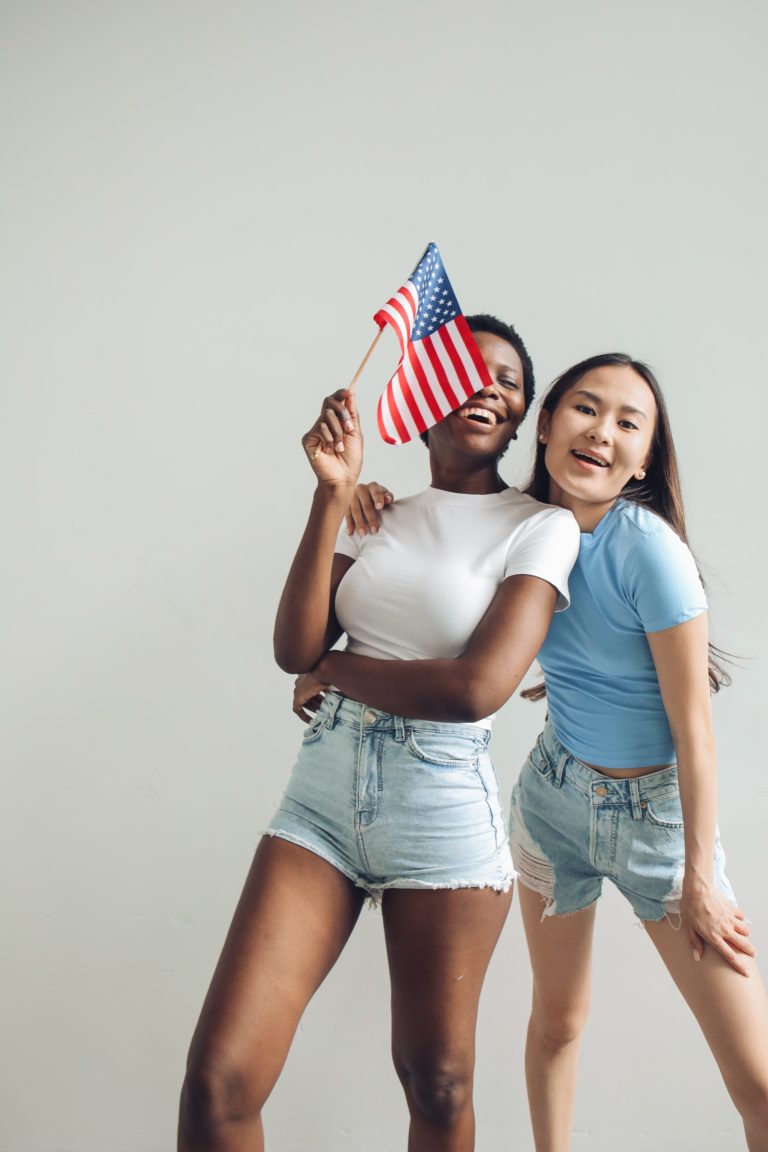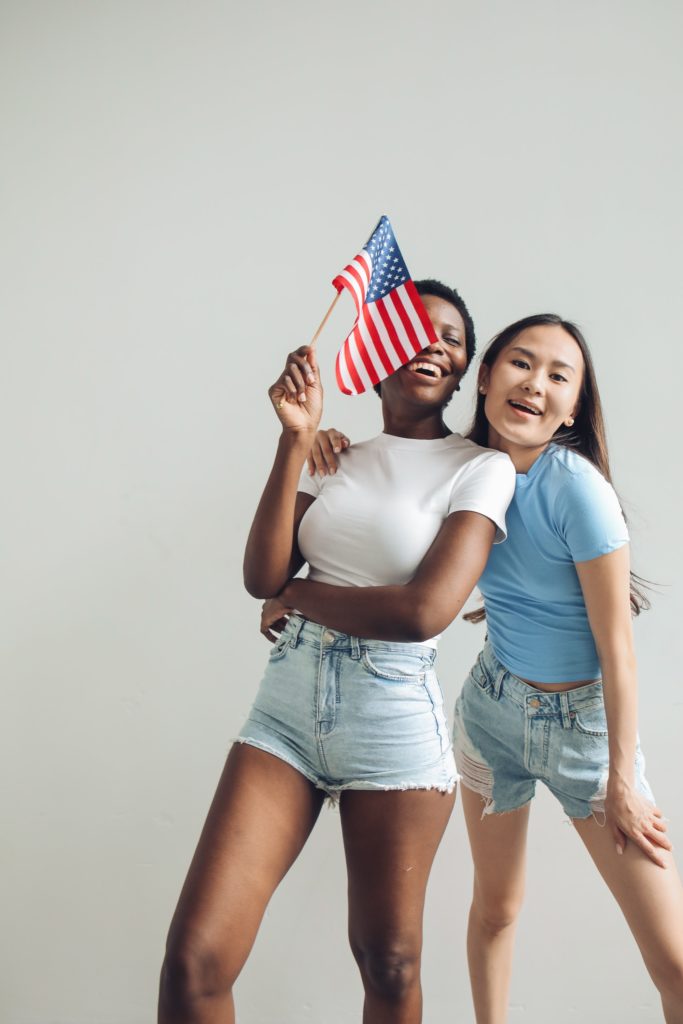 Now that over half of Americans have been vaccinated and we are finally at the "new normal" we dreamed about, Fourth of July feels like a well-deserved party. I'm not even American and I'm feeling patriotic. You can really feel everyone's optimism, especially now that no one stands 6 feet apart from each other anymore.
Maybe it's just me but I've never loved the red, blue and white color combo more. And soon enough you'll be able to show off your favorite USA outfit.
This will probably one of the first gatherings many of us will be having with our families without masks or social distancing. Going to your grandparent's home, the beach, your lake house, a park, your friend's house… it's crazy all the places you can go when you don't have to stay inside your home. Who isn't excited?
Like a debutante ball, what you wear in your coming-out-of-quarantine party matters. Unlike a debutante ball, you actually want to be at that party.
So, what will you wear when you can wear anything?
Here's something not to wear: head to toe American flag. It's not Halloween, and it isn't a costume party. While wearing a shirt or a bikini with the flag can be super cute, unless you're hanging from a flag pole, don't dress like a flag.
So, what do you wear? I mean, besides the obvious, here are a few tips when picking out outfits for the Fourth of July:
Tips for Creating a Fourth of July Outfit:
Red, blue and WHITE: actually, let's be obvious for a second. I'm sure you have the red and blue part down. But when it comes to any space you want to create in your outfit, the color you're looking for is white. Black, beige, or grey will throw off your color scheme, the outfit won't look Fourth of July anymore. And white really is the only color that can tone down the strength of blue and red, so you need it.
Accessories: Focusing on blue and red accessories is a pro styling tip. Blue and red are strong colors, so bad styling of blue or red clothing items can make the outfit look mismatched or tacky. But if you infuse color through your accessories, you can't go wrong.
Stars: There are 50 stars on the American flag so there had better be 50 stars on you. Just kidding, don't do that. But if you're feeling something is missing from your outfit, look for some star accessories. Maybe that's jewelry, maybe it's a print on your denim shorts, but that little detail can make your outfit go from cute to on-point in a snap. 
American style: Whatever American fashion means to you, whether it's country style or street style or '70s inspired, take that on as the overall style of your outfit. America is made up of so many different cultures that have brought so many unique fashion senses to the table, and Fourth of July is the perfect day to celebrate that melting pot.
Now that you've got the basics down, you've got to start planning your outfit. Your look will really depend on where you're going, what the activity is, and who you'll be with. (Let's be honest, we might be in our early twenties, but there are certain items in our closet we don't want our parents to know we own.)
Once you have that figured out, here is some fashion inspiration so you can celebrate Fourth of July 2021 in style. 
Family Gathering
Nothing says American style like some cowboy boots — just kidding, they're originally Mexican, but that just goes to show all the different influences in American fashion. For a family Independence Day celebration, you can't beat a cute white sundress. 
Add the blue and red details in the accessories, and make sure if you're going to use more than one accessory in a color that are relatively the same shade. (In this outfit, it's the sunglasses and purse.) It's usually best to choose one of the colors to be the bolder one since blue and red are primary colors and can be a little too strong together.
You can never go wrong with a pair of red cowboy boots, I bought mine a while ago and haven't been able to stop wearing them. For your blue accessories, a light shade will perfectly complement your outfit — I love this 90s shoulder bag and these 70s round sunglasses.
Don't forget your Fourth of July sparkle with some gold star jewelry, you can't forget the most important part of the flag!
Beach, Pool or Lake
It's summer, and finally a summer where we can actually enjoy the weather. So, this year celebrate Fourth of July at a beach, pool or lake.
What should you wear when you don't need to wear layers of clothes? First of all, layer on the sunscreen! Make sure one of your accessories is red, not your skin.
Then go for some denim shorts; nothing is more American than some definitely-not-made-in-America cutoffs. Choose either a red or blue bikini top that is vibrant. Since these pieces are so small, be bold and go for an equally vibrant accessory in the other color.  
Finish off with red lipstick if you want to spice up your look when you get out of the pool, and who could forget star earrings?
Friend's Party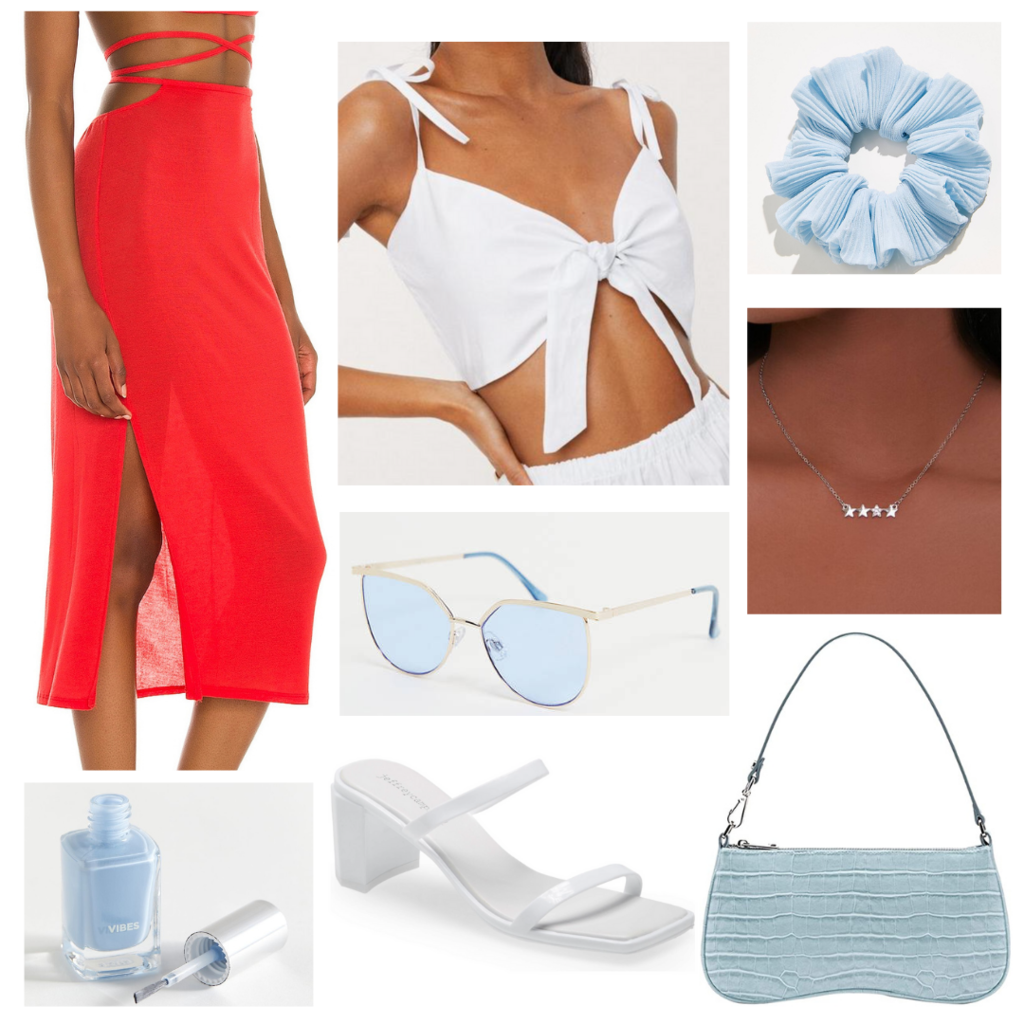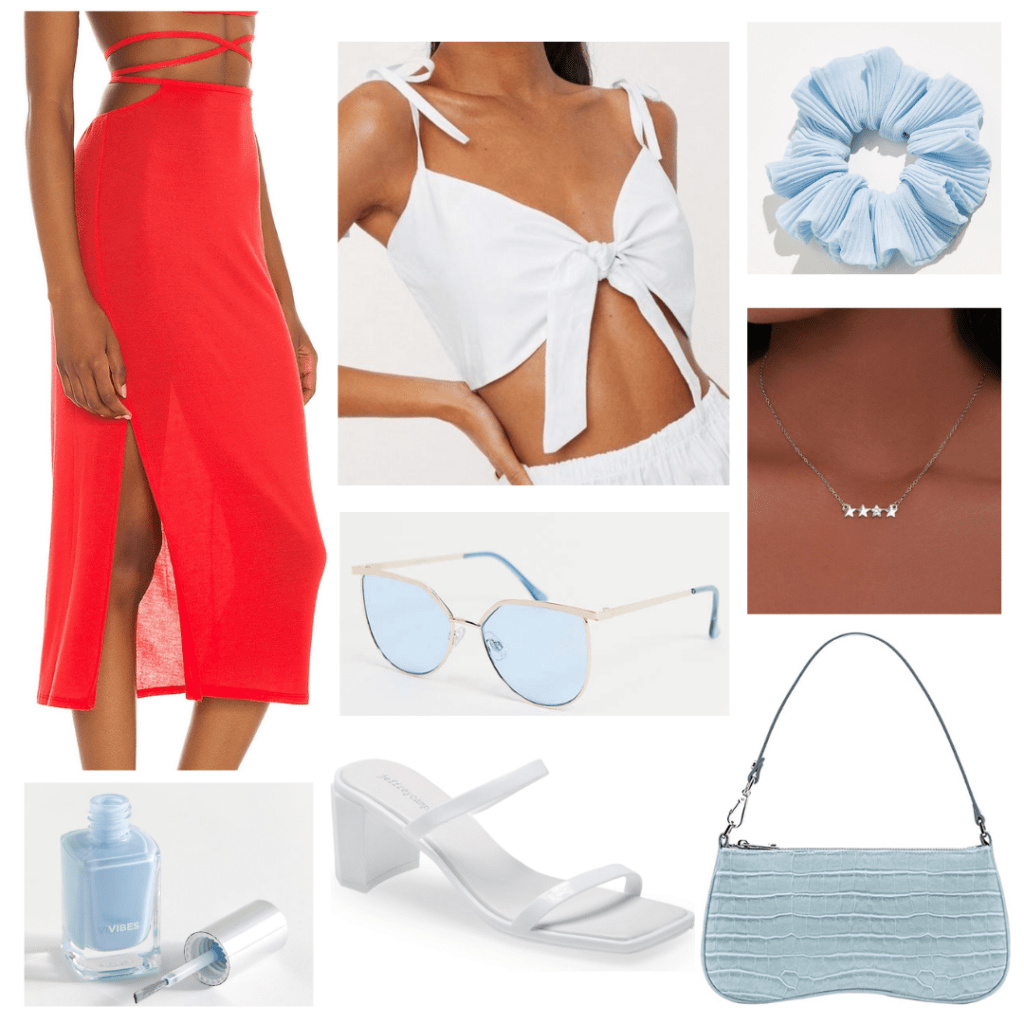 Products: Skirt, Sunglasses, Scrunchies, Top, Necklace, Nail Polish, Sandals, Bag
Fourth of July is arguably America's favorite party of all. So, is there a better way than to celebrate with your friends? If that's what you'll be doing, here's an outfit you should try.
A cut out or slit midi skirt is a perfect choice: midi is in, cut outs are in, you'll be in. Next, throw on a front tie white bralette top, the must have summer accessory.
For your accessories, balance out the strong red with some light blue. Think light blue nail polish, a light blue '90s shoulder bag, light blue sunglasses, and a light blue scrunchie. Put your hair up and add a star necklace and you'll be ready to party in the summer, in style.
City Plans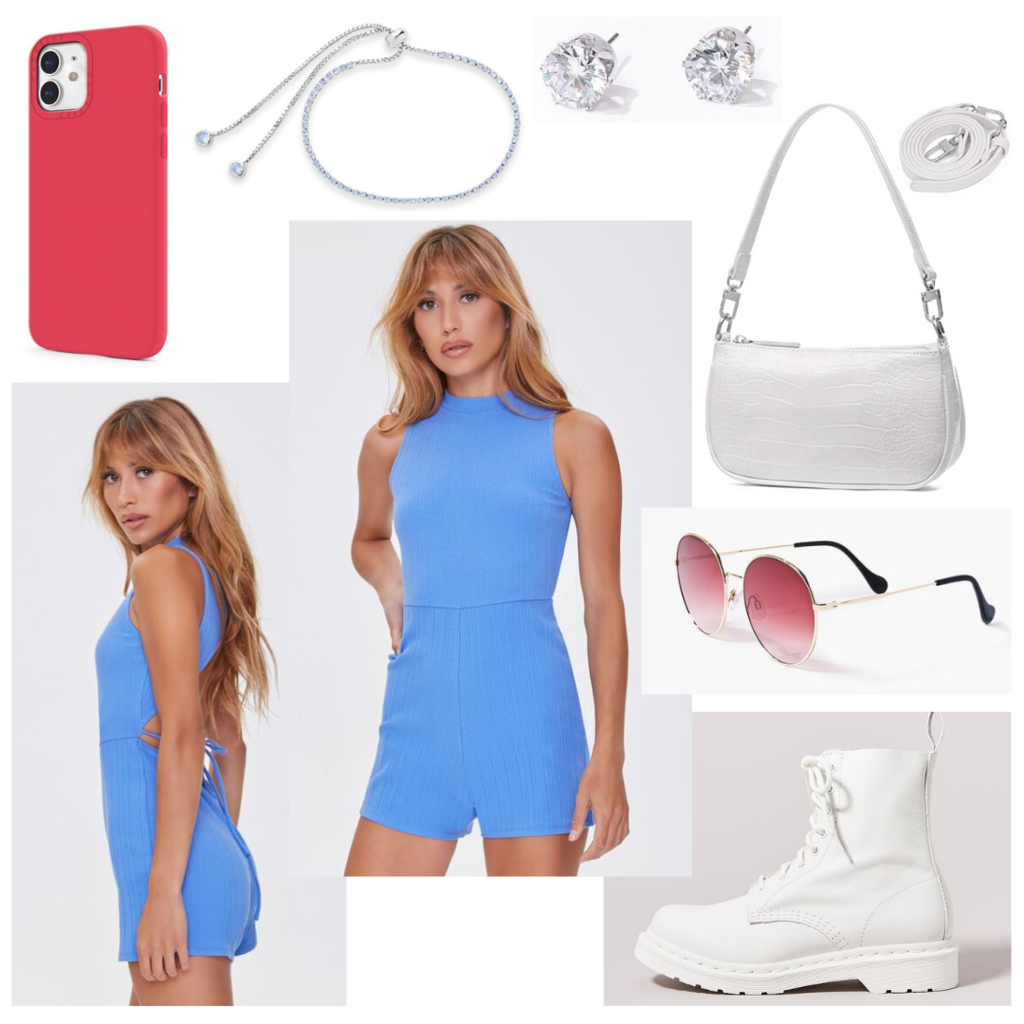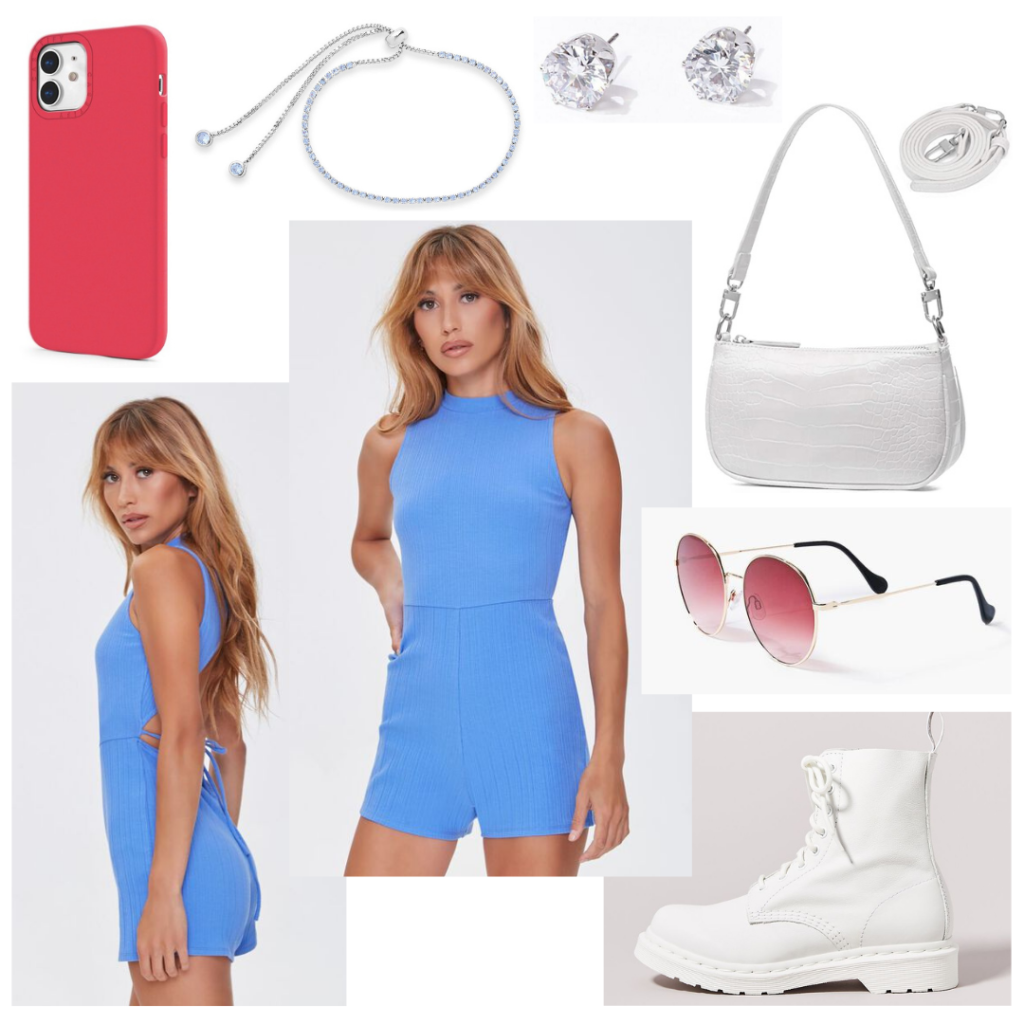 Products: Phone case, Bracelet, Earrings, Bag, Romper, Sunglasses, Boots
Live in a city? Planning on going into the city for the Fourth? Well then forget all-American style, Fourth of July outfits for the city are all about cool girl style. Adapt the event to your vibe, not the other way around.
First of all, you'll need this romper. I mean it — it's equal parts cute from the light blue color and edgy from the cool halter top and back details. For a day in the city, you'll need a city girl staple: combat boots. But they can't be black, remember? Complement the boots with a white, on-trend '90s bag.
You'll need some red — it's not Argentina's Independence Day, it's America's. I'm obsessed with these red sunglasses, and let's not forget the less obvious accessory: red phone case. This one from Casetify is compostable!! Finish off your look with some delicate jewelry, p.s.: the bracelet has aqua blue crystals!
Which Fourth of July outfit will you be wearing this year?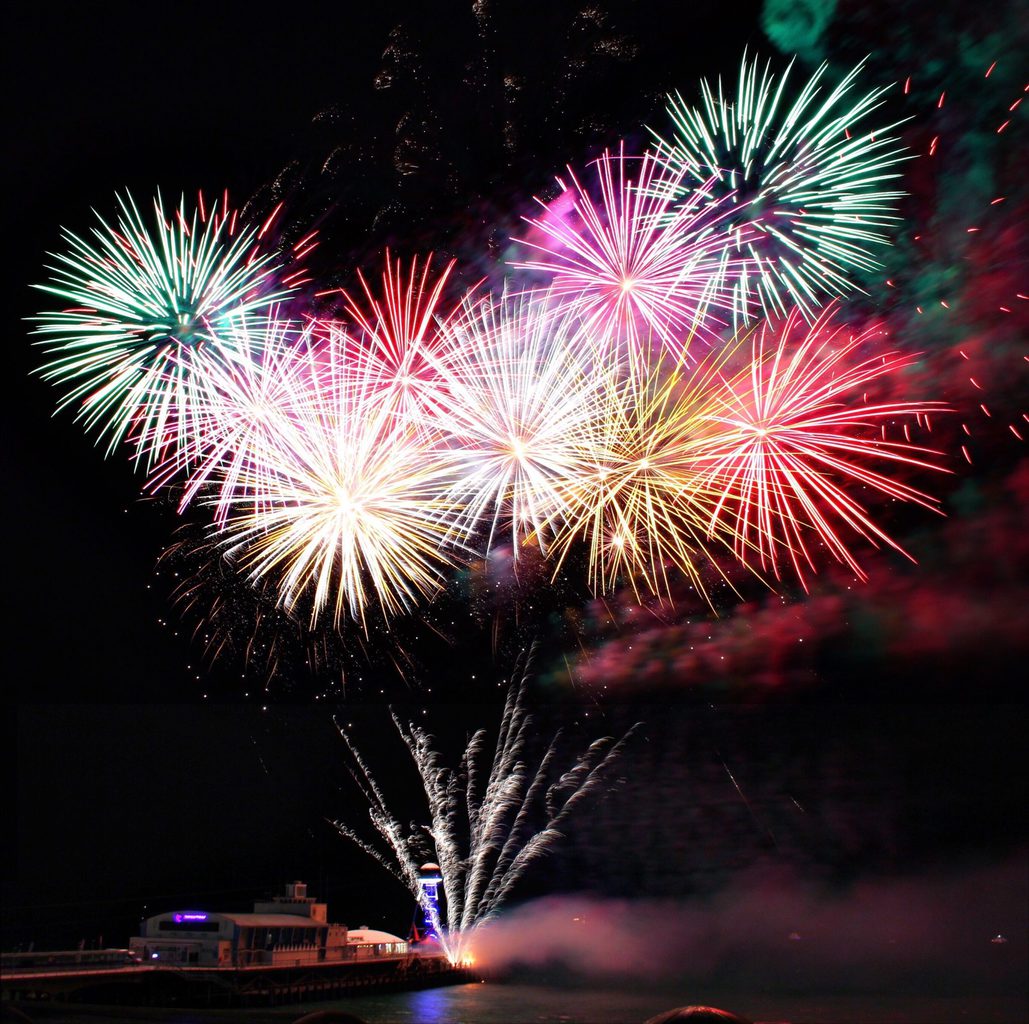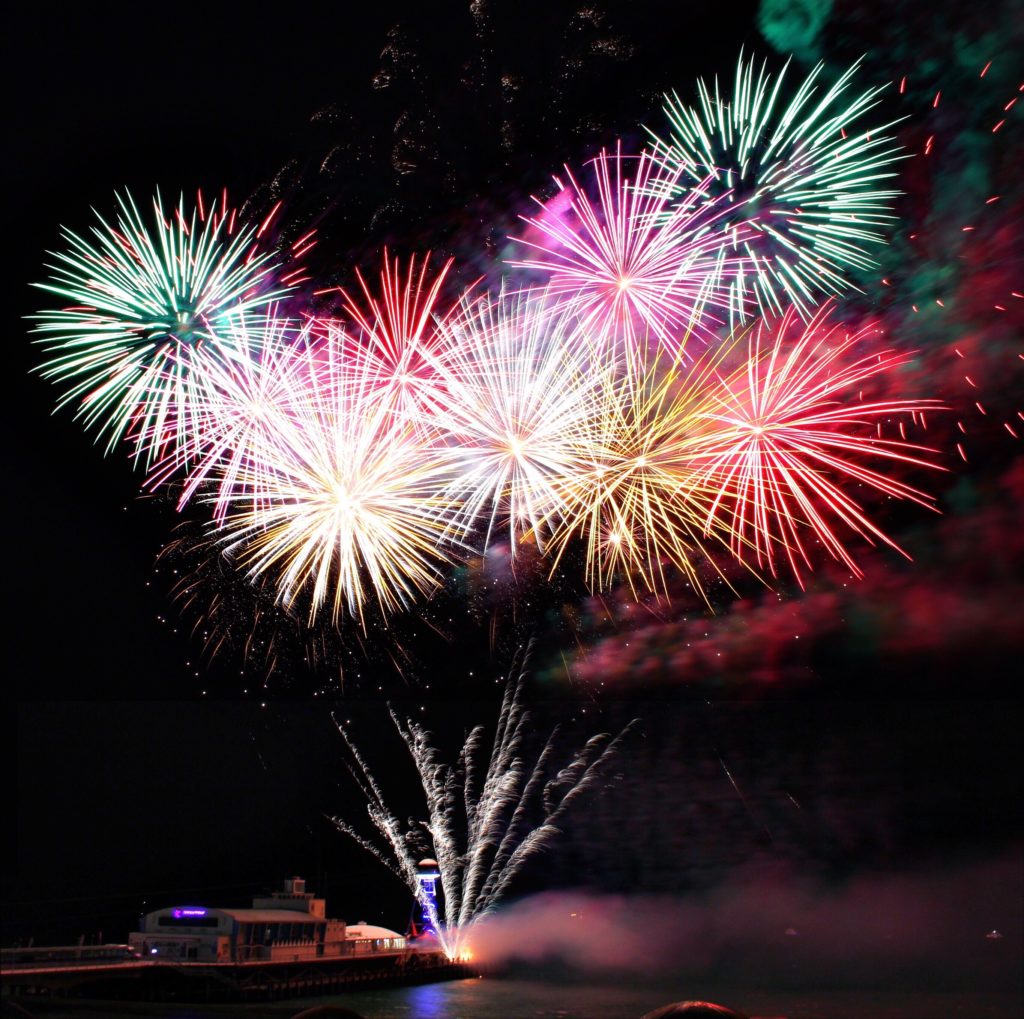 Now get ready for the fireworks from China, hot dogs from Germany and fries from Belgium, in a celebration that truly inhabits what it means to be American in the 21st century. A mix of cultures from all around the world, that combined are even better.
Welcome back to the world of celebrating holidays socially and have a great 4th of July Weekend!