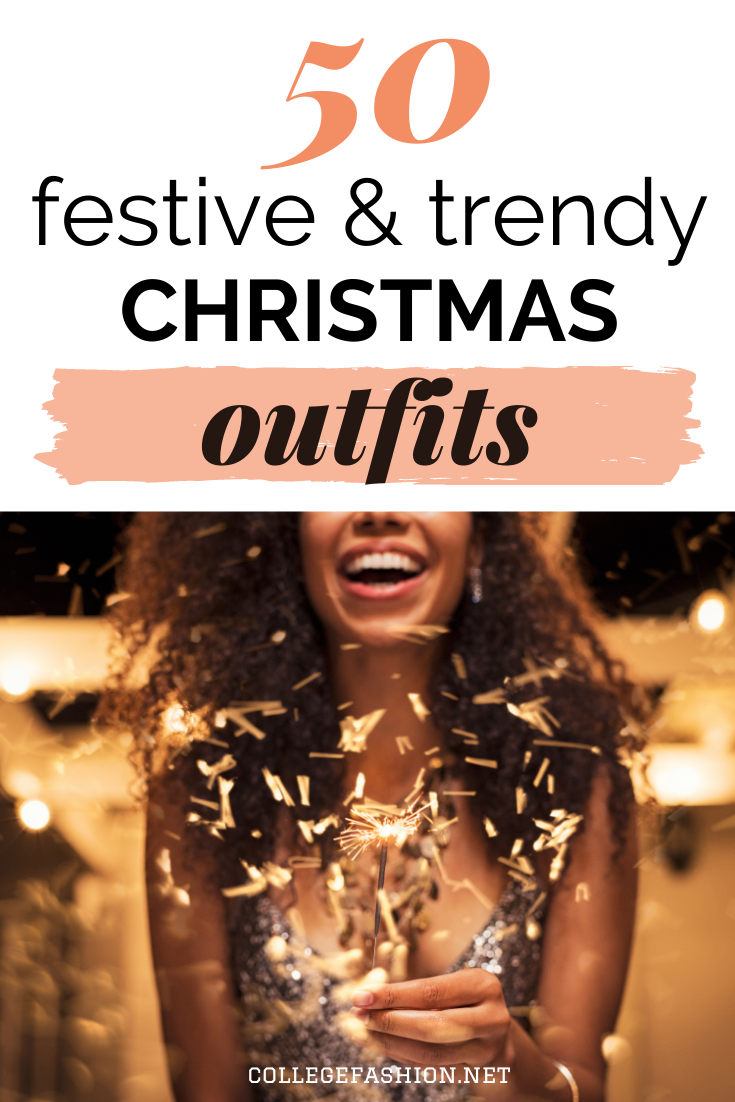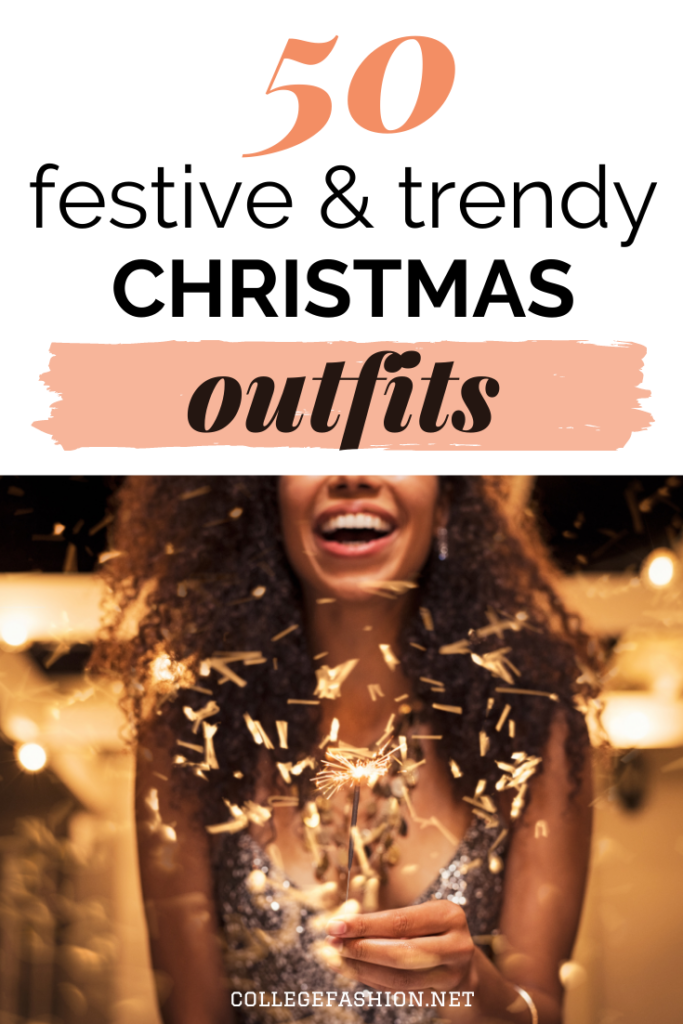 I don't know about you, but Christmas is my absolute favorite time of year. I love everything about it – from Christmas music and Christmas songs to Christmas food…
But Christmas clothes? That one phrase alone is enough to give any fashion girl nightmares of tacky sweaters and Santa hats.
But fear not – there are ways to incorporate some Christmas fun into your outfits while still looking cute and stylish! Interested in hearing more? Read on for 50 — that's right, 50 — gorgeous Christmas outfits to try!
Related reading: 15 Christmas Makeup Ideas You'll Love for the Holidays
The Best 50 Christmas Outfit Ideas
Emerald Sequin Dress
We have to start off with a showstopper. This dress looks like it belongs in a Christmas movie and it is one of those classic holiday fashion must-haves that every girl needs in her closet. Paired with some simple heels, it's an easy and stylish outfit.
As a bonus, it comes in gold as well, in case green isn't your fave.
Embellished Sweater Outfit
I love a good embellished sweater for the holidays — it's instantly glam but still so cozy and easy to throw on. Pair this one with a velvet skirt for a sweet holiday feel.
Seriously, this outfit is so simple yet it looks like you spent a lot of time on it. The perfect Christmas outfit in my book.
Leather Skirt & Sweater Outfit
This outfit makes you look like you have your life together, plain and simple. It's so polished and cool thanks to its neutral tones and mix of textures. It definitely looks 10x more expensive than it is.
As a bonus, you could wear all of these pieces again and again, so this outfit is a great investment.
Long-Sleeved Sequin Dress Outfit
Here's a more modest take on the sequin mini dress for the holidays.
This one incorporates long sleeves and a pretty wrap detail for a dress you'll wear again and again. The dress speaks for itself so you don't need a ton of styling. Add your favorite strappy pumps and do your hair up big.
Pink Velvet Dress Outfit
I love an unexpected pink dress for a holiday party. This one is totally winter appropriate thanks to its long sleeves and velvet fabric. So easy to throw on with your favorite pair of metallic heels and a pretty clutch!
Bold Red Pants Outfit
This casual Christmas outfit is such a vibe! It combines some statement bright red flares with a slouchy tee and moto jacket for a downtown, cool girl feel.
This outfit would be amazing for Christmas Eve drinks with your friends from home.
Grinch Inspired Monochrome Christmas Outfit
This outfit has Grinch vibes in the best possible way.
I love the idea of a monochrome look for the holidays. This one incorporates a light green mini dress with a darker green leather blazer for a cool hint of contrast. Add army green ankle boots and your favorite bag (ideally in green), and you're good to go.
Red Sequin Jumpsuit
It does NOT get cooler than a red sequined jumpsuit for your next formal holiday party. This one is an absolute stunner!
As with other sequined pieces, this one doesn't need much styling at all. Add barely-there heels and walk in like you own the place.
Pearl-Embellished Mini Dress
This black velvet mini dress with pearl detailing gives me Balmain vibes — and I'm definitely not mad about it!
Pearls are a huge trend this year and they are so fresh and unexpected on a dress like this. I love how the outfit includes trendy white boots, too, for a very of-the-moment feel.
Classy Outfit
There is something so classy about an all black outfit with a pop of leopard print.
This simple look from Lulus consists of black skinny pants, heeled ankle boots, a black turtleneck sweater, and the statement piece — a bold leopard coat. The combo looks so grown up and chic, perfect for all but the most formal Christmas occasions.
Casual Outfit
This is such a cute casual Christmas outfit, perfect for running last-minute errands or having a cozy board game night with friends. It gets its Christmassy vibe from the green plaid pants (a huge trend right now) and the cozy sweater.
Finish the outfit off with chunky black oxfords (another huge trend) and your favorite shopping tote.
Christmas Dress
Technically, any of the dresses in this post can be considered Christmas dresses. That being said, this one has all of the classic Christmas vibes.
This dress is made of emerald green satin (so classic for formal events), and everything from the fit and flare shape to the ruffle sleeve detailing screams "holiday party." Plus, the bow in the middle definitely reminds me of a present. This dress is Christmassy without being even the slightest bit cheesy.
Cute Christmas Outfit
How cute is this Christmas outfit with sequin pants? I never would have thought to put these pieces together but they look amazing combined.
This outfit really works thanks to the all-neutral color palette. This is a great fashion trick to try over the holidays, since it makes any outfit look a lot more expensive.
Midi Dress + Boots Outfit
In fall and winter, you absolutely can't go wrong with a midi dress and ankle boots. This combo works for so many occasions and it's an easy go-to formula.
This pretty printed dress from Lulus looks stunning with edgy black ankle boots and a black bag. This outfit will turn heads but is still casual enough to be worn just about anywhere.
For Attending Mass – Cute Church Outfit
Here's a pretty and festive outfit you could wear to attend mass for Christmas. It doesn't stick to the traditional Christmas colors, but it still feels seasonally appropriate thanks to its mix of velvet and lace.
The high-neck of the blouse is church-appropriate, and you could always swap in a longer skirt if you wanted to make this one more modest.
Flannel Shacket Outfit
The shacket is such a huge trend this year and for a casual Christmas event, you can't go wrong with a shacket, leather leggings, and a black top. So simple, so easy, and surprisingly chic.
Simple outfit
A cami and some leather pants is a party go-to any time of year, but it's especially great for the holidays when you want to be a little bit edgy for a night out.
This is another example of an outfit you could wear again and again, so all of the pieces would make great investments.
Cool Outfit
This outfit would be perfect for a casual get-together with friends or family around the holidays. It's one part preppy and put-together, and one part casual-cool. Plus, it incorporates pieces you probably already own!
Bright & Bold Christmas Outfit
If you want to go bold at your next holiday party, this is the outfit for you!
It's very trendy and 2000s-inspired, with its wide leg green pants and chunky heeled combat boots. Mix in a patterned crop top and a mini bag and you have a super trendy Christmas look.
Minimalist Christmas Party Outfit
This formal Christmas party outfit is stunning yet incredibly minimal. It's just a gorgeous satin slip dress and a pair of barely-there heels. Add a small, glittery bag if you want, or not. Some simple, thin jewelry would finish off this gorgeous formal look.
Patterned Ankle Boots Outfit
Here's another cool and super casual outfit idea for Christmas shopping, hot cocoa dates, or dinner at home with your family. Nothing super fancy but still super cute. The best part is, you probably have all of these pieces (or close) in your closet already!
2000s-Inspired Outfit
This cool girl Christmas outfit is giving all the Y2K vibes! It's definitely not for the timid — this is a fashion girl pick for the holiday season.
Trouser pants have been trending everywhere this year, and I love them in emerald green. Pair with trendy white boots and a daring crop top, then attend the coolest Xmas party in town.
Classic Plaid Skirt Outfit
The plaid skirt is a holiday season classic, so it's only right that we include it on our list of the best Christmas outfits.
This black and white outfit is so classic and classy — it would look at home at any holiday event. My favorite part is the statement-making coat, which looks a lot more expensive than it is.
Edgy Plaid Skirt Outfit
Here's an edgier take on the plaid skirt that would be perfect for Christmas get-togethers with friends or casual Xmas parties.
The plaid mini skirt and cropped sweater combo has a definite '90s fashion feel, made even more so by the grunge-inspired combat boots. Add some smudgy eyeliner if you want extra edge.
Unexpected Christmas Outfit
You might not have thought to pair a tweed mini set and tank together for Christmas, but how cute is this look?
These sets are super trendy right now (hello, Clueless vibes), so this is a great way to rock a fun trend this holiday.
Fun – Ugly Sweater Outfit
Here's one for those "ugly sweater" parties people love to throw this time of year. This look is sure to leave your comedic friends chuckling and your fashionable friends in awe.
Style this "chillin' with my snowmies" sweater with this berry miniskirt and black belt. This sweater will look best slightly tucked into the front of the skirt.
Gorgeous black platforms booties are a must. They're a great way to make this ugly Christmas sweater outfit a little more chic.
Casual Ugly Sweater Outfit
This light-up sweater is sure to keep heads turning! It calls for a laid-back look, so pair it with some black leggings.
Simple, white platform sneakers and a gold chain polish this outfit flawlessly. You can take off or add on as many accessories as you would like, but to me, this was the perfect amount to complement the sweater without taking away any of its funky elements.
All-Neutral Christmas Outfit
This one is a great way to bring some of your lighter summer pieces into the Christmas season. Just pair a cream top and midi skirt with a brown moto jacket for a cool look that's still holiday-appropriate.
Fashionable Party Outfit
How glam is this holiday party outfit? It combines tan leather pants, a cutout sweater in cream, and a gorgeous camel moto jacket.
Just add your favorite strappy heels (these braided leather ones are gorgeous!) and you're glowing for a night out!
Sequin Kimono Cardi Outfit
Okay, I seriously never thought to rock a sequin kimono cardigan but now I definitely want one! It's such an easy way to jazz up even the simplest jeans and tank combo.
Accessorize with cool jewelry and your favorite black heels and bag.
Chic Ugly Sweater Outfit
Okay, I know what you are going to say. What is ugly about this sweater? The answer is: nothing! But, that doesn't mean that you couldn't happily wear it to a Christmas party and totally get away with it.
So, for my cute and not-so-ugly Christmas sweater outfit, I paired it with these white bell-bottoms and glittery red heels. The heels match so elegantly with the snowman's scarf and will stand out from the white jeans.
To top it all off, I added this festive-looking scrunchie.
Boho Christmas Outfit
If your style leans more bohemian, this is the Christmas outfit for you.
Not traditional in any way, this outfit mixes a printed midi dress with a chunky popcorn cardigan (so cozy!) and burgundy combat boots. Grab some thick socks and a cozy beverage and you have the perfect boho Christmas look.
Statement Bag Party Outfit
It's amazing what the right bag can do for an outfit. This look pairs a simple silver sequin dress with a bold green satin bag for ALLLL the Christmas vibes. Green is trending this year, too, so this one wins extra fashion points.
This outfit idea is so stunning, perfect for any fancy holiday parties you have coming up!
Red Sweater Dress & Black Boots Outfit
It doesn't get much simpler than this Christmas 'fit. Just pair an oversized burgundy sweater dress with a simple pair of black booties and accessorize with a black chain strap bag. So easy and SO comfy!
Glam Red Sweater Dress Outfit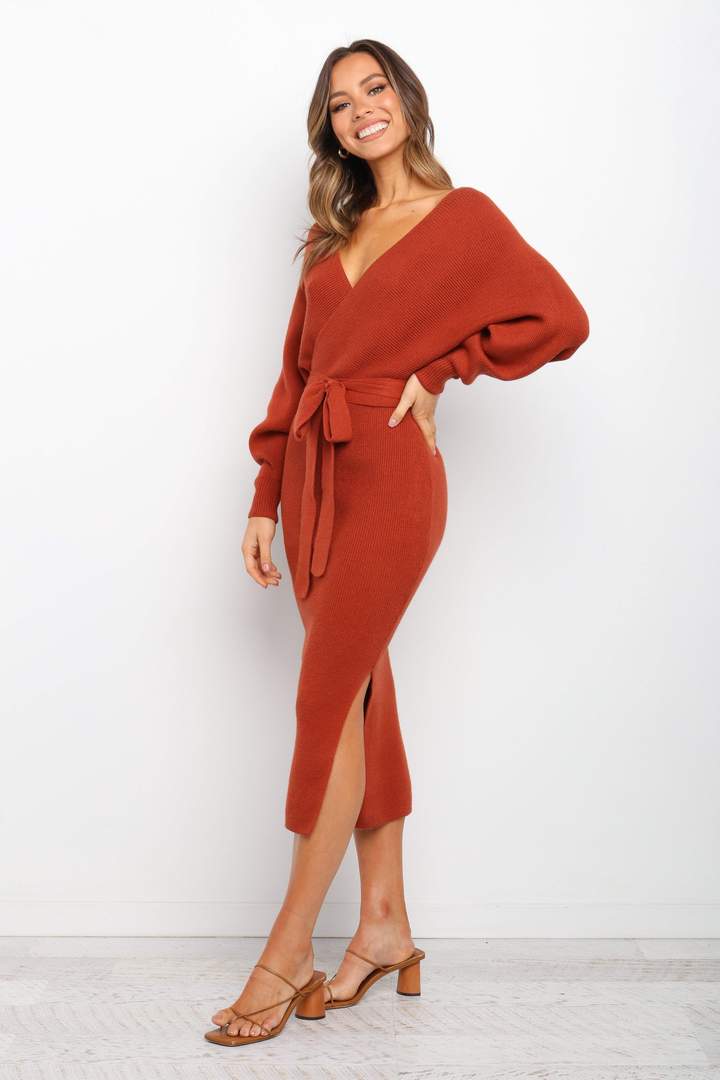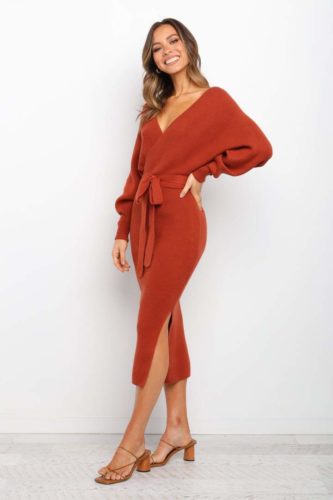 Here's another pretty red sweater dress outfit, this time with a more glamorous vibe. The wide neckline, side slits, and wrap shape of this red sweater dress make it anything but ordinary. You don't need much in terms of accessories, just your favorite jewelry and heels of choice.
Casual Cool Midi Skirt Outfit
I love how slouchy and effortless this Christmas outfit combo is. The luxe velvet midi skirt feels expensive, while the green cropped sweater is something you could wear all season long. Add your favorite heels and a crossbody bag for a casual yet festive vibe.
I could see this worn for Christmas dinner or a fun, casual get-together the night before.
Classic Little Black Dress Outfit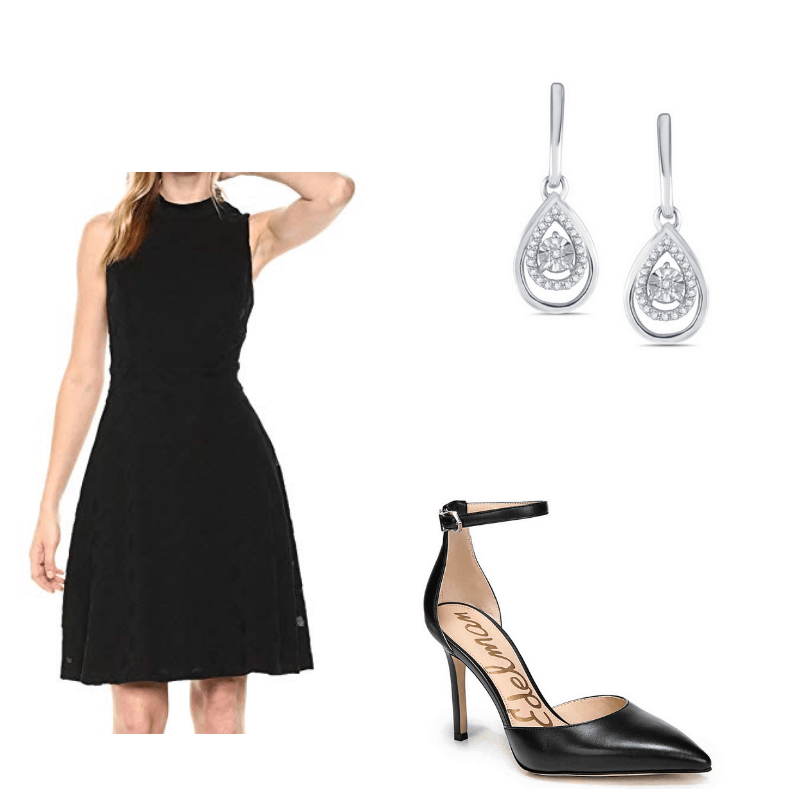 Products: Earrings – Zales, Dress – Nine West (Amazon), Heels – Sam Edelman (DSW)
This is such a classic and elegant look. The Nine West black dress works for numerous occasions. It's perfect for going out to a holiday dinner with friends but could also work for internships and job interviews. The heels are also a timeless design that you will wear year after year.
What do you think of these Christmas outfits?
Which outfit is your favorite? What's your favorite outfit to wear at Christmas? Tell me your thoughts in the comments.