Between family get-togethers, your BFF's annual holiday bash, and upcoming New Year's Eve festivities, now's the perfect time to purchase a new party dress that will look fashionable at any end-of-the-year event. However, if your bank account has taken a serious hit over the past few weeks, never fear– we've found 25 super-stylish dresses that cost less than $50 apiece. Just scroll on down to check them out!
Little Black Dresses
LBDs are classic frocks that work for any occasion, but when shopping for a holiday-appropriate one, try opting for unique fabrics or detailing. Velvet and lace LBDs instantly evoke a luxe vibe, while peplum, ornate appliques, or statement collars are on-trend details for the season.
Anything goes when it comes to accessorizing an LBD — add a pair of studded ankle booties and a faux leather jacket if you have an edgy aesthetic, or choose ballet flats and a pretty cardigan if your style is girly.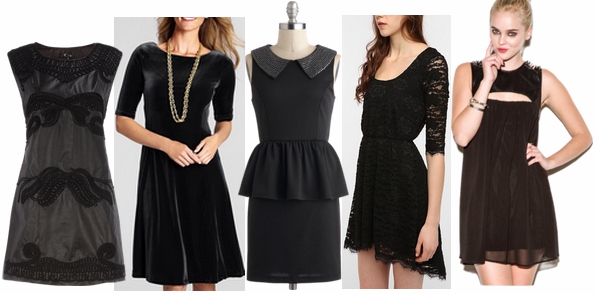 Product Info: Embroidered- Dorothy Perkins, Velvet- Land's End, Peplum- ModCloth, Lace- Urban Outfitters, Cutout- Forever 21
Festive Sequins
The holiday season is the perfect time to wear a shimmering, statement-making sequined dress! We love sequined dresses that incorporate color and pattern, but if you're not ready to rock a full-on embellished dress, look for ones that incorporate other materials, like our picks from Kohl's and ASOS.
Since these dresses are so sparkly, go easy on the accessories — maybe add a pair of stud earrings or a headband — then grab a sleek clutch for a party-worthy look that's sure to garner plenty of attention.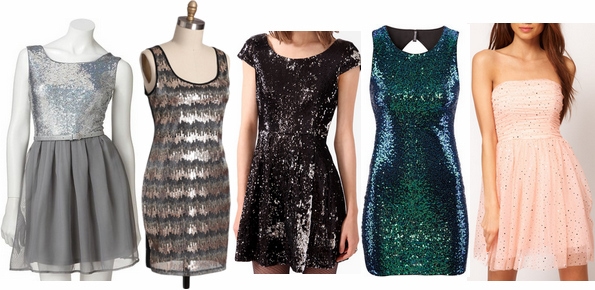 Product Info: Silver- Kohl's, Patterned- Ruche, Black- Forever 21, Teal- H&M, Light Pink- ASOS
Bold Jewel Tones
Wearing a solid-colored frock is always a simple, yet striking choice for the season. Shades of green and red are always popular during this time of year, but if you want to go for something a little different, blue and purple are also gorgeous, winter-y colors.
If you have a minimalist approach to fashion, pairing a colorful dress with neutral shoes and accessories will create a chic look, but incorporating another hue through a belt or clutch is another stylish choice for the holidays.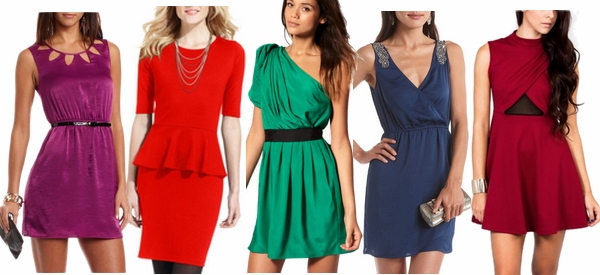 Product Info: Purple- Charlotte Russe, Red- Macy's, Green- ASOS, Blue- Charlotte Russe, Ruby- Go Jane
Shimmering Metallics
Take cue from twinkling Christmas lights, tinsel, and ornaments by opting for a sparkling metallic frock for the holidays. The silver, ivory, gold, and bronze dresses below can work for both casual or formal events just by switching up the accessories.
However, if you're looking to amp up your style cred this season, try mixed metallics — wear gold jewelry with a silver dress or vice versa — for an understated, yet elegant look.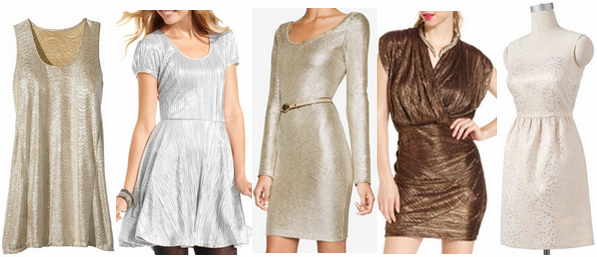 Product Info: Sleeveless Gold- Target, Sliver- Macy's, Long Sleeved Gold- BCBGeneration, Bronze- Macy's, Ivory- Kohl's
Pretty Prints & Patterns
Patterns and prints are not only a surefire way to stand out in a crowd, but can also make a fashion-forward statement for the holidays. We love how each of the dresses below is totally unique — you won't see anyone else at the party rocking a similar frock!
Let the dress take center stage when accessorizing — a pair of opaque tights, simple jewelry and your fave pair of shoes are all you need to create a cute and stylish look.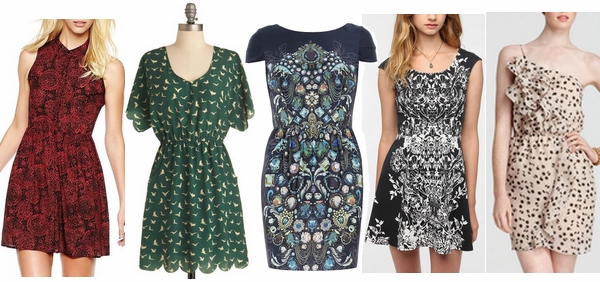 Product Info: Lace Print- JCP, Bird Print- ModCloth, Jewel Pattern- Dorothy Perkins, Mirrored Floral Print- Urban Outfitters, Polka Dots- BCBGeneration
Your thoughts?
What do you think of these dresses? Which one is your favorite? What's your favorite type of holiday dress? How do you style your dresses for holiday parties and get-togethers? As always, remember to leave a comment below and tell us what you think!