This post may contain affiliate links, which means we may receive a commission if you purchase through our links. Please
read our full disclosure here
.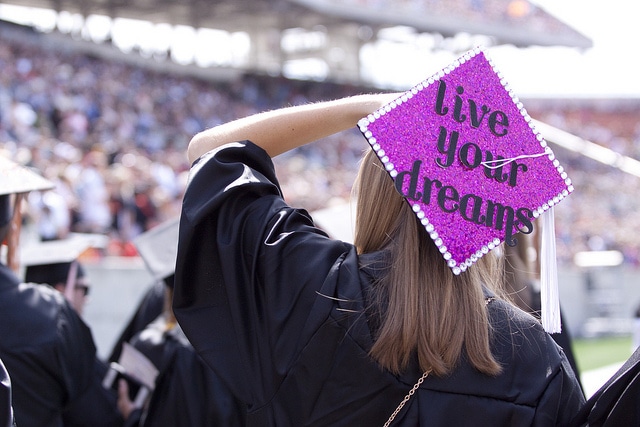 From the moment they receive that fateful acceptance letter to college, to the day they're gearing up for senior pictures, every freshman dreams of their graduation day.
One way to commemorate a journey of such massive academic progress, extracurricular activity, and overall exhaustion (aside from coming up with the perfect graduation outfit) is to put some time into a cool graduation cap decoration, transforming it from a basic ceremonial piece to a one-of-a-kind masterpiece.
Whether custom-made for purchase or built from scratch by the wearer herself, the following graduation cap ideas are striking and ingenious. See if you can glean some major #grad inspiration from our favorite Instagram examples below!
1. The cap that's got it all
When the first cap is this good, you know it's only going to get better from here on down.
2. This wanderlust sign
Featuring a quote by American novelist Jack Kerouac, Adeline's design truly stands out with its impeccable calligraphy.
3. This rhyming, truth-telling Dr. Seuss cap
"You have brains in your head. You have feet in your shoes. You can steer yourself any direction you choose. You're on your own. And you know what you know. And YOU are the one who'll decide where to go…"
4. This cap that tells it like it is
Paws down, I think @toshi_the_shiba's cap is the best Shiba Inu cap I've ever seen. And I've seen my share of good boy accessories.
5. This custom-made acrylic design
Anyone else start humming the song as soon as they spotted the Pinocchio lyrics?
6. This motivational masterpiece
Again, hand lettering takes the stage with you as you prepare for a world of exciting possibilities after college.
7. This cap that screams #BlackGirlMagic
Can we admire some of that extraordinary #BlackGirlMagic just by appreciating this graduation cap decoration?
Yes, yes we can.
8. The next in a long series of travel-oriented grad caps
When travel is your ultimate passion, you just want the world to know it.
9. This appreciative and bilingual sentiment
Sometimes, graduation caps are the best way to show your loved ones how grateful you are for their support throughout college.
(In Spanish: "Thank you for planting a seed. Thanks, mom and grandma.")
10. This roaring 3D dinosaur cap
We have an inkling Ross would never take a break from wearing this nerdy grad cap.
11. This handwritten statement cap
When you treat your graduation cap like a canvas, beautiful things happen. This is such an example.
12. This cap that's, quite frankly, hilarious
Self-confidence + Taco Bell = one superb grad cap.
13. This intricate DIY design
Who said pre-health majors couldn't be creative?
14. This Belle-inspired work of art
Perfect for theater majors, English grads, or just regular Disney enthusiasts, this graduation cap inspires wanderlust and VHS nostalgia.
15. The sweetest cap you'll ever see
This little light of mine, I'm gonna let it shine…
16. This punny Hello Kitty drawing
Hellllooo, graduation!
17. This absolutely precious cap
Sometimes, you can say so much by writing so little.
18. This beautiful collection of makeup products
Or should we say beauty-full?
19. This brush script grad cap topper
When adventure is out there, you want the rest of your life to start as soon as possible.
20. This work of heart
Sunflowers and daisies, check. Motivational quote, check. One of the cutest graduation caps we've stumbled upon? Check.
21. This girly square
From J.K. Rowling to the graduation floor.
22. This bejeweled flower crown
We love how classy this decked out floral cap is!
23. This Little Mermaid-inspired cap
Us too, girl. Us too.
24. This Harry Potter masterpiece
No, we're not crying; there's just something in our eyes!
25. This Legally Blonde number
We did it!
26. This witty B.S. grad cap
Tiptoeing the line between enlightened and just plain punny.
27. This Shakespeare illustration
The Bard would approve of this cute graduation cap idea.
28. This Instagram addict
So true.
29. This future NYC resident
Looking at this cap, it's no surprise that the senior who made this is starting a career as a graphic designer!
30. This Hamilton statement
#Represent.
31. This pearly artwork
We're not sure we'd have the patience to glue 1,500 little blue balls onto one cap, but kudos to this graduate for her amazing crafting skills!
32. This puptacular piece
In this case, honesty was the best, and most artistic, policy.
33. This catterific cap
Or, you can always go the kitty route if you prefer Tiger to Fido.
34. This glittery Kawaii craft
See if you can spot Totoro and No-Face in this eclectic mix!
35. This custom Mulan top
We're sure this grad looked beautiful after four years of adversity — oops, we mean college!
So no one told you life was going to be this way…
37. This unique take on graduation
The only thing it's missing is the soundtrack: Pomp and Circumstance.
38. This Leslie Knope meets Mickey masterpiece
We can't get enough of these cute Disney-inspired caps!
39. This Spongebob Squarepants joke
According to the maker of this grad cap, you get bonus points if you read it with the narrator's French accent.
40. The last on our list
For our last cap, we're reminding you to thank your mom, dad, and anyone else who's helped you become the person you are today.
Now that you've been inspired by these truly spectacular grad cap decorations, why not try making your own?
Epilogue: The Grad Cap Challenge
It's not a true College Fashion grad cap roundup without community input!
If you have a graduation cap you believe deserves an honorable mention, comment below with a picture of it so that we can admire it, too! Whether it's your own heart's labour or from the desk of a budding artist friend, we're sure to think it's the bee's knees.
Seniors, are you excited to walk at graduation? Have you already made progress on your cap? Are you open to sharing a pic or two?
Comment below with an image of your DIY graduation cap. We want to see how creative our very own CF readers can be!