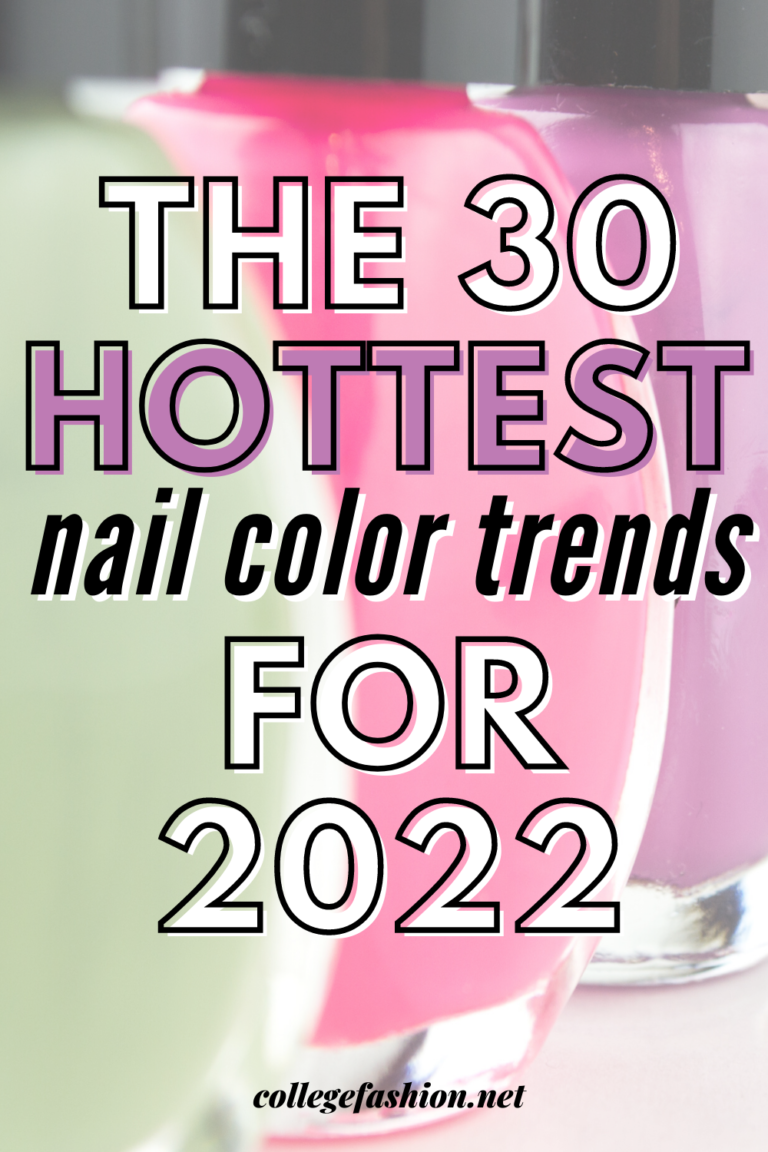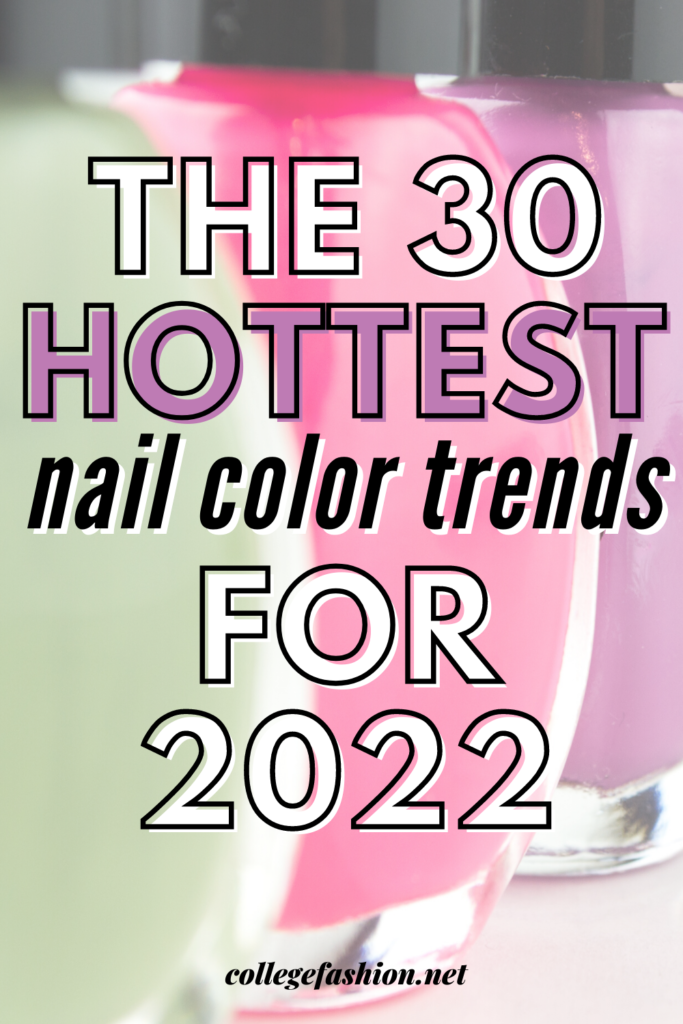 I don't know about you, but I am leaning into some self-care right now, and that includes giving myself at-home manicures. As part of this, I've been experimenting with some fun nail color trends that I've seen on the runways and with my favorite influencers. Learn what are the popular nail colors for 2023.
Want to test out these trends on your own nails? Here are the top 30 hottest nail color trends you need to know about in 2023, plus some go-to shades for each!
Related Reading: The 50 Hottest Fall Nail Trends to Know This Year
First… Prepare Your Supplies
I always use a good base coat and top coat when I'm doing my nails at home. Also, I find this is the #1 most important thing for reducing chips and making my mani last.
I always start with my favorite base coat ever, ORLY Bonder. Then, I apply 2-3 coats of polish. I finish my nails with OPI Nature Strong Top Coat. (It's so shiny and applies like a dream!)
Now on to the nail color trends you need to know about for 2023:
The Top 30 Hottest Nail Color Trends for 2023
1. Soft, Pale Green
Pale green has been THE fashion color of the past few seasons, so it's no surprise it's trending for nails as well.
OPI's popular new Xbox Collection for 2022 includes a super cute pale green shade called "The Pass is Always Greener." It's so pretty and perfect for spring. I bet we're going to see this one everywhere soon!
2. Very Peri
Pantone's color of the year is "Very Peri," a soft, periwinkle blue. So obviously that shade is going to be a hot trend for nails.
All shades of periwinkle are on-trend this season, so rock any of them. However, if you want a close approximation of Very Peri, Essie's "Pret a Surfer" is pretty dead-on.
3. Shiny Metallics
Metallic nail polish is one of the biggest nail color trends for 2023. It's futuristic, it's eye-catching, and it makes a statement.
Shade-wise, all metallics are fair game. I love a classic, though, so I'm reaching for Essie's "Penny Talk," a smooth, shiny bronze metallic. Wear it as an accent color on your mani for millions of compliments.
4. Medium Green
Yep, we have another shade of green. As you'll see as you continue down this list, green in general is a HUGE nail color trend for 2023.
The most wearable shade year-round, in my opinion, is a medium, lush green that reminds you of foliage. Olive and June "Besties" is my go-to in this category, although if you want something darker, closer to a forest green, their shade "Into the Trees" is beautiful too.
5. Sky Blue
Every spring, pastels come back into fashion and we are here for it! This year, there are tons of cute pastel blue nail polishes to choose from — just pick your favorite; you can't go wrong.
Duri "Cloud True Blue" is a pastel blue creme that has amazing coverage. It's a great wearable, everyday pastel that will look great on most skin tones.
6. Fuchsia
Pink nails are forever in, but in 2023 it's all about bright, bold color, so bring on the fuchsia!
OPI featured fuchsia in their Fall 2021 collection and we saw the shade "7th and Flower" everywhere. I definitely recommend picking it up if you love pink; this is such a pretty and wearable shade.
7. Barely-there Nudes
If you have a minimal or classic sense of style, or just want a natural-but-better feel for a job interview, the barely-there nude polish trend is for you!
It's hard to even call this one a trend per se, because to me it never goes out of style, but it's one of the top nail looks we're seeing everywhere this year.
Now let's remember that nudes are going to be different for every skin tone — you want one that complements your undertones. I'm very pale and cool-toned, so OPI's "Don't Bossa Nova Me Around" is my favorite nude polish of all time.
8. Bright, Clear Cobalt Blue
All the nail blogs are buzzing about bright cobalt blue being a hot nail trend in 2023. It's an optimistic, positive color that's soothing at the same time, so what's not to love?
Essie "Butler Please" is a stunning example of a cobalt polish for the spring and summer seasons. It would be amazing on nails or toes when you want to make a statement.
9. Color Sets
One of the biggest trends this year is painting every nail in a different color from the same set. The pioneer of this look is brand Olive and June, which sells nail sets for every theme you can imagine.
Their "Malibu Sunset" set is my personal fave of their cult nail sets. It incorporates five different trending shades for 2023, so you can wear them together or separately for a modern nail look.
10. Creamy Off-White
White nails have always been a favorite of mine, but this year the trendiest way to wear white is in creamy, slightly off-white shades.
OPI "Coastal Sand-tuary" has just a hint of cream in it to warm it up. It's not as stark as regular white polish, so it reads more subtle and grown-up, great for adding a cool-girl feel to your nails.
11. Navy
Navy nails are back and I couldn't be happier! This is always my favorite dark nail polish shade and it's trending like wild in 2023.
"Infinity Cool" from Essie's Spring 2021 collection is my favorite navy ever — you honestly only need one coat for full, gorgeous coverage. It's a little hard to find these days but Ulta still has it in stock.
12. Sunny Pastel Yellow
Nothing says "springtime" like a sunny pastel yellow mani. This color radiates positivity and feels vintage and modern, all at the same time.
To try this 2023 nail trend for yourself, I recommend essie "Busy Beeline" from their expressie quick-dry line. Described as a "soft, buttery yellow," this shade will make you happy every time you look at your hands.
Related post: The 20 Best Yellow Nails Ideas to Try This Year
13. Ultra-Glossy Sheer Polish
If you want to take the nude polish look one step further, go for an ultra-glossy sheer nail polish to let some of your natural nail show through.
Essie "Sugar Daddy" is one of the best sheer polishes ever. It looks pink in the bottle but it actually goes on like a sheer nude.
I'm also a huge fan of the Zoya Naked Manicure set with the Shine Topcoat. The polish seriously never chips and the look is so natural and beautiful.
14. Bold Neons
With warmer days coming up, you need to have at least one bold, bright shade in your nail polish collection!
I love a neon Barbie pink (like Duri "Voodoo," above) because it's summery and fun, plus it's super girly and great for accents on nude or neutral nails. But if you aren't a pink nail girl, shades like lime green and neon yellow are also trending this year.
Related Reading: The 20 Best Neon Nail Designs to Try This Summer
15. Warm Neutrals
Another nail trend I'm seeing all over the nail blogs for 2023 is "warm neutrals." This is a broad category, but it basically means warm-toned versions of all your favorite nude polishes.
OPI "El Mat-adoring You" is the perfect example of this trend. It will look stunning on warmer skin tones, or with a (faux) tan this summer.
16. Classic Red
For those who prefer a classic look, never fear: bold, clear reds are trending for 2023.
ORLY's "Love My Nails" is a true red creme that has beautiful coverage and tons of five star reviews. You can't go wrong with this shade for any occasion.
Related Reading: 17 Beautiful Red Nail Ideas You Can Rock Year-Round
17. Glitters of All Kinds
In 2023 more is more, so it's no surprise glitter nail polish is trendier than ever. This year, we're seeing glitter as an accent, swapped for the white in french manis, or applied with a gradient finish for all the princess vibes.
Sally Hansen "Shooting Star" adds a glam touch to white or nude nails, while if you want something bolder, Orly's "Turn It Up" looks like you dipped your nails in rainbow confetti.
On the more subtle side, adding a wash of micro-glitter can upgrade any nail polish look. ILNP's "My Private Rainbow" adds a stunning layer of holographic sparkle to your nails.
18. Olive Green
Here's another shade of green we're going to be seeing all over in 2023! This one is decidedly retro yet really feels fresh since it's part of the modern green trend.
The shade above is essie expressie in "Precious Cargo-go!", a quick-dry shade that's sure to be different from anything you have in your collection.
19. Lilac Purple
An offshoot of the Very Peri trend is lilac purple, a beautiful, eye-catching shade that looks gorgeous on all skin tones.
To get the look, we have another quick-dry polish, essie expressie in "Sk8 with Destiny." I've seen this one all over Instagram and am definitely going to pick it up myself for spring manis this year.
20. Turquoise Blue
Hello, vacation vibes! Turquoise blue is another color that's trending in 2023. (And it's no wonder because we ALL need a vacation right now.)
For that summer feeling, a few swipes of essie "In the Cab-Ana" will have your nails looking fresh for the beach (or your desk for that Zoom meeting, sigh).
21. Creamy Brown
Here's another example of 2023's take on neutral nail polish. Influencers everywhere are rocking chocolate brown, more specifically a warm, mid-tone brown shade as seen above.
Polish-wise, our favorite example of this trend is the shade "Endless Sun-ner" from OPI's Malibu Collection. Described as "the perfect sun-kissed tan nail polish that will make summer feel year-round," this shade is a must for the warmer months.
22. Black (as an Accent)
Black nail polish is trending as an accent shade in 2023. This means, it's usually added as the nail art component of a regular mani. Think v-shaped french manicures with black tips, black butterflies on nude polish, cow print nails, etc.
If you need a new black polish, Sally Hansen "Black Heart" is a highly reviewed, deeply pigmented black and it costs less than $2 on Amazon! You cannot beat that.
23. Pearlescent Polishes
Pearlcore is trending in fashion, so naturally, pearl nails are trending as well.
Everyone is obsessed with Harry Styles' debut nail polish "Perfect Pearl," and the shade is undeniably gorgeous! However, if you don't want to drop $20 on a polish, OPI's "Kyoto Pearl" is a great dupe for half the price.
24. Smoky Mulberry
Recently popularized by Hailey Bieber, this cool-girl shade is taking the nail world by storm. "Smoky Mulberry" is a mid-tone purple-grey that's neutral but still interesting. It would work equally well for the office or a party.
Essie's "Merino Cool" is one of the most popular shades that exemplifies this trend.
25. Literal Jewel Tones
I feel like jewel tones are always trending in the fall, but in 2023 they're in year-round. Oh, and this year's jewel tones are literally mimicking jewels, down to the sparkle.
Olive and June's "Ruby Shimmer" is a stunning gemstone polish that makes it look like your nails are made of rubies — always a good thing.
26. Colorful Multichrome Shades
To me, this is such a 2000s throwback — holographic nails have that Y2K vibe that everyone loves right now.
These polishes have definitely received an update since the 2000s, though. For instance, ILNP's "Birefringence" is a color-shifting "ultra-chrome" polish that shifts from blue, to purple, red, green, yellow, and orange, depending on the light. It's sure to turn heads wherever you wear it!
27. Peachy Coral
Here's another example of a nail trend that will make you happy every time you look at your mani. Peachy coral is trending in 2023, and it's a sweet, warm color that brings to mind better days ahead.
OPI's "Suzy is My Avatar," from their Spring 2022 Xbox collection, is the perfect example of this shade. I'm definitely going to scoop this one up for beach days this summer.
28. Seafoam Green
Seafoam green, the final green shade on our list, gives off all the mermaid vibes for spring. It's the prettiest transition shade from the cooler months into summer.
My favorite seafoam nail polish is Nailtopia "I Sea You." Beyond the fact that their bottles are to die for, their polishes are vegan, cruelty-free, and free of harmful ingredients.
29. Dove Gray
Gray is another one of my personal go-to nail polish shades, so I'm excited to see it again in 2023. This year it's all about light dove grays, which are calming and soothing to the eye.
OPI's "It's Ashually OPI," from their Nature Strong line, is a beautiful dove gray polish to help you get the look this year.
30. Dusty Rose
Our final nail color for 2023 is a classic with a twist. Dusty rose is a muted, antique pink that can have warm or cool undertones. This means it's very flattering on most skin tones.
essie "Respond with a Kiss," from their Valentines collection, is a perfect example of this hue. It reminds me of the romantic academia aesthetic and feels so elevated yet sweet. It would be the perfect shade to wear to a spring wedding!
Frequently asked questions:
What is the most popular nail color for 2023?
The most popular nail color for 2023 is green. Any shade goes, but the most popular is soft, pale green (first on this list). If that green isn't for you, fear not — there are four different greens to choose from on the list above.
What is the most flattering nail color?
Very Peri (and its offshoot, Lilac Purple) is the most flattering nail color on this list. These two shades are universally flattering on all skin tones.
Is the accent nail still a trend?
Yes, absolutely! We are still seeing accent nails everywhere in 2023. Accent nails vary a lot these days and anything goes — we've seen nails covered in rhinestones, accent nails painted a slightly different color than the rest of the mani, and accent nails with stickers.
Another popular trend in 2023 is multiple accent nails on each hand, or even completely mismatched manis with different colors and designs on each nail. There are so many ways to rock this trend these days, so go wild!
What's your favorite nail color trend of 2023?
Which one of these nail polish shades will you be trying first? Are you leaning in to some self care right now? Tell me what you think in the comments below.
Did our nail color trends for 2023 ideas help? If you want more nail ideas, check out our collection of top tips and tutorials for your next mani: