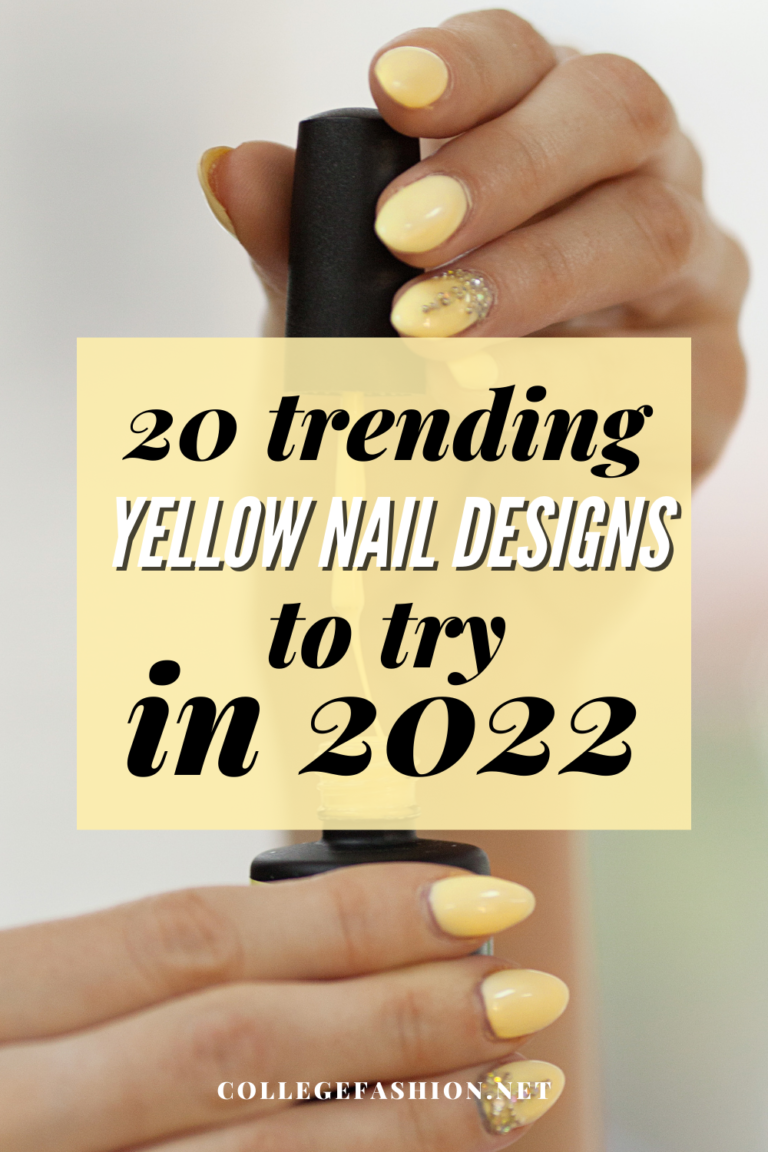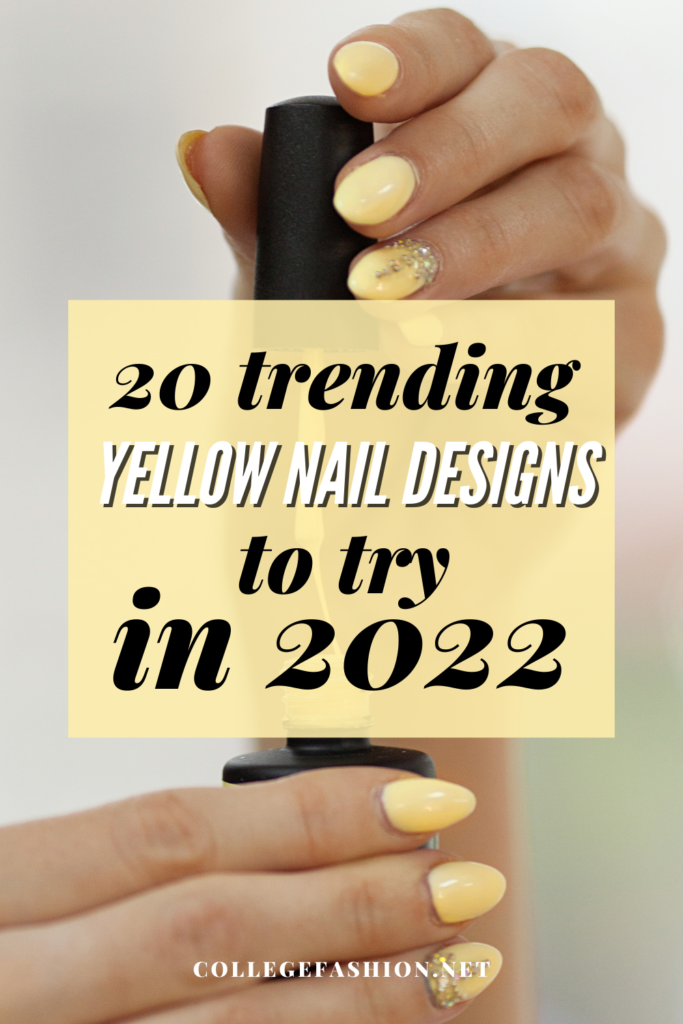 Over the past few months, we've been sharing nail ideas in all the colors of the rainbow. We haven't yet featured yellow nails, though, and it's about time — the shade is perfect for spring and summer.
If you have a vacation coming up or you just want to add a little sunshine to your look, check out these pretty yellow nail ideas that are trending in 2023:
Related reading: The Hottest Spring Nail Ideas That Are Seriously Trending RN
Yellow Nails Ideas
1. Minimalist Yellow Nails
The minimalist yellow and nude nail is a super popular look this year. It's pretty, it's easy to DIY, and it makes a serious statement.
The nails above are press-ons, so you can buy the whole set to get this look. Alternatively, you could do this look on natural nails yourself. Start by painting your nails a nude shade, then use scotch tape to create the triangle tip and finish with neon yellow polish.
2. Classic Yellow Manicure
Yellow is bold all on its own, so don't think you have to do fancy nail art to make a statement! The classic yellow manicure is so underrated and one of my favorite go-tos in the summer months.
The shade above, called "All the Bright Moves" by KBShimmer, is the perfect bright, clear yellow for rocking poolside as temperatures rise.
Related reading: The Best Summer Nail Ideas You'll Want to Try Immediately
3. Pastel Yellow Nails
Pastel yellow is one of the hottest nail color trends this spring, so we couldn't leave the pastel yellow mani off our list!
The shade above is called "Going Bananas" by brand Polish Me Silly, and I love how it adds a hint of pearlescent shimmer to the pretty pale yellow. This one just screams spring to me!
4. Yellow Haze Stiletto Nails
Stiletto nails are trending in a big way for 2023, and I love how they look in yellow!
These press-on nails have a unique combo of three solid yellow nails and two yellow and clear "haze" nails per hand. It's a cool, fresh take on the statement nail that would be so much fun for parties or vacation.
5. Yellow Nail Art
When it comes to yellow nail art, the options are endless. One of my favorite yellow nail art ideas, though, is this super cute yellow egg manicure.
This super cute look combines polka dots, stripes, and a cute egg nail art design for a varied and adorable mani. The best part is, you don't need nail art experience to recreate it — just cop the nail stickers on Etsy and you're good to go.
6. Yellow Leopard Print Nails
Animal print nails are always in style and these yellow leopard print nails are so cool!
I love that these nails have the animal print just on the tips, for a more everyday-wearable look. You can watch the tutorial above to see exactly how they're done.
7. Yellow Abstract Nails
Abstract nails are the biggest nail art trend of the year, by far.
These abstract swirls look great in every color under the sun, but I don't see them in yellow that much — which is too bad! These pastel yellow nails with bright yellow swirls are so much fun — they're sure to make you happy every time you look down at your mani.
8. Yellow Glitter Nails
If you want a bold yellow nail look to catch everyone's eye, look no further than these neon yellow, nude, and gold glitter nails!
I love that this mani combines three nail trends in one for a spectacular look. This one would be amazing for a girl's trip or birthday bash.
Related reading: The Prettiest Gold Nail Designs for an Elegant Nail Look
9. Yellow and Black Speckle Nails
Here's a more unexpected take on yellow nails that don't require nail art skills. It's a yellow polish with black glitter speckles from the brand Spellbound Nails.
Described as a "crelly," (a mix of cream and jelly polishes), this polish has beautiful coverage with a jelly-like finish, made even more interesting by the varied black gold embedded in the polish. So unique and cool!
10. Yellow and Nude Swirl Nails
Here's a different version of the yellow swirl nails seen earlier in this post.
This time, the look is done on long, nude, coffin-shaped nails, and two solid yellow accent nails are incorporated to break up the look a little bit. You could definitely get these done at a nail salon, but for an easier and less expensive option, pick up the exact press-ons on Etsy!
Related reading: 20 Pretty Coffin Nail Designs You Will Love
11. Neon Yellow Long Nails
Neon nails are popular again this year and if you want something loud and statement-making, a neon yellow mani is a perfect choice.
Not for the timid, these highlighter yellow coffin-shaped nails are absolutely stunning! Buy them as a set of press-ons and you can wear them again and again.
Related reading: The 20 Most Stunning Long Nails Ideas Trending Right Now
12. Lemon Nail Art
When life gives you lemons, wear them on your nails.
These yellow and white lemon-themed nail wraps are so perfect for summertime. Since they're nail wraps, you can rock them with any shape nail, but they look especially great on short stiletto nails, as seen above.
13. Taupe Manicure with Yellow French Tips
Colorful french tips have been incredibly popular for the last year and a half, and they're so much fun when done in yellow! Here, they're done in a light, mid-tone lemon shade, but they'd also look great in pastel yellow or highlighter yellow.
These would be easy to DIY at home with some french tip stickers, or you can just buy the set of press-ons on Etsy to get this exact look.
14. Yellow Butterfly Nails with Rhinestones
Butterfly nails are another hot trend for 2023, and this look shows no signs of slowing down! Everything 2000s is back, so it's no surprise butterfly nails are the hottest thing around.
I love how happy these sunny yellow butterfly nails look. They're especially pretty with the rhinestone detailing around the butterflies. The perfect Y2K nail for summer!
15. Pastel Yellow Flower Nails
This is my favorite yellow nail idea on this list because it's so sweet, girly, and minimal. It's just a simple almond-shaped nude nail adorned with pastel yellow daisies.
These press-on nails would be absolutely perfect for springtime, and since they're neutral and subtle, they would work with any outfit and for any occasion.
Yellow Ombre Nail Designs
When researching for this article, I stumbled upon so many different types of yellow ombre nail designs, so with this in mind, I thought they deserved their own section.
Here are a bunch of different ways to wear the yellow ombre nail trend that seems to be everywhere:
16. Pastel Yellow Ombre Nails
As mentioned earlier, pastel yellow is a trendy nail color for 2023, so it's only natural that we'd be seeing it used in ombre nail designs.
These press-on nails feature a light nude base that fades into a pastel yellow tip. These give me Easter egg vibes and they'd be perfect for celebrating the holiday in style.
17. Bright Yellow and Pink Ombre Nails
This is my favorite yellow ombre nail look of the bunch because pink and yellow just look so pretty together.
These bright yellow and pink ombre nail wraps can be applied right on top of your natural nails, so you don't have to struggle with any DIY techniques. Plus, they're super affordable, at just $4.50 for the set!
18. Red and Yellow Ombre "Tequila Sunrise" Nails
These yellow and red "tequila sunrise" nails look like your run of the mill ombre nails, but they're actually created with a single nail polish that changes color on your nail!
This thermal polish from Cirque Colors changes to red when cold and yellow when warm, so it will naturally look more red at the tips of your nails. Your nails will look like you had them done at a salon, when all you did was apply a couple coats of polish. So easy!
19. Yellow Ombre Coffin Nails
These cool coffin-shaped nails incorporate a mix of different yellow nail looks into one statement-making mani.
In addition to a v-shaped french mani nail and two yellow glitter nails, this mani features nude and yellow ombre matte nails for a fun hint of this trend. I love the addition of rhinestones on the pointer finger for an extra hit of glam. So pretty!
20. Long Yellow Ombre Nails
Last but not least, we have a very simple mustard yellow ombre nail done on acrylics. Again, these are done in the popular coffin shape, which is a great choice when you're doing ombre.
Just check out the tutorial above to see exactly how these nails are done. You could do them at home or head to any salon for the acrylic version!
What do you think of these yellow-nail ideas?
Which one of these ideas is your favorite? Are you a fan of yellow nails? Any cute ideas we missed? Tell me everything in the comments section down below.
If you like these yellow nail designs, you might also want to check out our favorite nail designs below —