When you think about 1950s fashion, a few stereotypes may immediately spring to mind. Maybe you think of poodle skirts and saddle shoes, or the ever infamous bullet bra, or even the stereotypical '50s housewife, cleaning the house in her heels and pearls.
Unlike with the '90s, which are having a distinct comeback at the moment, it may be difficult to see how '50s styles can fit into your everyday style. But '50s fashion has actually bypassed being a fad, as elements of it are so classic that they've become commonplace.
As usual, we'll start below with some background on '50s fashion. Then we'll get to the fun stuff and show how you can make '50s fashion work for you.
1950s Fashion Overview
The '50s bridged the gap between the reserved and conservative styles of the late '40s and the fun and quirky looks that would define 1960s fashion. Hemlines grew shorter, waistlines wandered up and down, before disappearing completely, and the West seemed obsessed with making up for wartime limitations with excessive glamour and consumerism.
Though not as diverse as many of the decades that would follow it, the '50s saw a great deal of change in style from beginning to end. With WWII – and the rationing and sensible styles it brought – having coming to an end, the fashion world struggled to find a new look for the world in which it found itself.
Fashion, then, went in two distinct directions. On the one hand, the fashion houses promoted more conformity in how people should dress and look, with elegant but simple styles. On the other hand, teens were responsible for the creation of rebellious subcultures that created unique styles of their own, like Teddy Boys, Greasers, Hepcats, and even Beatniks.
Outfits Inspired by 1950s Fashion
Whether you prefer the prim and proper side of the '50s or the new and rebellious looks it brought about, there's a way to incorporate a little '50s into your own style.
For a more casual take on the decade, try outfit number one. For a more bold look, see outfit number two. Finally, if you think everything '50s is totally hip, cast an eyeball on outfit number three.
Look #1: Greased Lightning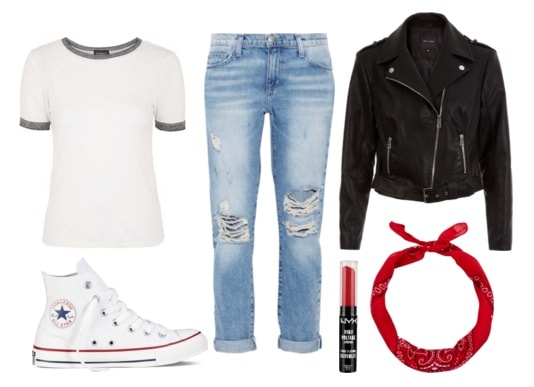 Products: Top, Jeans, Jacket, Shoes, Bandana, Lipstick
With the stage version of Grease having just had a revival, none of us are strangers to greaser fashion. Popularized by American teens, who took their fashion cues from Marlon Brando and James Dean, the "greaser" look got its name from the slicked-back pompadour hairstyle the greasers wore. Though there were female greasers, their style didn't differ much from typical '50s students, so for this look I chose to focus more on male greaser style.
For the top, anything simple will do – even just a white tank top – but I decided to go with a more distinctly '50s ringer t-shirt. Distressed boyfriend jeans are a more modern take on the cuffed jeans that greasers wore, while Converse sneakers were actually their most common shoe style.
For the jacket, I picked a black motorcycle one, but varsity jackets, bomber jackets, and denim jackets would also work here. As a tiny tribute to female greasers, I included this red bandana which can be worn as a headband for a rockabilly look or around the neck for an even more '50s style. Finish with matching red lipstick.
Look #2: Punch and Judies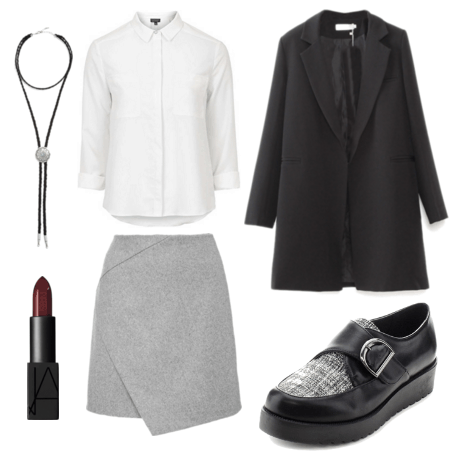 Products: Top, Skirt, Jacket, Shoes, Bolo Tie, Lipstick
A slightly less well-known subculture of the '50s was the Teddy Boys and Teddy Girls (or 'Judies'), who had a more rebellious take on the increased excess of the early '50s. Unlike mainstream '50s fashion which distanced itself from the austerity of the war with elegance and opulence, the Teds chose to bring back the flamboyance of Edwardian aristocratic fashion. Both men and women dressed fairly similarly, and their style was primarily concerned with looking sharp.
This long blazer is a tribute to the Edwardian Drape coat that was a fashion staple for Teddy Boys and Girls alike, and paired with a simple white button-down, it creates a very clean look. While you could wear a tie, a neck scarf, or even a brooch at the collar, I chose a bolo tie as my Teddy Boy accessory for this look. Although most female Teds typically wore cuffed jeans, a simple wrap skirt gives this look an update. A deep red lipstick breaks up the monochrome of this outfit a bit, and finally, I chose these very Teddy Boy creepers to finish the look.
Look #3: What a Doll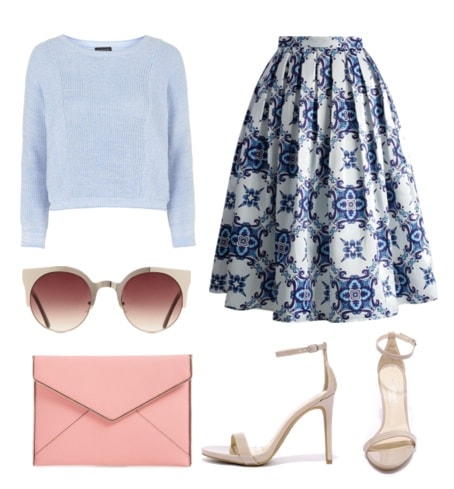 Products: Sweater, Skirt, Shoes, Purse, Sunglasses
Though more simple than the final looks I've done for other decades, this outfit is super '50s. First, the pleated midi skirt was brought back into fashion by Dior and the New Look, introduced at the end of the war. This one has a bold print, like the ones that were popular at the time. Second, much of the conservativeness of the pre-war period was left behind with the introduction of the fitted sweater, popularized by actresses like Marilyn Monroe and Lana Turner.
In addition, midi skirts and sweaters with heels became almost an unofficial fashion uniform for the '50s female college student. Cat-eye sunglasses also have a distinctly '50s vibe. I can't say the same for strappy heels or envelope clutches, but I thought they helped add to the glamour of the look without making it too old school.
More Styles by the Decade:
Want to travel to a different decade with your style? See my other posts on '90s fashion, '80s fashion, '70s fashion, and '60s fashion for more!
What's your opinion on '50s fashion?
Are you planning to incorporate it into your look this year? Are there any 1950s fashion trends you think I should have included? What's your favorite '50s look? Let us know in the comments, we'd love to hear from you!