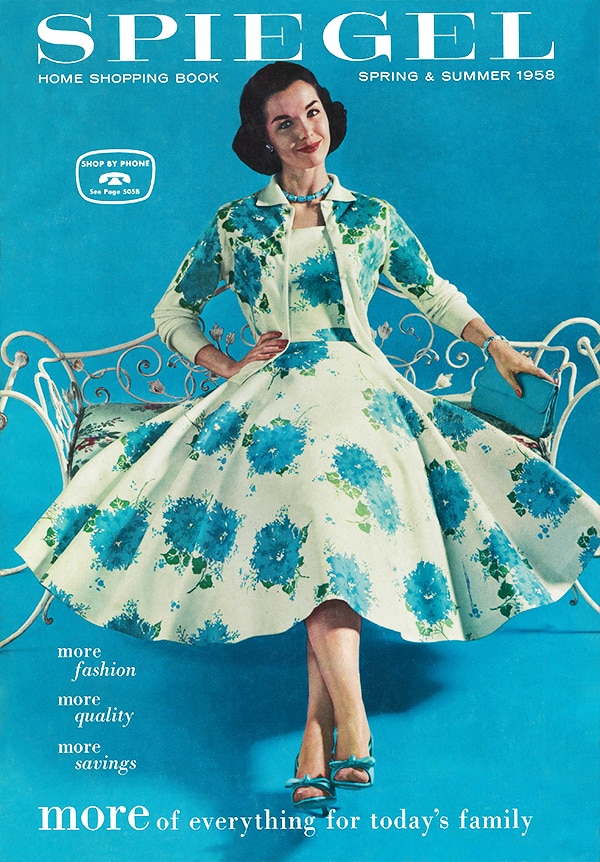 When you think about 1950s fashion, a few stereotypes may immediately spring to mind. Maybe you think of poodle skirts and saddle shoes, or the ever infamous bullet bra, or even the stereotypical '50s housewife, cleaning the house in her heels and pearls.
Unlike with the '90s, which are having a distinct comeback at the moment, it may be difficult to see how '50s styles can fit into your everyday style. But '50s fashion has actually bypassed being a fad, as elements of it are so classic that they've become commonplace.
As usual, we'll start below with some background on '50s fashion. Then we'll get to the fun stuff and show how you can make '50s fashion work for you.
1950s Fashion Overview
The '50s bridged the gap between the reserved and conservative styles of the late '40s and the fun and quirky looks that would define 1960s fashion. Hemlines grew shorter, waistlines wandered up and down, before disappearing completely, and the West seemed obsessed with making up for wartime limitations with excessive glamour and consumerism.
After wearing very masculine clothing during the Second World War, women opted for exaggerated, stereotypical displays of femininity in the 1950s. The starlets of the time were known for their hourglass figures (think Marilyn Monroe) and many women regularly wore girdles to nip in their waists and bellies.
Much of the fashion in the 1950s was about structure and rules. Women wore shoes that matched their handbags and earrings that matched their necklaces. Their clothing was also literally structured – you didn't see many maxi dresses or slouchy cardigans back then!
Though not as diverse as many of the decades that would follow it, the '50s saw a great deal of change in style from beginning to end. With WWII – and the rationing and sensible styles it brought – having coming to an end, the fashion world struggled to find a new look for the world in which it found itself.
Fashion, then, went in two distinct directions. On the one hand, the fashion houses promoted more conformity in how people should dress and look, with the elegant and structured but simple styles discussed above. On the other hand, teens were responsible for the creation of rebellious subcultures that created unique styles of their own, like Teddy Boys, Greasers, Hepcats, and even Beatniks. 
A Special Note on Makeup in the 1950s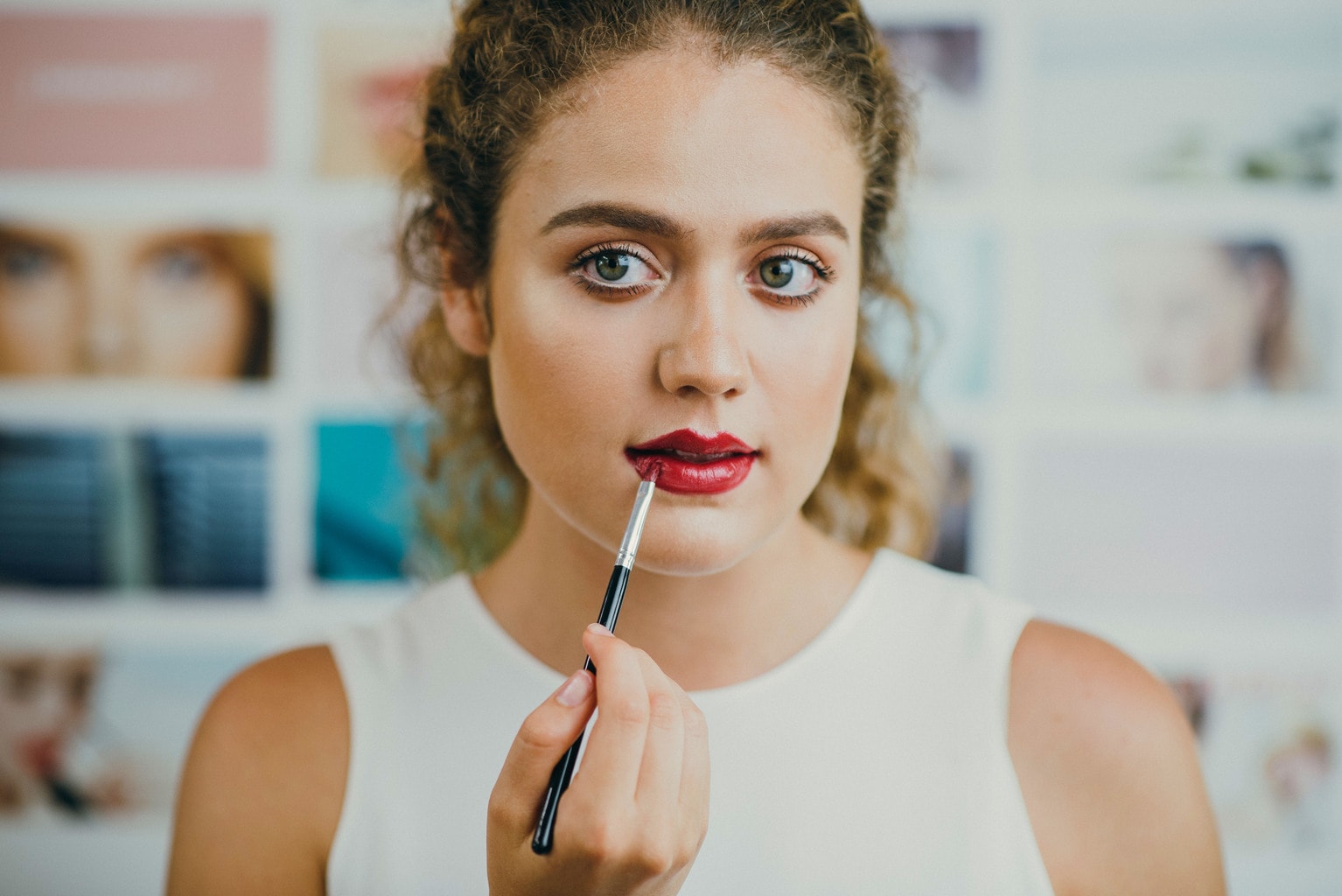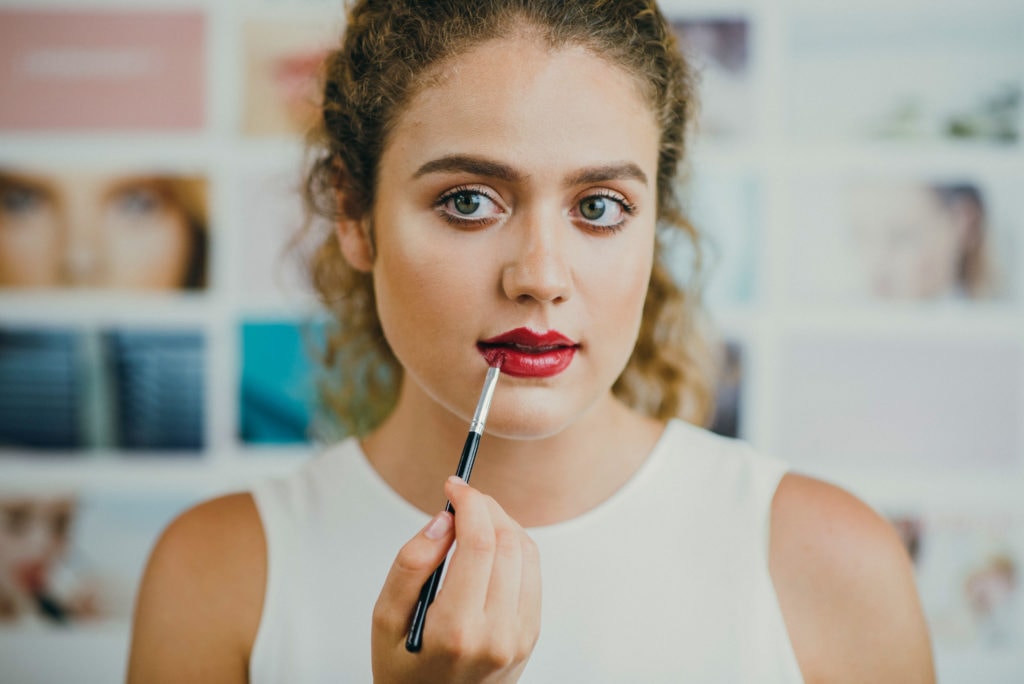 Makeup was an absolute necessity for the fifties lady and this was the decade where fun products started taking over the market. You could buy a powder compact shaped like just about anything, from pool balls to pianos, and lipstick came in all sorts of fun new colors. Women also began to embrace full, dark brows (think Audrey Hepburn).
As fun as it was, however, there were very strict rules surrounding makeup. Magazines in the fifties would be full of instructions on what sort of makeup should be worn for every possible occasion and a true lady was expected to always have her makeup on. Though the messaging is less overt now, there are still many women who feel as though they're expected to wear makeup, so it's clear that the marketing messages of the '50s are still having an effect.
If you're like me, you thoroughly enjoy applying your makeup in the morning – if that's you, too, cool. But always remember that it's a luxury, not an obligation. At the end of the day, you should only wear makeup if YOU want to. Your face – and what you put on it – is your choice, and yours alone!
For more on 1950s beauty, be sure to see our full guide to 1950s makeup.
Outfits Inspired by 1950s Fashion
Whether you prefer the prim and proper side of the '50s or the new and rebellious looks it brought about, there's a way to incorporate a little '50s into your own style.
Outfit #1: Cool and Classic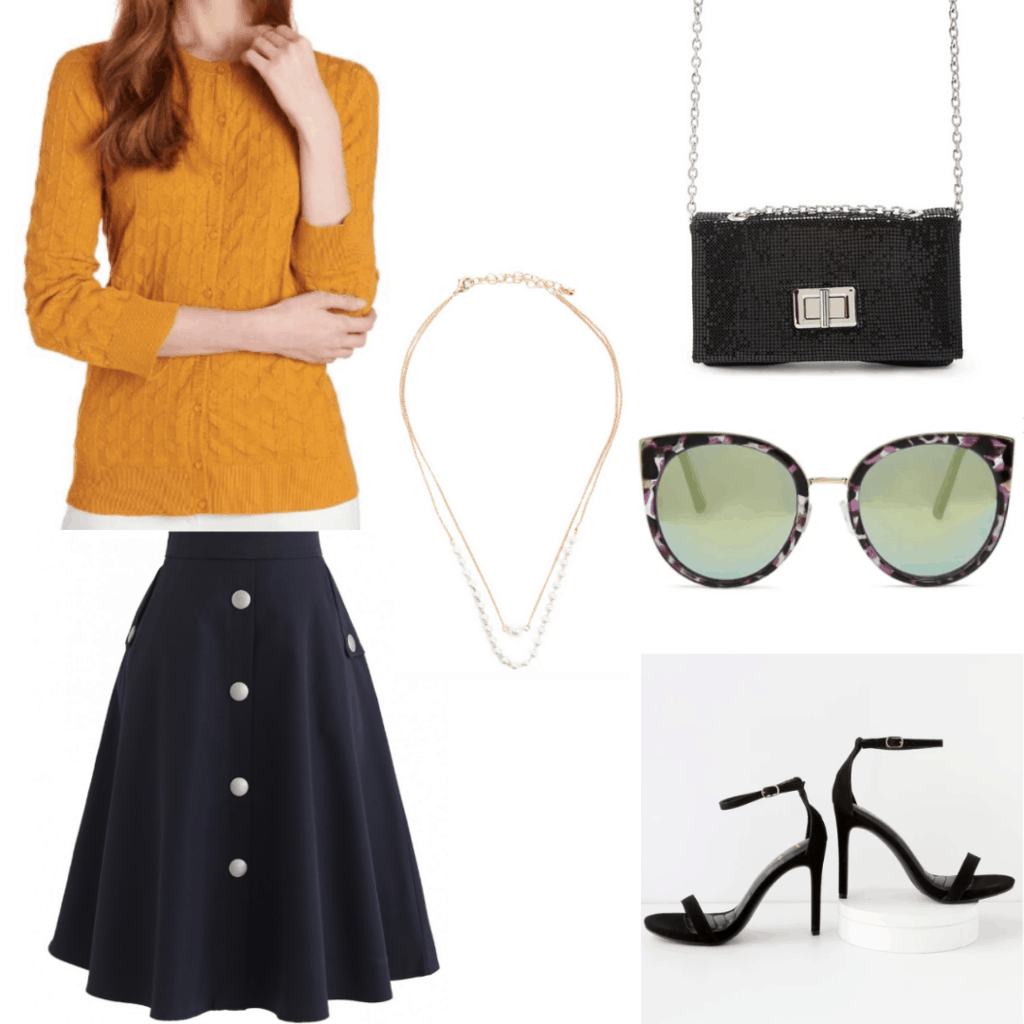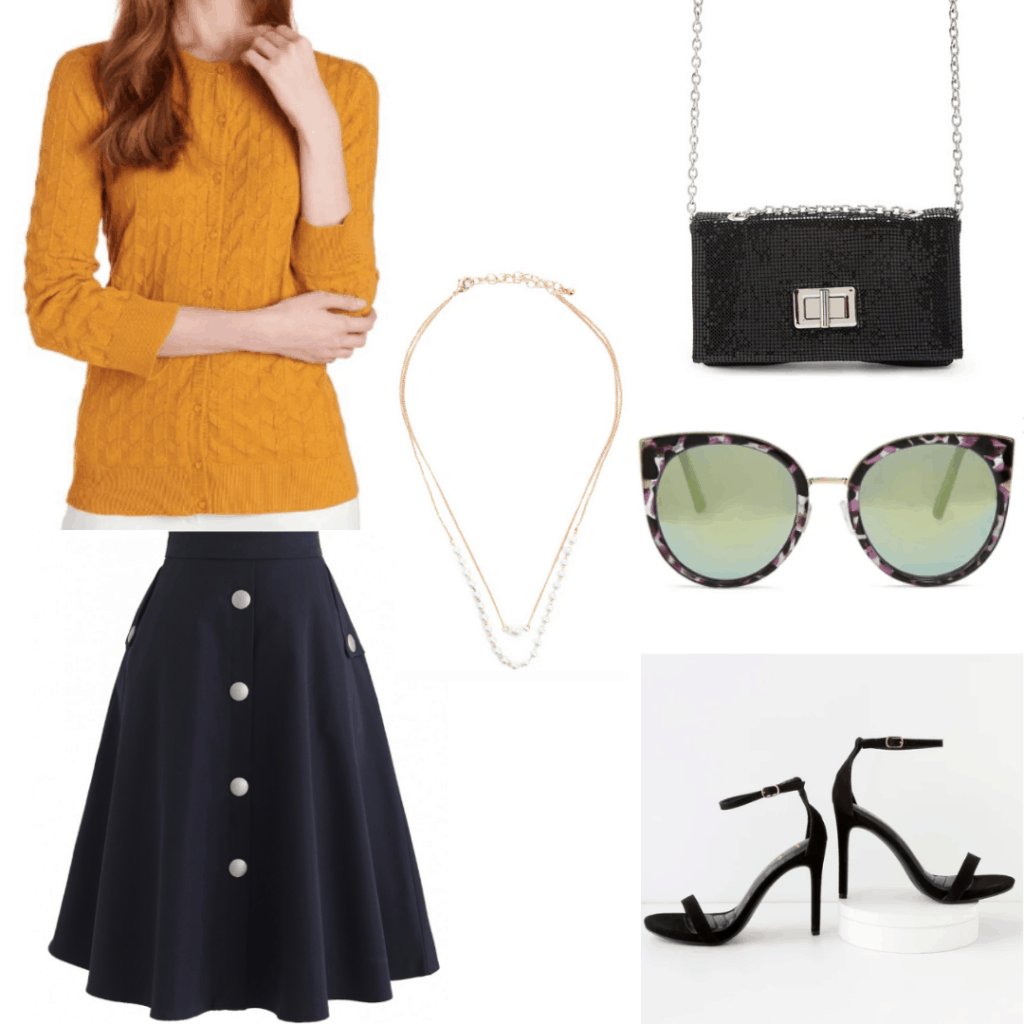 Products: Twinset – SteinMart, Skirt – ChicWish, Heels – Lulus, Clutch – Forever 21, Pearls – Forever 21, Sunglasses – Forever 21
By building off of traditional '50s trends, it is super easy to bring back parts of the decade to your wardrobe, while still looking cute and modern.
This look takes the traditional (and trendy) twinset and pairs it with a basic A-Line skirt, creating a timeless silhouette. These colors reflect the autumnal shift in season, while providing simple layers for the lingering heat of the summer.
Finally, a basic pearl necklace and pair of heels help complete this outfit, summoning the magic of the decade in a modern way.
Outfit #2: A Hint of Victoriana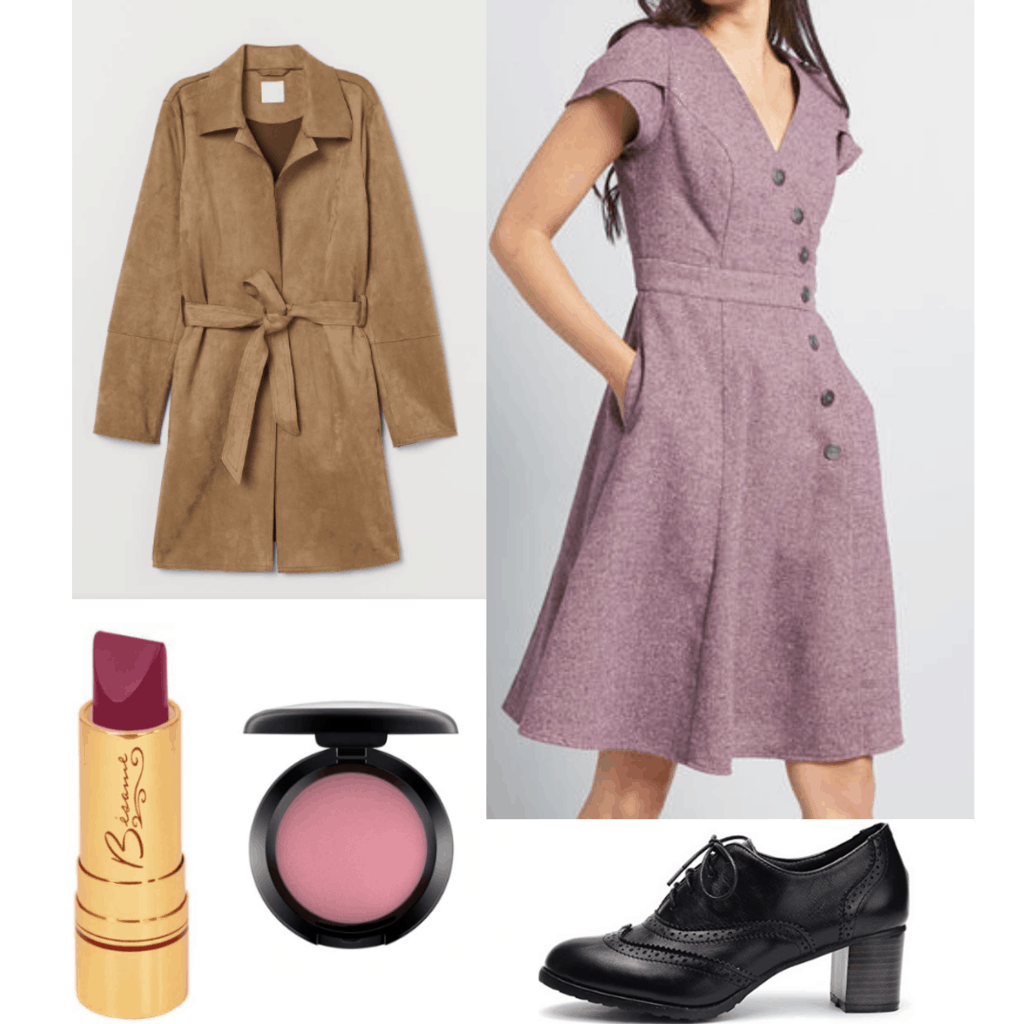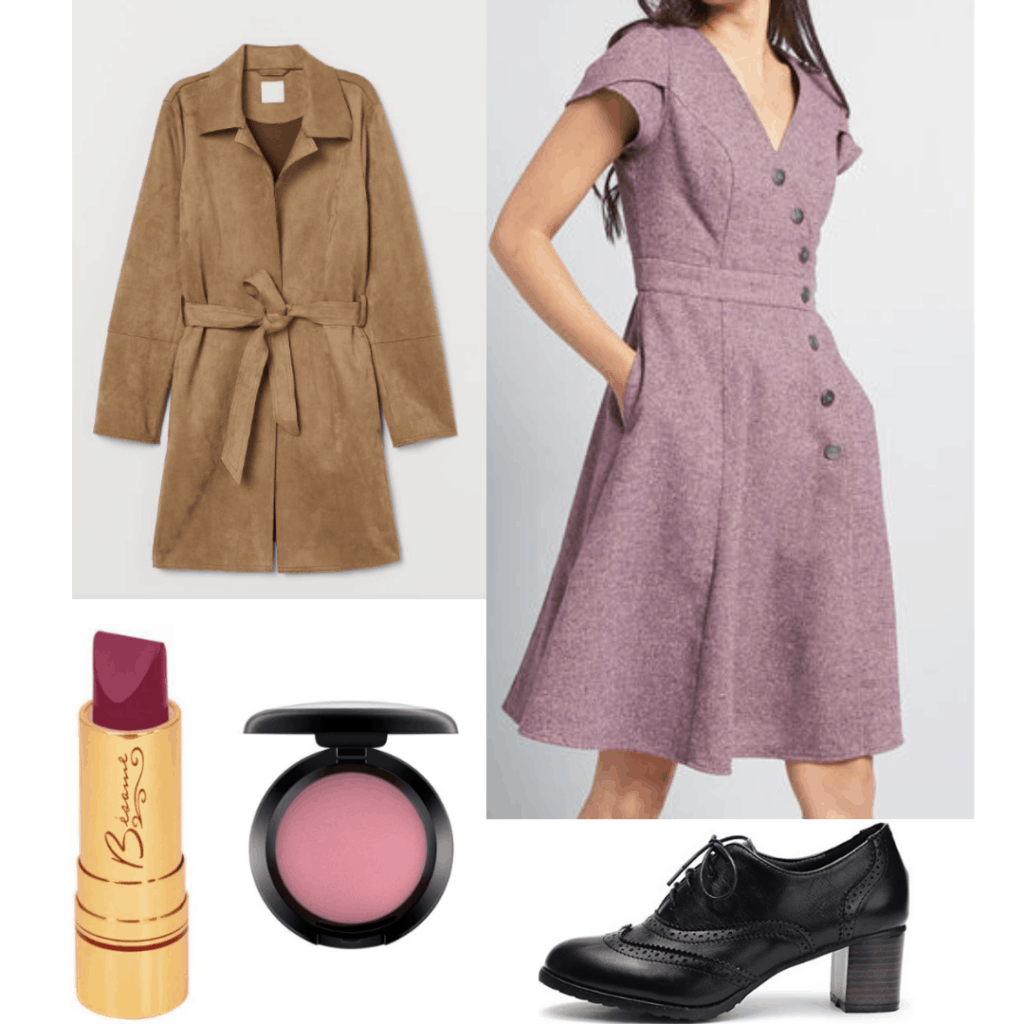 Products: Dress – Modcloth, Heels – Amazon, Lipstick – Besame Cosmetics, Blush – MAC, Jacket – H&M
While women of the 1950s pursued new fashion trends that dipped into more dramatic spheres, fashion was also building off of Victorian and Edwardian historical influences. It's like the saying, fashion keeps coming back every twenty years or so.
So, while the post-war years were focused on full skirts and padded shoulders (making the most of restored access to materials, with the Second World War finished), it was also the decade of narrowing the waist. Without corsets, which did not return to fashion, women were using different cuts of their clothing to accent their waists.
This look contrasts the first style, in that it's chicer and closer to the body. The pale color of the dress is very '50s and complements the black Oxford heels. The coat is tied at the waist, bringing the emphasis to your mid-section in a very '50s way.
Finally, a retro-inspired lip color pulls this look together, as does the mauve toned blush.
Outfit #3: Rockabilly Scene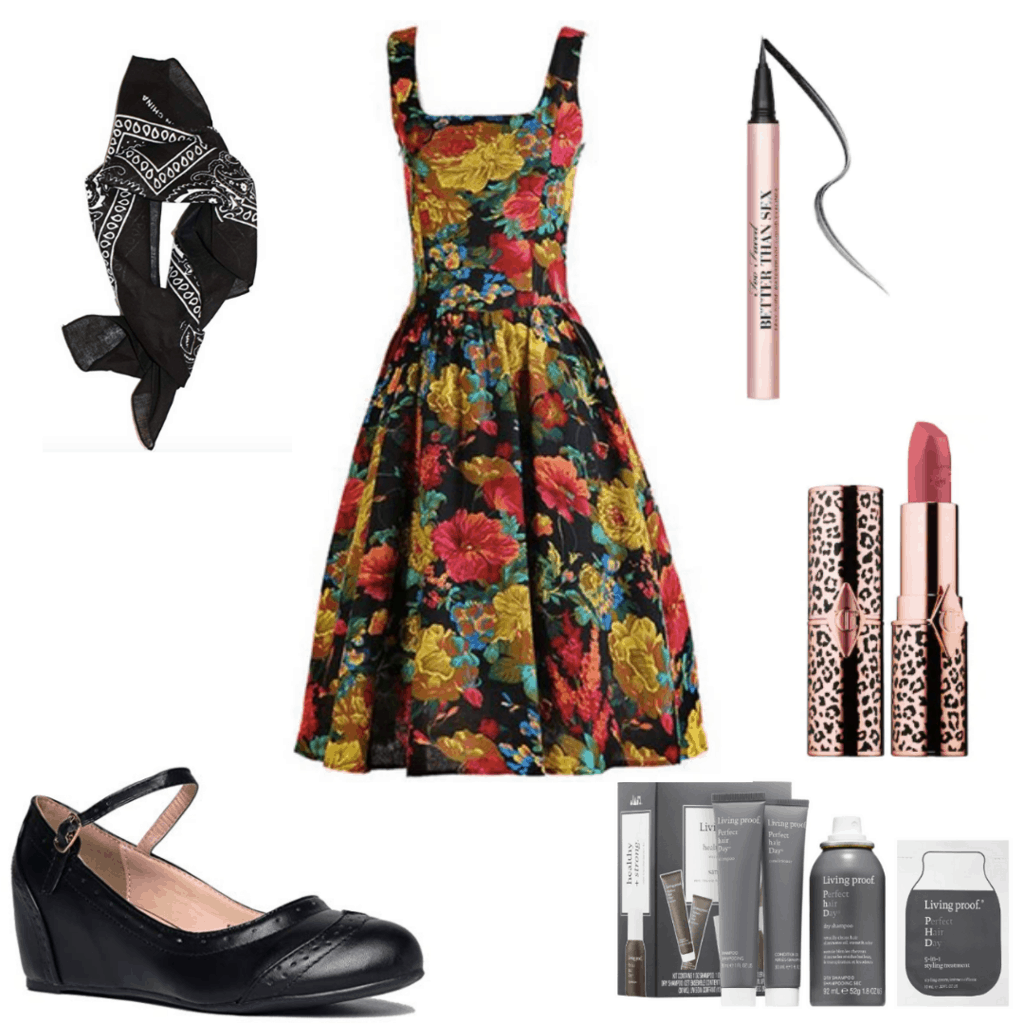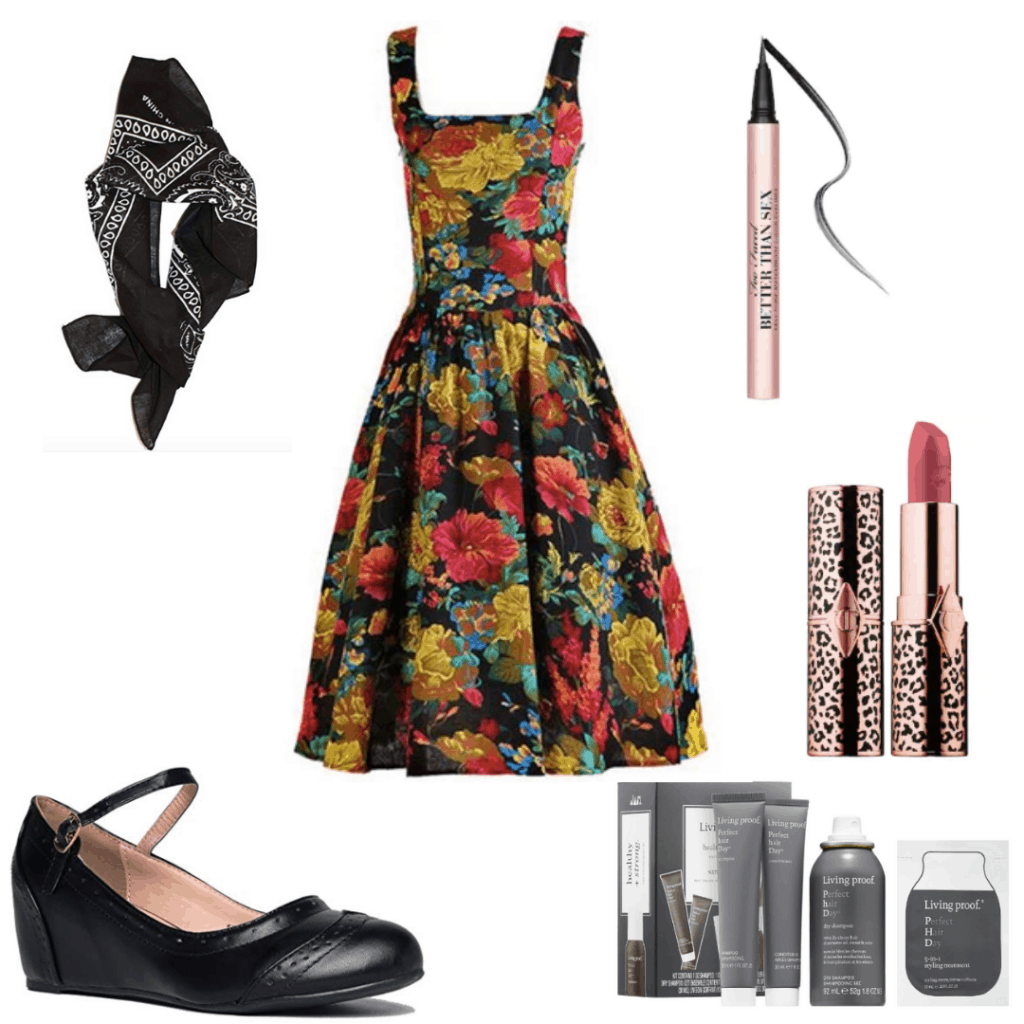 Products: Dress – Atomic Jane, Wedges – Amazon, Living Proof Set – Living Proof, Lipstick – Sephora, Eyeliner – Sephora, Bandana – Amazon
If you ever have an opportunity to learn traditional Rockabilly Jive dance, do it. It's a fantastic way to immerse yourself in the music and spirit of the '50s, while relieving stress and getting some exercise.
To sum up the modern understanding of Rockabilly fashion, it's a combination of '50s music and fashion, intertwined with rock, country and parts of punk aesthetics. Basically, it manages to include a diverse group of themes, making it accessible as a unique genre that is still active today.
For this look, I've created a rockabilly inspired outfit for an edgy take on the '50s styles. To get it, don some hair accessories, a full-bodied dress with a funky pattern, and a bold swipe of black liner.
Lastly, I chose a pair of plain wedges to allow for easy movement. Often, I include heels with these looks, so this is an alternative for those of you who prefer comfort first.
More Styles by the Decade:
Want to travel to a different decade with your style? See my other posts on '90s fashion, '80s fashion, '70s fashion, and '60s fashion for more!
What's your opinion on 1950s fashion?
Are you planning to incorporate it into your look this year? Are there any 1950s fashion trends you think I should have included? What's your favorite '50s look? Let us know in the comments, we'd love to hear from you!
Editor's note: This post was originally published in 2016; it was completely updated and revamped in 2019 with new photos and information.