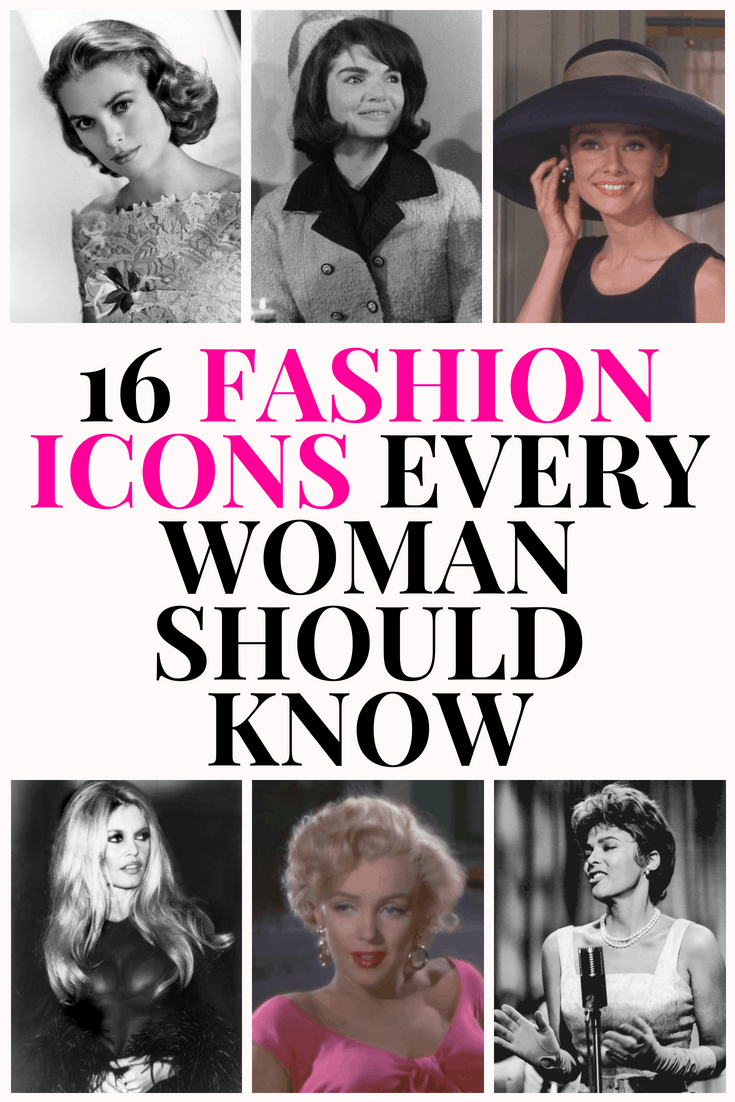 Fashion is always changing and evolving, but that doesn't mean we shouldn't look back sometimes to appreciate the fashions that have come before. Instead of looking to today's celebrities for style tips, sometimes it's more helpful to look to fashion "It Girls" of the past for even more inspiration.
If you consider yourself a fashionista, there are certain classic fashion icons that you need to be familiar with. Believe it or not, designers still draw inspiration from these iconic women to this day — and you can too.
In this post, I've included sixteen important fashion icons that everyone should know and take inspiration from. Interested? Read on for a blast from the fashion past.
1. Grace Kelly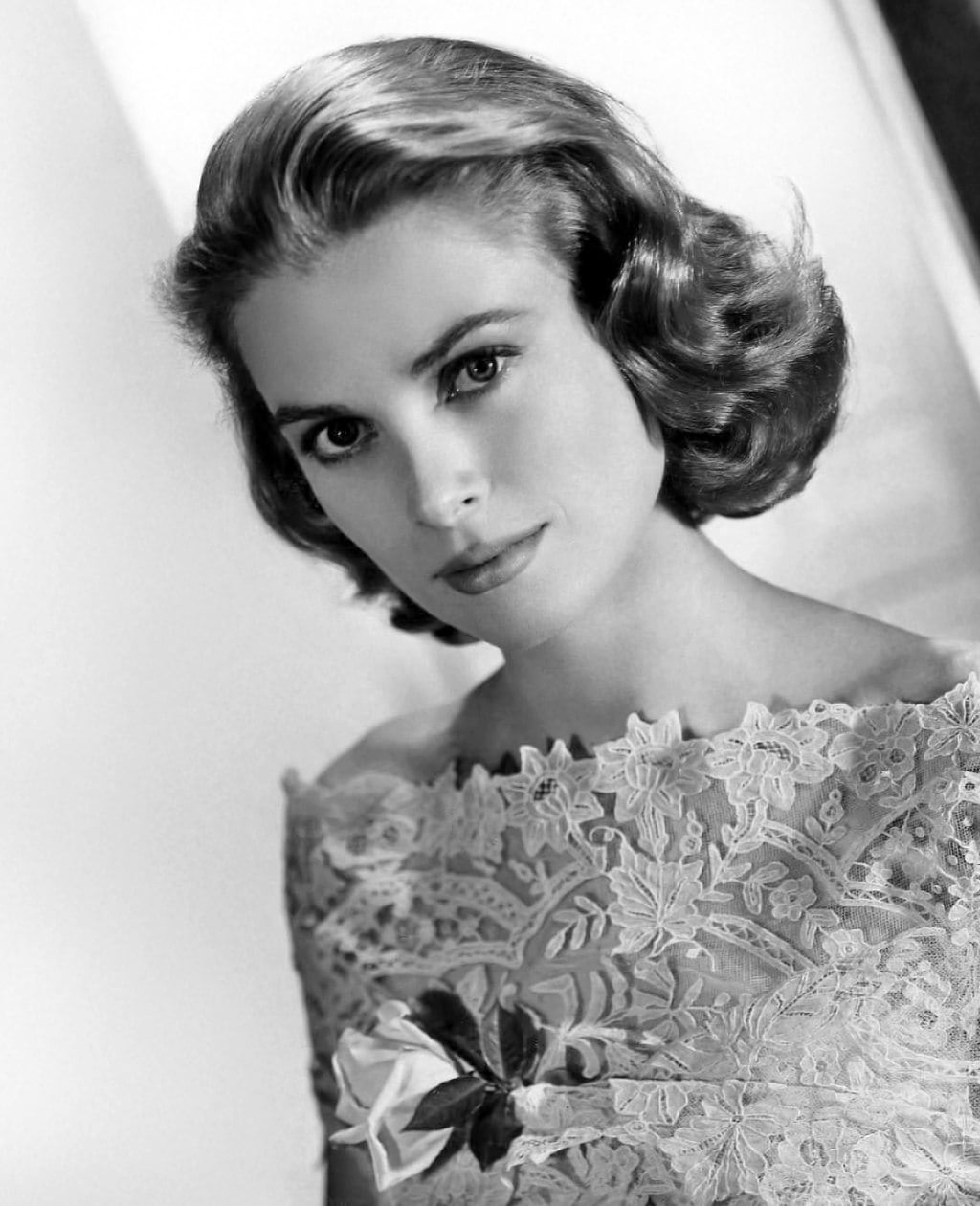 Decades before Meghan Markle hit the scene, there was Grace Kelly, the original American Princess. Silver screen actress and later Princess Grace of Monaco, Grace Kelly really lived up to her name. Poised, "grace"-ful, and loving, Grace — with her serene demeanor and polished, elegant look — will be remembered forever.
Shop Grace's Closet
Products:
To start off Grace's look, I found a classic fit and flare dress that I am positive Grace would shine in. The dress boasts a wide neckline, which Grace always favored. I paired the dress with some classic navy pumps.
All that's left is the accessories: with Grace's style, less is more, so I went for an understated class. I chose a fun pair of faux diamond drop earrings to add some sparkle to your face, and a simple, understated single-pearl necklace to draw attention to your neckline. As I said, less is more. Finish with an understated clutch in blush pink. This look is pitch perfect-have tea with grandma or go out to a nice dinner, and you'll look every bit as Princess-y as Ms. Kelly.
Want more on Grace? See our ultimate guide to Grace Kelly's style!
2. Janis Joplin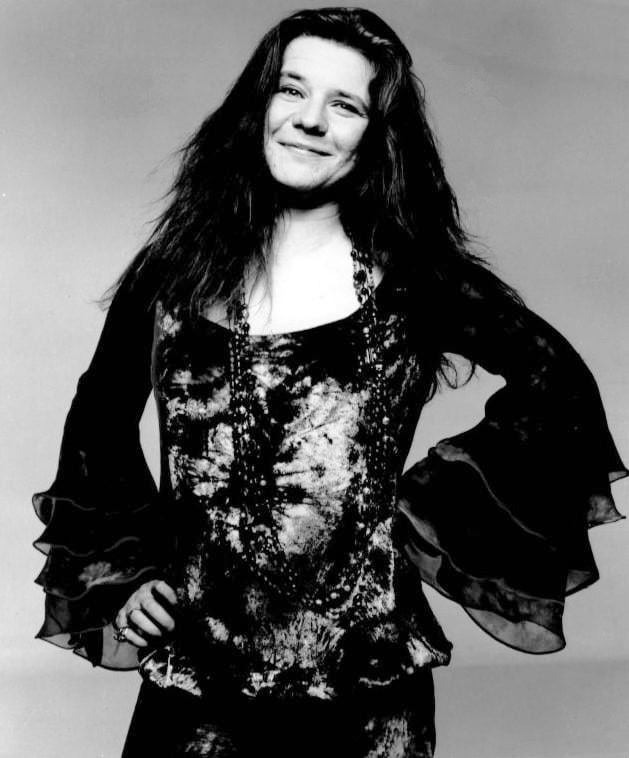 Janis Joplin is my hero. Not only was she an ultra-cool hippie feminist, she had pipes that would put Christina Aguilera to shame. (Listen to her song "Try Just A Little Bit Harder"- you'll get it.) But her pipes weren't the only thing she had going on in her heyday – her style was amazing! With piled-on jewelry, feathers, and loose garments in bright colors, this little lady was the Belle of the Woodstock Ball.
Shop Janis' Closet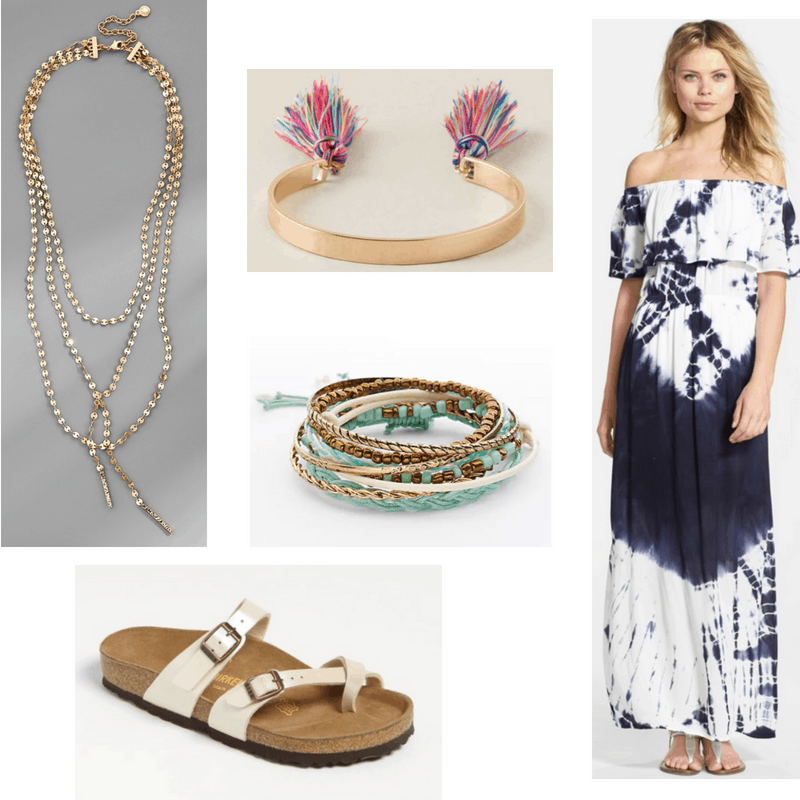 Products:
If there is one defining thing that separates Janis's style from the rest, it would be her accessories. Janis was fearless when it came to jewelry, often piling on mountains of bracelets, necklaces, and rings in just one outfit. And while on some, that would look gaudy and dirty, somehow for her it just worked.
In the set above, I've included some jewelry that can be bought online, but I also wanted to mention that much of this type of jewelry can be found easily if you visit your local thrift store or flea market. There, you can often find cheaper, more interesting, cooler, and better-made jewelry than you ever could at a regular store!
Above, I also included a super cute tie-dye maxi dress. Depending on the design and wash of a garment, tie-dye can be really beautiful and cool looking. Just don't go too crazy with the colors or else you'll look like your Uncle Bobby – you know, the one who always wears the same beer-stained tie-dye shirt to every family barbecue. (Ew.)
Want more on Janis? See our ultimate guide to Janis Joplin's style!
3. Josephine Baker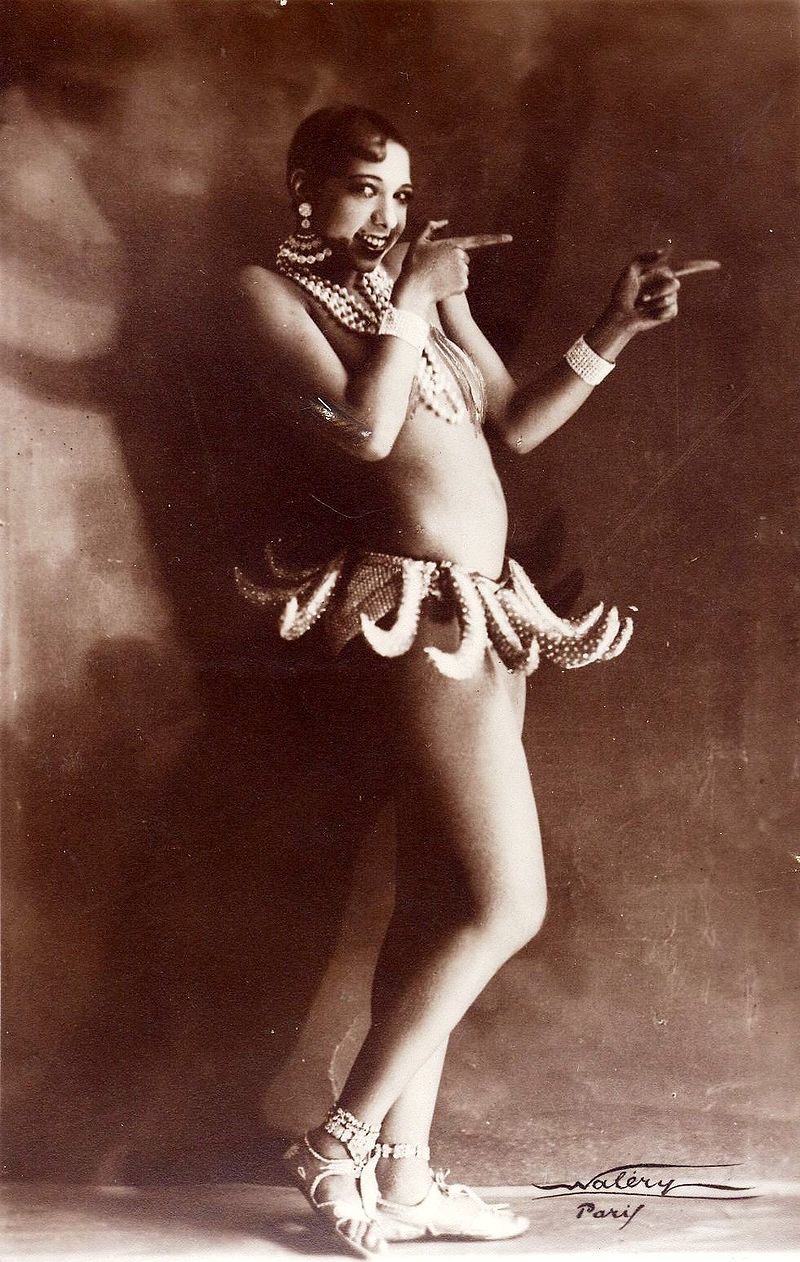 If Lady Gaga is the Avant-Garde celebrity of our generation, then Josephine Baker, Harlem jazz singer, and actress was the Gaga of the '20s and '30s. Rocking sparkling bikinis, floral embellishments, and mile-long pearl necklaces, Josephine Baker made her presence known — and her audience loved it.
Shop Josephine's Closet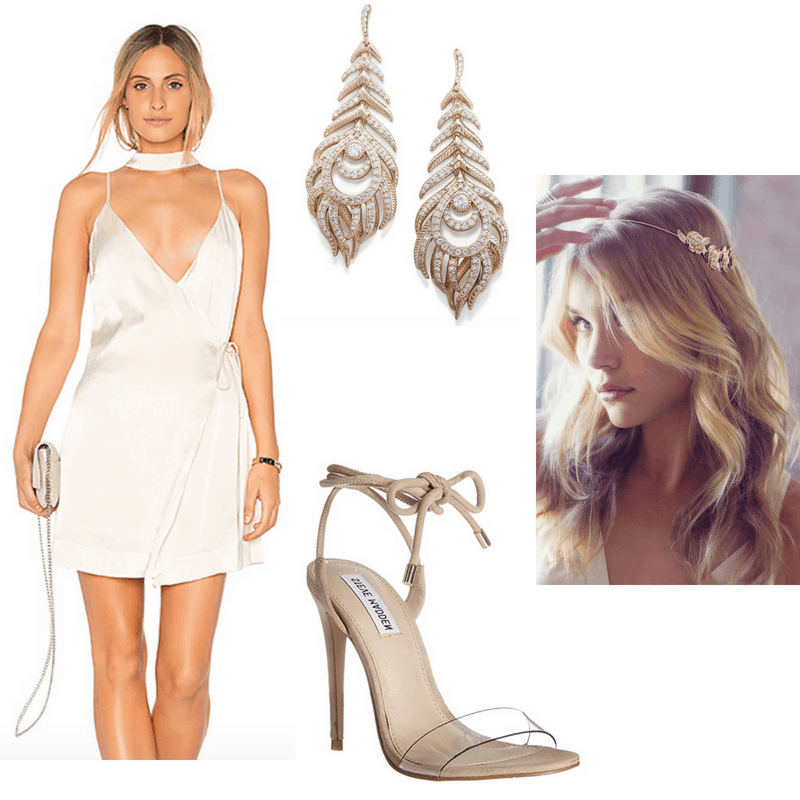 Products:
Josephine Baker's style, much like Janis Joplin's, was all about her out-there accessories. And normally I wouldn't say this, but when it comes to trying to channel our Harlem girl here, go crazy. Wear floral headbands, pile on rings, and rock some stylish earrings all at the same time. (And if you can find something that incorporates feathers, all the better – Josephine loved feathered pieces!)
Like I said, anything goes, but when in doubt, I find Coco Chanel's style advice to be helpful: "Before you head out the door, take one thing off." Accessories and crazy outfits are fun, but what's most important is your gut instinct. So if you think you might have bauble overkill, take off one accessory. Josephine Baker's style was half loud clothing, and half confidence — wear your confidence on your sleeve, and you'll sparkle just like her.
Want more on Josephine? See our ultimate guide to Josephine Baker's style!
4. Cher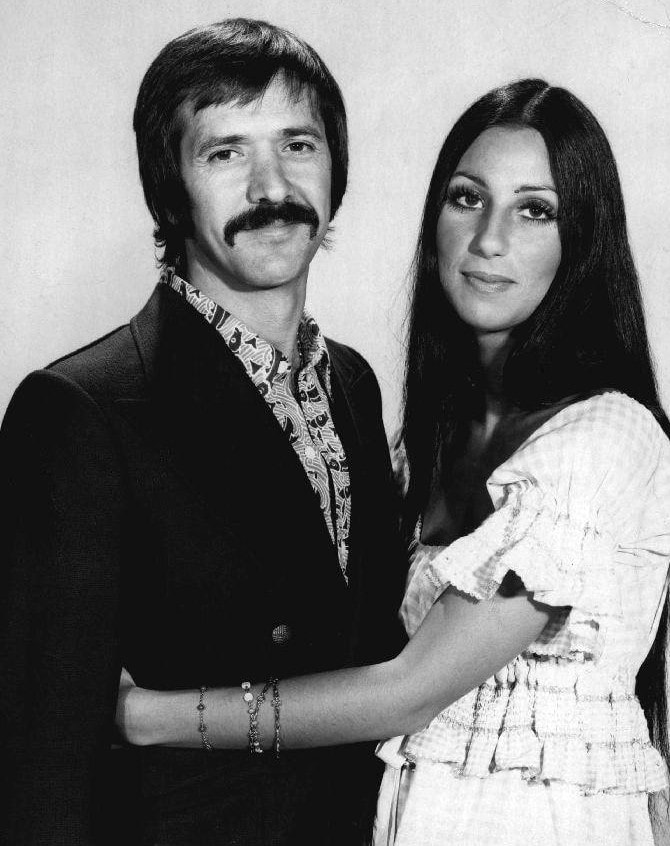 Cher's style has changed a lot throughout the decades, but one era that I have always admired when it comes to Cher is her '60s/'70s period. Always the bohemian babe, Cher would always be out and about rocking mini dresses, fringe vests, and crocheting anything – too cute!
Shop Cher's Closet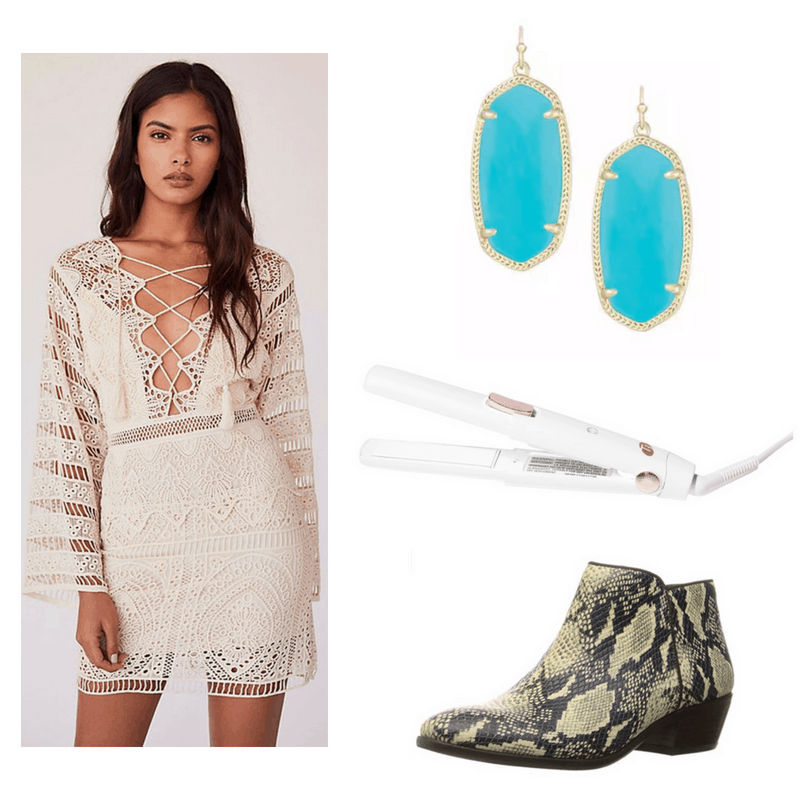 Products:
Cher, to this day, is a big fan of sheer and revealing clothing, and as such, I tried my best to find pieces that would speak to that affinity. What I ended up finding was a super-cute lace bell sleeve dress. This dress is totally Cher because it incorporates many different aspects of her 1970s wardrobe. First, the lace incorporates that sheerness I was talking about, secondly it is a mini-dress — which Cher could be found wearing any day, and third the low neckline reveals even more skin.
I paired the dress with some cool ankle boots to give it a modern vibe. Not only are they cute, but they're also comfortable because the heel is not to high, and not too low. Don these shoes and you'll be boogie-ing down the street all day long.
Finally, for a quintessential early Cher look, be sure to flat iron your hair to sleek, '70s perfection.
Want more on Cher? See our ultimate guide to Cher's style!
5. Brigitte Bardot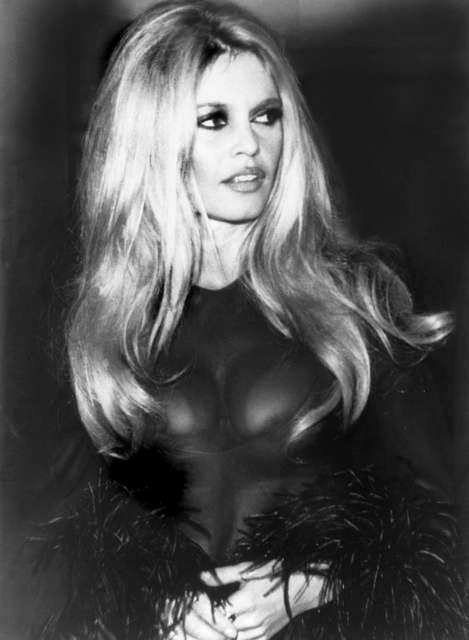 Triple threat Brigitte Bardot is still considered the epitome of '60s chic. Known for her dark eyes and sex kitten looks, it is easy to see how she is still such a revered fashion icon. What I love about her is that she is not stuck skinny like most celebrities we look up to these days; she flaunts her curves and sexy pout with confidence and elegance.
Shop Brigitte's Closet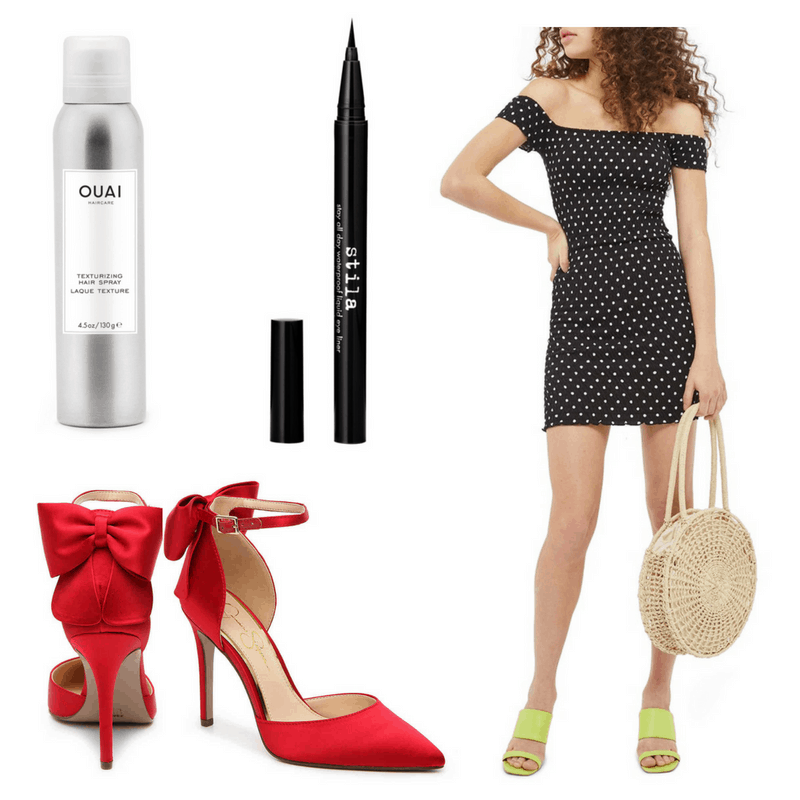 Products:
Brigitte's look would not be complete without her sultry eye makeup. As such, I chose some Stila eyeliner to start off this look. Sweep a sultry cat eye over your lids, swipe some mascara on your eyes, and whatever look you wear will be '60s bombshell. Don't forget to tease your hair and use plenty of hairspray.
I also included a sexy bandage dress from Topshop. It's very formfitting, which fits Brigitte's personality well, as she would often wear garments that showed her curves off. It also has a late '50s vibe with its off-shoulder styling and polka dots.
When wearing something form-fitting and short like this, it's important that you don't let the dress wear you. If you want to channel Brigitte, the most important thing you'll need to flaunt is confidence. Wear your confidence with no fear and nothing will stop you.
Are you into Brigitte's look? Here's our fantastic guide to Brigette Bardot's style!
6. Jane Birkin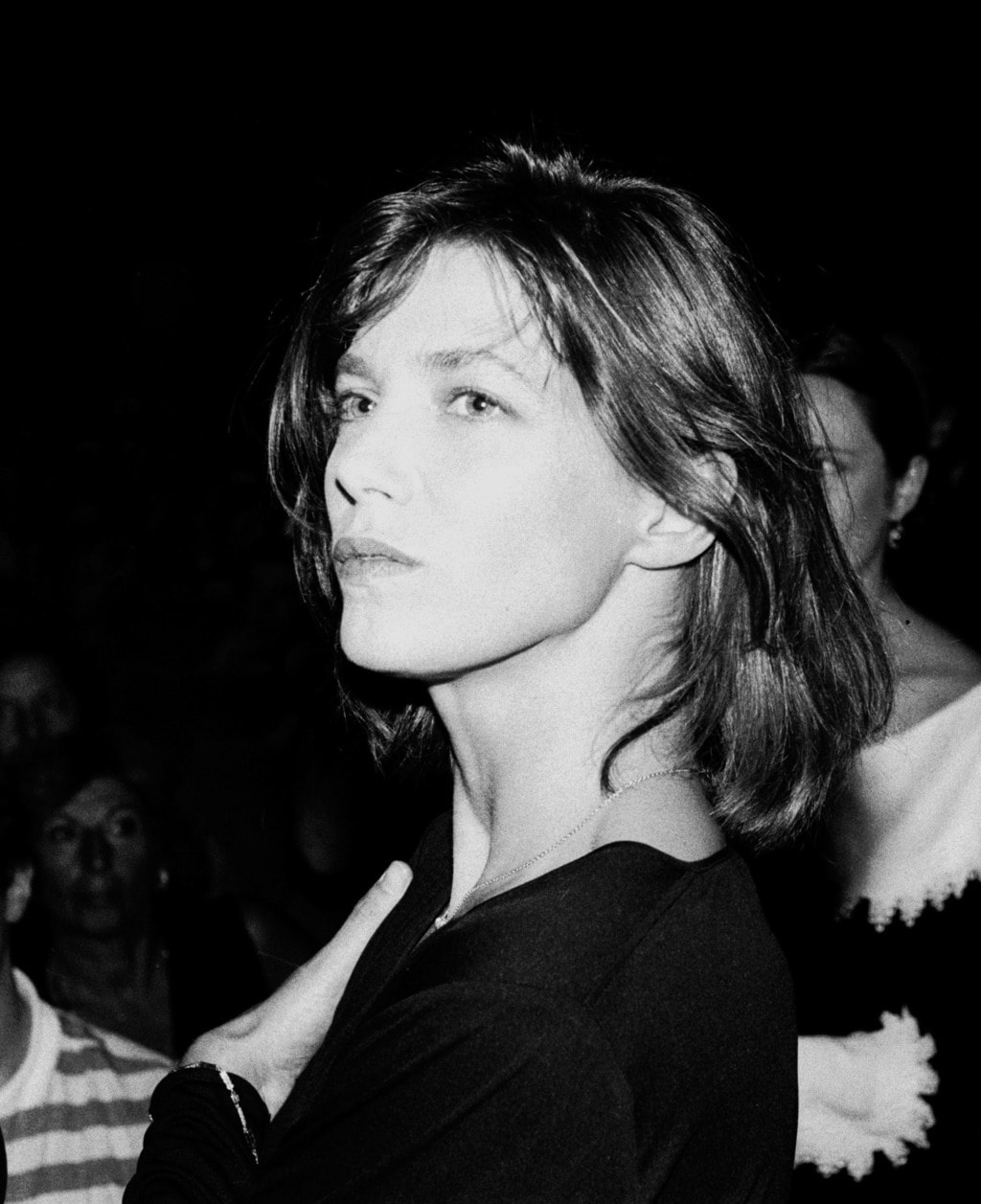 Jane Birkin, model, singer, girlfriend of French crooner Serge Gainsbourg and namesake of the ever-coveted Hermès Birkin Bag, is one of those women with effortless style. Whatever she wears, she wears it with grace, whether it's a tee-shirt and jeans or a flirty spring dress.
Shop Jane's Closet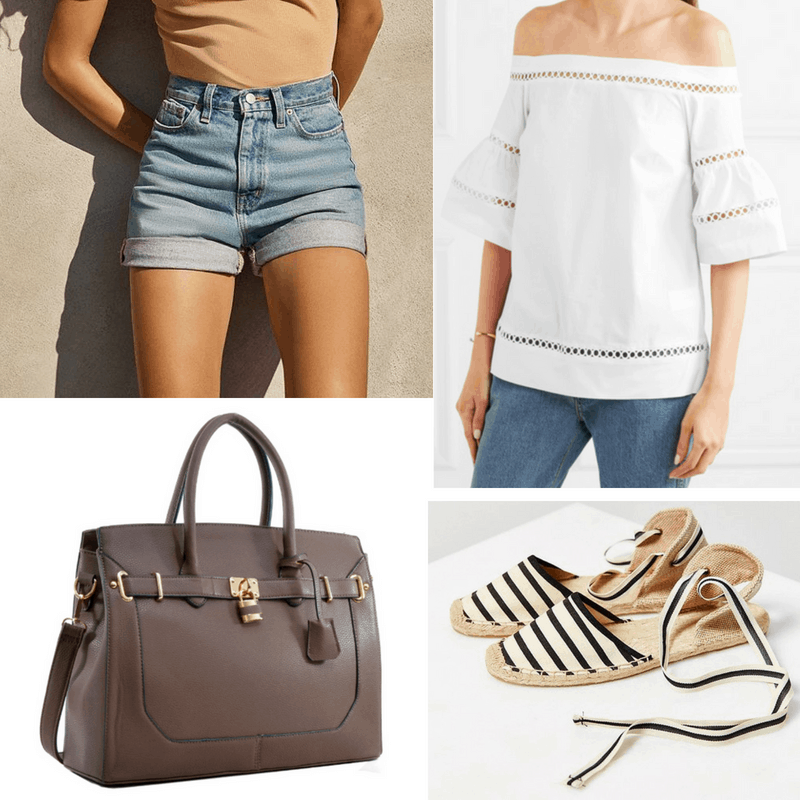 Products:
Jane's look from the '70s and '80s is my favorite: It's effortless and mixes simplicity and uniqueness. All of the pieces she wore back then have come back around and are trendy once again, so it's a very of-the-moment look.
To channel her vibe, I chose a pair of high-waisted denim shorts and paired them with a boho-style peasant blouse to be tucked into the shorts. I then found a bag that's reminiscent of Jane's namesake satchel (although we'd all die for the real thing, let's be honest). And finally, for that last touch of relaxed-chic fun, I plucked a pair of cute striped espadrilles. Don this outfit and you'll be just as effortless and boho-fab as Jane.
Want more on Jane? See our ultimate guide to Jane Birkin's style!
7. Edie Sedgwick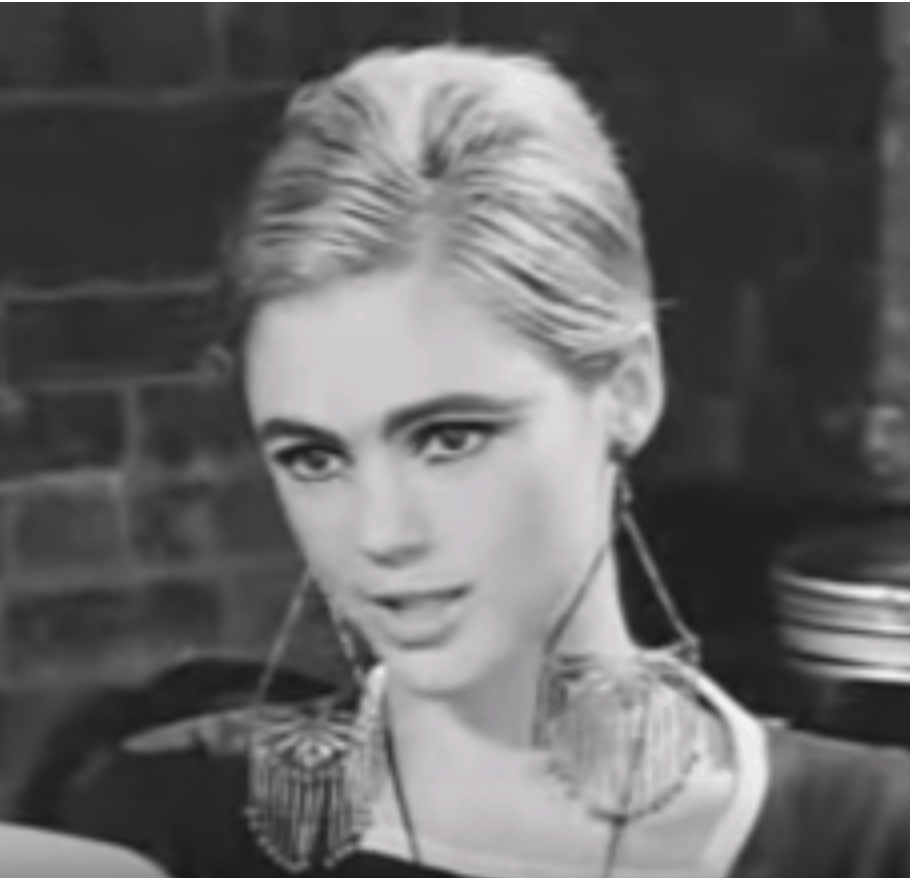 Factory "It Girl", movie star, model, and muse to artist Andy Warhol, Edie Sedgwick was the original downtown hipster. Whether she was starring in a silent black and white film or posing for a picture, Edie was always smart, chic, and well dressed. (And who wouldn't love that makeup? So '60s mod!)
Shop Edie's Closet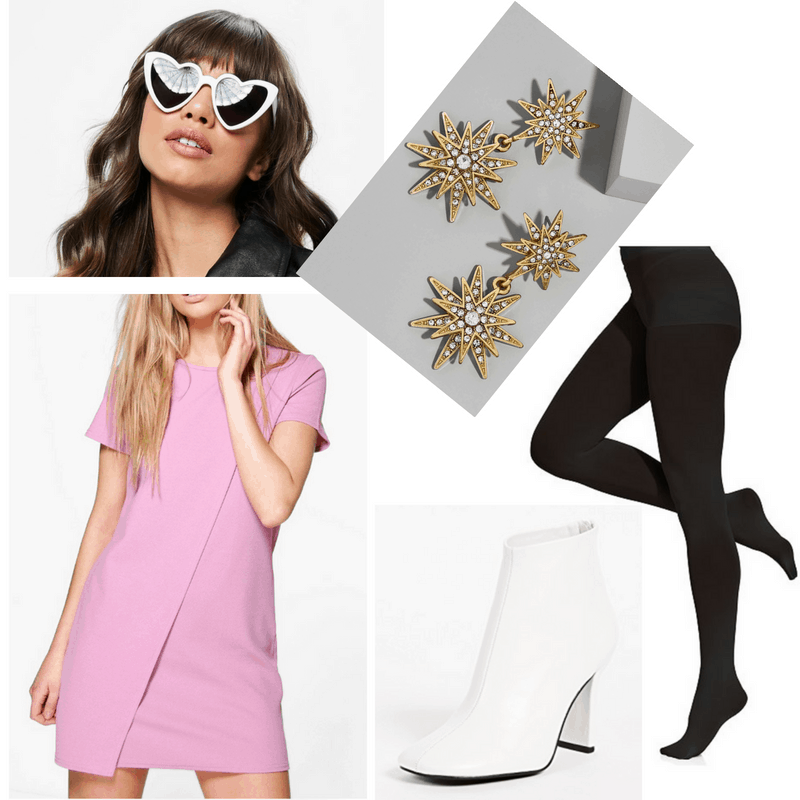 Products:
After pulling inspiration from pictures, I noticed a trend in Edie's style basics. While her signature eye makeup definitely was key (you can get a similar look by using the makeup I included in Brigitte Bardot's look), I also noticed her love of big statement earrings. Find a pair of classy drop earrings, or big jeweled ones like the ones I chose above, and you'll be good. Next slide on some fun sunnies like the heart-shaped ones I found. And lastly, don some lovely black opaque tights – uniform in any of Edie's key outfits.
Edie's style essentials always made a statement: they were loud, but in a way that still made them chic, which makes it no wonder that she continues to be such a muse.
Fangirling over Edie's mod look? See our full guide to Edie Sedgwick's style!
8. Audrey Hepburn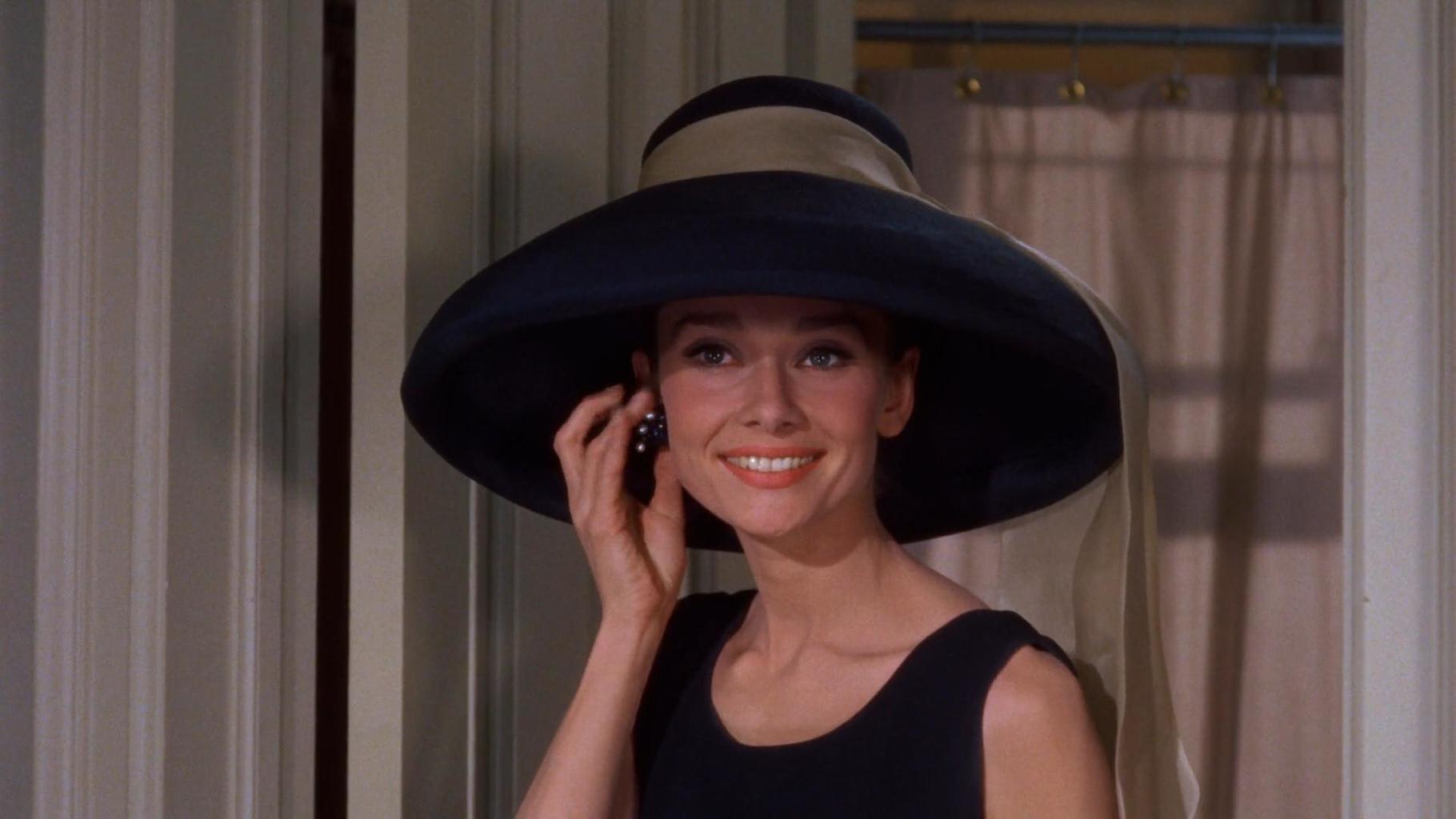 Where would any fashion icon list be without the chicest of the chic? Audrey Hepburn (in my humble opinion) was the loveliest, most elegant woman to ever grace the silver screen. Always prim and proper, with her well-tailored clothes and gentle demeanor, Audrey proved that she was not only a brilliant actress but also a humanitarian and a true lady. She exemplified the idea of being lovely inside and out, which, like her style, is something we can all still appreciate today.
Shop Audrey's Closet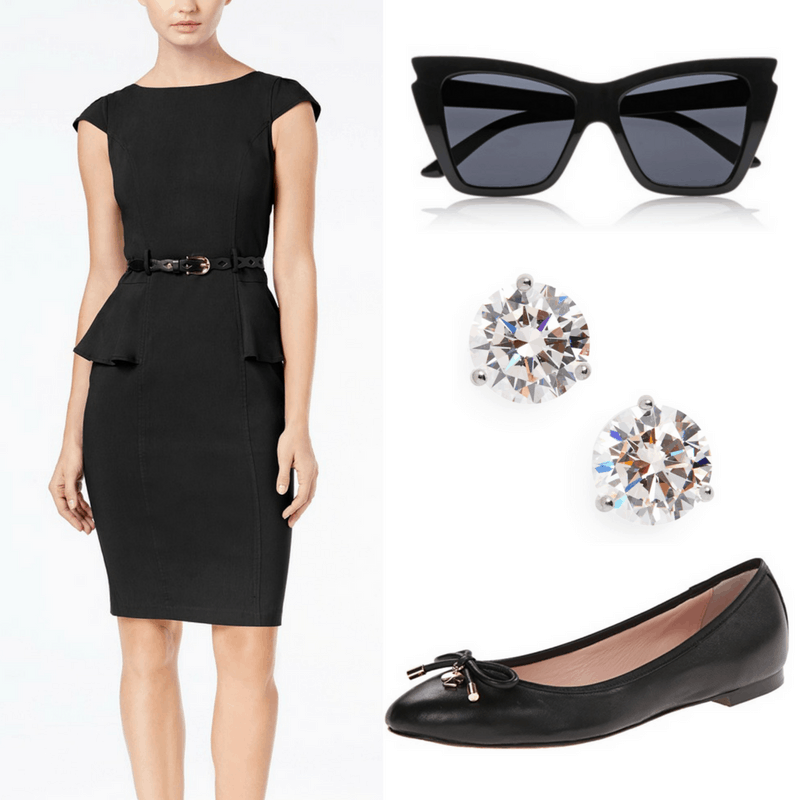 Products:
Audrey's style was classic yet simple, making it easy to replicate on a day-to-day basis.
To start off, I chose an elegant little black dress. Audrey is often credited with popularizing the LBD (one of the classic dresses every woman should own), wearing hers alongside another style essential, black ballet flats. The ever-classic ballet flat is not only functional, but it's also comfortable, so it's only natural that Audrey (who was a fan of the simple things) loved her flats so much.
Finally, I chose a pair of black oversized sunglasses à la Breakfast at Tiffany's. Slip-on a pair of those babies, add some sparkle with faux diamond studs, and you can walk the streets looking just as chic as Holly Golightly.
In love with Audrey? Here's your go-to guide to Audrey Hepburn's style!
9. Jackie O.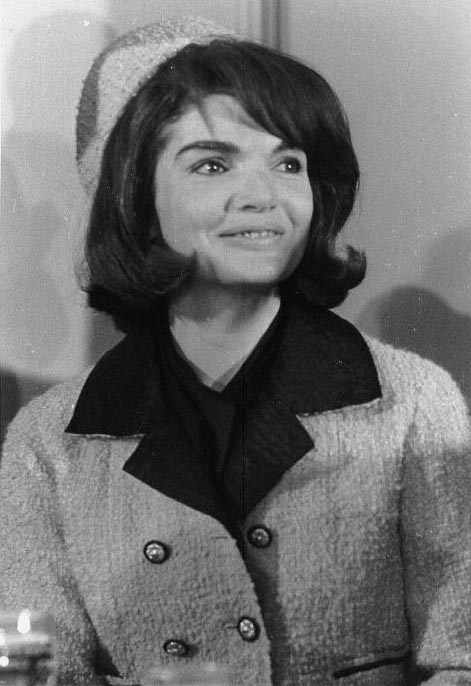 Michelle Obama may have had killer muscles and amazing Jason Wu pieces, but nobody takes the White House fashionista crown from first lady of style, Jacqueline Kennedy Onassis (or Jackie O. for short). Known for her classy attitude, preppy style, and gigantic sunglasses, Jackie O. is and always will be queen of All-American chic.
Shop Jackie's Closet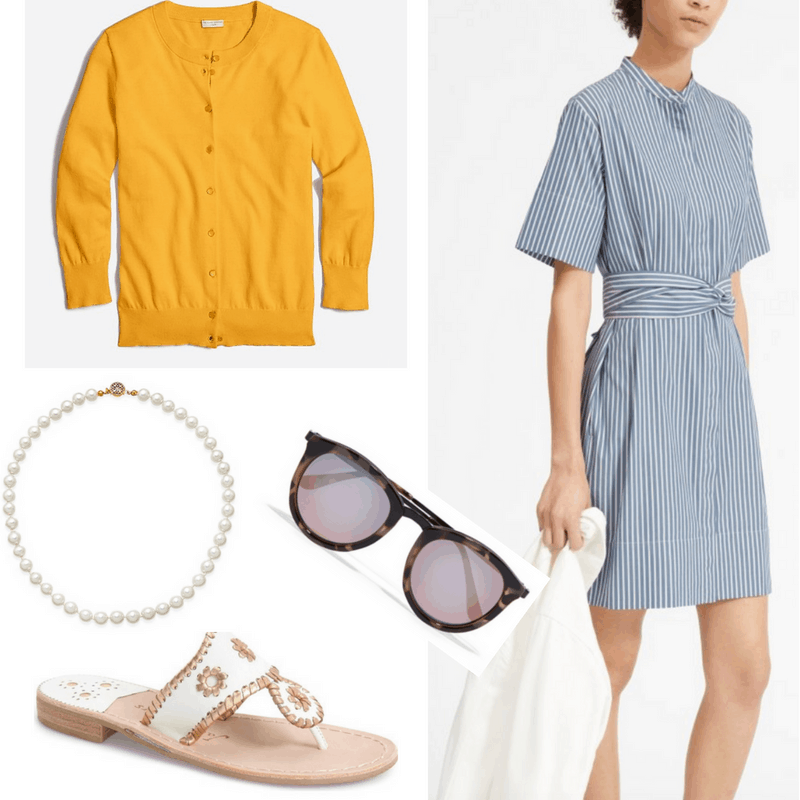 Products:
Jackie was known for her taste in impeccably tailored dresses, skirts, and blouses; and as such, I plowed through (what felt like) hundreds of dresses until I found one that cried out "Jackie". Luckily, I stumbled upon this adorably tailored striped shirtdress and knew that it was the one. And while a perfect dress is important to get her to look, another essential to nailing Jackie's wardrobe is this lovely mustard yellow cardigan; it screams All-American and looks so cute! (Tie it around your shoulders for that Jackie feel.)
To continue the quintessential Jackie O. look, I pulled two things that she was (almost) never without- a pearl necklace and a pair of oversized sunglasses. Look through all her pictures and you'll almost always see her wearing one or both of these items. The sunglasses are great because they give her look that extra kick of attitude; meanwhile, the single strand pearls add a dash of class to her outfit.
Finally, I finished the outfit with Jackie's signature sandals, Jack Rogers. You can read all about her history with the brand here, but suffice to say she's the reason Jacks are a thing.
Obsessed with all things Jackie? Here's our guide to Jackie O. style!
10. Bettie Page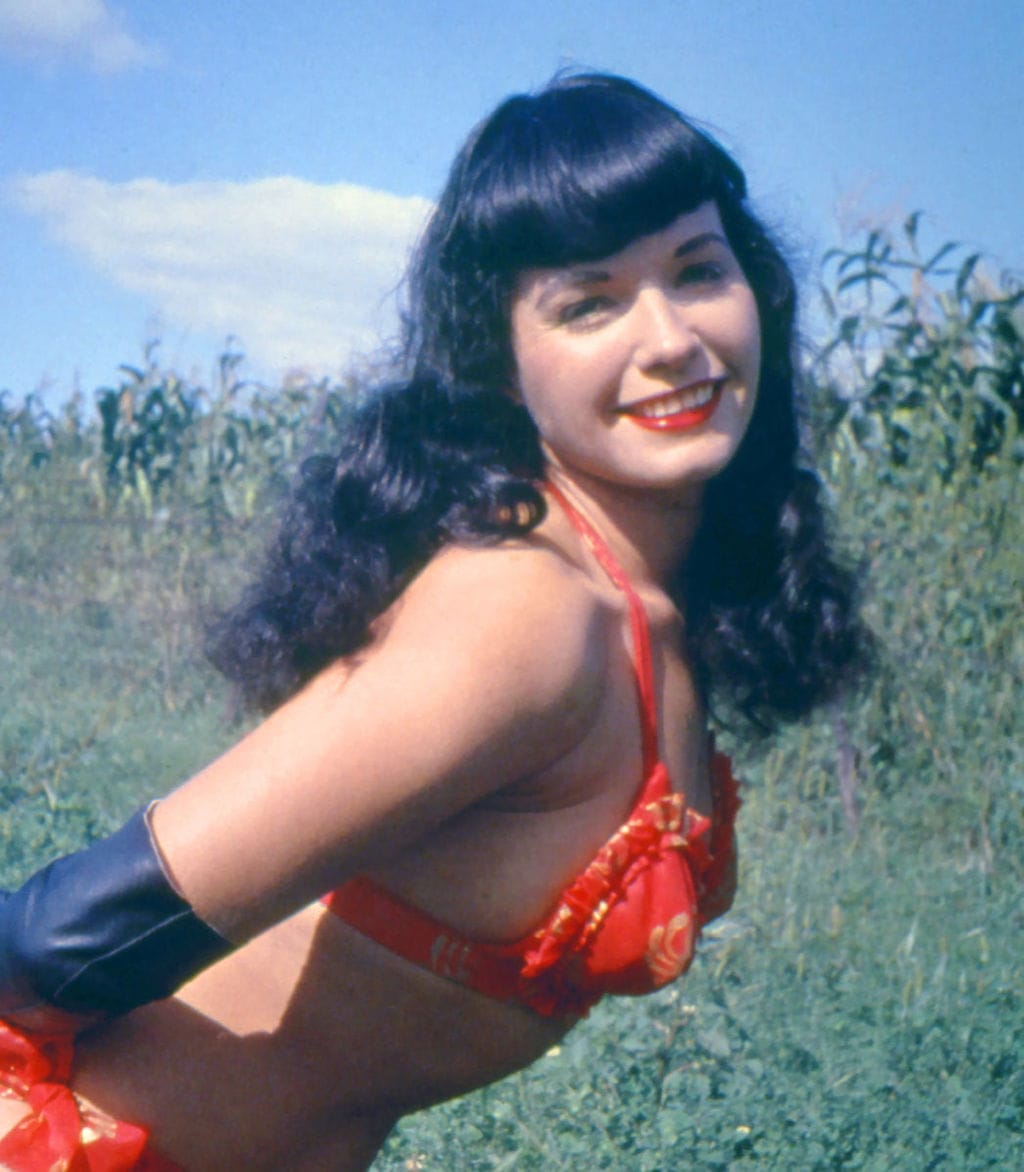 Pin-up girl and all-around babe Bettie Page had all the right moves — and she knew how to flaunt her gorgeous curves. Whether she was dressed up in a bustier or posing in a bikini on the beach, she always managed to make sexy look classy and (almost) wholesome.
Shop Bettie's Closet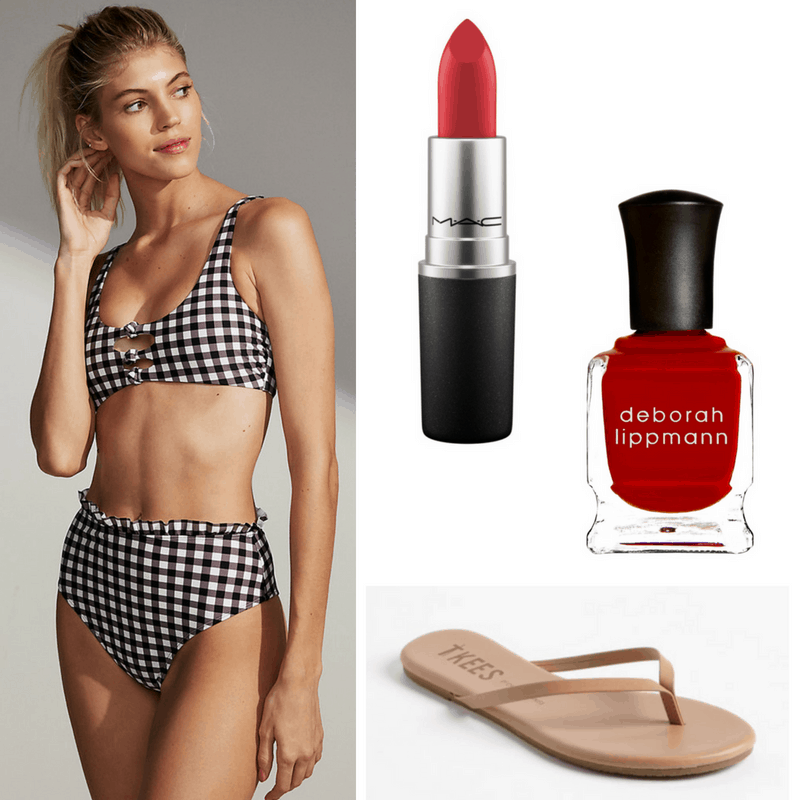 Products:
As Bettie was a pin-up girl, I thought I'd stick to the essentials; and what's the quintessential "Bettie Page" wardrobe? A bikini. I chose an adorable black and white gingham bikini that is reminiscent of the 1950s and the age of the pin-up.
What other essentials should one have to mimic Bettie's style? Red lips and nails are a must – which is why I also included a bottle of nail polish and a tube of lipstick in a bright brick red (Bettie's color of choice). And that's it! Cut your bangs, don this retro bikini, and redden those tips and you'll be sure to look every inch the pin-up!
Want to be a bombshell like Bettie? Take a look at our guide to Bettie Page's style!
11. Diana Ross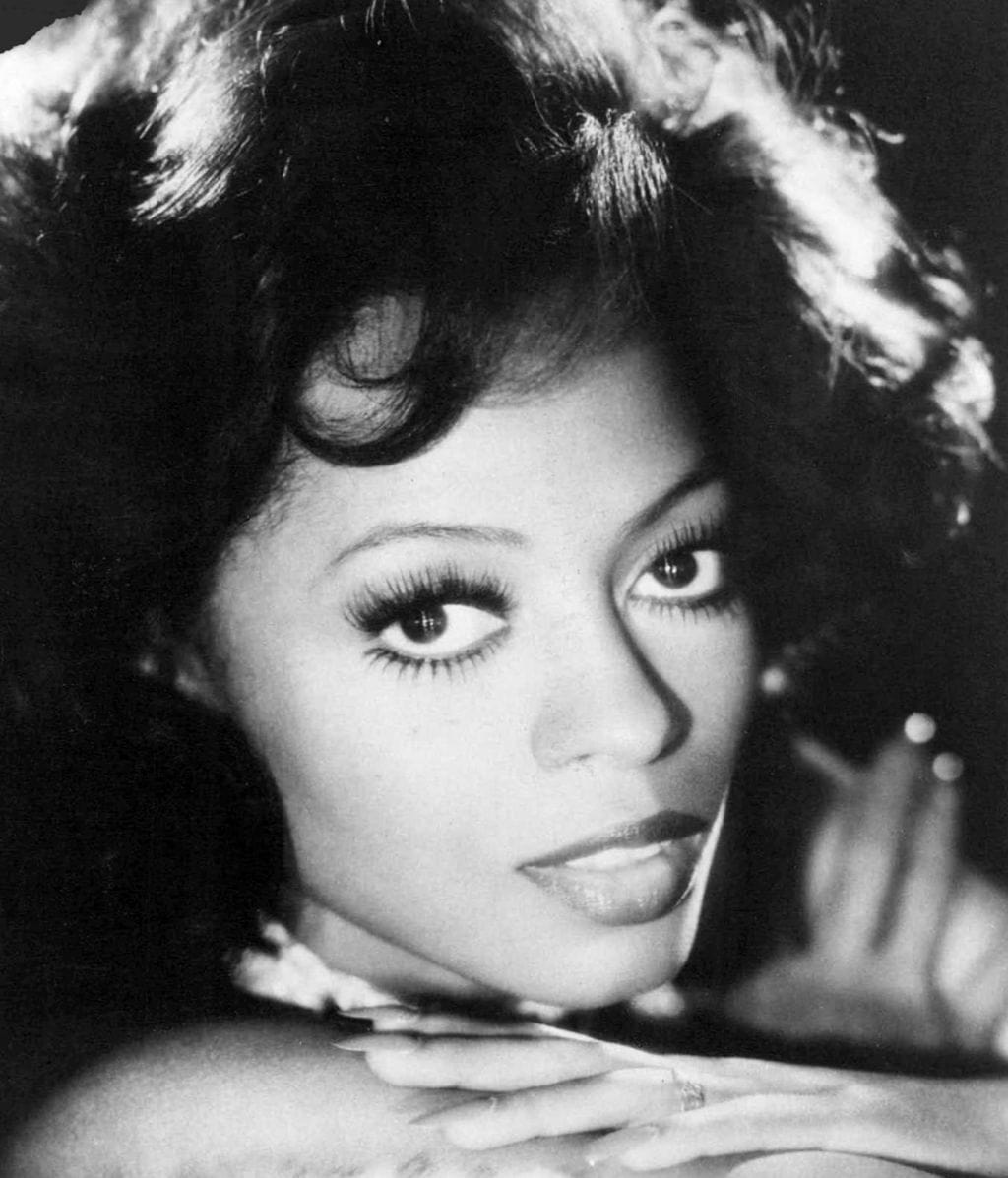 Ultimate Diva, lead singer of the Supremes, and glamorous trendsetter to end all, Diana Ross went through all the decades with exquisite glamour, sass, and a gorgeous head of hair. Whether she was sporting a beehive, afro, or long locks, she paired her fantastic hair with sexy, sophisticated outfits and big dose of attitude to go with those glorious pipes.
Shop Diana's Closet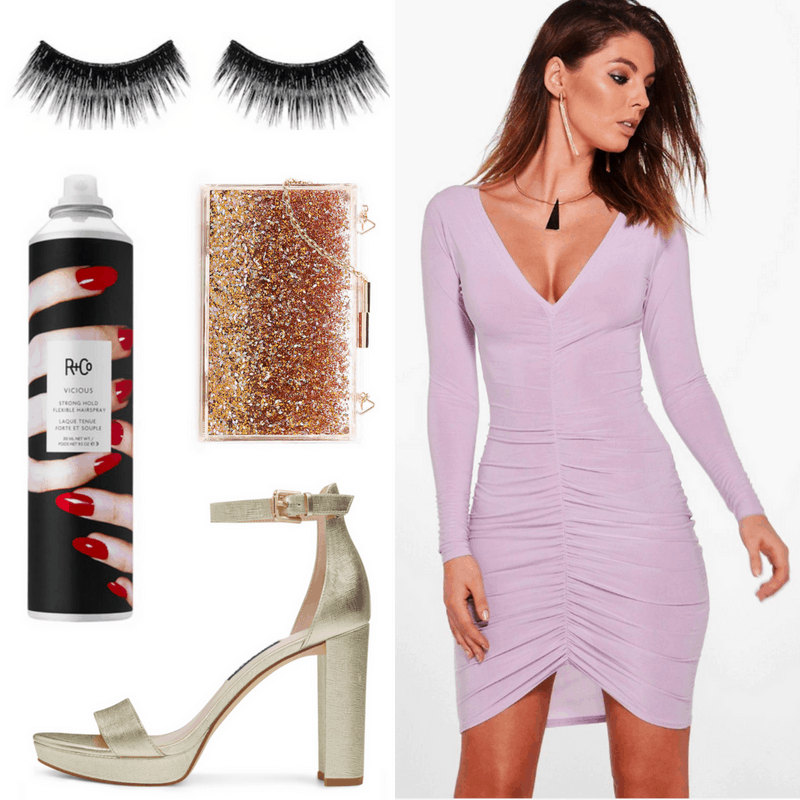 Products:
For Diana's wardrobe, I started off with a big ol' can of hairspray. After all, when you have a mane of hair that awesome, you have to keep it in check somehow. After your hair is set, throw on some false eyelashes like the ones I found to give your look a more diva-esque feel.
As Diana maintained her fame through the decades, I tried to find a dress to fuse both her '60s look with her '80s/'90s look. I pulled a slinky purple dress (purple is a signature color for Diana) that could be dressed up or down, depending on the accessories and shoes you wear. Speaking of shoes, I pulled a pair of platform heels, a throwback to the popular '70s style, with a modern twist.
Now that you have all the pieces to the puzzle, you just need to exude confidence like Diana — toss your hair back, stand up straight, and take the town by storm. Look out Beyoncè, there's a new diva on the prowl.
Want even more outfits inspired by Diana? See our ultimate guide to Diana Ross style.
12. Marilyn Monroe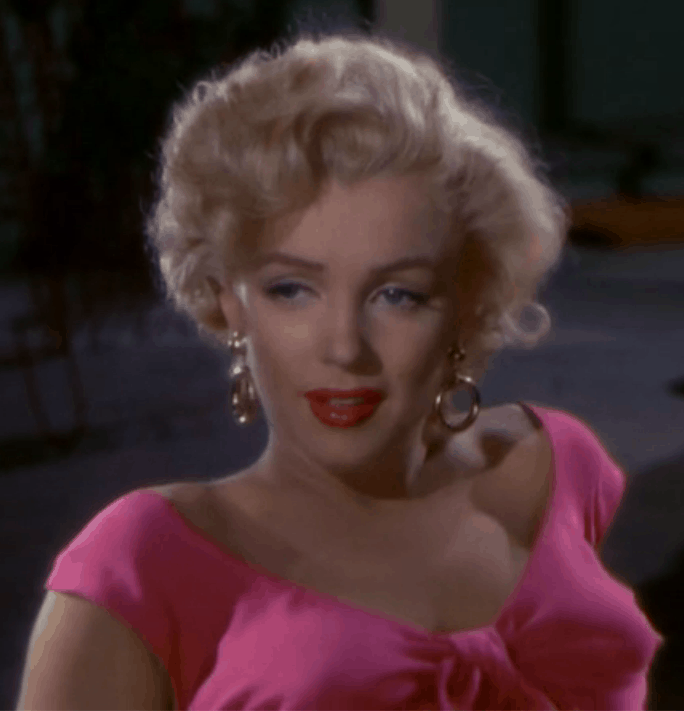 Where would any fashion icon list be without Marilyn Monroe? Curvaceous, lovely, and enchanting, it's no wonder she was every man's dream girl in her day. Whether she was wearing hip-hugging short shorts or a floral day dress, she always looked picture-perfect. But what made her most lovable was that she could be in-your-face sexy yet human and vulnerable at the same time.
Shop Marilyn's Closet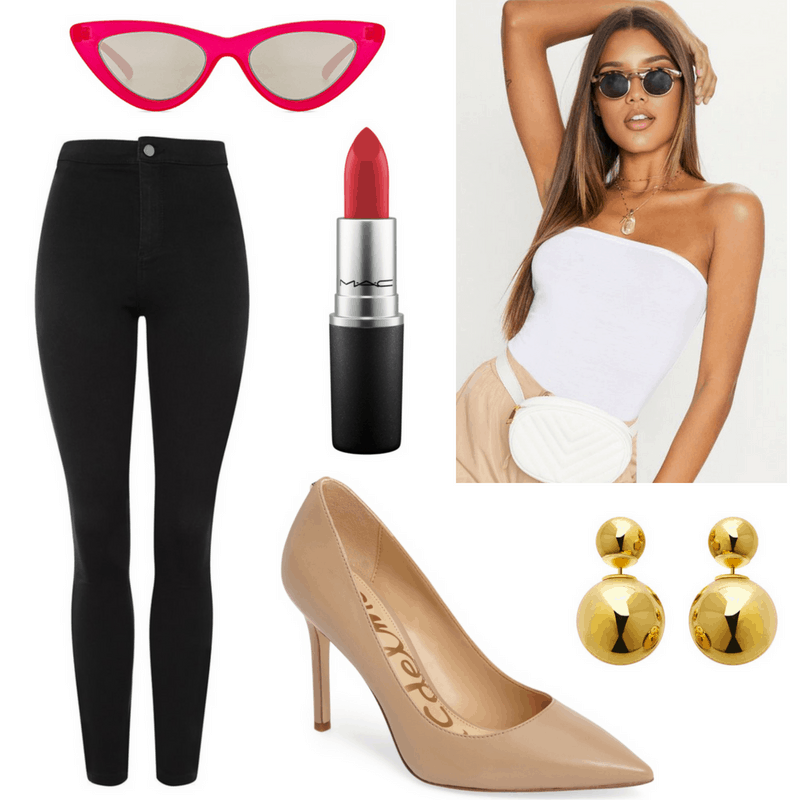 Products:
For Marilyn's outfit, I went for a sultry vibe. I first chose a super cute strapless bodysuit (Marilyn loved shoulder-baring pieces) and paired it with curve-hugging high-waisted jeans. Then I picked out some classic pumps and a pair of cat-eye sunnies to keep things fun. And to put the cherry on the sundae, I chose another tube of lipstick — you need a red lip for Marilyn's style.
Whether you're going out with the girls or having a fun date with someone special, rest assured that you will look cute and totally Marilyn.
If you really want to channel your inner Marilyn, be sure to check out even more outfits in our guide to Marilyn Monroe style.
13. Debbie Harry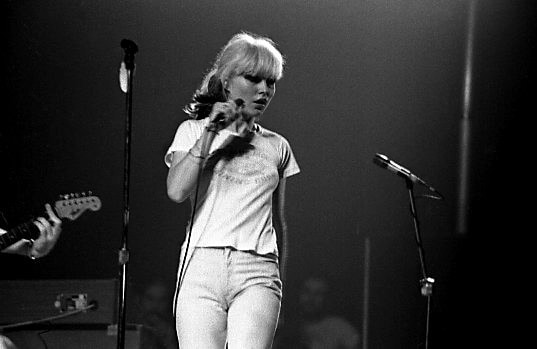 Lead singer of New Wave band Blondie, friend to Andy Warhol, and all around badass, Debbie Harry took rock n' roll style and spun it on its head without breaking a sweat. The original Kate Moss, Ms. Harry mixed graphic tees and leather jackets to create the ultimate just-rolled-out-of-bed look.
Shop Debbie's Closet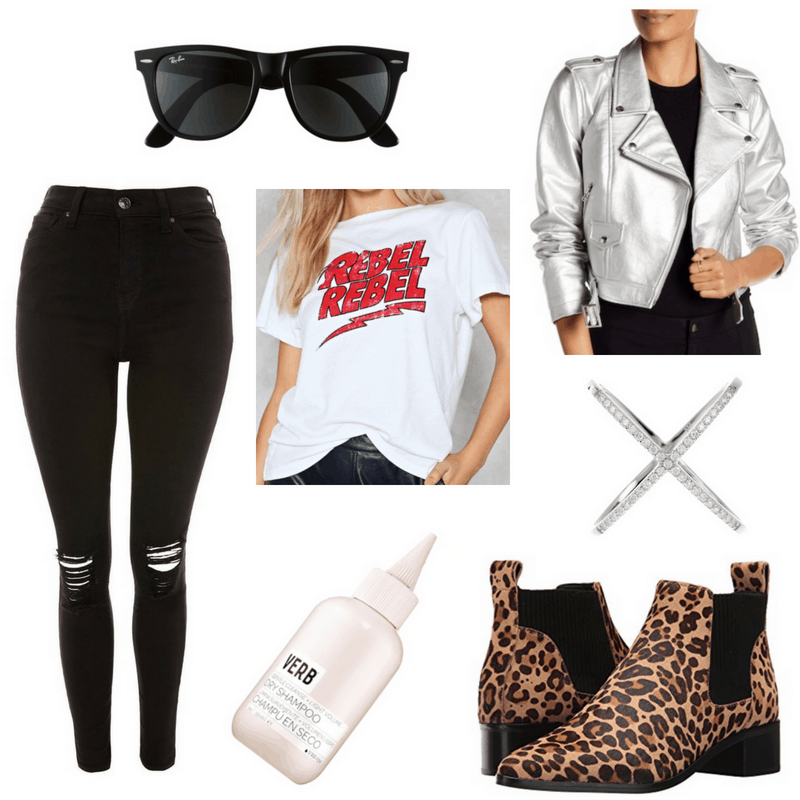 Products:
Debbie's look is not hard to master if you know the basics. First, find a cool graphic tee that looks punky and not too fitted, and pair that with some shredded skinnies and a major moto jacket. After that, go for some rocker jewelry, be it studded, jeweled, or glittery. (I love this cool ring!)
All that will be left to do is to don some rockin' shoes – I recommend some classic Chelsea boots in leopard print. Throw those on with some Wayfarers (Debbie's signature), mess your hair up with some dry shampoo, and you'll be stage-ready and rocker chic just like Debbie.
Love Debbie's look? Check out our guide to Debbie Harry style!
14. Lucille Ball
A while back when I was watching I Love Lucy reruns, I was struck by how stylish Lucille Ball's clothes were. Who knew that show had such awesome fashion inspo? Along with being hilarious and beautiful, Lucille also manages to wear beautifully tailored pant suits, dresses, and heels that Blair Waldorf would lust after.
Shop Lucy's Closet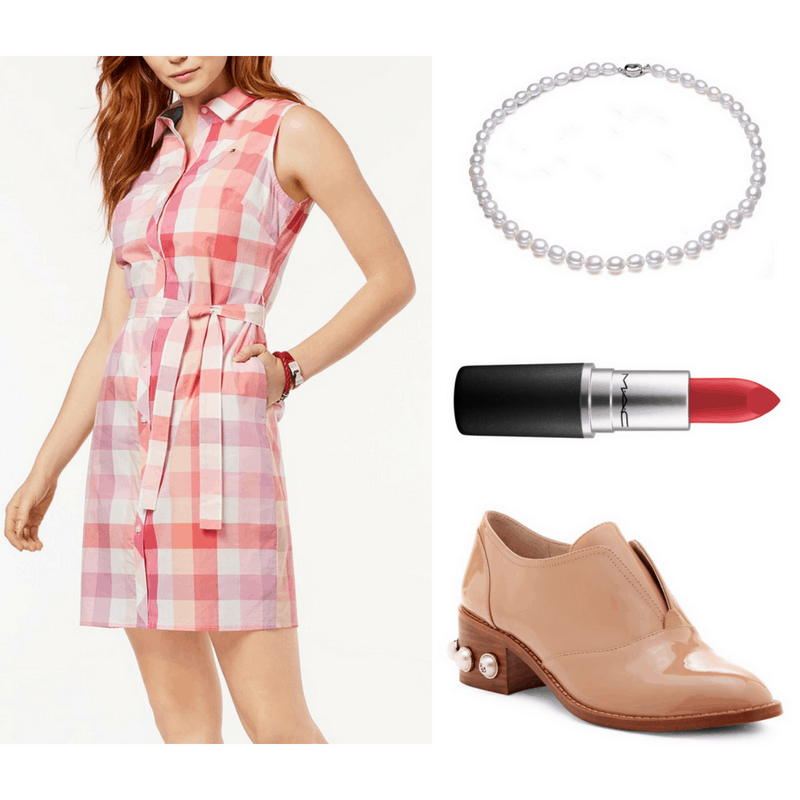 Products:
Where would I Love Lucy be without all those gorgeous dresses? The answer: nowhere. I love the dresses Lucille Ball wore on I Love Lucy, and to mimic her style, I found the most adorable plaid shirt dress. Pair the dress with a pair of oxford shoes (I love the modern detailing of these) and some pearls you'll instantly feel '50s-chic.
Do you love Lucy? Take a look at our guide to Lucille Ball's style!
15. Katharine Hepburn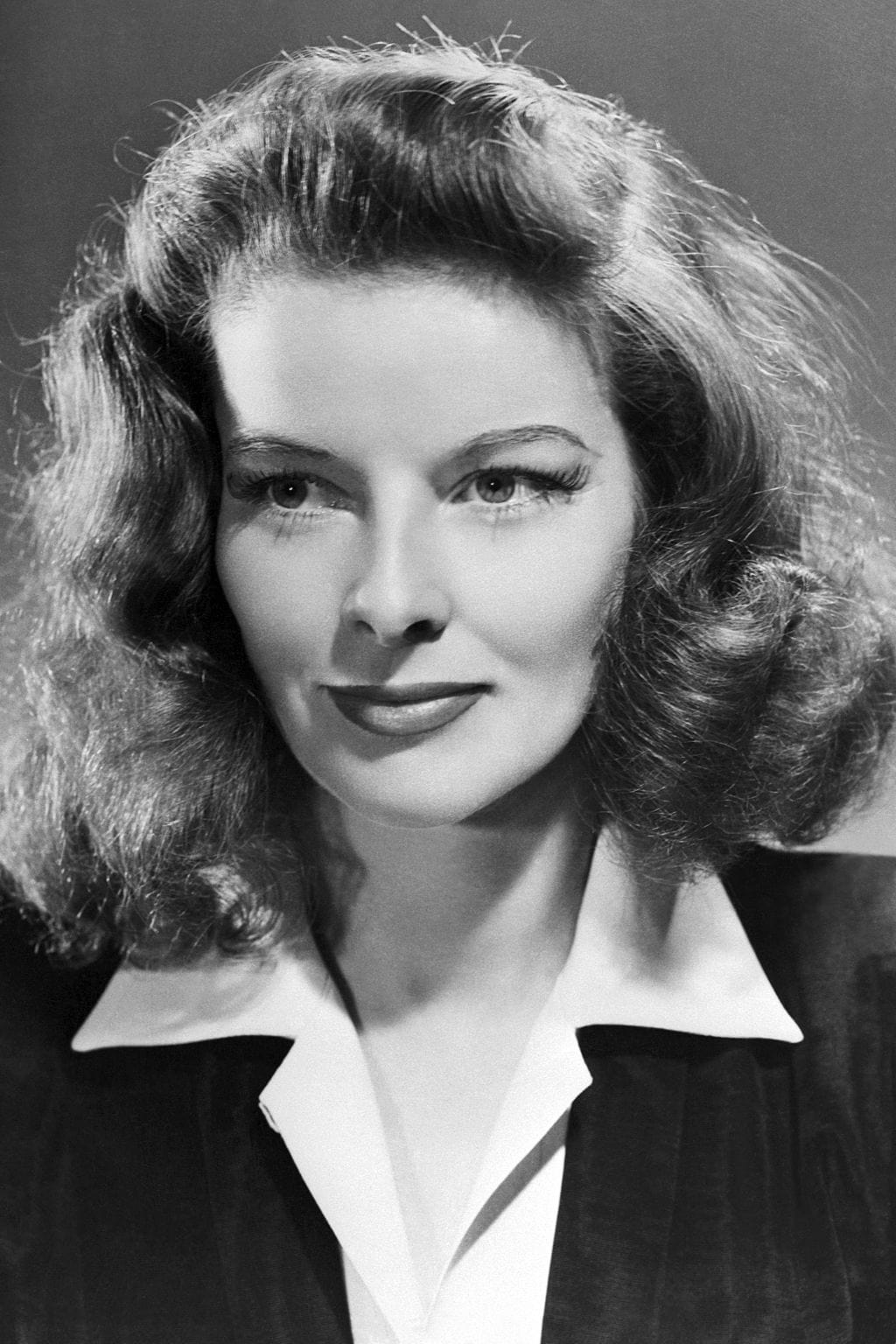 We owe a lot to Ms. Katharine Hepburn. By refusing to wear makeup and pushing boundaries by wearing pants on screen, she blazed a path for menswear-inspired looks for generations to come. But whether she was rocking a chic pantsuit, evening gown, or a peter pan collar blouse, she spoke her mind and was fearlessly herself – and if that's not fashion icon material, I don't know what that is.
Shop Katharine's Closet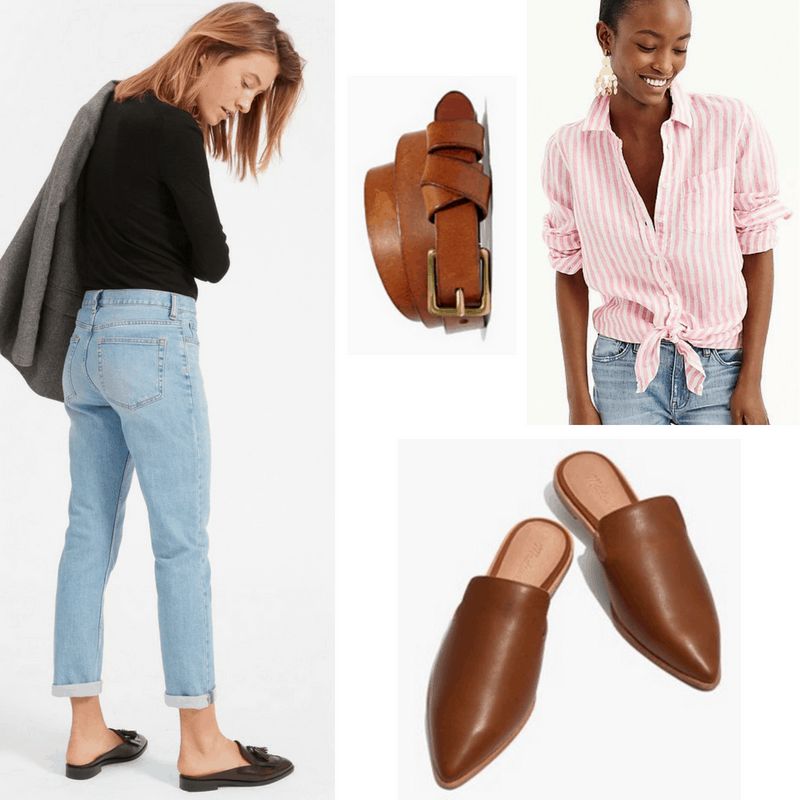 Products:
To start off my Katharine-inspired outfit, I pulled a cute pair of boyfriend jeans and paired them with this striped button-up. After that, I found a simple belt and some classic flat mules.
Like I said before, Katherine's look was as much about her intelligence as well as her clothes; so wear your outfit with confidence and street smarts and you'll look every bit as beautiful as Katharine.
Want to rock the menswear look like Katherine? Here's a full guide to Katherine Hepburn's style!
16. Dorothy Dandridge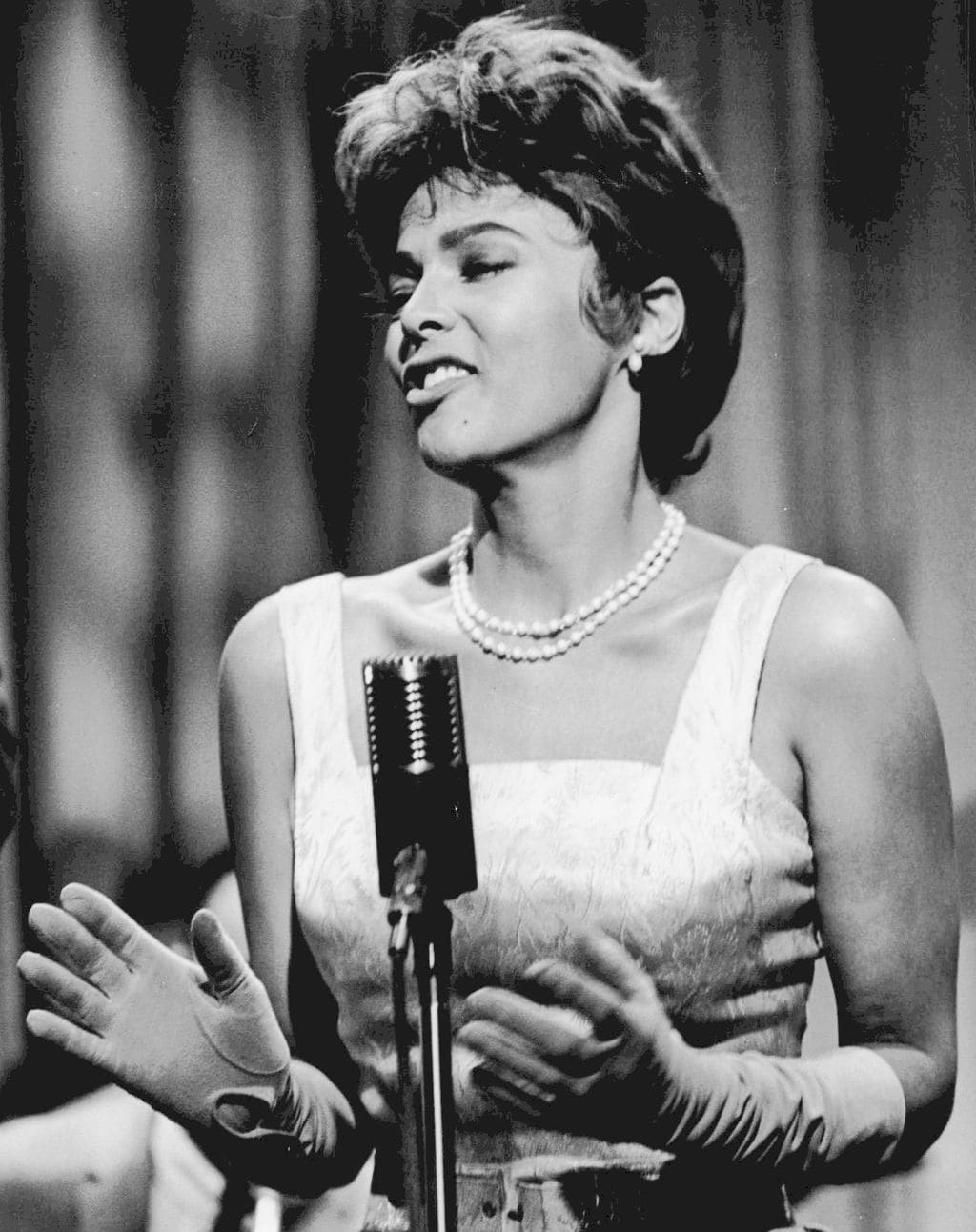 Doe-eyed Dorothy Dandridge was a classic beauty with classic style. Famous for both her work at the Apollo Theater, in movies, and on records, Dorothy was without a doubt a triple threat and a force to be reckoned with.
Shop Dorothy's Closet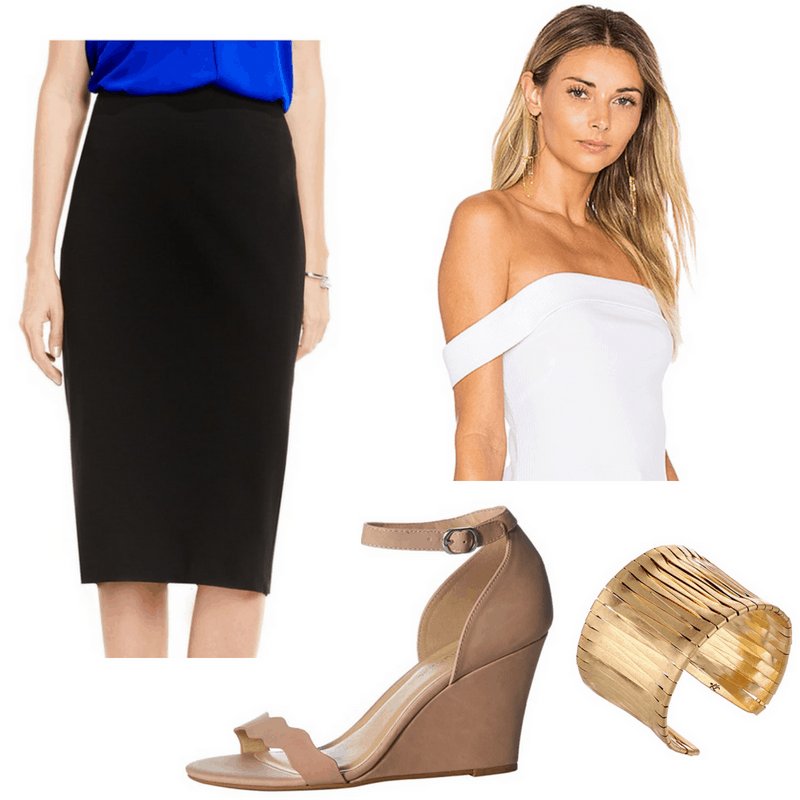 Products:
Almost every picture I found of Dorothy showed off those gorgeous shoulders of hers, and as such, I pulled a flirty off-the-shoulder top that can be dressed up or down. I paired the top with a sultry pencil skirt and a pair of classic wedges. Optional is this chunky bracelet, something Dorothy wore in many of her photos.
This look is sassy, smart, and perfectly Dorothy. Walkout in this outfit and I guarantee you'll look and feel ready to take on the world with style.
Do you like Dorothy's demure look? See our ultimate guide to Dorothy Dandridge's style!
Thoughts?
Who is your favorite icon from this list? What do you think of the styles I put together? Who is your style muse? Whatever your thoughts, leave them in the comments! I love your feedback, everyone!
Editor's note: This post was originally published in 2010; it was completely updated and revamped in 2022 with new photos and information.
If you liked this article about these classic fashion icons consider checking out some of our favorites below —