We've been breaking down our list of 16 classic fashion icons everyone should know. Last week we talked about the French blonde bombshell Brigitte Bardot. This week, were talking about American muse Edie Sedgwick.
This gorgeous fashion model was also an actress and inspiration to Andy Warhol. She lived a shocking double life as both a pop culture icon and a struggling addict who battled mental illness.
Getting into the details of which might require more than just a content warning, but if you're interesting in learning more be sure to read till the end and scroll through our sources.
But if you want to know a little about Edie's socialite upbringing and career as a model in the 1960s, keep reading to find out.
All About Edie
Edie Sedgwick was born in Santa Barbara, California to a family of socialites in 1943.
Every member of Edie's immediate family seemed to have struggled with some type of mental illness throughout their lives, including Edie.
She was both homeschooled and studied at elite private schools during her childhood and would go on to study at Harvard.
When she was 21, Edie received $80,000 in a trust from her grandmother. She decided to use the money focus on her dreams of becoming a model and actress.
She met art legend Andy Warhol at Tennessee Williams's birthday party and became one of his most famous muses.
She adopted his style and became a fashion icon after appearing in 18 of his movies.
However, Warhol's movies weren't exactly blockbuster hits and were more relevant in the underground community. Edie attempted to succeed in a mainstream acting career, but never got the chance.
Edie died at age 28 in 1971.
Fashion Inspired by Edie Sedgwick
Mod Moments
The '60s was the era that brought us mod. The one element of mod you need to know? Silhouette. Edie's thin and straight silhouette was what almost all fashion models of the era looked like. This has (fortunately) diversified since the '60s, but that doesn't mean the aesthetic can't still be rocked by anyone today.
Think straight lines, short sleeves, and high necklines that elongate the torso area. Compared the styles of the '50s—the hyper-feminine skirts and belted waistlines—the mod movement was rebellious with its more boyish silhouette and futuristic short hemlines.
This Insta post of Edie features a cute twist on mod style. As opposed to a dress, she's wearing a shirt and skirt combo and color-blocking. It's even more adorable and modern.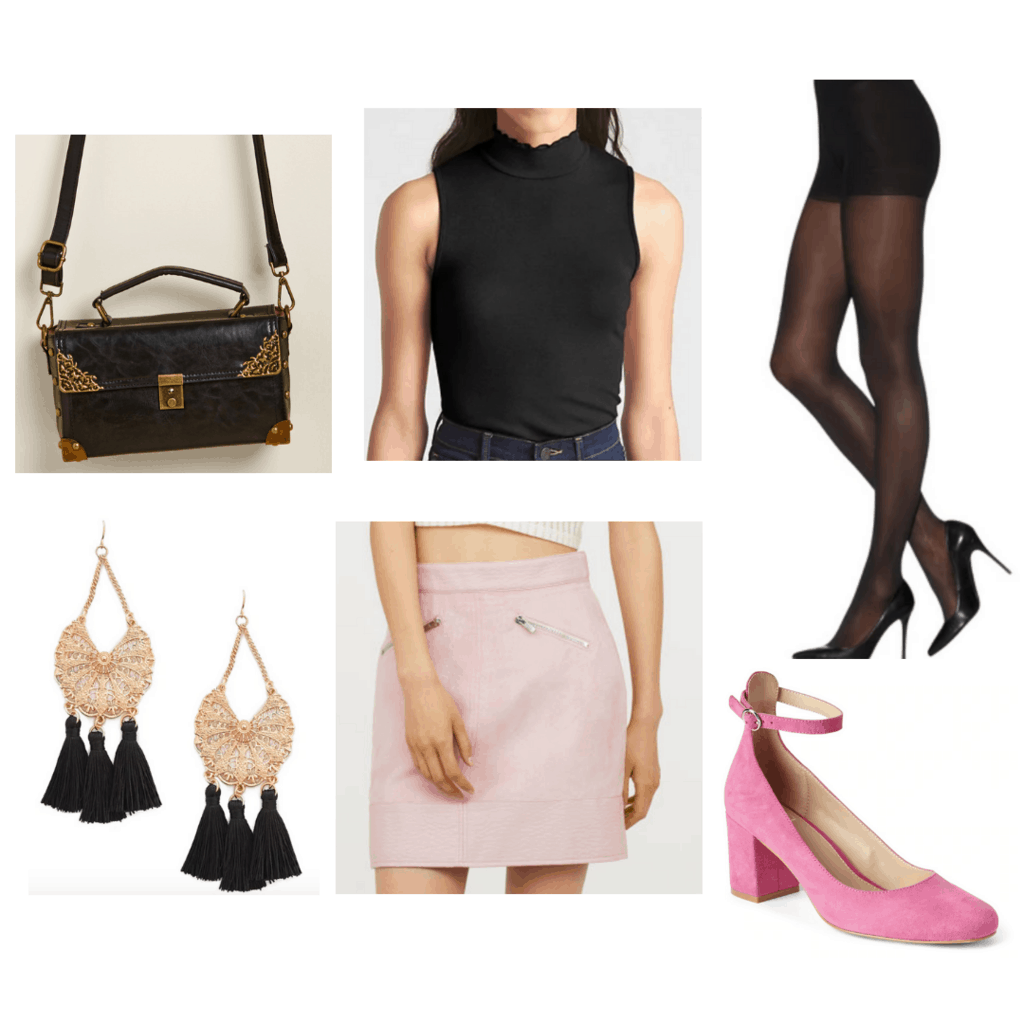 Products: Top – The Gap, Leggings – Target, Earrings – Forever 21, Skirt – H&M, Shoes – The Gap, Bag – Modcloth
Bright colors are a must when going for a '60s look. But bubblegum pink tights may not be to everyone's fancy. So many times, Edie dawned a sexy and chic pair of black panty hose or tights, so swap out the bright pink with classic black for a subdued look.
But do have fun with colored tops or skirts. With such simple shapes, you can be a little extra with color or print.
It-Girl
What do all fashion it-girls have in common across all decades? The ability to make even the simplest of outfits look chic and fashion forward. Edie exuded confidence, and some of her best looks were when she just combined the basics—jeans and tank tops or shirt-dresses and tights.
Edie leveled up her I-totally-just-threw-this-on outfits by accessorizing. Statement earrings were a must. As were bold prints, like stripes, or texture. Her basics were more interesting than just plain shirts or dresses.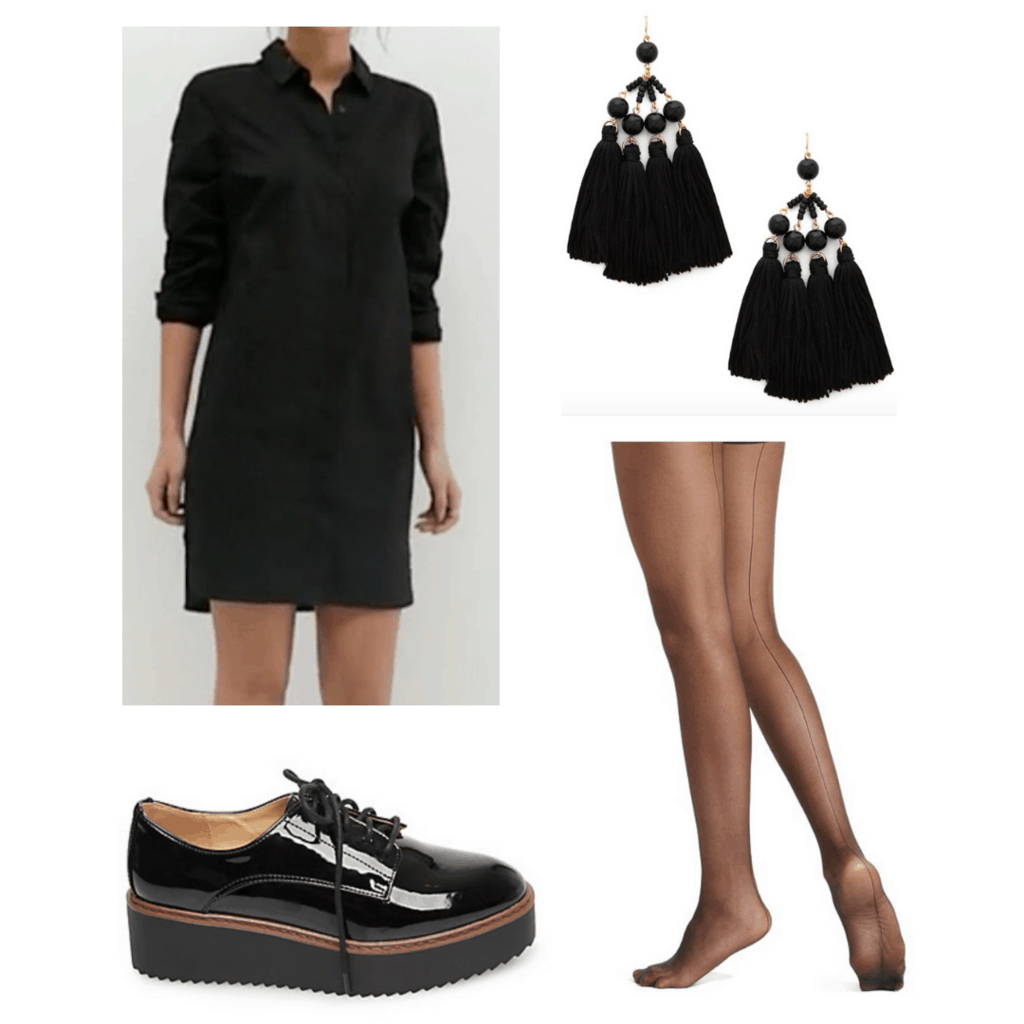 Products: Dress – ASOS, Earrings – Forever 21, Shoes – Steve Madden, Tights – Macy's
Take a simple black shirt dress (or tank and jeans) and get creative with funky accessories. Platform shoes are in style again, and the strange but eye-catching shape can turn the most plain basics into something new.
You'll also find a bunch of oversized tassel earrings at any store now since they're having a fashion moment, so get on board and experiment with the style.
An Artist's Muse
It's not hard to see why Edie was a muse to Andy Warhol. Her style had so much personality. She could be glamorous and easy-going, or edgy and feminine. Edie's image was captivating, and in 1965 when she was "The Girl of the Year," people couldn't take their eyes off of her.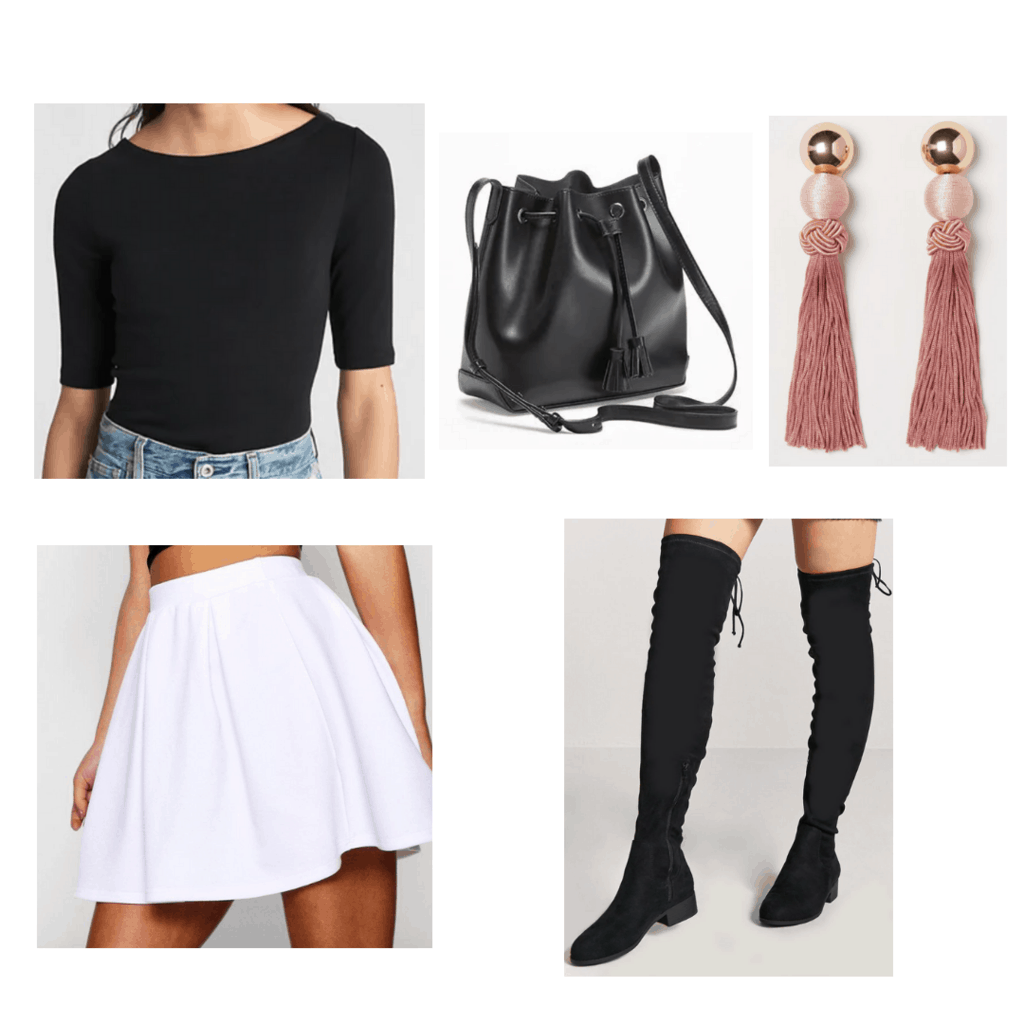 Products: Top – The Gap, Skirt – boohoo, Boots – Forever 21, Earrings – H&M
Boatneck tops are a classic retro style that have recently become super popular again. Paired with a skater or a-line skirt, they're both elegant and playful. For true Edie edge, you'll need to get a pair of knee-high boots and be prepared to look fabulous!
Will you be channeling Edie Sedgwick?
She's still a fashion inspiration today! The actress, model, and muse is a reference for countless of our favorite celebs and designers, so take a chance and pick your top Edie looks to copy.
Will you be getting a bleached pixie cut? Or maybe just a nice pair of giant earrings? Let us know in the comments!
For more information on Edie Sedgwick, check out these great sources:
Biography.com Edie Sedgwick
Complex.com "25 Things You Didn't Know About Edie Sedgwick"
The Independent "Edie Sedgwick: The life and death of the Sixties star"
Vanity Fair "Andy Warhol and Edie Sedgwick: A Brief, White-Hot, and Totally Doomed Romance"
Wikipedia Edie Sedgwick