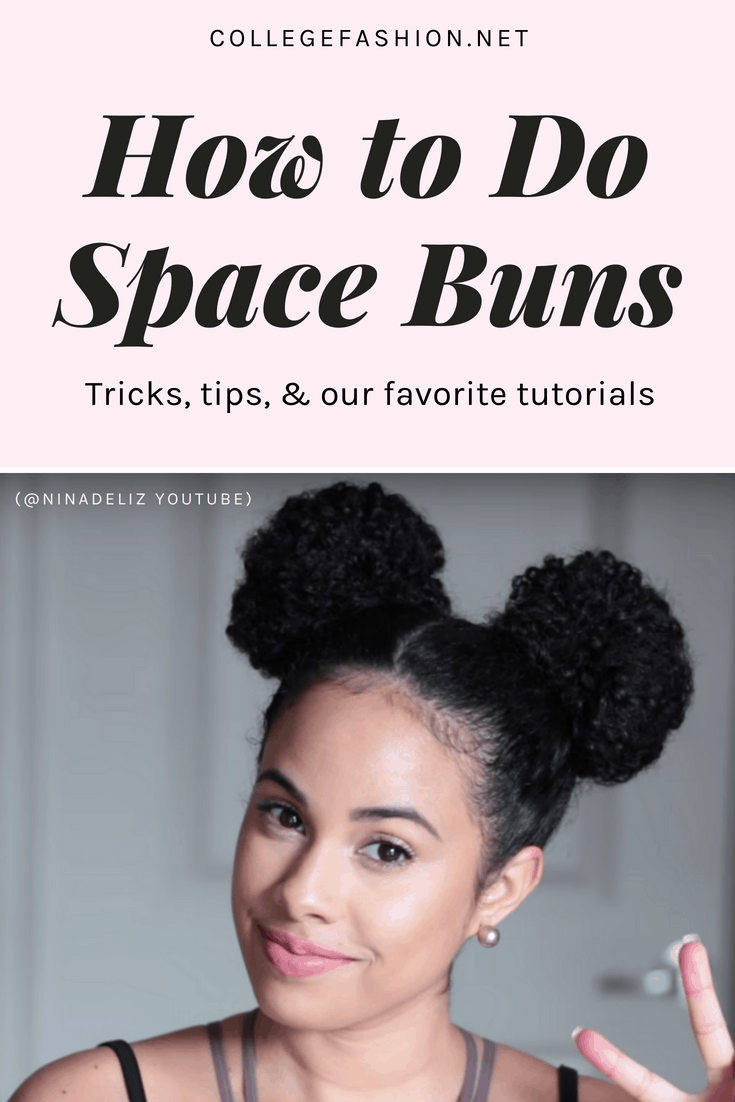 Last week, we talked about the best easy hairstyles for college. One of the hairstyles we talked about was the ever-popular space bun. Today, we'll show you how to get the look.
Space buns are a relatively new hairstyle phenomenon, and they're sure to have your hair looking "out of this world." Think modern-day Princess Leia meets Zenon Girl of the 21st Century meets 2015 Miley Cyrus. Space buns can be worn with any hair texture, length, or thickness, and for an extra out-of-this-world effect, can be worn with glitter, fun accessories, or complex braids.
Space buns can be as simple or complex as you want them to be. First, I'll show you how to do the basic space buns hairstyle. Then, I'll go over some of the different ways you can diversify and add personality to the look.
How to do Space Buns – 6 Basic Steps:
When it comes to the classic space buns, here's how to get your look:
For a classic space bun look, start by parting your hair in the middle of your head. Once parted, grab one of the two sections of your hair and hold to the desired height of your bun. I personally like mine a little closer to the top of my head but this is completely up to you!
Use the product as needed. For a sleek bun, opt for a serum or gel. However, for a natural wave or texture, skip this part. Twist your hair to your head to form a bun and secure with a hair tie, bobby pins, or both, depending on the thickness of your hair. Repeat on the other side of your head and there you have it! You have your buns.
Step 1: Gather the Materials Needed:
Hair brush
Clear elastics
Hairpins
Favorite hairspray
Step 2: Brush Your Hair
Brush your hair all the way through to get a smooth, even base for your style. This style works best on second-day hair, but freshly washed, dry hair works too. You can also use dry shampoo if you're doing this style on third or fourth-day hair.
Step 3: Part Your Hair
Part your hair down the middle, then section off any front pieces you want to leave out. You should have one section on each side of your head, with your front bangs out.
Step 4: Create Some Ponytails
You can create side ponytails by using your brush to pull your two back sections up. Keep your ponytails high on either side of your head. You can tease your ponytail with a brush to add volume.
Step 5: Make Your Buns
Wrap your hair around into a bun, like you are creating a messy bun on each side instead of a ponytail.
Step 6: Finish Off With Bobby Pins and Hairspray
Don't let all your hard work go to waste! Use bobby pins to shape each bun how you like. Then spray on some hairspray to complete the look! That's it-unless you want to accessorize your space buns for a dreamy, festival-ready look.
If space buns intimidate you, start off with a more toned down look with half up half down space bun curls. It's the same process but instead of the entire half section of your hair becoming a bun, just take half of that half (a quarter of your hair). Check out the pics below for more inspo!
3 Different Variations on the Space Buns Trend
Now, let's talk about variations on the space buns trend. There are tons of ways to style this look to fit your aesthetic. To name a few:
Space Buns with Glitter Roots:
Glitter roots are crazy trendy right now. They're cute, fun, and perfect for the summer. Whether you want a touch of glitter or would rather load on the sparkle, space buns are the perfect hairstyle for wearing glitter roots.
To get this look, try priming your hair with a serum for the glitter to grip to. For more hold, mix glitter with a bit of hair gel and add hairspray for lasting results.
Space Bun Accessories:
Give your buns some extra personality with your favorite accessories. Try some fun ribbons or bows, or for a futuristic look, opt for some silver or gold accents.
Braided Space Buns:
To give some added complexity to your space buns, incorporate braids into your look. A few things you can do are french braid your hair from the back, add some braids to the top of your head, or even create an array of fishtail braids or a combination. The possibilities are endless!
Fishtail Wrapped Space Buns
For the most dramatic look, combine all three!
Fashion Tips and Recommendations
Your space buns deserve to be complemented by the perfect attire. Here are some fashion tips to enhance your overall look:
Boho-Chic Vibes
If you have wavy or curly hair, pair your space bun curls with flowy dresses, fringe vests, and ankle boots for a boho-chic look. A carefree and stylish vibe will perfectly complement your space bun curls.
Edgy Street Style
Team space buns with leather jackets, ripped jeans, and statement sneakers for a modern and edgy appearance. This street-smart ensemble adds an urban flair to your hairstyle.
Classic Elegance
Elevate your space buns to a new level of sophistication by pairing them with classic pieces. Think tailored blazers, high-waisted trousers, and pointed heels for a timeless and elegant look.
What's your space bun look?
Whether you like glitter, golden accessories or just a classic bun look, it's all about experimenting and having fun! Try them this summer at your nearest music festival, amusement park, or just hanging out with friends.
If you get some value from reading this article, consider the related post below;