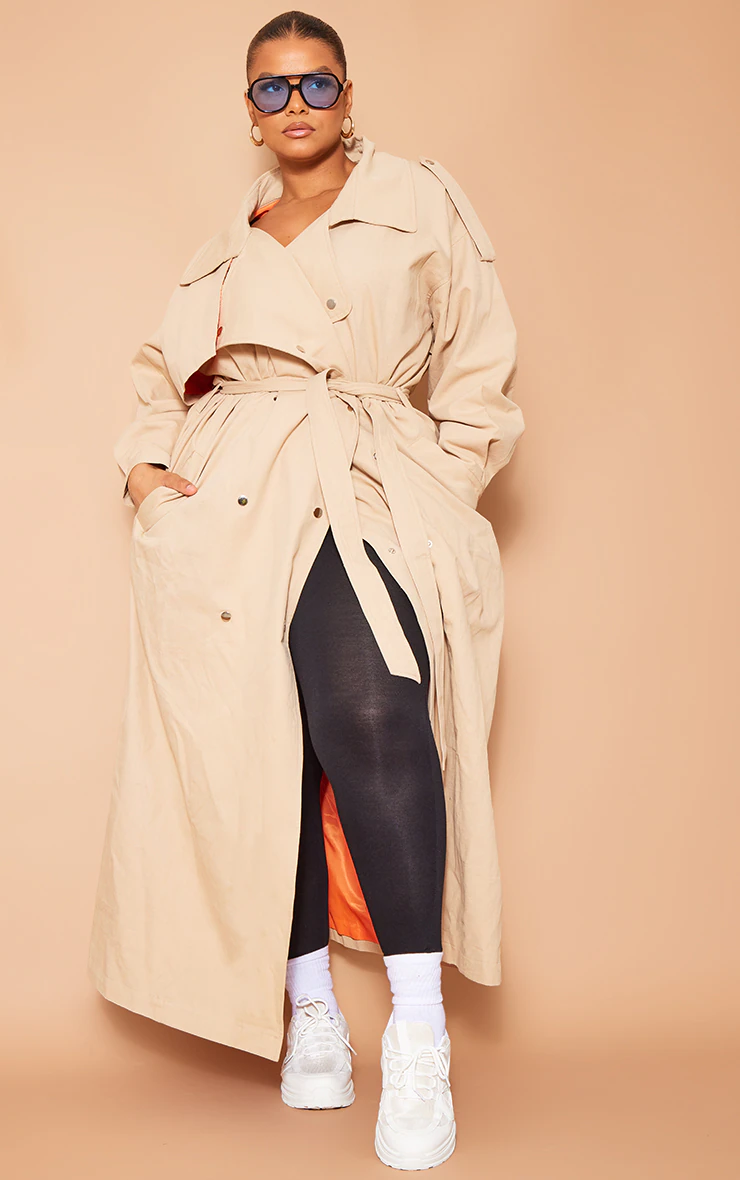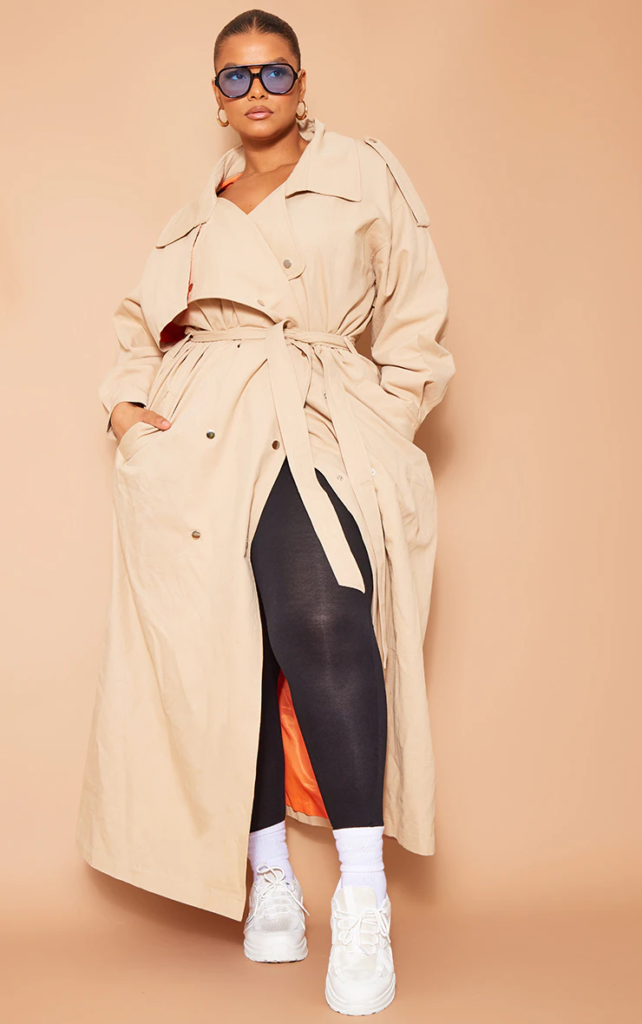 Let's face it: Even though plus size fashion has come a long way, it can be hard to find plus size outfits that are fashionable, modern and trendy. However, there are pieces out there. It just requires some searching — and for some people, finding the confidence to wear trendy clothing. (Just know that you can wear whatever you want!)
Below, I've compiled tons of fashion inspiration for plus-size women and tips for shopping for specific clothing pieces. There are stylish and cute outfits for different scenarios and info on the best stores to shop for plus-size pieces.
Remember: If you are plus size, it doesn't mean you can't be fashionable and find clothing that makes you feel good. It just (unfortunately) takes a little extra effort. Read on for my best tips on dressing well as a plus-size woman.
Plus Size Fall Outfit Ideas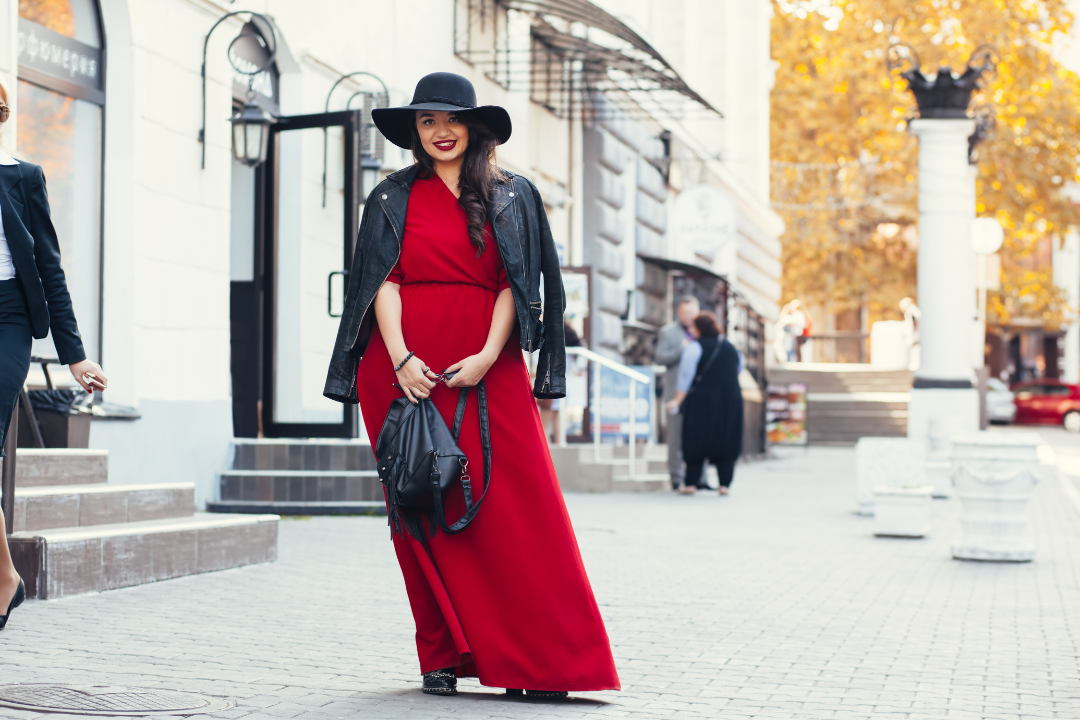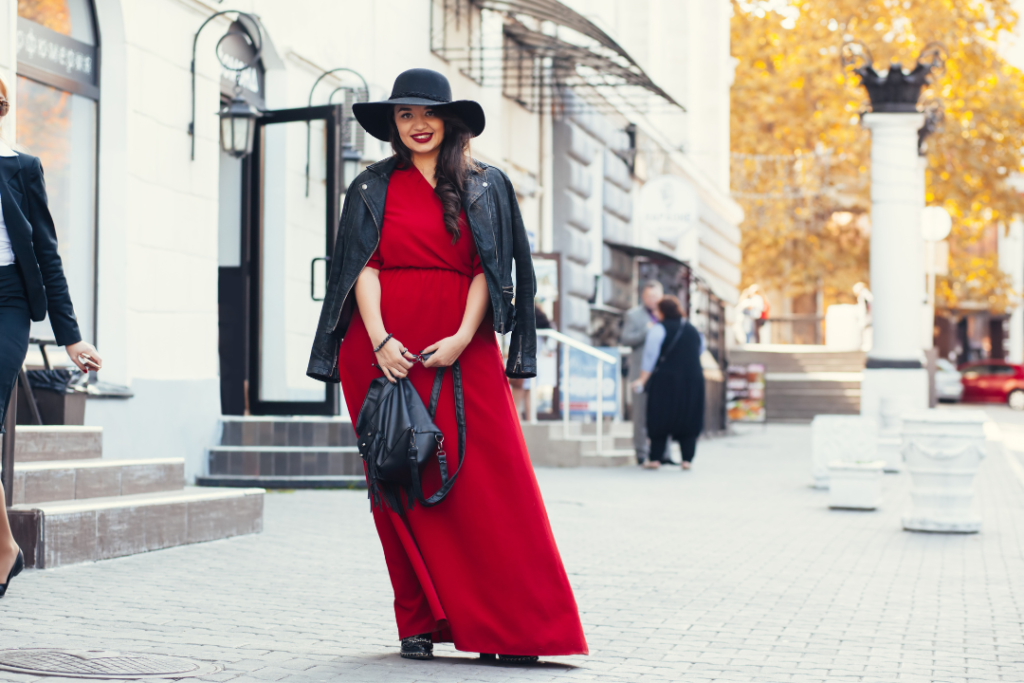 It's almost the fall season, and I'm excited about the weather, the activities (apple picking!), and, of course, the outfits.
Like most of us, I love fall fashion because of the layering opportunities. However, layering can be a tricky subject for plus-size women. Many of us have been told that layering too much will make us look "too big" or frumpy. We have to stop with this. Know that you can wear whatever you want and if you are comfortable in it, you'll look great!
Here are sp,e plus size fall outfit ideas that are trendy, stylish, and comfortable — and even include some cute layers — so you can be fashion-forward this season.
Plus Size Fall Outfit #1
For the first plus size fall outfit, we are styling a sweater vest. This season, sweater vests are trendy yet again. They're also a great way to look cute and preppy while keeping warm in the cool fall weather.
Start with a beige sweater vest and layer it on top of a white button-up shirt. Next, add a denim skirt and some black heeled loafers and wear a black shoulder bag.
This look is perfect for going to a coffee shop for a latte, heading to class, or studying at the library.
Plus Size Fall Outfit #2
For a warmer fall outfit idea, this look fits the autumn vibe. First, let's find a nice coat. This oversized black coat will go with everything this season. Also, over-the-knee boots are on-trend again this fall, so grab a pair to layer with this outfit. I still love the classic OTK suede boots seen above, especially paired with skinny black pants for a sleek look.
For some color, try a burgundy sweater and a burgundy bag to tie in with the colors of the sweater. Finally, if it's frigid, throw on a scarf.
This plus size outfit will turn heads as the leaves change colors. You will look great for a fall brunch or a dinner date.
Plus Size Fall Outfit #3
If you love moto jackets for fall, why not add a little more to your outerwear and try a sherpa-lined jacket? It gives you extra warmth from the lining, not to mention style points. On the bottom, add some plaid pants for a pattern. Wear a lace-trim top under the jacket for more detail, and slip on some black ankle boots.
Fall can also be sunny, so wear sunglasses to protect your eyes and add more to the look. There you go! You have a stylish and comfortable outfit that's great for hanging out with friends or getting dinner.
Plus Size Fall Outfit #4
This next outfit is great if you love to the preppy academic feel of skirts and tights. To create the look, get a cream blouse with an opening in the neckline, or swap in a turtleneck if it's chilly. Then, throw on a plaid skirt and black tights.
These lace-up booties are cute to give a preppy vibe to the outfit, but chunky loafers would be excellent here too. Finish the outfit off with some statement earrings to stand out.
I can see this as an outfit for getting apple cider with friends or even wearing to a casual holiday dinner.
Plus Size Fall Outfit #5
This plus size outfit is an amazing choice for a night out or even seeing a musical. Fall activities don't just have to be in the daytime; you can still look good on a night in the town.
To create this look, get a dress — and bonus points if it has a pattern. Pair it with some sheer tights and simple ankle boots. Instead of a regular blazer, try a faux leather one. If not, a standard blazer or wool coat will work too! Finally, grab a clutch, and you'll be ready to head out.
Plus Size Fall Outfit #6
For our final plus size outfit for fall, we are bringing in some quintessential fall colors. Mustard yellow and brown are reminiscent of falling leaves and look amazing in the autumn season.
This outfit is simple. Wear a denim dress, a yellow cardigan, and brown knee-high boots. Put a cream turtleneck under the dress if the weather is a little colder. This outfit is a great option to wear to class, for work, for an internship this fall, or even to go apple picking with friends!
Plus Size Summer Work Outfit Ideas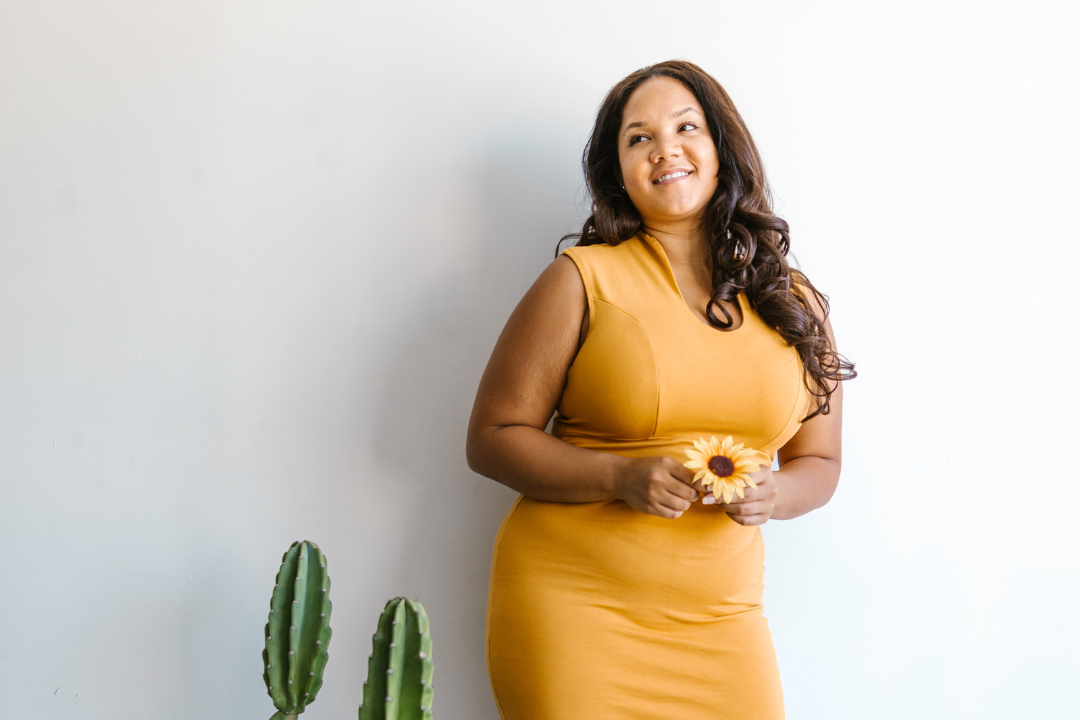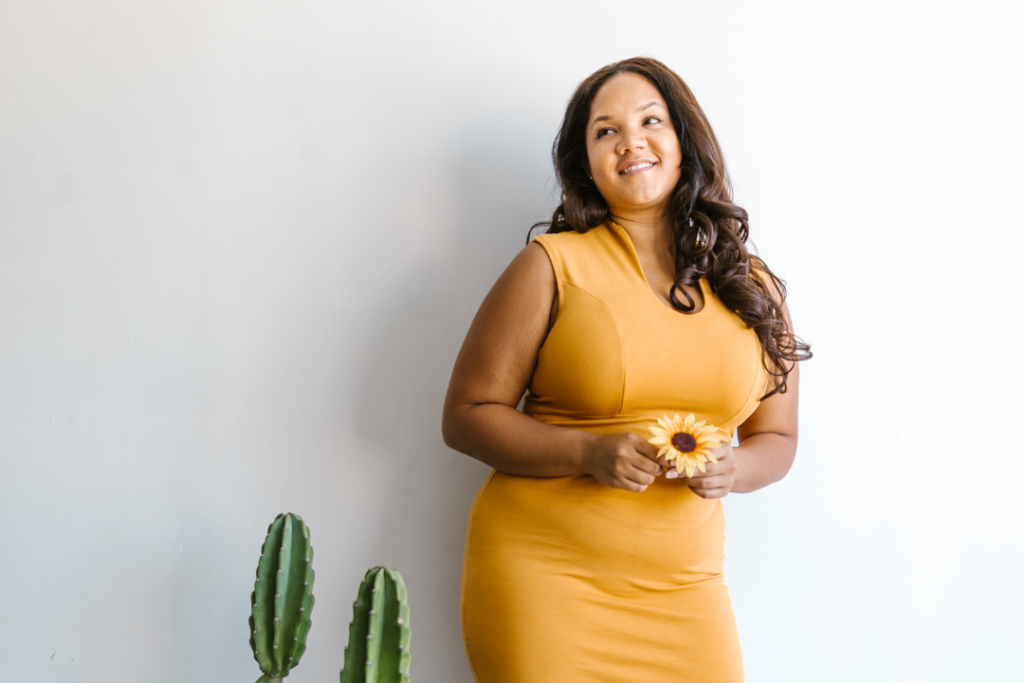 Since it's summer, you might have a job or internship. And if you have a dress code, putting an outfit together can be a challenge. Plus, because it's summer, you want to wear something that won't be too hot or too chilly in the A/C. Add to that being plus-sized, and getting dressed can be tricky.
With this in mind, here are some cute plus-size work outfit ideas.
Plus Size Summer Work Outfit #1
If you want a relaxed but dressy outfit to wear to work, this look is for you! This outfit is business casual and is simple and chic with a pop of color.
A black tee is a nice contrast with trendy white wide-leg pants. Pair the look with colorful heels like these turquoise ones for a pop of color. Bright flats work if you don't want to wear heels, or swap in black loafers. Finish with this cute tote bag (it's also reversible and can turn into a brown tote bag) and statement earrings. Now you'll be ready to take on the day!
Plus Size Summer Work Outfit #2
Wide-leg pants are not only trendy this season, they also allow air to circulate, while also being comfortable and conservative for long days at the office.
Pair some with a striped button-up shirt for a professional look. You can roll up the sleeves or wear them down. I love to wear strappy heels with my wide-leg pants, but if your office dress code is conservative, opt for closed-toe pumps or flats.
Plus Size Summer Work Outfit #3
For this next look, we have a cute, chic, and easy outfit. To start, grab a simple belted shirt dress like this white one. Now, layer a neutral, fitted cardigan over top.
Pair some flats with this look for a casual office outfit. These white flats are perfect because they tie back to the colors of the dress. For some added sparkle, wear these geometric statement earrings. They're fun but still give off a polished look. Finally, carry a brown satchel bag with you, and you'll be ready for the day.
Plus Size Summer Work Outfit #4
I love that this plus size outfit looks like a matching set, but the blazer and skort are actually from two different stores! Matching skirt suit sets are an important part of every corporate wardrobe, so I recommend investing in a few in different colors. Try a lighter color instead of black since it's summer — this will help with the heat.
Pair a casual white t-shirt with this khaki skort (it has shorts underneath for extra coverage). Next, add your blazer and slip on these tan mules to pull the neutral look together. Feel free to add a bag or jewelry to make this outfit shine!
Plus Size Summer Work Outfit #5
Let's face it: It's hard to keep cool in the summer heat, especially when you're wearing work attire. That's where sleeveless tops come in. And don't worry: In all but the most conservative workplaces, you can wear a sleeveless top and still look professional. So try a sleeveless top, but wear pants and heels to keep the look office-appropriate.
You can also add some fun accessories like a cuffed bracelet to spice up the outfit. Also, pro-tip: if it's sweltering, tie your hair back in a bun or use a headband to keep it out of your face.
Plus Size Summer Work Outfit #6
Last on our list of plus size work outfits, we have another dress option. Dresses are excellent for summer and a great choice for a professional setting.
This sheath dress from Macy's comes in a bright orange color that stands out and gives your look a nice summer vibe. It's knee-length to keep it professional but also sleeveless so it's perfect for the blazing summer heat. If it is colder in your office, throw on a cream cardigan.
Finish the look off by adding tan heels. (Or try loafers if you want something more comfortable.) Add your favorite jewelry, and you're ready for a day of work and a happy hour afterward.
Plus Size Outfits for Daily Life Scenarios
Sometimes the question pops up, what am I going to wear? You may have to go grocery shopping, meet a friend, or go to work but need outfit inspiration as you stare at your closet.
Below, I've put together ten plus size outfit ideas for different life scenarios. Now here are some comfortable and stylish plus size outfits to help you get your day started.
Related post: 15 Actually Cute Midsize Outfits You'll Love
1. Plus Size Outfit for Dentist Appointment
If you want to look stylish while heading to an appointment, this outfit will be perfect!
Throw on this comfy sweater since some dentist offices can be chilly. A pair of jeans adds to the casual look. This cream colored headband and tan shoes complement the cream color in the sweater, giving this outfit a neutral feel.
If heels aren't your thing to wear to a dentist appointment, that's okay! Swap them out for a pair of white sneakers and you'll be good to go.
2. Outfit for Grocery Shopping/Errands
Sometimes we have to make a quick run somewhere, but we want to look good too. So if you are heading to the grocery store or for a quick errand run, try this cute plus size outfit idea.
Start with a sweatshirt with a strawberry graphic on it and throw on this denim shacket over top. Layer on a pair of black jeans and black chelsea boots, then grab a reusable bag like this one which has mini strawberries – a nod back to the sweatshirt. If it's sunny out, put on some sunglasses and go strut down the store aisle.
3. Plus Size Outfit Idea for Lounging at Home
Since so many of us are working from home, doing online classes, or just spending more time at home than usual, I felt a plus size loungewear look was in order.
This outfit has a gray cardigan to throw over this crop top from Girlfriend Collective (which goes up to 6XL!). I added some gray joggers to match the cardigan. Throw on some white Keds sneakers if you want to go out in this outfit. Finally, some gold hoop earrings add some extra style to the look.
4. Plus Size Date Night Outfit
Any spring dates coming up? If so, give this outfit a try for your next date night!
Whether you're going to dinner or a comedy club, a nice bodycon dress like this light blue one would look great. I decided to go for neutral accessories to let the dress shine. Grab a chocolate shoulder bag, then put on some bronze heels. Use some dangle earrings like these to tie the look up perfectly.
If it is cold, you can add a cream cardigan or cream cropped jacket to the outfit. So go forth and have a great night!
5. Outfit to Wear for Thrifting
If you have been keeping up with the Spring/Summer 2023 trends, you know that bold as well as pastel colors are in right now. So I picked out this pastel green top that not only is trendy, but adds a pop of color as you go out thrifting. 
Keep the bottom pieces of the outfit muted to let the top shine. Some black bike shorts are a great choice for warm days, but this outfit would also look good with black jeans. Slide into some white Converse All Stars (with some comfy no-show socks) and wear a yellow headband to finish the look.
6. Coffee Shop Outfit
If you want to grab a quick cup of coffee, have a coffee date, or work on assignments at a coffee shop, this is a super cute outfit idea to try.
Wear a pair of black shorts, or black trousers if you prefer. Then, put on this corset style top and throw on a cardigan. I kept the neutral tones of the look with black loafers and a nude shoulder bag to match the cardigan and to carry your stuff. Add a necklace for a little sparkle.
7. Plus Size Outfit for Office Job
Some people are back at the office for work, while others are doing hybrid models — part remote and part in an office. So when you do go into the office, here is a stylish plus size outfit idea for work.
Start with a light blue top that has long sleeves since offices can be chilly. Add some fun pants like these plaid ones for interest. Keep everything else simple — gold flower earrings, black heels and a cream shoulder bag are great choices for work. Put on some mascara or minimal makeup if you want and get ready to look fashionable.
8. Farmer's/Flea Market Outfit
I live near a farmer's market and some flea markets, and if you do too, here's a perfect outfit to wear for your next shopping trip.
For those spring days, I started with a plaid crop top. Next, throw on some jeans or even swap them out for a flowy white midi skirt. For shoes, opt for a pair of Nike low court visions since you will probably do a lot of walking. Add a cute headband like this pink one and take a reusable tote bag with you to carry your items.
9. Plus Size Outfit Idea for Going to the Movies
Going to the movies involves being in a dark room watching a screen, so you might as well be comfy while you're there.
Put on a sweater to keep some of the cool air off since movie theaters can be chilly. Some jeans would work (I love this light wash pair), and then slide into some slip on sneakers. I threw in this blue bag to add some color to the look. Now enjoy your movie night!
10. Plus Size Night Out Outfit Idea
With more people out again, you might find you want to head out at night this spring – safely, of course. Maybe you want a night out grabbing dinner with friends? Try this outfit out!
This cute look starts with a lovely pink blouse. Grab a matching pink clutch, as well as a pair of chunky black heels like these. Add these tie-dye flared pants as a statement piece to complete the outfit.
Plus Size Loungewear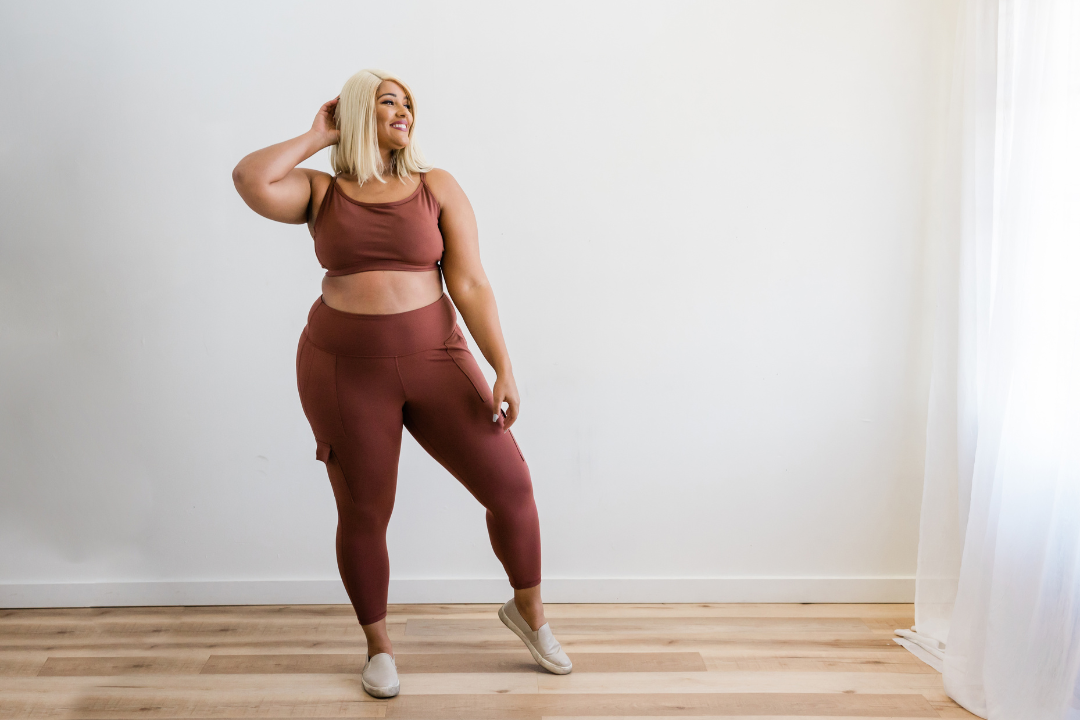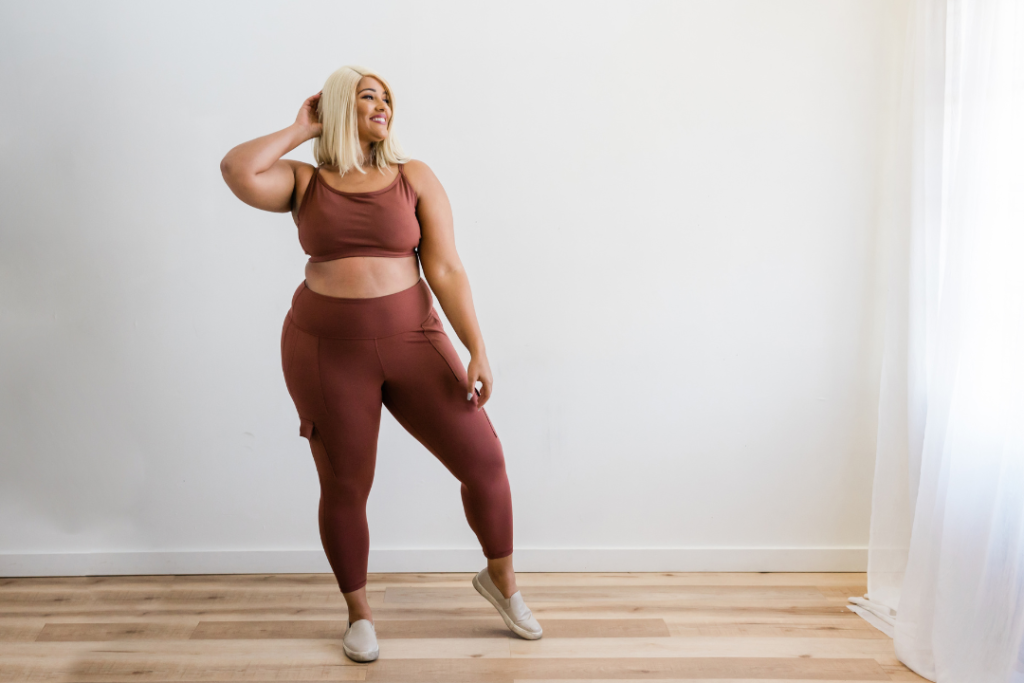 Over the past few years, work from home and online classes have become commonplace. I have seen many articles about loungewear outfits to wear at home, but not as many about plus-size loungewear.
I know it's hard to find fashion inspiration and articles dedicated to plus-size fashion on "mainstream" fashion websites. You have to do extra digging, but I promise it's possible to find cute loungewear in extended sizes.
So here are some plus size loungewear outfits for at-home routines. They are Zoom call-friendly, but they are also great options if you need to run errands or go for a walk.
Plus Size Loungewear Outfit #1
The first outfit is an excellent look if you have an online class at 8 am but have to head out right after. With fall coming soon, a sweater like this ivory knit one will keep you cozy. Throw on a pair of colorful joggers like these pink ones and some white dad sneakers when you head out for the day.
If you don't want to do your hair that day, pull it back into a ponytail or bun with a scrunchie. Now you'll look camera-ready while on zoom and look great as you run errands.
Plus Size Loungewear Outfit #2
Sometimes dressing up when you are working from home makes you feel more productive. Since I work from home, I can get into a rut of just wearing pajamas, but even loungewear can help elevate your mood when you need to get work or homework done. So try this look that is both comfortable and cute.
Wear a light colored jumpsuit to pair with this cropped white cardigan. If you're taking a walk break, throw on some white Birkenstocks. Add your favorite earrings and you'll be ready to have a productive morning.
Plus Size Loungewear Outfit #3
Next, check out this sports bra and biker shorts set from Girlfriend Collective if you are looking for an outfit that can be loungewear during work or school hours and function as activewear. I have a sports bra and leggings from here and I wear them for both workouts and casual occasions.
Get a matching sports bra and biker shorts in your favorite shade and throw a white button-up shirt over top. Finally, slip on a pair of sneakers like these from Adidas and rock some sunglasses for an athleisure look.
Plus Size Loungewear Outfit #4
When I think of cute loungewear looks, my mind automatically turns to matching sets.
I struggle to find cute plus-size matching sets, but sometimes you come across one that catches your eye. This crop top and pants set from Forever 21 is a cute and relaxed outfit to wear while studying at home or running errands.
Wear it with some white mules or even white sneakers. Add a head scarf, and you'll look comfortable as you type up your notes.
Plus Size Loungewear Outfit #5
Here is another relaxed loungewear look that is super cozy and cute, and it couldn't be simpler to put together. Get a grey half zip-up sweater and some black leggings to create the look. Slip on a pair of Converse to finish it off.
This look would suit a zoom class or a video call with friends. Wear this out to get coffee or even for a walk in the park.
Plus Size Loungewear Outfit #6
Some days you want to be home and be able to relax with no work, school, or errands. This plus-size loungewear look is more dressy than pajamas, but still comfy for lounging and binge-watching some shows.
Pair this light green cami with sweatpants and some dark green fuzzy slippers. If you want to go out, you can also dress it up. Swap in a bralette, a denim jacket, and some sneakers, and you can go to the movies or for dinner with friends.
Plus Size Holiday Dresses
It'll be the Holiday season before you know it, which means it's not too early to start shopping for a perfect holiday dress!
I am always looking for dresses for holidays, events, or casual occasions. Therefore, I've come up with a list of stores that carry cute plus-size holiday dresses. Here are six places to start your holiday fashion shopping:
My three favorite stores to find holiday dresses (or even everyday dresses) are Modcloth, ASOS, and Torrid.
Modcloth has a vintage style, which I love, while ASOS tends to carry trendy pieces. On the other hand, Torrid has more cute daytime dresses than the others, though you can find some evening dresses. So if you are looking for a more cool nighttime holiday dress, try ASOS first.
All three stores carry a variety of colors and styles of dresses, and they all lean toward a younger audience, though Modcloth sometimes veers away because of its vintage style.
Nordstrom, Lane Bryant, and Kohl's are some other stores I frequent for plus-size holiday dresses. These are more conservative and not as trend-forward as the other three mentioned above, but they are still cute for evening holiday parties.
Nordstrom is a department store, so the clothing can be pricey here. You have to look for markdowns, and you can find some great pieces. Lane Bryant and Kohl's are a little more affordable, but they also have dresses that can get pricey. So again, you have to be willing to dig.
Plus Size Pants Ideas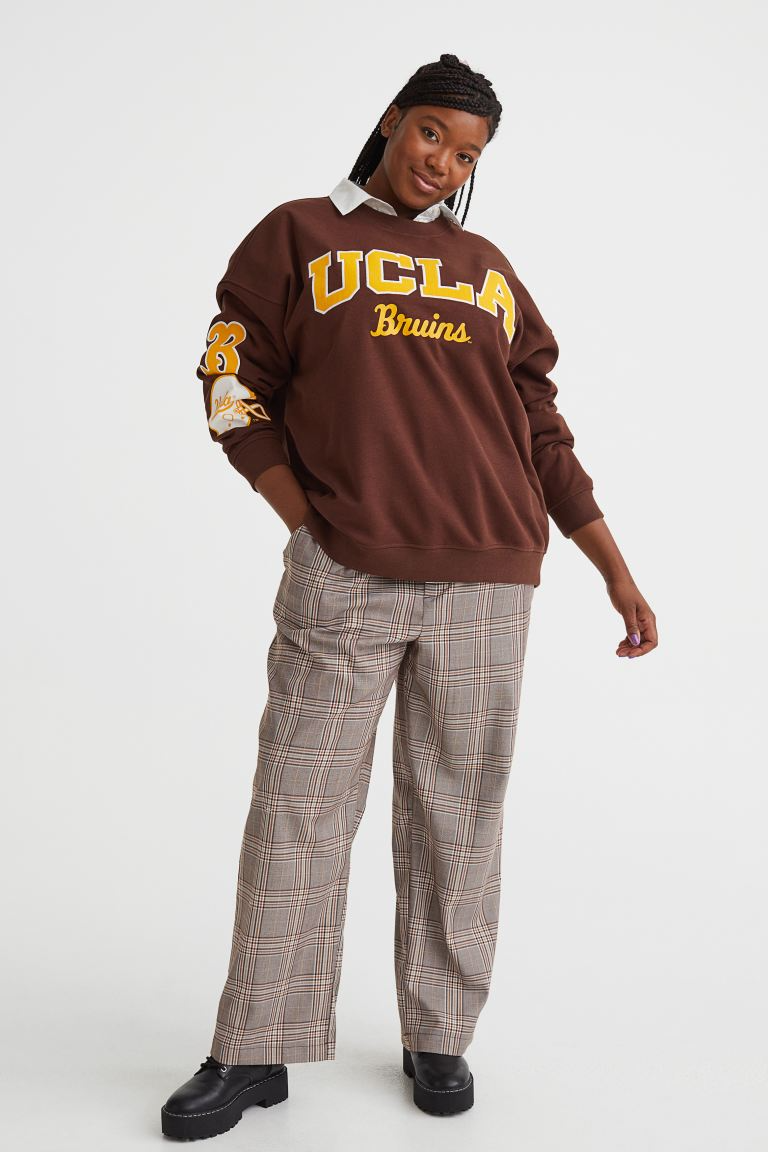 It is hard to come by a well-fitting pair of plus size pants. Though they are must-haves for wardrobes, getting that perfect pair can be challenging.
And I understand the struggle firsthand because I am both plus size and tall.
When shopping, I have to keep my size and my inseam in mind, as well as which cut of pants I want, like straight leg or wide leg. With all this in mind, here are my best tips for finding pants for plus-size women, and the best places to shop.
Tips & Tricks for Pants Shopping
Find out which different styles each brand carries. Brands will have multiple fits, usually for different body shapes and leg openings like a straight or wide leg. If you are looking for a particular cut or leg opening, don't be afraid to spend some time looking or if you are in the store, ask a staff member for help. Pick what works for you, and what makes you feel most comfortable.
Understand that every store is different, and no two pairs of pants are the same. Always try your pants on before purchasing! I try to shop for things like this in person, but if you can't, look for a size chart on the websites you order from and measure yourself if you are unsure of your size.
When you do try on pants, test them out. Please sit down, walk around, and move as much as possible to ensure they are a perfect fit. If they're too constricting anywhere, try another pair. You don't want to be uncomfortable or pull up your pants if they keep falling.
Regarding fabric, I like to go for cotton for my pants, but with spandex. It works for me since I want a breathable material that still stretch. Spandex really helps pants to fit a variety of body shapes.
Remember to pay attention to the inseam. As a tall girl, I often forget to do that, and then I wonder why the pants don't reach my ankles. Depending on your height, inseams usually come in petite or short (sometimes extra short), regular, tall, or long (sometimes extra tall or long). Each store differs in what they offer, so keep that in mind.
The Best Stores To Find Plus-Size Pants
I get most of my pants from Torrid and Old Navy. When it comes to finding comfortable pants, those two are my go-to stores. Lane Bryant is another great place to buy pants, if you're looking for something more business-appropriate.
Torrid and Lane Bryant offer various lengths in their pants, which is great if you're tall like me. Note: Old Navy doesn't have many length options for their plus size range. However, in all three stores, you can find stretchy and comfortable pants!
The other three stores I look to for plus-size pants are ASOS, Macy's, and JCPenney.
Macy's and JCPenney are department stores, but they both carry a variety of plus size pants. You can find some gems, especially if you're seeking out stylish and more conservative pants. Also, the two stores have clearance and sales often, so be on the lookout for that to get some deals when you shop.
ASOS is great for trendy and stylish pieces, but you won't find much in terms of conservative pants to wear to work. But if you want something fashionable, definitely check out their range.
Also, all three stores vary in their pant length options, depending on brand. So make sure to pay attention to what length the pants are if you shop from ASOS, Macy's, or JCP.
Perfect Underwear for Plus Size Women
A well-fitting bra is a staple in every woman's wardrobe. However, it's tricky to find one that fits you well.
I, for one, have a smaller chest, even though I am plus size. So it is difficult for me to find smaller cups with a larger band size. Plus, going to clothing stores and getting the wrong measurements or not even finding my size can be frustrating.
Here are my best tips and tricks for finding the perfect bra and some places to find the best plus-size bras.
Tips & Tricks for Bra Shopping
Make sure to measure. I recommend measuring yourself at home, but if you are worried about getting it wrong or don't want to, don't be afraid to go into a store and ask to be measured.
Understand that there are different breast shapes and different bras that will support you. Each body is distinct, and we have bras that help us for various reasons. The bra that works for your best friend might not be a winner for you. So shop around to find your perfect one.
Make a note of what you want your bra to do for you. For you want a full-coverage bra? What about one to create cleavage? What style do you want, a racerback or strapless? It all depends on what you are looking for in a bra.
JCPenney, Avenue, Lane Bryant, and Macy's are my favorite places to find plus-size bras. This is because they all have in-person stores where you can shop and get measured if needed. All four stores carry neutral, basic bras, with some bright and patterned bras thrown in—Lane Bryant has the most variety and styles. I also noticed plus sizes usually get more of the neutral-colored bras in these stores.
Still, with the stores offering clearance sales and the number of options, they're all great options. My personal favorite is Avenue. It is slightly cheaper than Lane Bryant, and sometimes they'll have fun patterned bras too.
Want to shop online? ThirdLove and Bare Necessities carry tons of bras in larger sizes. Both stores also have an extensive bust measurement range. The only downside is that you can't try on the bras in person.
I recently shopped at ThirdLove, and honestly, it was some trial and error finding bras. I have two from here I like, but I also had to return two bras. Fortunately, the return process was easy. The brand does have a fit test on their website to help you determine your size, but it wasn't the most helpful for me. I recommend measuring at home before you order.
Plus Size Winter Coats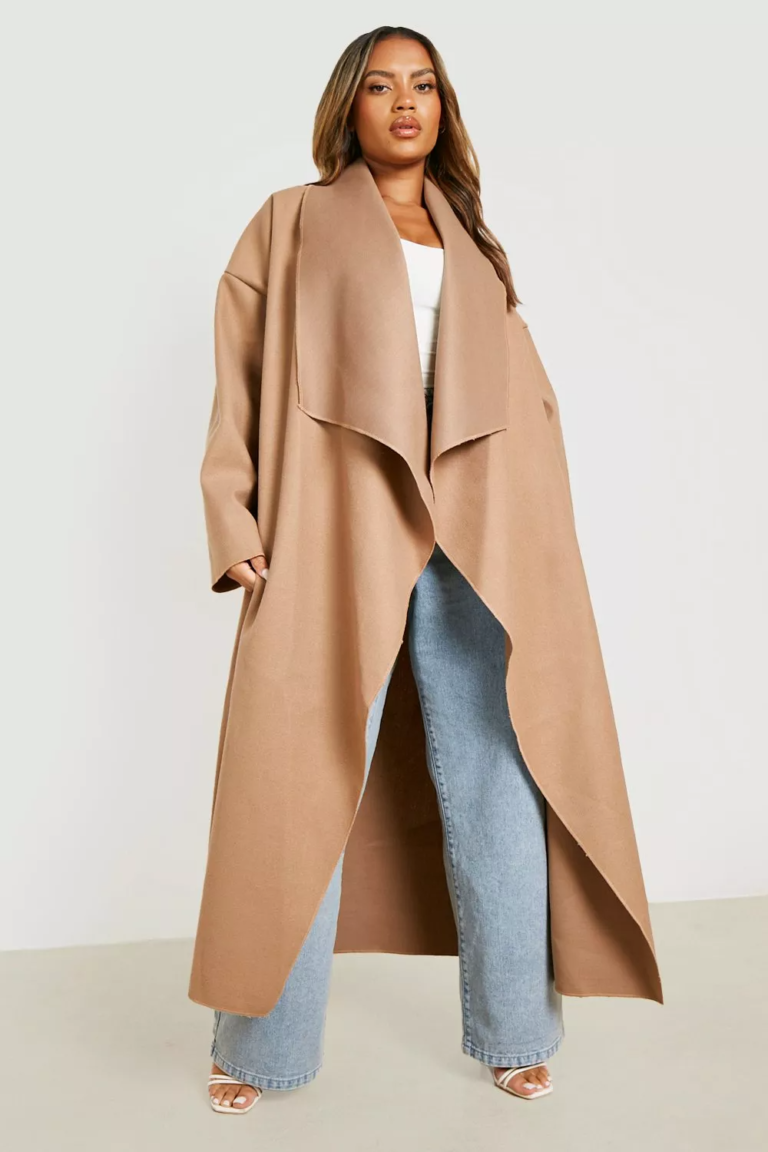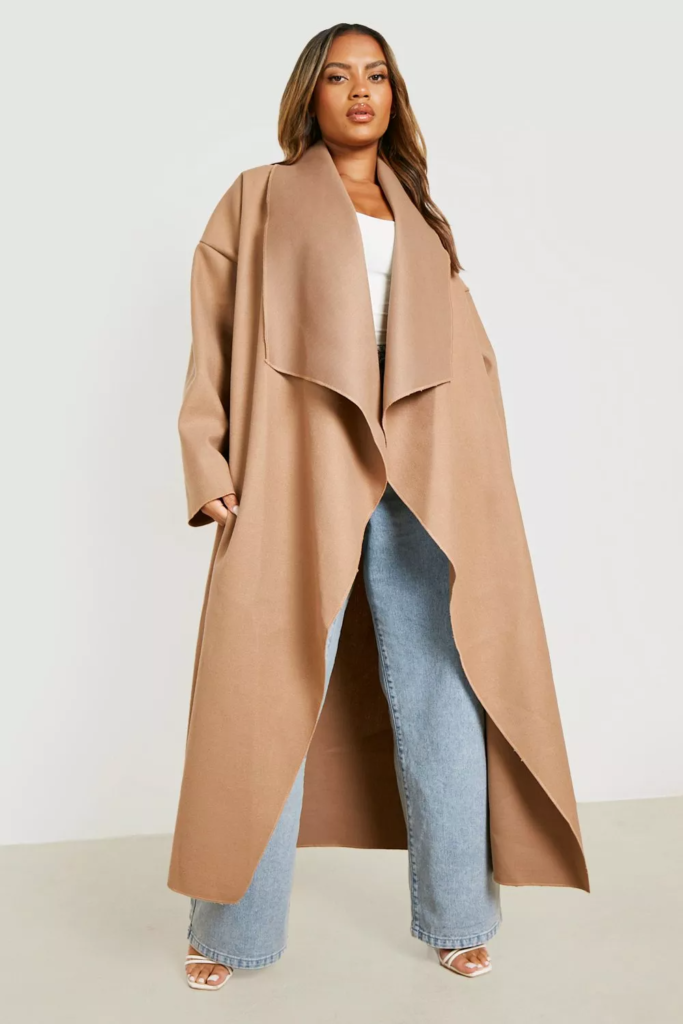 As I write the blog post, it's summer, but winter will be here before you know it. So even now, you can start planning to go coat shopping. Getting one or two coats will be a good idea, so you are prepared for the colder weather and possibly even snow.
I live in New York City, so I am used to cold weather and snow and that experience of going coat shopping for a warm winter coat, so I don't freeze. Here are my best tips for plus-size coat shopping and the top plus-size stores to find your perfect winter coat.
Tips & Tricks for Coat Shopping as a Plus Size Woman
My number one rule is to try on the coat whenever possible. I like to frequent lots of stores in person and this always works the best for me. However, as a plus-size person, I know it can be hard to find your size in stores, and even if you do find your size, the coat might be too tight and snug in some areas. So if you do shop online, pay close attention to the piece's measurements.
Make sure you have room for layering. Even if you get your size and it fits, is there enough room for you to wear a thick sweater underneath? Make sure it's roomy enough for layers.
Don't feel like you have to stick to neutrals only. Express your personality with your coat. If you love color, don't be afraid to go for something bold and bright!
Keep track of what you require for your coats. If you have trouble finding winter coats, note the issues you encounter. For example, do most coats squeeze your upper arms? Is the material tight across your back or chest? Research as you search for the perfect winter coat, and keep a list of the brands that fit you best.
Top Stores for Plus Size Winter Coats
My go-to places to find winter coats are Macy's, Target, and ASOS's Curve line.
Most of us live within proximity of a Macy's, which makes them a great option for coat shopping. Sometimes they don't have plus sizes in stores, but they are always available online. Also, Macy's is pricey but has sales too, especially for the holidays, so look out for those. Remember, you might have to splurge on coats here, but the quality will be worth it.
Target is hit or miss, and the prices can vary, from being more affordable to getting slightly pricy. That said, if you are willing to dig, they do carry some quality pieces, and you might find some hidden gems.
ASOS's Curve line has got to be my favorite in terms of style. It has trendy coats, but its prices aren't the most budget-friendly, and there is not much variety in the pieces. But if you can splurge, you'll be sure to find something.
The other stores I frequent for plus size winter coats are Amazon, Old Navy, and Boohoo. All three not only offer coats in various colors, but a wide variety of lengths and sizes.
Boohoo and Old Navy are very affordable, and they also have some quality coats if you look around. (Always read the reviews!) Pro tip: If you are ordering online from Boohoo, make sure to follow the size chart. I have ordered from them before, and I've found their clothing can run big, even when I get my usual size.
Amazon can be difficult to navigate, but if you look through specifically their Amazon Essentials section, you can find some great coats in plus sizes. I found coats that go up to size 6x! Plus, Amazon generally has a great return policy and fast shipping for Prime members.
Where to Buy Plus Size Clothes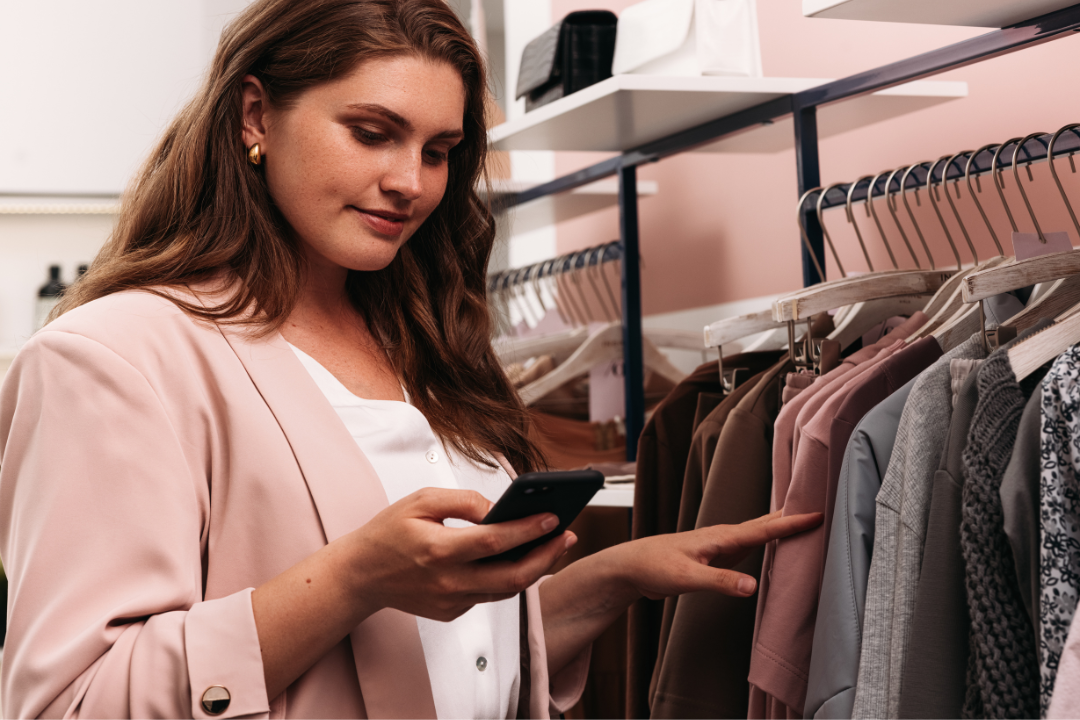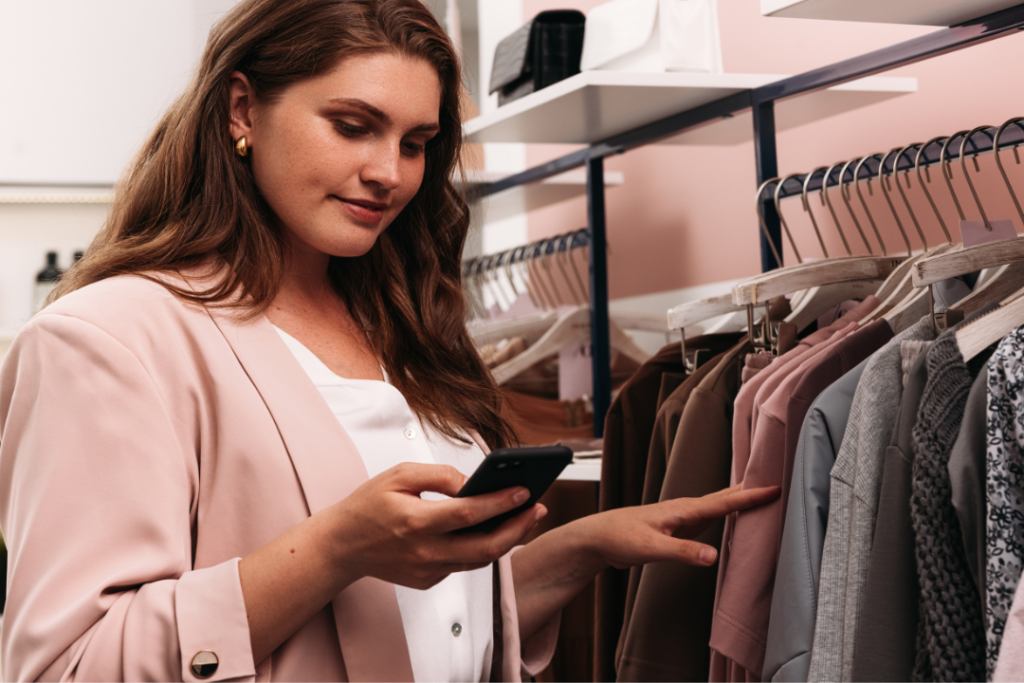 And finally, to wrap up this guide, we'll discuss the best overall places to buy plus-size clothes.
It is hard finding cute, fashionable, and youthful clothing pieces in plus sizes for a reasonable price. I have been into online thrifting lately, but sometimes I still want clothing from a name-brand store. So, if you have trouble finding plus-size clothing, this is for you!
Many stores don't carry more than a size 12 or 14. Others, if they do have plus sizes, have them online only or not many choices in a small section of their store. The stores listed below, however, have an extensive range of sizes to choose from:
Right now, Girlfriend Collective is my favorite place to shop for plus-size basics. Sure, they are known for their activewear, but they are coming out with lines of dresses and swimwear!
I like that Girlfriend Collective is more sustainable than other brands. And though it can be pricey, they have sales and clearance items too. So I think it's worth it to splurge on pieces here. And if you need plus size activewear, this is the absolute best place to shop.
With thousands of pieces of stylish and trendy clothing, ASOS is a fashion mecca. And the best part is, their Curve line offers tons of cool, unique pieces in a range of plus sizes.
ASOS is my go-to store when I'm seeking out specific statement pieces. I generally prefer simple and neutral pieces. But for when I want some patterned pants, for instance, I look here first!
Torrid is a store I usually frequent online rather than in person, but it's nice to have another exclusive plus-size store available at the mall.
I love to shop here for shoes (struggles of having larger and wider feet) which have mostly been great buys! I also have a denim jacket I often wear that still holds up. The clothing is stylish and trendy, and their pants have a lot of stretch in them.
Old Navy is a favorite for its casual clothing and also its jeans. As I mentioned previously, it is hard to find jeans for me being plus size and tall, but I have found jeans that work at Old Navy. Usually, pants are what I shop for here, but they have lovely clothing pieces at reasonable prices. (And don't sleep on their leggings!)
Eloquii is a great place to shop if you're looking for work pieces or going out attire. They carry gorgeous, fashionable clothing that's specifically made for plus size women.
I'll be honest, I don't shop here as much as the other stores on the list because their pieces are pricey. However, it is still a good place for plus-size clothing if you don't mind splurging, and it goes up to size 28.
I remember taking many trips to Avenue with my mother and grandmother when I was younger. I liked some of the pieces there, and it was an excellent place to get bras and underwear. But the clothing was for an older audience, and I still think that's true today.
Avenue is great for some pieces, but if I shop there, it is for coats and underwear. Also, it can be a bit pricey so keep that in mind.
To me, H&M+ can be hit or miss. I tried pants from here, and that wasn't the best idea. I find the sizing runs very small, which gets frustrating after a while. Instead, I usually get dresses and tops here, which tend to run true to size.
Boohoo is an amazing store to buy trendy plus size pieces, but in my experience, the quality isn't high. Most of the items I've bought here haven't lasted a long time.
I wouldn't suggest shopping here for classics or pieces you'll wear daily, but for trendy items that you don't see yourself wearing for years, it's a great place to shop.
For a long time, I only shopped for home goods at Target. I ignored the clothing section except during holidays when buying presents. But I've found that the store has improved its clothing section in recent seasons, and I have seen many cute pieces!
I recommend their plus size lines if you're looking for great prices on basics.
Amazon Essentials is a house brand of Amazon's that carries a wide array of plus size items. I recently bought shoes from them, which I love. They have a huge selection of cute basics and everything seems to come in a million colors.
What Do You Think Of Our Plus-Size Stylish Outfit Ideas For Women?
Would you wear these outfits? Which outfit was your favorite? Which places do you shop for plus-size clothing? Let us know in the comments down below!