This post rounds up 20th birthday ideas for celebrating your big day.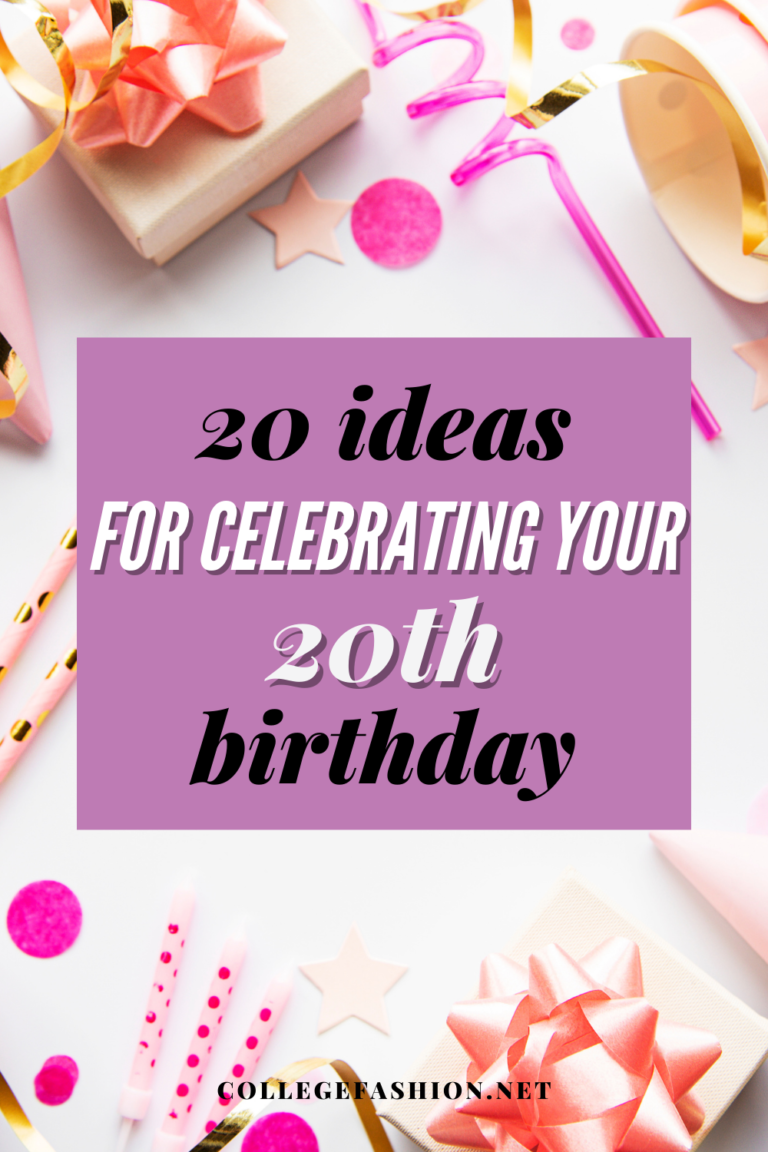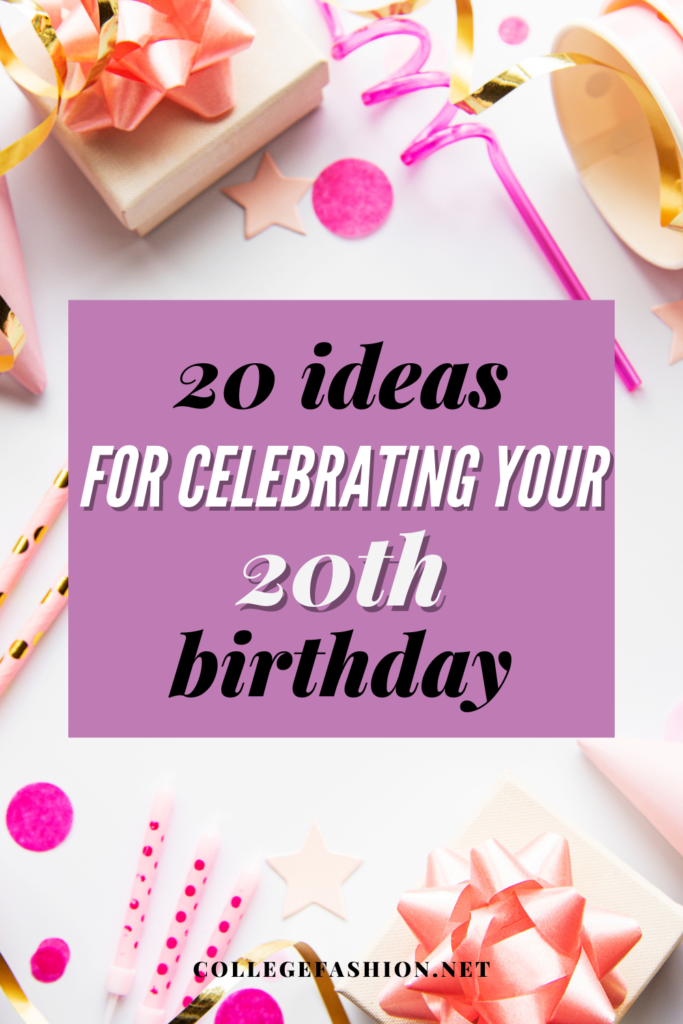 Birthday parties are always a good time, but what makes them even more special is when you hit a certain number… like 20! While 21 always gets all the buzz, I think your 20th birthday deserves just as much attention.
Turning 20 is a huge milestone in your life because you are no longer a teenager. You have officially entered a whole new decade! This means that you need to make sure that you have a memorable and wonderful day, complete with a birthday party.
Whether you're a birthday party pro or you've never thrown one in your life, don't stress. I'll tell you everything you need to know to have a carefree, great time.
Oh, and if you aren't turning 20 this year, don't worry; we have plenty more birthday party ideas that might suit you better.
Throwing a 20th Birthday 101
The first thing you will need to think about is what kind of theme you want for your party, if any. I am a big supporter of themed parties; that way everyone knows what to expect and what to wear. Plus, they're just more fun!
There are an endless amount of themes that you can choose from if you decide to go that route, but I've compiled a list to narrow down the choices for you.
Next, you will need to consider what kind of decorations that you'll need for your special day. Your 20th birthday party absolutely has to have decorations! So, start making a shopping list of all the decor you want. For instance, balloons, a banner, a photo booth setup, etc.
You will also have to think about what you want to do at your party. Having activities at a party are always a good idea. That way, you can avoid people just standing around with nothing to do.
If you are someone throwing a party for someone else or if you are attending a 20th birthday party, don't forget about picking out a great gift to give to them on their special day!
Without further ado, check out this list for all the best 20th birthday party ideas!
20th Birthday Ideas: Themes
1. Pajama Party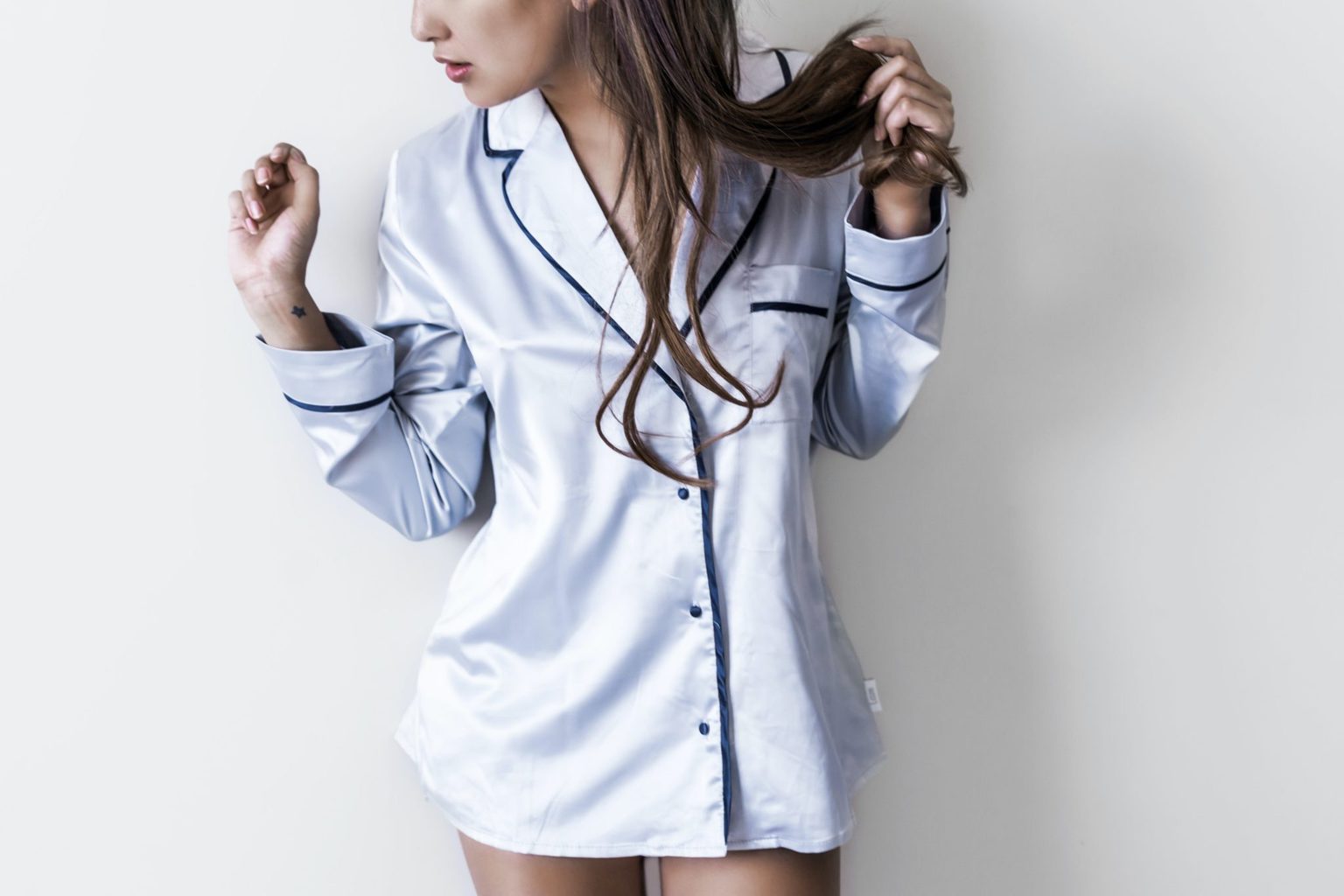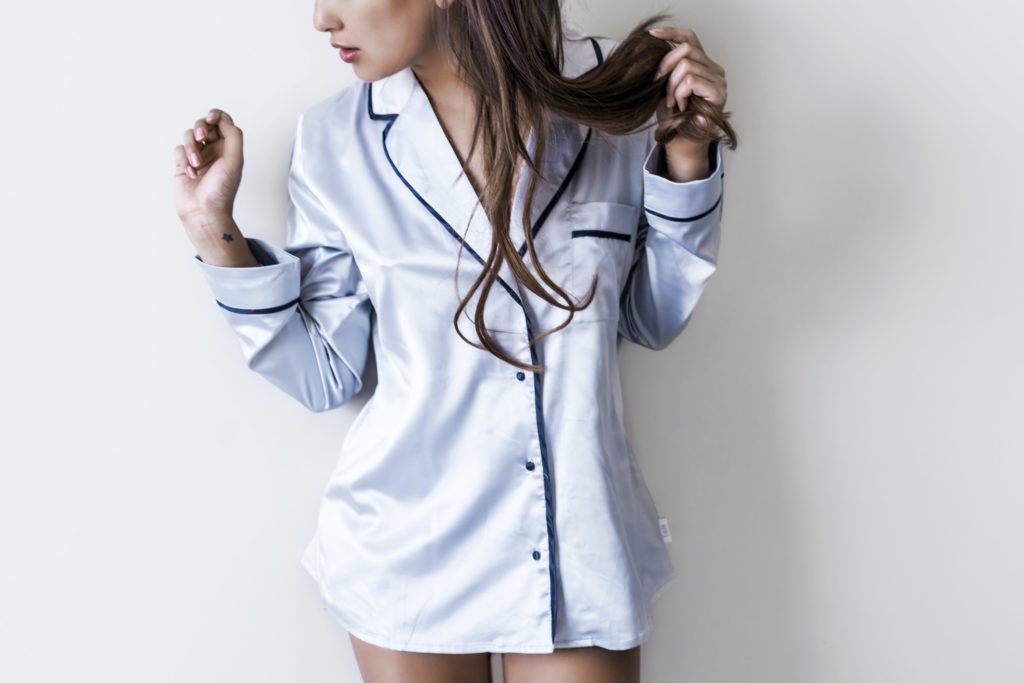 Remember how much fun pajama parties were as a kid? Why not bring it back and celebrate your 20th birthday by having a pajama-themed party?
This is an easy party to plan, because you'll just need cozy blankets, popcorn, movies, and lots of pillows. You will have so much fun with all of your girlfriends and you could even pick out matching pajamas for all of you to wear.
2. Spa Day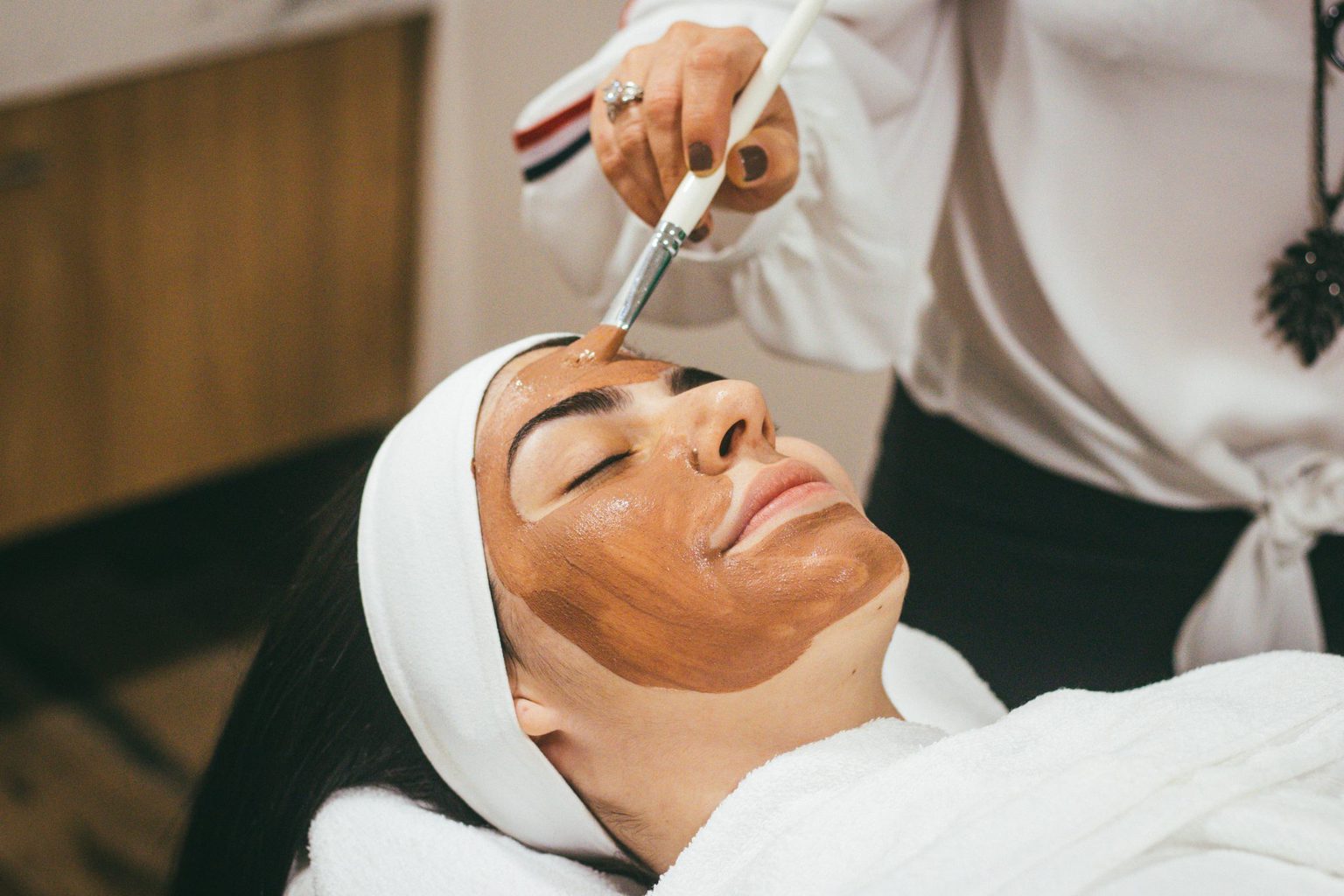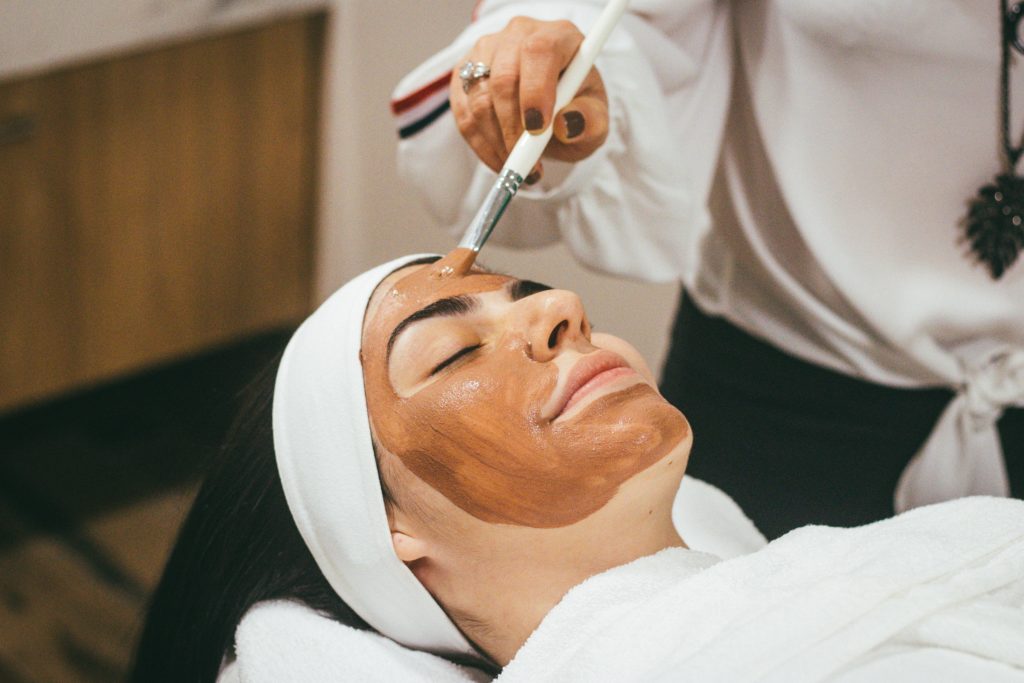 One of the absolute best types of parties to throw is a spa day because after all, who doesn't love being pampered? Nothing is better than face masks, scrubs, and robes.
You could either throw a spa party at your house by having all the essentials like face masks and cucumbers for your eyes, or you and your friends could go to an actual spa. Either way – it's a win-win!
Related reading: 13 Birthday Nail Ideas to Celebrate Your Special Day in Style
3. Euphoria Themed Party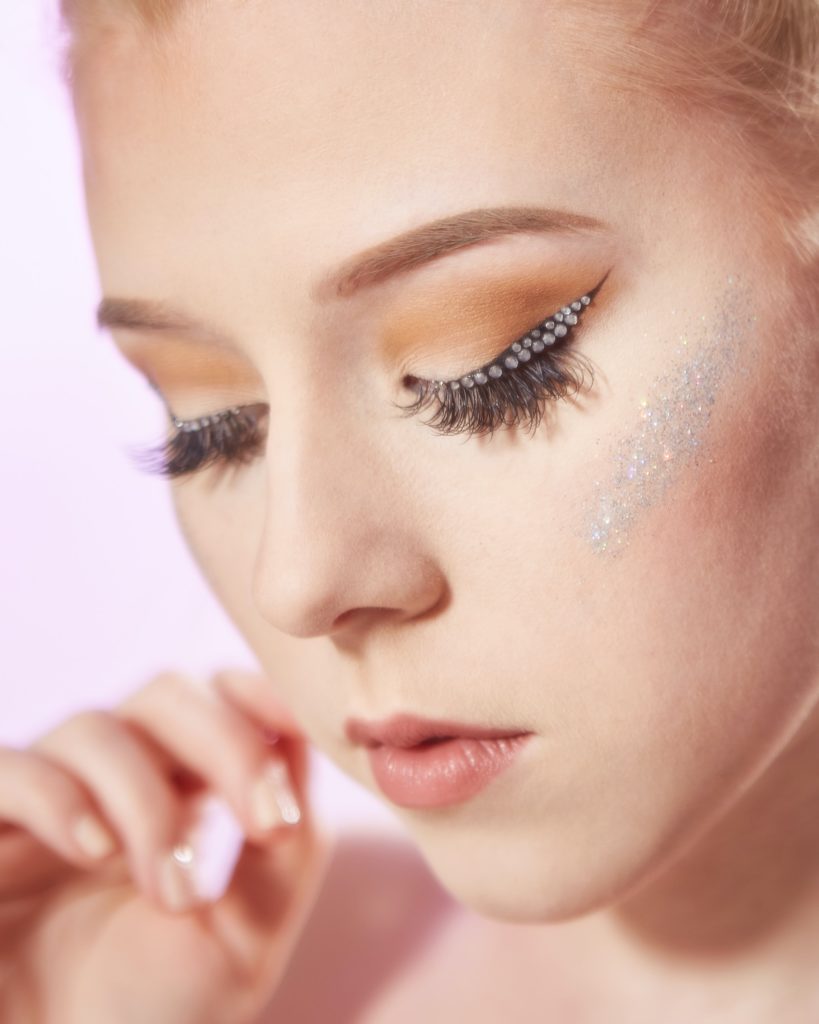 If you are a fan of Euphoria, what would be more exciting than throwing a Euphoria-themed party? You and your friends could try out all the super cool makeup looks from the show or even dress up like the characters.
4. y2k Party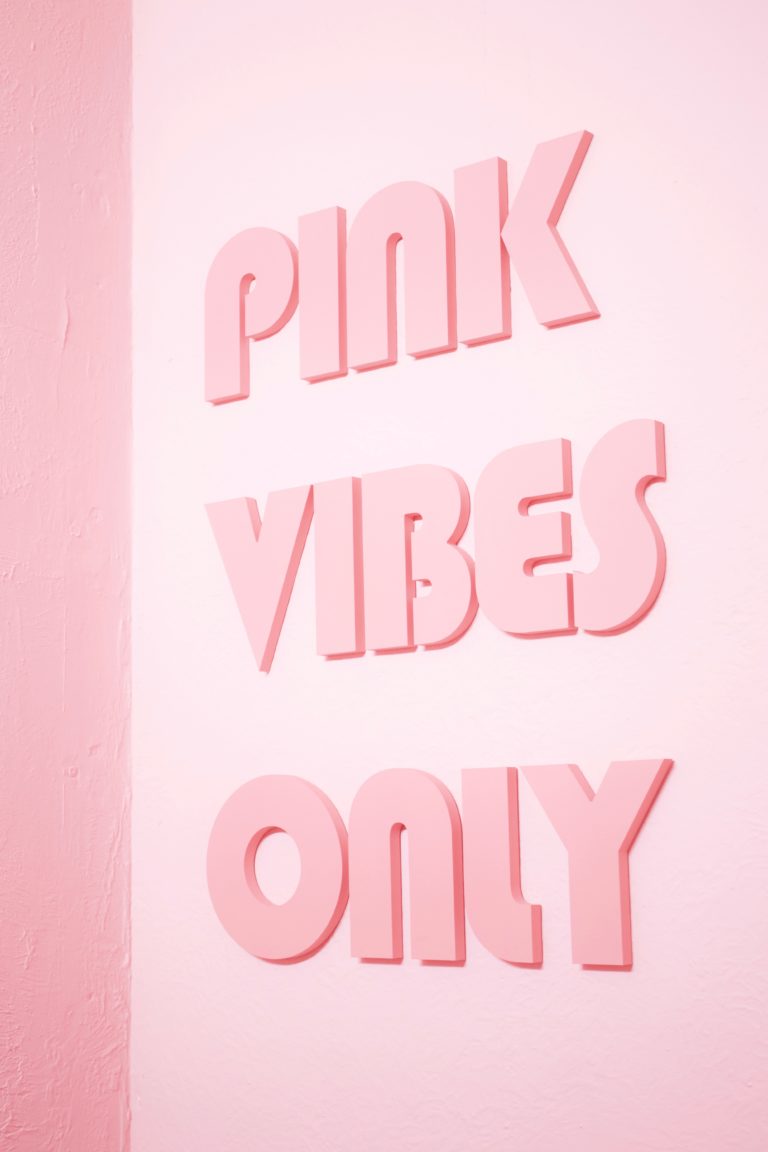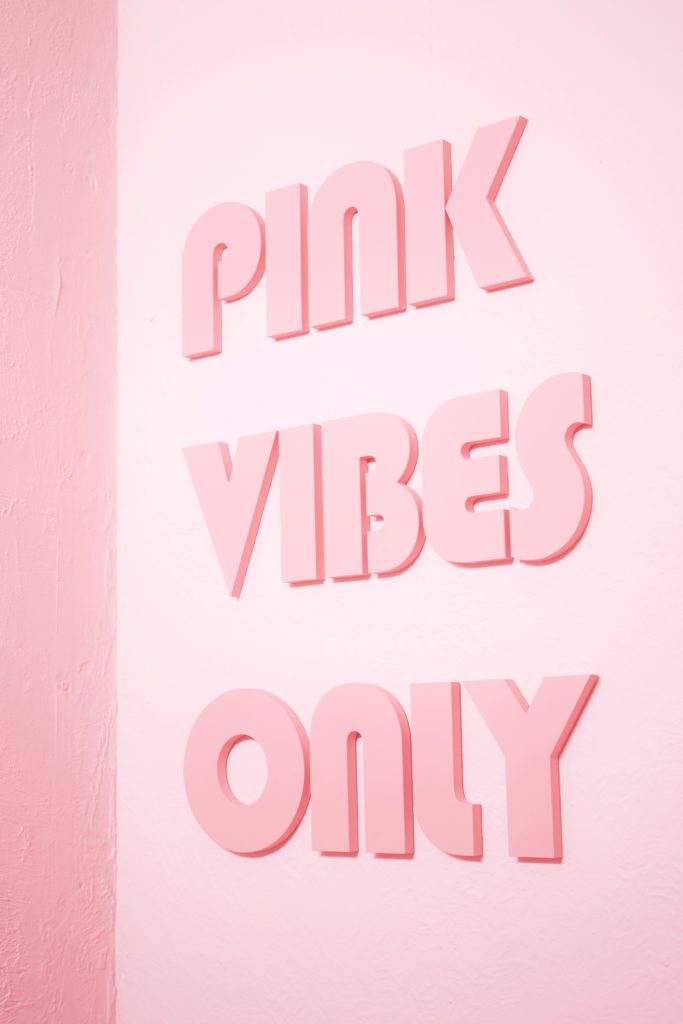 Y2k has become very popular again, especially y2k fashion. If you love pink, I would highly recommend throwing a y2k-themed birthday party for your 20th.
All you will need for this party is a ton of pink decorations, a playlist, and some super cute y2k outfits to go with the overall theme.
5. Glamorous Party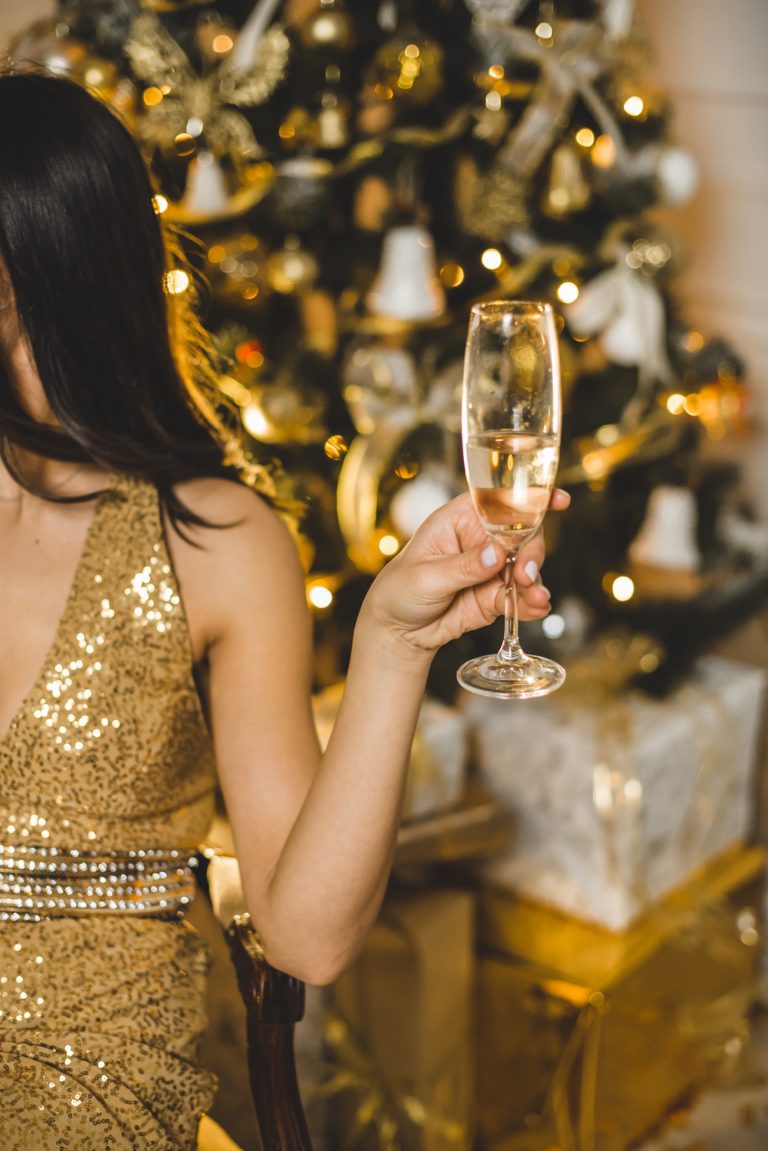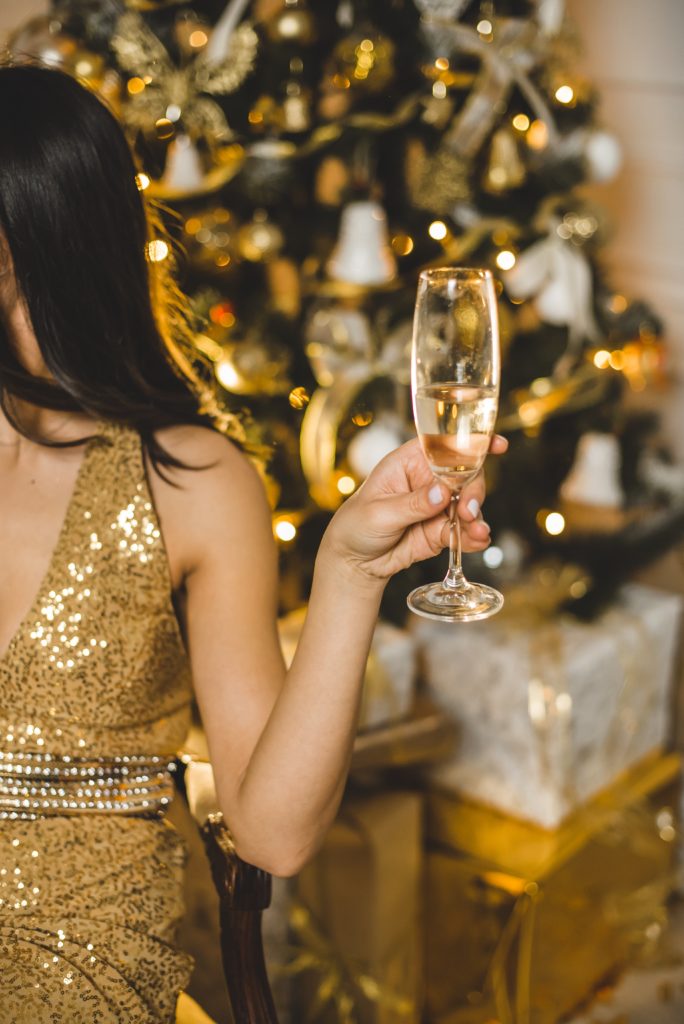 If you want to have a fancier party, you could always go for a theme that is more elegant. For example, you could throw a Great Gatsby party (this is a very popular party theme). Or, you could also have a red carpet party where all the guests wear fancy dresses.
If all else fails, you could throw a beautiful dinner party and require everyone to wear their nicest formalwear. After all, it's your day so what you say goes!
20th Birthday Ideas: Perfect Decorations
6. 20th Birthday Party Pack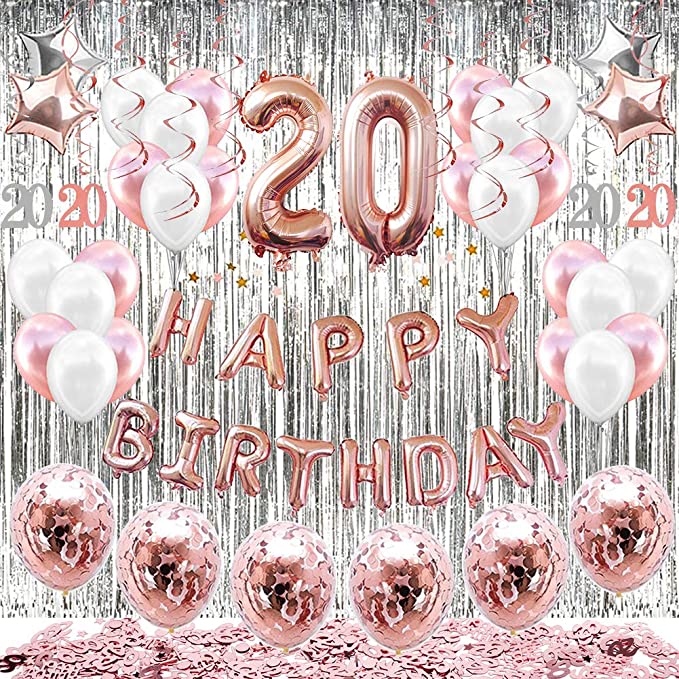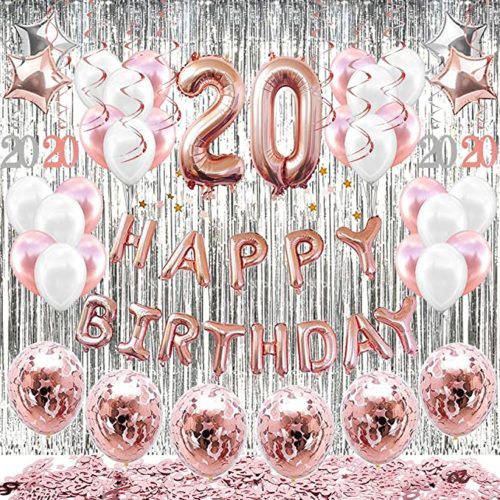 Of course, decorations are also an important part of throwing a birthday party. You will want to make sure that you have all the essentials.
For example, you will definitely need balloons (don't forget the iconic number balloons!) and a foil curtain to take a bunch of photos in front of with your friends. If this is what you are looking for for your 20th birthday, I would recommend purchasing this party kit.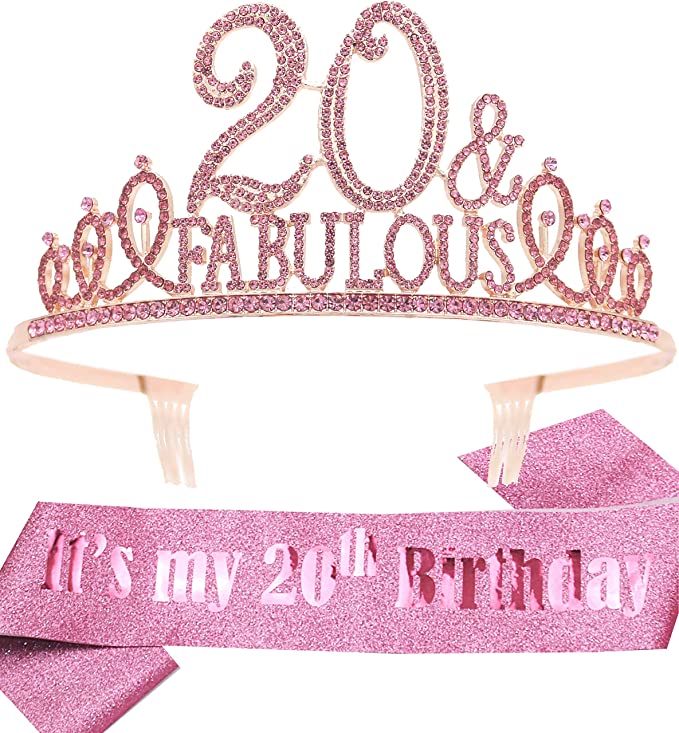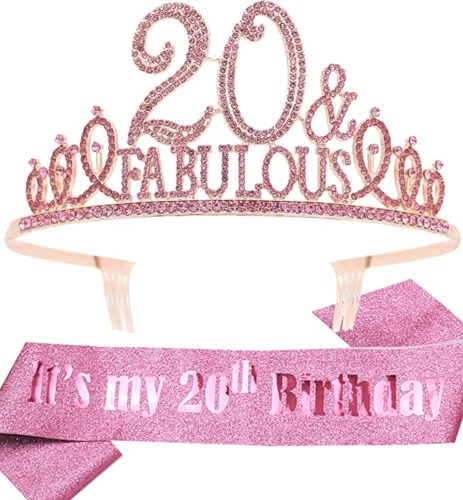 You may not have thought of this, but you should also get a tiara and sash for your birthday. After all, you are the queen of the day. This will make sure that everyone knows it's your day and you'll feel special and recognized from morning 'til night.
8. Photo Booth Props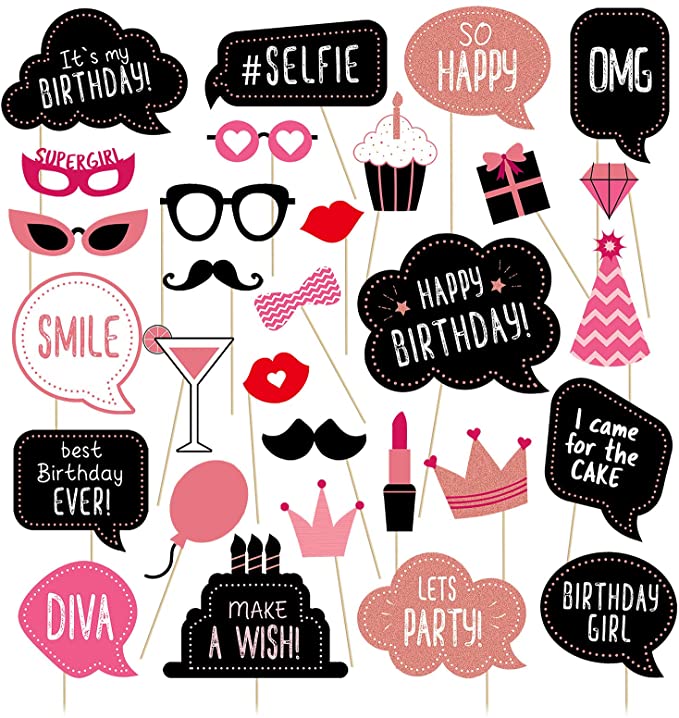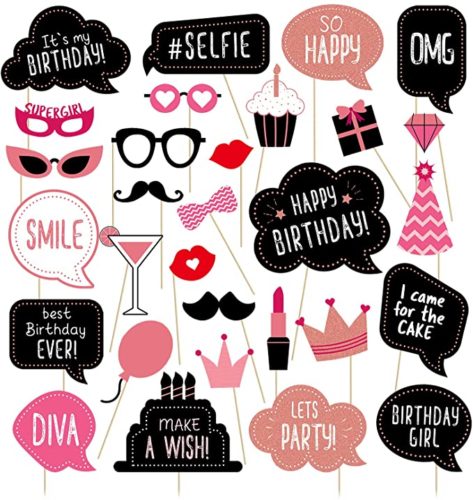 I'm sure you will be taking a ton of cute photos with your friends at your party, so why not make it even more fun and add in some photo props? There are photo prop kits everywhere, so be sure to snag one that suits your fancy.
9. 20th Cake Topper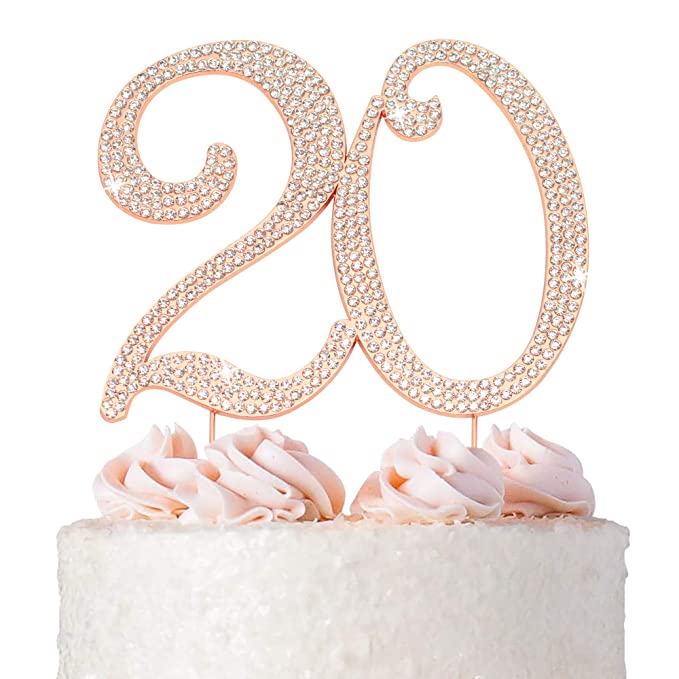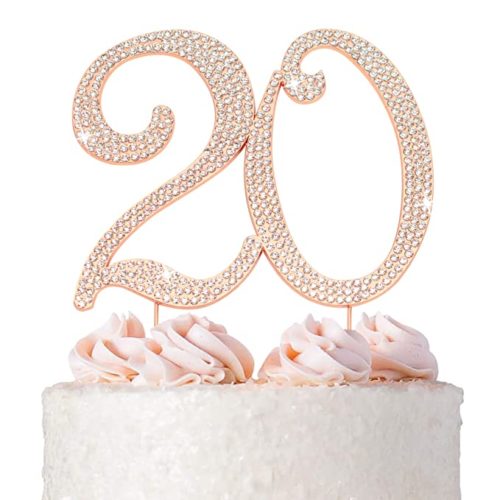 A cake is an integral part of a birthday party and you can find great ones at any grocery store. But to make it a bit more special, add a cake topper like this adorable rhinestone-studded one. It will give any old cake some pizzazz!
10. Birthday Banner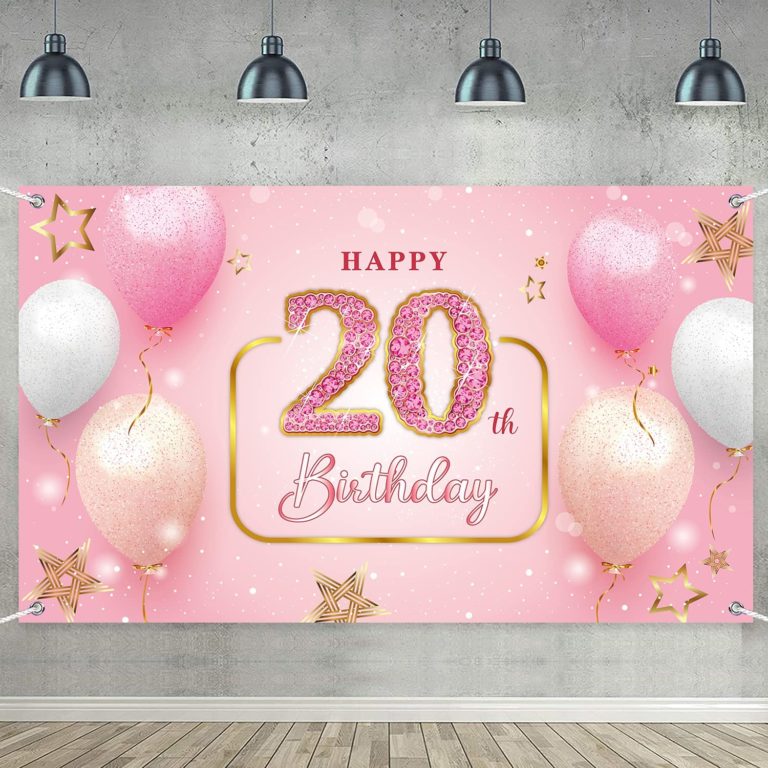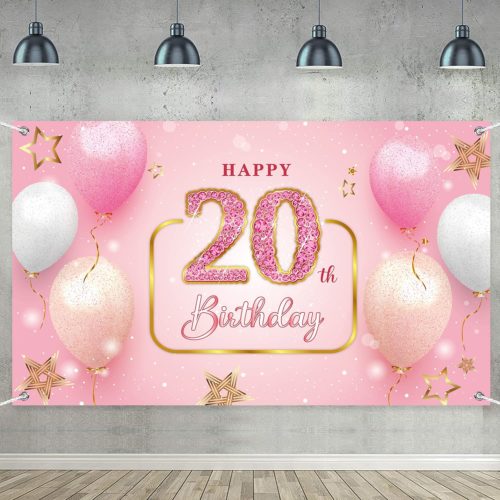 Don't forget about a birthday banner to take all your pictures with at your birthday party with your friends! After all, it's important for everyone to know the occasion for the big party and nothing screams it like a birthday banner.
20th Birthday Ideas: How to Celebrate
11. Movie Night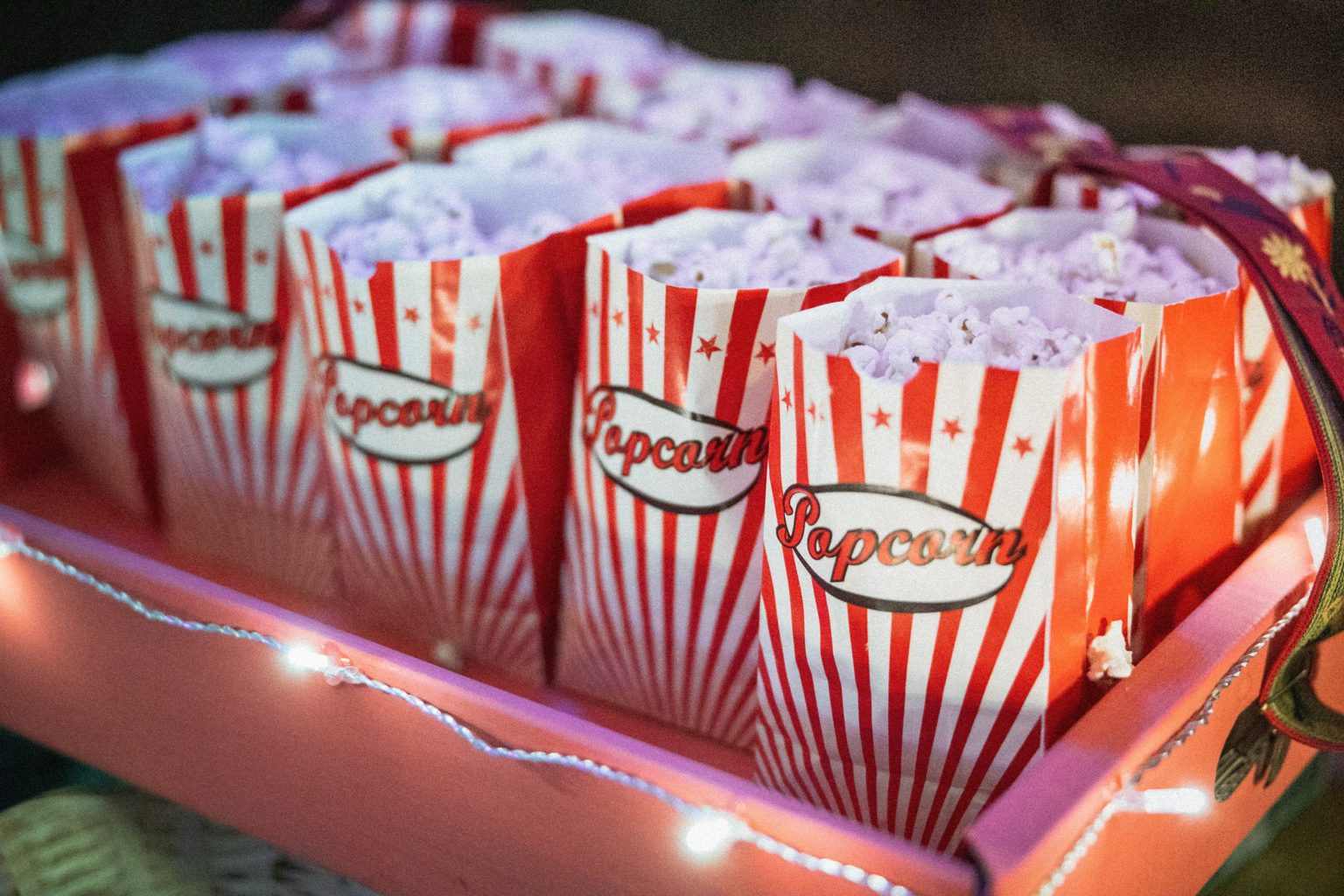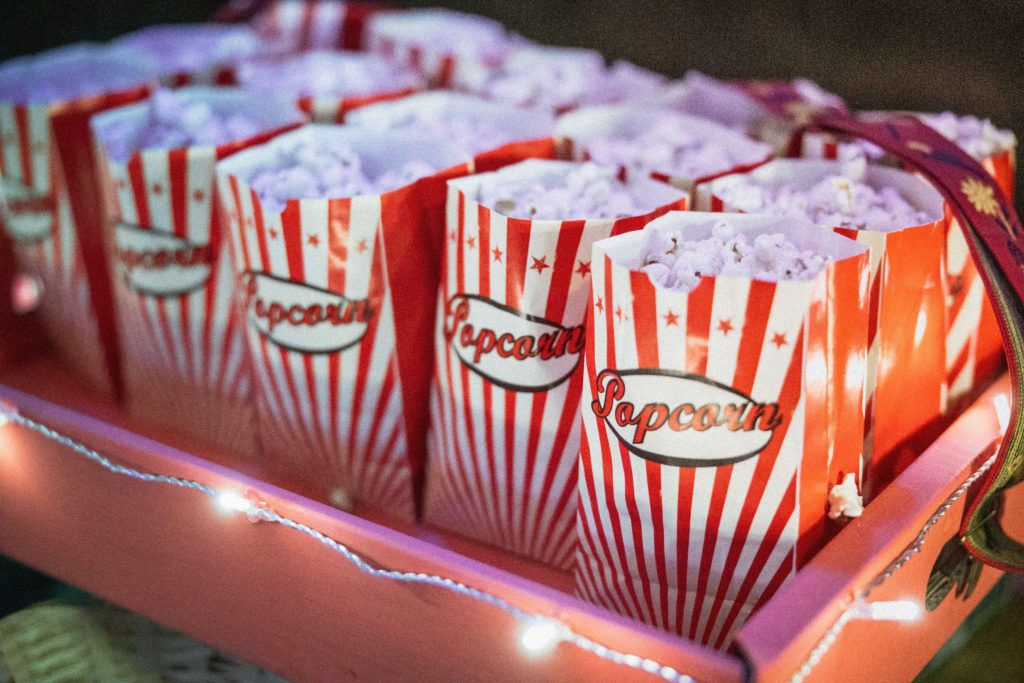 You will also want to think about what you are going to be doing at your birthday party. There are so many options for your 20th. It all depends on what kind of party you want to be throwing because it is your special day.
For example, if you want a laid back party vibe, you could throw a movie night where you and your girlfriends watch all your favorite movies. All you need is some popcorn and blankets!
12. Baking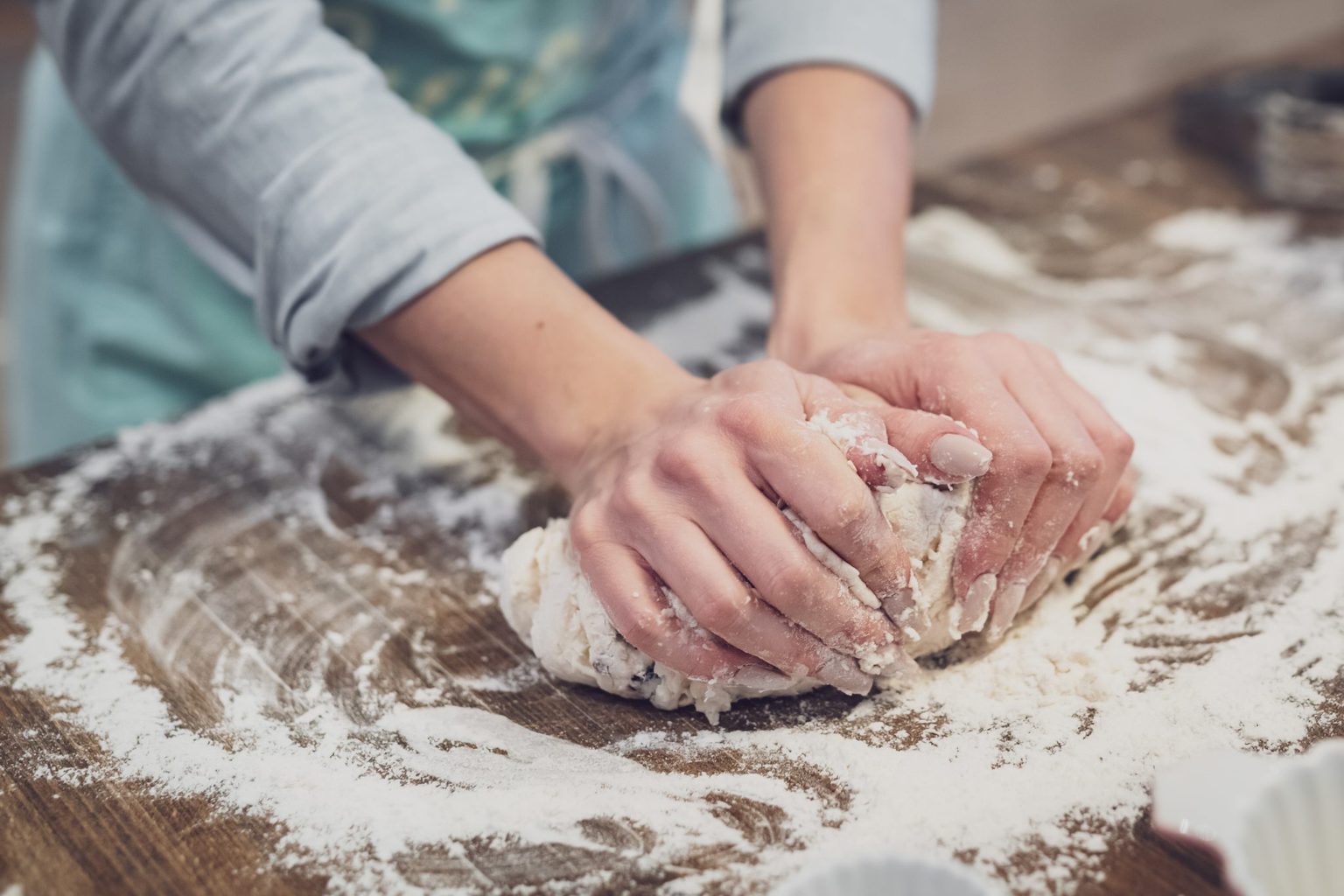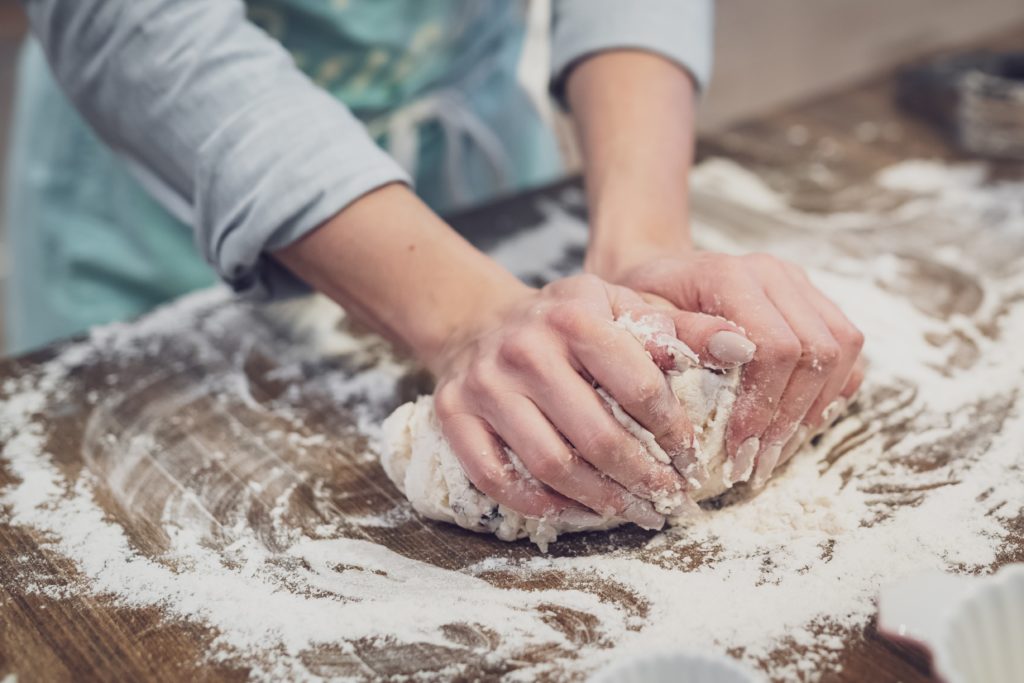 If you love baking, you and your pals could also make a ton of tasty treats together. The best part about baking your own treats (or even your own birthday cake!) is you get to decorate it exactly how you want!
13. Scavenger Hunt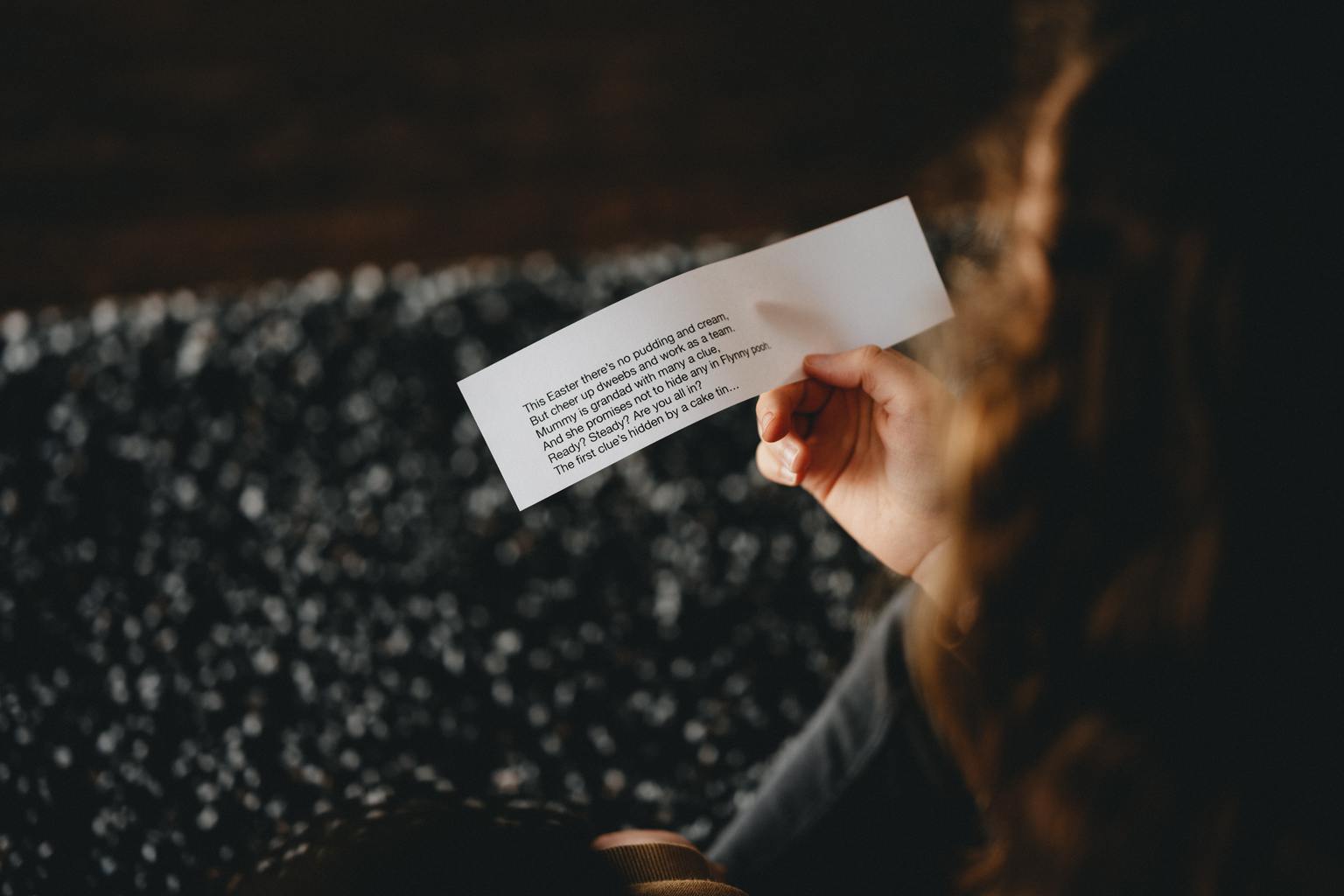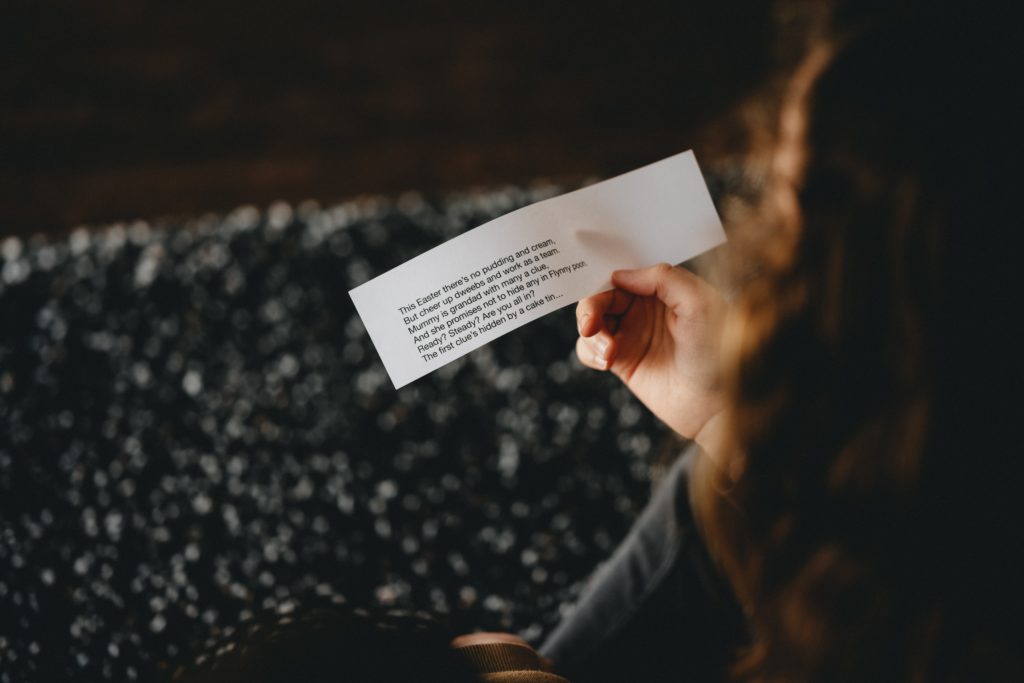 If you want a fun activity to do for your birthday party, I would recommend having one of your friends or a family members put together a scavenger hunt for you. The key is to make sure that you don't put it together yourself so you can also join in on the adventure.
14. Photo Shoot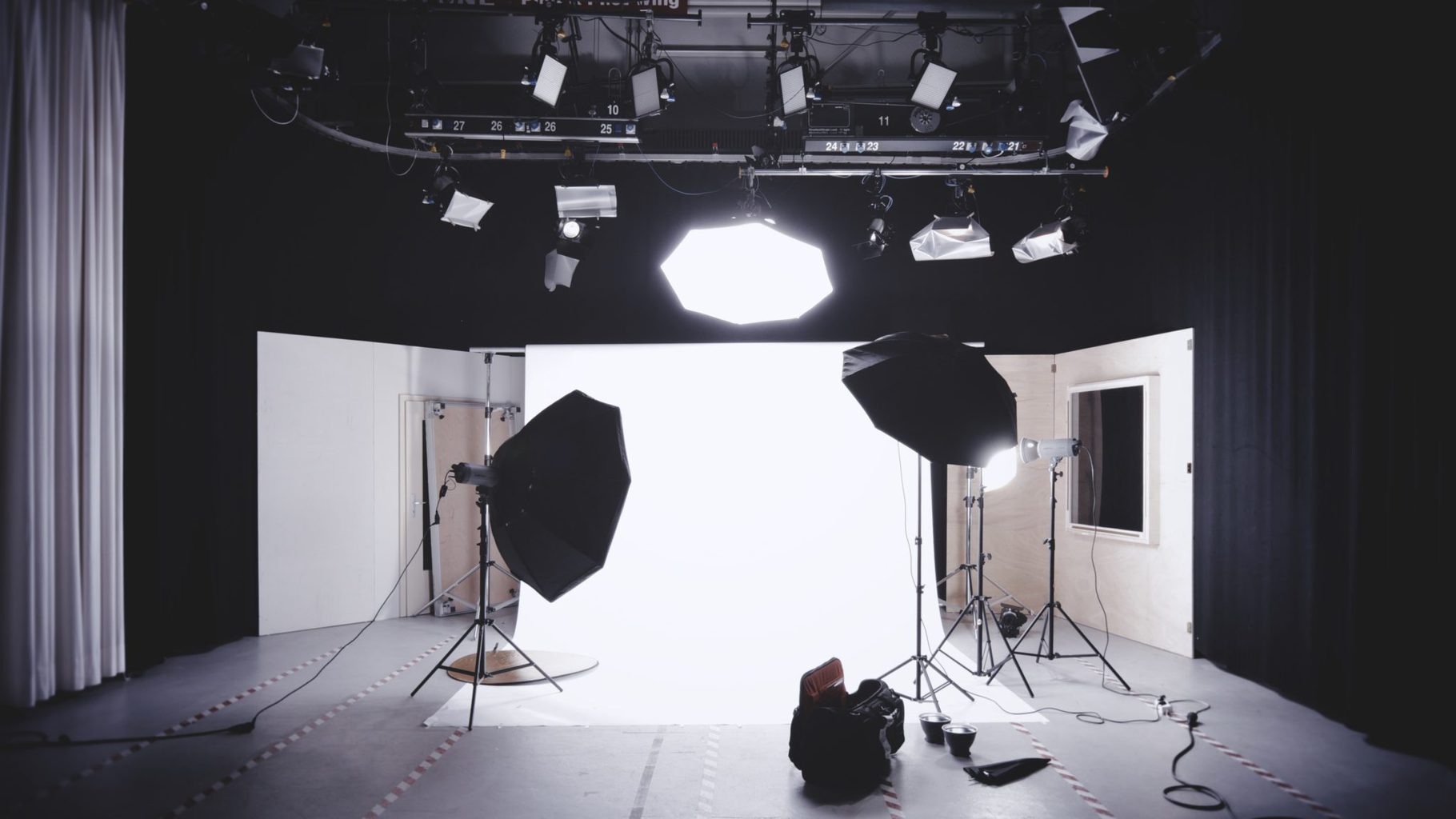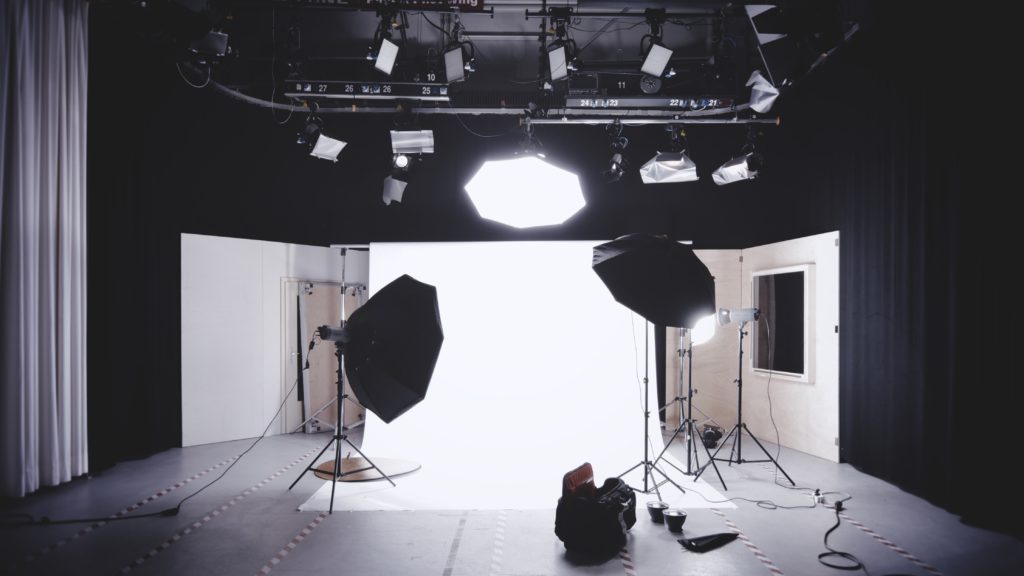 Another great idea for an activity on your 20th birthday that will definitely make your party memorable is having a photo shoot with your friends.
You could pick a beautiful destination to have the photoshoot or you could even just have one at home with all of your fun birthday party decorations.
15. Karaoke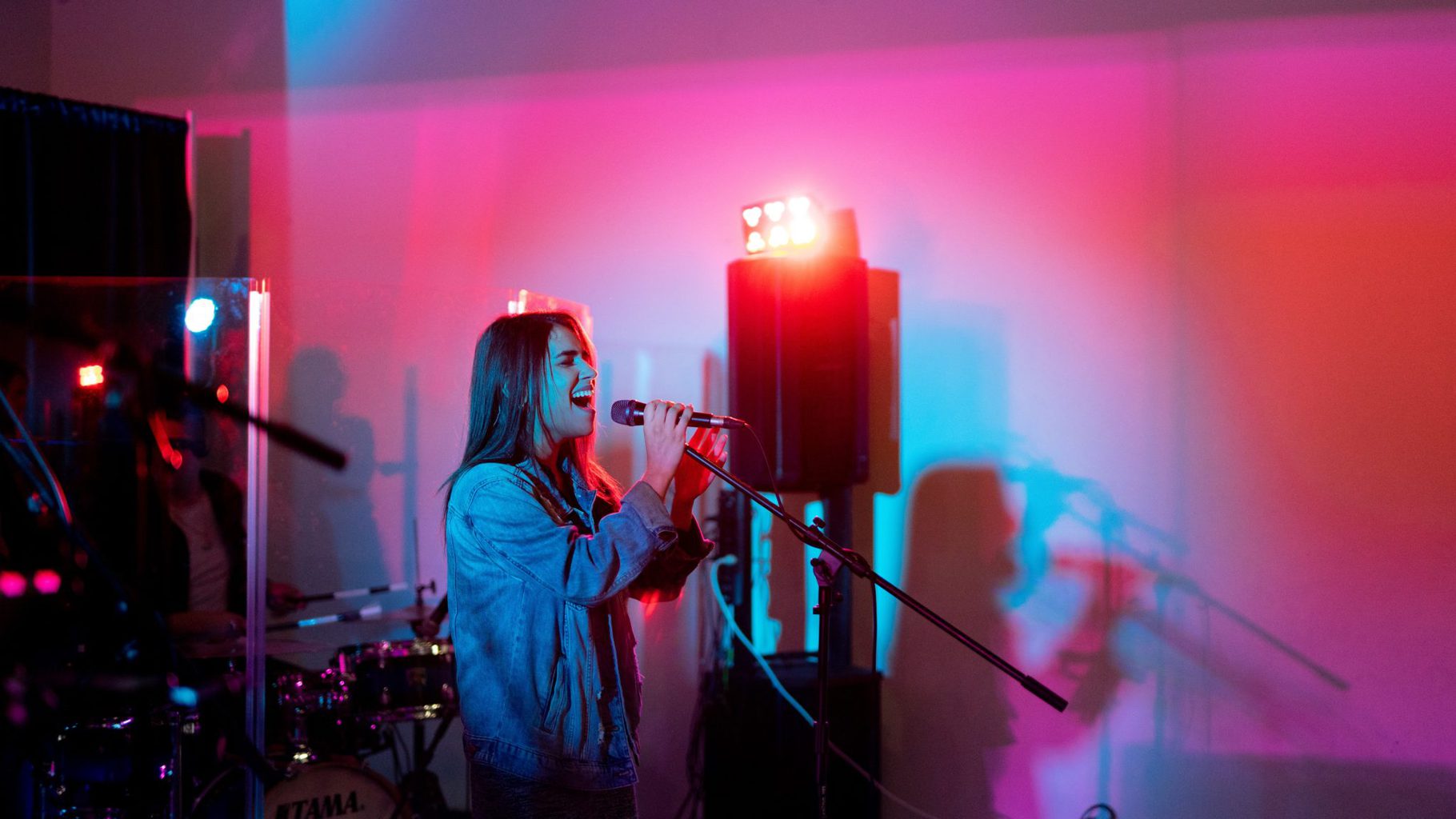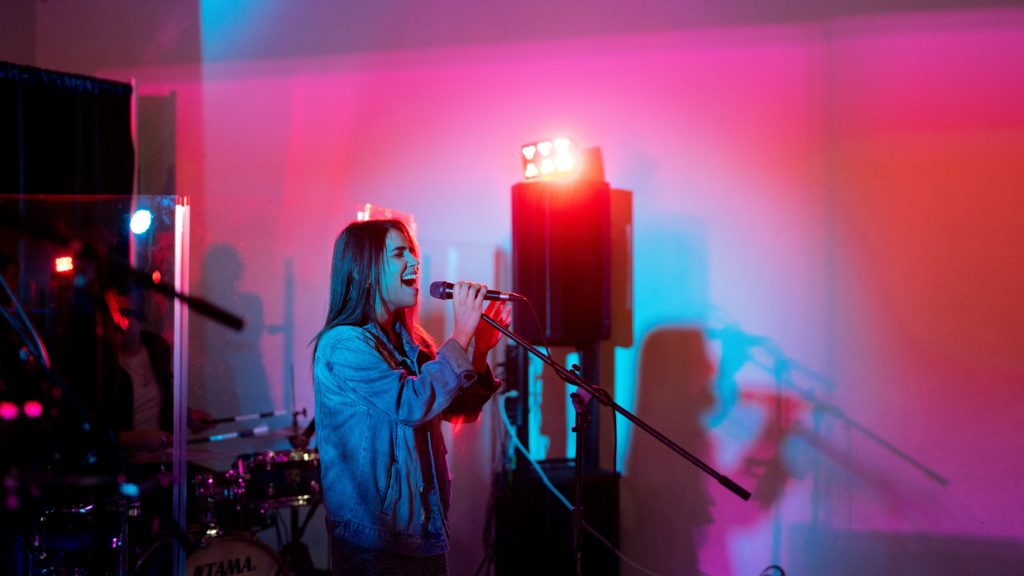 If you love karaoke, why not throw a karaoke party for your 20th? Just make sure to purchase a karaoke machine to be able to sing along to all your favorite songs with your friends.
20th Birthday Ideas: Gifts
16. 20th Birthday Mug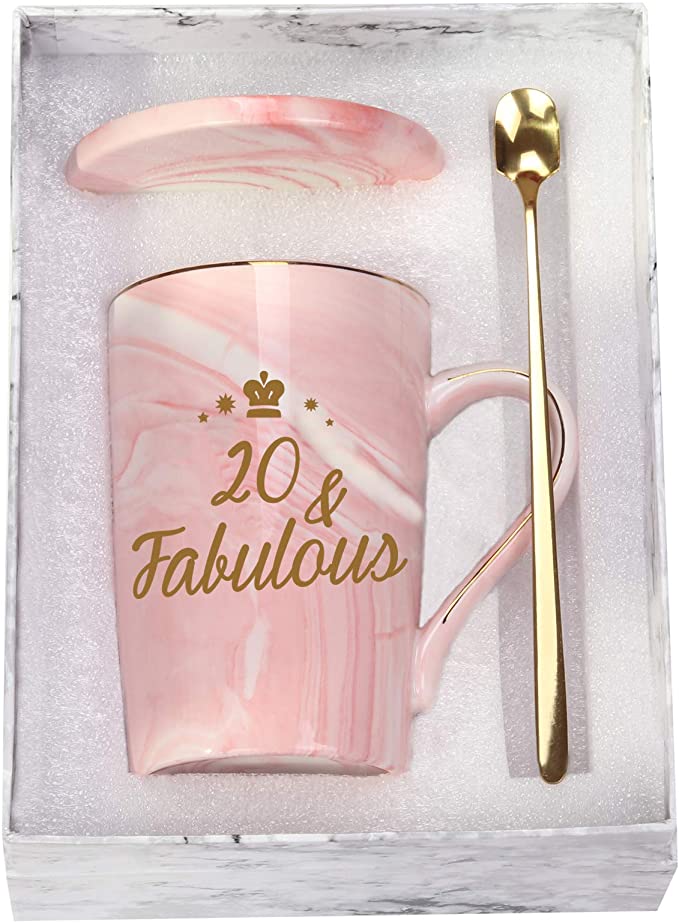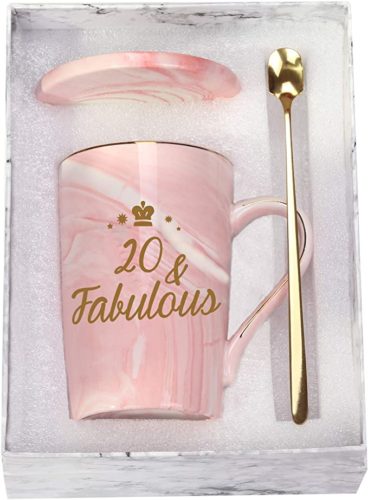 If you are someone who is attending a 20th birthday party, you will also need to be thinking about what kind of gift you are going to get for the birthday girl! This mug is simply perfection.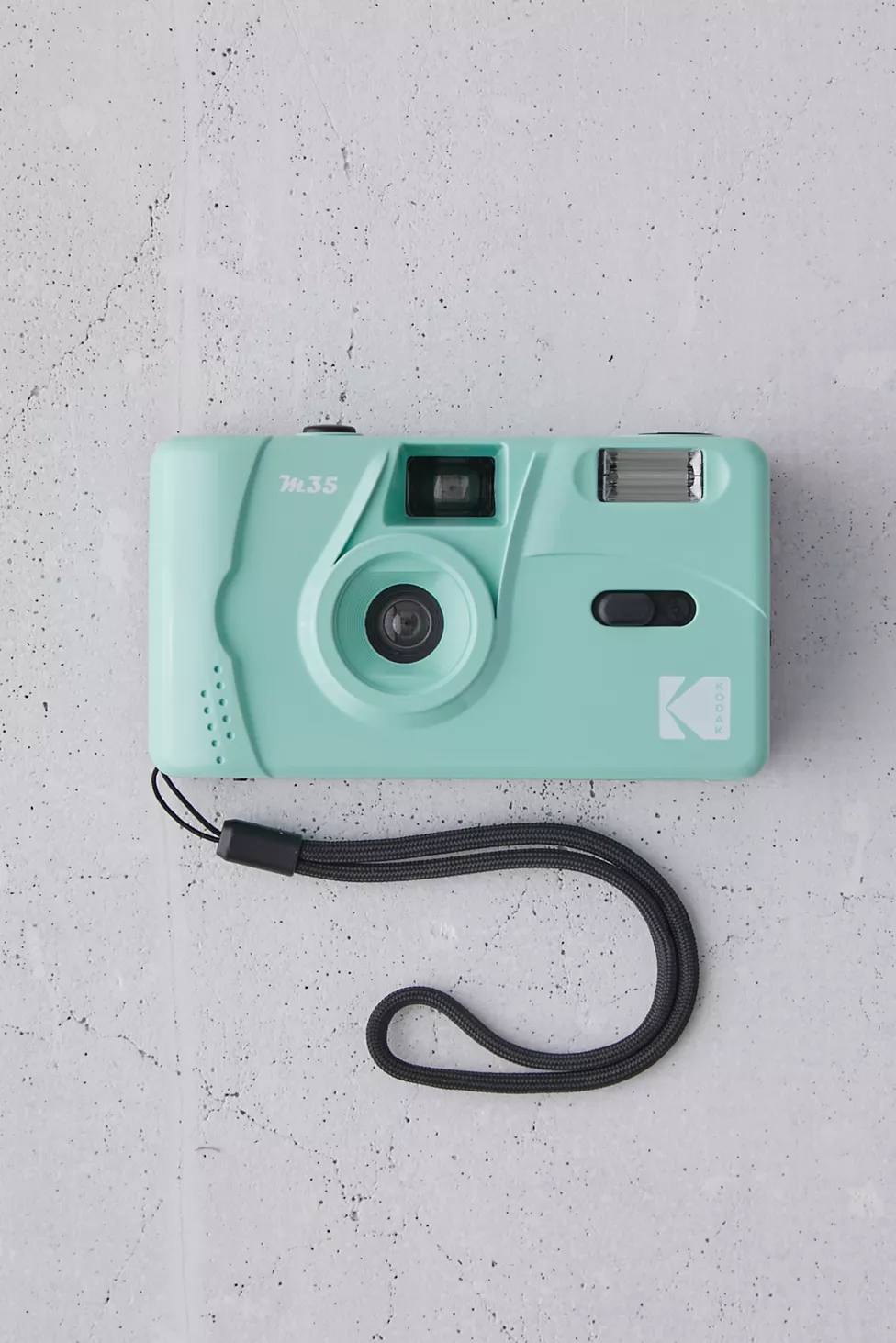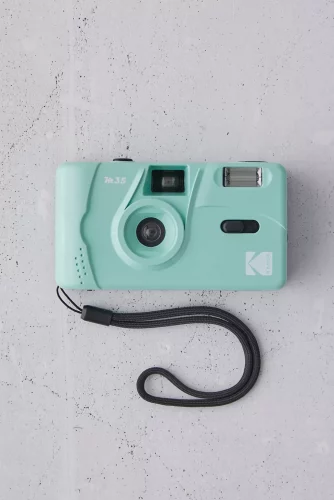 Since you will want to be taking a ton of photos at a birthday party, why not buy that birthday girl a camera like this mint green Kodak? This camera will make sure that she has a ton of fun memories to keep with her long after her big day.
Not only will this make her 20th memorable, but also film cameras are super popular right now. She will adore this gift, especially if you get one in an uplifting color.
18. Strawberry Duvet Set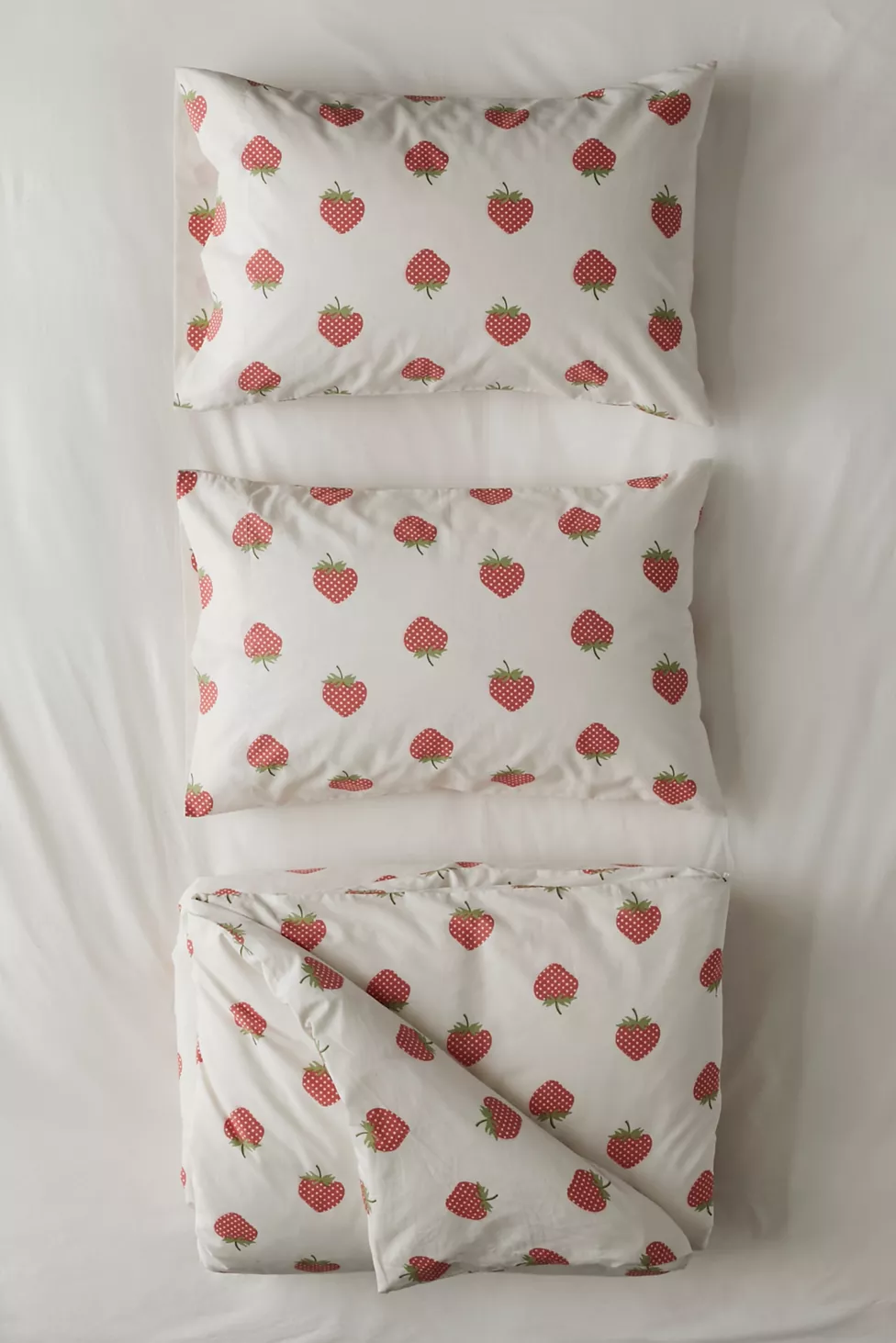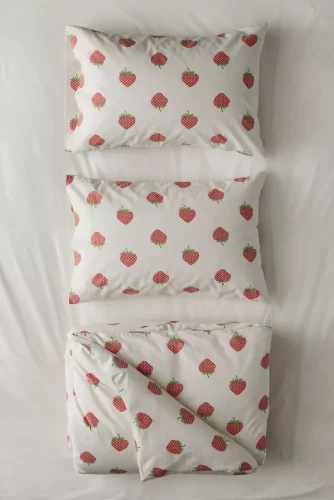 Strawberry patterns have been super trendy recently and I've spotted them on just about every fabric possible. So, why not take advantage of this trend and get the birthday girl a super cute duvet set like this?
Not only will she be keeping up with all the hip trends, but also she will love being able to add to her home decor as a new adult.
19. Five Minute Journal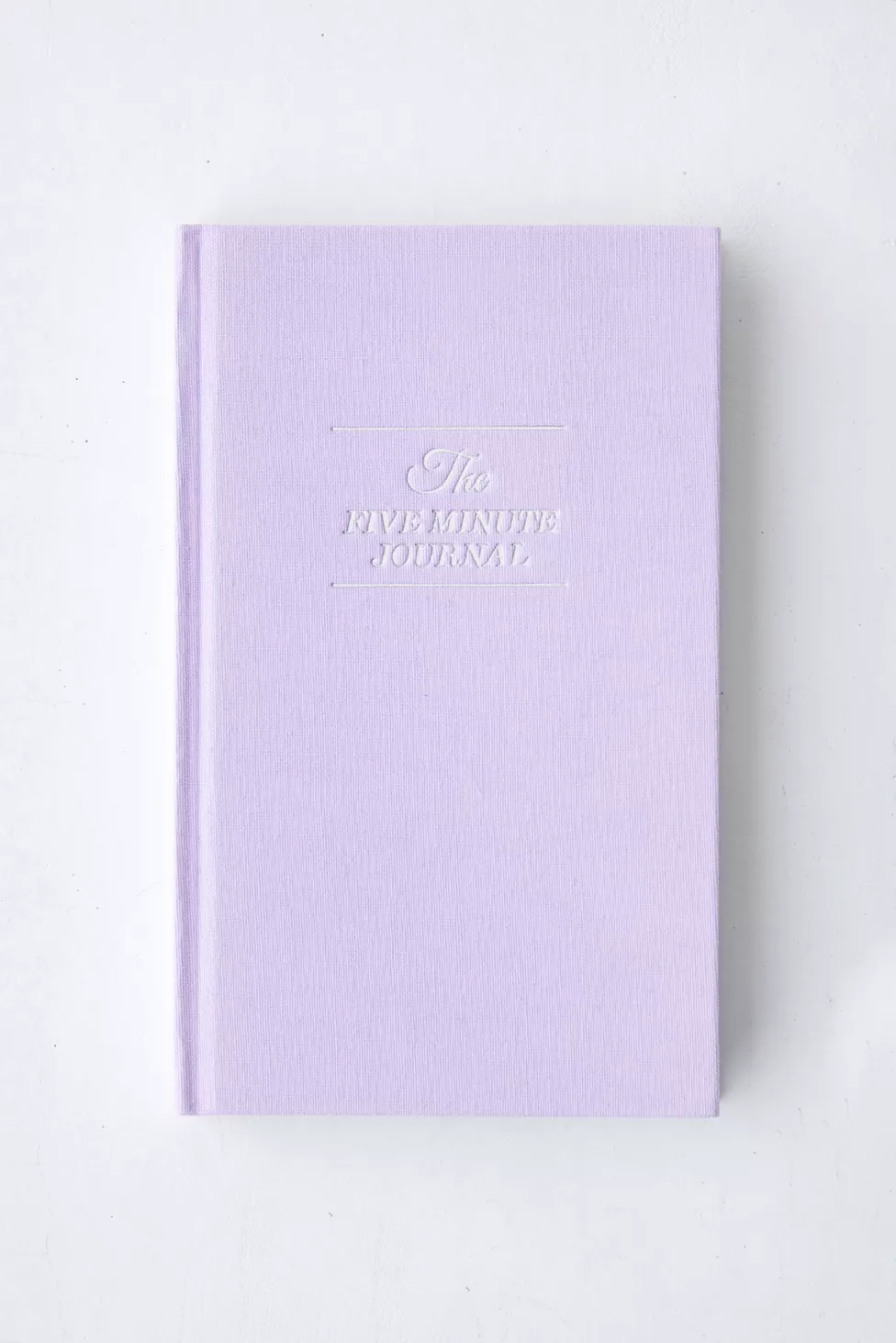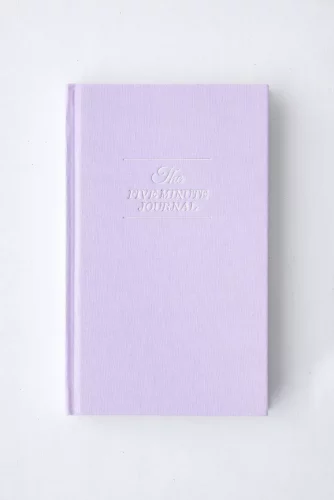 One gift that you may not have thought that would be perfect for a 20th birthday is a journal. Turning 20 is a huge milestone in someone's life, so being able to write down their thoughts or feelings can help them adjust to any changes they may be facing.
This Five Minute Journal is an easy way to learn to journal without feeling overwhelmed.
20. Spa Set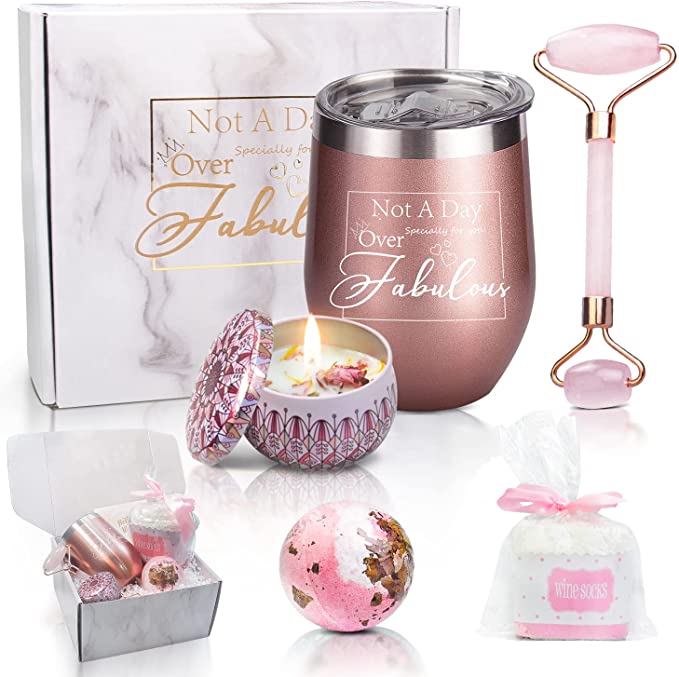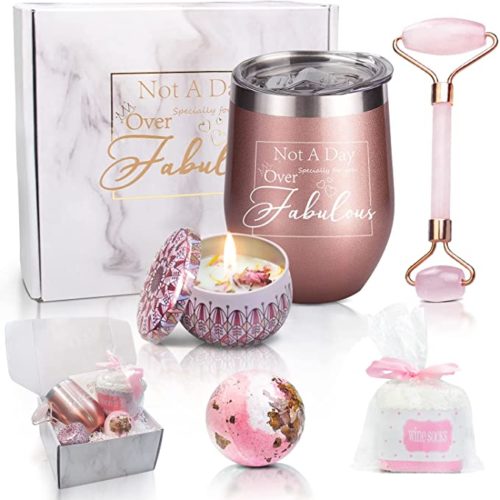 Another perfect gift for someone's 20th is a spa set! Who doesn't love taking time for relaxation and some self-care?
This is will be even more perfect if she is throwing a spa-themed party for her birthday – you know I love a good theme!