This post will show you the cutest flower nail ideas of 2023.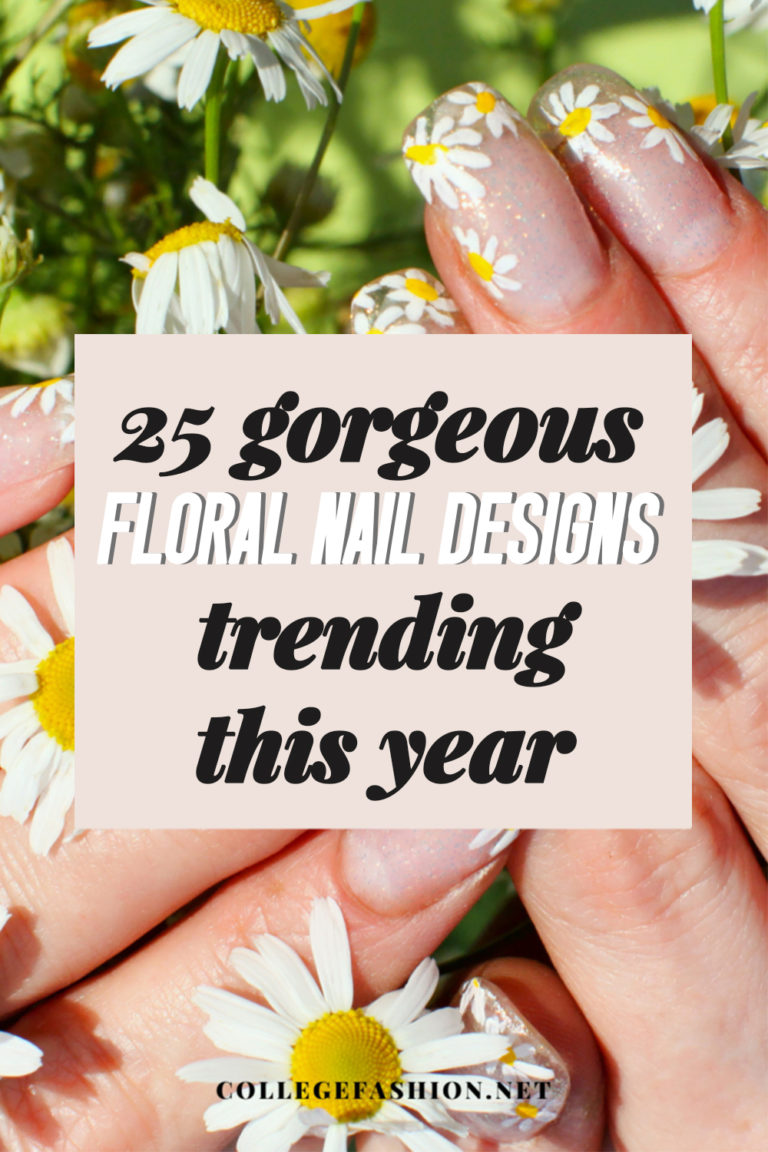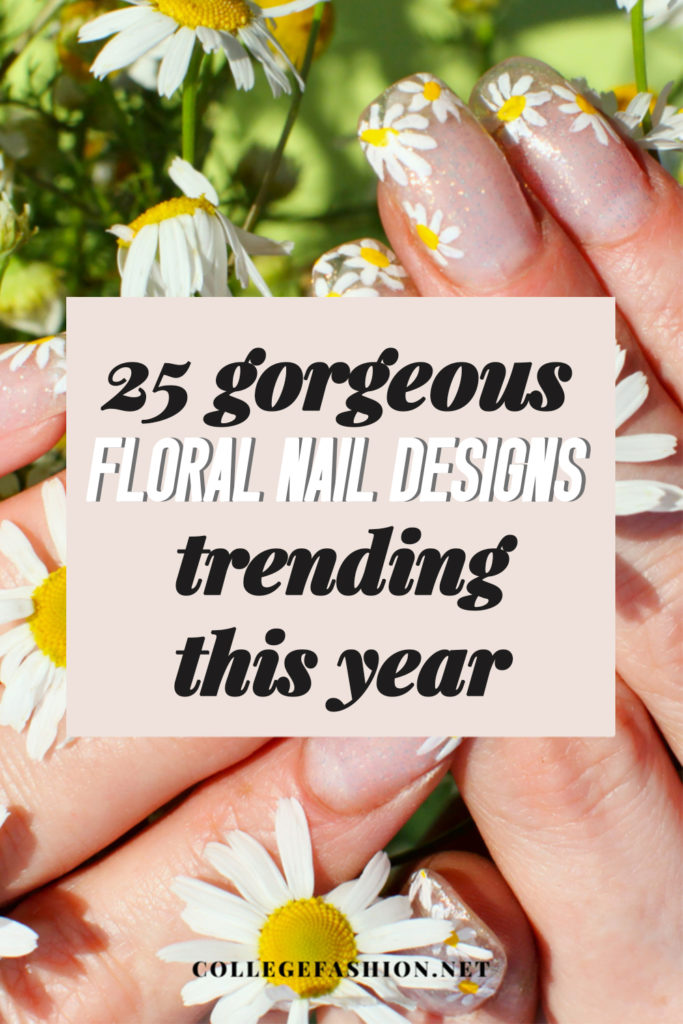 Floral nails are always in style. No matter the season, fashion trends, or colors of the moment, you can never go wrong with a flower nail design.
But which one to choose? There are so many cute floral nail designs out there that it can honestly get overwhelming!
To help you narrow it down, here are the trendiest flower nail ideas that are popular in 2023. You'll be of-the-moment, yet classic at the same time.
Related reading: The Hottest Spring Nail Ideas That Are Seriously Trending RN
Flower Nail Design Ideas
1. Nude Coffin Nails with Floral Design and Rhinestones
We're starting off with a super trendy take on floral nails. These nude coffin nails are super popular on their own, but add in colorful pastel floral details and you have an insanely on-trend nail look for 2023.
You can definitely get these done at most nail salons, or you can buy these nails as a set of press-ons on Etsy.
2. Dried Flower Nails
Here's a more subtle take on floral nails that looks great on any nail length. This look combines white almond shaped nails with dried floral nail stickers. The design is one part vintage, one part modern, and would be oh-so chic for spring.
3. Pastel Floral Nail Art
Now here's a design you would definitely need to have done at a salon — it would be so worth it, though!
These nude and clear acrylic pastel floral nails are beyond stunning. I bet they'd catch the light so beautifully. I could see these for a formal event in the spring or even a fun summer wedding.
Watch the tutorial above to see how they're done, then head to the salon for a recreation.
4. Colorful Retro Flower Nails
Everything retro is back right now so these retro flower nails will look amazing with all of your outfits this year.
I love the mix of different colored flowers offset by the warm-toned nude polish underneath. The best part is, these are nail stickers, so you can mix and match them with any base polish you choose.
5. Green Nails with Flowers
Green nails pair so well with flower details and these daisy nails are so pretty and fun. As with the nails above, these have a trendy retro vibe that's super in right now.
Again, the look above is done with nail stickers, so if green isn't your favorite color, you could use these on top of any shade you love. So versatile and fun, and best of all, easy to achieve!
6. Summer Hibiscus Nail Art
Don't these pink hibiscus flower nails remind you of the coconut girl aesthetic? I feel like they'd be right at home in the movie Blue Crush.
The best part about this look is that it's a nail art tutorial you could totally pull off at home. It will just take a little practice and the help of a small detail brush set.
See related: 30 Stunning Pink Nails Ideas to Try This Year
7. Small White and Gold Flowers on Red Nails
This is a bright and bold floral nail look that's perfect if you love red nails. It's a busy pattern that somehow isn't too over-the-top.
This look, again, is super easy to get because it's made with these nail decals, available on Etsy. No nail art skills required!
8. Floral Encapsulated Glitter Nails
If you want an absolutely stunning nail look for an event or just to treat yourself, this is the one to try! These pretty gel nails mix gold encapsulated glitter with a pink floral design and rhinestone accents.
The tutorial above shows you exactly how it's done so you can get these at your favorite salon.
9. Colorful Nails with White Flowers
Colorful french tip nails are so popular right now, and you can make them even more interesting by adding a white flower design on top. These nails look like something you'd see on TikTok influencers and I'm obsessed.
What's cool about these nails is that they're actually press-ons, so if you want to skip the salon visit, you can pick them up on Etsy to wear again and again.
10. Girly Pink Rose Nails
This is definitely the girliest take on floral nails that we have on this list.
If you like glitter, glam, and all things pink, these are the flower nails for you! These would be perfect for the springtime or a Valentine's Day date. Check out the tutorial above to see how this design comes together.
11. Nude Color Nails with Small White Flowers
For a simple and chic look, nude nails are always a great choice. You can add a little something extra to your basic nude polish with the addition of white flower nail art.
These nails are actually nail wraps so it's super easy to get the look at home.
12. Blue and Purple Flower Nail Design
If you want to add some pretty colors to your floral nails, try layering colorful floral nail art over another color base. This look combines a light purple base with blue and green floral nail art.
While I love the purple base on these, if you wanted to use a color like nude, black, pink, or white, these flowers are actually nail tattoos that can go over your favorite color. They'd also look beautiful on pastel blue nails!
13. Black and Pink Floral Design
I love the eclectic, bohemian look of these black and pink floral nails. They combine black nails with a floral design alongside pink accent nails.
These would be so pretty to try this spring and summer. They'd also be amazing for vacation!
14. Modern Floral Nail Design
Here's another modern take on flower nails. This one combines peachy beige nails with a pop thanks to a mix of bright orange and blue florals.
If you want to get this look for yourself, you can buy the nail decals on Etsy to make it super easy.
15. Colorful Flowers on White Nails
Here's a colorful flower nails idea, done on simple white nails. The flower decals seen here come in all different shades so you can mix and match your favorites for a completely custom look.
You could even mix these with some of the other floral decals linked elsewhere in this post. The possibilities are endless.
16. Lilac Daisy Nails
Of all the nail designs in this post, these lilac daisy nails are my favorite. They're colorful but subtle, girly but simple, and they practically scream springtime.
I'm even more obsessed with these because they're actually press-ons. I never feel like going to the salon these days, so if I can just glue the nails on, I'm sold!
17. White Floral Lace Nail Art Design
These white floral lace nails would be so pretty for a wedding or formal event.
In the photo above, the white floral decals are applied to clear acrylic nails, but you could also add them to your natural nails, or as an overlay to any color you like.
18. Pastel Pink Flower Nail Design
I'm obsessed with these cherry blossom nails, especially as we get closer to cherry blossom season!
This look is all about a glossy nude nail accented with these cherry blossom decals. The nail shape is key here, too — this design definitely looks best with an almond shaped nail as seen above.
19. Chrome Nails with Painted Flowers
Here's an edgy and unexpected take on flower nails, combining an oil slick chrome polish with a painted pink rose accent.
These would be cool for the fall and winter seasons in particular, or any time if your style is on the edgy side.
20. Clear Nail Polish with Minimal Flowers
If you just want a hint of fun florals and a low-maintenance nail look, this idea is perfect! It's just these very simple daisy dot nail stickers done on glossy clear nail polish.
It doesn't get easier than this, plus you can rock this for weeks and chips won't be noticeable.
Related post: The 20 Best Yellow Nails Ideas to Try This Year
21. Translucent Black Nails with Floral Foil
We have to finish with the boldest nails of the bunch. If you want to make a serious statement, these long stiletto nails with matte black florals and rhinestones are definitely the ones to get.
Not for the timid, these flower nails will really stand out and have all eyes on you.
22. Dainty Daisies Nail Art
Dainty daisies are a popular choice when it comes to flower nail designs. They can be embellished with beads, rhinestones, or other accents to create a unique and stylish look.
To achieve this look, start by painting your nails with a clear polish. Then, using a small brush, paint on small dots in a contrasting color to create the flower petals. Finally, add a dot in the center of each flower to complete the design.
23. Sunny Florals Nail Design
Sunflower floral nail designs are a beautiful and fun way to add a touch of nature to your nails. There are many different ways to create sunflower nail designs, from simple and understated to more elaborate and over-the-top. Whether you're looking for something for a special occasion or just want to add a bit of personality to your nails, flower nail designs are a great option.
24. Cath Kidston Nails
If you're looking for a flowery, feminine nail design, Cath Kidston nails are the perfect choice. These designs feature pretty flowers and other delicate details, making them perfect for any girly occasion. Plus, they're super easy to recreate at home! The video above shows you everything you need to know about Cath Kidston nails.
25. Peach Floral Nail Design
[insert product photo and its link: https://rstyle.me/+Elzs-xjx-PJvf4f4tD7p7w ]
If you're looking for a flowery nail design, this peach floral look is perfect. It's easy to recreate at home, and it looks great on any nail length or shape.
To get the look, start by painting your nails with a light peach polish. Once that's dry, use a small brush to add some flower details. Start with the center of the flower, then add the petals around it. Use a white polish to add some highlights, and you're done!
This design is perfect for spring or summer, but it can be worn all year round.
What's your favorite way to wear flowers on your nails?
Which of these flower nail ideas are you going to try? Any other styles we missed? Let me know in the comments down below.
Looking for more flower nail design ideas? Here are some of our favorite nail art ideas that might also inspire you this winter –