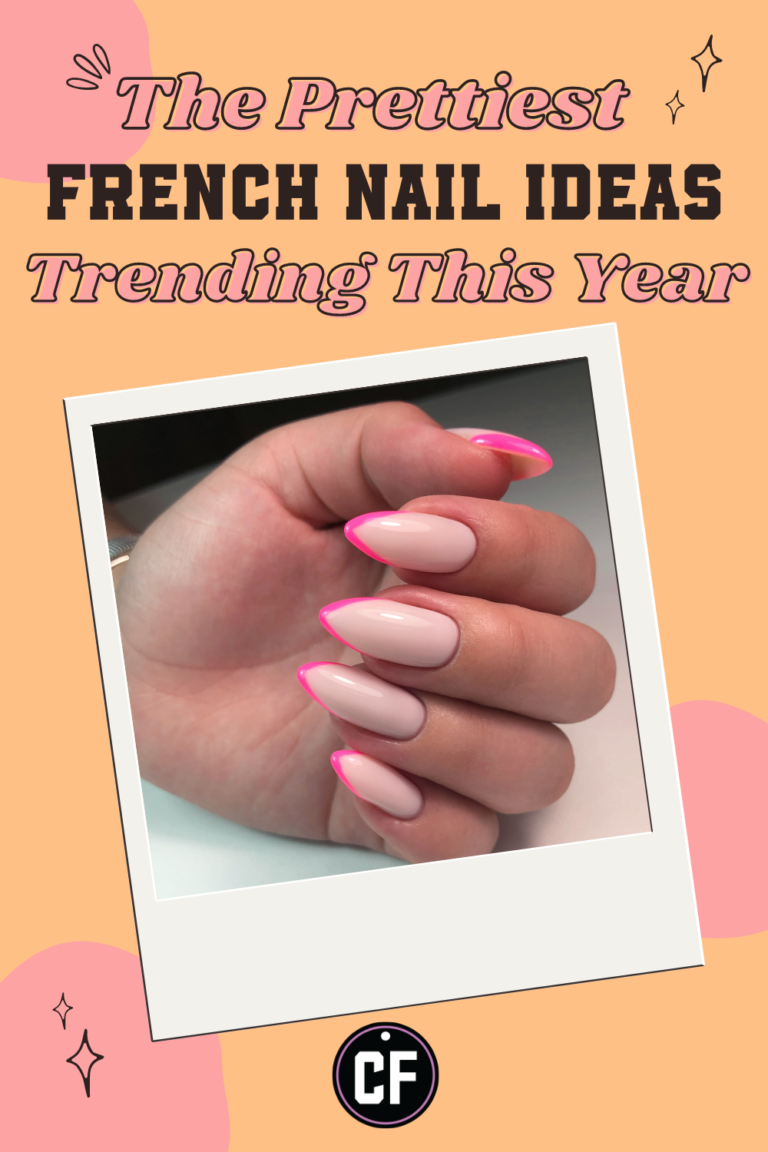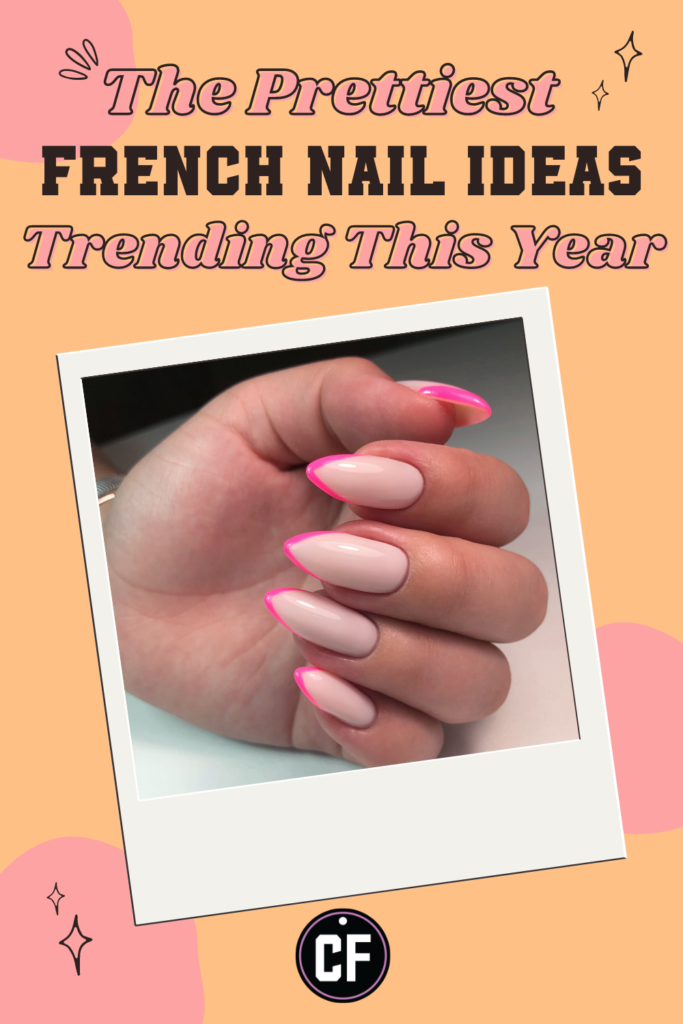 Here at CF, we are obsessed with having cute nails at all times. Whether we're going for an edgy black manicure, super cute nails, or a classy vibe, we love trying new nail ideas. And speaking of classy, it doesn't get more elegant than a classic french tip manicure.
Everyone knows what a basic french manicure is — it's kind of a "your nails but better" vibe. The nail bed is painted a light pink shade and the tip is painted white. The look is simple and classic and goes with everything.
But what's the best way to rock a french manicure in 2023? Is the french mani still in style? We have the answers. Read on to learn more about french manicures and find the best french tip nail designs to try this year.
Why Do They Call It a French Tip?
First, a little history lesson on the french manicure. You might be surprised at its origins — I was!
While we think of french nails as having been around forever, the look is relatively new. According to Women's Wear Daily, the french manicure was invented in 1976 by ORLY founder Jeff Pink.
According to an interview with The National, Pink invented the manicure for film sets, when actresses needed a universal nail look that "looked good with every costume change." He then brought the look to the Paris runways, and it was a huge success. He named it the "French Manicure" on his flight back to LA, and the name stuck.
15 Best French Tip Nails to Try in 2023
1. Classic French Manicure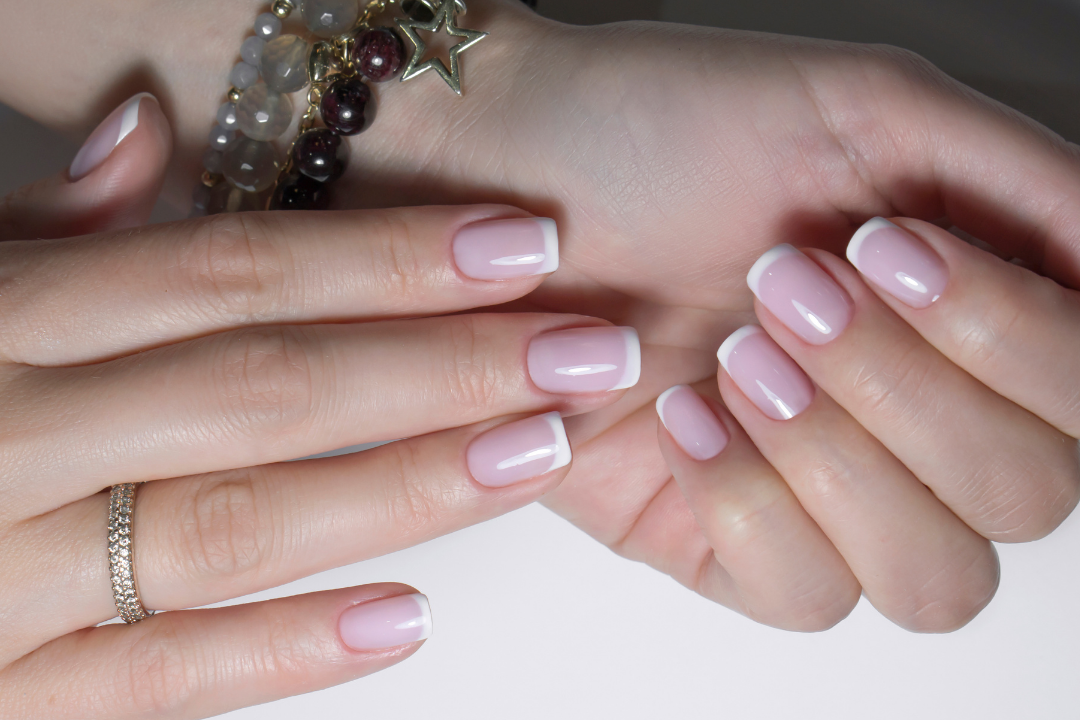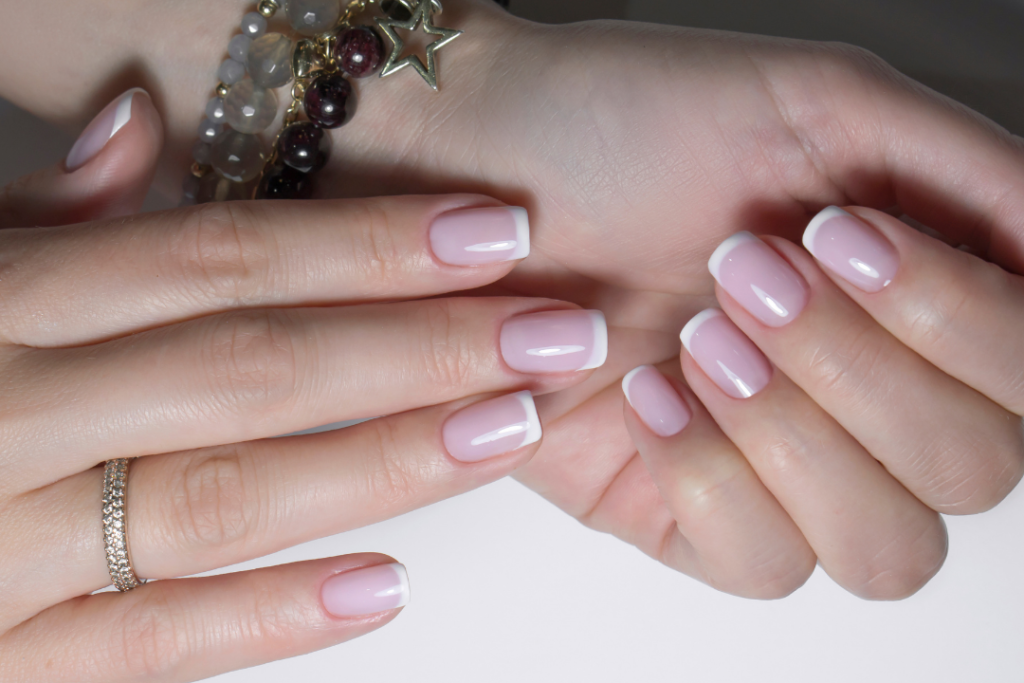 First, we have to talk about the classic french nail look. This manicure is forever classic, and it's a mainstay of every nail salon in the country. Don't know what to do with your nails? You can't go wrong with a french mani.
You can do a french mani with any nail shape, just follow the basic principles of a sheer pink polish on the base of the nail, and a clean white polish on the tip. (DIY tip: Use french nail guide stickers to get that perfect tip shape with no smudges!)
2. Natural Ombre French Nails
A more modern variation on the french nail, the french ombre nail design has become incredibly popular over the past few years.
This nail look is similar to the french manicure, except that the pink and white shades blend, creating a gradient effect across the nail. You can have these done at any salon, DIY them at home (tutorial here), or buy nail wraps on Etsy to make the look super simple to achieve.
3. Black and White Abstract French Nails
If you've read any of our recent nail articles, you know that abstract nails are a huge nail trend this year. The look can be applied to the french manicure too, as seen in this black and white nail design.
This nail idea consists of a basic nude base, accented with black and white abstract lines, which create a french nail effect on four out of five nails. The overall vibe is a modern, sleek, and very "cool girl" — it's totally a must-try.
The best part is, you can get these exact nails as a set of press-ons on Etsy, so you don't have to shell out at the salon for them.
4. Classic French Manicure with Pearls
Pearls are a huge fashion trend this season, so it's only right that they'd adorn our nails as well! This pearl french manicure is so of-the-moment, with its mix of long almond-shaped nails, simple tips, and pearls accenting the entire nail.
I definitely recommend picking up a set of press-ons to get this look. Adhering pearls to your nails can be tricky to DIY, and most salons won't have pearls ready to go. Fortunately, these press-ons from Etsy are affordable and can be worn again and again.
Related reading: 18 Pretty Pearl Nail Ideas You'll Obsess Over
5. Fluoro Matte French Tip Nails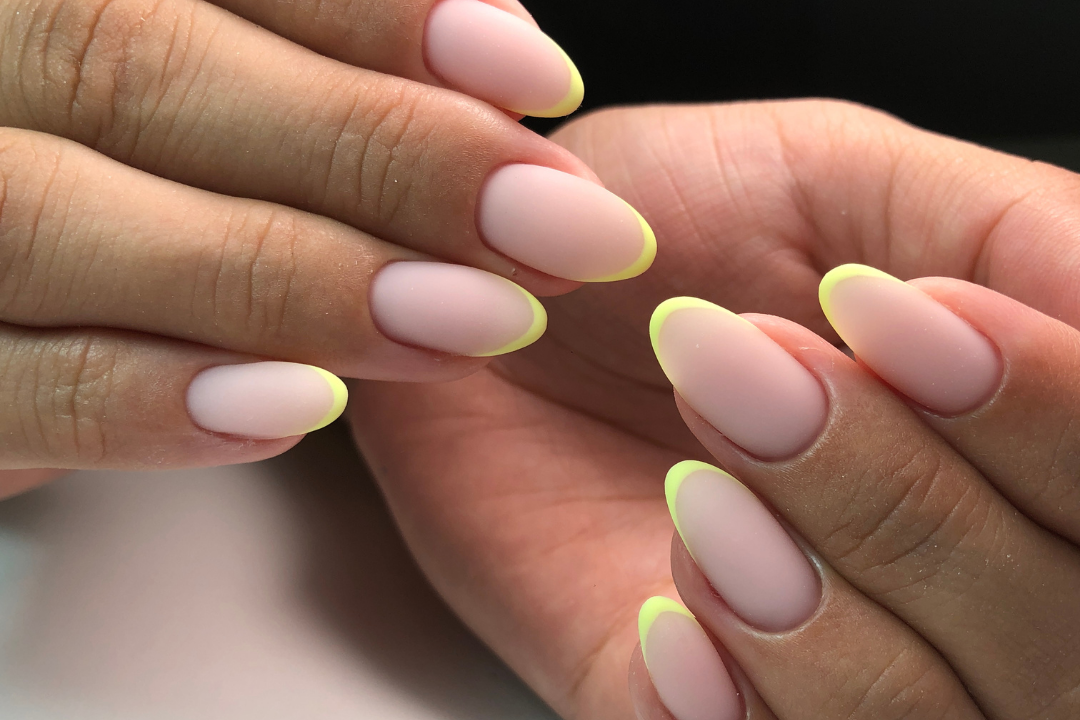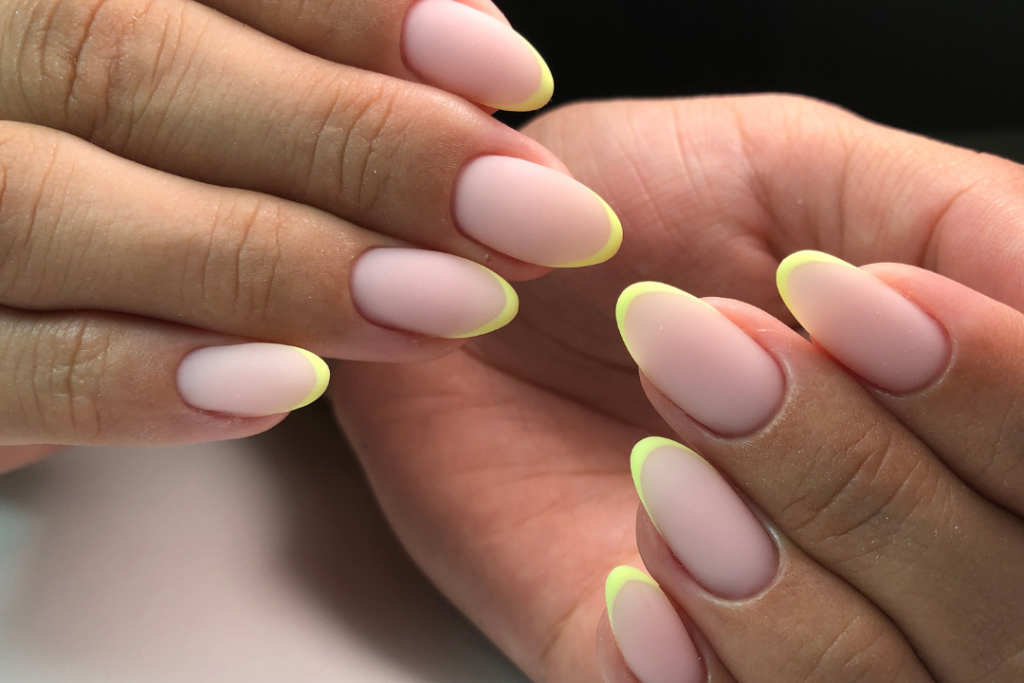 Got a vacation coming up, or just looking forward to warming weather? These matte fluorescent french tip nails are so pretty and are sure to turn heads everywhere you go.
There are two key elements to keep in mind when trying this look at home:
First, keep the fluorescent tip really thin. (These almond french nail guides are perfect for getting this look!) Second, invest in a good matte top coat for an even, modern finish. Sally Hansen Big Matte is universally beloved and super affordable.
6. Cute Floral French Nail Design
If you want a cuter, more fun take on a french mani, you cannot go wrong with this pretty pastel floral french nails design!
This super cute nail look incorporates multicolored pastel french tips and a sweet dotted daisy design for a manicure that practically screams springtime.
You can get this look at home with french manicure stickers, pastel polishes, and a dotting tool for the flowers, or make it easy on yourself and scoop up this set of press-ons from Etsy.
7. Abstract Nails with Almond French Tips
Here's another cute and colorful take on french nails. These orange almond-shaped abstract nails feature french tip detailing on most of the nails, in a loose, abstract shape.
Orange is a major spring fashion trend this year, so we are definitely in favor of rocking orange on your nails! This look would be tricky to get at home, so we highly recommend you pick up these exact press-ons for a look you can achieve in minutes. (How cute would these be for a vacation?)
8. Half Moon French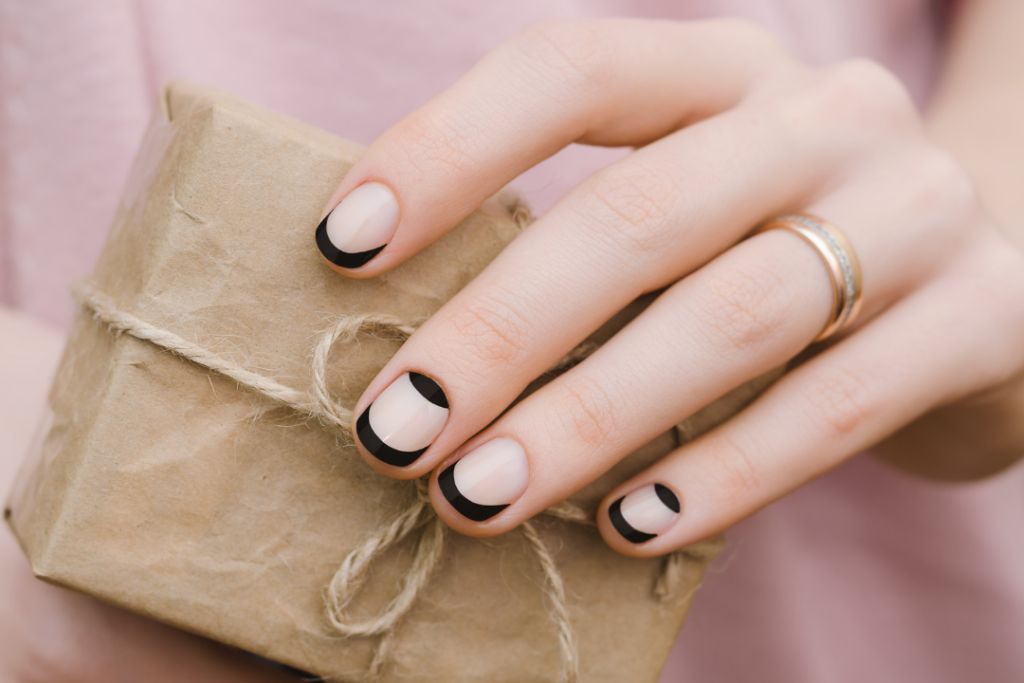 Half moon nails are a fun take on the french manicure and they've been trending for quite a few years now. The half moon french tip nail design above features a nude base color, accented with black half moon detailing and a black french tip.
Although these nails look complicated, they're actually insanely easy to achieve on your own! Just grab your favorite black and nude polishes and use french nail guide stickers to create the tips and half moon shapes. So simple and so chic.
9. French Nails with Rhinestone Accent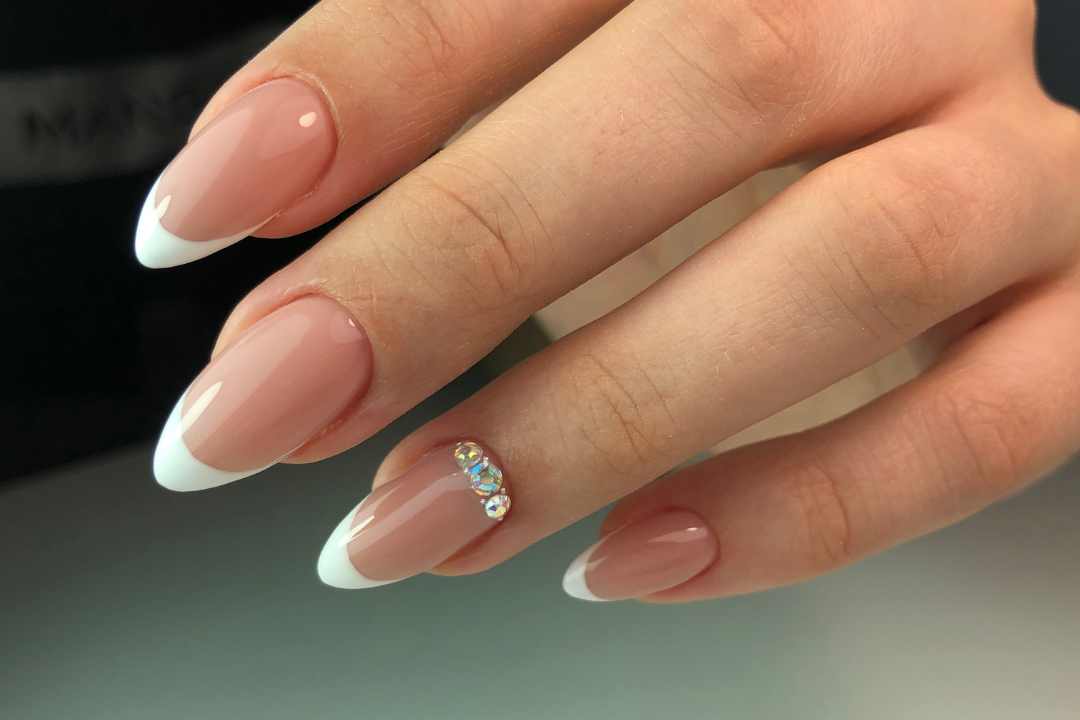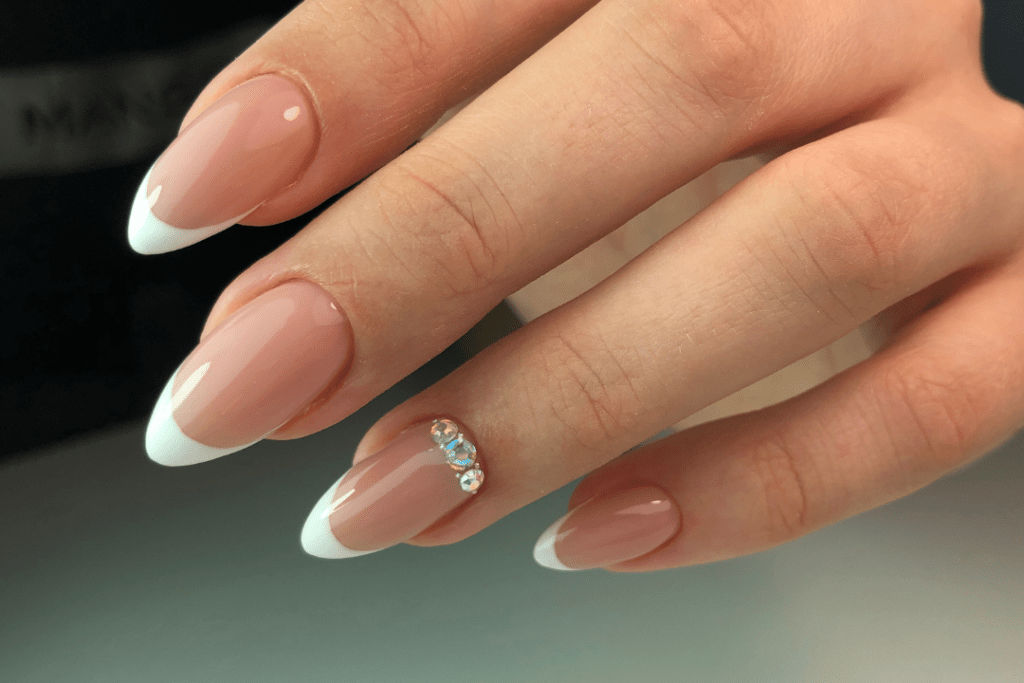 If you want to add a little extra glam to your french manicure without going crazy, this simple rhinestone accent is the perfect idea to try!
To get this look, you just need some nail rhinestones and nail glue to attach them to a regular french manicure. You could definitely DIY this at home, or any nail salon can do the rhinestones for you!
You could also switch it up by adding rhinestones to every nail or doing one accent nail that's entirely rhinestones. There are so many options with this one.
10. Green Swirls
Here's another take on abstract nails, this time featuring a simple pink and white french mani with green swirl detailing on top.
Green nails are also super trendy this season, so this is a great way to rock a trending color in a relatively classic way. You could definitely attempt these as a DIY with a small detail brush, but honestly, I'd just pick up the press-ons for a guaranteed flawless finish.
11. French Nails with Subtle Shimmer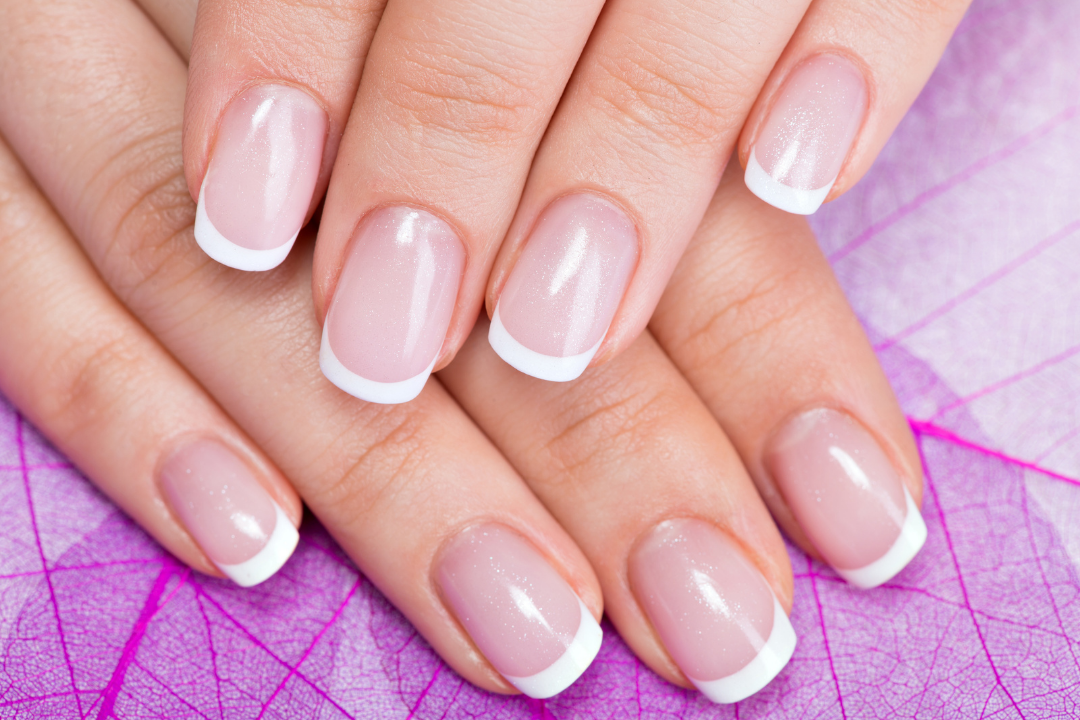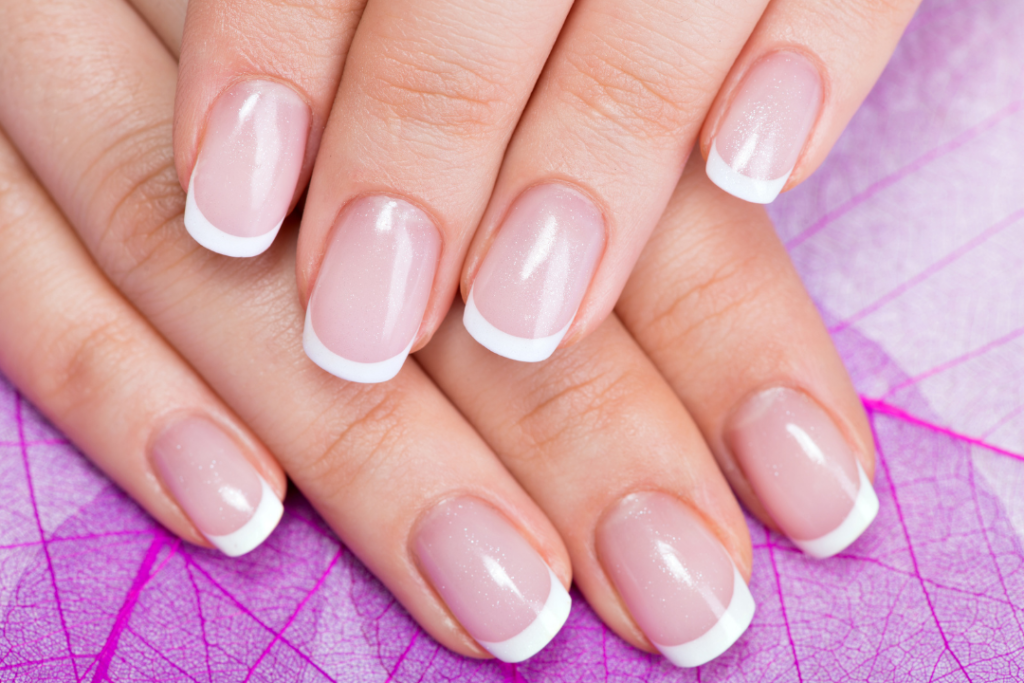 Here's another way to add a little something extra to your french manicure without doing anything crazy. At first, you might think these are normal french nails, but if you look closely, you'll see that they have a shimmery finish over top.
These nails would be insanely easy to achieve at home. Just start with a regular french mani and apply sheer glitter polish over top. This "Northern Lights" glitter top coat from INM is highly reviewed and adds the perfect amount of sparkle to your nail.
12. White with Glitter Accents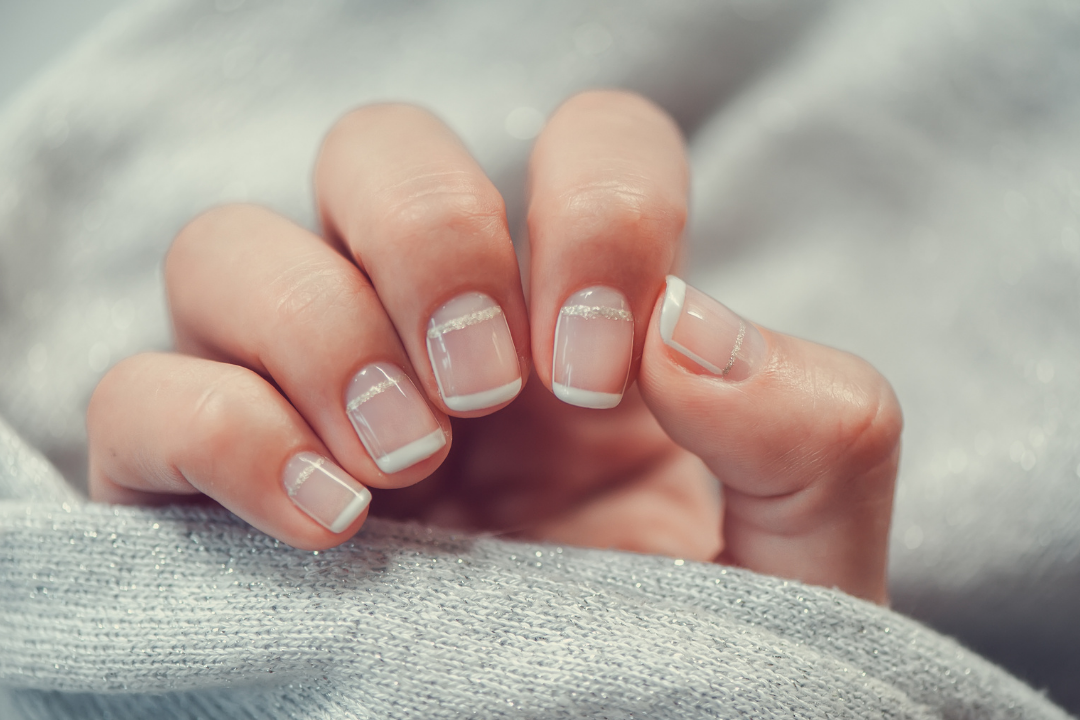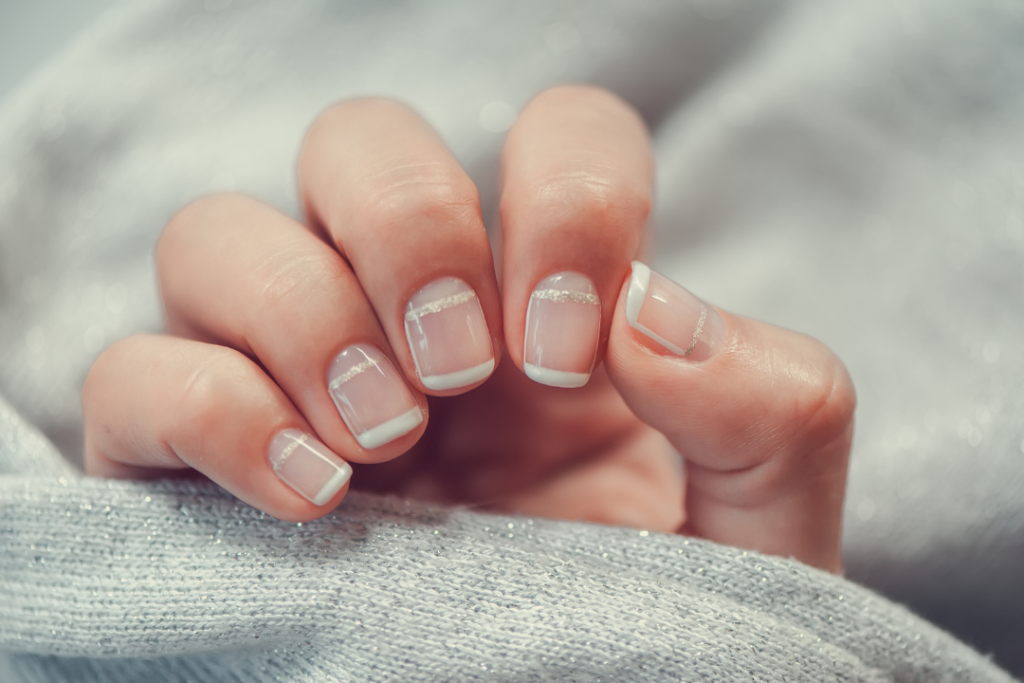 If you want a bolder glitter addition to your french manicure, this cool glitter stripe french mani is a great option.
Again, this one is pretty simple to achieve. You just start with a basic french manicure and once it dries, add a line of opaque silver glitter polish (we love this one) over top. (Pro tip: Use scotch tape to mark off where you want the line so it comes out perfect!) Be sure to seal everything with a good top coat and you're done!
13. Pastel French Manicure
Pastels are always in for the spring and summer months, and I love how a lavender shade is used in this pastel french manicure look.
If you feel confident in your french manicure skills, you could definitely attempt these nails as a DIY with lavender nail polish. However, if you don't have long enough nails or just want to save a ton of time, the nails are actually a set of press-ons you can customize to the shape and length of your choice!
14. Rainbow French Nails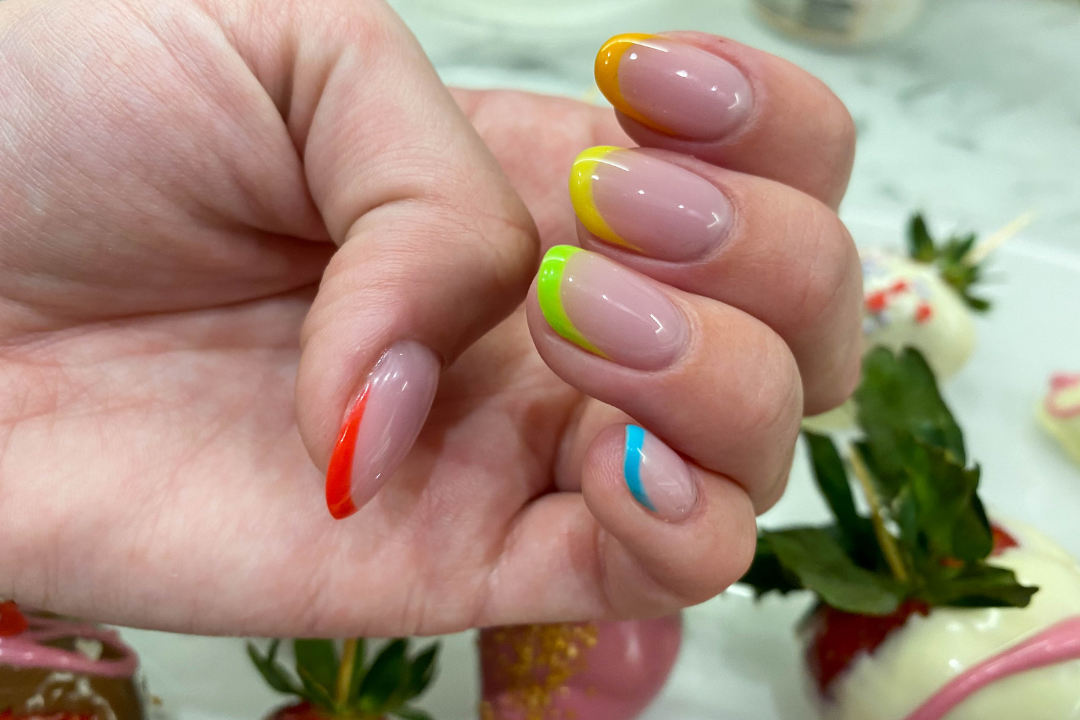 How pretty are these rainbow french nails? Not for the timid, these nails consist of a different color on each tip, in rainbow order of course.
This is another nail idea you could definitely DIY at home if you wanted. You'd just need to invest in a couple of shades of polish if you don't own every color of the rainbow. (Alternatively, Olive and June make a stunning rainbow nail polish set that comes with every shade you need, all in the same finish.)
If you're looking for a mani for pride week, or just anytime you want to add some extra fun to your manicure, this is definitely the look to try!
15. Colorful French Manicure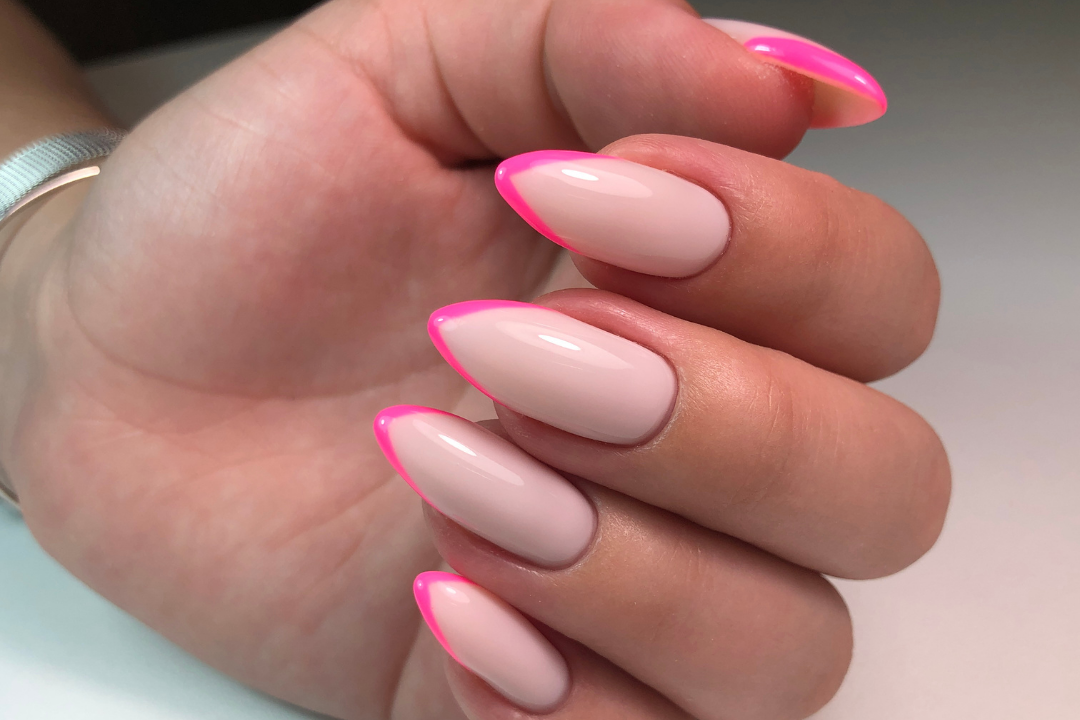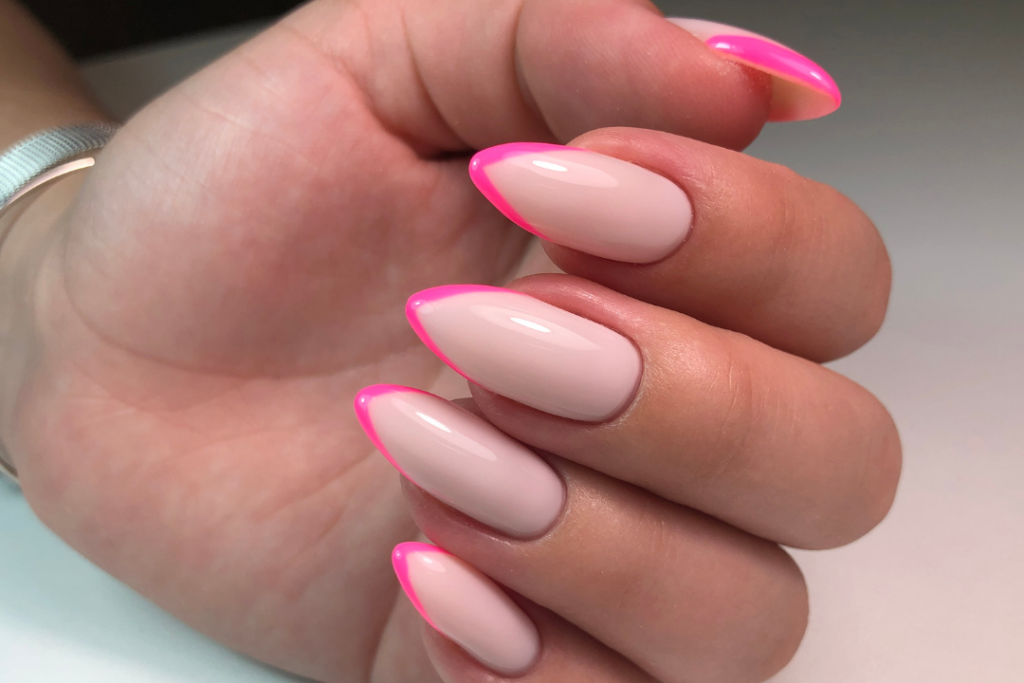 For our final french tip nail design, we have this trendy and fun take on colorful french nails. This hot pink v-shaped french manicure has baddie vibes and would be perfect for your next vacation or girls' night out!
For this nail look, it's crucial that you invest in a good neon nail polish — the brighter the better! We love this neon polish from Heroine NYC for Day-Glo vibes. You could also swap in any other color of your choice to match your personal aesthetic. Seriously, the options are endless.
Related reading: The 20 Best Neon Nail Designs to Try This Summer
What do you think of french tip nails?
Do you consider them classic or are they out of style? Were you surprised to learn that the french manicure was invented in the '70s? What's your go-to french tip nail design?
Tell me your thoughts in a comment down below.
If you love these french tip nail designs, you might want to check our related posts below —