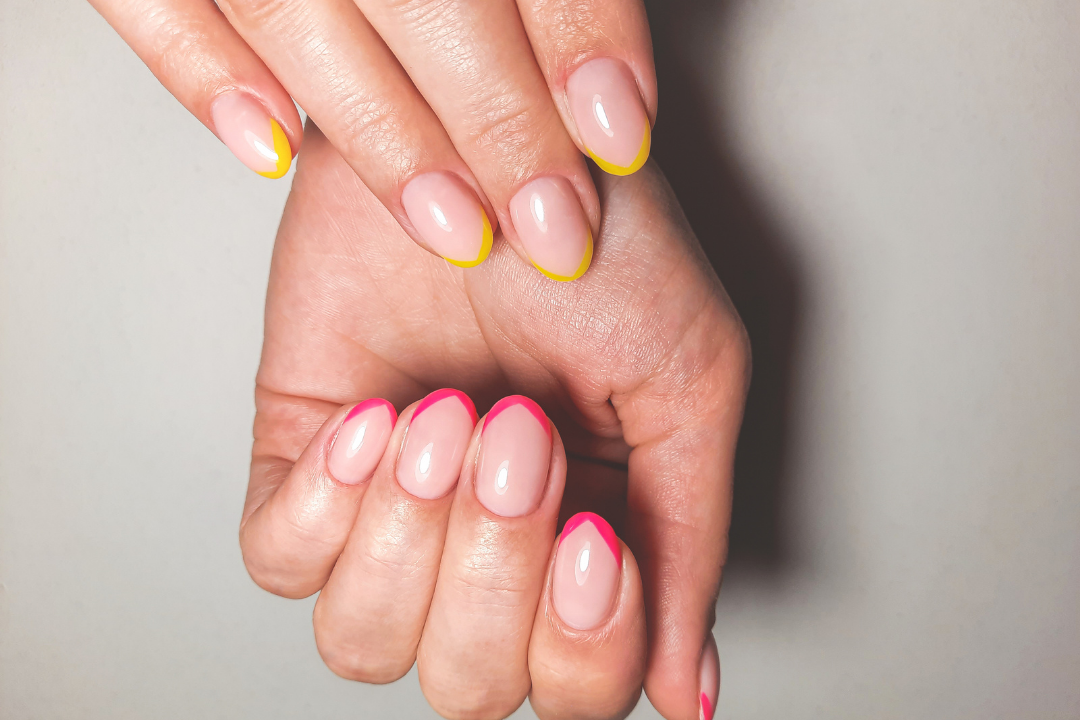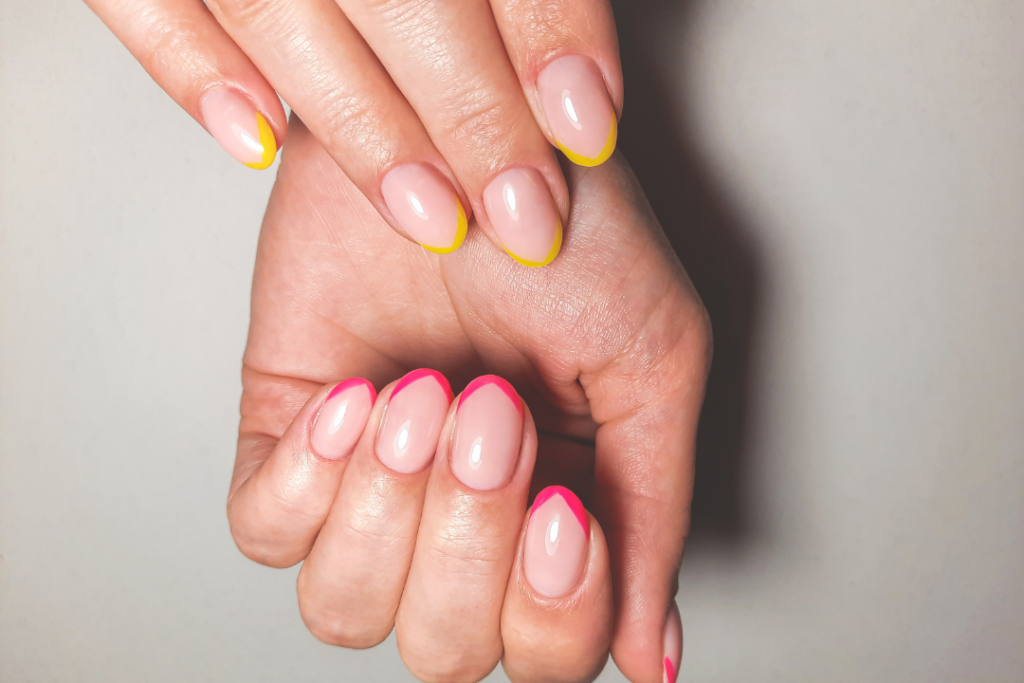 A new year also means new nail designs to try! And, 2023 has brought with it a ton of cute nail designs that you will be dying to try. (See our guides to spring nail ideas and summer nail ideas for seasonal options.)
Unexpected nail designs are always a super fun way to change up your look and get creative. And, don't worry: you can do the nail designs below on any type of nail, so it doesn't matter what length your nails are.
Also, you don't have to worry about spending a ton of money at a nail salon because you can do your nail designs at home or you could even purchase press on nails that already have the designs on them.
If you are excited about trying out some fun nail designs on your nails, you may be wondering what nail designs are trendy in 2023.
With that in mind, this post will show you 22 fun nail designs you should try in 2023!
Related reading: 12 Simple Nail Ideas That Are Perfect for Beginners
Cute Nails Ideas
1. Strawberry Nails
My absolute favorite nail design trend this year is strawberry nails! Strawberry designs have become very popular recently even on nails, and I love the look for its cute, girly vibe.
So, if you are in love with this new trend as much as I am, I recommend adding this to the list of nail designs you are going to try this year!
Just watch this quick tutorial to see how to get this adorable nail trend either at a salon or at home.
2. Cloud Nails
If you love having blue nails, I highly recommend trying out the cloud nail design trend this year. It's so popular right now!
Cloud nails are super cute and easy to do yourself at home. So, the next time you want to try out a simple, but cute nail trend, go for this one. The tutorial above shows you how to do it.
3. Layered Heart Nails
If you loved the Powerpuff Girls as a kid, I am sure you recognize this nail design. For many people it is just a layered-heart nail design, but if you are a true fan of the show, you know that this layered heart comes from the Powerpuff Girls.
Not only is this a great nail design to try if you're into y2k nail designs, but also it is a very cute way to do a heart design on your nails!
4. Cow Print French Tips
I am sure you have probably seen cow print nails before. They have become a very popular nail trend, and now we see them in every color under the sun.
However, if you have already tried out standard cow print nails and want to go for something a bit different, I would recommend trying these cow print french tip nails!
What's great about these nails is you can buy them as press-on nails like these, so you won't have to spend a ton of time doing this tricky design at home.
Related post: Cute & Trendy French Tip Nail Designs You're Going to Want to Try ASAP
5. Colorful French Tip Nails
Another popular nail trend recently is the colorful french tip nails look. This is a perfect nail design option for those of us who may be tired of getting just regular french tip nails or want to add some color to our nails.
What's great about this nail trend is it is pretty easy to do at home. Just make sure to have plenty of different colored nail polish on hand. (And some french manicure guides really help!) Or, you could go for the even easier option and buy these press-on nails.
6. Textured Nails
You may have seen this nail trend recently because it is also gaining popularity. We're seeing textured nails everywhere this year!
There are a couple of different textured nail designs that have been popular — we've seen the sweater nails, crocodile nails, and flower nails all over this season.
My personal favorite is the textured flower nails because you can create a girly nail design like shown in this textured flower nails tutorial. It's such a cool and unique look.
7. Daisy Nails
If you want flower nails and you want to draw them on yourself, you definitely can! And, don't worry, it is actually not that hard to do at home if you watch this tutorial.
If you are going for the flower nails look as a DIY, I would recommend doing these daisy nails because they are super easy and trendy.
8. Smiley Face Nails
If you are a fan of Harry Styles, you have probably seen his iconic smiley nail designs. And if you're like me, I am sure he's got you wondering how to do the look on your own nails.
Good news: The look is easier to achieve than you'd think! If you watch this tutorial above, you can get the trendy smiley nails seen on Harry for yourself.
Swirl nails became popular a little while ago and have been going strong for at least a full season now. That being said, they are still a great nail design option if you are looking for something fun to do on your nails in 2023.
You can create your own swirl nails look at home or you can buy these press-on nails to make your life even easier.
10. Fruit Nails
Another trend that I am dying to try is fruit nails! If you have never seen this nail trend before, you may be wondering what it looks like and how to do it.
What's great about this nail trend is it is actually pretty easy — the secret is that you use nail art stickers, as shown in this tutorial, to create the look.
All you will need is some of these cute fruit stickers and some nail polish and you can create this look at home!
Just watch this quick tutorial on how to do it — you'll be amazed at how simple it is.
11. French Outline Nails
If you love the French nail look, but want to try a different kind of french nail in 2023, I would recommend trying the French outline nail trend.
French outline nails are a new nail trend that looks super cool on acrylic or long nails. If you are wondering what this nail trend looks like, it is basically just the outline of the french tip painted on the nail — you don't fill in the center.
It looks even better when you use a colorful nail polish to outline the tips, as shown in this nail tutorial. You can get so creative with this cute nail design, so it's definitely one to try.
12. Tekashi Murakami Nails
You may have heard of Tekashi Murakami before, but have you ever thought of putting Tekashi Murakami flowers on your nails? This is another cute nail design trend that you should definitely try in 2023.
Yes, this one takes some skill, so it might be worth it to get done at a salon instead of DIYing. That said, I highly recommend it if you want a cool design that gives you a lot of color!
13. Gradient Nails
If you want a more simple design than the ones listed above, you could always go for the classic ombre/gradient nails look. But, if you are going to do this nail design, I recommend switching it up a bit and trying out different colors other than white.
For example, these pink and nude press-on nails will be perfect for you to try in 2023!
14. Flame Nails
Another great option for a cute nail design in 2023 is flame nails! These look super cool especially if you use a bunch of different colors like shown in this video tutorial.
If you are going for this nail look, I would also recommend putting the flames on the tips of your nails, as seen above.
15. Checkered Nails
Another cool design that has become popular recently is checkered nails. Reminiscent of retro designs and Vans sneakers, the checkered design has become popular in fashion as well as on nails in 2023.
So, I would recommend taking advantage of this cool nail trend and trying out this nail design. Just check out this video tutorial to see how to do it!
16. Euphoria-inspired Nails
I am sure you have heard of the HBO series Euphoria. And, if you are a fan of the show, I am sure you have noticed the super cool nail designs that they put on the cast members.
So, if you have been dying to try out some Euphoria-inspired nail designs (like I have), I recommend watching this video tutorial that shows you exactly how to get some of the super cool nails from the show.
17. Mix and Match Nails
Mix and match nails have been super popular lately, another example of a cute nail design that's taking 2023 by storm. You may be wondering what these nails look like. Basically, mix and match nails are just a mix of different designs on each nail, as shown on these cute press-on nails.
To get this look, you could paint your entire nail or you could just to the tips with whatever designs you like. If you want to save yourself some time, I recommend buying the press-on nails above that are already designed for you.
18. Polka Dot Nails
Polka dot nails are another very simple, easy, and cute nail design that you could do on yourself at home.
Just make sure to have at least two different nail polish colors and the right tools and you will be good to go.
You should also watch this video tutorial to see exactly how to get the look!
19. Cherry French Nails
If you adore the popular fruit nails that have been everywhere recently, you will probably also like this nail design trend, which is cherry nails!
Cherry nails are so adorable! You should definitely try them out in 2023. You can choose to do this design on short nails or even long nails as shown in this video tutorial with french tips.
20. Rainbow Nails
If you really want to add some color to your nails, I would totally recommend playing around with rainbow nails in 2023!
If you're going to DIY this at home, just make sure that you have all the nail polish colors you will need to create this look! And, watch this quick tutorial to see exactly how to do it.
21. Drip Nails
Another cool nail design that's great for the tips of your nails is drip nails.
Drip nails look super cool, especially when you use bright colors like this pretty bright pink nail polish used in this tutorial! It takes a little work to make the drips perfect, but the end result is so worth it.
22. Rhinestone Nails
If you want to add some serious sparkle to your nails in 2023, I recommend going for this ultra glam rhinestone nails design!
All you need for this nail design is a base coat and some pretty rhinestones to add to your nails. You could place them randomly around your nail, or even go for a specific design as shown in this tutorial.
Which designs from this list are your favorite?
Which ones are you excited to try? What kind of designs do you want to wear on your nails in 2023? Tell me in a comment down below.