I'll just say it: I absolutely love 1960s fashion. "But why, Marissa?", you might ask. "They gave us go-go boots and paper dresses!" you might cry. "They are responsible for tie-dyed everything!" you might wail. Or you might not. I don't know. You might be pretty chill about the whole thing.
The reason, though, is that the '60s (despite some strange style choices) made a huge impact on the fashion world. The decade marked a time of great social change and the styles reflect what was happening in the world.
Below, I'll share an overview of fashion during the 1960s and show you how to get a '60s look in a modern way. Read on to check it out!
1960s Fashion Overview
The 1960s marked a shift of power in the fashion industry. Rather than fashion designers being the only ones dictating trends, suddenly younger people had a huge amount of influence over what was or wasn't in style. This lead to the creation of styles tailored specifically for young people. Designers started attuning looks to younger generations, giving them a fashion scene all their own. Combined with this was the shift that made London rather than Paris the center of the fashion world. (For more detail on this, see our post on the History of the Miniskirt.)
Moving away from the prim, polished pastels of the '50s, men and women added more bold color to their wardrobes, women began wearing pants regularly, and all styles became increasingly diverse. Jackie Kennedy was a fashion icon of the early '60s, followed by Audrey Hepburn and Twiggy later in the decade. In the mid '60s, mods and rockers set fashion trends in London that would soon spread across the world, and designer Mary Quant raised skirts to new heights.
Finally, the late '60s gave us the beginning of the hippie movement that would carry over into the 1970s. I hope you'll forgive me for not including any hippie-chic looks this time around – I figured you might be all hippie-d out after our '70s article!
Outfits Inspired by 1960s Fashion
If you'd like to incorporate more '60s into your own style or you're interesting in seeing how many 1960s styles may already be in your wardrobe, keep reading for three '60s-inspired outfits.
Here's how the outfits work: If you're still wary of the '60s, subtle look number one is for you. If my impassioned speech for '60s fashion has won you over, take a peek at number two. And if you're here for the '60s 100% (like waaaay more than you Marissa, wow), I recommend curtain number three.
Look #1: Penny Lane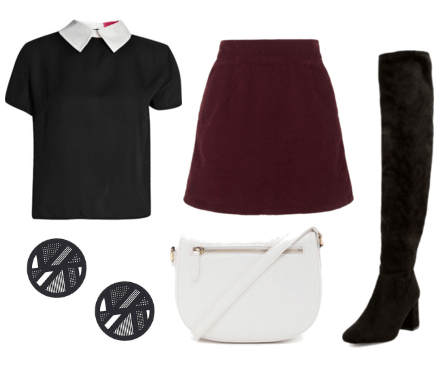 Products: Top, Skirt, Boots, Purse, Earrings
If you've never Googled '60s street fashion, I recommend you do, because there's some pretty cute stuff there, some of which inspired this look.
To start, I picked an a-line mini skirt in a slightly muted shade for some of the simplicity of the early '60s. Peter Pan Collar shirts were all the rage as well and while calf- or knee-high boots were trending back then, these block-heeled, over-the-knee boots give the look a modern twist.
A messenger bag goes well with the cute and independent vibe of the outfit, and I chose this white leather one allude to the white go-go boots that characterized space-age '60s style. Finally, these earrings gave off a low-key Lichtenstein vibe, so I included them as a tribute to the pop art styles that were so popular in the decade.
Look #2: Thoroughly Mod-ern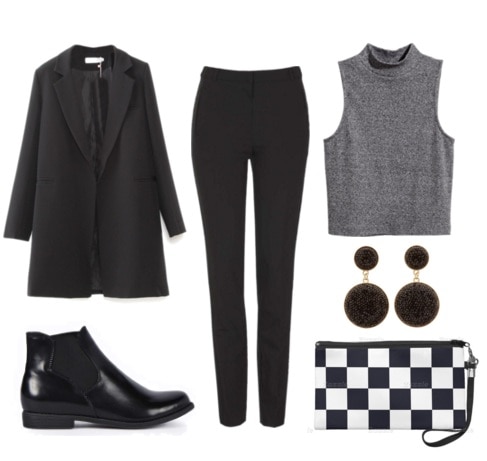 Products: Top, Pants, Jacket, Boots, Purse, Earrings
While I do love women's mod fashion, I confess that I like men's mod fashion even more and it seemed a shame to pass it over. The Modernist, or "Mod" trend was one of the first fashion trends of the decade that came from the people rather than from designers. The look originated in Britain and focused on being sharp, stylish, and individual.
For men, one couldn't be a proper Mod without a tailored suit, so start your look with cigarette trousers. While you could opt for the traditional button-down and tie – as most men and even some women did in the '60s – I substituted a simple turtleneck top. A casual, slightly oversized jacket keeps the look clean and modern. I then added Chelsea boots, which were a popular style for Mods. Lastly, a checkerboard wristlet and big circle earrings pay tribute to the bold color-block and Op art patterns of women's Mod looks.
Look #3: When Jackie Met Twiggy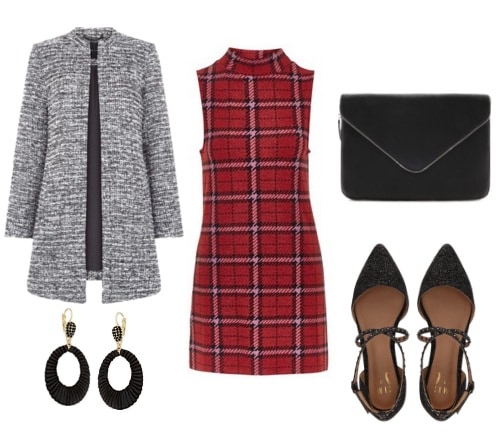 Products: Dress, Jacket, Shoes, Purse, Earrings
For this last look I wanted to mash up the classy styles worn by Jackie O. in the early '60s and the Mary Quant looks worn by Twiggy, Jean Shrimpton, and other famous models of the later '60s.
The shift dress was one of Mary Quant's biggest contributions to the era and it was a fashion staple for most women. This one features a plaid print, one of the tamer patterns worn in the '60s. The pointed toe flat is a big '60s trend that has made a comeback and these strappy ones are super cute. Next, I took a note from Jackie Kennedy with this round neck jacket and large envelope purse.
To accessorize, chose a pair of earrings that are reminiscent of the statement jewelry worn in the decade. If you want to be even more bold, you could follow Duchess Kate and bring back the pillbox hat, but I'd recommend a sleek '60s ponytail or bouffant for everyday wear.
What's your opinion on '60s fashion?
Are you planning to incorporate it into your look this year? Are there any '60s fashion trends you think I should have included? Let us know in the comments, we'd love to hear from you!