This post may contain affiliate links, which means we may receive a commission if you purchase through our links. Please
read our full disclosure here
.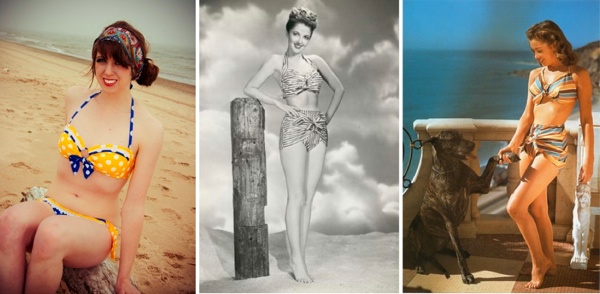 My friend Molly, actress Martha Vickers, & young Marilyn Monroe showcase retro swimsuits | Photo Credits: 1, 2
It's those last blissful weeks of summer. How are you spending them? I'm crossing a few things off my summer bucket list, including some DIY projects, tons of movie nights, and a few great afternoons at the pool in my cutest swimsuit.
We've all seen our share of less-than-attractive swimsuit trends (like these from Miami Swim fashion week in July), but one trend that I'm happy to see is the return of flirty, glamorous, and timeless swimwear from the early 20th century. Hollywood starlets and models knew what they were doing when wearing these suits, and designers are taking note. Intrigued? Keep reading to learn the history of the ever-evolving swimsuit, with a special focus on some of the more classic cuts.
History of Swimwear in the 20th Century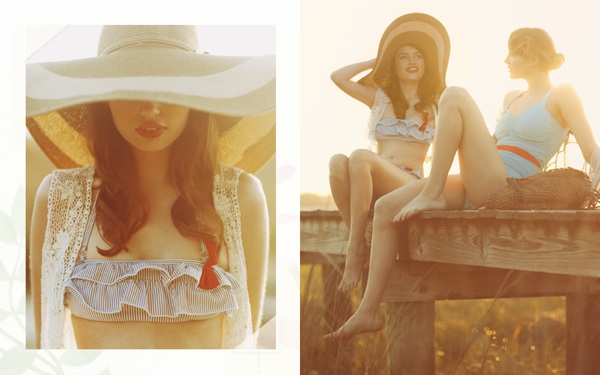 A modern take on retro-style swimwear, c/o Ruche
In the early 20th century, "bathing clothes" were just that – clothes! Swimming dresses were made of lighter fabric than traditional dresses, but they still had full skirts, and even stockings! Definitely not the most fashionable pieces, these garments were made for sitting in the sun and dipping your toes in the water…not for swimming!
Portland Knitting Company was founded by Carl Jantzen, Roy Zehntbauer, and John Zehntbauer in 1910. After producing a wool suit for a rowing team, they began offering "swimsuits" to their regular customers. A big selling point for these early suits, of course, was that you could actually swim."Jantzens" became highly popular thanks to the fit that the rib-stitched wool provided. The company officially changed its name to Jantzen Knitting Mills in 1918.
Swimwear in the 1920s had a look similar to that of a mini-dress, often referred to as a maillot. Bathing caps made from latex rubber completed the look!
By the 1930s, designers were looking for ways to improve the maillot. Elsa Schiaparelli added swimsuits to her collection in 1928, but brought them a step further when she introduced the backless maillot. The suit also featured a patented, invisible bra to enhance a woman's shape. These improvements in style and function helped cultivate the early glamour of bathing beauties.
1940s swimsuits came in both one-piece and two-piece varieties, though these forerunners of the bikini were modestly sexy. Featuring flattering sweetheart and square necklines up top paired with high-waisted shorts below, these suits were perfect for fun in the sun! Suits of this era also featured strategic cut-outs, as manufacturers had limited resources during wartime.
Glamour swimwear really took off in the 1950s and 60s. Suits were modeled by the quintessential pin-up girls, so named because these women were popular, attractive, and their images were meant to be displayed, pinned up on walls everywhere. '50s styles featured ruffles, rhinestones, lace, and other ladylike touches. In an interview with Collectors Weekly, vintage swimwear collector Pam Fierro said, "Vintage swimsuits, especially ones from the '50s, are very corset-like. They're made with boning and zippers and elastic to help accentuate your assets."
The retro-inspired swimwear we see in stores now borrows vintage silhouettes and detailing and adds current swim materials, embellishments, and fit techniques to create unique swimsuits that make us look and feel beautiful!
Why We Still Love This Trend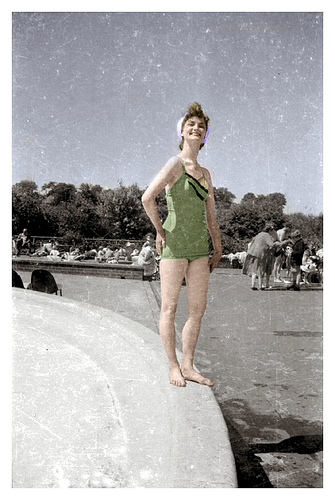 Bright colors were a swimsuit fixture even in 1950! | Photo Credit
Fill in the blank: Retro swimwear is _______. There are plenty of words we can use there, and while I can't wait to read your innovative suggestions, here are mine:
Flattering. Retro swimsuits love your body in a way that few other styles can. They were designed to show off the female form at its best, but in a subtle way. Give these silhouettes a try if you don't like to show too much skin but still want to show what you've got. It's the best of both worlds!
Feminine. Swimsuit confidence is tricky sometimes, I know, but I'm telling you, I never feel prettier for a day in the sun than when I'm wearing my retro two-piece. It combines everything I love about the clothes I already own (classic colors, ruffles, and tailored fit) and transforms them into a suit that I can't wait to wear.
Quirky. These suits are not your best friend's bikini, and I think that's what I like most about them. They're classic, but different enough that they make people look twice. Lucky for you, you look terrific, so feel free to look back!
Your Turn!
How would you fill in "Retro swimwear is ____"? Do you like this trend? Which style is your favorite? Any other trends you think deserve a feature? I'd love to hear what you think!