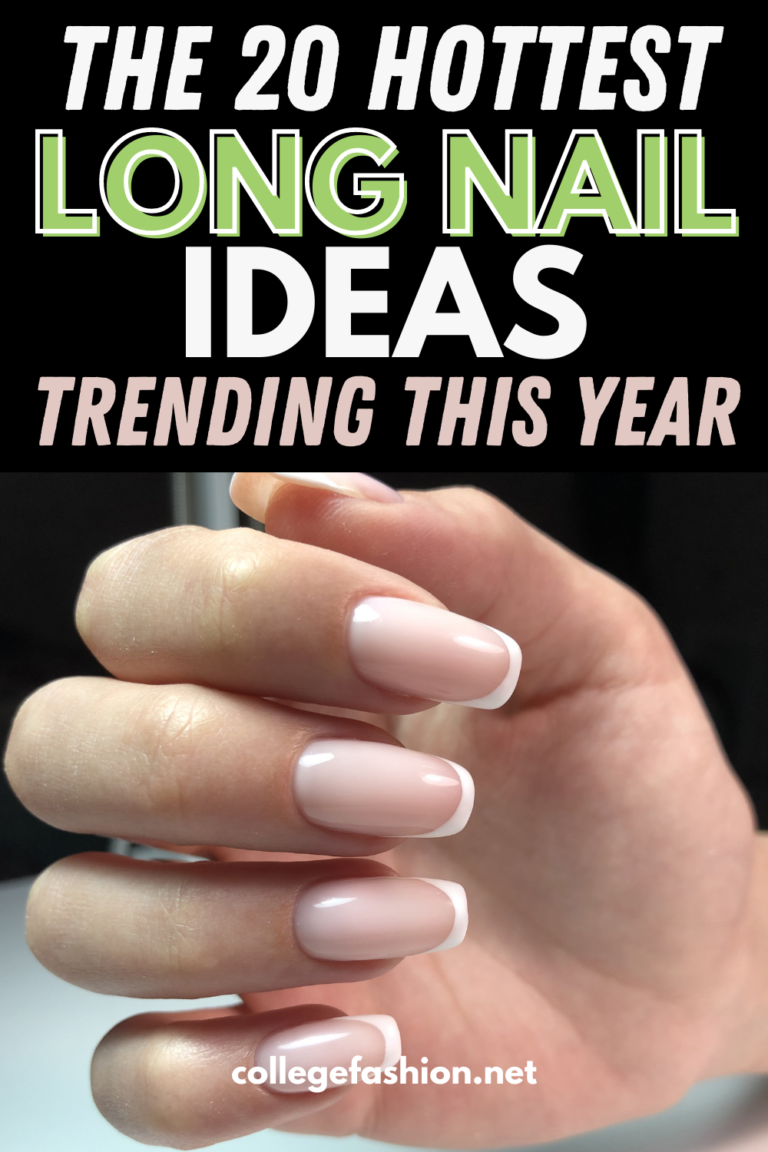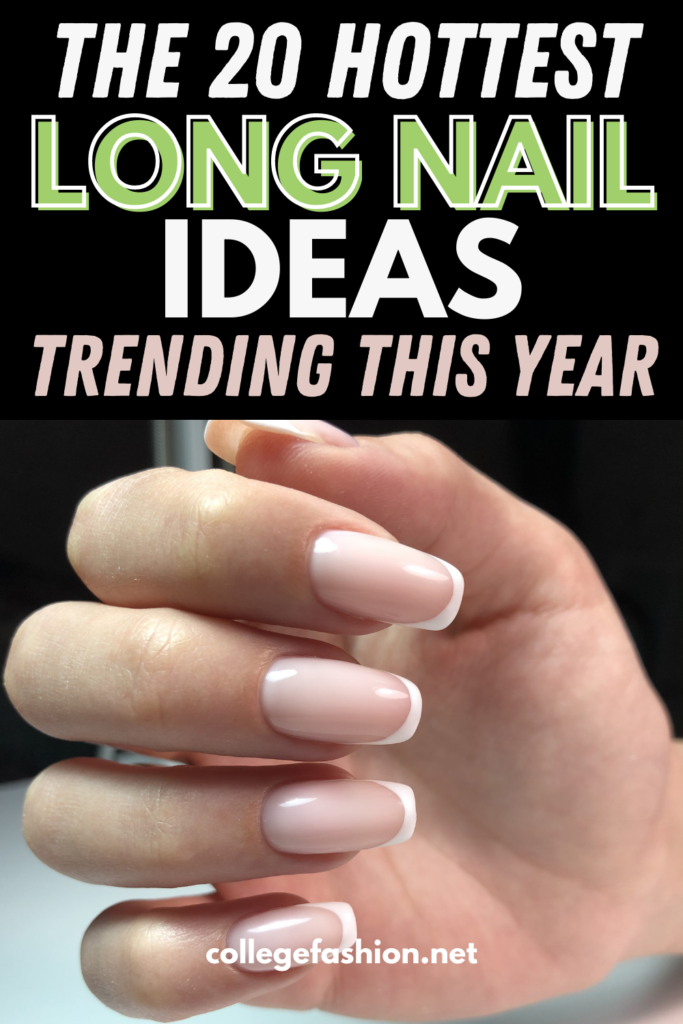 Long nails are definitely having their moment in 2023. From your favorite TikTokers to the women of Euphoria, it seems like everyone in the world is rocking long nails right now.
While I wasn't sure about this look at first, it's really grown on me. Long nails are so glam and really make me feel like I have my life together. (Plus, they make the most satisfying clicking sound when you're typing on the computer… very ASMR.)
Need some fresh nail inspo for your next long manicure? Here are the cutest long nail ideas we're dying to try this year.
Related reading: The Hottest Spring Nail Ideas That Are Seriously Trending RN
Long Acrylic Nails Designs
Black and Nude Marble Swirl Coffin Nails
The coffin shape has taken the nail world by storm these past few years, and swirl nails are huge right now too. So it only makes sense to put them together, with a twist.
How cute are these coffin nails with black and nude accents? They resemble gemstones on your nails. The perfect combo of two awesome trends.
Related reading: 20 Pretty Coffin Nail Designs You Will Love
Long Pink Stiletto Nails
For all the girly vibes, these light pink stiletto nails are simply stunning! They're feminine and sweet, yet a little edgy all at the same time.
While you could get these done as acrylics, these are actually a set of press-ons available on Etsy, so you can wear them over and over again.
Related reading: 15 Gorgeous Stiletto Nail Designs You'll Be Obsessed With
Jelly Acrylic Nails
Jelly nails were a huge trend a few years ago and they're back in cool new styles for 2023.
These coffin shaped light pink and neon jelly nails are SO pretty and eye-catching! I love the neon edges and the clear tips — so cool. The best part is, you can buy this exact set on Etsy. I'm planning to scoop these up for myself ASAP.
Unicorn Glow Nails
Just when you thought these unicorn nails couldn't get any cooler, you realize they glow in the dark! Seriously, I am in awe of the artistry that's happening here — definitely watch the tutorial to see how these are done because it's so cool.
These would be so much fun for a birthday or special occasion, or, honestly, anytime you want to add a little *magic* to your mani.
Brown Matte Cow Print Nails
Cow print nails are a super trendy idea for long nails right now, but they're particularly cool in matte brown and white, as seen above, for a bohemian feel.
I love the double accent nails because they add just the right amount of interest to this long mani. (You can buy the nails as a set here.)
Black Long Nails Design
Black Matte Long Coffin Nails
Long black nails are insanely popular for all those edgy vibes this year. If you want to be classic about it, you cannot go wrong with these long matte black coffin shaped nails.
Rock these for concerts, nights out, or anytime you want all those witchy/baddie vibes.
Related reading: 12 Baddie Nail Ideas You'll Be Obsessed With
Yin Yang Black and White Nails with Flame Accent
As we discussed in our post on the best pink nail ideas, yin yang nails are one of the biggest trends for 2023 thanks to the return of everything '90s and 2000s.
I particularly like this set of press-ons that features a yin-yang nail alongside black and white french nails, star nails, and flame nails. It's such a cool mani that you'll want to wear again and again.
Related post: 15 Gorgeous Black and White Nail Designs for Those Cool Girl Vibes
Black Starry Haze Night Sky Nails
For all the celestial vibes, you need to try this black "starry haze" night sky mani!
While this nail idea could work on shorter nails, long nails really allow the beautiful design to shine. And while these are definitely whimsical, the black makes them neutral enough to wear every day. The perfect unexpected manicure choice.
Chic Black Abstract Nails
Want to look like "that girl" who has her life completely together? It does not get more "cool girl" than these black and nude almond-shaped long nails.
While ultra-long nails aren't usually work appropriate, a neutral mani like this would be acceptable in most casual workplaces. And you're sure to get tons of compliments wherever you go. I can't get over how beautiful these are!
Long Black Nails with Glitter
For when you want your mani to give "sophisticated glam," opt for these black and matte glitter long coffin nails. I love that the glitter is applied to matte polish for an almost sugary appearance.
These nails are chic, they're neutral, and they're still super sparkly — what could be better?
White Long Nails
Classic French Long Nails with Rhinestone Detailing
The classic long pink and white french mani is all over Tiktok and I think it looks the best on coffin-shaped nails like these.
Got an event coming up? Can't decide what nails to get? This mani is an easy go-to that will never let you down. It looks beautiful for any scenario thanks to its classic appeal.
Related reading: Cute and Trendy French Tip Nail Designs to Try This Year
Nude Nails with White Swirls
Here's another take on the popular swirl nails look, this time with long nude nails covered in white swirls. (Buy the set of press-ons here.)
I think this might be my favorite long nail idea of all the ones on this list! It's glam, it's cool, it's minimal, it's feminine, and it's modern. Plus, it will work for absolutely any event you have coming up, from weddings to parties to vacations.
Long Nude and White Outline Nails
Outline nails are another huge trend in manicures this season. These nails come in every color under the sun and are so much fun to play with. (I love them in black as well.)
These pink and white outline nails are simple and beautiful. They look extra amazing in a long length, too!
Milky White Marble Nails with Gold
These milky white marble nails are so unique and expensive-looking. With the addition of some gold accents in varying shapes, this is one glam yet subtle mani.
The best part is, these nails are affordable press-ons, so it will only look like you spent a ton on them.
Related reading: The 15 Prettiest Marble Nail Designs You Have to Try
Simple & Classic Long White Nails
Finally, you can't go wrong with a crisp white mani all year round. I especially love it paired with a summer tan!
These long white coffin nails are simply beautiful, perfect for getting those "clean girl" vibes we're seeing all over TikTok. You could also add nail stickers if you wanted to spice them up a little more — so many possibilities.
Long Ombre Nails
Nude Glitter Ombre Accent Nail
Ombre nails are one of the most popular styles we're seeing on long nails this year, so it's only right that they got their own section of this post. It wouldn't be a list of long nail ideas without them!
I had to kick it off with this beautiful mani, featuring a nude glitter ombre accent nail as well as rhinestones. This long nail idea gives me Britney Spears "Toxic" bodysuit vibes and I'm not mad about it.
White and Pink Cloud Ombre Nails
These white and pink cloud ombre nails are so dreamy!
I love cloud nails as a trend in general but the addition of an ombre background brings this long manicure over the top. It looks like a beautiful sunset and I can't stop staring. One of the prettiest ideas on this list for sure.
Light Blue Matte Long Nails with Butterflies
Butterfly nails are going to be everywhere this year (remember what I said about the return of the 2000s) and butterfly graphics look great atop these light blue and white ombre long nails.
Pick up the full set of press-ons on Amazon and you'll have on-trend nails you can re-wear over and over.
Long Sparkly Ombre Coffin Nails
Here's another one of my favorite long nail ideas on this list. These absolutely stunning ombre sparkle coffin nails use a horizontal ombre instead of a vertical that creates a gradient of color across your whole hand.
I honestly can't believe these are press-ons! They look seamless and professionally done. 10/10 amazing.
Pink and White Ombre Nails
Last but not least, we have this beautiful set of hot pink to white ombre coffin nails. I've definitely been seeing gradient nails like these a lot more lately and they're really easy to DIY on your natural nails.
However, if you want long gradient nails, a set of press-ons in a long coffin shape like this is perfect, and they come pre-polished so you just have to apply them and go. So easy and so cute!
What's your favorite way to wear long nails? Any ideas we missed?
What do you think of the long nails trend? Do you prefer short nails or long nails? Which of these long nails ideas would you want to try?
Tell me what you think in the comments section down below.