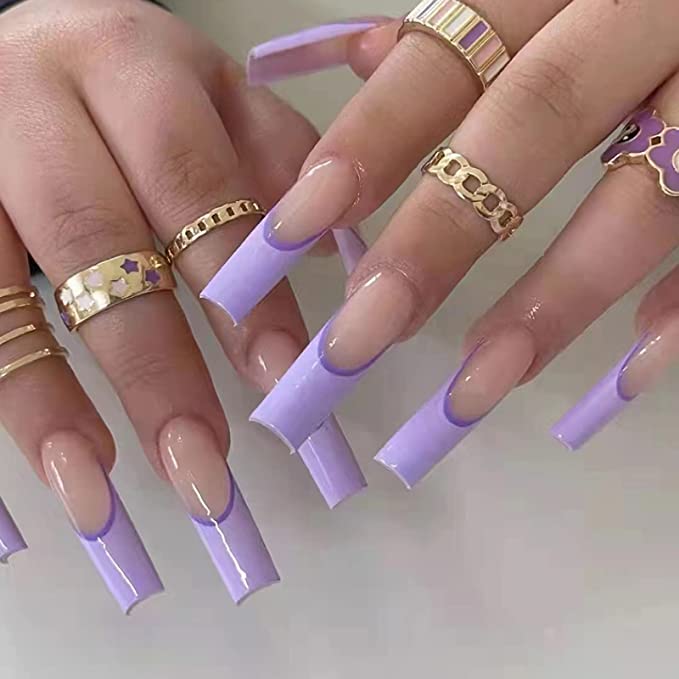 Baddie nails are very trendy right now. But what exactly does that mean anyway?
Today I'm breaking it down. This post will tell you precisely what you need to know to get a baddie nail look that you will be obsessed with.
In essence, baddie nails are nails that go with the "baddie" aesthetic. (See our guide to baddie outfits for full details.) The baddie look blends streetwear and sporty styles with sexy details, plus flawless makeup and nails.
Now, if you are wondering what kind of nail designs qualify as baddie, you should be thinking of French nails, using pretty colors like pink, and adding some sparkle to your nails. (Also, longer nails are generally more "baddie" but you can also do short baddie nails.)
If you want to give the baddie vibe a try, check out this list of 12 baddie nail ideas for all types of nails.
Long Baddie Nails
1. Pink Nail Art
If you want a baddie nail idea that uses some pretty colors and has some sparkle to it, I recommend trying out this look.
For this look, you will have a pretty light pink color as your base and will be doing some sparkly French tips with some pretty designs added to them.
You can even add some flowers to this nail look, as shown in this video tutorial.
2. Designer Nails
Another trendy baddie nail idea is designer nails. Designer nails are when you recreate designer symbols in your nail designs.
For example, this look is an excellent example of a designer nail look that will give you baddie nail vibes. (What baddie doesn't love Louis Vuitton?)
For this kind of look, you can choose to do your whole nail or just the tips of your nails, as shown in this video!
3. V-Shaped French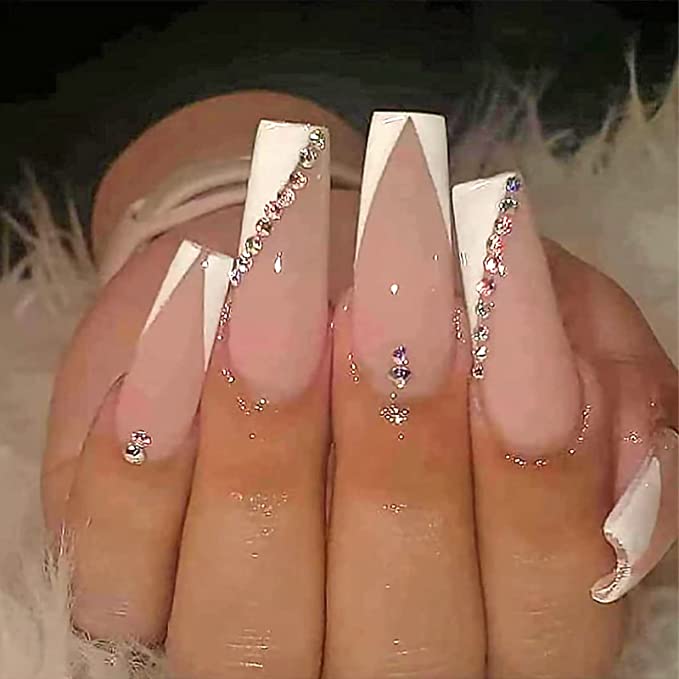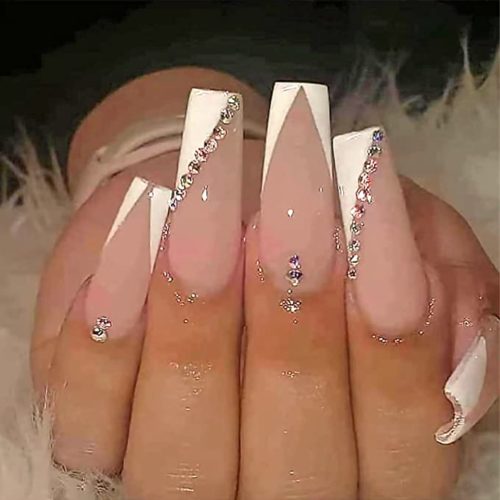 Another beautiful baddie nail look that I love for longer nails is this v-shaped French look.
V-shaped French nails look great on longer nails or acrylic nails, and this kind of look will definitely give you all those baddie vibes.
If you want to achieve a look like this, don't worry because to make your life a lot easier, you can purchase these press-on nails to get this look in no time!
4. Nail Tip Designs
Another popular and trendy nail design that will give you a baddie nail look is nail tip art.
What's great about nail tip art is you can do whatever kind of designs that you want. For this look, you will want to add French tips to your nails, then create the designs that you like on each of your nails. (Here, they did a Pisces zodiac symbol, cow print, a yin-yang, and a smiley face.)
What I love about this kind of look is that you can get very creative with what designs you do. It's a great way to express your personality through your nails.
Short Baddie Nails
5. Rhinestone Designs
If you have short nails and want a baddie nail look, don't worry because there are also many different kinds of baddie nail ideas for shorter nails. For example, this rhinestone nail design might be precisely what you want.
This is a simple baddie nail design for short nails that you can do easily at home.
All you need to do for this look is choose a pretty base color like this gorgeous pink shade shown in this video tutorial. Then, you add some sparkly rhinestones to the bottom of your nails to finish off the look.
6. French Tip Designs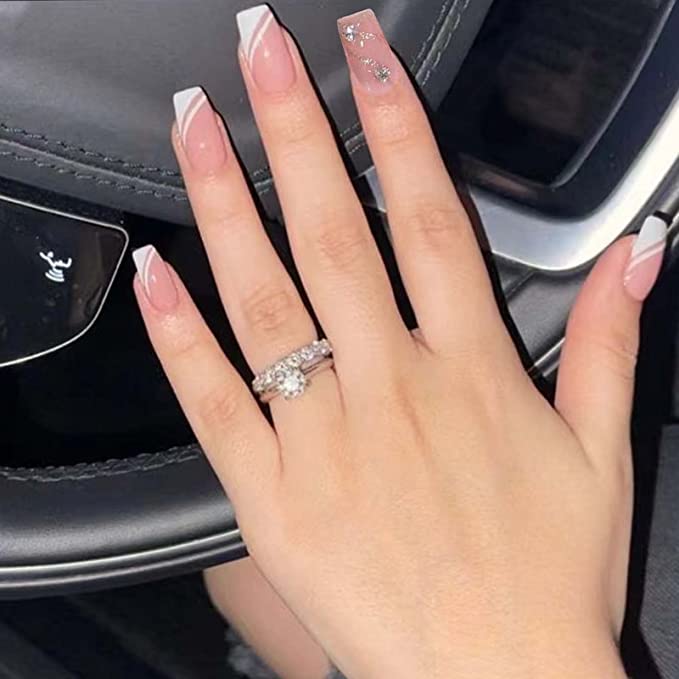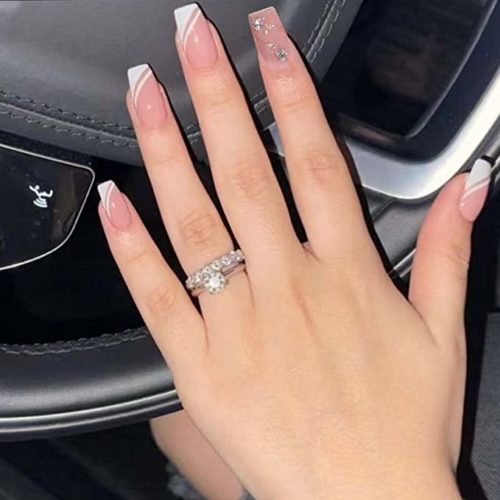 If you don't want to do the classic French tip-style nails, don't worry because you can try out some other cool designs that are similar to French nails.
For example, these press-on nails will give you a baddie nail look with a cool striped French-tip design and some added sparkle! This is one of my favorite baddie nail ideas because it's so classic yet a little unexpected.
7. Colorful French Tips
Another great baddie nail idea for short nails is colorful French tips! Colorful French tips look gorgeous on shorter nails and will make your baddie nail look stand out. They're also great for vacation or summer.
If you are going to do colorful French tips for your next nail look, I recommend doing these skinny French tips!
If you have never tried out skinny French nails before, I recommend watching this video tutorial to see exactly how to get the look.
8. Ombre Nails
Another super pretty nail look for those who are going for baddie nails is ombre nails! I am sure you have seen the ombre nail look before because it has been around for a while now.
If you love doing ombre nails or want to try it out, I recommend trying out this look that adds some fun sparkle and French tips to the manicure. Just watch this video tutorial to see how to achieve this look at home!
Simple Baddie Nails
9. Minimalistic Designs
If you want to try out baddie nails but you want to go for a more simple look, you totally can! Being a baddie is about having your nails done and looking flawless.
You don't have to visit the salon to be a baddie. Just master a simple art nail design or two and do your nails at home.
Just check out this video tutorial to see a couple of examples of some simple baddie nail designs you can do at home.
10. Light Colored Nails
Another simple nail look that will give your nails baddie vibes is just painting your nails with a light color, as shown in this video! (Pro tip: This gives off the most "baddie" vibes if you pair it with a square or stiletto-shaped short nail.)
This simple nail look is very trendy and will give you a look that you will love, and that is easy to do at home.
11. French Tip Nails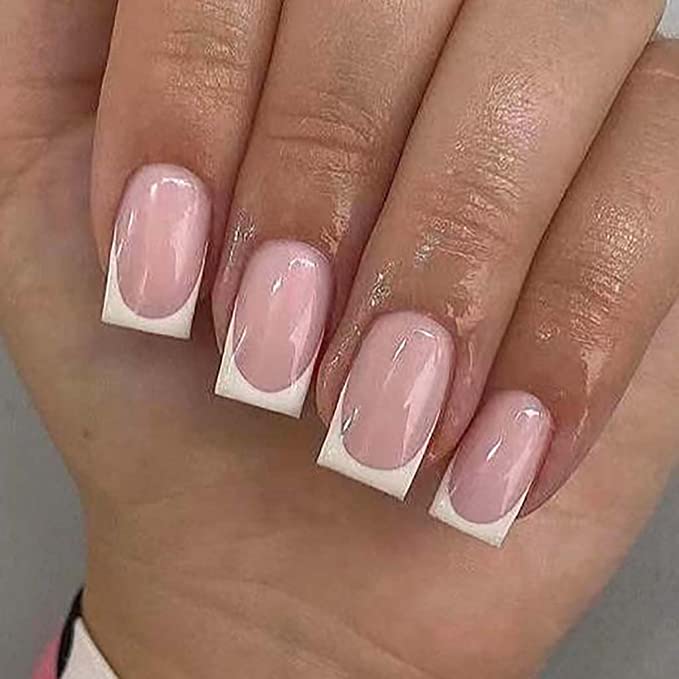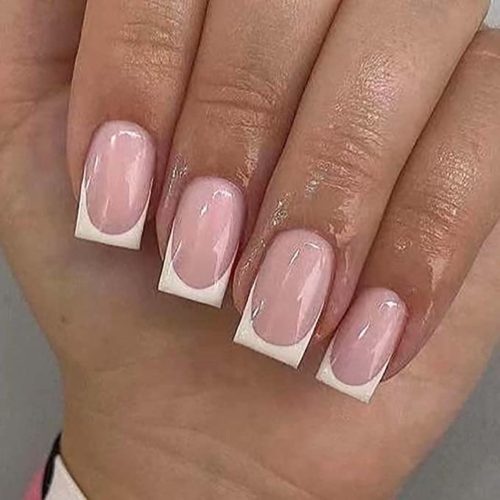 Classic french tips nails are another example of a simple nail look that will give you baddie nail vibes. For this look, you could go for whatever type of French nails you like. Try it in a square shape for that baddie feel.
12. Glitter French Tip Nails
Glitter French tips are another way to get a baddie nail look. For this look, you will be doing French nails but adding some sparkle to the tips, as shown in this video.
Also, with this look, you could even add a little bit of color to your French tips by doing some light pink French tips with some added sparkle.
Which baddie nail ideas from this list are your favorite?
What type of baddie nails will you be trying? Do you prefer long or short baddie nails?