This article will show you six incredibly cute vacation outfits for 2023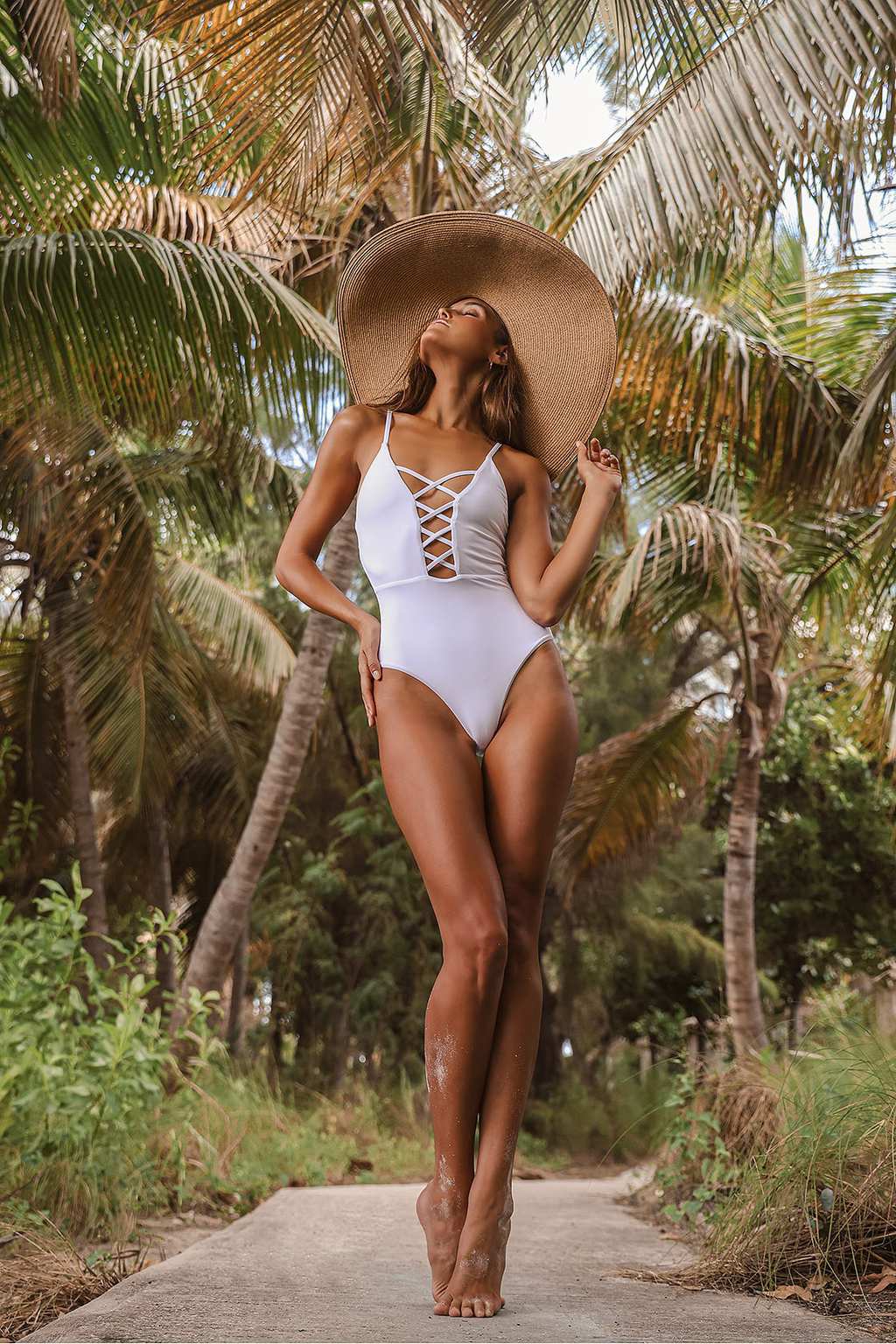 The weather is getting warmer for a lot of us, which means you may be going on a vacation sometime soon! A great part about going on vacation is not having to worry about any responsibilities and being able to enjoy your time relaxing.
One thing you may not want to have to stress about on your vacation is what you are going to wear! Picking out vacation outfits can definitely be difficult because there are so many cute clothes to choose from.
If you want to look super cute and trendy, don't worry because this post will show you six vacation outfits for 2023 that will make packing a breeze!
Related reading: 5 Extremely Cute Bikini Outfits You'll Wear All Summer Long
1. Casual Look Vacation Outfit #1
A big trend in fashion right now is the front tie, or front knot cropped top. What's great about this trend is that this will look great as part of a casual look for your vacation!
You can take this cute white-front knotted crop top with you to pair with some shorts and sandals to make an almost effortless vacation outfit for 2023.
If you are looking for some shorts to pair with this top, purchase these super cute beige linen shorts. This will make your outfit look a little bit trendier and more unique than just wearing a regular pair of jean shorts.
Also, you may have seen this recent shoe trend, lace-up sandals. These will look great with this outfit, and you can wear them all summer long with just about everything.
If you also want to add some trendy accessories to this vacation outfit, go for this gold layered necklace to spice it up.
While on vacation, you may need a cute everyday purse to go with your outfits, so you should also consider purchasing this adorable beach-inspired bag that will definitely be able to hold all your belongings.
2. Super Cute Vacation Outfit for Instagram-Worthy Pics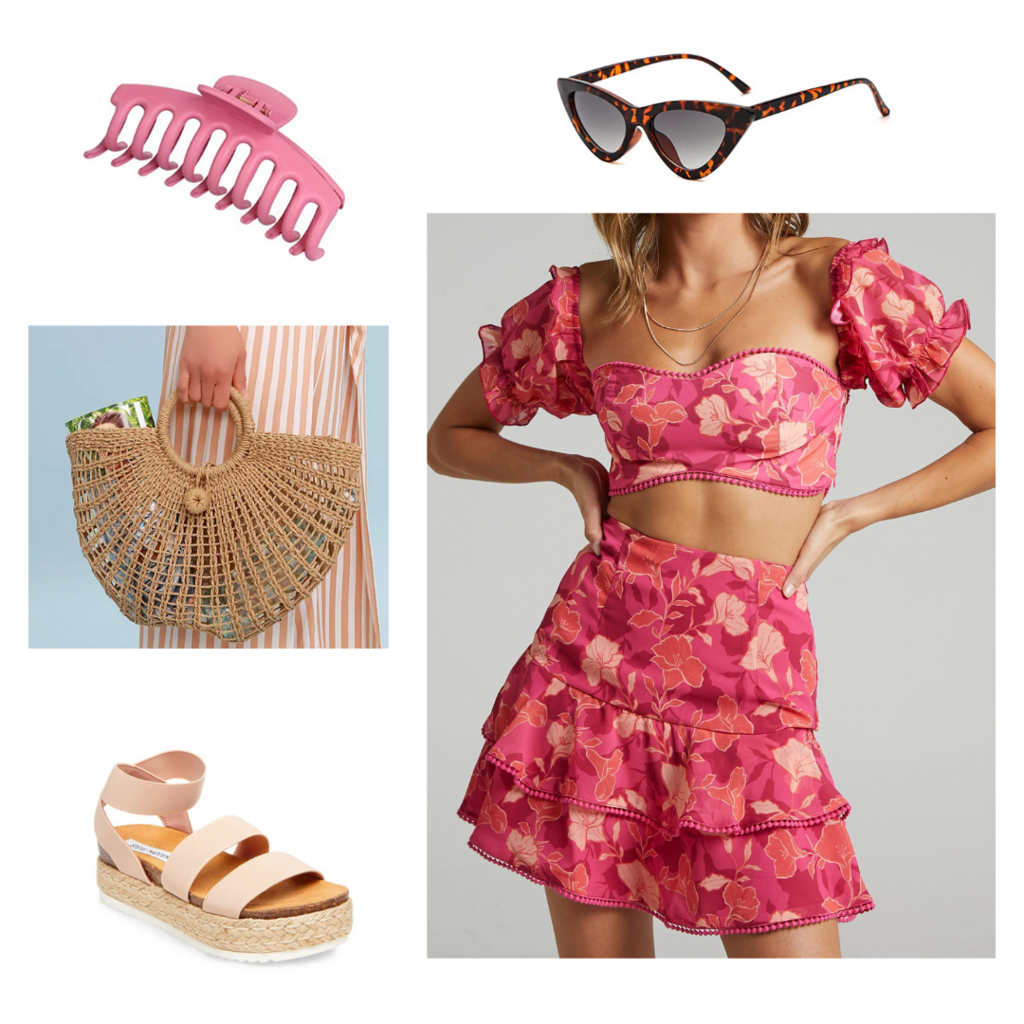 Products:
If you are going somewhere fun during the day while on vacation, you may want a super cute outfit that will stand out and look amazing in all of your Instagram pics. If this is what you are looking for, this one will definitely do the trick!
This outfit includes an adorable two-piece set that has an off-the-shoulder crop top and matching skirt with a beautiful pink floral design to get you in the vacation mood.
Also, you can pair this outfit with these trendy neutral sandals with rope detailing. I love that these are platforms, so they won't hurt your feet like heels would.
If you want to add some accessories to go with this outfit, I recommend scooping up these trendy retro cat-eye sunglasses immediately. These will be perfect if you are going to be outside all day. You can also add this trendy pink claw clip if you want to create a cute hair look that's very 2023 (these are trending everywhere).
You may also want a cute purse to go with this outfit, but something a little bit more stylish so I would go for this cute tan woven tote bag.
3. Effortlessly Chic Beach Outfit with a One-Piece Swimsuit
If you are going to be near the beach all the time while on vacation, you may want to wear your swimsuit during the day to make it easier to lay out in the sun or go right from lunch to the water.
For outfits like this, I prefer to opt for a one-piece bathing suit that's comfortable for wearing around all day long. This bathing suit will definitely do the trick because it looks just like a bodysuit! You will adore this bathing suit because it is not only trendy with the criss-cross design in the front, but also it comes in this pretty teal blue color.
To make it even easier for yourself, you can pair this outfit with these cute shorts and black slip-on sandals — so simple and comfortable.
Finally, add some cute beachy accessories to this outfit, like these trendy gold anklets and a beach hat.
4. Trendy Y2K Inspired Beach Outfit with a Cute Bikini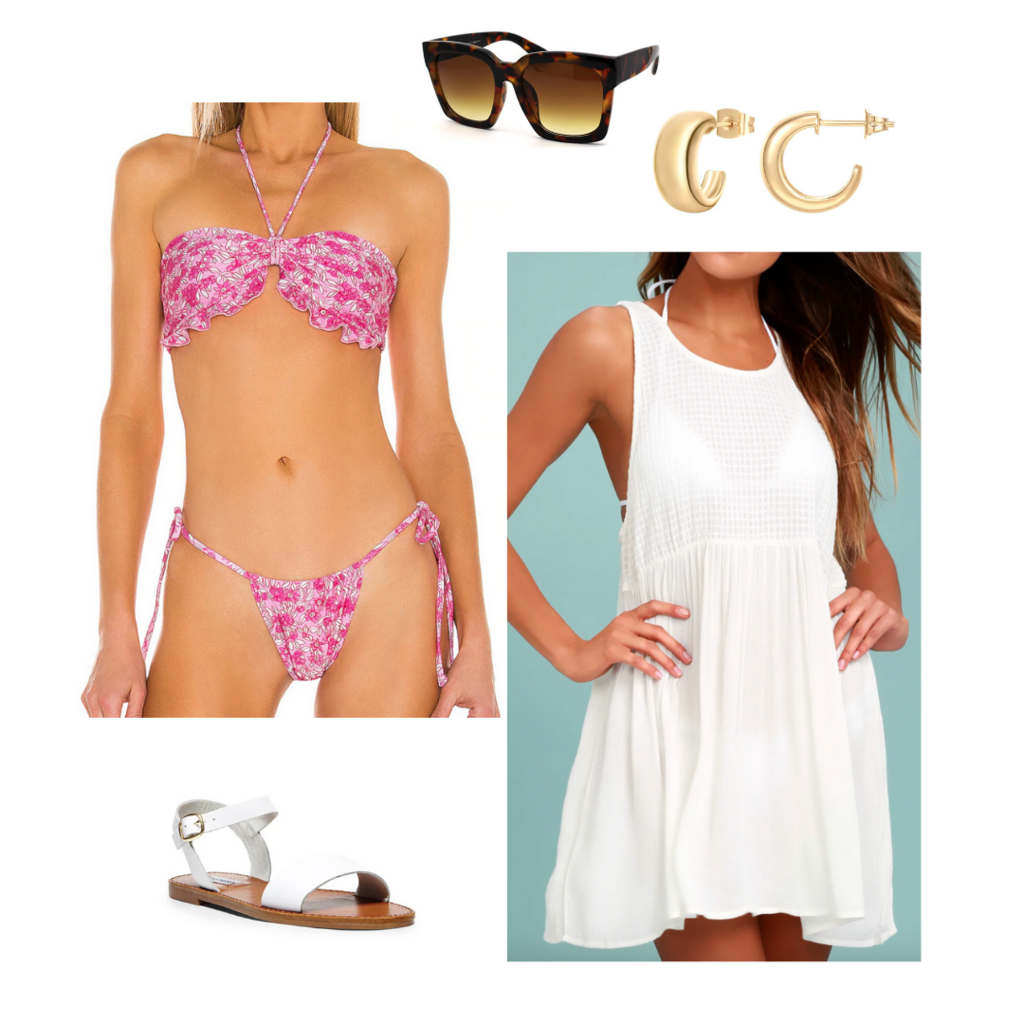 Products:
For those of us who will not be leaving the beach while on vacation, you will definitely need a super cute outfit for laying on the beach!
A recent trend in fashion is y2k inspired clothing, and swimsuits are no exception! If you are looking for a trendy y2k inspired swimsuit, you can't do better than this super cute bikini. This swimsuit's design and pink color will make you look trendy even while on the beach, and Frankie's Bikinis is a brand known for its quality.
You may want also to have a cover-up that you can throw on whenever you need it — I love this white cover-up in particular. This piece is super easy to throw on at any time, and you can also pair it with some white sandals like these to match.
If you want to look even trendier, add some accessories like these oversized thick sunglasses, which are back in style, and these adorable thick gold hoops.
5. Comfy and Stylish Nighttime Vacation Outfit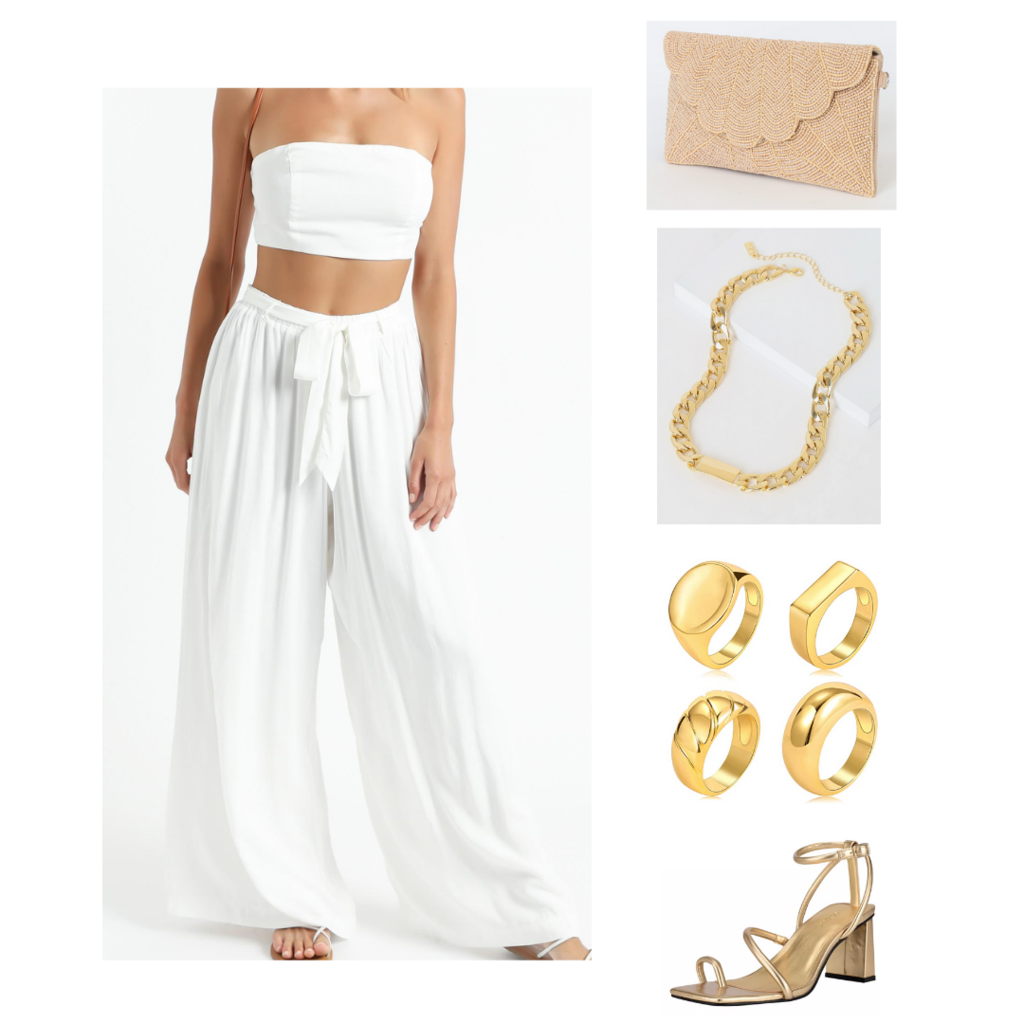 Products:
If you are going out to dinner while on vacation or going somewhere at night, you will need to have some cute nighttime vacation outfits as well.
If you are looking for a comfy but also stylish outfit to wear, this two-piece set is perfection.
It comes with a strapless cropped top and matching white flowy pants that will make you also look like a fashionista because matching sets are incredibly trendy right now.
To spice up this outfit, you can pair it with this adorable beaded clutch and trendy gold heels to make it even fancier.
I also love the look of chunky gold jewelry with simple sets like these — in particular, grab some cute accessories like this trendy gold chain choker necklace and this gold chunky ring set to match.
6. Stylish and Comfortable Maxi Dress for a Fancy Vacation Look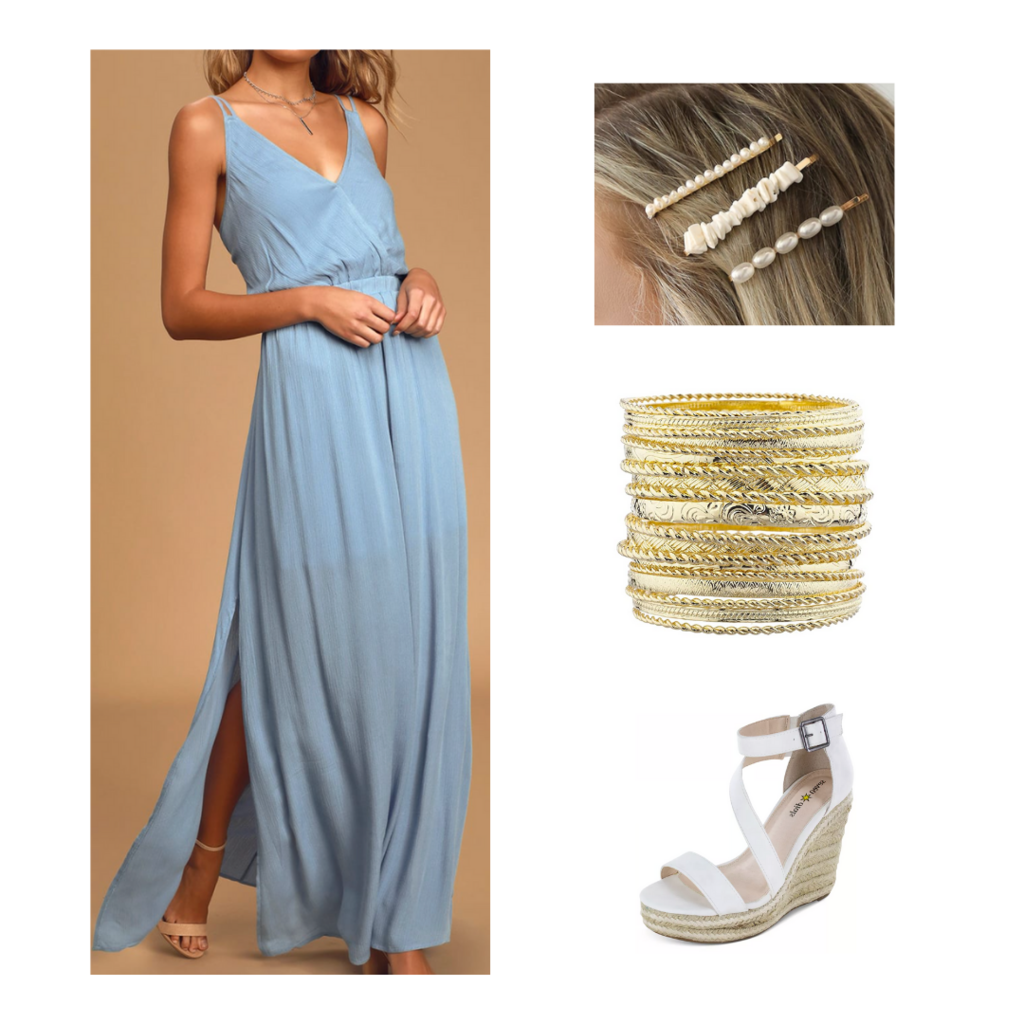 Products:
If you are looking for an outfit that is on the fancier side for your vacation, a maxi dress is a fantastic option. These dresses look fancy while being insanely comfortable and easy to throw on after a day at the beach.
Looking for a super cute maxi dress for your vacation? This beautiful blue maxi dress is a gorgeous choice — it's affordable, on-trend, and comes with a slit in the front and sheer material. (It would also make a great wedding guest dress after your vacation is over.)
This piece will work perfectly if you want a fancier look while on vacation and it is super easy to style into an outfit. All you have to do is add some cute trendy wedge sandals like these white ones, and you will be good to go.
You can also add some more to the outfit with these cute pearl hair barrettes and this gold bangle bracelet set.
What do you think of our vacation outfits 2023 guide?
What outfits are you going to wear on your vacation this year? Which of these outfits are you most excited to wear? Where will you be going on vacation?
If you love these vacation outfit ideas, you might also want to read our related posts below —