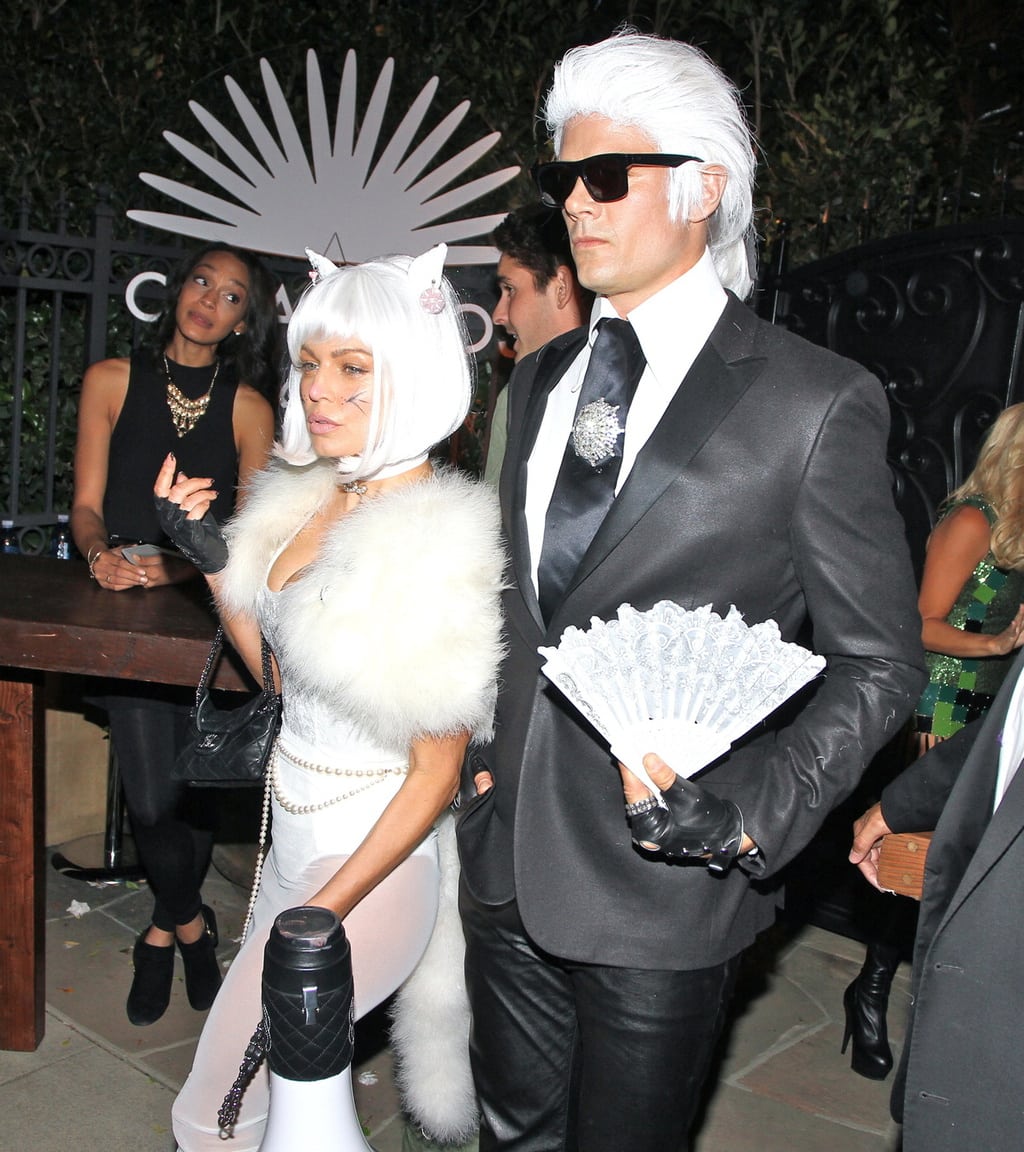 At every Halloween party, there's always that one obnoxious couple. In addition to being sloppy drunk, they're also wearing a barely-there couples' costume (like Adam and Eve, or Pharaoh and a sexy Cleopatra) and going WAY overboard on the PDA. Ladies, let's all let out a collective eye roll/groan/head shake in their honor.
Then, there are the couples costumes that are just awkward and silly. I'm talking about the Bert/Ernie, Ketchup/Mustard, and Lock/Key duos we've all unfortunately seen, then immediately celebrated our single status after.
Lastly, there are the couples costume ideas that are adorable, but are impossible to convince your S/O to do. I can't tell you how many occasions I've suggested that my boyfriend and I dress up at Beauty and the Beast, but he pretty much points and laughs at me every time.
That being said, one of the fun perks of having a significant other is having a built-in, automatic partner to dress up with during Halloween.
For this post, I collected 15 totally non-cheesy and un-obnoxious couple Halloween costume ideas. This way, you can look cute and funny with your significant other, but still come off as cool and approachable at fall festivities. And of course, although many of these ideas feature heterosexual couples, all of these costumes are great options for same-sex couples, or for you and your BFF!
Let's jump right in!
1. Mario and Luigi
If you're quirky and looking for a funny costume, Mario and Luigi would make a great one!
The hardest part about this costume would be finding red and green floppy billed hats. However, I've seen several people wear regular style red and green baseball hats with construction paper "M"s and "L"s pinned to them and they look awesome as well.
Apart from the hat, wear overalls, a red or green shirt, and white gloves, then draw on a thick mustache to complete the costume.
Products:
2. Richie and Margot Tenenbaum
Wes Anderson films are popular with college kids for good reason and if you and your partner are film buffs, this Royal Tenenbaums-inspired costume will be a ton of fun.
For Margot Tenenbaum, rock a striped dress, a fur coat, and thick black eyeliner, and carry around a candy cigarette. Decent-looking blonde bobs can be found at costume shops for around $25. Wrap bandages around your finger to imitate Margot's wooden prosthetic.
For Richie Tenenbaum you'll need a real or drawn-on beard, plus a sweatband, aviator sunglasses, tan blazer, polo shirt, and, of course, a tennis racket to carry around all night.
Products:
Also Read: 13 College Halloween Costume Ideas for Girls on a Budget
3. Brad and Janet from Rocky Horror Picture Show
For any of you theater geeks, Brad and Janet would be a crazy fun Halloween ensemble — especially if you can talk your boo into catching a midnight showing of Rocky Horror Picture Show!
For Janet, wear a girly pink dress, stockings, Mary-Janes, and a cardigan. Put barrettes in your hair and carry a floppy sun hat.
For Brad's costume, you'll need a pair of khaki pants, a dress shirt, a bow tie, a jacket, and a thick pair of black framed glasses. It's a simple costume, so if your significant other isn't keen on dressing up, it might be an easy sell.
Products:
4. Juno and Paulie Bleaker
This movie came out years ago, but I consider it a modern classic! These easy-to-recognize costumes will get a lot of attention at parties because it's such a beloved film.
Juno will need to wear a red hoodie, a striped shirt, skinny jeans, and a short pleated skirt worn over your jeans. Stuff a salad bowl in your stomach, and finish with your hair in a ponytail. Bonus points for carrying around a jug of Sunny D or finding a hamburger phone.
Paulie's costume requires a maroon shirt, short yellow gym shorts, tall socks, sneakers, and a sweatband. Carry around orange Tic-Tacs, too!
Products:
Also Read: 29 Easy Halloween Costumes From Clothes You Already Own
5. Seinfeld (or Kramer) and Elaine
I'm pretty sure this is what me and my boyfriend are going to dress up as this year for Halloween. It's quirky, recognizable, and arms you with plenty of one liners and conversation starters to last you the entire night!
For Elaine, wear a floral dress or a skirt and blouse, then layer on an oversized cardigan or a boxy boyfriend blazer. Wear fold-down lace socks as well as clunky Pilgrim-esque shoes. Lastly, curl and frizz your hair, then pin it half up half down.
For Seinfeld, wear stiff light-washed jeans, clean white tennis shoes, a turtleneck, and a windbreaker or a blazer. For Kramer, wear a short-sleeved patterned button down shirt, a tan jacket, tan pants and loafers. Be sure to make your hair stick out and look wild with plenty of hairspray and a crimp iron!
Products:
6. Tobias and Lindsay Fünke
Who doesn't love Arrested Development? At this point, everyone around has seen this show. Now that the characters are pretty mainstream, dressing as Tobias and Lindsay would be a hilarious choice for Halloween!
For Tobias, you'll need a pair of cut-off jean shorts, a button-down top, a bald cap, and a drawn-on or real mustache. To make it even funnier, paint your partner's face blue.
Lindsay will need a blonde wig, a very fitted outfit, and big sunglasses.
If you're doing this with your boyfriend, you could alternatively dress up as Tobias and have your boyfriend be Lindsay if he's bold enough to rock something so silly!
Products:
Also Read: 13 Black Dress Halloween Costume Ideas
7. Vincent Vega and Mia Wallace
This costume is popular for a reason — Pulp Fiction is one of the coolest films ever, plus the only thing you really need to buy for the costume is a black bob wig and a bolo tie!
Mia's costume (aside from the hair) just needs a pair of black capris, a men's white button down dress shirt, and black flats.
For Vincent, have your sweetie wear a black suit, a white dress shirt, and the aforementioned bolo tie. The ponytail probably isn't necessary… I'm sure slicked-back hair will do the trick.
Carry around a trophy all night, and spontaneously break out into the twist!
Products:
8. Popeye and Olive Oyl
Your partner will love dressing up as Popeye — fake tattoos, a corncob pipe, and a sailor hat are nothing short of fun to rock. Complete the Popeye costume with a navy blue shirt, a red scarf, and jeans or white pants. Don't forget to carry around a can of spinach!
For Olive Oyl, wear a red sweater with a white shirt with a Peter Pan collar layered under it. Add a navy or black scarf, tan heels, and wear your hair in a bun.
Products:
Also Read: 4 Easy, Last-Minute Group Halloween Costumes – College Fashion
9. Clark Kent and Lois Lane
Superman and Lois Lane is a classic couples costume for a reason — every man loves to dress up as a superhero and every girl loves to dress up as a smart and sexy professional.
For Superman's costume, find a Superman t-shirt and wear it under a half-buttoned white dress shirt and a loose tie. Add khaki pants and thick black-framed glasses. Use pomade to mold your beau's hair into something sleek!
Lois's costume needs a business suit (preferably with a skirt), tall pumps, a feminine blouse, and sleek glasses. Pull your hair into a french twist and carry around a microphone.
Products:
10. Katniss and Peeta
The Hunger Games is now a classic movie franchise and it's easy to channel the two main characters for a costume. Dressing up as Katniss Everdeen and Peeta Mellark would be easy and comfortable, plus it will keep you warm if you're doing a lot of bar hopping or are at an outdoor party.
Both characters need khaki cargo pants, a black t-shirt, boots, and an anorak. Braid your hair down one side, then pick up toy bow and arrows from a costume shop and have your Peeta carry a sword. Smudge dirt and/or fake blood on your clothes and face for extra authenticity.
Products:
Also Read: 3 Subtle Halloween Outfits for October
11. Hugh Hefner and a Playboy Bunny
If you're in the mood to wear something sexy this Halloween, this is could be the costume for you!
For Hugh Hefner's costume, find a red or navy robe and pair it with a captain's hat, silky pajama pants, and a smoking pipe. (You could also go for zombie Hugh Hefner, back from the dead with a little zombie makeup.) For the bunny, wear your sexiest form-fitting dress, bunny ears, killer heels, and a bow tie.
Alternatively, if you're going with your boyfriend, it would be hilarious for you and him to flip-flop, and you wear the robe/hat and have him squeeze into a dress with bunny ears!
Products:
12. Duck Dynasty
If you have camouflage clothes lying around and aren't afraid to wear a fake beard, a Duck Dynasty costume could be a very current and funny choice for you and your significant other.
If you don't have any camouflage clothes, they can easily be found at the army surplus store, a hunting department store, or a thrift shop. But for the most versatility, I recommend checking out your local Forever 21 for a pair of camo pants or a printed jacket. This way, you'll be able to wear it again as a fashion statement!
Add an elastic beard from the costume shop as well as either a bandanna around you head, a black beanie, or a baseball cap, then call it a day!
Products:
Also Read: 4 Halloween-Inspired Nail Colors
13. The Fresh Prince and Carlton Banks
What makes this costume funny and recognizable is the huge contrast between Will and Carlton's style and demeanor.
Whoever is dressing up as Will Smith should wear a loud and colorful sweater, overalls, flashy sneakers, a neon colored hat, and/or a windbreaker. For more ideas, check out our post on the Fresh Prince's style.
For Carlton, wear a pastel button-down dress shirt, and either an argyle sweater vest or a cardigan. Add khaki pants and a pair of loafers. Alternatively, you could wear a polo shirt, and tie a sweater or cardigan around your shoulders.
Products:
14. R and Julie from Warm Bodies
If your significant other wants to dress scary, but it's not really your thing, dressing as the two main characters from Warm Bodies could be the perfect compromise.
Julie's costume just needs a pair of jeans, combat boots, a girly camisole, and a utility jacket or a military-inspired parka. Smudge brown on your face and carry around a fake rifle if you want.
R just needs to wear jeans, a t-shirt, sneakers, and a red hoodie, but the make-up for this look will be crucial is distinguishing who you are. Grayish-white face make up and charcoal smudged around your eyes should do the trick for looking like a zombie (for something less expensive, you could always use flour or cornstarch as face powder!). Bonus points for fake blood around your mouth.
Products:
Also Read: 5 Easy DIY Costume Ideas for Halloween
15. Walter White and Jesse Pinkman
Every guy, his dog, and their mother has seen Breaking Bad. Convincing your beau to dress up as Walt or Jesse will be an easy sell for certain. Sure, a Hazmat suit and goggles would make an obvious costume, but I think it would be more interesting and funny to dress up in Walt and Jesse's street looks for this costume.
For Walt, the pork pie hat and mustache/beard are crucial for defining who you are. Add a button-down green shirt, and khaki pants or white underwear/short-shorts if you dare.
As for Jesse, be sure to wear baggy jeans, skate shoes, an oversized hoodie, and a tough-looking beanie. Also, make sure to say classic Pinkman catchphrases all night! (MAGNETS!)
Products:
What Do You Think?
Do you like any of these costume ideas? What have you and your significant other dressed up as before? Do you have any other good ideas to share with other CF girls? What are the most groan-worthy couples costume that you've ever seen before?
If this article gives value to you, consider the related posts below;
Leave a comment and share your thoughts!