By now, you've probably heard the buzz surrounding Suzanne Collins's popular young adult trilogy The HungerGames. With the first movie adaptation coming out in a little over two weeks (March 23rd!), it's prime time for a Geek Chic post about fashion inspired by Panem!
The Hunger Games is an addictive blend of dystopian horror novel, action thriller, makeover show, star-crossed romance, and Project Runway. For a YA book, it's surprisingly heavy stuff, with a ton of graphic violence and implied social commentary. The movie adaptation stars Jennifer Lawrence, Josh Hutcherson, and Liam Hemsworth as romantic triangle members Katniss, Peeta, and Gale.
The books deliver more than just a gripping, thought-provoking story: Not since The Little House on the Prairie has a series contained quite so many descriptions of food and fashion. Ever since I first read The Hunger Games books over a year ago, I've been absolutely dying to see how Collins's incredibly detailed imagery will be interpreted onscreen. As a staunch book-to-movie-accuracy advocate, I'm hoping the costumes will be as close to her descriptions as possible. (Still upset about Hermione's Yule Ball robes — they were supposed to be periwinkle, not pink!)
For more book/movie fashion, check out previous Geek Chic posts: Doctor Who-inspired fashion Part 1, Doctor Who-inspired fashion Part 2, The Lord of the Rings-inspired fashion, The Big Bang Theory-inspired fashion, and Star Trek-inspired fashion.
Know Your Geek: About The Hunger Games
The series takes place in a post-apocalyptic future where North America, now called Panem, has been divided into the Capitol, located somewhere near the rocky mountains, and twelve outlying districts.
To keep the population from rebelling, the Capitol dictatorship holds an annual event called the Hunger Games, in which two tributes, one girl and one boy from ages 12-18, are randomly chosen from each district. These tributes must fight in a specially crafted arena until only one remains; every moment of the games is televised to serve as a reminder to the residents of Panem that the Capitol controls them and their children. More horrifyingly, the Games have evolved into a sadistic form of entertainment for the Capitol.
Katniss Everdeen, the 16-year-old protagonist, volunteers as tribute when her 12-year-old sister Prim is chosen to go the Games. With her anger at the unjust system and a fierce determination to beat the odds, she unwittingly sets in motion an avalanche of rebellion.
Suzanne Collins was inspired to write the books while channel-surfing: On one channel was graphic footage of the Iraq War; on another was a reality makeover program. This jarring juxtaposition, along with the Greek myth of Theseus and the Minotaur, sparked the creation of The Hunger Games.
The sequels, Catching Fire and Mockingjay, explore the consequences of rebellion against a totalitarian government.
Outfits Inspired by The Hunger Games
Whether you're seeking a show-stopping midnight premiere ensemble or an everyday outfit for attending lectures, you'll find it in these looks inspired by Katniss's journey. Happy Hunger Games, and may the odds be ever in your favor!
District 12
Katniss grows up in District 12, the smallest and poorest district, which is responsible for coal mining. She and her friend Gale Hawthorne must hunt illegally in the nearby woods to obtain enough food to feed their starving families. Although Peeta Mellark, the baker's son, lives in a more affluent area of town, he doesn't live a life of luxury either. For the most part, the people of District 12 are resilient and loyal to one another.
After her father's death in the coal mines, Katniss becomes the sole breadwinner in the Everdeen family due to her mother's extreme depression. Katniss does everything she can to ensure the safety of her mother and her kind-hearted younger sister, Primrose.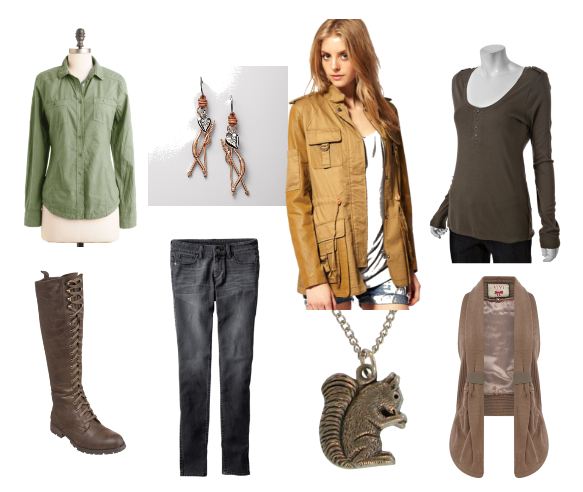 Product Information: Jacket, Shirt, Henley, Vest, Jeans, Boots, Earrings, Necklace
Although you probably won't be hunting or evading Capitol Peacekeepers anytime soon, you can channel Katniss's rugged spirit with a utilitarian parka and gray jeans. Layer a cargo shirt over a brown thermal henley; for extra warmth, slip on a cozy knitted vest.
Accessorize with lace-up, knee-high boots for some of that District 12 toughness and add bow and arrow earrings to represent Katniss's archery skills.   Finally, a squirrel pendant references the woodland prey that keeps Katniss's family alive.
The Reaping
Compared to other districts, 12 doesn't have the best track record in the Hunger Games. Haymitch Abernathy, a surly drunk, is the only living victor from 12.  Since it essentially spells certain death for two of the district's children, nobody's particularly thrilled to attend the reaping. Nevertheless, the townspeople must put on a good show for the Capitol broadcasters, so they all wear their best clothing to the ceremony, which is hosted yearly by Effie Trinket, the Capitol escort for District 12.
Older children have a higher probability of being chosen, since more entries are garnered with each year of age; poorer children are also at a disadvantage because food rations can be exchanged for additional entries.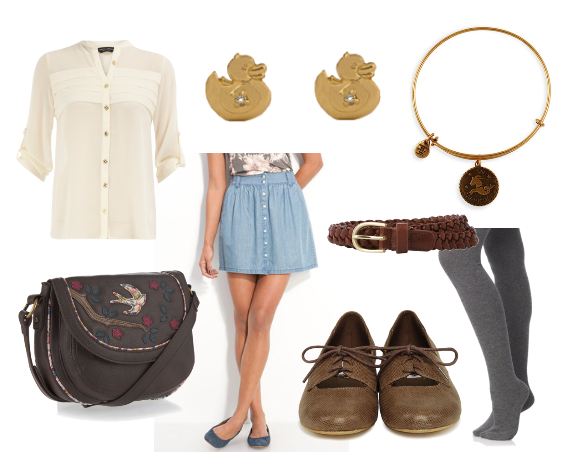 Product Information: Blouse, Skirt, Tights, Shoes, Belt, Bag, Earrings, Bracelet
Muted grays and blues dominate the District 12 reaping apparel. A pleated blouse and chambray skirt are a simple but pretty combination; a woven leather belt, gray tights and Mary Jane flats add to the feminine look.
Though only Effie Trinket actually enjoys the reaping, you can inject some fun into the outfit with your accessories: The bracelet recalls Prim's pet goat, Lady, who also provides a minor source of income to the Everdeen family. Carry your belongings in a tooled leather bag emblazoned with a soaring bird. (We'll say it's a mockingjay.) Finally, for those of you who have read the books, the cute duck earrings reference the moment when Katniss decides to volunteer in the place of her sister.
Denizens of the Capitol
The wealthiest and most powerful citizens of Panem reside in the Capitol. In stark contrast to the impoverished districts, the Capitol is a veritable hive of debauchery, gluttony, and materialism. To Katniss, the Capitol citizens' behaviors and appearances are equally outlandish.
Capitol citizens gorge themselves on rich foods and then take vomiting pills so they can feast again. In the name of fashion, Capitol residents do everything from implanting jewels in their faces to covering their bodies in ornate tattoos to dying their skin. Effie Trinket and Caesar Flickerman, the television interviewer for the Games, are perfect examples of the ostentatious styles that dominate the Capitol.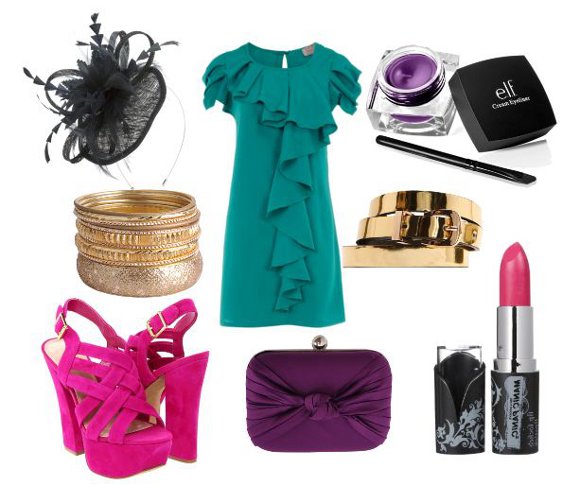 Product Information: Dress, Heels, Fascinator, Belt, Bangles, Clutch, Lipstick, Eyeliner
While you certainly don't have to go to the extremes that they do, Capitol-inspired outfits will definitely speak to you if you're a glitz and glamor kind of girl.  Effie Trinket's attire is all about making a statement with volume and color, so this frilly turquoise dress definitely fits the bill. Hot pink is a great complement to teal, so slip on a towering pair of strappy platforms and swipe on bold lipstick in that shade.
If you're still feeling the aftereffects of Kate Middleton mania, this is the perfect time to try out a fascinator. (Effie would love this feathered confection!) Add even more pizzazz with gleaming bangles and a metallic belt.  Finally, tuck a purple clutch under your arm and apply a smoky eye in a similar hue.
If the overall look is too over-the-top for your taste, swap out one or two of the statement pieces for neutral-toned items.
The Girl Who Was On Fire
Once the tributes arrive at the Capitol, they are assigned stylists and given head-to-toe makeovers before being presented on nationwide television. The better a tribute looks on camera, the higher his or her chances of sponsorship. Katniss's stylist is Cinna, a soft-spoken and surprisingly compassionate design genius.
During the opening ceremony, Katniss and Peeta must represent the coal-mining industry of District 12; they are dressed in black unitards that burst into synthetic flame as they are paraded through the city. For the televised interview with Caesar Flickerman, Katniss wears a shimmering gown that gives off the impression that she's engulfed in flames.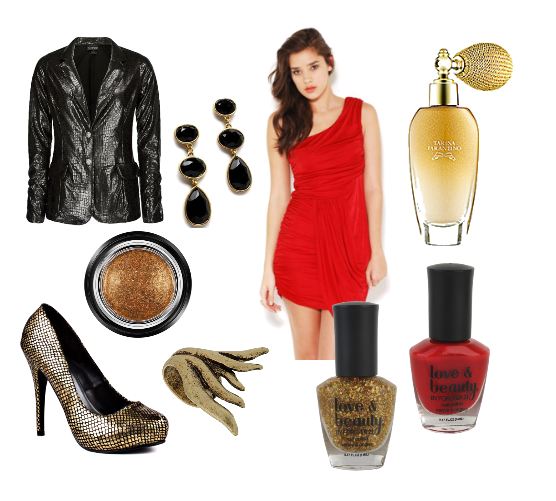 Product Information: Jacket, Dress, Shoes, Ring, Earrings, Gold Polish, Red Polish, Eyeshadow, Shimmer Powder
When Katniss first sees herself after Cinna and his team work their magic, she remarks: "I am not pretty. I am not beautiful. I am as radiant as the sun." You can capture Katniss's fiery look with an outfit that contains elements from both the opening ceremony costume and the interview gown. The snake-print jacket is surprisingly similar to the coal unitard; this draped one-shoulder frock is just as pretty but slightly less formal than Katniss's floor-length dress.
Onyx earrings evoke the coal of District 12 and a burnished ring adds even more fire details to the outfit. A pair of metallic heels adds another hit of sparkle. Layer gold glitter polish over a red basecoat for a flame-like nail design. Apply bronze eyeshadow for dramatic eyes, then finish it all off with a mist of golden body powder. The Capitol crowd will go wild!
Training for the Arena
Before they are sent into the arena, tributes attend training sessions not only to prepare themselves for the Games but also to give Capitol viewers ideas on whom they should be placing their bets and corporate sponsorships. After the training period, each tribute meets privately with the Gamemakers to show off their skills. A good score typically ensures support from the Capitol.
After her temper flares up, Katniss's session with the Gamemakers doesn't go quite as she planned. To her surprise, she earns an unprecedented high score.
Product Information: Jacket, Hoodie, Shirt, Leggings, Sneakers, Boots, Bracelet, Earrings
Super dorky confession: When I'm at the gym, I push myself to work harder by pretending that I'm a tribute preparing for the Games. (Silly as it sounds, I swear it works!) Plus, if you look cute during a workout, you're more likely to stay motivated! With that in mind, this sleek outfit, inspired by the training uniform, is perfect for hitting the gym.
Pair a wine-colored shirt with cool shoulder cutouts with a sleeveless hoodie and a streamlined athletic jacket. Smaller jewelry, like this arrow bracelet and apple earrings, won't get in the way of your workout. (Plus, they reference a certain stunt that Katniss pulls off during her session with the Gamemakers!) This outfit is polished enough to wear to class; just swap in black jeans and buckled ankle boots for the leggings and sneakers.
Let the 74th Annual Hunger Games Begin!
The Gamemakers' job is to create an arena full of vicious challenges designed to pit the tributes against one another. After all, the more bloodshed and gore, the greater the entertainment for the Capitol. Watching the tributes slowly die of starvation or cold is no fun for these sadistic viewers, so the tributes are given uniforms conducive to wilderness survival.
The book describes the outfit as "simple tawny pants, light green blouse, sturdy brown belt, and thin, hooded black jacket"; the movie version is almost the same, but with a black shirt and green pants.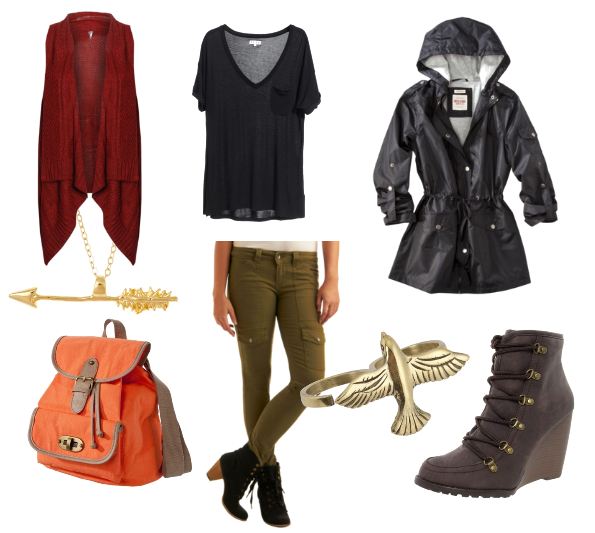 Product Information: Anorak, Shirt, Vest, Pants, Boots, Ring, Necklace, Backpack
In the arena, everyone is dressed in the same uniform. Nevertheless, you'll stand out in this outfit inspired by the tributes' apparel. The black anorak will protect you against the elements, while a burgundy vest, which matches the lining of the jackets, will provide additional warmth. Hiking boots with a wedge look rugged without sacrificing style.
For good luck, put on a bronze bird ring to represent the mockingjay pin that Katniss wears into the arena. The delicate arrow necklace references the archery skills that keep her alive. While Katniss totes around precious food, water, and weapons in her orange backpack, you can carry your school essentials in this cute canvas one. As a final touch, plait your hair into Katniss's signature braid. (Here's a great video tutorial.)
Bonus look: Inspired by Safe And Sound
I'll admit I was skeptical when I first heard that country-pop princess Taylor Swift would be featured on the movie soundtrack, but once I watched the Safe and Sound video, my doubts totally dissipated. The song, which also features folk duo The Civil Wars, is ethereal and haunting, and the music video, filmed in a cemetery and forest in Tennessee, definitely captures the spirit of The Hunger Games.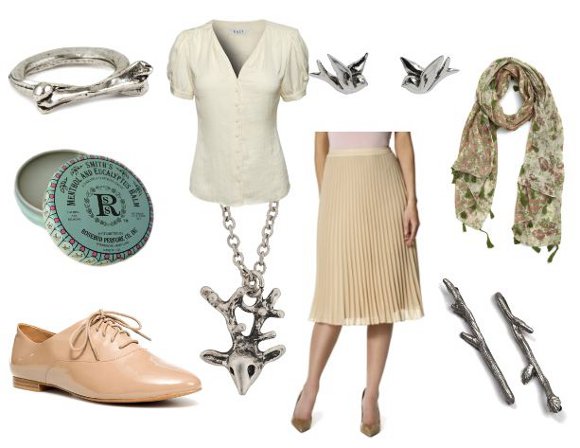 Product information: Blouse, Skirt, Scarf, Shoes, Earrings, Ring, Hairpins, Necklace, Lip balm
In the music video, Taylor wears a one-of-a-kind 1920s vintage gown, but you can emulate the romantic look with an ivory cap-sleeved blouse and pleated midi skirt. Neutral oxfords and a muted floral scarf add to the outfit's old-fashioned appeal. Accessorize with delicate jewelry: Bird earrings, twig hairpins, and a deer necklace evoke the mist-enshrouded forest, while a morbid but pretty bone ring references the cemetery setting.
Taylor's relatively makeup-free look in the video was a surprising but welcome departure from her usual cat-eye liner and bold lipstick. Skip the heavy foundation and dab on some lip salve from a vintage-inspired tin for a pretty, au naturel visage. Let your hair air-dry for a wavy texture; if you've got straight hair, spritz in some wave spray or texturizer.
What do you think?
Would you wear these looks? Have you read The Hunger Games trilogy? Are you going to the midnight premiere and will you dress up? Who sets your heart afire — Gale or Peeta? And what other inspiration posts would you like to see? (I've got a not-so-bad feeling that we'll next travel a long time ago to a galaxy far far away.) Let me know in the comments, and may the odds be ever in your favor!