No column called Geek Chic would be complete without an inspiration post on The Big Bang Theory, which is practically television's love letter to the geek world. It's a show that manages to simultaneously mock and celebrate the enthusiastic obsessions that define geekiness. What more could a girl ask for?
Before we begin, I just want to reiterate that my goal is not to recreate costumes but to interpret the characters' styles into wearable looks for college girls. The Big Bang Theory characters wear quirky "real-life" clothes; for more futuristic fashion, check out the previous Geek Chic posts on Star Trek-inspired looksandDoctor Who-inspired looks.
Know Your Geek: About The Big Bang Theory
The CBS sitcom, which first aired in 2007, revolves around the lives of four socially awkward Caltech scientists and Penny, the pretty girl who lives next door. It quickly became hugely popular and was TV's highest-rated comedy during its 4th season.
Much of the show's humor comes from the contrast between the guys' nerdy, intellectual antics and Penny's street smarts and common sense. For instance, while Sheldon can name hundreds of Star Trek factoids off the top of his head and solve quantum mechanics problems in his sleep, he can't name a single Britney Spears song.
Outfits Inspired by The Big Bang Theory
Math, science, history, unraveling the mystery, and it all started with a big bang! You may not be able to make sense of string theory (though perhaps that's just me), but you can definitely make a statement with these Big Bang Theory-inspired looks. Bazinga!
Sheldon
Dr. Sheldon Cooper, played by Jim Parsons, is highly idiosyncratic, arrogant, paranoid, germaphobic, and altogether insufferable, but his lack of social graces is paired with a beyond-genius intelligence level. He started college after 5th grade, earned his Ph.D at sixteen, and loves reminding others of his intellectual superiority. Despite his super-advanced mind, he can be extremely childish when it comes to getting his way. Aside from science, his passions include comic books, video games, sci-fi and fantasy, and paintball. Above all, he worships Star Trek, considering it tantamount to religion.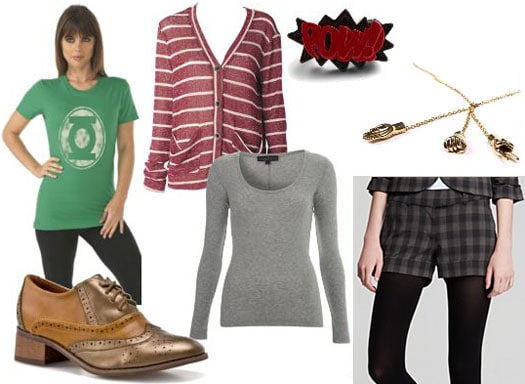 Product information: Cardigan, T-shirt, Shirt, Shoes, Shorts, Necklace, Ring
Sheldon doesn't care much about fashion, but he's pretty consistent in his love of graphic tees and plaid anything. Layer a long-sleeved shirt under a Green Lantern tee (or one with the superhero of your choice) and top it off with a slouchy striped cardigan. Luckily, pattern mixing is hot right now, though Sheldon would probably be horrified if he knew about his unintentional trendiness!
Unless you're feeling daring, full-on plaid pants might be a bit too much; instead, wear a cute pair of plaid wool shorts with tights. Finally, add fun oxfords and some quirky extras like this comic book-inspired ring and charm necklace, a reference to "Rock, Paper, Scissors, Lizard, Spock," Sheldon's new and improved version of the game.
Leonard
Dr. Leonard Hofstadter, played by Johnny Galecki, is Sheldon's long-suffering roommate and colleague. Although he's also a theoretical physicist and comic-book/sci-fi/fantasy enthusiast, he yearns for normalcy and a stable love life. Leonard finds Sheldon's public antics incredibly embarrassing and he's often left to clean up the messes that his roommate creates. He and Penny have had an on-and-off-again relationship through the course of the show.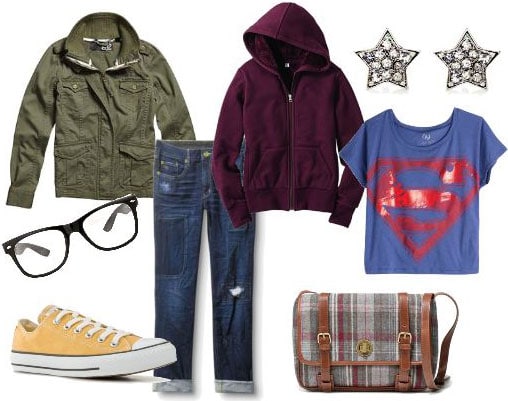 Product Information: Jacket, Hoodie, Shirt, Jeans, Shoes, Earrings, Bag, Glasses
Leonard's style reflects his desire to fit in: Unlike his crazily clad colleagues, he tries to keep his clothing low-key. He typically pairs a graphic tee with a hoodie, cargo jacket, and Converse sneakers. (This seems to be the de facto outfit of most TV hipster-nerds.) This ensemble is quite similar to his, but with a slightly more feminine flair.
Since the pieces are simple, have some fun with the color palette: Here, sunny yellow sneakers provide a nice contrast to an otherwise cool-toned outfit. Although Leonard's t-shirts are usually physics-related, I chose this top as a reference to his Superman boxers.  Complete your Leonard-inspired look with a tartan messenger bag, thick-rimmed glasses, and sparkly star earrings.
Penny
Penny, played by Kaley Cuoco, is the quintessential girl next door. (Though, if you want to get technical, she actually lives across the hallway.) She's an aspiring actress/screenwriter, but waitresses at The Cheesecake Factory to make ends meet. Penny is often baffled by the guys' behavior and geeky passions, but embraces their eccentricities. Likewise, the guys — especially Sheldon — often turn to her when they need advice about "the real world."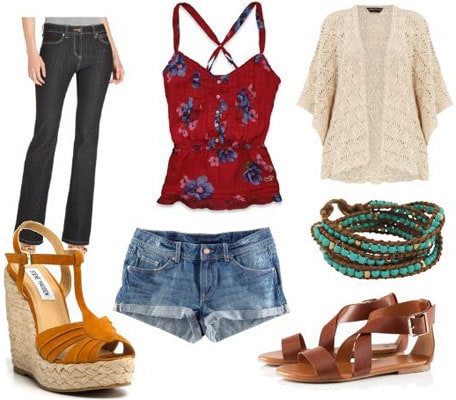 Product Information: Top, Cardigan, Jeans, Wedges, Shorts, Sandals, Bracelet
Although she hails from Nebraska, Penny has the beach-babe look down pat. As a native of Southern California, where denim cut-offs and Rainbow sandals reign supreme, I find her look cute but not particularly innovative. Still, though, you can't go wrong with her easy and breezy style.
Penny wears lots of casual denim and bright florals. For daytime, pair this cheery blouse and soft cardigan with short-shorts and flat sandals; switch to dark bootcut jeans and fun wedges for a girl's night out.
Howard
Howard Wolowitz, played by Simon Helberg, is an aerospace engineer and the only guy in the group who doesn't have a Ph.D; to Howard's chagrin, Sheldon never tires of reminding him of this fact. Howard still lives with his overbearing mom but fancies himself quite the ladies man, even though his verging-on-creepy advances are usually rebuffed. Eventually, he finds lasting love with Bernadette after they bond over having overprotective mothers.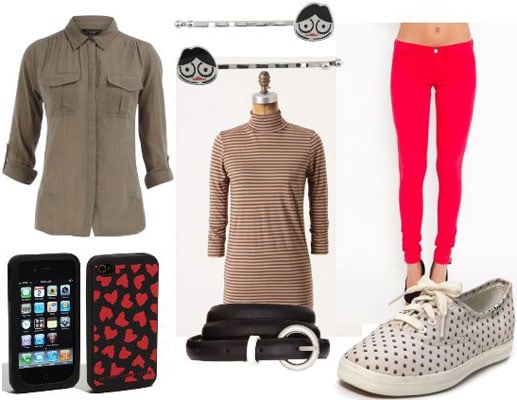 Product Information: Shirt, Turtleneck, Jeans, Belt, Shoes, Bobby pins, iPhone case
Howard loves his colored jeans, plaid shirts, and loud belt buckles, but his signature clothing item is definitely the turtleneck. Wear a layered turtleneck and utility shirt in neutral colors to let the bright jeans take center stage; subtle stripes and polka-dotted shoes add a dose of whimsy.
You probably don't want to wear a Nintendo controller on your waist (but more power to ya if you do), so skip the crazy belt buckle and show your quirkiness with some adorable bobby pins instead. Finally, Howard always has amorous intentions on his mind, so wear your heart(s) on your iPhone case. (Apologies, sleeve.)
Raj
Dr. Rajesh Koothrapalli, played by Kunal Nayyar, is an astrophysicist and Howard's best friend. He's originally from India, where he lived in luxury with his wealthy family. Despite his comparatively meager lifestyle in California, he loves American food and pop culture and is terrified of being deported. Raj is extremely shy and incapable of talking to women when he's sober. One sip of alcohol, though, and he loses all inhibitions.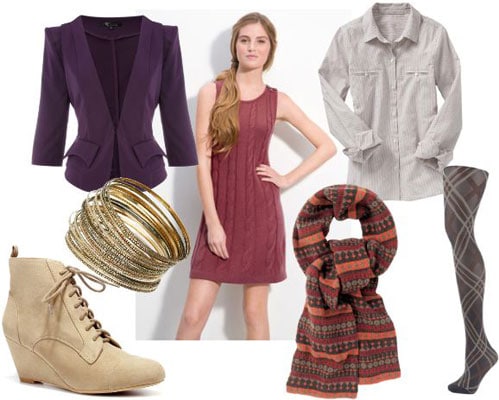 Product Information: Blazer, Shirt, Sweaterdress, Tights,Shoes, Scarf, Bangles
Raj has a weakness for psychedelic patterns and an impressive collection of sweater vests. (Seriously, he gives Neville Longbottom a run for his money). Since all the spring clothes are starting to hit stores, I had trouble finding a cute sweater vest, so I picked a sleeveless sweater dress instead. Layer it over a subtly striped blouse for a preppy look; a polished blazer is a step up from Raj's favorite purple track jacket.
Channel Raj's love for print-mixing but limit the color palette to avoid visual overload; for instance, this Fair-Isle scarf is tonally similar to the dress and the argyle tights are a neutral gray. For some pizzazz, add an armful of Indian-inspired bangles.
Bernadette
Dr. Bernadette Rostenkowski, played by Melissa Rauch, is Penny's co-worker at The Cheesecake Factory and has a doctorate in microbiology. Even though she doesn't always understand his sense of humor, she's engaged to Howard, whom she frequently refers to as her soulmate. Bernadette is usually sweet and cheerful, but when she loses her temper and yells, her voice becomes raspy and she sounds just like Howard's mom. (He finds this incredibly sexy.) Like Penny, she has little interest in science fiction and comic books.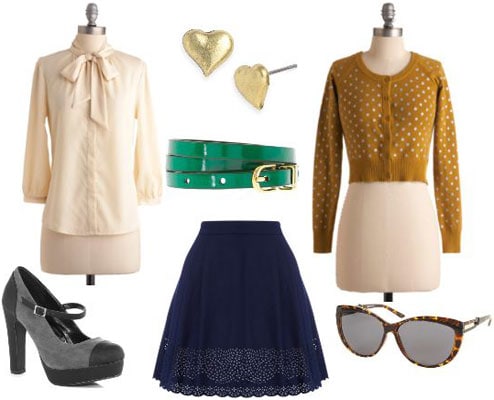 Product information: Cardigan, Top,Skirt, Belt, Shoes, Earrings, Sunglasses
When Bernadette was first introduced, she only appeared in her Cheesecake Factory uniform. Now that she's a regular character on the show, she gets to show off an adorable '50s aesthetic, often wearing girly floral dresses with full skirts and dainty cardigans.
Here, I combined the color scheme from her uniform with a retro silhouette for a bold but feminine look: A tie-neck blouse will look darling tucked into a navy skirt, while a spotted mustard cardigan and emerald belt add pops of color. Complete the quirky-cute look with Mary-Jane pumps, cat-eye sunglasses, and heart earrings.
Amy
Dr. Amy Farrah Fowler, played by real-life neuroscientist Mayim Bialik,  is a neurobiologist and the newest addition to the Big Bang Theory cast.  As a joke, Raj and Howard created a fake profile for Sheldon on an Internet dating site, but were flabbergasted when the site matched Sheldon with Amy, who's essentially a female version of Dr. Cooper.  Sheldon and Amy respect each other's intelligence and started out as friends, though their relationship has since crossed over into romance.
Like Sheldon, she's well aware of her superior intellect and can be annoyingly blunt.  Unlike him, though, she desperately wants to be popular and to experience the childhood things she missed out on, like slumber parties and having best friends. (Unfortunately for Penny, who doesn't necessarily return her affections, Amy has chosen Penny as her de facto BFF.)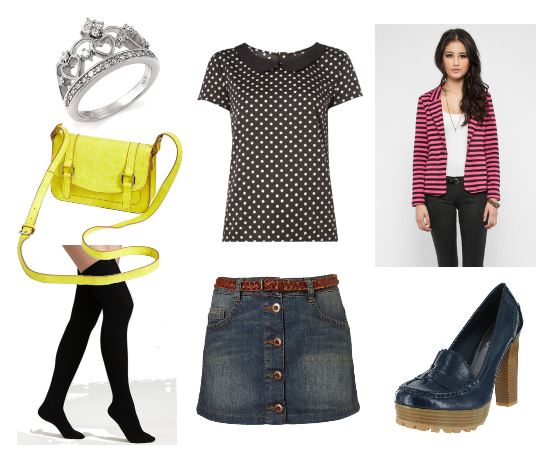 Product Information: Blouse,Skirt, Blazer, Shoes, Bag, Ring, Socks
Amy has an interesting style sense, to say the least–she favors layered stripes, lots of pattern mixing, and baggy skirts–but the point is that she wears everything with confidence.  Although her ensembles aren't particularly fashionable by normal standards, she always thinks of herself as being a paragon of beauty and style, which I think is pretty admirable!
Take a cue from her confidence with a striped blazer, Peter Pan collared blouse, and denim skirt.  Add some trendy touches with thigh high socks,  loafer platforms and a neon cross-body bag.  Finally, put on a fun ring to reference the tiara that Sheldon gives to Amy!
What do you think?
Would you wear these looks? Do you watch The Big Bang Theory? Whose style do you like best? What other geeky inspirations would you like to see? (The Mirror of Galadriel tells me a journey to Middle-earth is forthcoming…) As always, let me know in the comments!