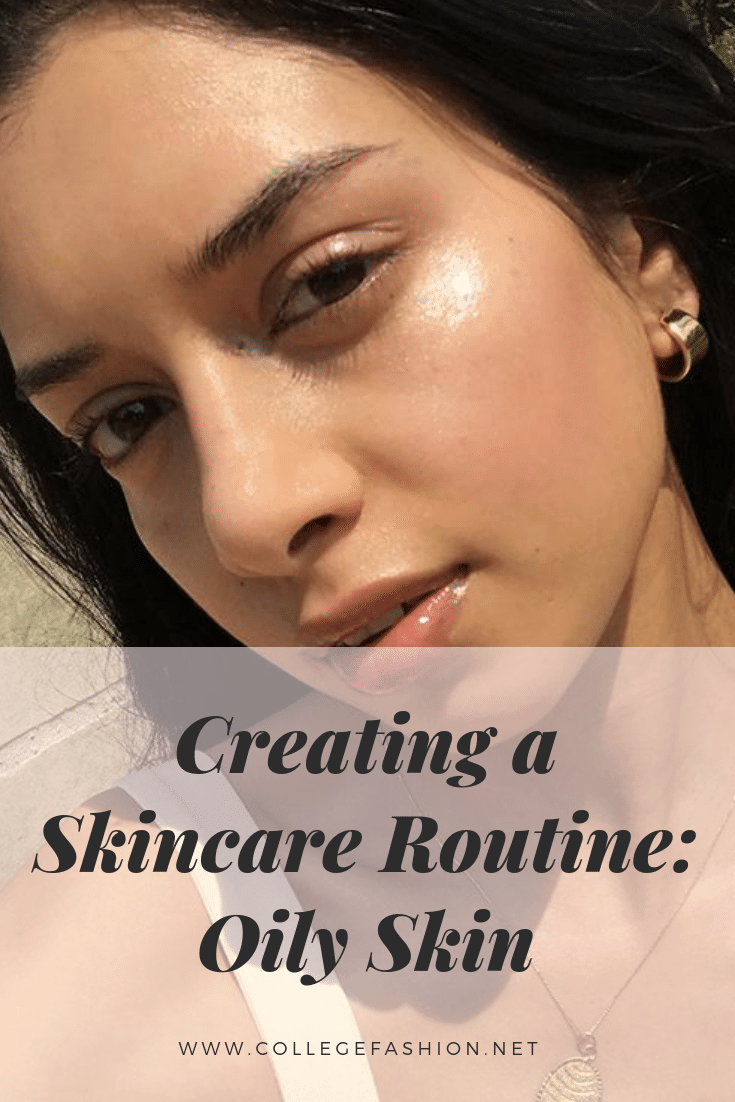 This is the second post in the "How to Build a Skincare Routine" Series. If you have dry skin check out the first article on building a dry skin routine, because this one is for my oily skin girls. (If we haven't covered your skin type yet, keep an eye out because I have two more articles in this series that will be up within the next few weeks.)
If you are looking for more clarification on what each product is for in a more general sense take a look at our guide to a basic skincare routine. And for tips and tricks on how to stick with your new skincare routine take a look at this article.
The goal of this article is to help you create a skincare routine for oily skin. I will be explaining which products oily skin needs, letting you know what to look for in a product, as well as sharing some of my tips for dealing with oily skin.
Related reading: The Best Ordinary Products for Acne That Are Honestly Magic
Cleansers
First off, you need to make sure you are taking off any makeup at night. Removing all of your makeup will ensure that you don't have anything extra clogging up your pores. The great thing about oily skin is that often times (unless you have very sensitive skin) you don't have to worry as much about the ingredients in products, as the excess oil on your skin tends to take the brunt of any harsher ingredients. So, even though most makeup wipes tend to contain alcohol which will can dry out skin, you should be fine because you have the extra oil on your skin for protection. Makeup wipes are great for travel but I don't recommend using them daily because that gets pretty expensive.
My favorite type of makeup remover is an oil cleanser. As a person with oily skin you may be worried about putting more oil on your skin. But fear not, oil cleansers can actually work well for oily skin. Oil cleansers are great because they take off even the thickest of makeup and are the best way to ensure that you are removing your sunscreen as well.
Once you have removed your makeup, you want to make sure that you are cleansing your skin. By doing a double cleanse you ensure that you are getting all of the last remnants of makeup and dirt off of your face. With this step, choose a cleanser that is going to treat your oily skin issues. You can pick up an oil-free cleanser so that you can use it morning and night.
For a little bit more information on what each type of cleanser does for oily skin check out this article.
Makeup Removing Cleansers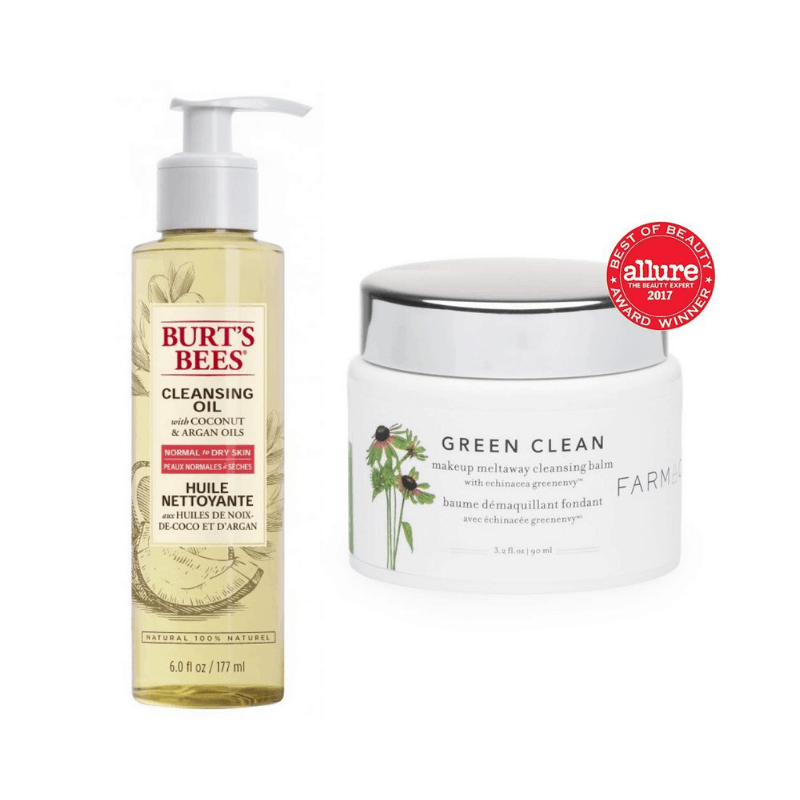 A great balm cleanser is Farmacy's Green Clean. This cleanser is a balm to oil product that melts away makeup and has the added bonus of being a certified clean product. As a drugstore option, the Burt's Bees Cleansing Oil is a great choice for all skin types.
FYI, there is a specific way that you should use oil cleansers. First, you want to apply the cleanser to dry skin and massage in. Next, add a small amount of water and massage again: it should turn a milky color this is a sign that the oil is emulsifying and this helps the makeup to break down. Finally, you can wash it off like normal. It's a great way to get makeup off without leaving your skin feeling stripped.
Related reading: The 5 Best Drugstore Cleansing Balms You Need to Try
Double Cleanse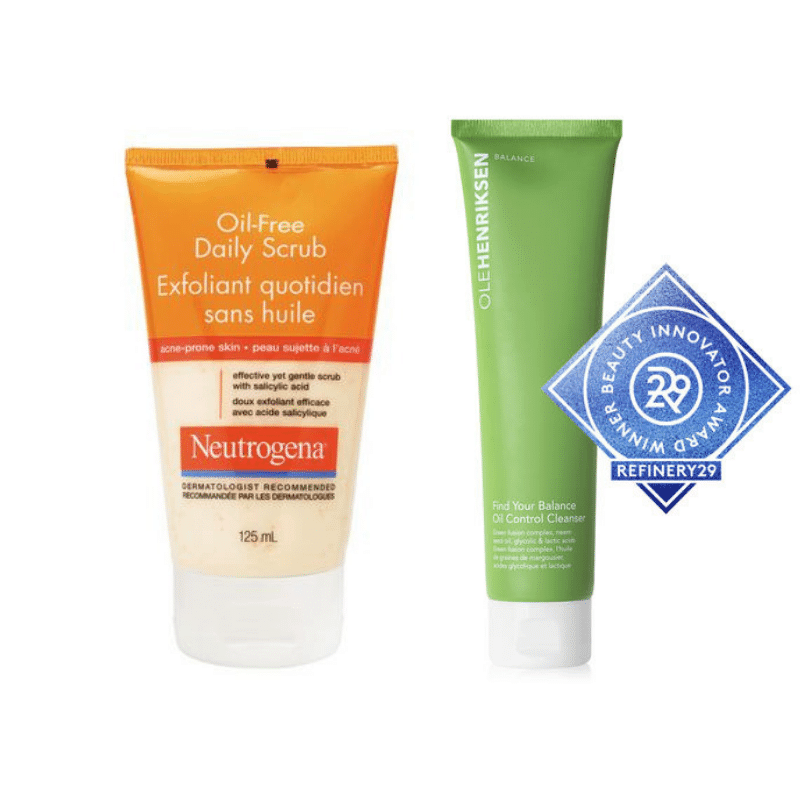 For your double cleanser, an oil control product is a great option. The OleHenriksen oil control cleanser is part of a newer line and not only helps to control your oil but also deep cleanse your pores. Neutrogena also has a great option at the drugstore, their oil free daily scrub helps to control oil and blemishes as it contains salicylic acid which is a great ingredient for fighting breakouts. Both of these cleansers would work great as a double cleanse product and as a morning cleanser.
Toner
Toners are great multitaskers, they help to balance the ph of your skin, minimize pores, and they can include problem-specific ingredients. Balancing the ph of your skin is an important step in prepping your skin to absorb the products that are applied after.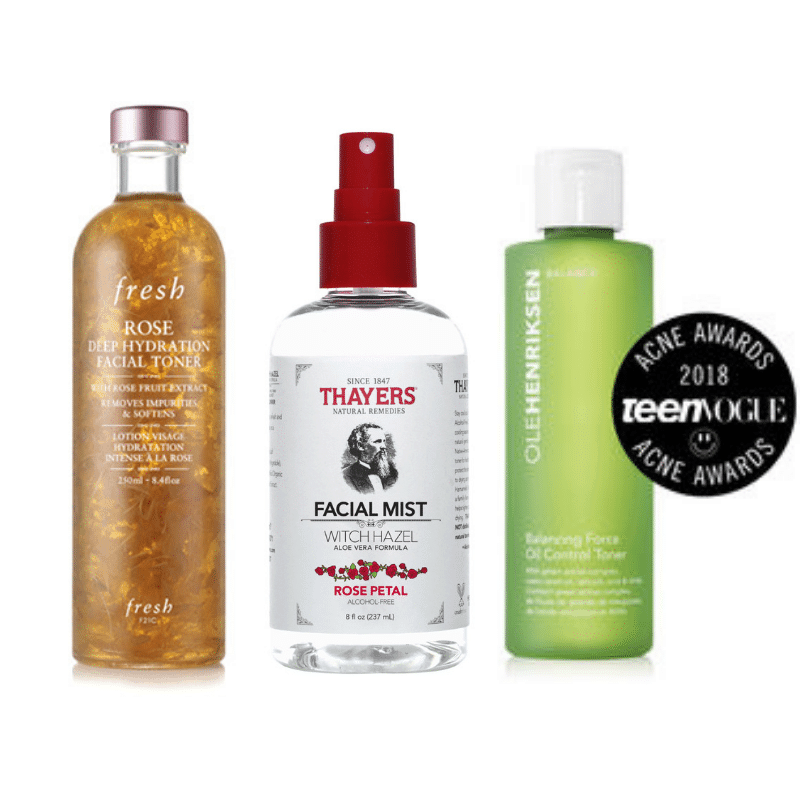 The OleHenriksen Oil control toner is part of the same line as the cleanser mentioned above. It contains both BHA's and AHA's (both types of exfoliating acids) to help clean pores and keep you skin looking clear. It will keep you looking matte and clear all day long.
If you find that your skin is both oily and feels dry it's probably because your skin is not hydrated enough. Moisture and hydration are different, moisture reflects the oil content and hydration reflects the water content of skin. The Fresh Rose Deep Hydration Toner is a great extra hydrating toner to stop that dry feeling.
If you're looking for something a bit cheaper and a bit easier any of the Thayers alcohol-free toners are a great option. The one shown above includes both witch hazel and rose, both of which have natural toning properties. The rose will help to hydrate your skin while the witch hazel will help control oil and blemishes. And it's in a super convenient spray bottle.
Serums
Serums are a great way to treat specific skin issues. They contain concentrated ingredients so that they pack a punch when it comes to treating your skin. You can pick up a serum that will help to minimize your oily skin or you can find something that deals with another skin issue that you may have. Say you want brighter skin or you have a problem with redness, a serum is a great way to deal with these other skin issues.
But you're not limited to one serum, you can layer serums to target different problems. You can treat various skin issues, just make sure that you are using serums that work well together by asking a consultant for help or doing lots of research. Because of the concentrated ingredients, you do not want to cause any chemical interactions on your skin. If in doubt, start with one. When layering serums, make sure that you are starting with the thinnest formula and working your way to the thickest one so that everything absorbs properly.
Oil Control Serums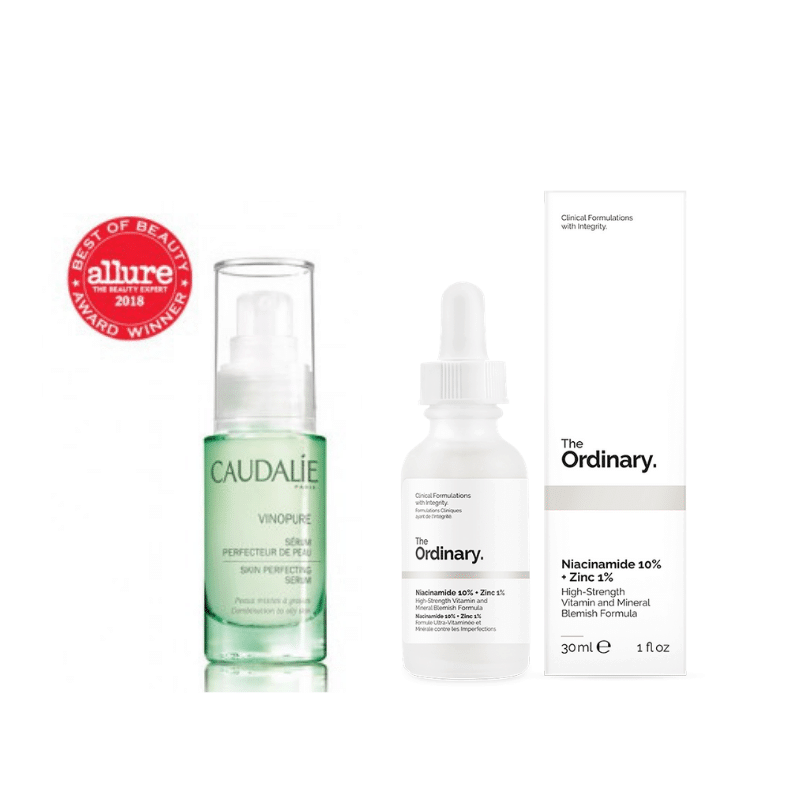 These oil control serums are great because they take care of several problems all at once. The Caudalie Vinopure serum helps to take care of oil and blemishes, tightens pores, evens skin texture, and makes your skin glow. This is because it contains natural salicylic acid, antioxidants, and a bunch of other good-for-your-skin ingredients.
At a lower price point, there is The Ordinary's Niacinamide 10% and Zinc 1% serum. The Ordinary is great because you know exactly what the active ingredients are and how much you are getting. Niacinamide is a form of Vitamin B3 and helps to reduce the appearance of blemishes and congestion. And the Zinc helps to control sebum production.
Hydration Serums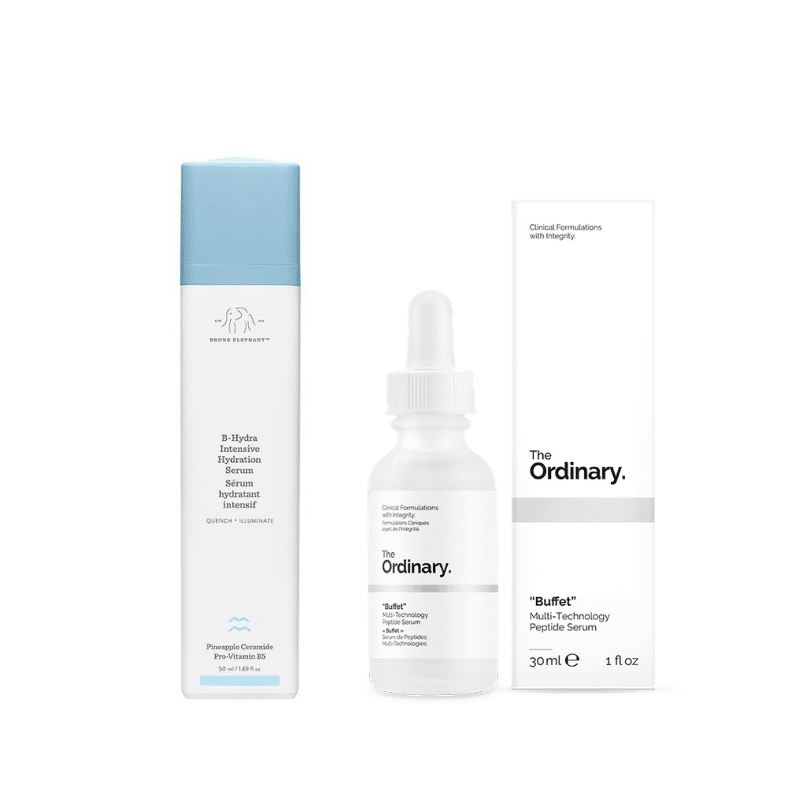 These hydrating serums will help to alleviate the feeling of dry skin due to lack of hydration. The B-Hydra Intensive Hydration Serum from Drunk Elephant is a great lightweight hydration serum. It is formulated with B vitamins and pineapple ceramides to help attract and retain hydration. It also helps to illuminate your skin and decrease the appearance of fine lines and wrinkles. When using this product make sure to seal it in with a moisturizer or oil so that the water that has been pulled into the skin has a more difficult time evaporating out.
At a lower price point The Ordinary's Buffet serum is exactly what it sounds like, it contains a whole bunch of great ingredients with the goal of hydrating your skin and preventing the signs of aging. This product contains various hyaluronic acids, peptides, and amino acids to keep your skin looking great.
Moisturizer
Moisturizers are one of the most important parts of a skincare routine. You want to make sure that your skin is well hydrated and moisturized. There are some great options out there for oily skin that will not add an oily film or make skin even shinier.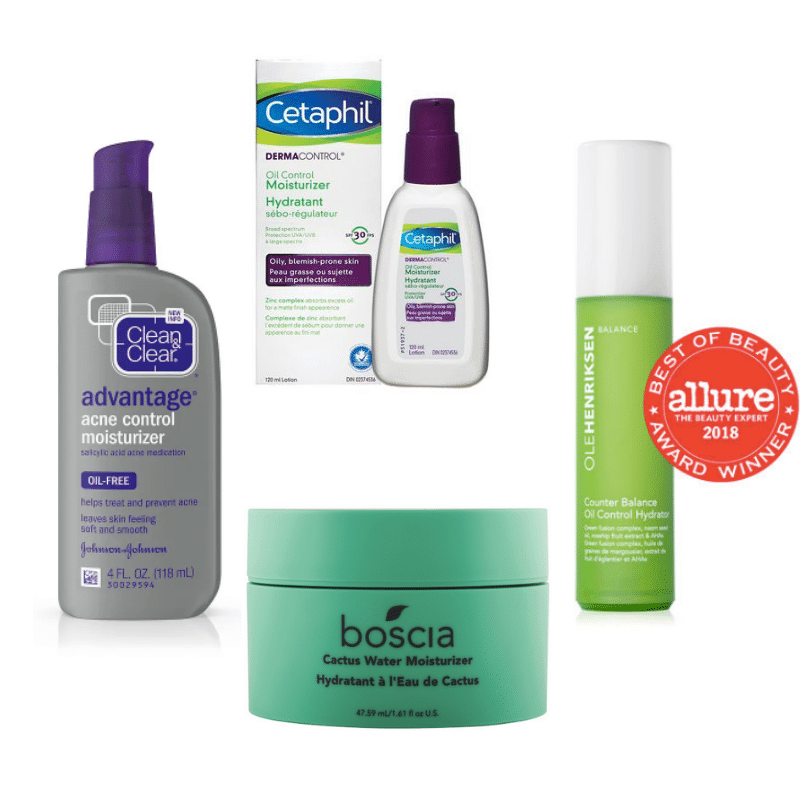 The third step in the OleHenriksen line mentioned previously is their Oil Control Hydrator. This moisturizer is formulated to mattify the skin and reduce the appearance of pores, plus it's non-comedogenic which means that it will not clog your pores.
The drugstore option I recommend most is Clean and Clear's Acne Control Moisturizer — it's an oil-free moisturizer that contains salicylic acid to help heal your skin and prevent future breakouts. And because it's oil-free, the formula isn't greasy!
Another great drugstore option is the Cetaphil Oil Control Moisturizer. This one is awesome because it also has an SPF of 30 so it's a great double duty daytime moisturizer. It will give you a matte finish and protect you from the sun. Make sure you are only using this moisturizer for the daytime because you do not want to put SPF on when you do not need it.
And if you want a very light feeling moisturizer I suggest the Boscia Cactus Water Moisturizer. It is a gel formula so it'll feel very light on the skin. More like a drink of water than a moisturizer! But it will still give you the same amount of hydration as a thicker cream without the heaviness.
Eye Cream
Under eye cream is important because the skin under your eye is very sensitive and needs a lighter formula. Here I will be highlighting some great hydrating under eye creams. To see my recommendations for eye creams that treat dark circles, check out my first article in this series.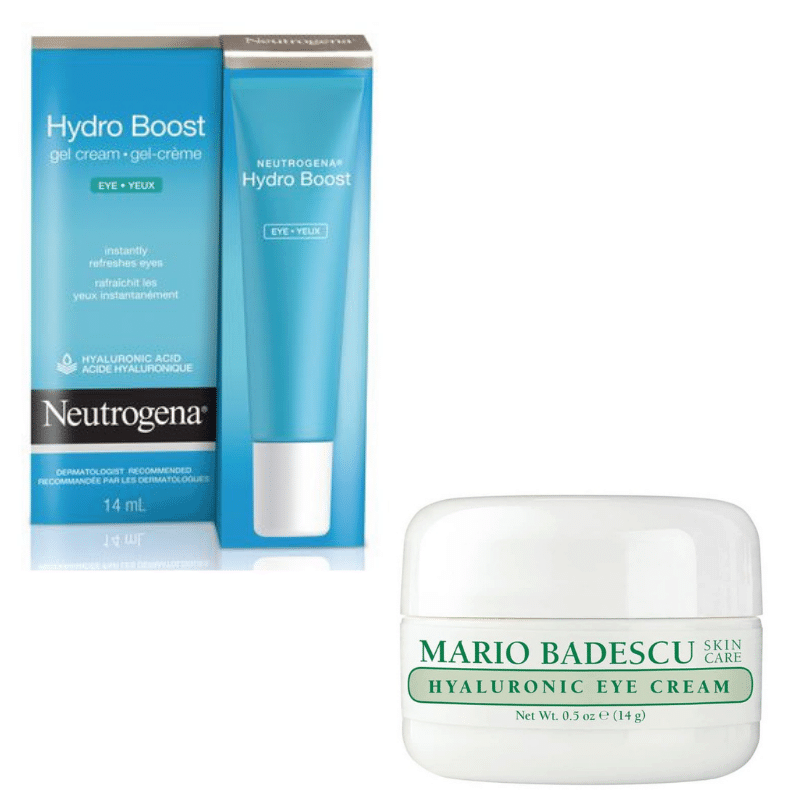 The Mario Badescu Hyaluronic Eye Cream gets straight to the point. It uses hyaluronic acid to draw water into the skin. Not only does this hydrate your skin but it also visibly plumps it up. At the drugstore you can pick up the Neutrogena Hydro Boost gel cream which also includes hyaluronic acid and is very comparable to the Mario Badescu cream. (Note that the Mario Badescu cream is actually cheaper than the drugstore gel in this case!)
Extras
Now that you have your everyday skincare routine you can take it to the next step!
Clay masks are great for taking care of oily skin and blackheads. There are a lot of great clay masks so check out this list to find one to help you. For one example, Glossier makes a mask that contains a gentle form of clay that's great for almost all skin types. You can use these a couple times a week and you can use a sheet mask after to make sure that the clay is not over drying your face.
If you find your scalp is very oily it can be contributing to excess facial oil as well. Make sure you are taking care of your scalp as well. You can find out more information here.
If pores are your problem check out the Silver Powder from Mario Badescu. It has some really amazing reviews and is a super easy product to use.
Still have questions? Let me know below!
Have you tried any of these products? How did they work for you? Or do you have your own holy grail skincare items?