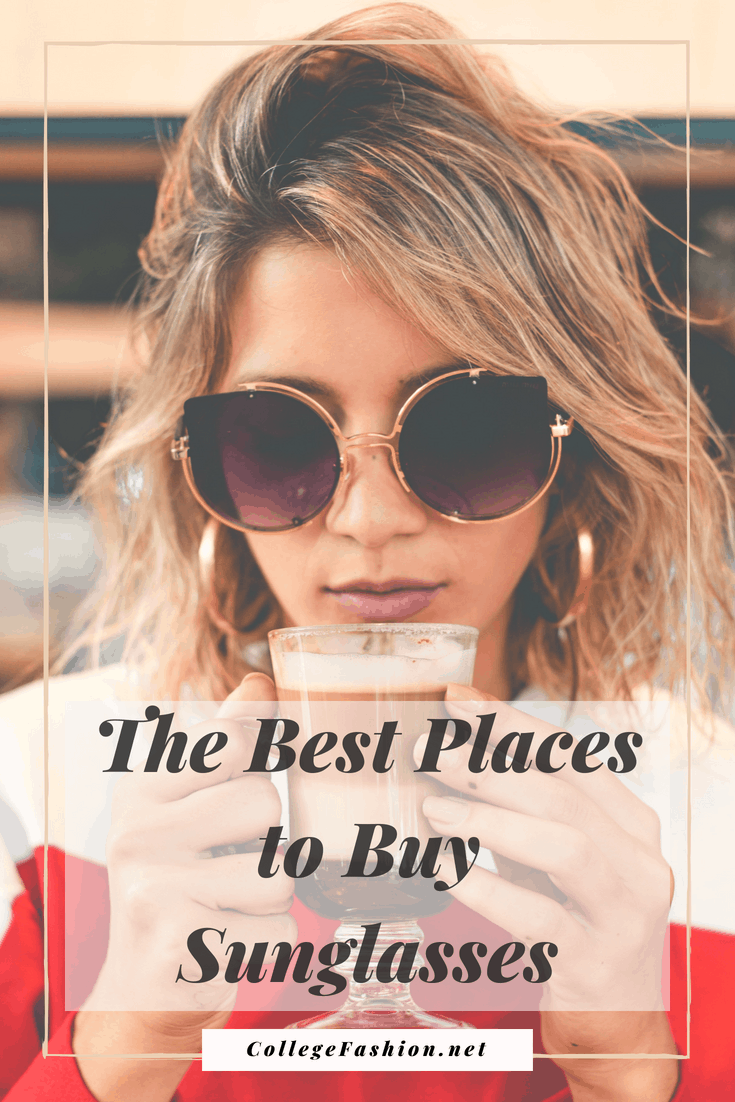 Note: This post is part of our series on the best stores for college women. See our list of the best places to find cheap clothes for more store recommendations! Continue reading to learn the best place to buy sunglasses.
It's a hot summer day, the sun is shining bright above your head, and you're all set for your day ahead. Once you step out, you find yourself squinting and thinking… what's missing?
A PAIR OF SUNGLASSES.
Finding the right pair of sunglasses can be quite challenging, but stay right here, because you're about to find out where to get your perfect pair.
Here are the best places to buy sunglasses, with options for every style and budget:
Related Reading: These Are the Classic Sunglasses Every Woman Needs in Her Wardrobe
1. Forever 21
This is a no-brainer because 1) we know Forever 21 is very affordable and 2) the options they offer are limitless.
Every eyewear trend you spot on models and/or street bloggers can be found here! And the best part? You can try out these trends without investing too much of your hard-earned cash.
2. H&M
Find your new staple piece by browsing the accessories rack at your local H&M. This is my go-to place to get sunglasses because they carry a wide range of options in tons of classic styles. Wayfarers, cat-eye, aviators… you name it, H&M has it.
3. Urban Outfitters
For those of you who are never satisfied with basic styles and like to go the extra mile with your accessories, Urban Outfitters is a paradise. UO never fails to come out with ~funky~ and unique glasses that are sure to stand out from the crowd.
4. Princess Polly Boutique
Did one of your favorite influencers recently come out with a collaboration? You can probably find it on Princess Polly. This Australian brand carries lots of different sunglasses brands and also does exclusive collaborations with social media influencers. Be ready to add some ~cool~ points to your outfit with these shades.
5. Nordstrom
When you're ready to commit (to a pair of sunglasses), you'll know. Nordstrom carries the best brands for sunglasses, ranging from more affordable brands like Quay, BP, and Ray-Ban to luxurious brands such as Gucci, Prada, and Chloé.
Whatever your budget, you are guaranteed quality with the pair of shades you get at Nordstrom.
6. Warby Parker
This one is for us girls who need a pair of prescription sunglasses. Warby Parker's wide range of frames and at-home try-on program are just some reasons I love this brand.
Their sunglasses are on the expensive side, but you know you're investing in a pair that will last you for a very long time.
7. Amazon
Amazon is the best place to buy sunglasses on a budget because they have so many designer-inspired styles to choose from, at crazy low prices!
Have a sunglass style in mind? A quick search on Amazon and you'll find it, probably for less than $20. You can't beat it!
8. Madewell
Madewell is one of the best places to buy sunglasses for girls because of its great selection and high quality. The store offers a wide variety of trendy and chic sunglasses that are perfect for any style.
Whether you are looking for something funky and fun or classic and sophisticated, Madewell has the perfect pair of sunglasses for you.
Also Read: Fashion Inspiration: Madewell's "Wanderlust Much?" Lookbook
9. Lulus
Lulus is one of our favorite stores of all time, period, and in addition to adorable clothes, they carry an amazing selection of cute sunglasses.
From chic aviators to oversized frames, Lulus carries all the trends of the moment, and their quality is amazing too!
10. Quay Australia
Looking for the best place to buy sunglasses that will last forever? Quay Australia is your best bet! With a huge selection of sunglass styles, you're sure to find the perfect pair for you.
Plus, Quay does collaborations with everyone from Paris Hilton to Lizzo, so you can score celeb-approved shades on their site!
And there you have it: the best places to get sunglasses!
For more affordable sunglasses, be sure to see our guide to 25 Trendy & Cheap Sunglasses for College Women on a Budget.
For more shopping tips like this, consider reading our related posts below –
Do you agree with my picks? Where do you go to get your sunglasses? Let me know in the comments below!