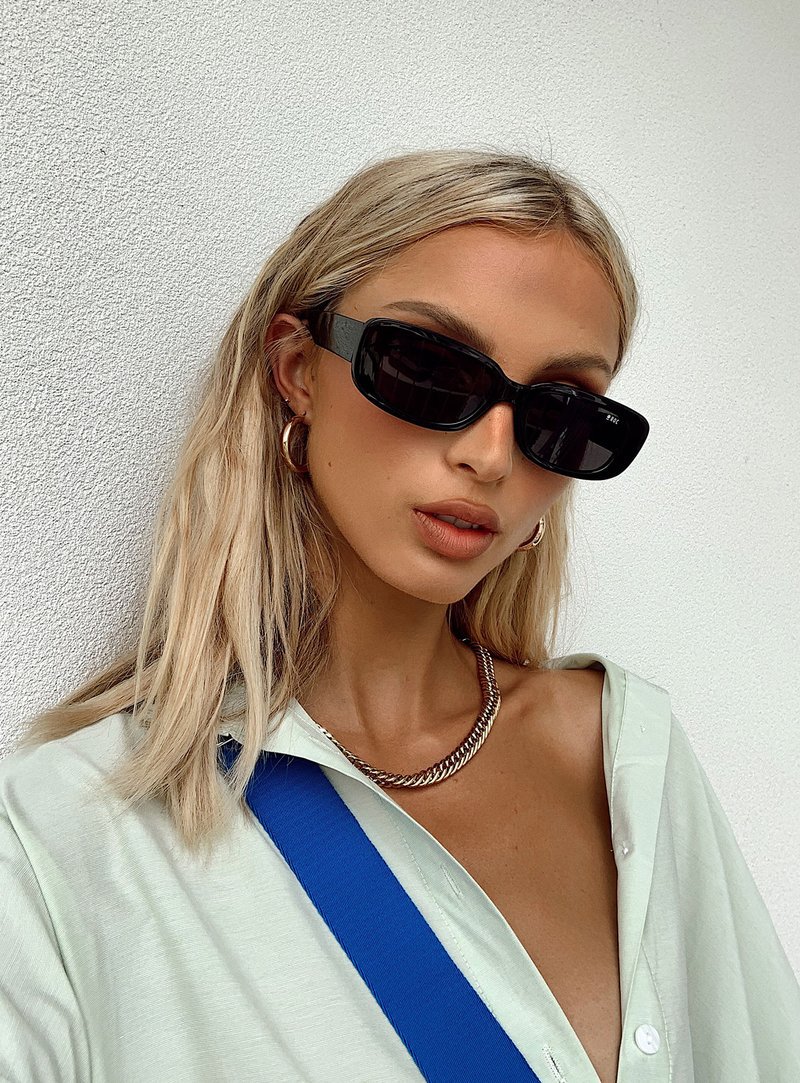 Sunny days have finally blessed us with their presence and that can only mean one thing – it's time to break out the sunglasses!
The problem is, with so many different styles on the market, how's a girl supposed to know what kind to pick out? Well, have no fear, for this article was written just for you.
Interested in some trendy sunglasses you can actually afford? Read on for 25 cheap and trendy sunglasses you'll love!
The Aviator
I am sure you have seen these sunglasses before! Aviator sunglasses have been popular for many years. You may even already own a pair of these classic sunglasses, such as the timeless Ray-Ban Aviators.
Even though these sunglasses have been around for a while and you may love the Ray-Bans that you have, you may not have seen the new style of aviator sunglasses that have become super trendy, which is the retro style aviators (see the plastic rimmed ones, above).
These retro styled aviators give me all the '90s vibes and I definitely recommend picking up a pair to add to all your '90s inspired looks this summer.
The Rectangle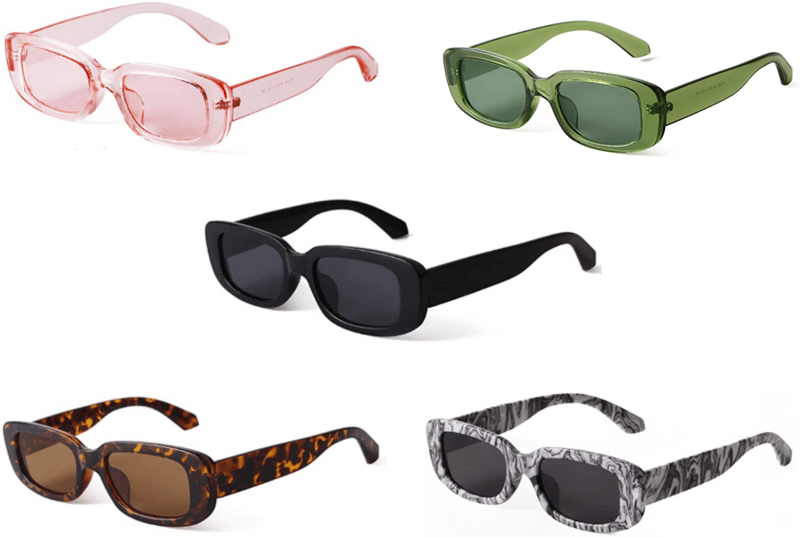 (Top to bottom: 1, 2, 3, 4, 5)
If you grew up in the 2000s, you may not have worn these kind of sunglasses before, but now is the perfect time to try them. Rectangular sunglasses are another '90s inspired sunglass style that is coming back.
What's great about these sunglasses is that they go perfectly with almost every outfit, and they even come in so many fun colors and designs. They add that perfect quirky fashion girl vibe to any ensemble.
My go-to pair of these trendy, cheap sunglasses is always the black rectangle sunglasses because they look so good with everything! I also love wearing the tortoiseshell rectangle sunglasses when I want to spice up my look a little bit. You can't go wrong with these shades!
The Oversized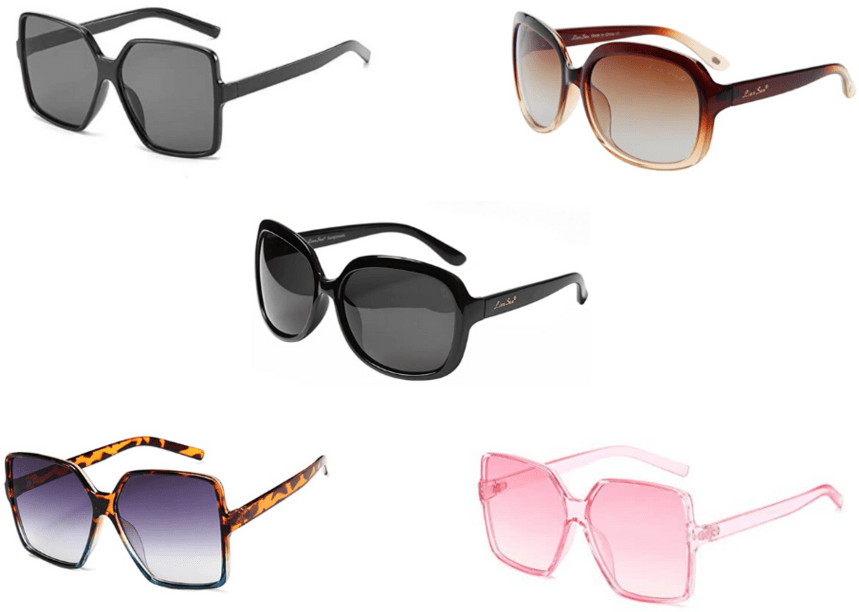 (Top to bottom: 1, 2, 3, 4, 5)
If you're familiar with the style of iconic celebrities like Paris Hilton and Britney Spears back in the 2000s, you are definitely familiar with the oversized sunglasses trend. The fashionistas of the 2000s were known for wearing these large sunglasses to shield their faces from the papparazzi.
If you like the oversized sunglasses kind of look, you can totally get these shades for reasonable prices — all the examples above are super affordable.
What's also great about oversized sunglasses is that you can get them in different shapes to find the ones that you like on your face the best. For example, these oversized sunglasses come in square and rounded shapes to play up your face shape.
Back in the 2000s, most celebs wore oversized sunglasses in black, but that doesn't mean you can't spice up your accessories by changing the color of your sunglasses! You could wear these super cute pink oversized sunglasses to make your outfit more fun for the summer.
The Rimless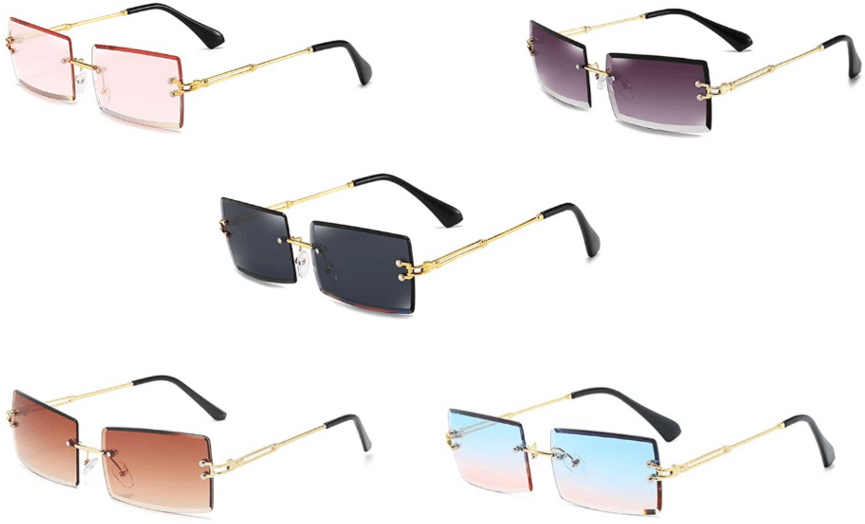 (Top to bottom: 1, 2, 3, 4, 5)
Another sunglass style that is coming back is rimless sunglasses! Whenever I think of rimless sunglasses, the Chanel rimless sunglasses always come to mind. They were super popular years ago and are now trendy again.
But, if you are on a budget, Chanel isn't happening. Fear not, you can get super similar sunglasses like these for a tiny fraction of the designer price.
I also love that you can get these trendy, cheap sunglasses in almost any color — in particular, I'm obsessed with these adorable pink rimless sunglasses that will definitely make you look trendy.
The Shield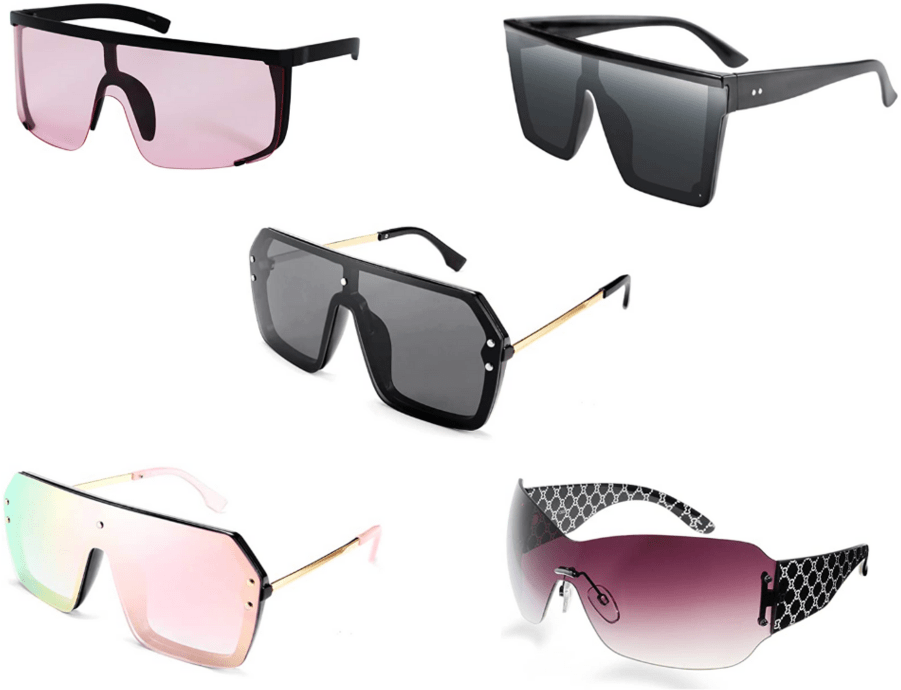 (Top to bottom: 1, 2, 3, 4, 5)
You may not have seen these kinds of sunglasses before because this is one of the newest trends on the list — but you need to check it out because it's so much fun.
These shield sunglasses are becoming popular recently as the new go-to sunglasses for stars and influencers alike. If you love large statement sunglasses, these are definitely the ones for you.
You may have seen a similar kind of sunglasses in the past like the Dior sunglasses, which were more rounded, but a new trend when it comes to shield sunglasses is having a more flat style.
Also, a common feature of the shield sunglasses is a mirror design! For example, if you want to switch up your sunglasses, so you are not always wearing black or brown shades, you should totally go for these cool mirrored pink sunglasses to go with your outfits.
Not only will these sunglasses make you stand out, but they will also make sure you look super trendy without having to worry about spending too much money.
General Tips for Shopping for Trendy, Cheap Sunglasses
Stick to the Cheap Ones. There's a time and place to splurge on sunglasses: when they're classic, will never go out of style, or just look great on you. Trends come and go, and unless you're positive that the style you want is going to stay in for a while (or just don't care), it's best to stick to the lower end of the pricing spectrum. Purchase wisely and ask yourself "Am I going to want to wear these next year?" If you answer no, then look for a cheap alternative online.
If You Can, Try Before You Buy. It's so easy to pop online and buy a pair of sunglasses in two seconds (they're cheap!), but sometimes you can be setting yourself up for some serious buyer's remorse. The glasses you ordered may turn out to be smaller than you thought, not the right color, or might just look all wrong on your face. And I don't know about you, but those "guides to your face shape" articles online seriously confuse me. I have no idea if I am a heart shape a round shape or an oblong shape, and regardless, pairs of sunglasses that were supposedly "all wrong" for me have turned out to look great. You just never know with shades. If you find a pair of sunglasses online and are convinced they're your perfect summer shades, I recommend trying on a similar style pair in a store first. That way, you know what you're in for and you don't have to second guess yourself. (Or make sure the store you're ordering from has a good return policy!)
Flea Markets and Thrift Stores are Your BFFs. I love visiting my favorite boutiques as much as the next girl, but sometimes it's even more fun to find sunglasses in unlikely places. Thrift stores and flea markets are notorious for having great sunglasses for super cheap (I've bought at least 5 pairs for 2 dollars each) and they're almost always good quality since they're often vintage. Instead of popping over to Urban Outfitters, try visiting your local thrift store or community flea market! Plus, how cool will you feel when you tell your friends that you got these "at a flea market for 3 bucks"? Oh yeah, too cool.
Which of these trendy cheap sunglasses is your favorite?
What are your favorite styles of sunglasses this season? Where are you going to buy your sunglasses from? Did this article help you out at all? Where are you looking forward to doing while wearing your sunglasses? Whatever your thoughts, let me know in the comments!
Editor's note: This post was originally published in 2010; it was completely updated and revamped in 2021 with new items and information.