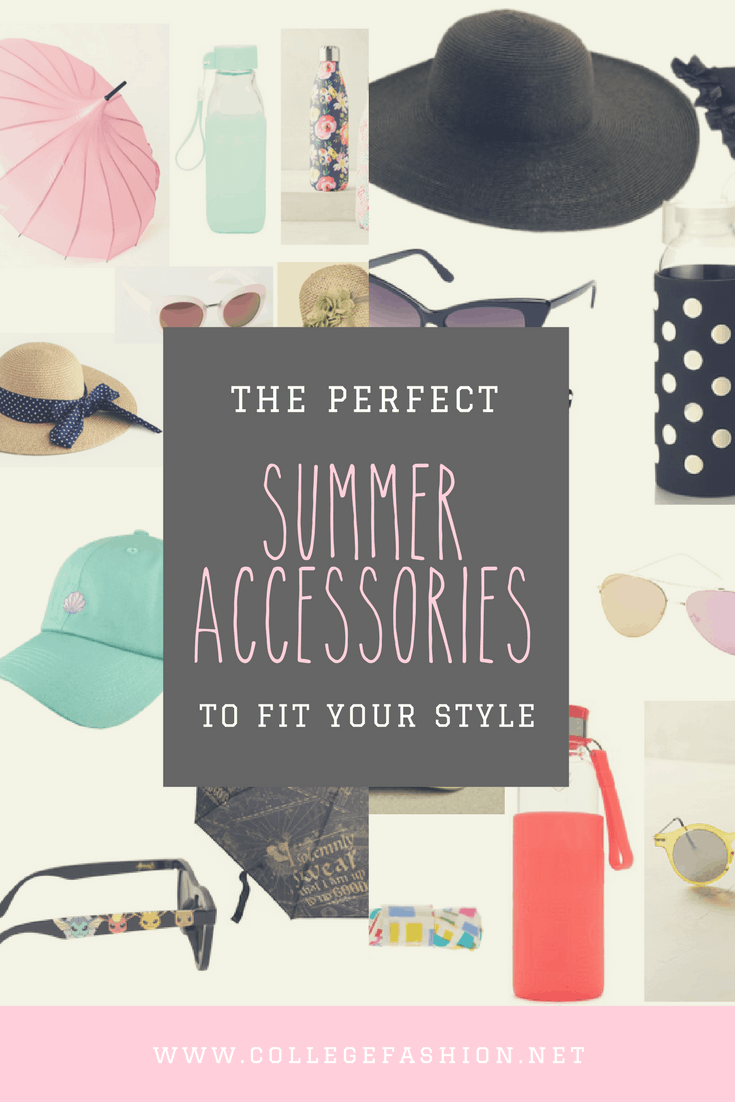 Summer is coming.
Or it's already here, if you live in Florida like me. Either way, it's always good to be prepared, and my favorite way to deal with the heat while staying stylish is through accessorizing!
More specifically, I have a tried-and-true arsenal of pieces to get me through even the most sweltering day, including cute sunglasses, a hat to protect my face, an umbrella to protect everything else, and/or a cute water bottle to keep me hydrated.
Read on for a roundup of some of my favorite pieces to stay cool, for four different style aesthetics:
Sporty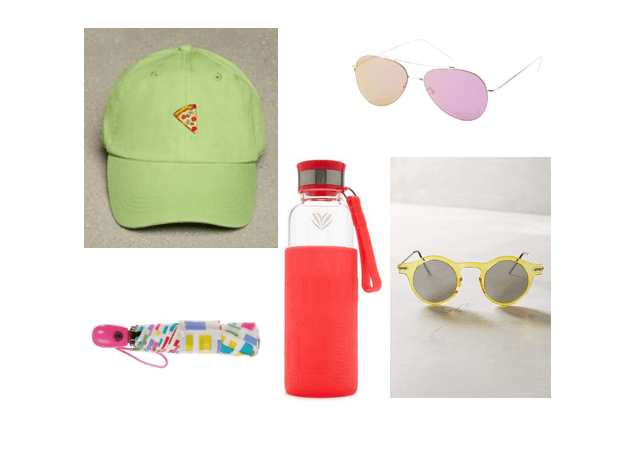 Products: Hat – Forever 21, Umbrella – Target, Sunglasses – Charlotte Russe, Water Bottle – Forever 21, Sunglasses – Unique Vintage
First up: accessories for the casual, cool girl. These items will fit right in on campus while still showing off fun pops of color and a trendy, effortless style.
Baseball caps have been on-trend for a while now, but are also a great way to protect your face while showing off your personality. For sunglasses, try the always-cool aviator frame or a retro style in a unique color. Pick an umbrella with a fun geometric print to keep you shaded, and don't forget a sporty water bottle!
Chic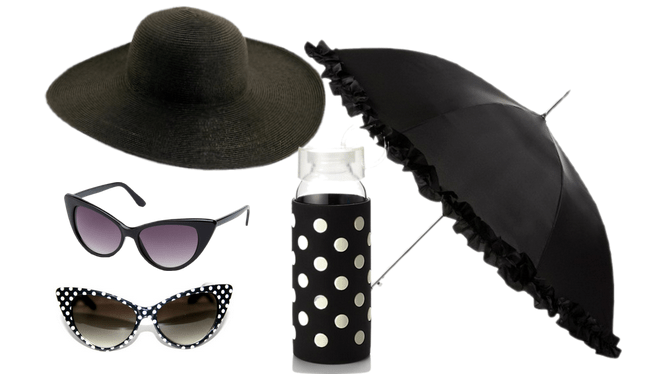 Products: Hat – Target, Black Sunglasses – Charlotte Russe, Polka-dot Sunglasses – Zero UV, Water Bottle – Kate Spade, Umbrella – Target
Everyone knows that black clothing isn't the best option for staying cool, but the rule says nothing about black accessories! If you love to stay chic in black, why not wear it in summer?
A black floppy hat is so stylish for summer, and you can't go wrong with a good pair of cat-eye sunglasses. I love this umbrella because it has a vintage-y parasol feel added by the ruffled edges.
Finally, a black-and-white polka-dotted water bottle is the perfect vessel for your water, which I'm assuming is probably fancy and came from a glacier.
Ultra-Cute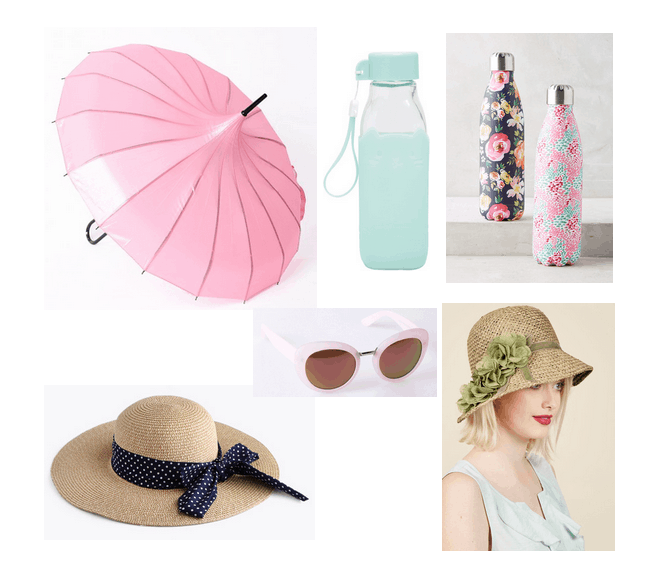 Products: Umbrella – Unique Vintage, Mint water bottle – Hot Topic, Floral water bottle – Anthropologie, Hat with polka dot ribbon – Ruche, Sunglasses – Unique Vintage, Hat with green flowers – ModCloth
If you're like me and love all things pastel and cutesy, this set will be a dream come true.
Keep yourself shaded with a pale pink pagoda umbrella, then throw on some matching pastel pink sunglasses. These water bottles are sure to get you tons of compliments – the mint green one actually has a kitten on it! And the best way to stay cool and cute at the same time is with an adorable vintage-inspired straw hat.
Geeky
Products: Hat – Whosits and Whatsits , Umbrella – Hot Topic, Harley Quinn Sunglasses – Hot Topic, Pokemon Sunglasses – Hot Topic, Water Bottle – Hot Topic
I'm all about repping the fandoms, so if you like anything geeky, this collection is for you.
As always, ThinkGeek and Hot Topic (as well as BoxLunch Gifts and Whosits & Whatsits) are great websites for finding wonderfully fashionable clothes and accessories for whatever fandom you belong to.
This mermaid baseball cap from Hot Topic is part of a collection that includes hats for most of the Disney princesses, and the store also has cute Harley Quinn and Pokemon-inspired sunglasses. I also love this Harry Potter-themed umbrella, which features the Marauders' Map!
Finally, stay hydrated with a Gameboy water bottle that's perfect for showing off your gamer side.
What do you think?
How do you stay cool during the summer? Which one of these collections matches your style best? Let me know in the comments!