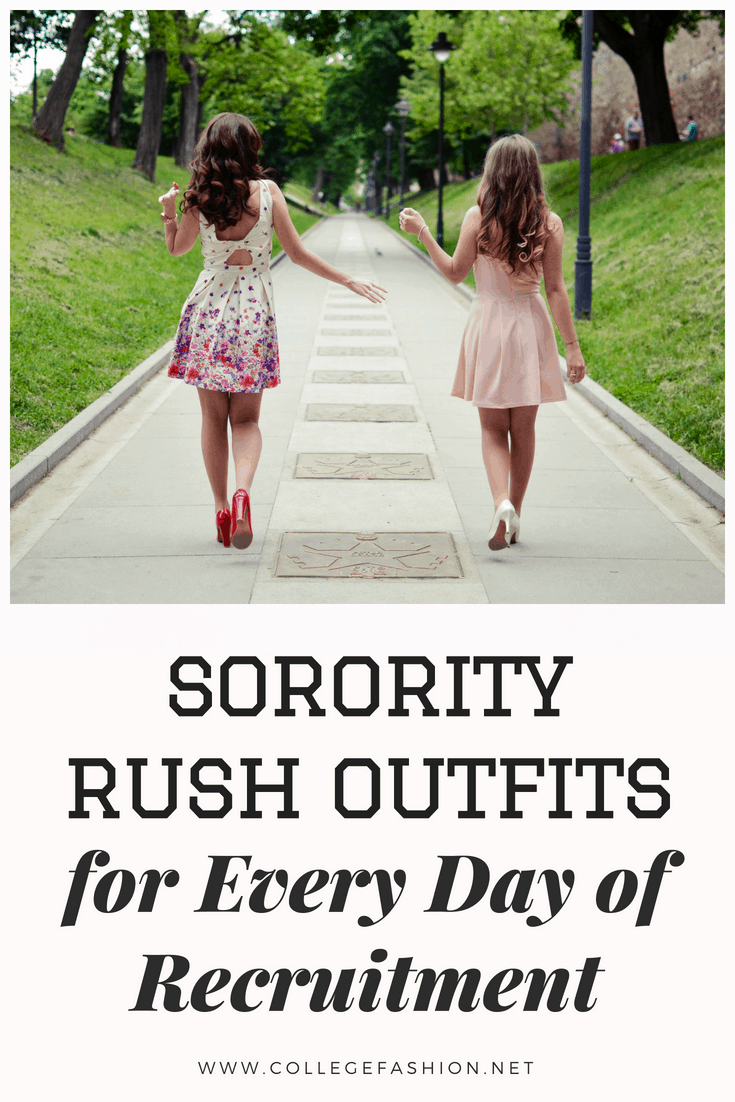 A while back, we shared our ultimate guide to joining a sorority. If you've decided sorority life is for you, the next step is to go through recruitment, also known as "rush week."
Sorority recruitment is one of the most confusing events ever, especially when it comes to what to wear. There is hardly any guidance regarding the dress code. Before I went through it, I probably questioned at least 10 different sorority girls about what was "acceptable" to wear.
RELATED POST: 17 Sorority Rush Essentials Every Girl Needs for Recruitment
To spare you stress and confusion, I am going to break down what's "hot" and what's "not" for each day of sorority recruitment, with an outfit idea for each!
Note: Going to Alabama, our recruitment process is no joke. It can be quite intense, but in the end, ultimately worth it. Most southern schools tend to follow the same type of recruitment as Alabama, but if your school does things a little different, feel free to totally customize any of these outfits to fit your school's recruitment or your own personal style!
Alabama's recruitment consists of 4 rounds, with 2 days for each round. I broke down each round, with 2 outfit ideas for each, to provide the ultimate sorority rush outfit idea lookbook.
(For more on finding the perfect look, be sure to see our guide to sorority rush hairstyles, too. And if you're participating in a virtual sorority rush instead of in-person, here's our guide to what to wear for virtual sorority recruitment.)
Read on for some sorority rush outfits to copy yourself.
Open House Round
The first round of recruitment is called the open house round (some schools may refer to this round as "Ice Water Teas"). This is where you will get to meet every single house for a short amount of time.
The round consists of short introductory conversations to get the feel for each house. Usually, you wear sundresses and casual sandals.
Open House Outfit #1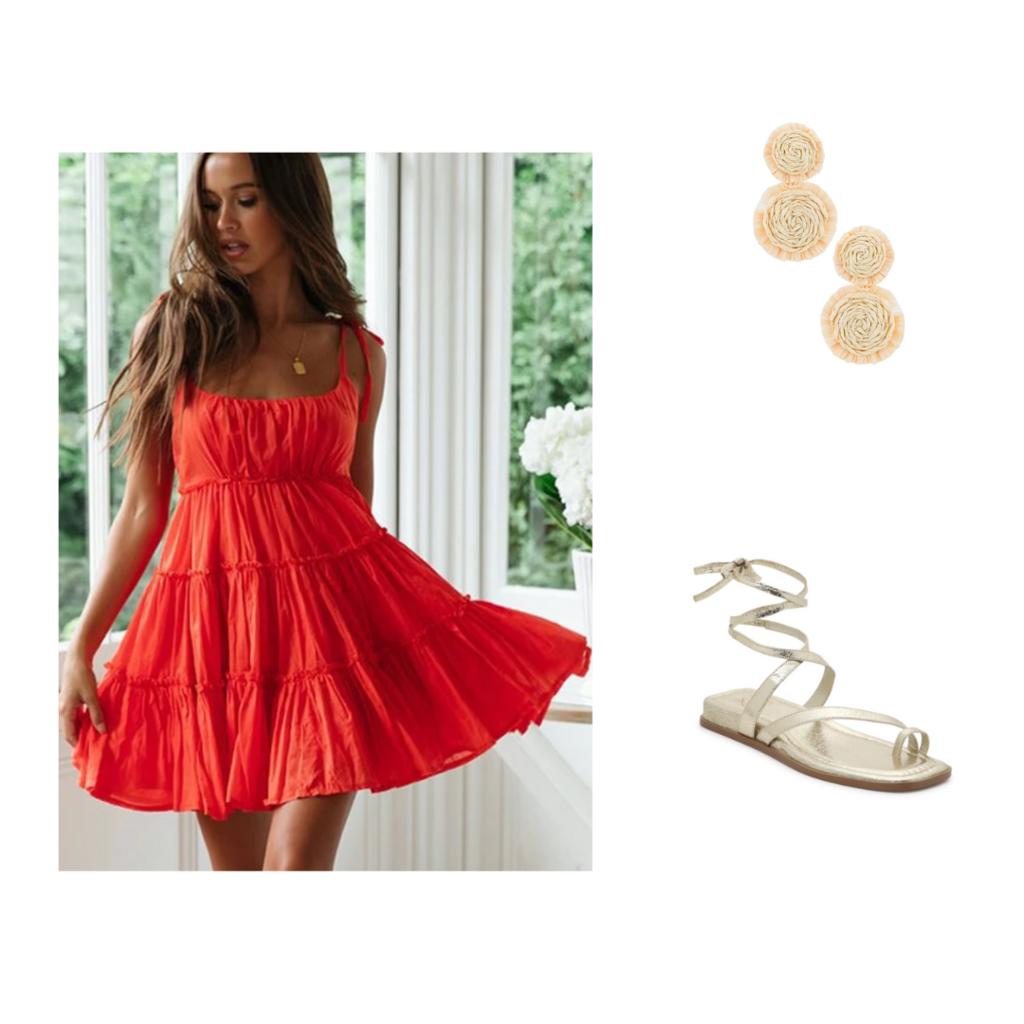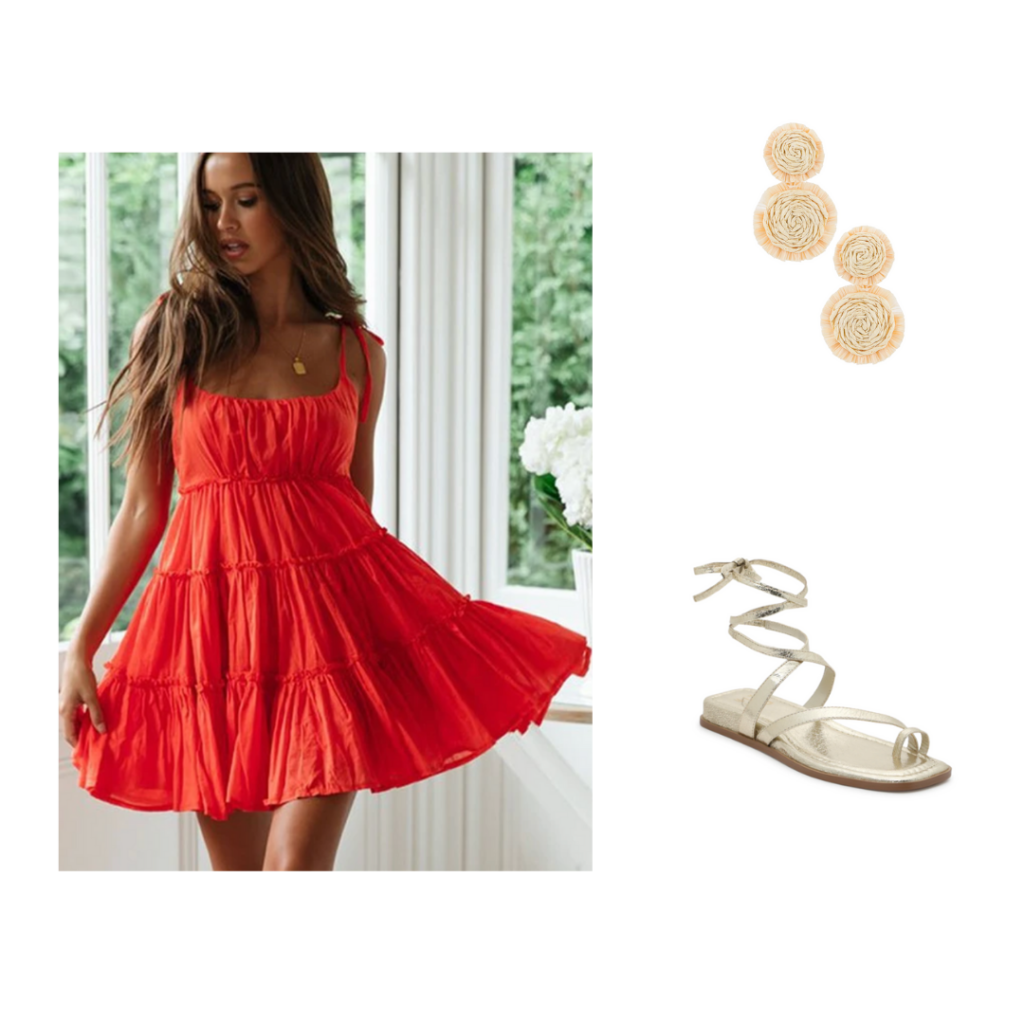 Products:
This first sorority rush outfit set features this adorable red sundress. If your school is in a hot climate like mine, try to find dresses that are flowy and won't stick to your skin. This will be more breathable and lightweight on your body.
I paired the dress with some lace-up gold sandals. Make sure you are not wearing new shoes for the first time, since you will be doing a lot of walking from house to house.
For earrings, I added these neutral statement earrings to spice up the dress since it is a blank canvas.
Open House Outfit #2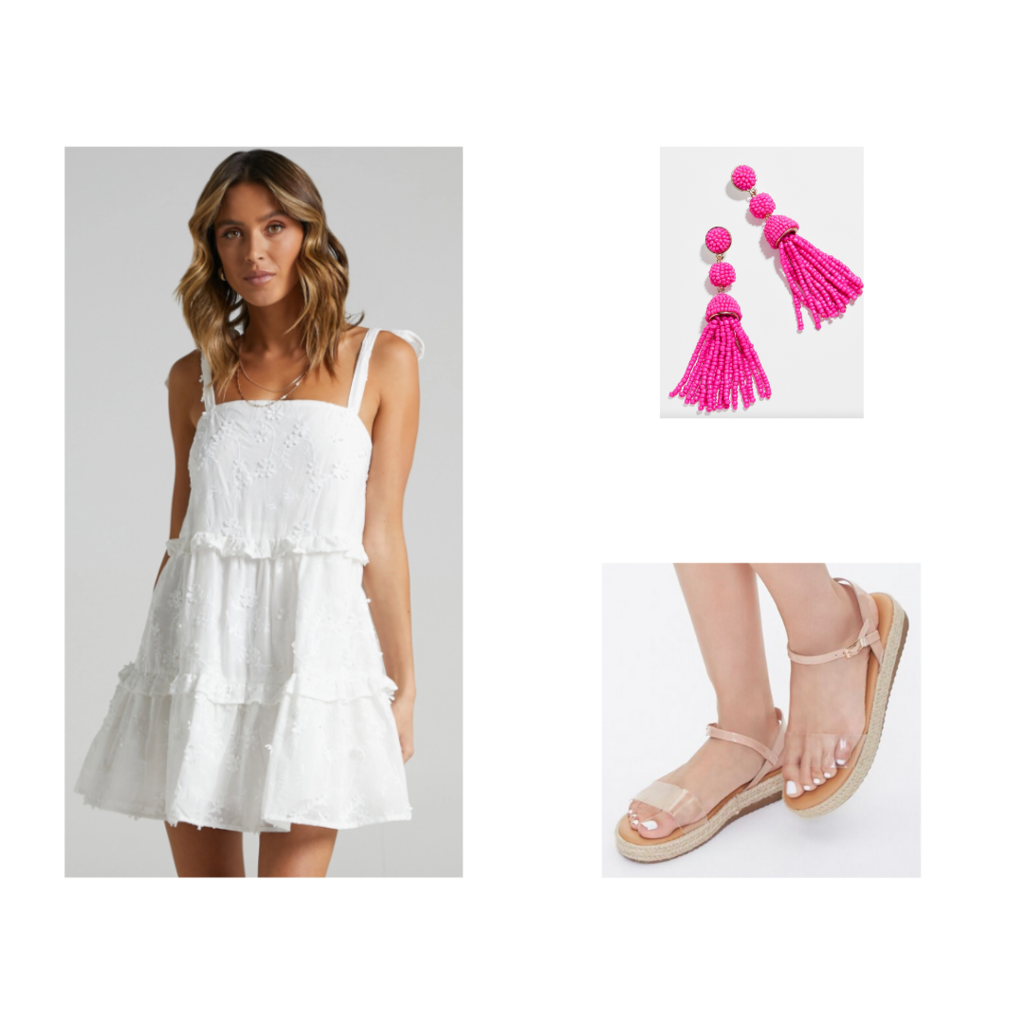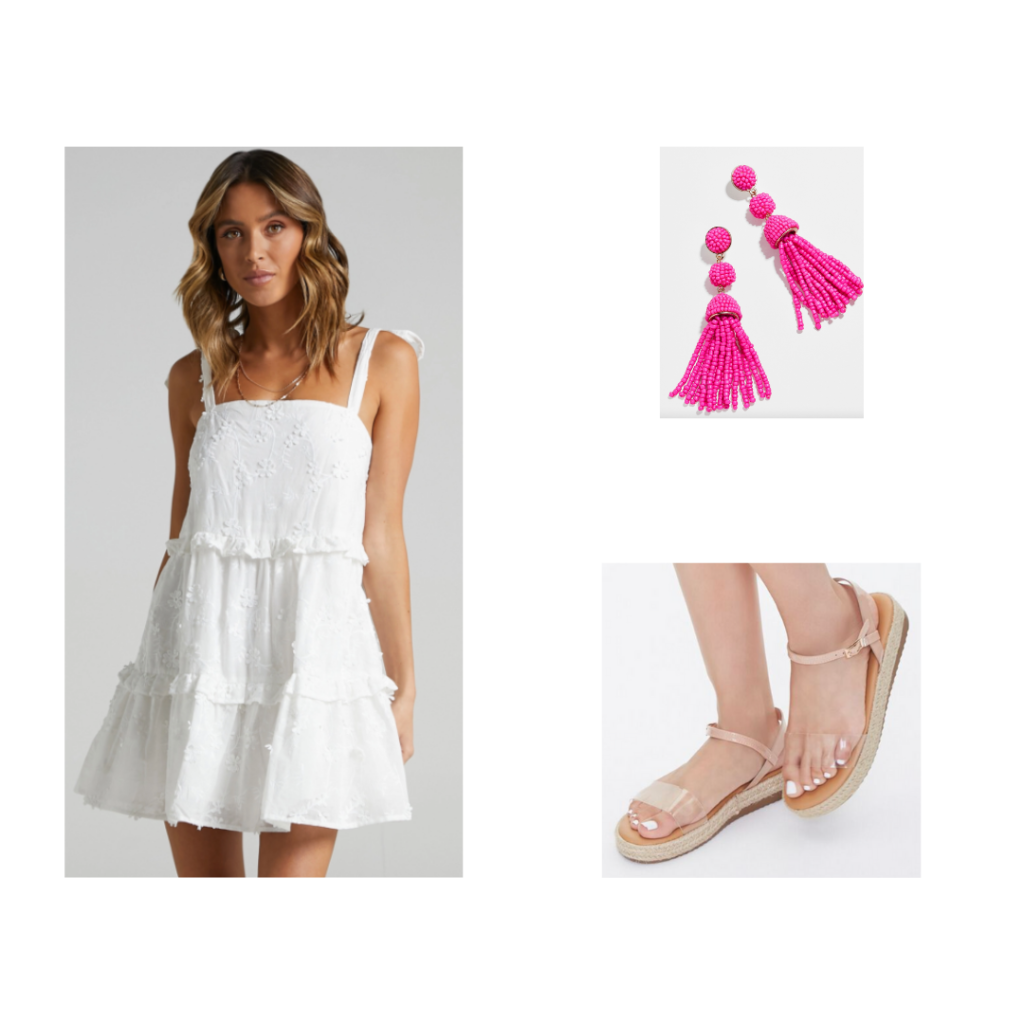 Products:
The second outfit set for the open house round features this super cute white, ruffled dress. I especially like this dress because the sleeve ties add some detail.
I selected hot pink beaded statement earrings to add some color to this look. Make sure to pick pieces that show off your personality and individual style… that's key for sorority rush week!
For shoes, I added these clear and nude sandals that have a little platform for some extra height and comfortability.
Philanthropy Round
The next two day of rush week is when the philanthropy round takes place… which is always my favorite! This is when you learn all about the sororities' individual philanthropies that they participate in.
This round is more casual and you really get to see more of the personality of the sorority and what they are passionate about.
For Alabama, we were provided with two t-shirts to wear for each day. Usually, these were worn with nice shorts and casual sandals.
Philanthropy Round Outfit #1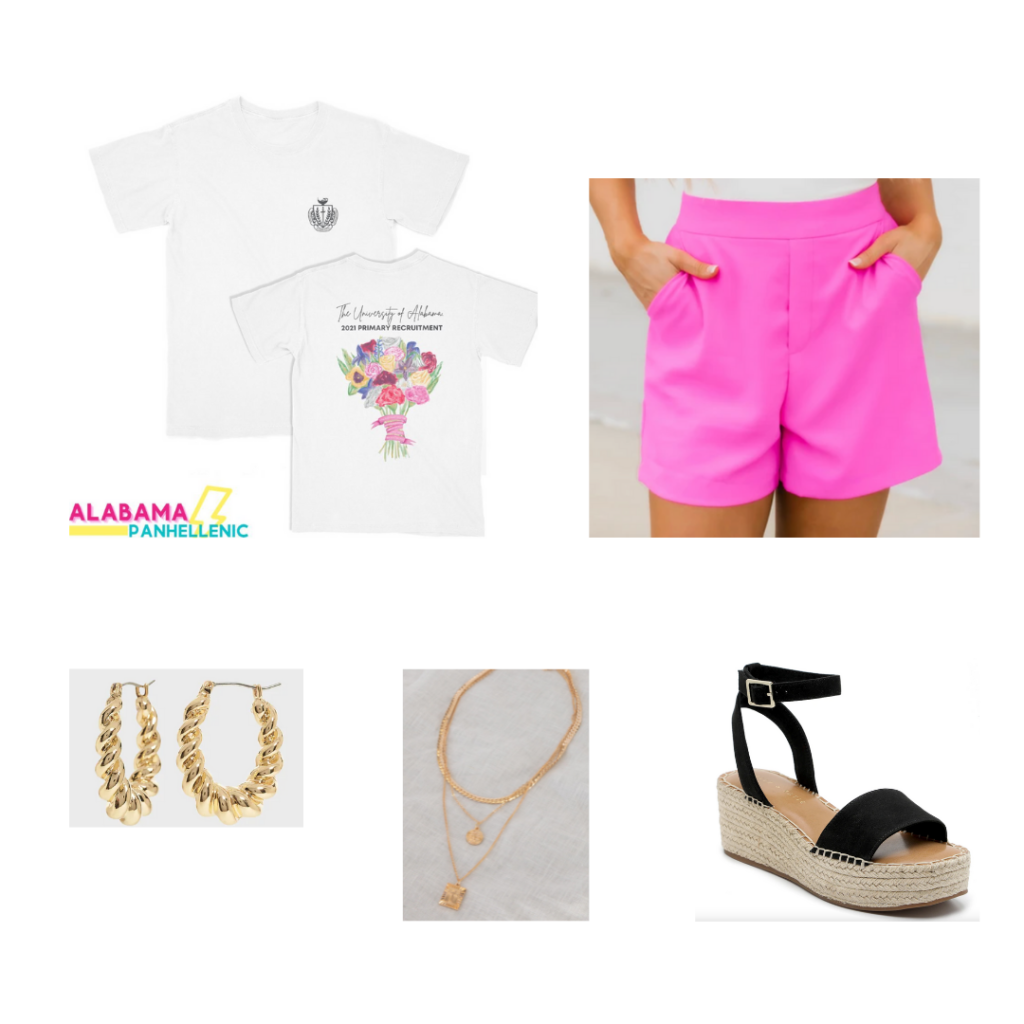 Products:
For this outfit set, I chose these high-waisted hot pink shorts that are super flattering and bright. These would pair well with whatever tee is provided by the sorority which you can always tuck in for a more polished look.
I added some black wedges for extra height and accessorized with gold, layered necklaces and a pair of hoop earrings.
For this round my freshman year, I did fun things with my hair for each day. I added some braids one day and then also did half up, half down pigtails the second day.
Philanthropy Round Outfit #2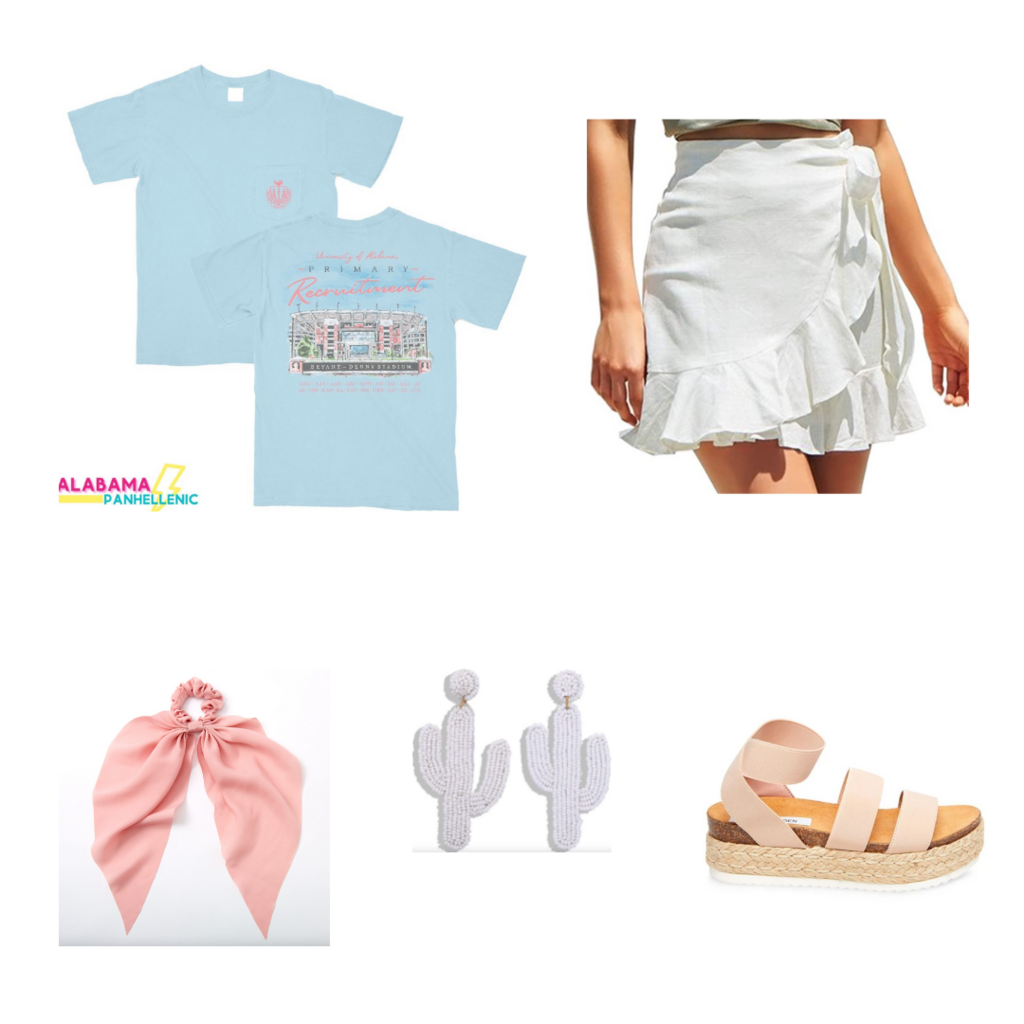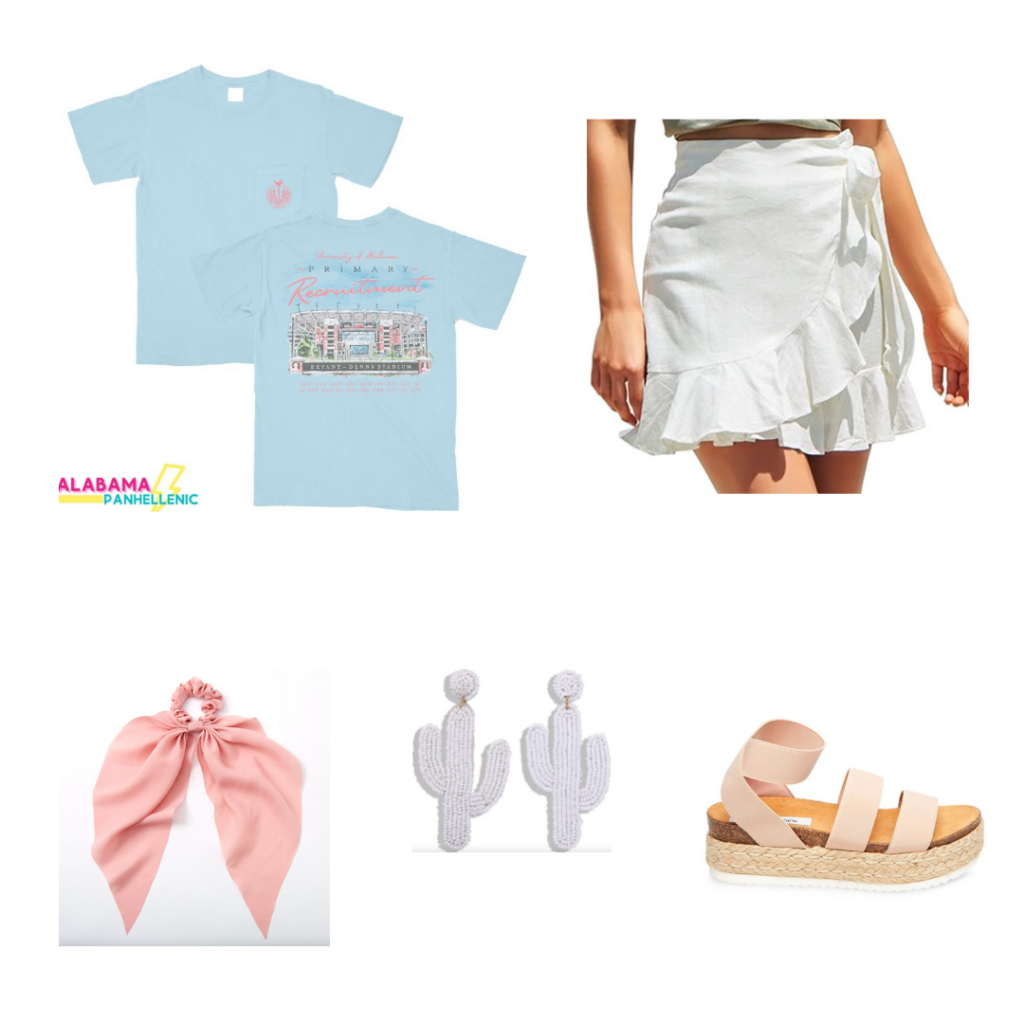 Products:
For the second philanthropy round outfit for sorority rush week, I styled a skirt to give you a different option. This cute tennis skirt is trendy right now and goes so well with a casual look.
I would tuck in the tee and then throw your hair into a fun updo with this adorable pink scrunchie scarf. Hair accessories are a great way to add personality to a basic t-shirt outfit.
I added these blush wedges that are quite comfortable and some fun beaded earrings.
Sisterhood Round
The sisterhood round is where you narrow down your choices even more. Usually, you are left with 6-7 houses at most. This round is all about learning about the sorority's values and what they look for in their sisters and sisterhood. This round tends to be a little more fancy, with nicer sundresses and heeled footwear.
Sisterhood Round Outfit #1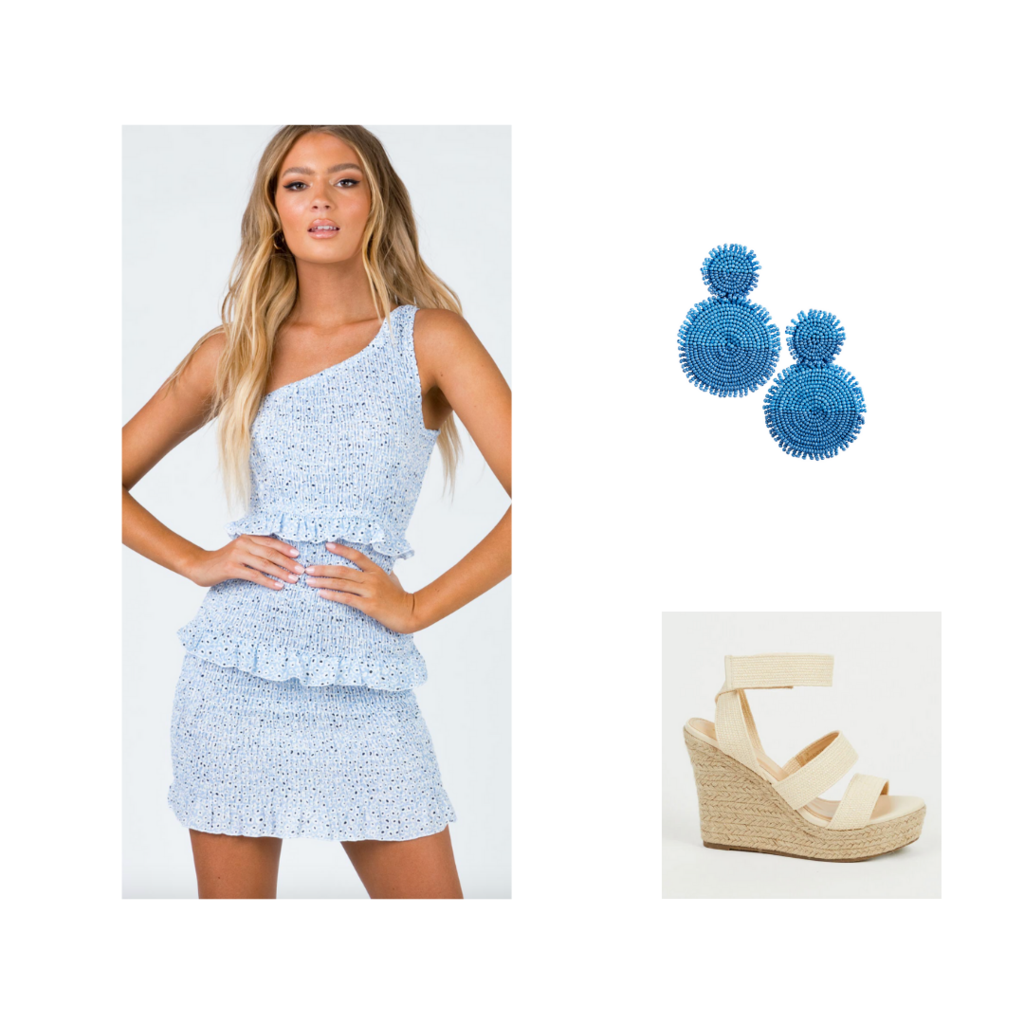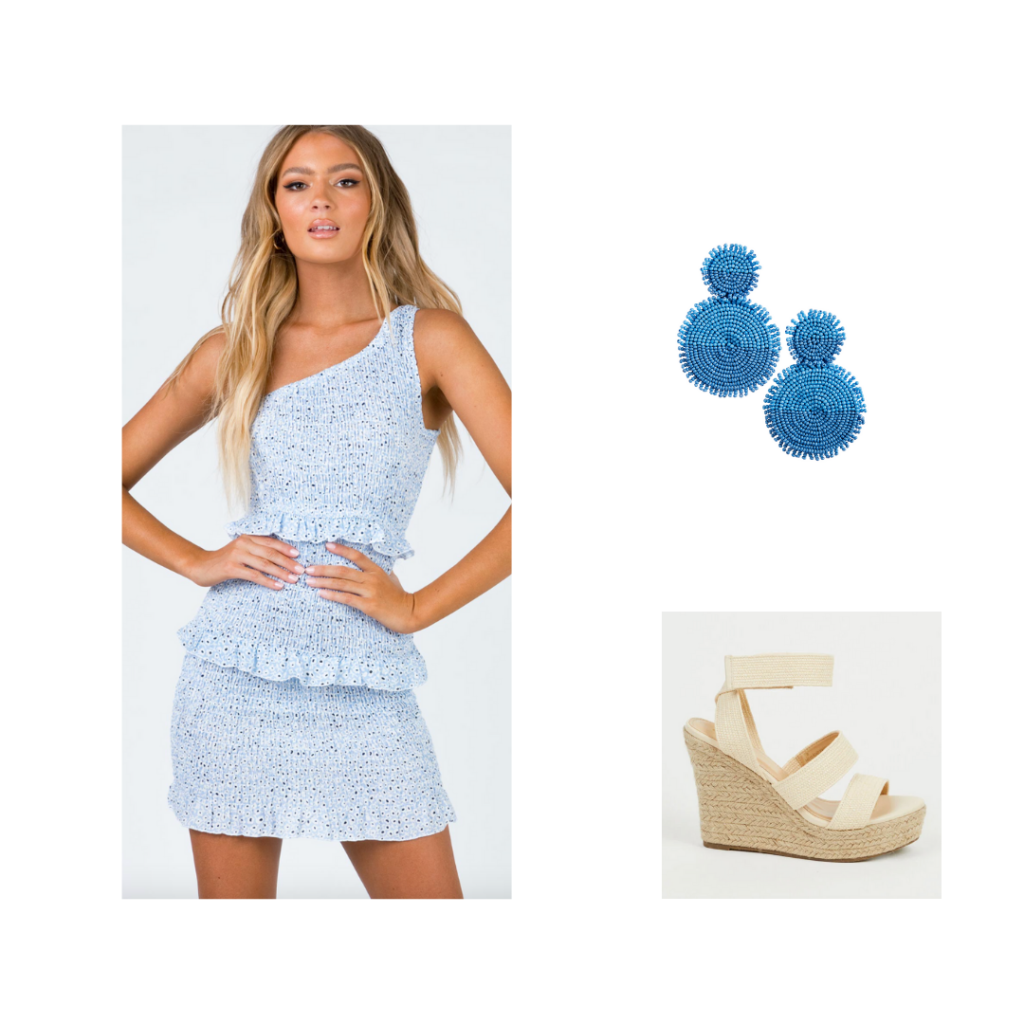 Products:
This first sisterhood sorority rush outfit set styles this baby blue, one-shoulder dress. I added some nude wedges to dress it up and some big statement earrings to match.
For this round, think about picking dresses that show off your personal style but are a little nicer and still comfortable to be in. You want to feel confident and your best!
Sisterhood Round Outfit #2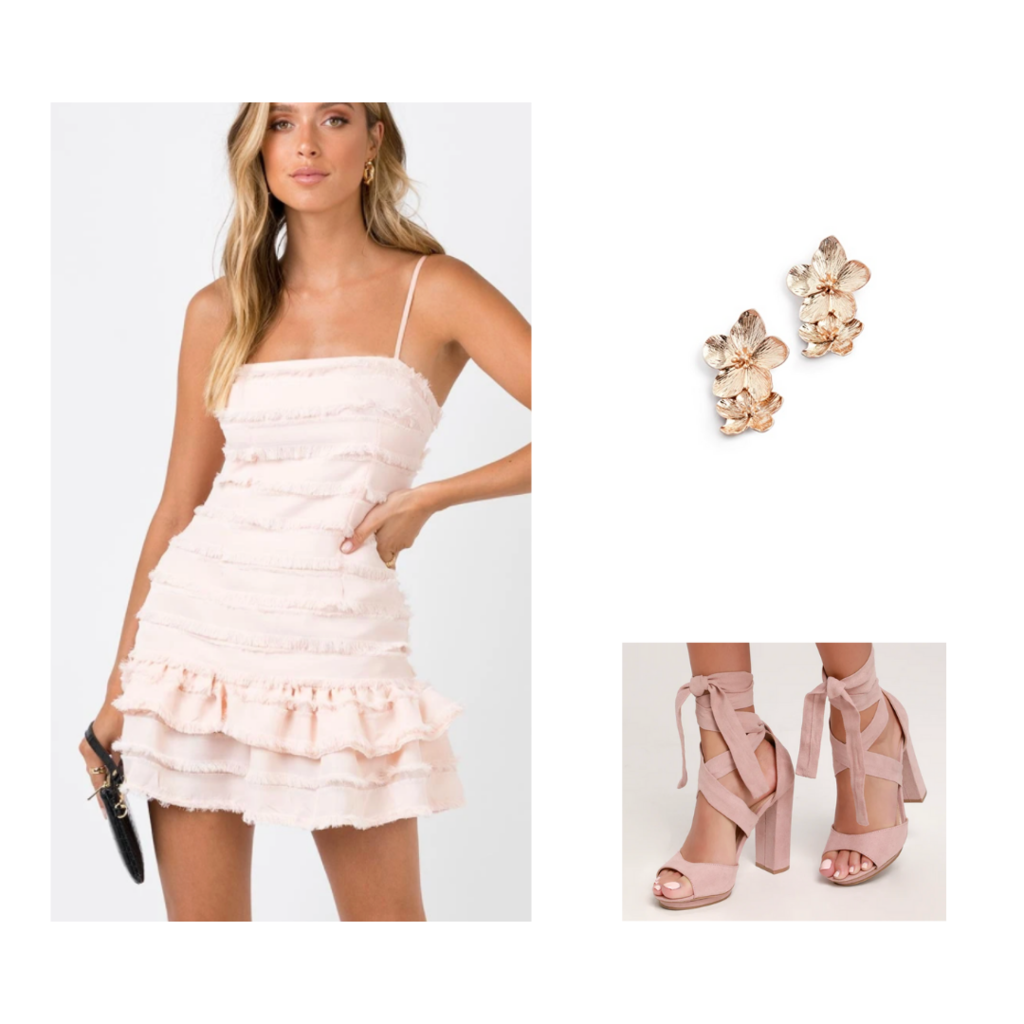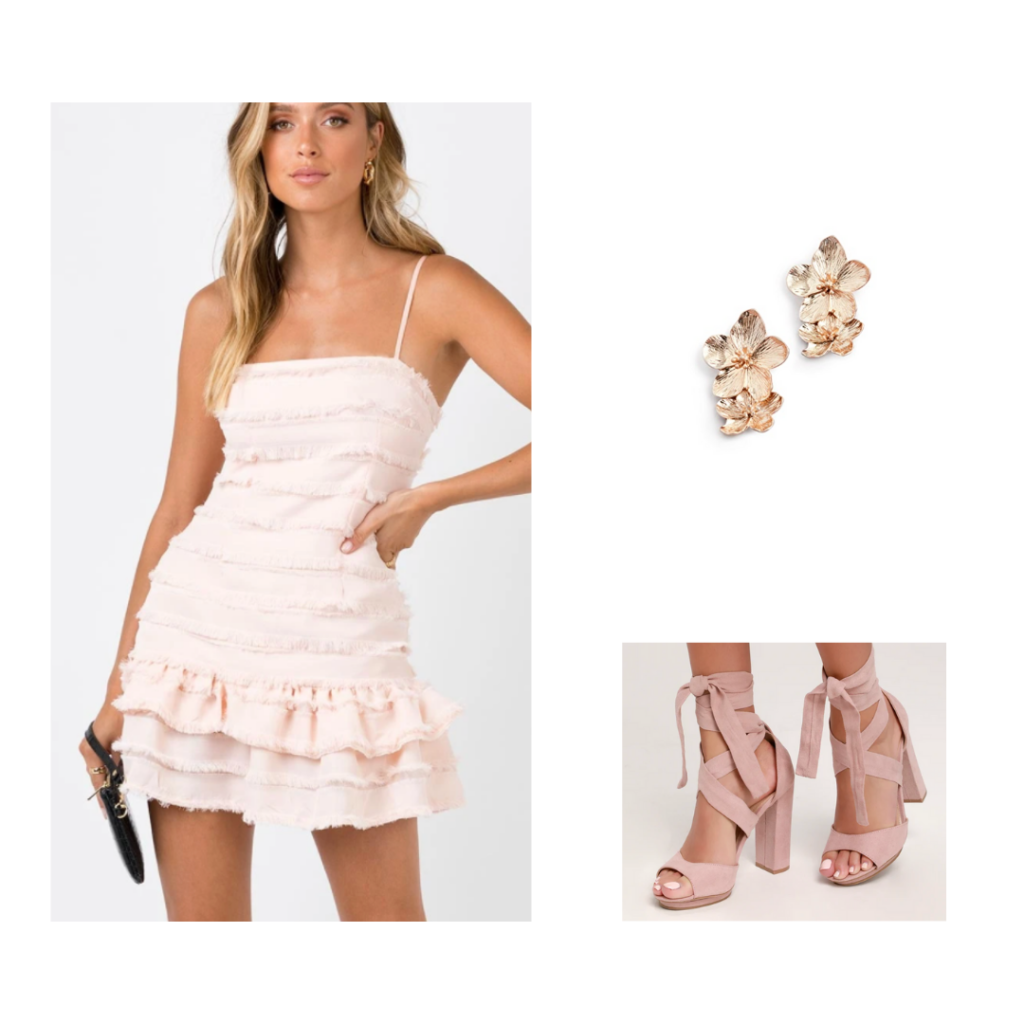 Products:
This next outfit set is a little fancier of an option for the sisterhood round. I paired this baby pink, ruffled mini dress with some chunky lace-up heels. I love matching colors and this shade of pink is so adorable.
For jewelry, I added some small gold flower earrings to not overpower the dress.
Preference Round
The preference round is the last round of sorority recruitment before bid day when you run home to your house! Preference round at Alabama is usually only one day, but I provided 2 different outfit ideas.
This will be the fanciest of all the rounds because it is the sorority potentially inviting you into their sisterhood. You will be left with 2-3 houses and have to really envision where you see yourself. When picking a dress for your ultimate rush outfit, imagine dressing like you are a guest at a wedding, as the sorority sisters on the other side will probably be wearing floor-length gowns.
Preference Round Outfit #1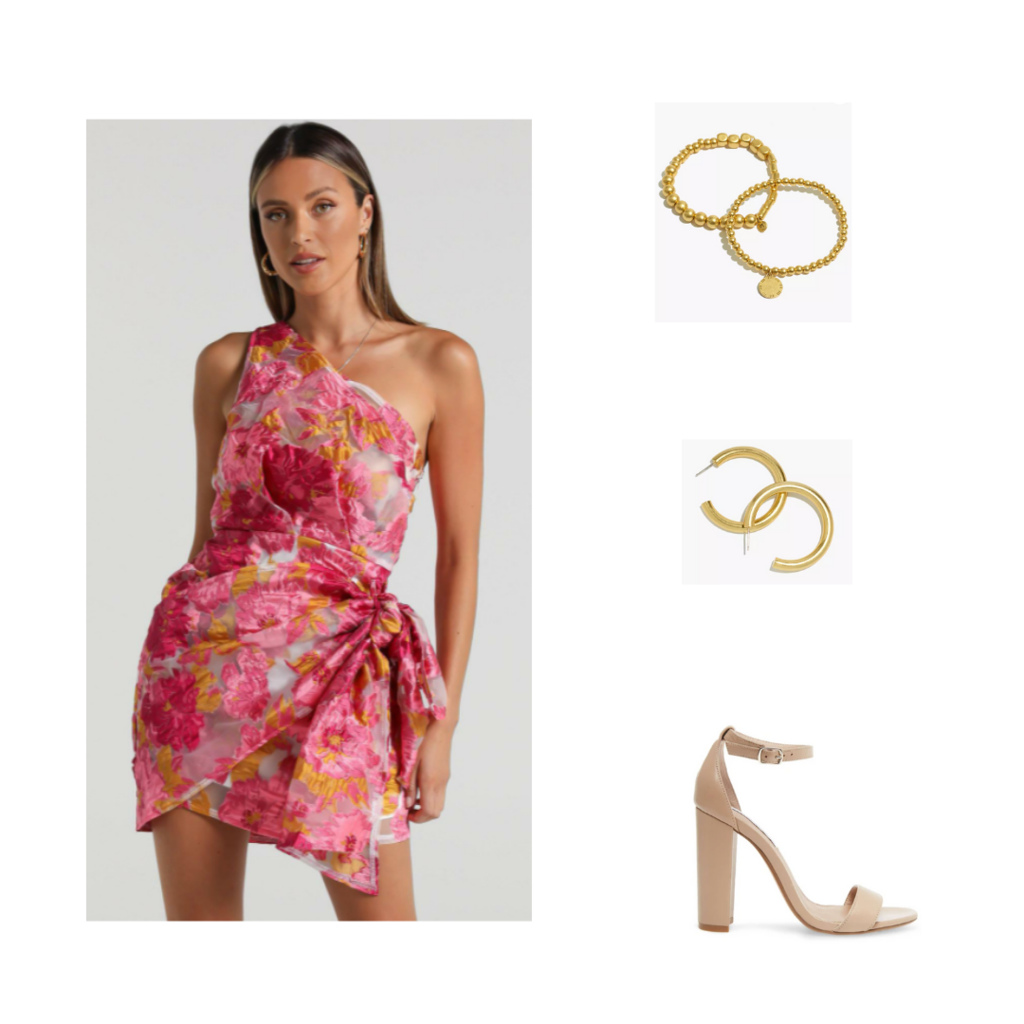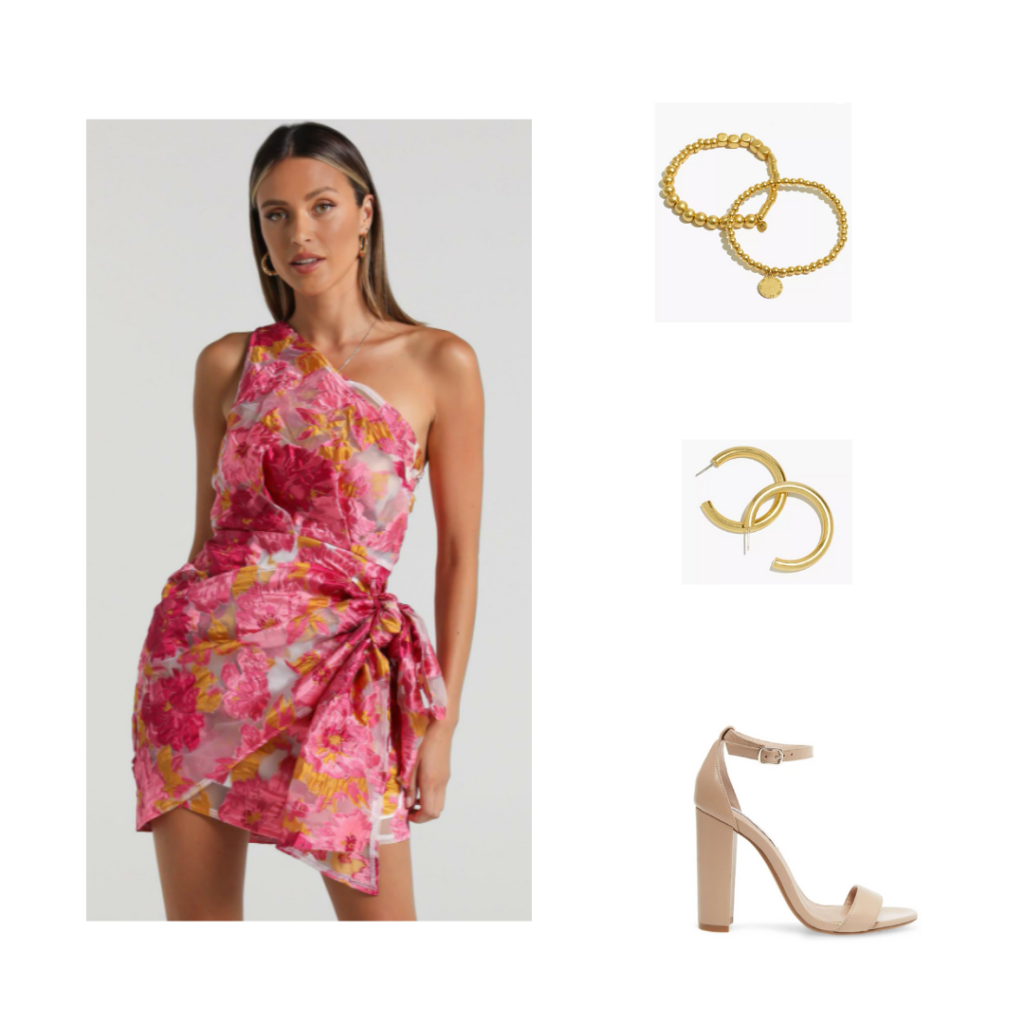 Products:
I love this first dress so much. It is girly, flattering, and will really make you stand out. I paired it with some simple nude heels. These are super comfortable to walk in because of the thicker heel.
For jewelry, I paired this dress with chunky gold hoop earrings and beaded layered bracelets. If picking a statement dress, keep your jewelry simple.
Tips For Dressing for Sorority Recruitment
Keep it on the Tame Side
When you're preparing for a sorority rush, it's important to remember to keep your outfit choices relatively modest and conservative. You want to show the active members that you respect their sorority and that you're taking the recruitment process seriously.
Choosing clothes that are too revealing or flashy could distract from the things you're saying and make it difficult for the sorority members to get to know the real you. Instead, opt for something more conservative and let your personality shine through in your conversation.
Put in Extra Effort to Look Polished
Sorority rush is a time when first impressions really count. You want to look and feel your best, and that starts with being polished and looking like you have your life together.
Wear something that makes you feel confident and pay attention to the little details. Make sure your hair is styled and your makeup is fresh, and accessorize with purpose.
Show Off Your Personality
During sorority recruitment, it's important to show off your personality. You want to let the sororities know what makes you unique and why they should choose you. Be yourself! Don't try to be someone you're not (this includes dressing in a way that's totally not your style). And also, be confident, as you want to come across as someone who is sure of themselves and their abilities.
Don't Go Too Basic
When sorority recruitment comes around, you want to make sure you look your best. Boring and overly basic outfits don't help you. Not only do they make you look too serious, but they can also be a turn-off for potential sisters. While you shouldn't wear anything super revealing, you also shouldn't be too basic. Stick to interesting looks and brighter colors and patterns that will help you stand out in a crowd.
Opt for Comfortable Shoes!
If you're going through sorority recruitment, it's important to wear comfortable shoes. You'll be doing a lot of walking, and you don't want to be in pain by the end of the day. Sandals, loafers, or comfortable platforms are ideal, but sneakers are fine too. Just make sure they're not dirty — again, we want to look polished.
Wear Accessories
The dress code for sorority recruitment at most schools is pretty relaxed, but there are still a few things to keep in mind when getting dressed. First and foremost, accessories are key! A few simple pieces can really pull your outfit together and make you look polished and put together. (More on this below.)
Which sorority rush outfit is your favorite?
(For more on sorority recruitment, see our guide to the dos and don'ts of recruitment and the ultimate guide to recruitment.)
Picking out the perfect outfits for recruitment is not as difficult as it seems! Go with you gut and wear the sorority rush outfits that make you feel confident and gorgeous.
Comment below which outfit you are most excited to style for recruitment.
Editor's note: This post was originally published in 2018; it was completely updated and revamped in 2022 with new outfit sets and information.
If you liked this article about these sorority fashion outfits consider checking out some of our favorites below —