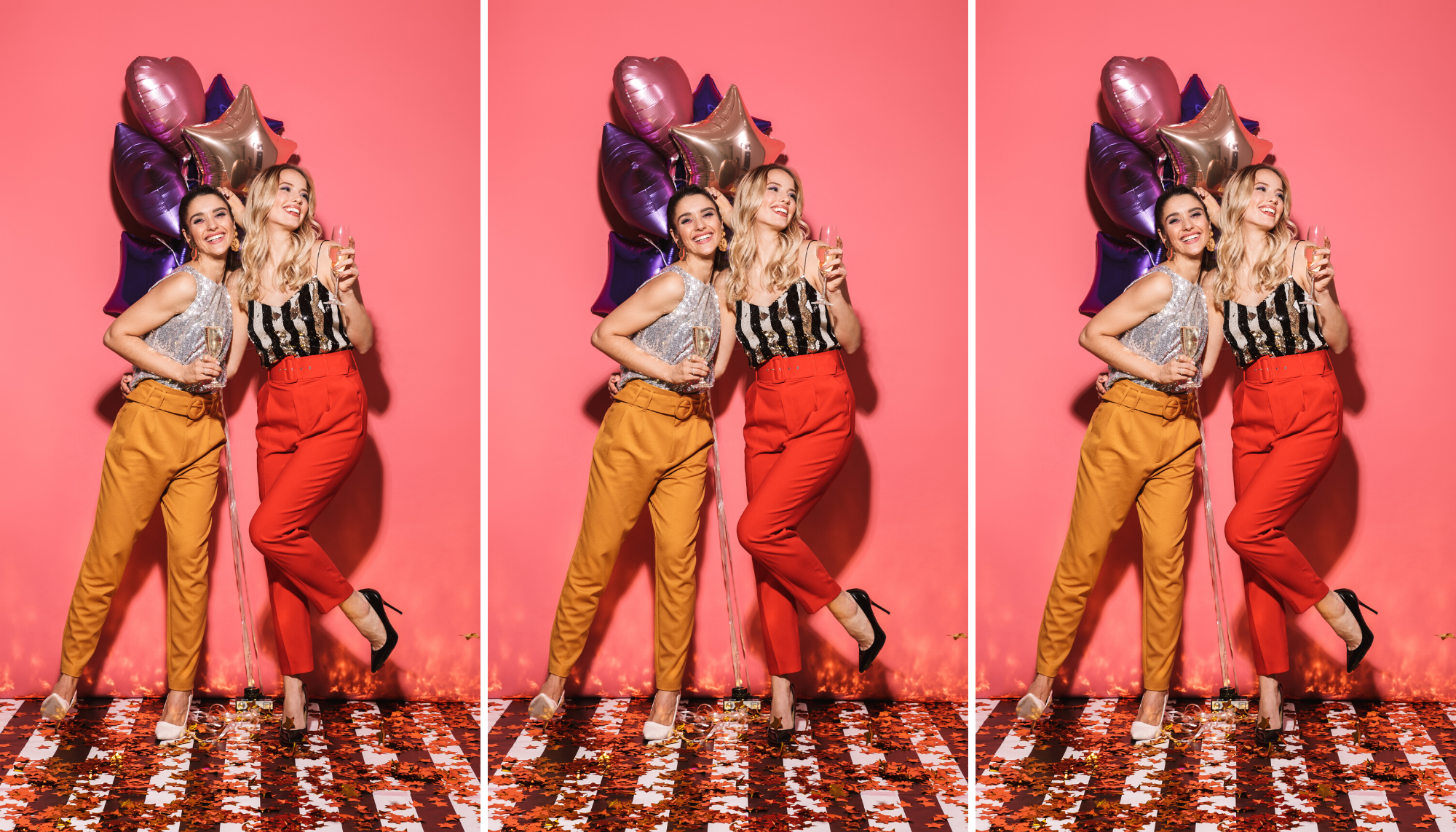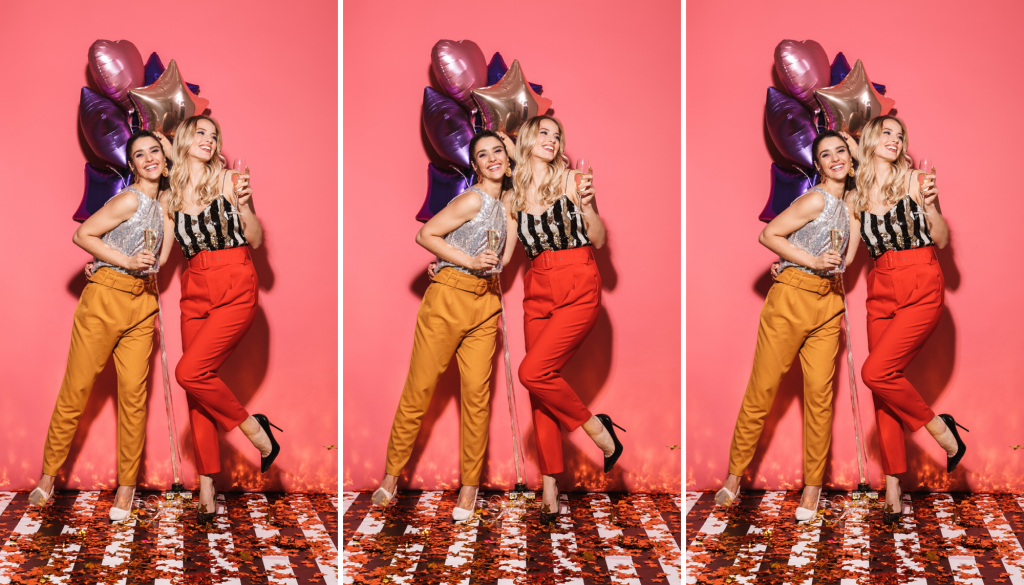 This post will show you the college party clothes you need in your wardrobe to make hundreds of perfect party outfits.
I'll be the first to admit it — when I packed for college, I had no clue what I would actually end up wearing to college parties.
I learned pretty soon into O-Week that my collection of cute tops and jean shorts didn't really work at my school's endless theme parties, and I know now if I had just packed a few extra items I would've been all set for anything college threw at me.
Now that I have more party/darty experience under my belt, I know exactly what pieces I need to stock up on for the next school year so I can always have the perfect thing to wear.
1. Something Animal Print
When You'll Wear It: Jungle Parties, Halloween Costumes, Class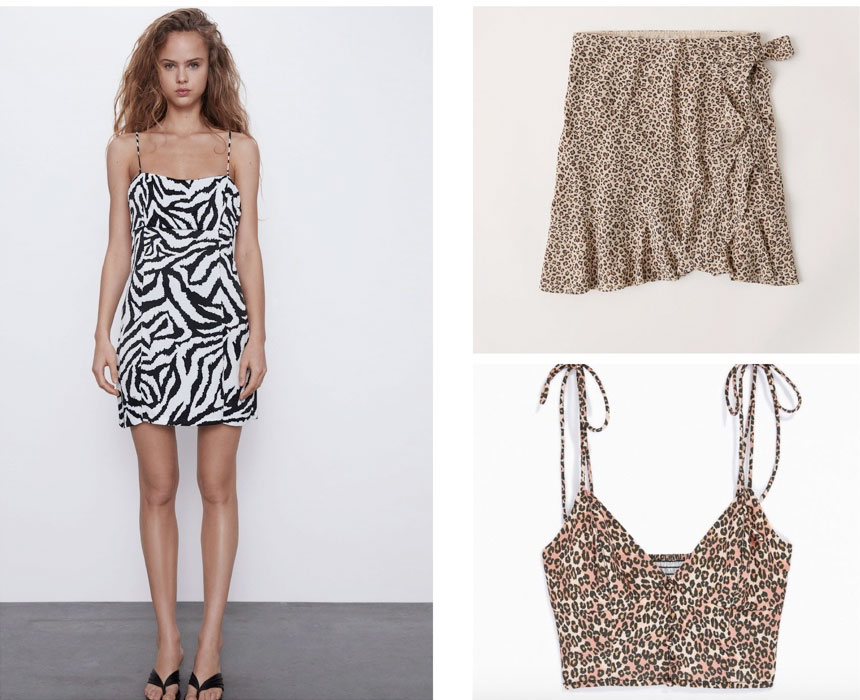 How to Style It: "Jungle" was probably the theme I saw the most this year, and it's one of the easiest themes to fit.
If you pair a loud animal print with literally anything, you have a quick and cute jungle outfit. I generally went with a cheetah crop top (like this one from Urban Outfitters) and plain black bottoms.
A full body print (like this dress or a skirt and top) makes Halloween costumes a breeze. Throw on a pair of ears or try your hand at some makeup leopard spots. You can be a different animal every night — cheetah, zebra, Dalmatian puppy… 
A head-to-toe animal print look or a crop top may be a bit much for class, but pairing printed bottoms (like this skirt) with tights and a plain black shirt can make the outfit totally lecture appropriate (while still being very cute!).
2. Bikini Tops
When You'll Wear It: Almost Any Darty, Foam Parties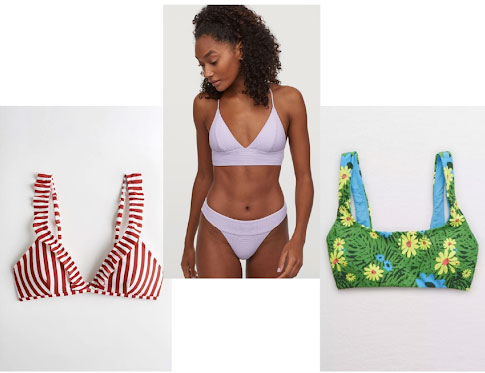 Products: Ruffle bikini, Triangle bikini, Scoop neck bikini
How to Style It: To the unaware, a "darty" is a day-time party usually held outside. Darties are especially common during the first semester when it's warm, and the heat means bathing suits everywhere.
If you buy a bunch of cheap bikini tops (like this one) in different prints, you'll be set for every darty.
America darty? Throw on a striped bikini top with some cutoff shorts and you're all set.
Repeat endlessly for the different darty themes — floral prints for beach week, your school colors for game day….
You'll also need bathing suits for foam parties, where someone rigs a machine to spew soap bubbles everywhere. You're going to get dirty at foam parties, so don't wear your favorite suit or shoes!
3. Cute Pajama Gear
When You'll Wear It: Pillow Parties, Lounging with Your Friends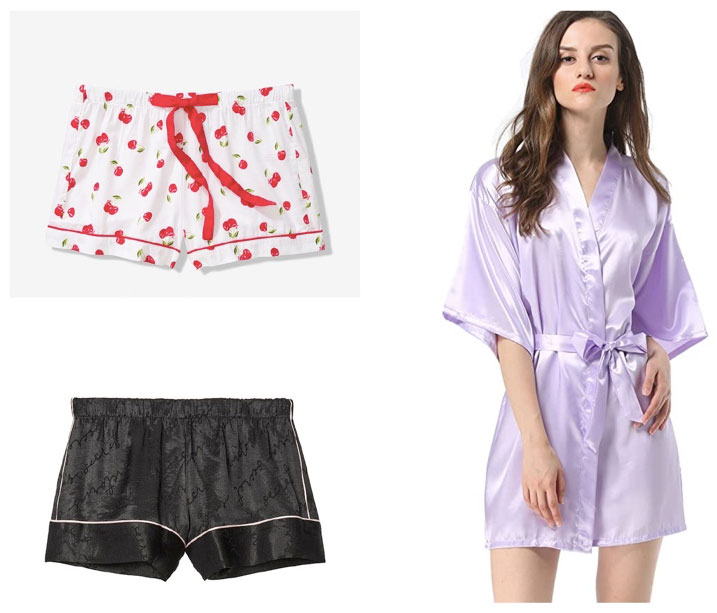 Products: Robe, Cherry shorts, Black shorts
How to Style It: Pillow parties (where everyone is in their pajamas) are an absolute blast, because you can look adorable and still be super comfy.
If you want to be simple, your favorite pajama shorts paired with a tank will work great. (Yes, pajamas can count as college party clothes in this case!)
If you want to really commit, keep the shorts and tank and throw a silky robe over it to remind everyone how good you look even when you're getting your beauty sleep.
Even if you don't go out much, you're going to spend a lot of time just hanging out in your dorm with your friends. Having cute pajamas can be helpful when you're not comfortable wearing a full sweatsuit yet.
Even once your friends have seen you with your zit cream on, wearing nice pajamas can add the extra pep in your step you need before a big day.
4. Something Neon
Where You'll Wear It: Blackout parties, "Crazy" parties, 80s parties, Coachella parties…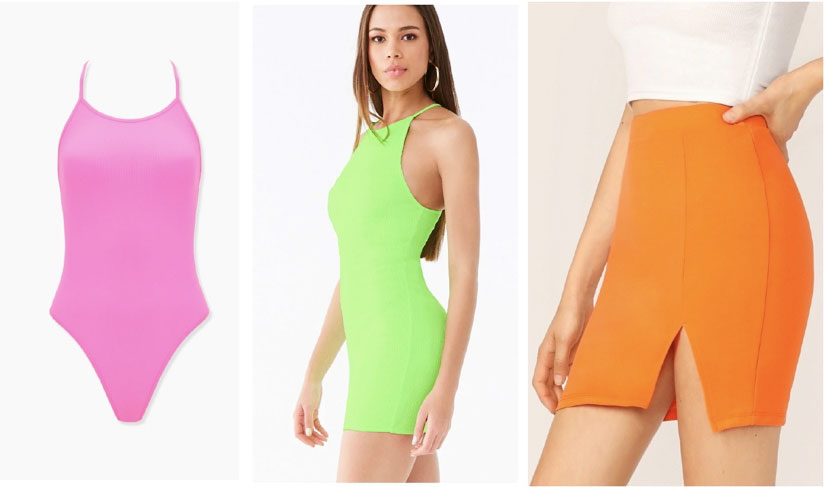 Products: Pink bodysuit, Green dress, Orange skirt
How to Style It: If I could go back and time and pack one extra item for my freshman self, it would be something neon. You NEED neon. You'll use it for almost every party.
Neon items are so usable, it's impossible to style them incorrectly. At an '80s party, go full on and pile on every piece you have.
"Crazy" parties are similar — combine every bright thing in your closet and add some sequins for good measure.
If you want to tone it down a little, avoid full body neon pieces and pair your neon top with plain black bottoms, or vice versa.
5. The Perfect Black Crop Top
Where You'll Wear it: Literally Everywhere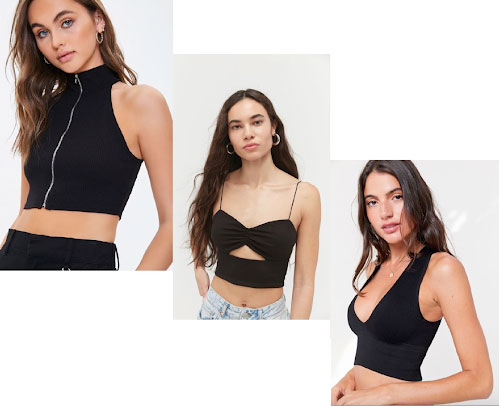 Products: Cutout crop, Zippered Crop, Deep V Neck Crop
How to Style It: We can't talk about college party clothes without this one — My most worn item is my perfect black crop top.
Perfect means something different to everyone — I wanted something with a nice texture and a deep V-neck. Maybe you want something with a longer hem and no sleeves.
Whatever works for you, find it and buy copies.
You'll wear your perfect black crop everywhere. Have the perfect skirt but no top? Black crop. Want to tone down crazy bottoms? Black crop. Going from party to party and don't want to change? Black crop.
Different tops have different uses. If you're more conservative, a long-sleeved black shirt can make you more comfortable with some outfits. If you wish your look was more exciting, a really daring black crop can make a whole outfit spicier.
6. A Comfortable Bralette
Where You'll Wear it: Every Party, Study Sessions, Lounging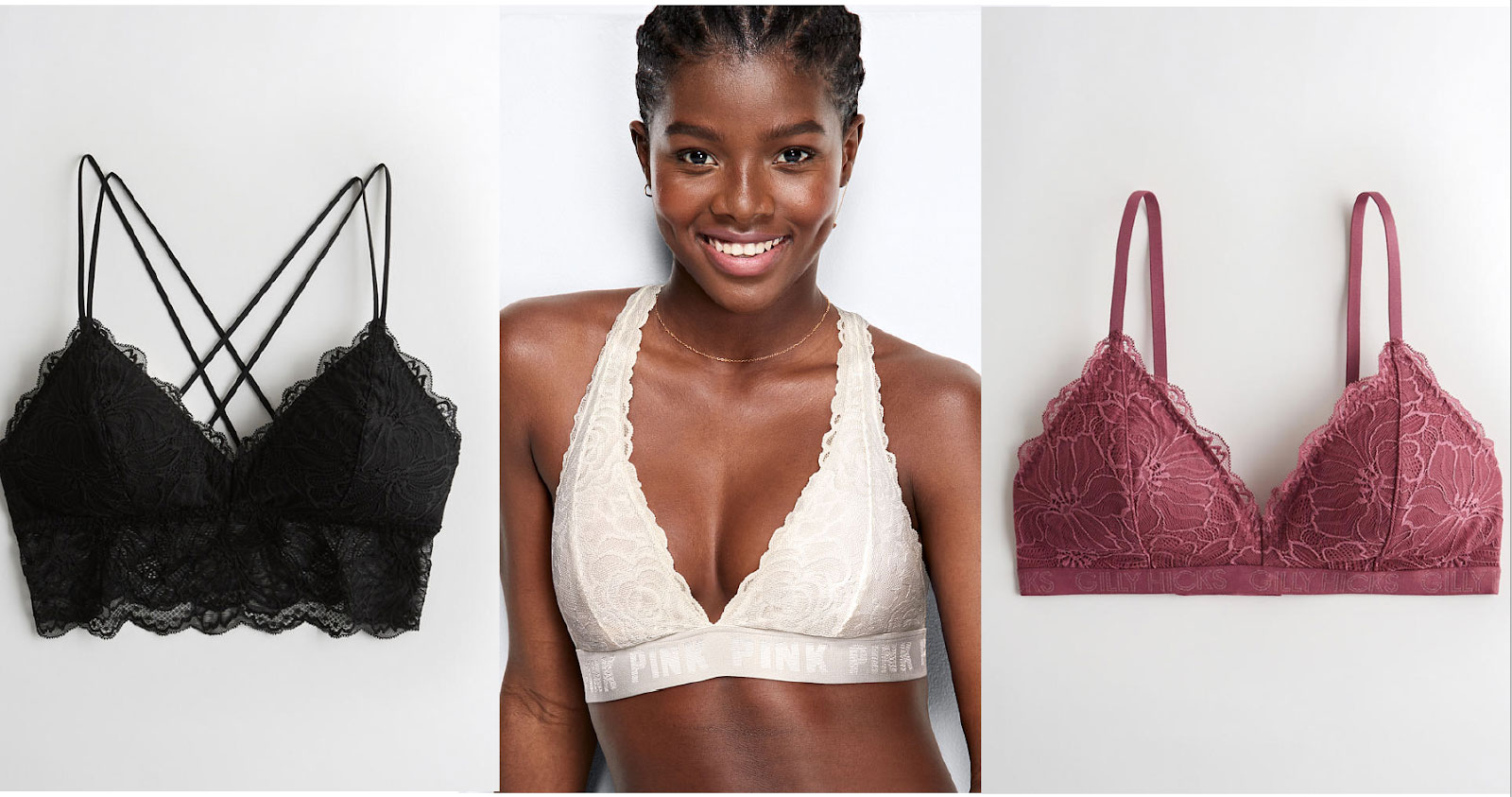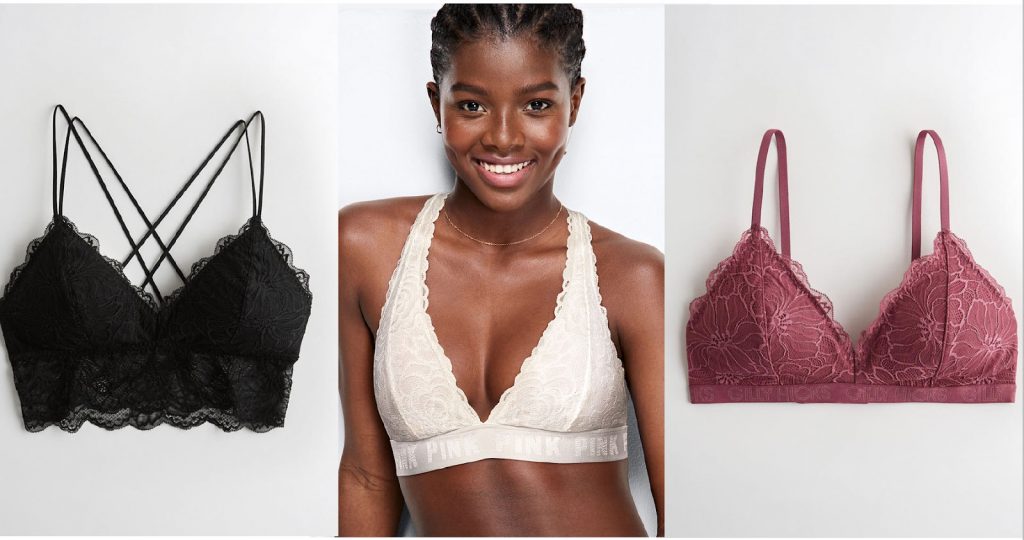 Products: Black Bralette, White Bralette, Red Bralette
How to Style It: You might not think a bra belongs on a list of college party clothes, but trust me — you need this one.
Even if you're an underwire disciple, a good bralette will come in handy more than you think. From your wildest parties to the library, a bralette is a piece that always make you more comfortable.
Bralettes are useful almost every night, from your craziest moods to your more conservative vibes. If you're wearing modest bottoms, wearing a neutral colored bralette as a top can be a fun way to show some skin.
On the flip side, if your shirt is a bit too sheer for your liking and you don't feel comfortable just wearing a bra underneath, a bralette is a good way to add some coverage.
And when you're not partying, bralettes are good for when you just can't handle a bra but you're surrounded by people (which is always the case in college).
Wear a bralette under your pajamas if you're hanging out with friends before bedtime, or under your sweatshirt when you're pulling an all-nighter in the library.
7. Neutral Sneakers
Where You'll Wear It: Parties, Darties, and Everything in Between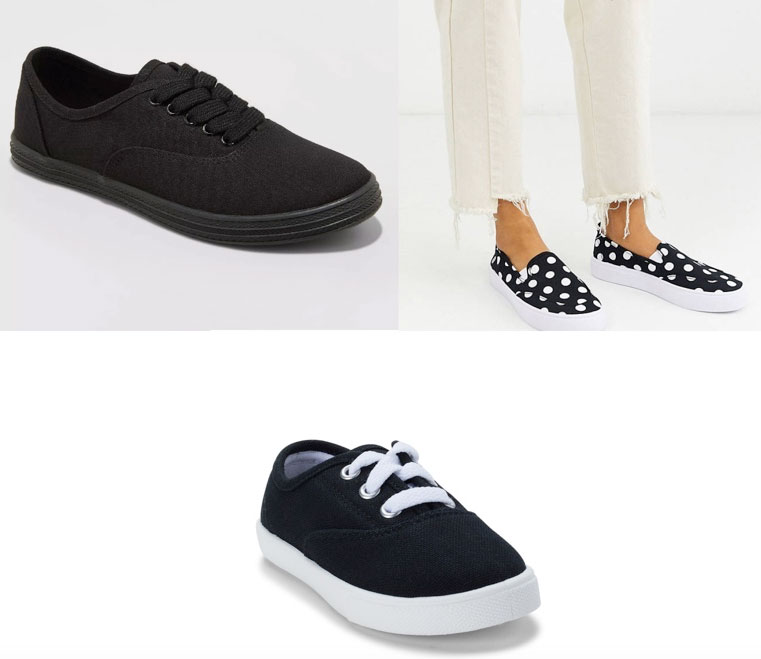 Products: Black and White Spots, Black with White Laces, Black with Black Laces
How to Style It: I know great shoes make an outfit, and you want to rock the perfect pair of heels to your first college party. But at the end of the day, most people are wearing sneakers to absolutely everything.
When you're in neon head-to-toe at a black light party, black sneakers don't clash with your outfit. When you're at a darty outside, sneakers protect your toes. When you're walking home from a club, sneakers make it possible to walk.
And when you just need something to shove on your feet to go about your business, black sneakers are always easy and always cute.
I've worn sneakers to every party I've ever been to in college. Every. Single. One.
8. A Slightly Fancy Sundress
Where You'll Wear it: Random "Nice" Parties, Casual Business/Sorority Events, Class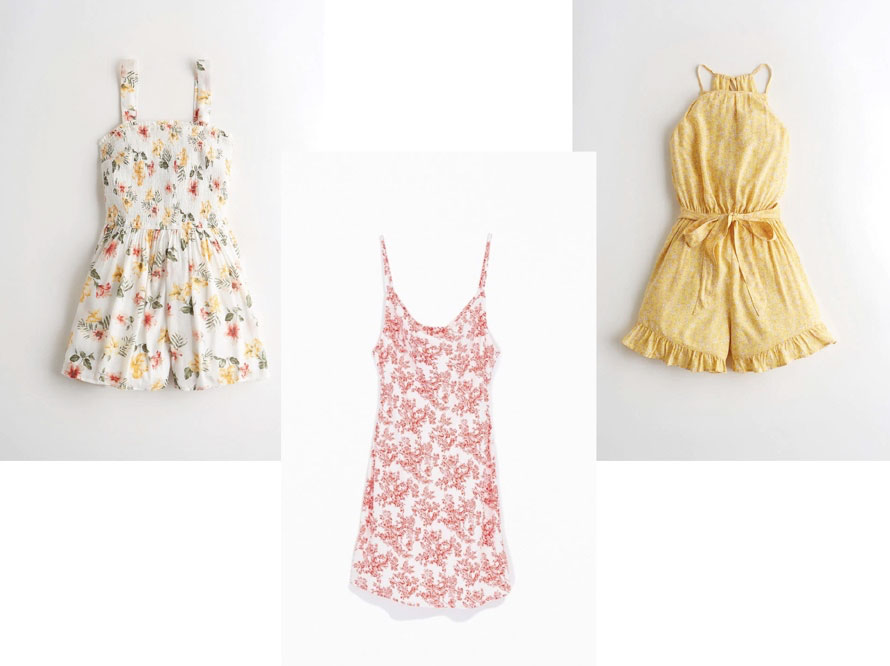 Products: White Floral romper, Red Print Dress, Yellow Romper
How to Style It: You need at least one nice-but-still-casual dress in your lineup of college party clothes; you won't use it every day, but you'll be grateful you have it.
At least a few parties every season call for a nice sundress. If an event is Kentucky Derby themed, a "Garden Party", or in any way "Southern" themed, you can't wear your usual jean shorts.
Pair a pretty, floral dress with white sneakers and a cute headband to look pulled together but still casual.
It can also just be nice to have something other than jeans to wear around campus. If you're giving a presentation, a sundress under a blazer looks professional while still being feminine.
Even if you have no reason to wear it, wearing a dress to class can make you feel good when nothing else will.
9. All Your Old Homecoming Dresses
Where You'll Wear It: Formals and Frat "Weddings".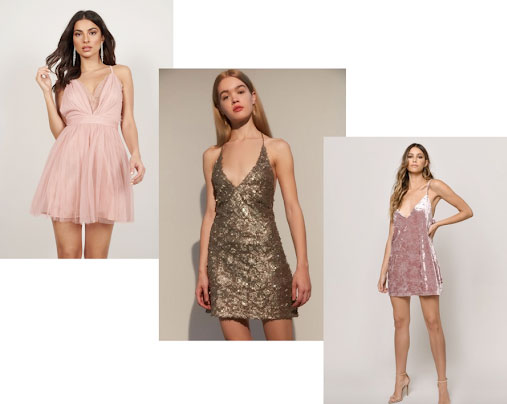 Products: Tulle Skater Dress, Sequin Dress, Velvet Dress
How to Style It: Just like the sundress, you won't wear your old dance dresses every day, but you will desperately need one a few times a year.
If you (or anyone you know) is involved in Greek life, you might go to a formal or date function. Dress codes for formals vary, but generally an old homecoming/semi-formal dress will work great. Anything with sequins, tulle, or an interesting shape will fit right in.
With a dress this nice, you can wear heels and break out your favorite jewelry.
If you're lucky, a fraternity at your school will throw a wedding themed party, wherein everyone shows up in formal clothes and a frat brother "marries" a sorority girl.
Those sorts of parties are as formal as you want, so have fun and wear a dress you never get a chance to wear (but skip the heels, since it's still a frat party).
10. Solid Black, White, and Red Pieces
Where You'll Wear it: Absolutely Everywhere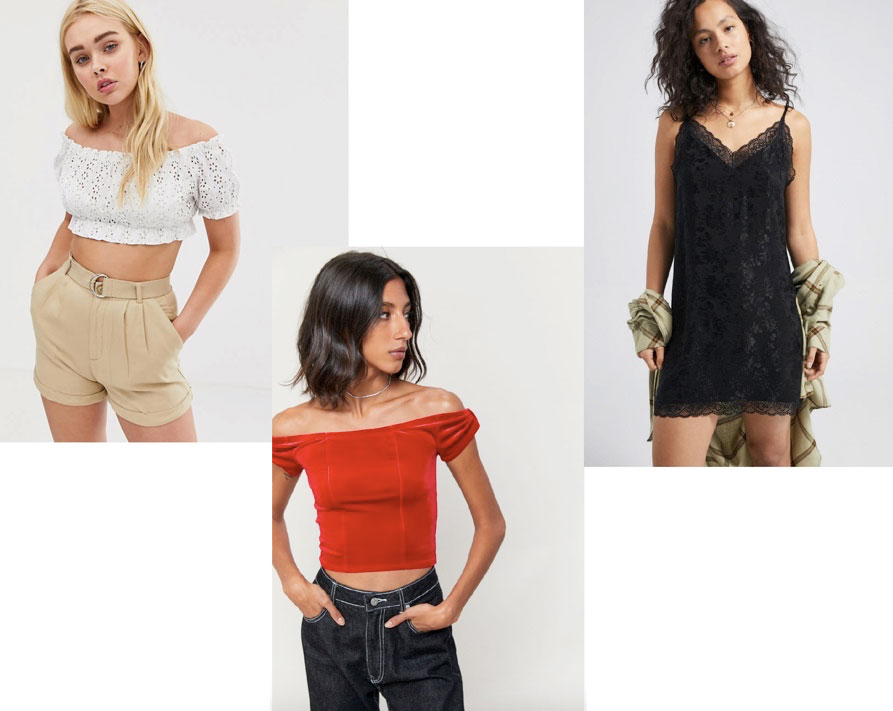 Products: Red Top, White Top, Black Slip Dress
How to Style It: The number one theme I struggled with in college was "color" parties — usually, white or black. I know these are basic colors, but somehow I never had anything solidly that color, or my options weren't college party-appropriate.
"White Out" and "Black Out" parties will pop up very often, so be sure to find something cute and simple that will go with everything and that you'll want to wear a lot. Ideally, own a party dress in each color.
Also, if you ever just need a neutral top to balance out crazy bottoms, having standby shirts you know you like makes everything easy.
While there aren't many "Red Out" parties, you'll need a red shirt more often than you think. You might go to a Valentine's Day function, or you'll need a top for your devil costume, or a party might be themed Fire and Ice and you'll want to be fire.
Either way, it will come in handy.
What are your go-to college party clothes?
Which of these pieces do you actually wear the most? Have you never worn some of these pieces? Do you have a piece you wear every night that I didn't mention?
Let me know in the comments!