This post will show you college party outfit ideas, with affordable outfits for frat parties, tailgates, and more.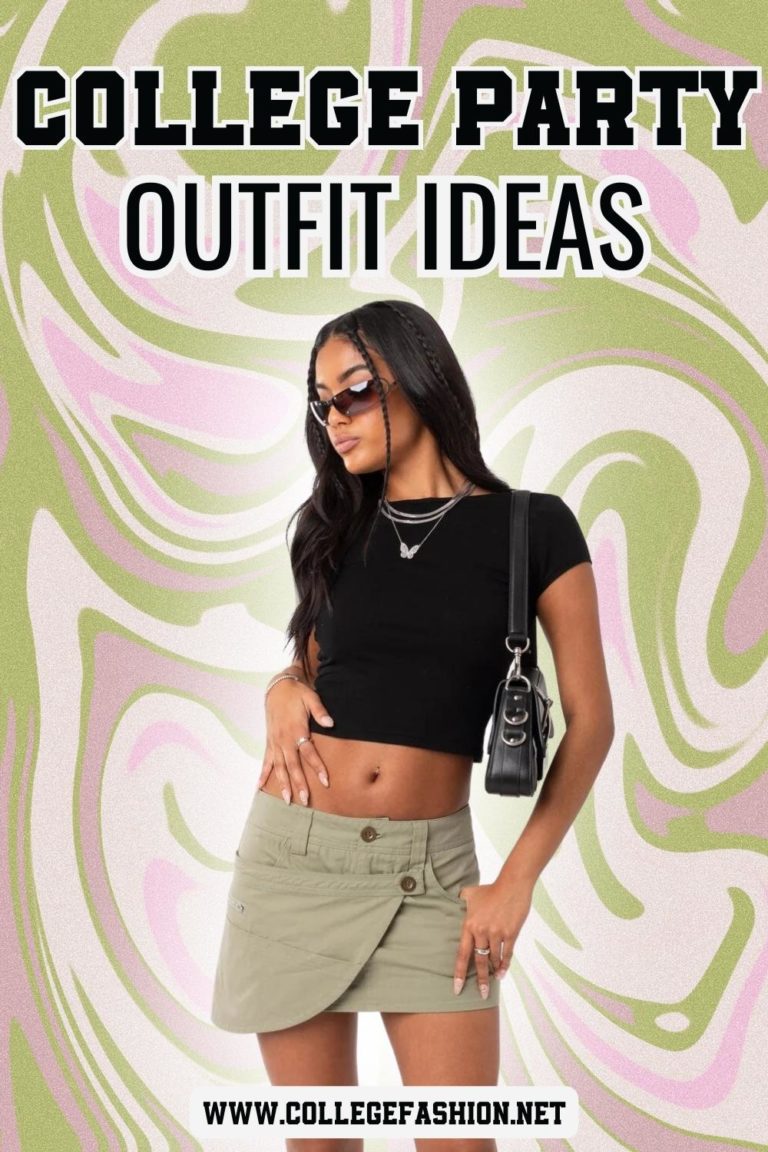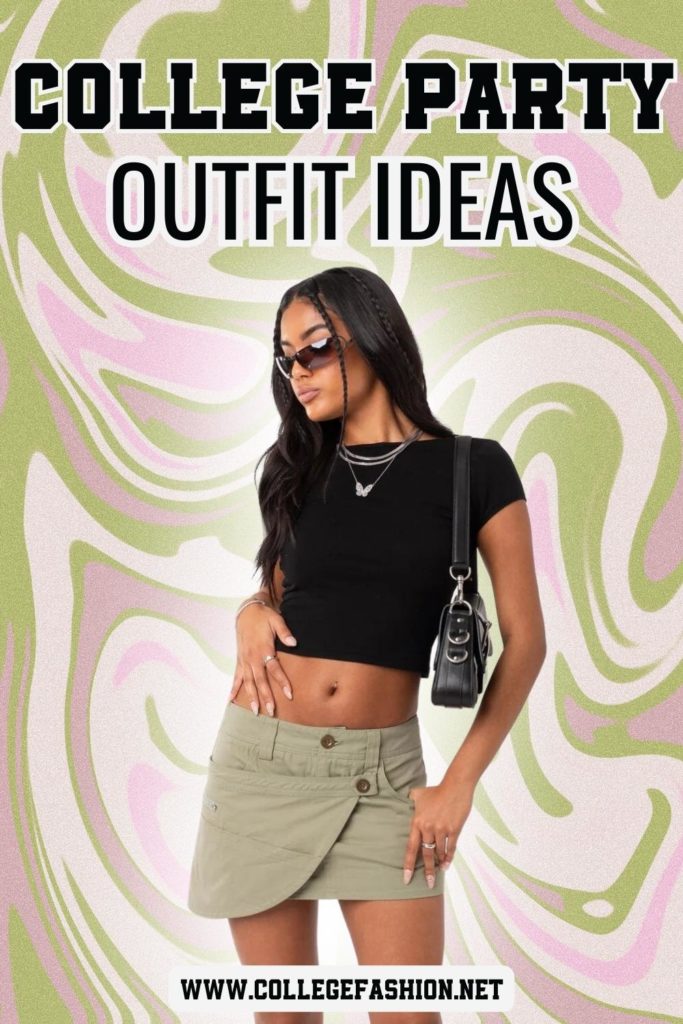 Let's be real: college is not just about the classes and study sessions. It's practically a rite of passage to party it up while at college, from frat parties to tailgates and beyond!
With the new school year approaching, you may be wondering what to wear to college parties, and I've got you covered. In this post, you'll find outfit ideas perfect for all kinds of parties you'll encounter at college, and best of all, everything is under $120.
So whether you're dressing up for a date party or tailgating in a parking lot, read on for the cutest college party outfit ideas that won't break the bank.
Frat Party Outfit Ideas
College is known for its frat parties, and there's a good chance you'll end up at one, even if you aren't a part of Greek life yourself.
There's usually a more casual element to these parties, and given how grimy they can be, you don't want to wear anything too fancy or expensive, since there's a good chance it'll get ruined.
I'd also recommend avoiding ultra-high heels (especially stilettos) since they aren't practical—or necessary—when you're partying in a basement.
Cargo Pants & A Corset Top
The big pants/little top (or vice versa) combination is a go-to for most college parties, especially frat parties and the like (so long as they don't have a specific theme set). This combo strikes the perfect balance between casual and dressy, making this look versatile and easy to recreate many times over by mixing-and-matching your pieces.
These cargo jeans, which you could just as easily wear to class, have a baggy, wide-leg fit that will perfectly balance out a tight-fitting corset crop top when you're heading to a frat party.
Depending on the type of frat party, you can either wear ankle booties or platform sneakers for a more laid-back vibe; Converse sneakers are a classic choice, and I love the Adidas Originals Women's Gazelle Bold Shoes for a street-style vibe.
Accessorize with jewelry of your choice, and carry your belongings in a crossbody bag or a compact shoulder bag like this cute faux patent leather option, so that you can easily move through the crowd.
Related reading: 14 Corset Outfits That Will Have You Looking Hot AF
Date Party Outfit
If you've been invited to a frat's date party, this usually means it's a chance for you to get dressed up in a cute going-out dress and heels.
Embrace the current Barbiecore trend with this bright pink bodycon one-shoulder mini dress which features a sultry silhouette complete with a ruched, corset bodice, and a front cut-out, plus a stretchy mesh material that will allow you to dance and move around comfortably.
Style your mini dress with some nude ankle-strap heeled sandals that have a block heel, which are my #1 pick for going-out heels in college. If you can only invest in one pair of heels, this style is the most versatile—they'll match almost any dressy outfit, and are (mostly) comfortable to walk, stand, and dance in.
Since this particular dress has a lot going on around the chest, skip a necklace and opt for some eye-catching dangly earrings, like these gold chandelier drop earrings.
This neutral-colored clutch bag (this one has a faint crocodile print) looks classy and even has a chain crossbody strap, which will definitely come in handy.
College Bar Outfit Ideas
If your college has a bar scene, you'll need going-out outfits that are a bit dressier than what you'd wear to a frat, with major trend appeal. Elevate the age-old "jeans and a cute top" combination with these college bar-ready outfit ideas for 2023.
Faux Leather Pants & A Bodysuit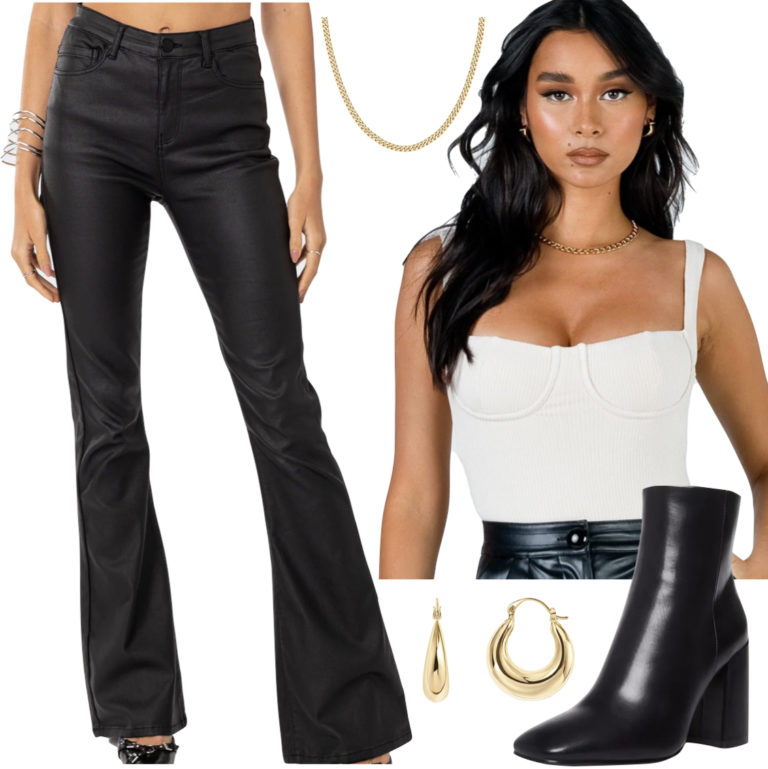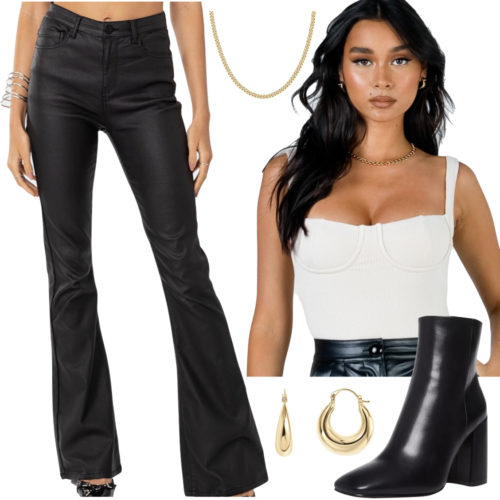 Products: Pants, Bodysuit, Necklace, Earrings, Ankle Boots
Hit the bars in some faux leather pants, which are an absolute must-have (this flared pair has rave reviews on TikTok), especially during winter months. Faux leather pants have a sexy, dressy vibe, and can be worn with blouses, crop tops, and bodysuits, alike.
This light beige bodysuit is a stylish neutral piece that is ribbed and has a bustier-like design—jazz it up with some gold jewelry, like a chain necklace and hoop earrings.
A pair of black heeled ankle booties with a square or pointy toe are a must-have since they're ultra-versatile, and in this case, will give you the perfect boost of height while also protecting your feet from the bar's sticky floor.
Mini Skirt & Boots
The bar is the perfect place to break out your mini skirts, and cargo mini skirts have been a major trend recently. Though you can wear these casually too, dress it up for nighttime with some black knee-high heeled boots and a stylish top, like this black open-back top.
Go for a compact shoulder or crossbody bag, since bars can get packed, and you don't want to deal with a bulky bag in a crowd. This silver crescent-shaped mini bag is super trendy while also being practical, thanks to its crossbody strap and small size.
Complete the look with a pair of matching silver hoop earrings and whatever other jewelry you'd like.
College Tailgate Outfits
Here's how to dress for college Game Day and look like a winner, regardless of your team's score!
School Merch & Denim Shorts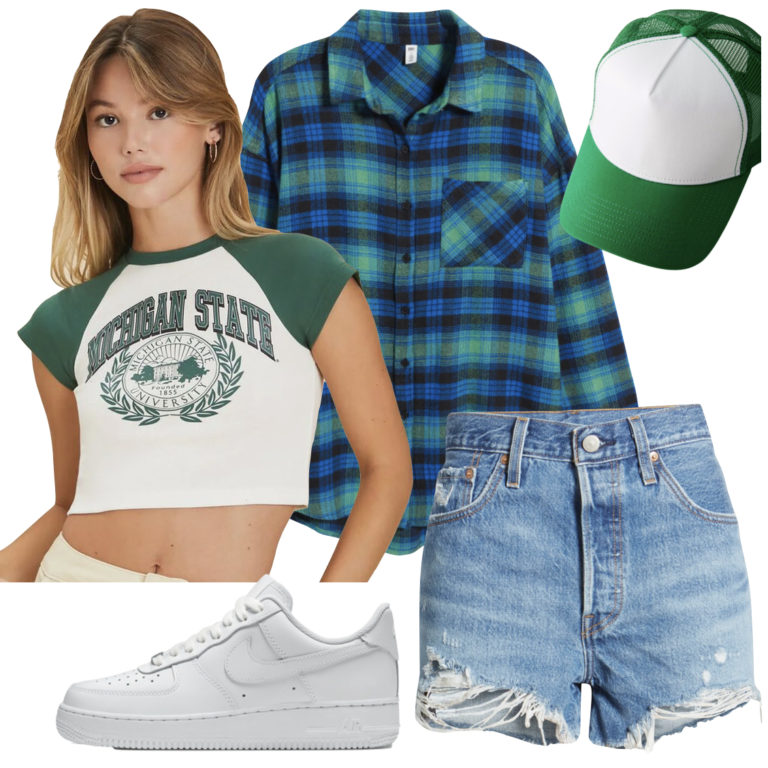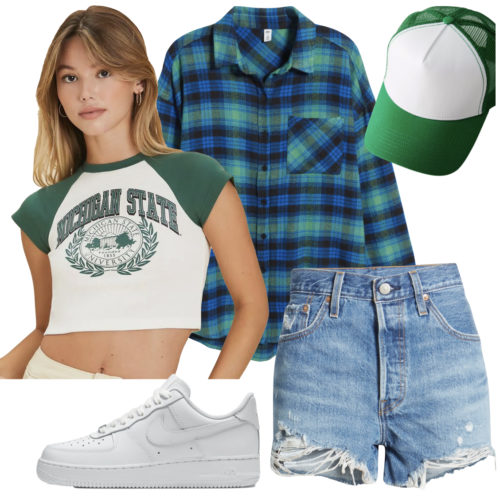 Products: T-Shirt, Plaid Shirt, Denim Shorts, Hat, Sneakers
Tailgating the big game? This is the perfect time to pull out your school merch and/or rep your school's colors. The goal is to be casual but still look cute, because it still is a party, after all!
You can't go wrong with some distressed denim shorts and a top or t-shirt with your college's emblem on it—if you have a cropped one (like the raglan tee above), even better! Layer a plaid flannel shirt on top, or tie it around your waist. You'll likely be partying from the daytime into the evening, and if it starts to get chilly, it's the perfect lightweight layer to toss on. Bonus points if you find a flannel that features your school's colors!
Keep things laid-back with a pair of sneakers like some Nike Air Force 1s, which go with everything, and rock a mesh back trucker hat or school logo hat as a casual accessory.
Ruffled Skirt & Cowboy Boots
For dressier game days (looking at you, SEC institutions), ruffles and cowboy boots are the quintessential tailgate uniform for women.
Show your school spirit by wearing your college colors—in this case, a white tiered ruffled mini skirt and a maroon crop top with white stitching along its ruffled sleeves.
Cowboy boots are as cute as they are practical since they'll keep your toes covered (to avoid spills and being stepped on!) while also adding to the outfit's aesthetic.
Add in some glam, game day-inspired touches like this fun pair of beaded earrings that say "Touchdown," and a clear crossbody camera bag.
College Pool Party Outfit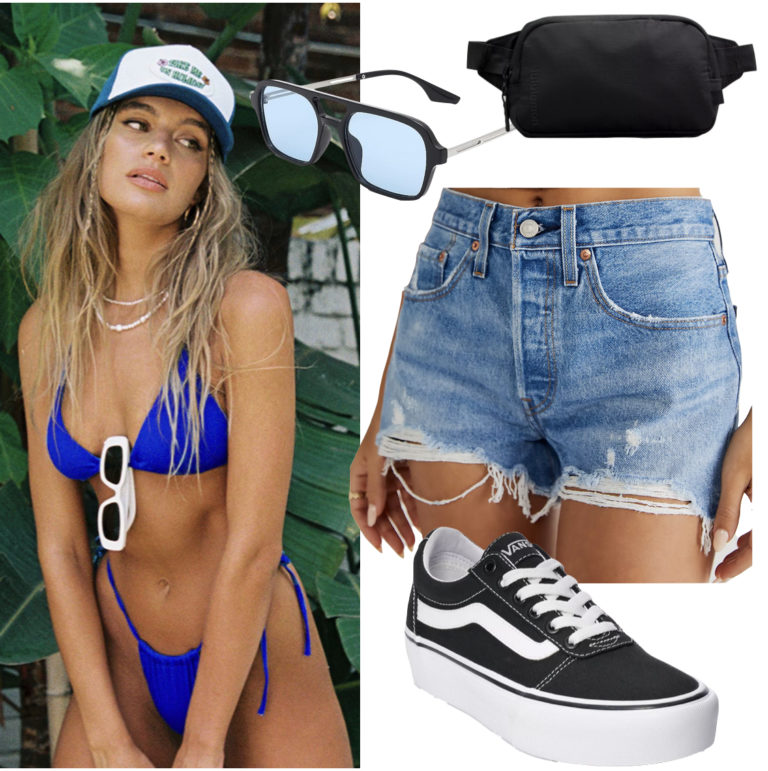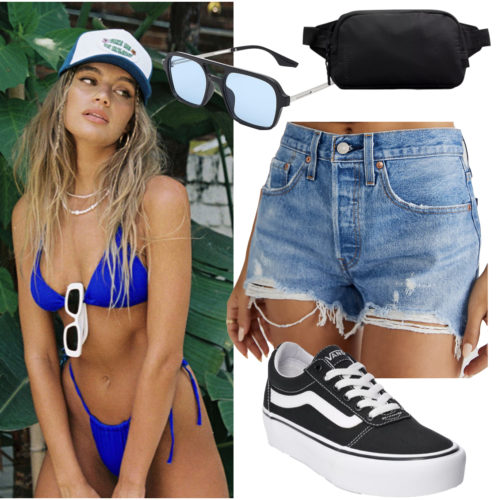 Products: Bikini Top, Bikini Bottom, Sunglasses, Belt Bag, Shorts, Sneakers
Make a splash at a college pool party with a colorful bikini and high-rise denim shorts. Crochet cover-up dresses are a cute option as well, but denim shorts are going to be the most practical option that you probably already have in your college wardrobe, regardless!
Pair them with a bikini or swimsuit that has a bright color or a fun print that makes it eye-catching, and accessorize with some retro-inspired aviator sunglasses with tinted lenses. (Pro tip: avoid bandeau bikini tops and go for ones with straps so that you don't have to worry about it slipping down as you're partying).
You'll want your hands free to enjoy the pool party, so your best bet for a bag is a small belt bag that you can wear around your waist or across your body.
And while you'd typically wear slide sandals or flip-flops to the pool on a normal day, a college pool party is a different story.
As with most other outfits in this guide, closed-toe shoes are going to be your safest choice, especially if you won't actually be swimming. Give yourself a boost with some platform sneakers that can take a beating and handle an outdoor party environment, or some platform rubber slide sandals if you will be taking a dip.
Mardi Gras Party Outfit
In college, we look for any excuse to party, so get ready to celebrate every holiday and occasion, including Mardi Gras!
Mardi Gras is all about dressing in fun, sometimes over-the-top outfits that can include feathers, sequins, and of course, beaded necklaces. Your outfit will depend on the type of party you're heading to and where you'll be celebrating, but the key is to stick to the color palette of purple, green, and gold, which are the traditional Mardi Gras colors.
Since Mardi Gras usually falls in the month of February, you may not be able to wear a tiny dress or short mini-skirt if it's too cold outside. Instead, wear some black high-waisted jeans with a wide-leg or straight-leg fit and black platform Chelsea boots with a top featuring Mardi Gras colors, like this sparkly purple and green checked crop top.
Wear a black faux leather biker jacket on top, which is the ultimate party/bar/going-out jacket that every college girl needs in her wardrobe.
Bring the ensemble together with a trendy green shoulder bag and some purple layered tassel earrings.
What do you think of our college party outfit guide?
Would you wear these college party outfits? Which outfit is your favorite? Leave a comment and let us know!