This post will show you 14 stunning corset outfits.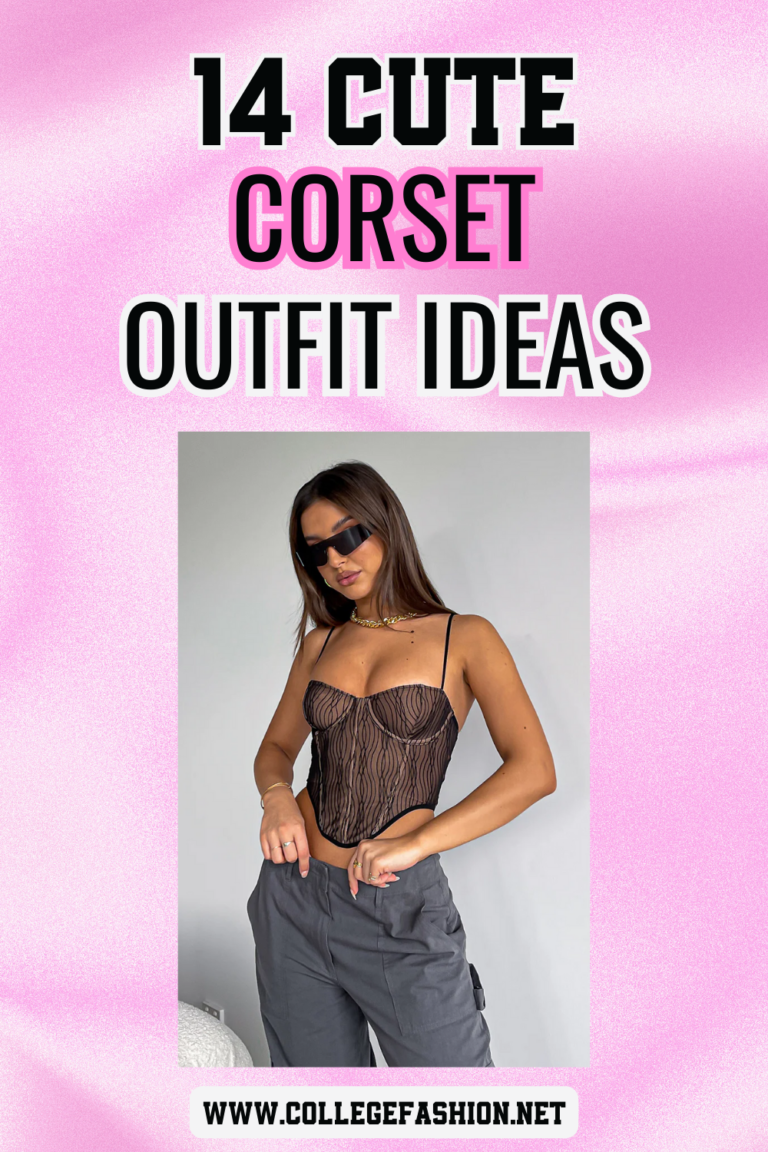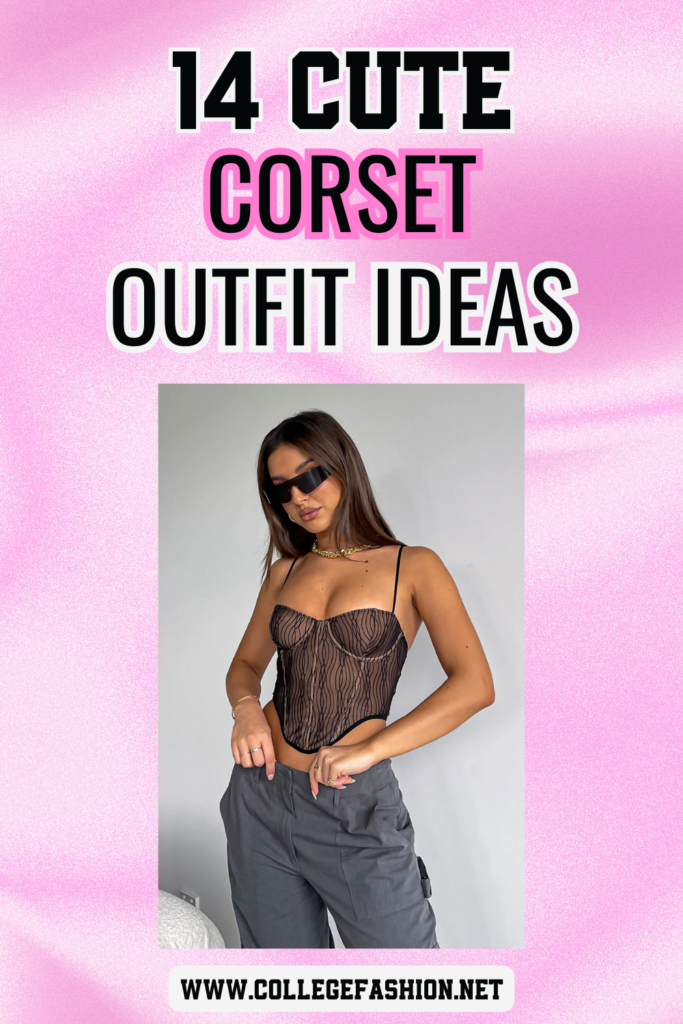 Over the past few seasons, corsets have made major waves in the fashion world. No longer reserved for costume parties or lingerie, corsets are the new "going out tops."
If you've been wanting to try the trend but aren't sure how to style it, we're here to help with 14 cute corset outfits for every occasion, from dressy to casual. Corsets are easier to pull off than you think!
Note: In this post, we'll use the terms "corset" and "corset top" interchangeably. (Corset tops are more popular in stores at the moment.) Though they are different garments, either style can be worn with all the outfits below.
Keep scrolling to see all the outfits!
Evening Look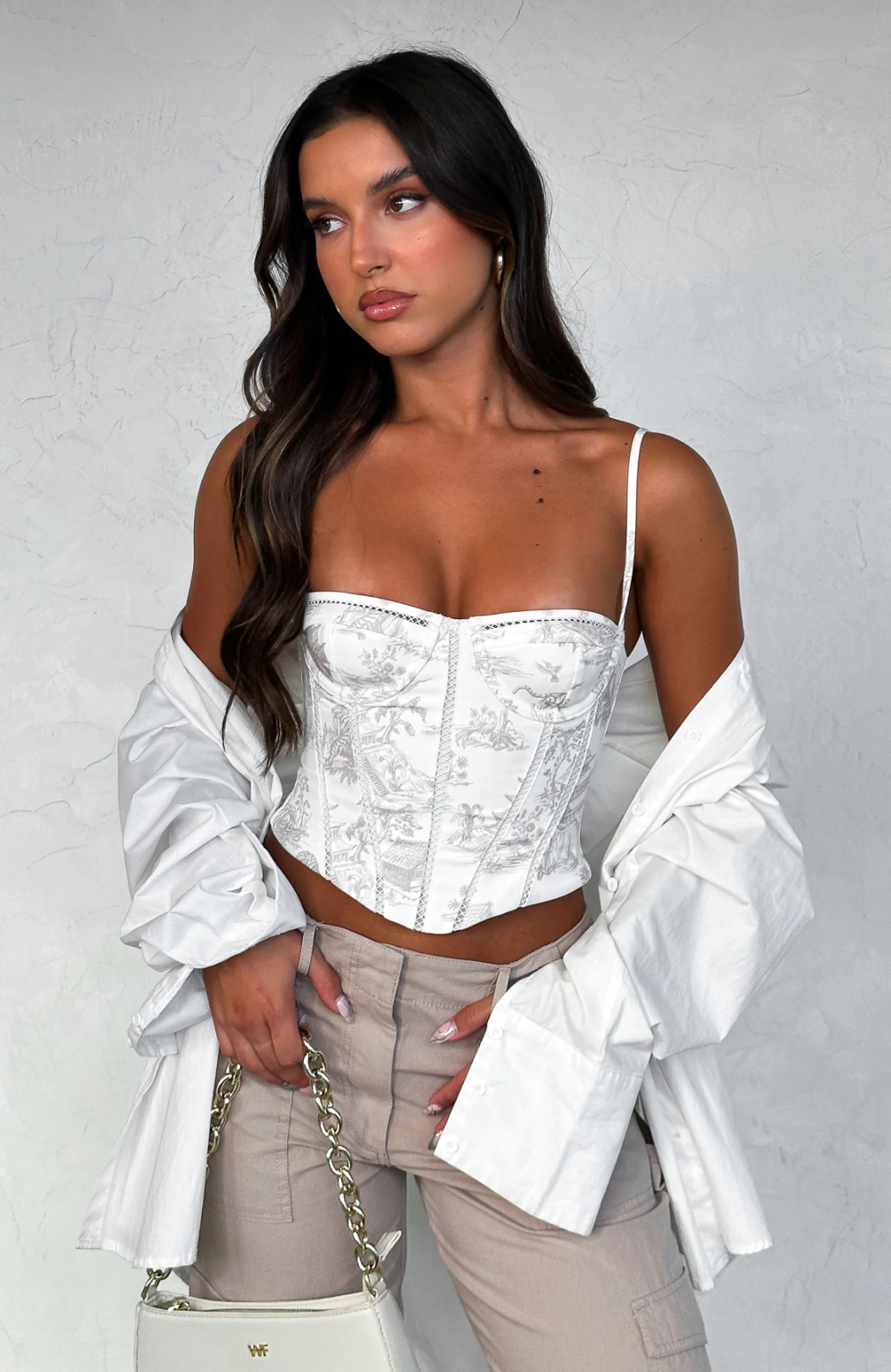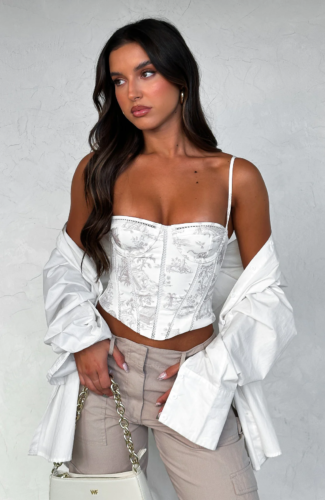 Corset tops are made for fun nights out, and here's a cute way to style one for your next dinner or girls' night!
Just grab a simple corset top in a neutral tone like white, then style it with cargo pants (one of this season's must-have trends) and a white oversized button-down shirt. Add a mini purse and heels or sneakers, and you're good to go.
This is the perfect outfit to ease your way into the trend because if you're not 100% sure about wearing a corset, the oversized shirt gives you some coverage and a cute layer for chilly nights.
Casual Chic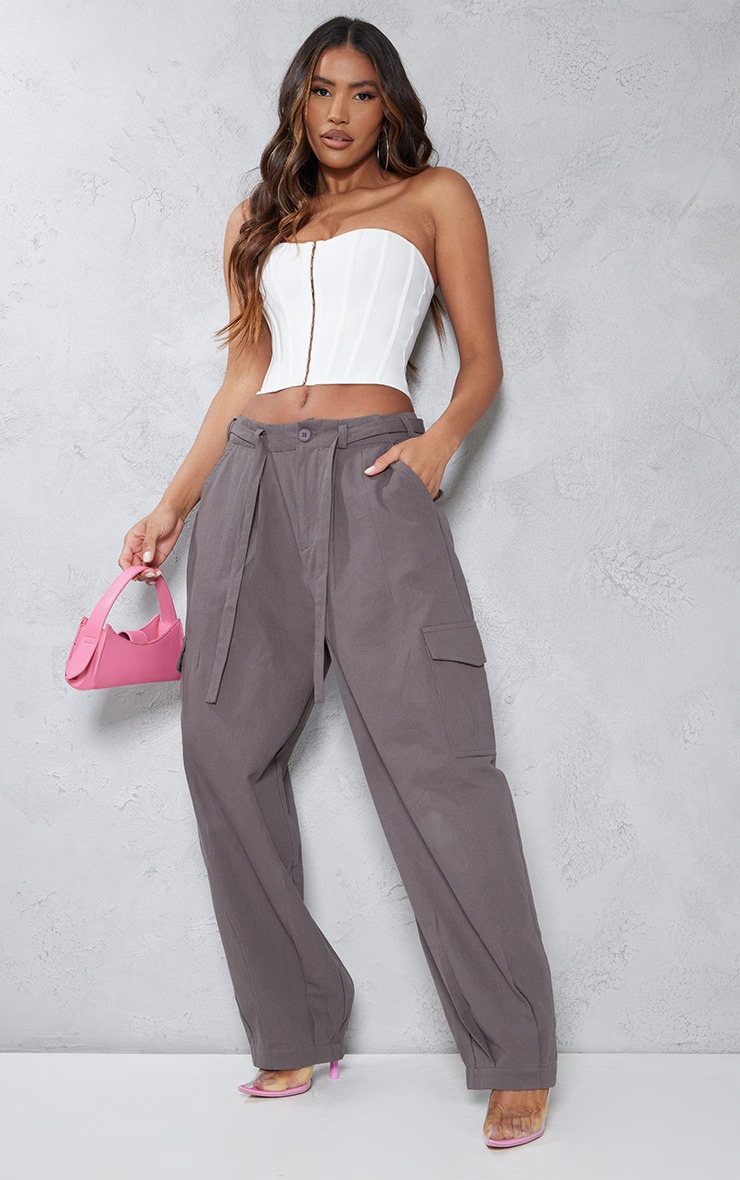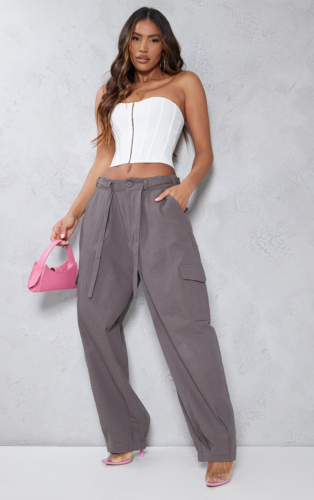 Here's another take on a dressed-up corset look with a slightly more casual cool-girl feel.
This outfit features *THE* viral PLT corset that's been all over TikTok and seen most recently on Selena Gomez. Having checked out a sample of this piece, I can confirm it's 100% worth the hype — nice and stretchy, yet thick and supportive and excellent quality.
Just pair your corset with baggy cargos and add colorful accessories like a hot pink bag and shoes. Sneakers would also be super cute here if you want to make the outfit more casual.
Trendy Vibes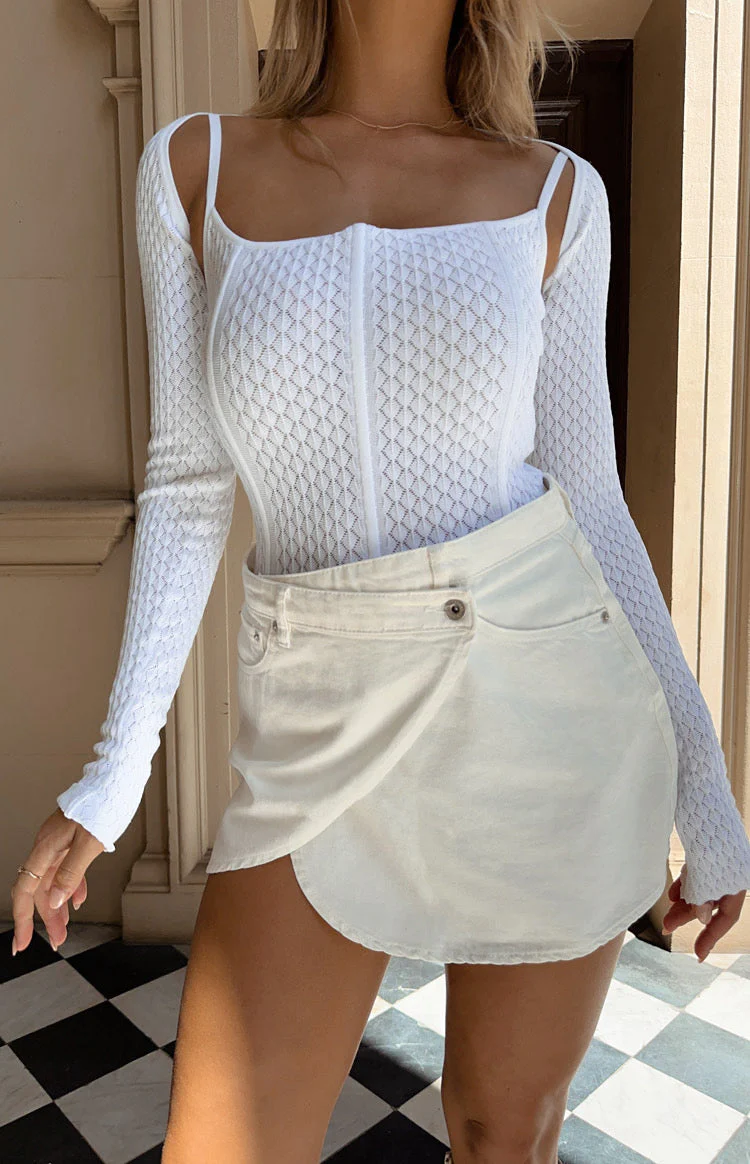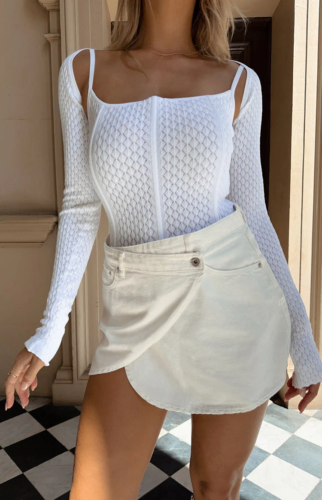 Want to wear your corset with a skirt? You totally can. The look above is a prime example of how fashion girls are rocking corsets and skirts right now.
Matching bolero and corset top combos are very trendy for fall, and they look amazing paired with mini skirts in neutral colors. I particularly love the wrap mini skirt above from Beginning Boutique! Pair with heels and grab a little chain-strap bag for a night out.
Eclectic Cool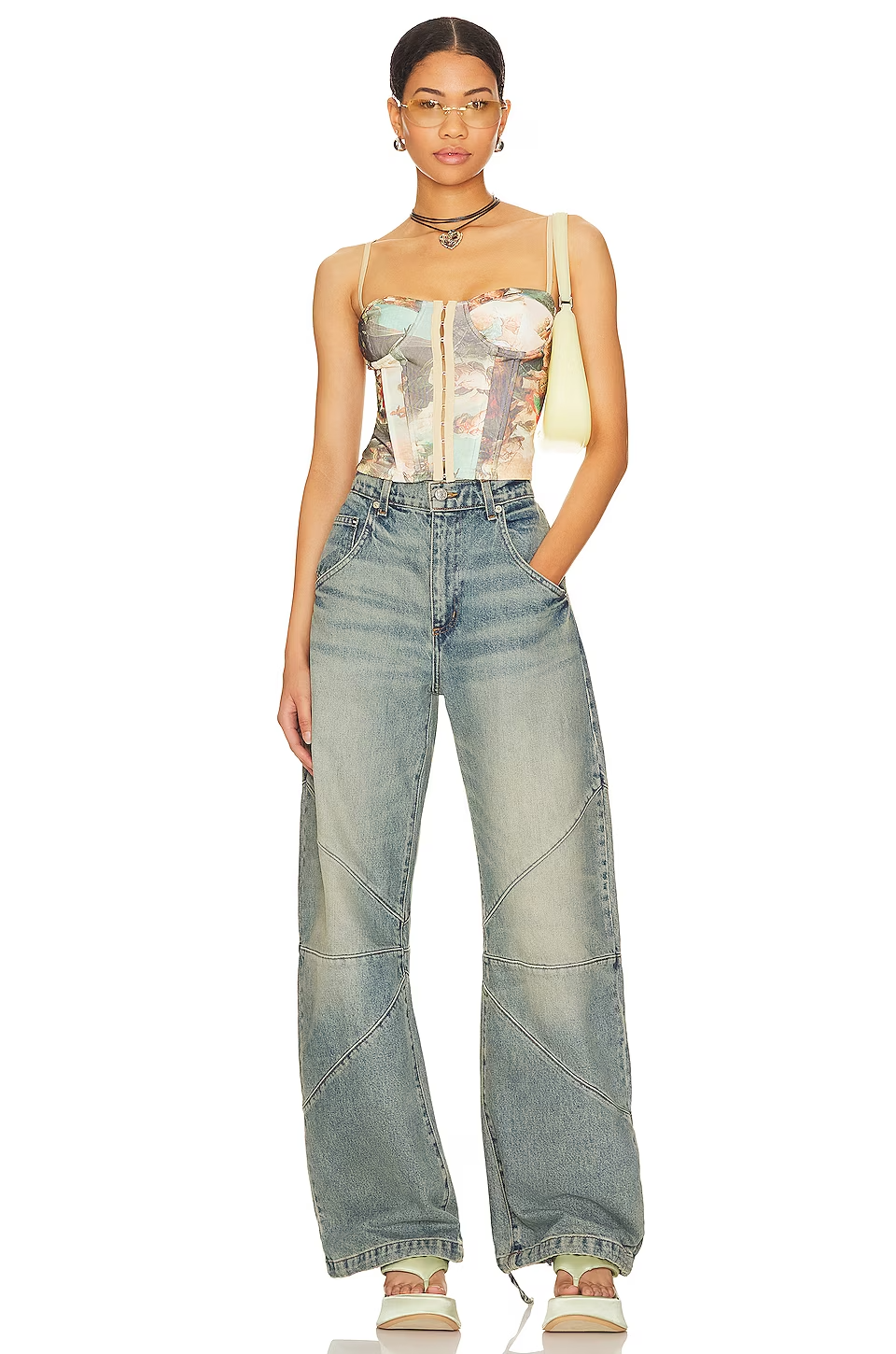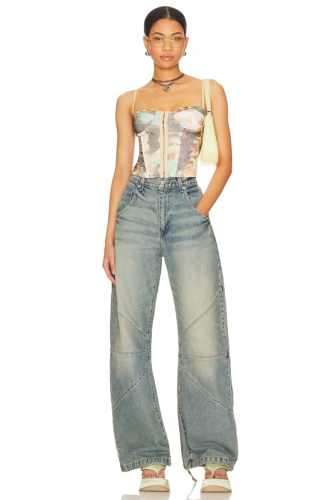 A corset outfit doesn't have to be complicated to be super fashionable. Case in point: This eclectic-cool corset look.
This outfit is all about the details. Instead of a solid-colored corset top paired with jeans and basic heels, here a fun patterned corset top is paired with wide-leg jeans and chunky heeled sandals. Layered chokers, a little bag, and '90s sunglasses finish the look.
Party or Club Outfit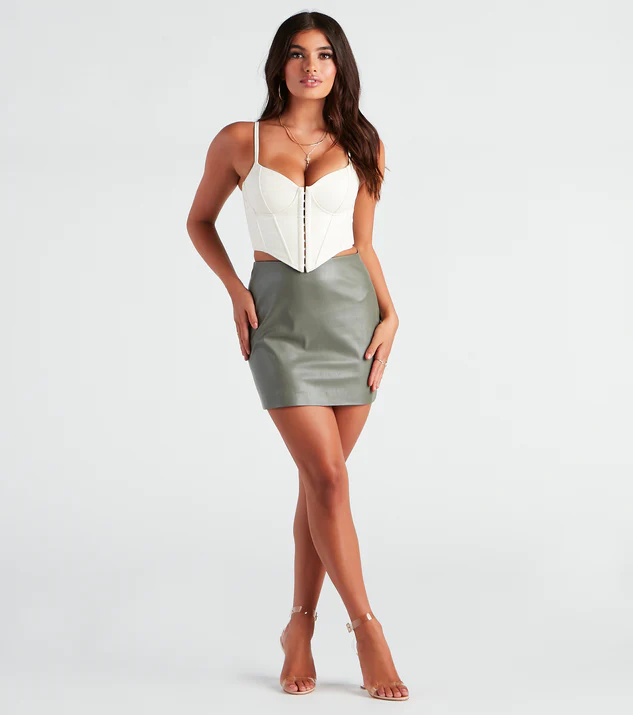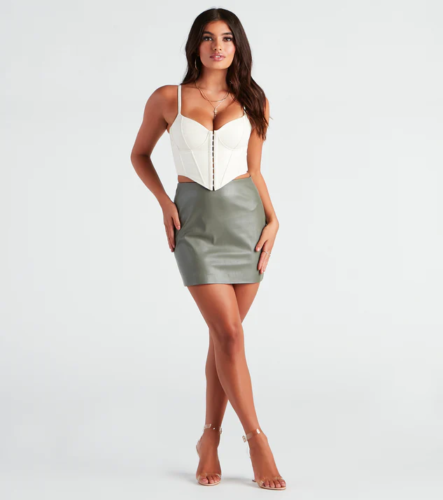 A faux leather corset is practically begging to be worn to the club, and that's where this outfit comes in!
In this look, a cream faux leather crop top looks amazing paired with a sage green mini skirt in the same faux leather fabric. All you need to add is a simple necklace or two and some clear heels.
You could also rock this to a house party if you wanted; just swap the heels for your favorite sneakers.
Boho Glam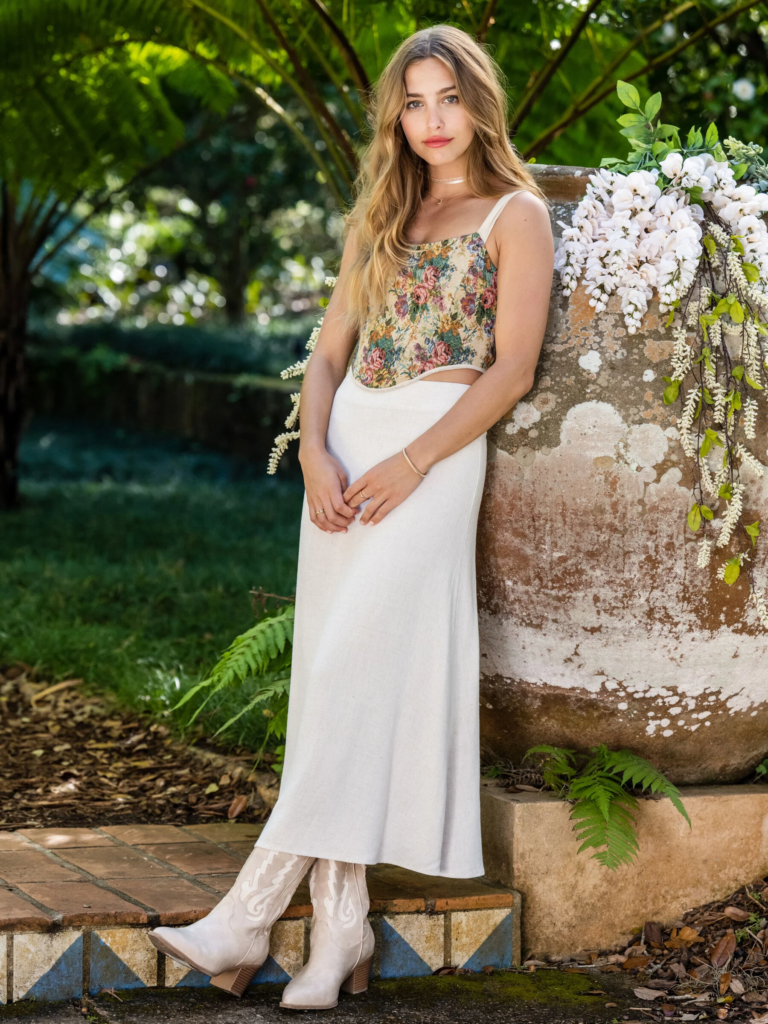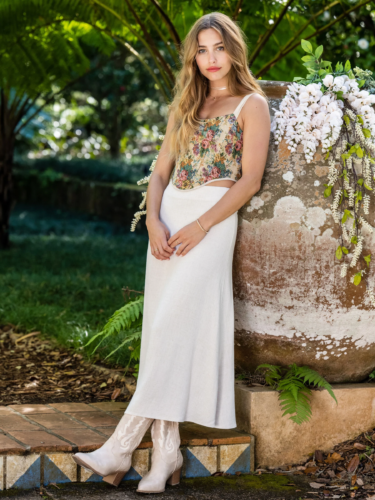 When you're thinking about bohemian style, your mind probably doesn't immediately think "corset," but in truth, lingerie-inspired pieces look amazing in bohemian outfits.
Here, a floral patterned corset top is paired with a simple cream-colored midi skirt (a boho girl staple) and some quirky cream cowboy boots. The accessories are minimal here, but I think this look would be incredible with some layered boho jewelry!
Classic All-Black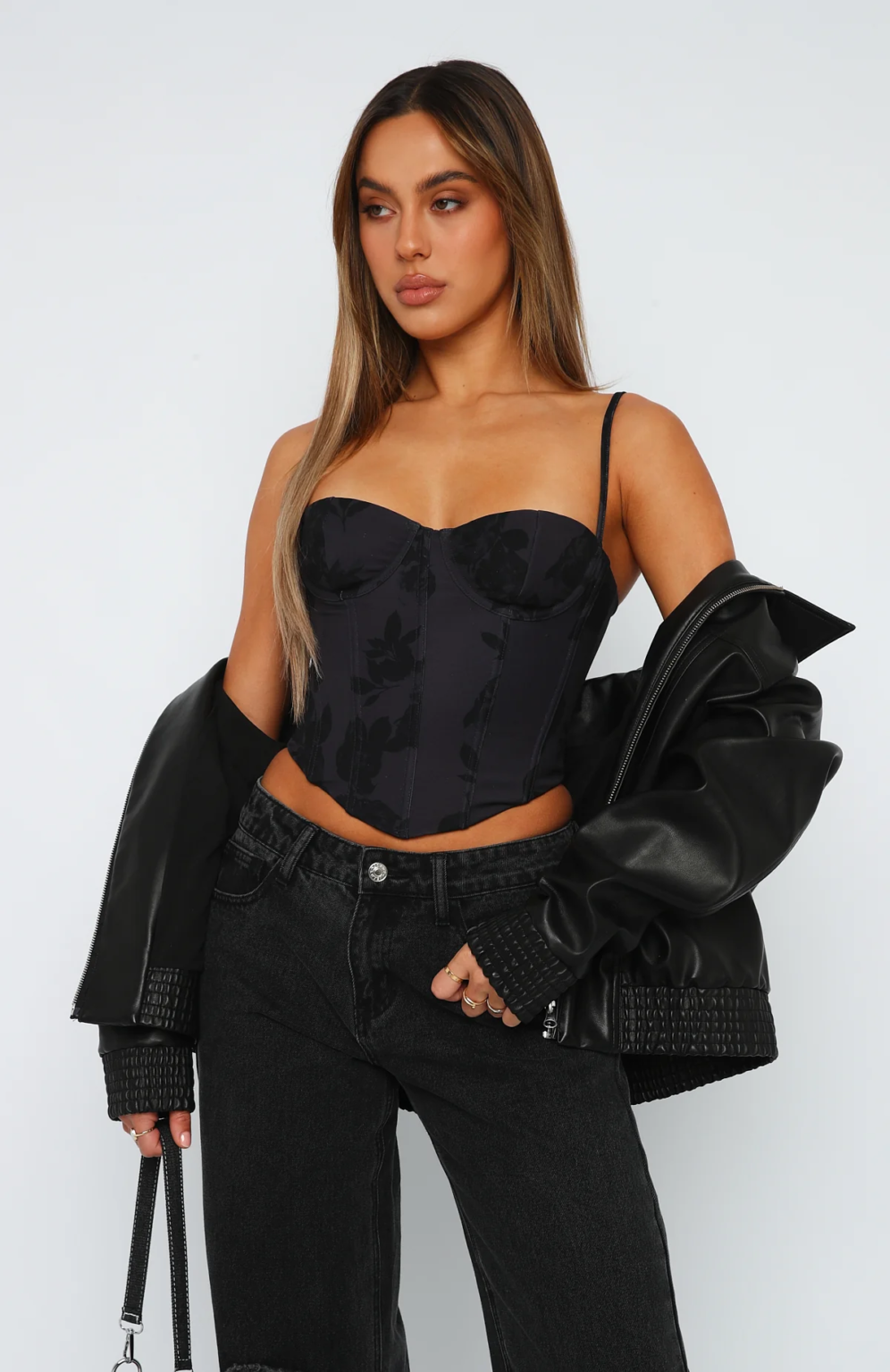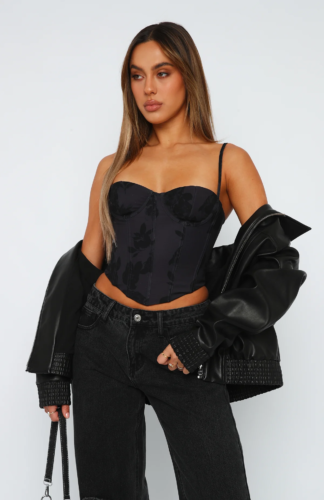 Channel all the city girl vibes by wearing a black corset top as part of an all-black ensemble.
Wide-leg black jeans are a wardrobe staple, and they look incredible with a subtly patterned black corset and an oversized faux leather jacket. Again, you could totally layer on extra jewelry here to add even more edge to the look.
Light-Colored Layers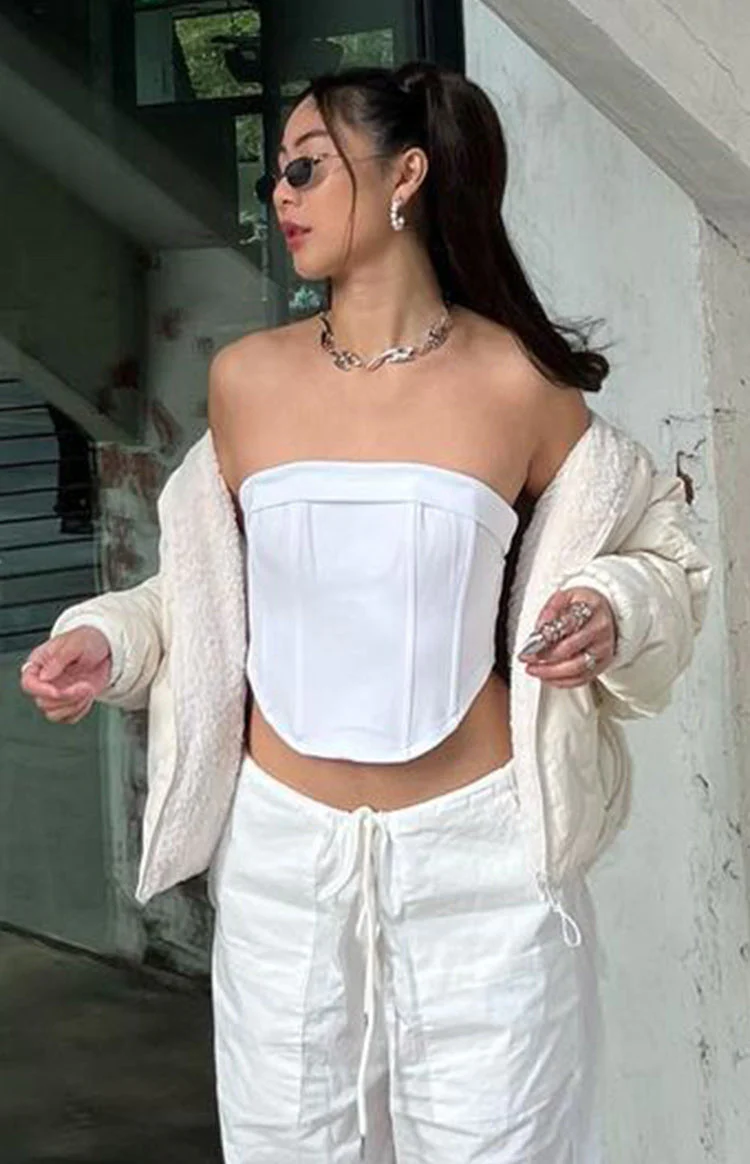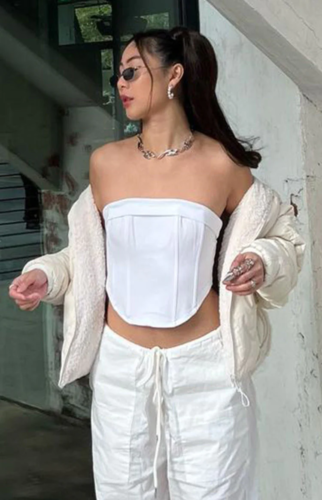 Here's a light-colored take on the black outfit above.
Here, we see a white corset paired with white parachute cargo pants and a sherpa-style parka for an unexpected combo. The accessories — namely a statement choker, chunky hoops, stacked rings, and tiny sunglasses — take this look from simple to stunning.
Bold & Unexpected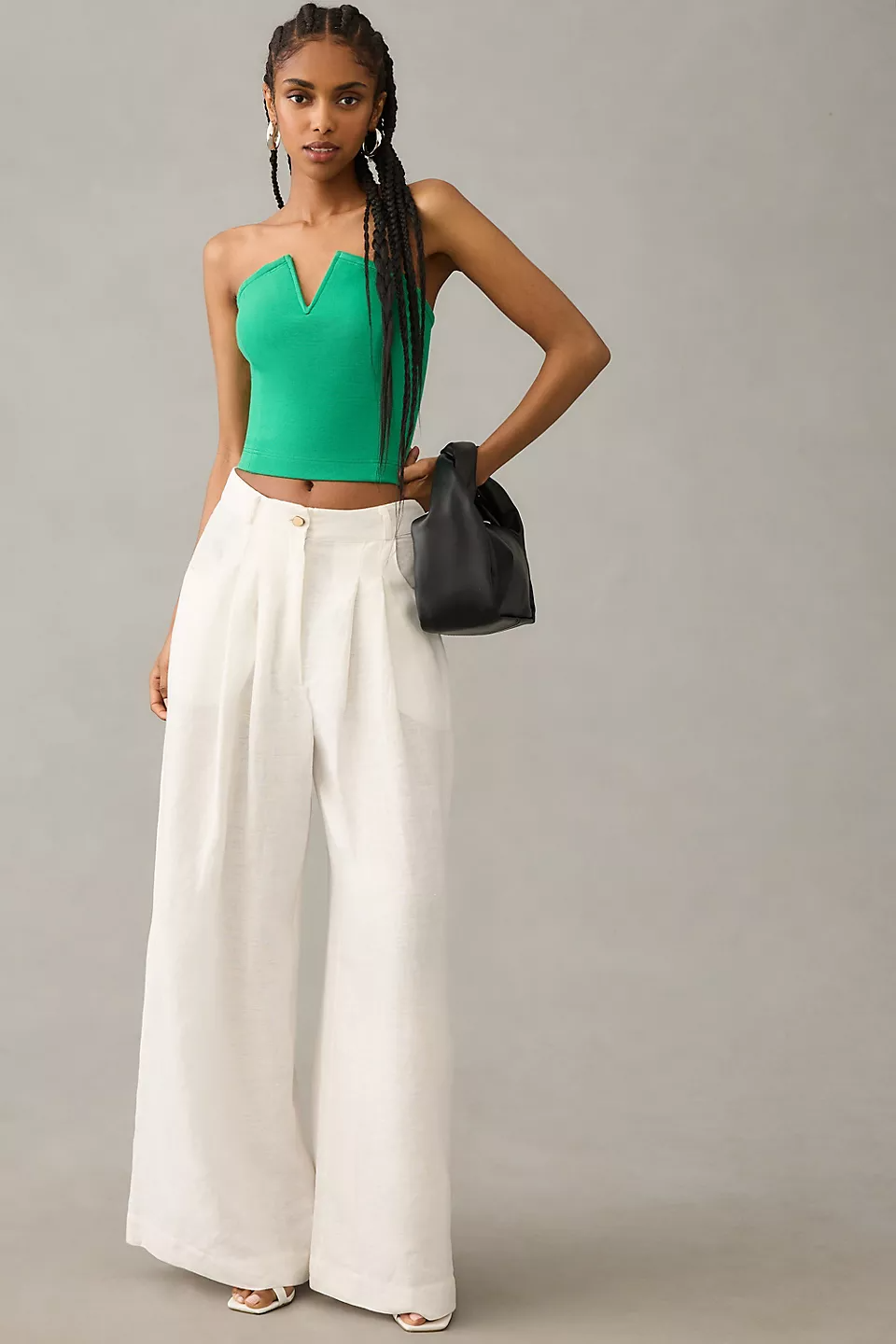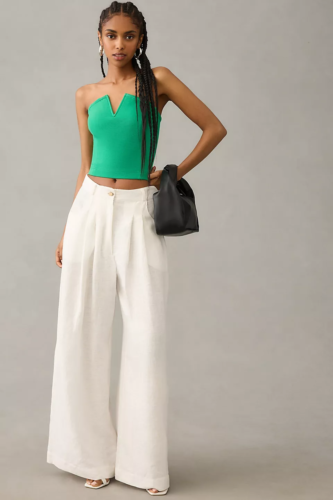 You don't have to stick to neutrals when creating a corset outfit. Sometimes a statement corset can be just what you need to spice up a simple look!
This stunning outfit is a prime example of a statement corset styled right. The base of the look is a combo of white flowy wide-leg pants and simple white heels. Then it's time for the star of the show, a chic and minimal corset in emerald green.
The lesson here: Don't be afraid to experiment with color! A corset makes a statement no matter how you slice it, so why not go bold and bright? It's a great way to add a pop of color to your look.
Dressed-Down & Comfy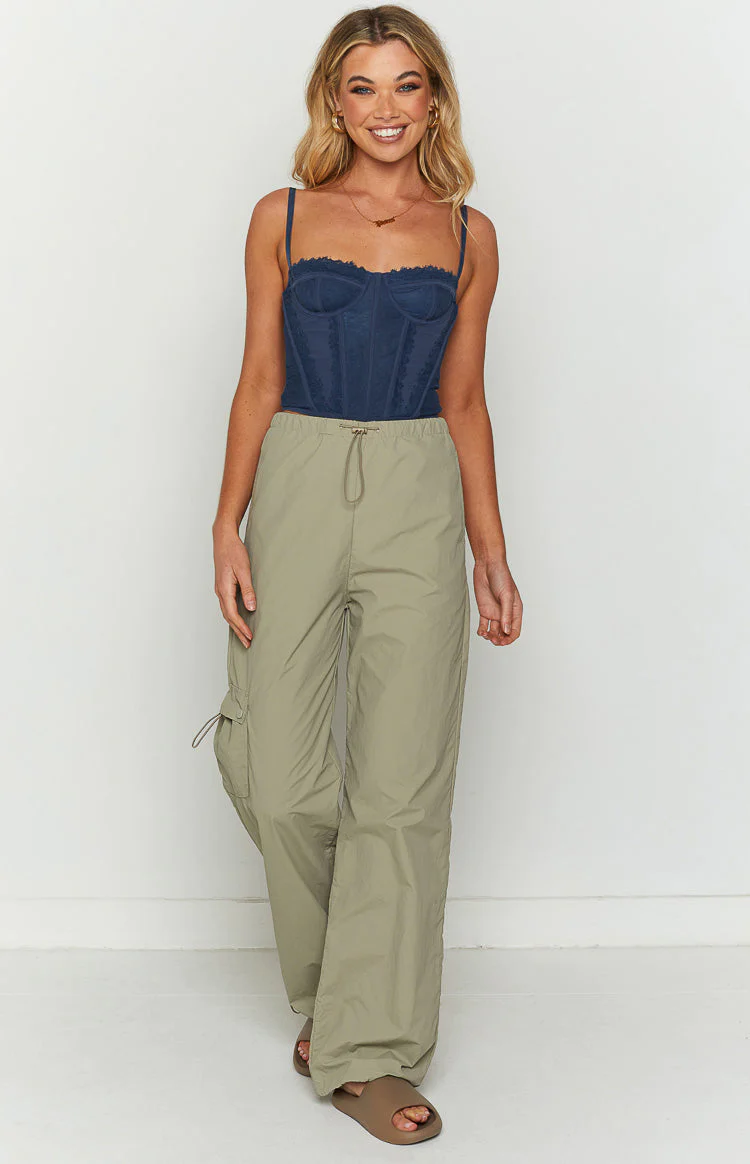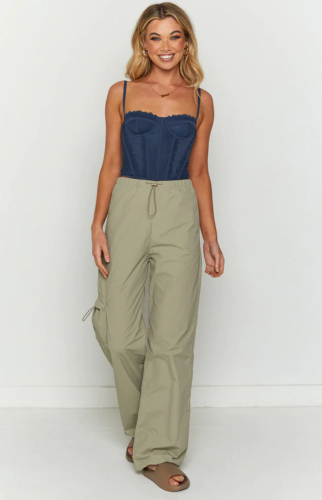 Here's a super comfortable take on a corset look. I love how it's super dressed down but still has some spice to it, thanks to the navy blue lace corset.
I love that this look blends a few colors that you wouldn't normally think would "go." Since the colors are all cool-toned and muted, they flow together for a super fashionable vibe.
Rocker Chic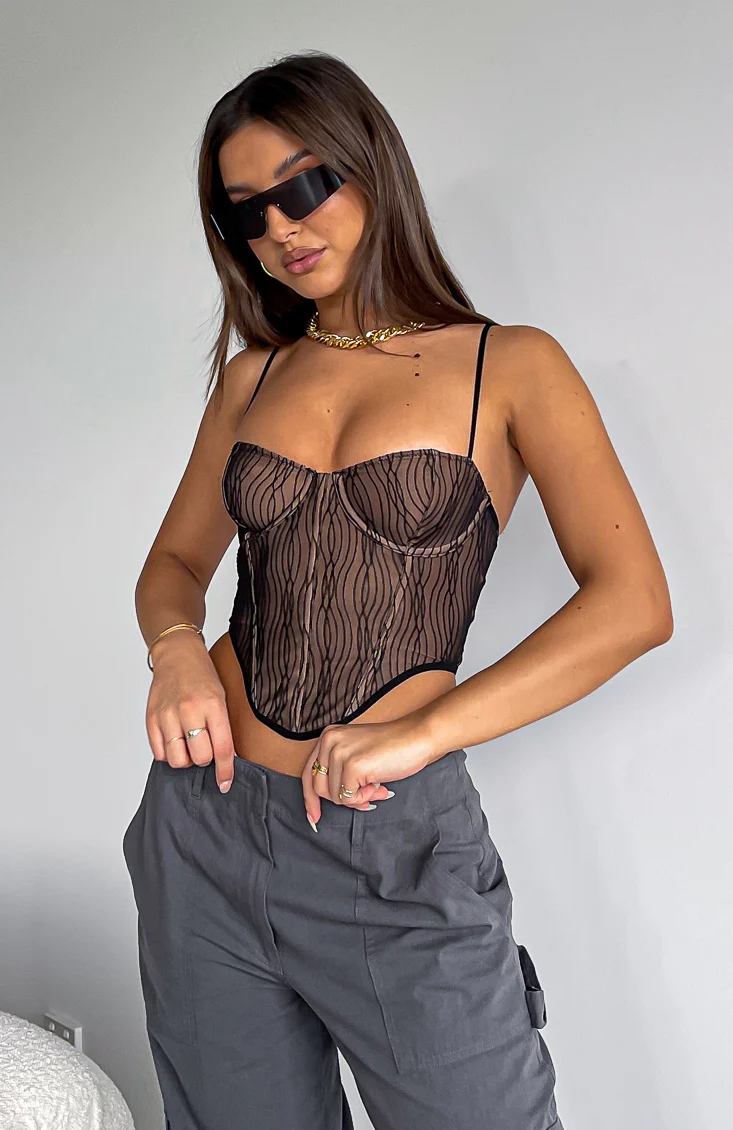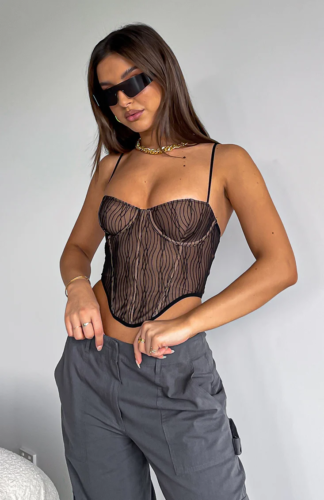 Corsets are often associated with edgy aesthetics, from goth to punk, so they're super easy to style in a rocker-chic manner.
Here, we have the standard corset-top-and-cargo-pants combo, made edgier by a patterned black corset that's lined in nude fabric so it appears sheer. This look would be perfect paired with black heels or boots.
Street Style Feel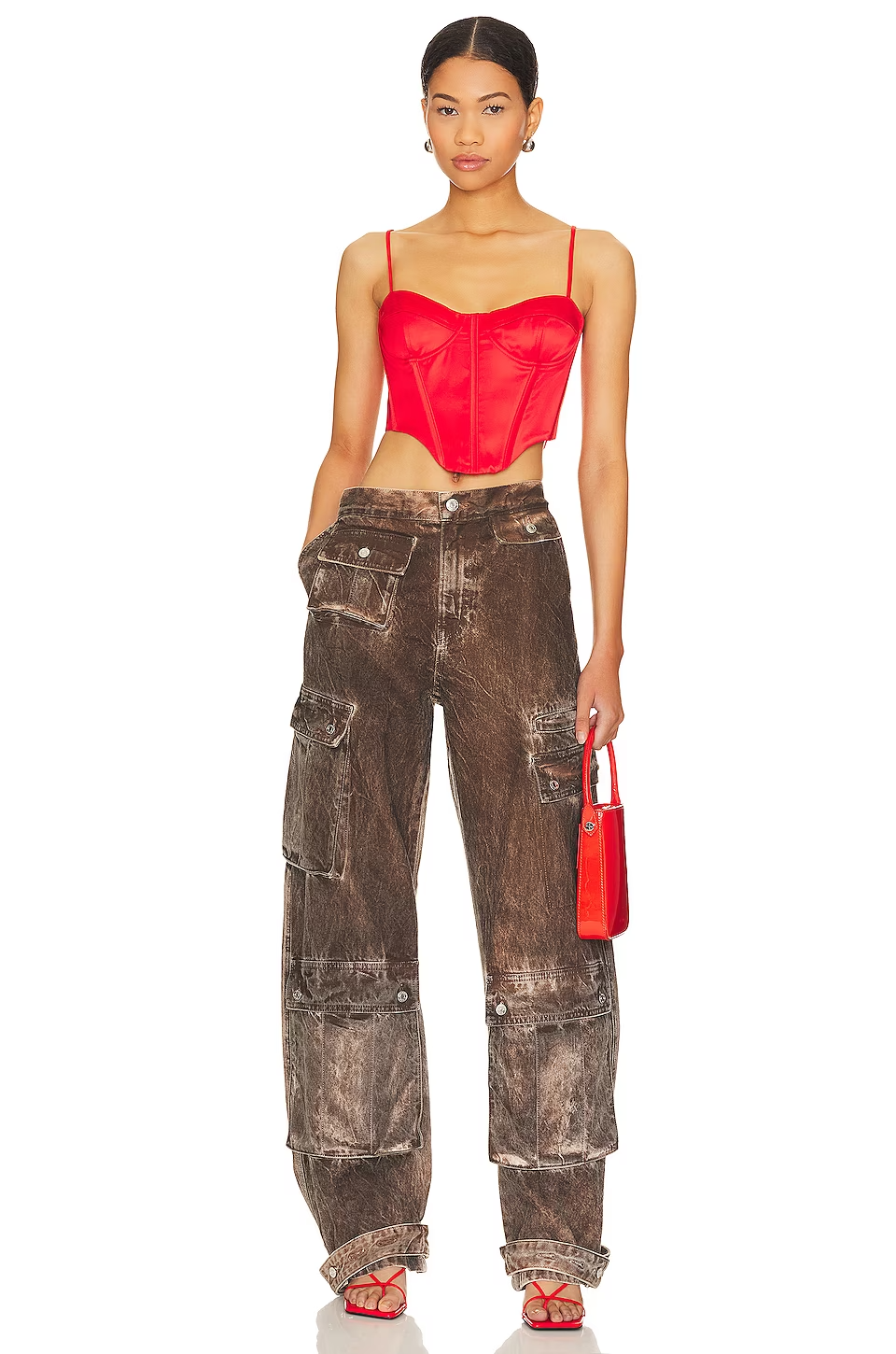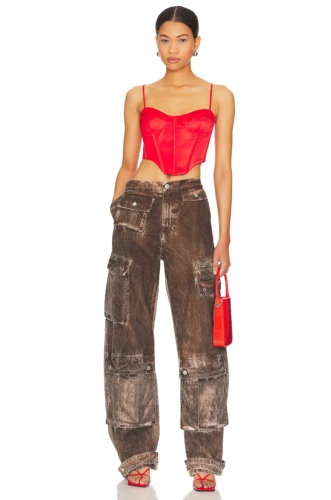 Here's a street style-inspired corset outfit that has all the model-off-duty vibes!
I can totally picture Gigi Hadid rocking these destroyed acid-wash cargo jeans. They look amazing paired with statement red pieces, namely the corset, red bag, and red strappy heels. This is such an unexpected combo that somehow works so well — wear this, and you're sure to turn heads.
Vacation Glam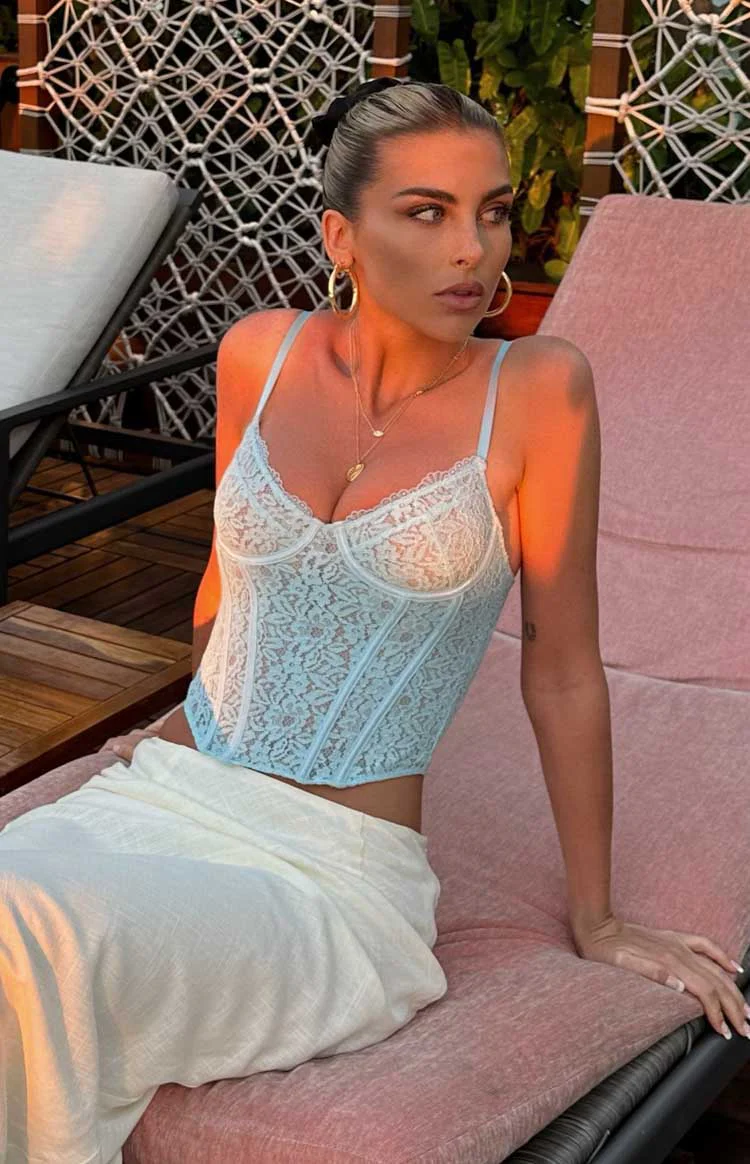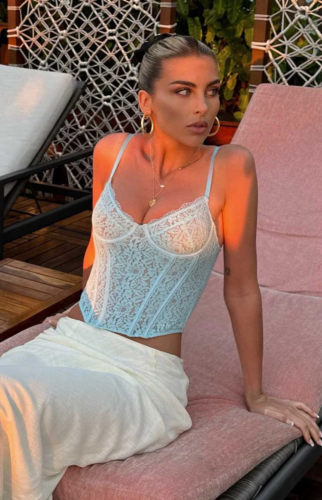 Colorful, lacy corset tops are practically made for vacation, so here's a corset outfit that's perfect for packing on your next trip.
It doesn't get much beachier than a long, white skirt. While most people would pair it with a simple tank top, swapping in a light blue lace corset is a great way to take the outfit up a notch. Add big hoop earrings and put your hair up in a clean-girl bun for a perfect tropical look.
Simple Go-To Look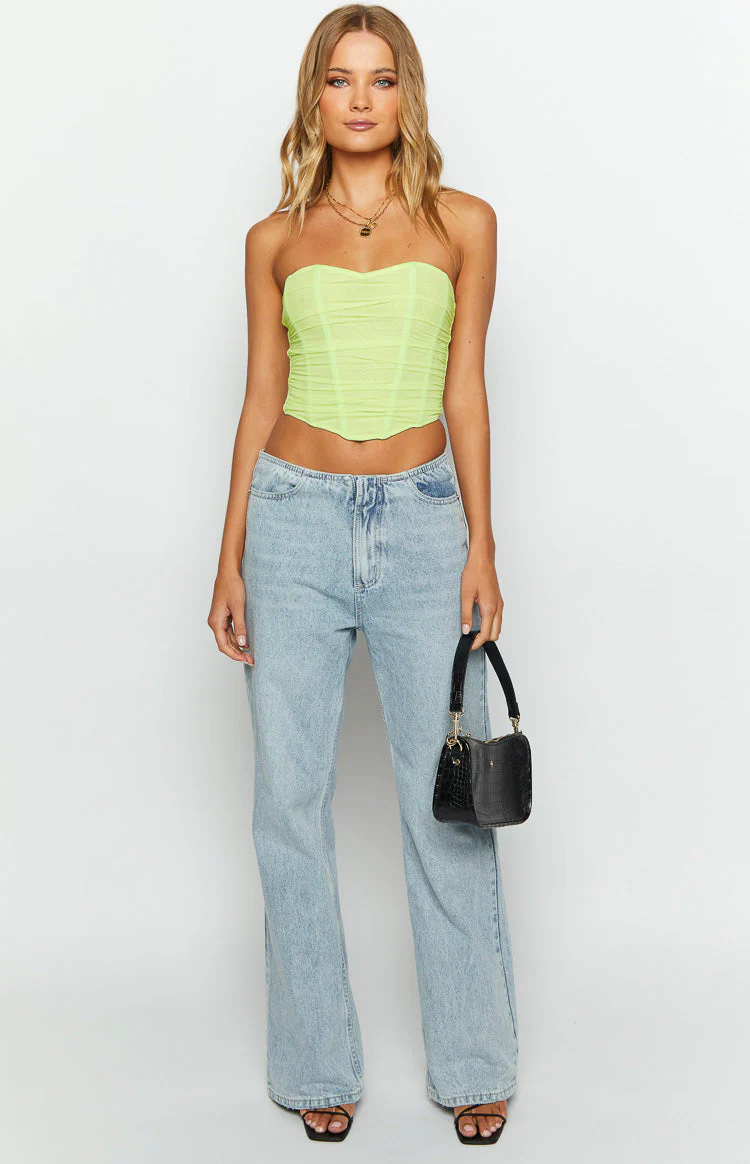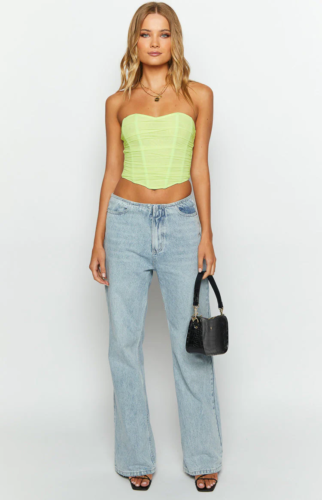 Finally, if you just want a go-to outfit for any corset in your closet, here you go.
A corset + wide-leg jeans + strappy heels + a mini bag is a go-to corset outfit formula. You can spice it up with a colorful corset like this neon green one, but the look would also work with a neutral-colored top. You could also swap in sneakers or boots to dress it down and add a layer on top for extra warmth.
This outfit is a total no-brainer way to style your corset top, perfect for days when you don't know what to wear!
What do you think of these corset outfits?
Would you try the corset trend? Do you prefer corset tops or strapless corsets? What's your favorite way to style a corset? Let's chat in the comments section below.