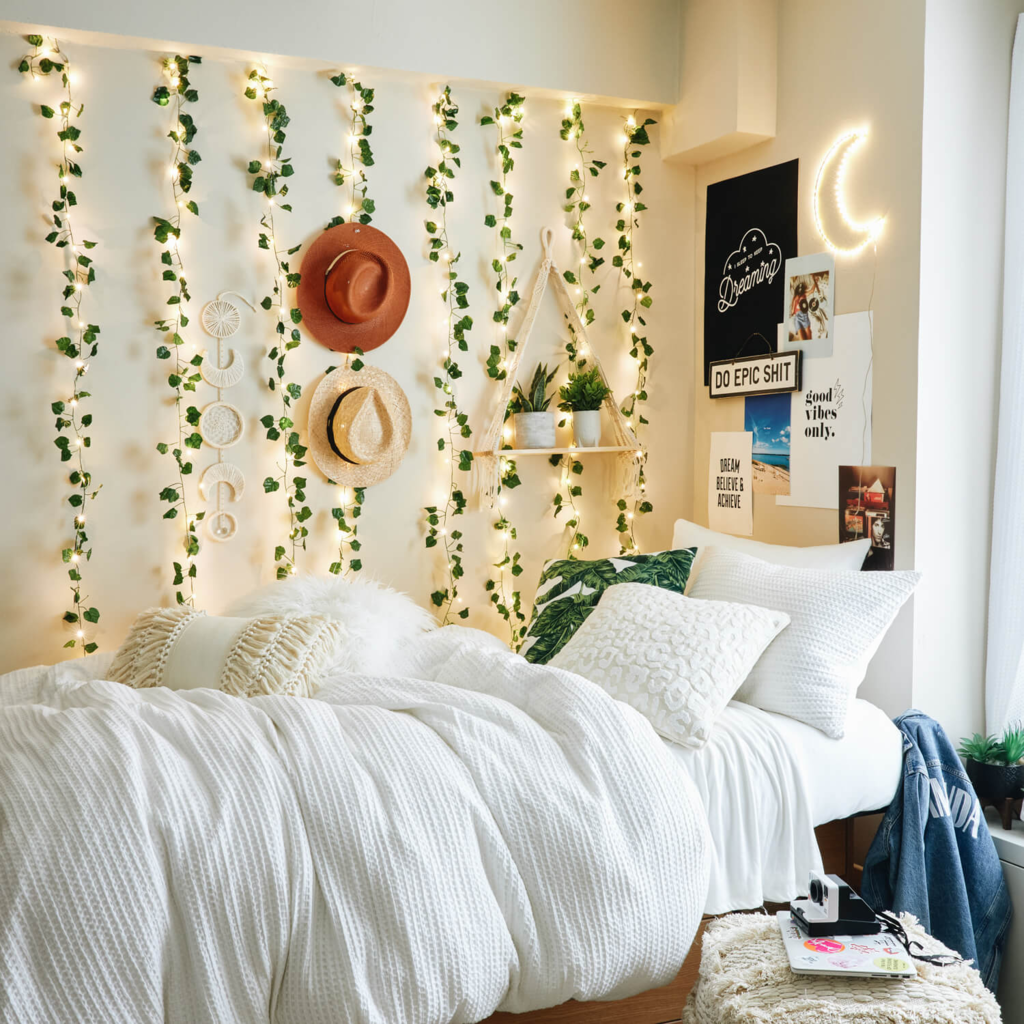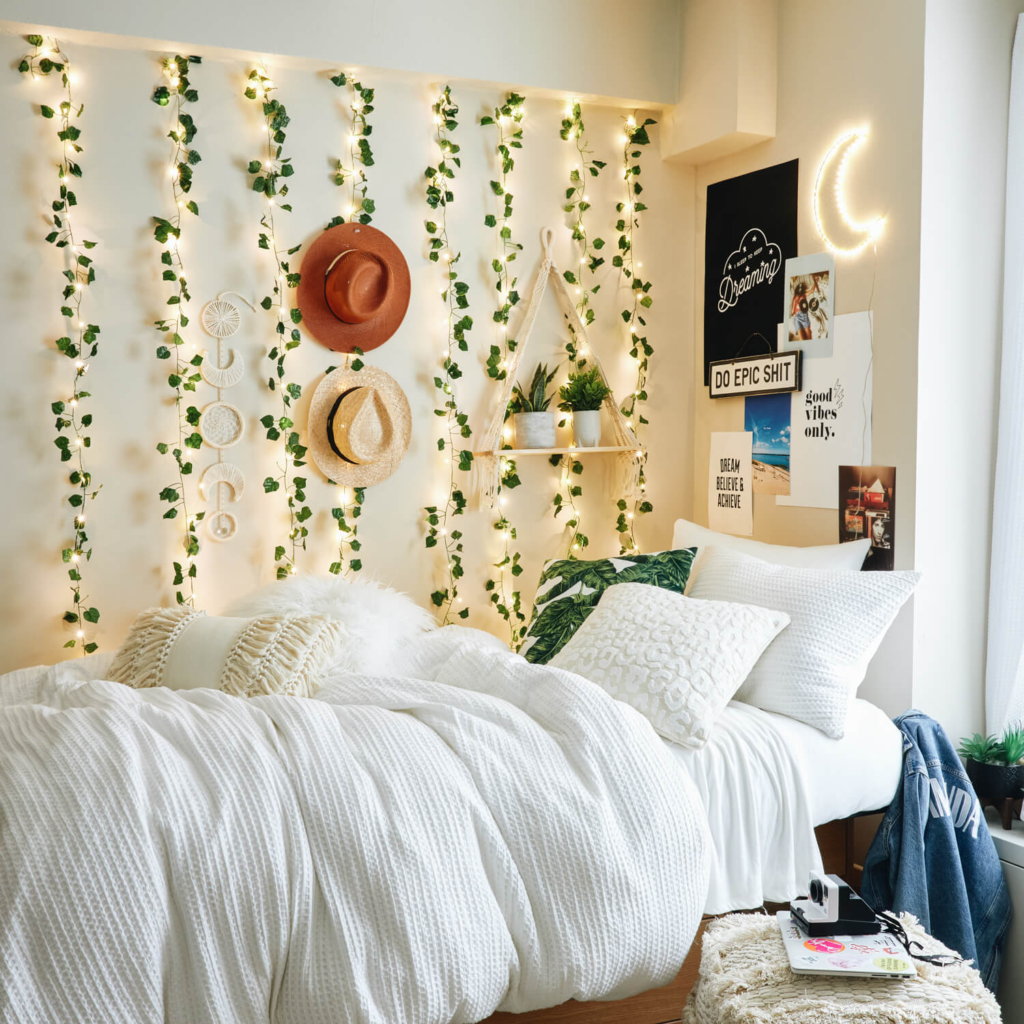 We've received quite a few requests lately from this year's incoming freshmen wanting to know how to decorate a dorm room and where to find stylish dorm bedding. The great news is: it's so easy to make your dorm room fabulous.
Today, we're going to show you how to decorate your dorm room, starting with your bedding (and we'll move on to the rest of your dorm room checklist next).
One quick thing to note: college is THE time to go crazy with your room decorations. Once you're living in the adult world, it will no longer be as acceptable to have a hot-pink bed, purple retro mini fridge, and strings of Christmas lights hanging everywhere in your apartment. For now, feel free to express your personality in your room – you can go for the "adult" look later!
This will be a multi-part series we'll be posting over the next few days. Today we're going to focus on Dorm Bedding. There are so many options out there in terms of duvet covers and sheet sets, which we're going to feature at the end of this post. First, here are a few tips on buying bedding for college:
10 Tips on Buying Bedding for College
Get extra-long twin sheets. That's the number one rule for dorm room bedding, which they probably tell you at orientation. But seriously; take note. Normal twin size sheets won't fit most dorm beds, so you need to get XL-Twin. Note: You can get away with a full-size comforter, which will just hang longer over the side of the bed.
Think carefully about white bedding. In college, your dorm room is where you spend most of your time – whether it's studying, pre-gaming, hanging out with friends, or even eating. Since there isn't much room for chairs in the typical dorm, your bed is going to be like a couch most of the time. Therefore, if you get white bedding, it's possible it will be stained/ruined by the end of the semester. If you're dead set on white (we love it too, we get it), make sure whatever you get can be bleached!
Buy a few sets of sheets. You aren't going to feel like doing laundry more often than every two weeks, and if you only have one set of sheets, they're going to get grungy. Oh, and message to the guys: you need to wash your sheets more than once a year! (Ideally, you should change them weekly.) If you're lazy, get a few sheet sets and swap them out regularly.
Buy a mattress pad. Trust me – the mattress your dorm room comes with is going to be hard as a rock! Get a good mattress pad (memory foam is amazing but can be pricey; egg crate pads are a good option at a lower price point) and your back will thank you!
Invest in a Bed Scrunchie. Dorm room mattresses are often very thin and slippery and require a mattress cover, topper, and bed sheets. By adding these layers, you create a lot of slippage, which is why a Bed Scrunchie is extremely helpful. Billed as "The world's first 360-degree, all-in-one bed tightening solution that gives your bed that flawless 5-star hotel look," it keeps your sheets tight no matter how many layers you have on your mattress.
Whenever possible, look for sheets and bedspreads made of natural fibers, such as cotton. Like having cotton clothing, cotton bedding breathes, so that air circulates properly through your bed, keeping you refreshed. Plus, it's comfier, and so worth the extra money.
If your room faces west (when you look out the window, you're looking west), try getting one set of bedding in light, airy colors. With the way the sunlight hits your room, it will be colder in the winter and hotter in the summer (my dorm faces west, so I've learned this the hard way), so lighter colors are key to keep your room from feeling dark.
A high thread count does not necessarily guarantee that your comforter will be luxe-feeling. A tpi (threads per inch) of 300-400 is a good mix of softness and durability.
Down or down alternative duvet inserts are a great way to go if you plan on changing up your bedspread fairly regularly, and are also useful in case you get horribly bored with your bedspread pattern and don't want to buy a whole new comforter.
When buying sheets, you don't have to go 100% cotton — blend fabrics and flannels are great as well. I happily sing the praises of flannel sheets every time winter rolls around, and blend fabrics wrinkle much less than cotton ones do.
Cute Bedding for Your Dorm
Now that the basics are out of the way, on to the fun stuff – picking out cute bedding for your dorm room! There are so many cute options for any budget and personal style.
Here are our favorite dorm bedding picks for 2023:
If you've got a passion for pink, this cute ombré comforter from Dormify is made for you. This delicate blush ombré pattern is more unique than your average duvet and we pretty much guarantee your roomie will be envious.
If you, like us, are in love with airy white bedding, you can't do better than this gorgeous eyelet cover set from Dormify. It's so beautiful and chic, and could be styled so many ways to match any dorm room color scheme.
Related reading: 16 Cute Room Ideas That'll Make Your Space Instagram-Worthy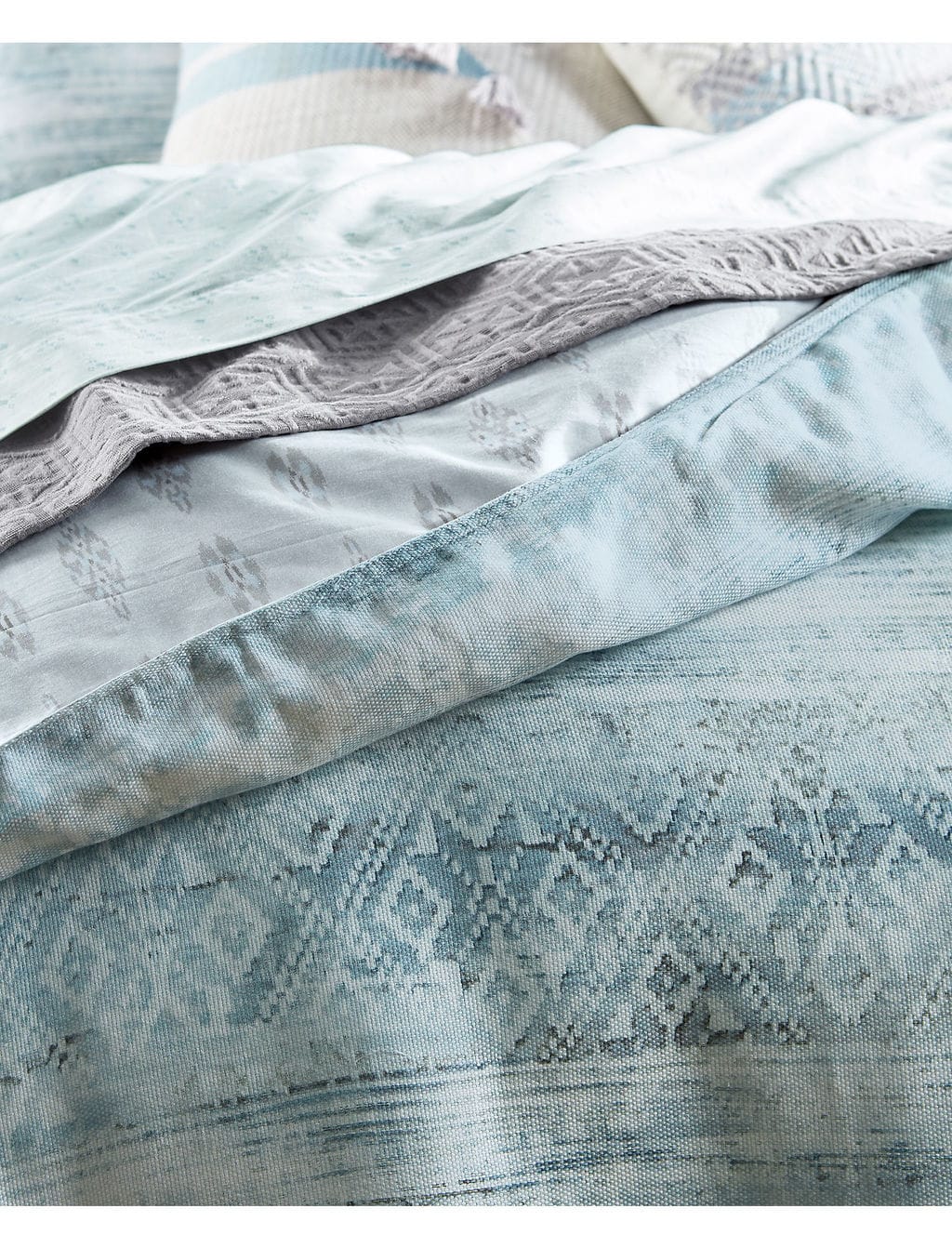 Who knew Lucky Brand made sheets? This swoon-worthy set comes in ocean blue with a muted ikat pattern; perfect for creating a relaxed ocean oasis vibe in your space.
Do you really need to look any further for cute dorm bedding? This pale blue floral comforter and sham set is super stylish. Plus, blue and white look great with just about anything, so there are endless pillow possibilities.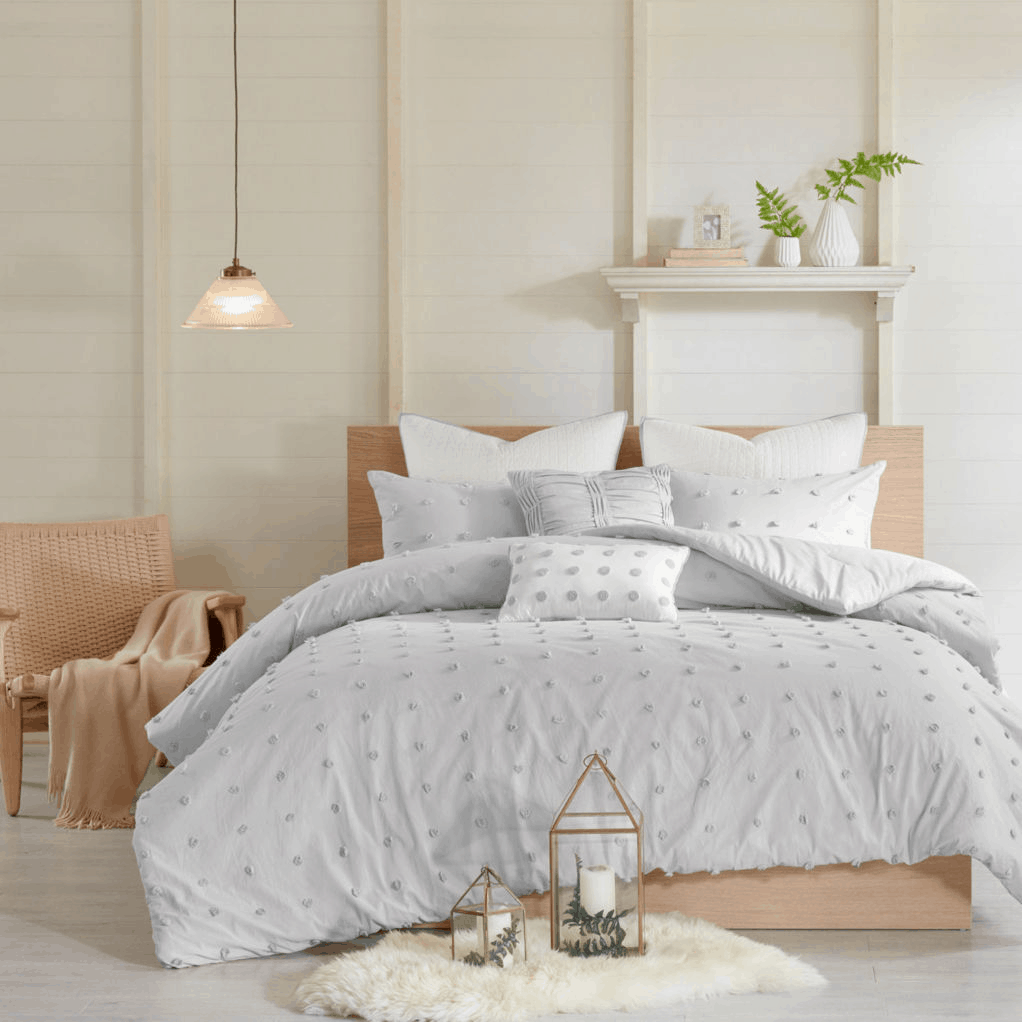 The textured dots on this duvet set from JCPenney are so chic and cool. They add texture to your bed but aren't over-the-top. If gray isn't up your alley, this set also comes in pink, ivory, and blue.
Sometimes less is more, which is precisely how we feel about these darling peach sheets. This simple pattern is cheeky and whimsical. Don't mind us while we add these to our own shopping cart…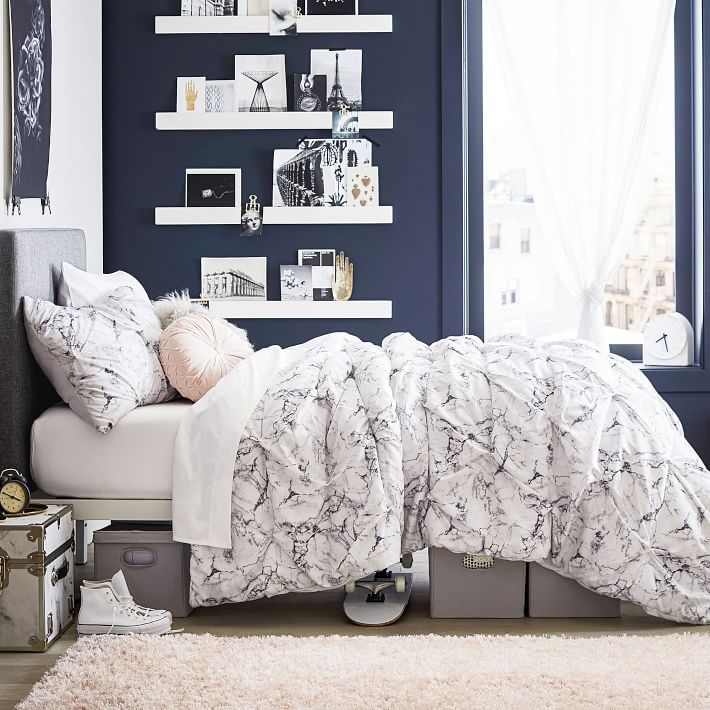 We are obsessed with everything marble and this bed in a bag set makes it so easy to bring marble print to your dorm decor! This cute set from PBTeen includes a comforter, sheets set, and marble pillow sham so you can get everything at once. #bedgoals
Another gorgeous set from PBTeen! If you want to make a statement in your room, this floral and striped bedding combo is a must-have. Again, it includes a comforter, sheets, and a pillowcase. Perfect for those girly glam vibes.
This pale gray comforter and sham set from Dormify is Instagram-worthy. The subtle eyelash pattern adds a little sassiness to this cute dorm bedding option and would go great with statement pillows and/or your craziest furry throw blanket.
Urban Outfitters, we are in love with this cute dorm bedding combo. This patterned duvet (matching pillows sold separately) has just enough color and variety to be funky and cool without being too loud. It has a romantic and bohemian vibe all at once, perfect for creating a relaxed, cool feel in your room.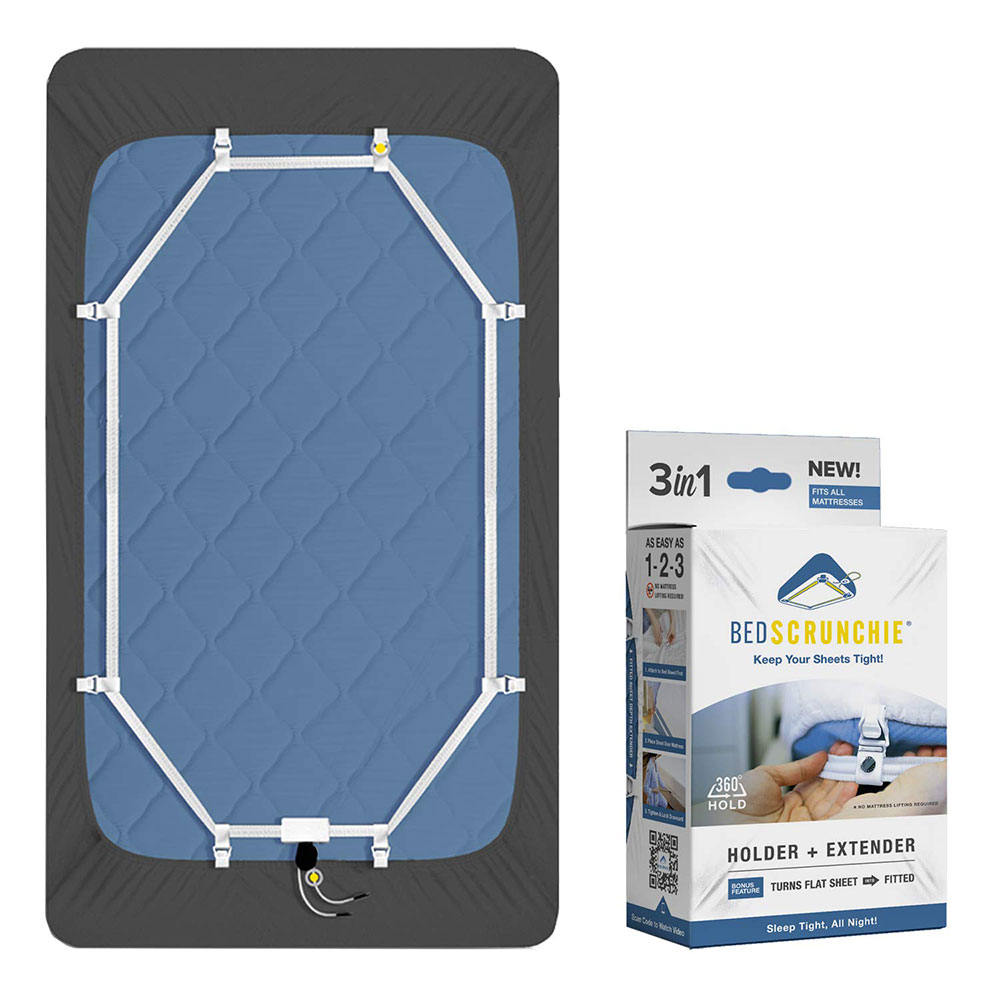 Okay, this isn't bedding but it is the game-changing way to make any bed feel like a high-end hotel bed. Ever notice how the sheets on hotel beds are always perfectly tucked and tight? As mentioned earlier, I use a Bed Scrunchie to keep my sheets extra tight on my bed.
There is nothing I hate more than when my fitted sheet bunches up or worse, slips off during the night. This product solves the problem 100%. It also allows you to use a flat sheet as a fitted sheet on your bed. Such a game-changer!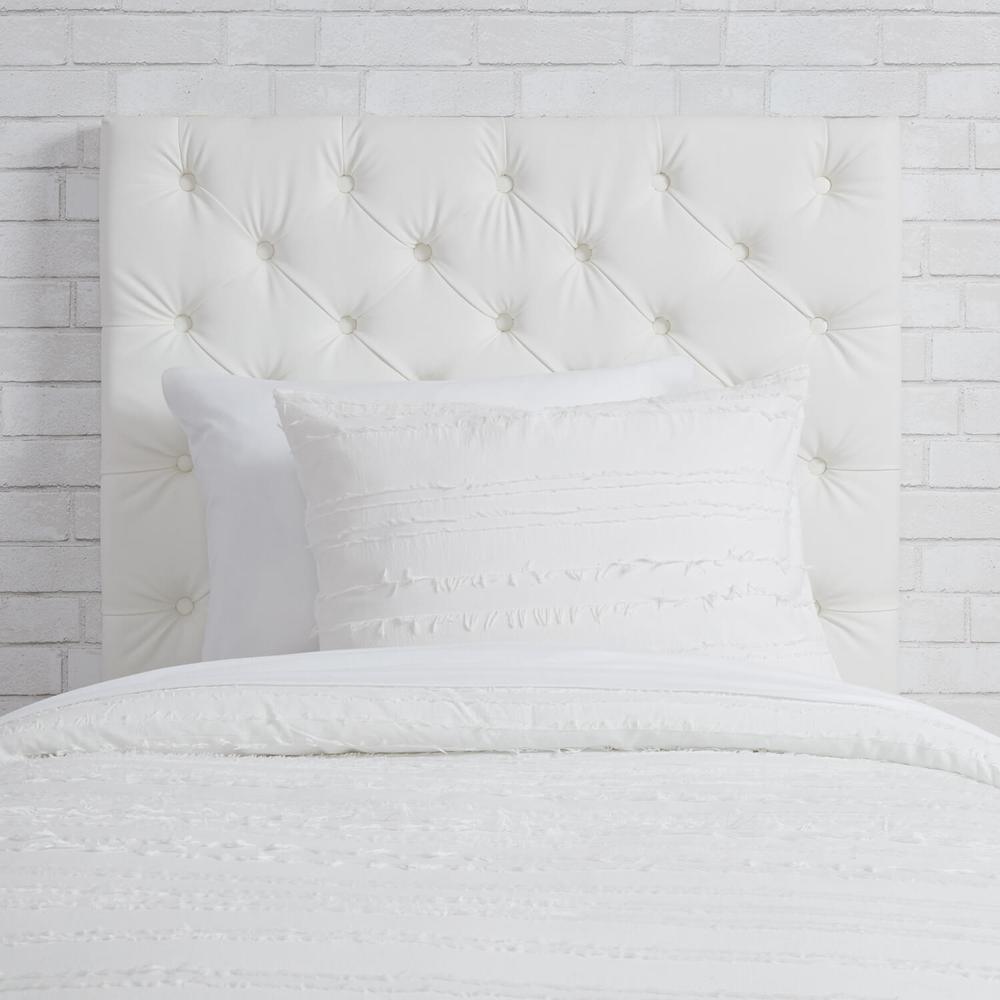 And speaking of high-end hotel beds, a great headboard goes a long way to making your room look luxe! Upgrade your standard dorm bed into an upholstered dream with this easy-to-attach tufted headboard. It will make your room look incredibly luxe with minimal effort. Even better, it has a built in charging port for your phone and computer!
More Quick Tips on Buying Dorm Bedding
If you plan on storing lots of stuff under your bed (who isn't going to?), consider buying a simple bed skirt. A simple white bed skirt will cover up the unsightly storage boxes underneath and is the easiest way to make a bed look clean and put-together.
Don't forget offline stores for buying dorm bedding. Make sure to hit up your local Marshall's, T.J. Maxx, or other discount store — I recently bought an entire Ralph Lauren Home bedding set there!
Vinegar can soften your sheets if you throw it in with the fabric softener. Some sheets get scratchy after a few washes, and this is a quick and inexpensive fix.
The word "sateen" on the label usually means that the sheets will feel like heaven.
More Information
Check out the rest of the posts in the College Dorm Room Shopping series to get everything you need for a fabulous dorm:
Editor's note: This post was originally published in 2017; it was completely updated and revamped in 2023 with new photos, products, and information.