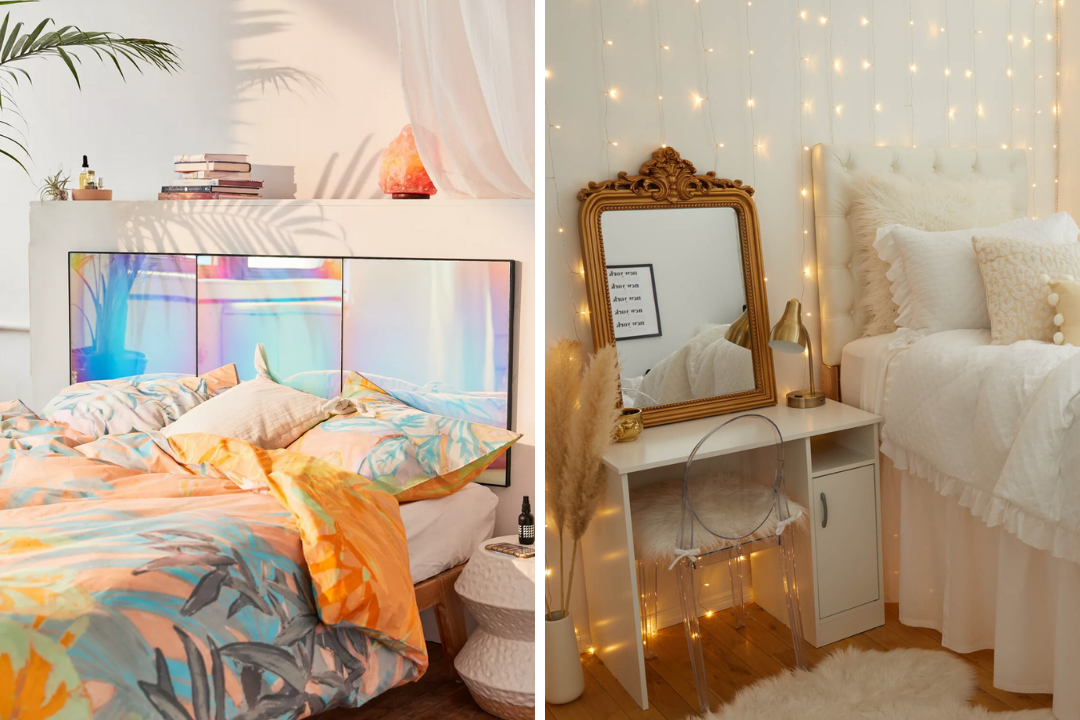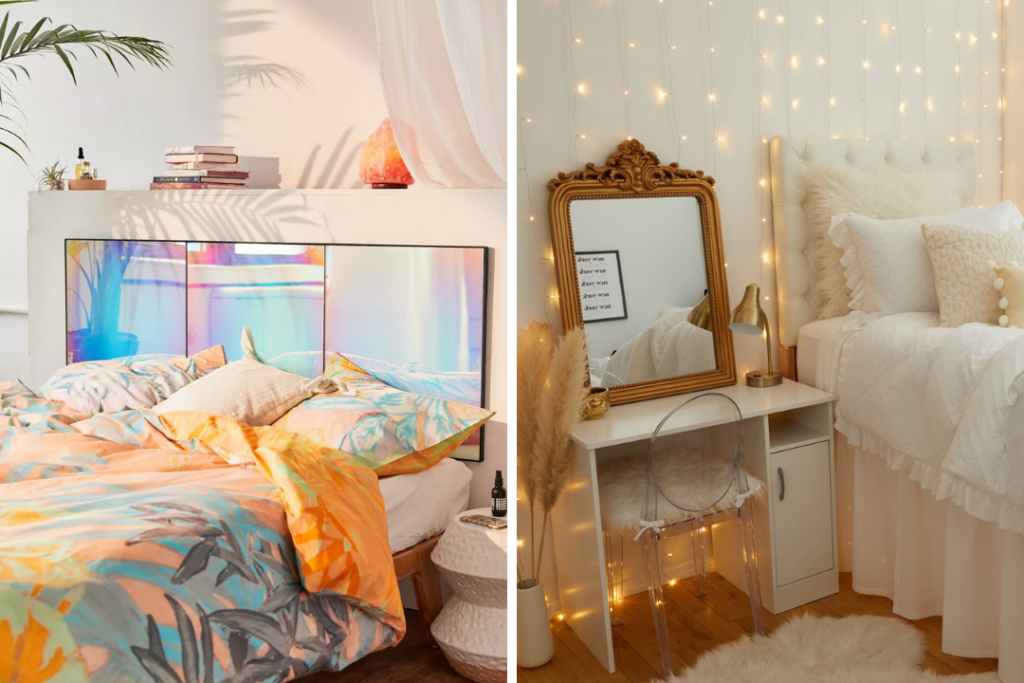 Who doesn't want a cute room? There's nothing better than a cozy, visually appealing space to come home to daily (or use as a workspace in the age of at-home classes). But it can be a little tricky to create the pretty, stylish room of your dreams.
Not to worry, though — we're here to help. Last week we shared some aesthetic room ideas to give your room a luxe, TikTok-inspired vibe, and today we're sharing some cute room ideas for a sweet and stylish space, plus tons of specific examples and inspo.
Looking for some cute room ideas to spruce up your space? Here's a short list of our favorites, all CF-approved.
Cute Room Ideas
Below, I've rounded up some specific examples of cute rooms to get your inspiration going, plus links to shop if you love any of the pieces.
1. Cute Light Grey
How pretty is this cute light gray dorm room from Dormify? It's the perfect mix of neutral and feminine, with its fuzzy rug, light gray eyelash comforter, and cozy faux fur blanket.
I love how this room is accented with pops of color from the wall art and pillows to give it a little more interest. While the space reads as neutral and grey, it's not boring at all!
2. Cute Pink Flower Bedroom
On the ultra-girly, feminine side of the decorating spectrum, we have this frilly and beautiful light pink and white bedroom.
This space is classically feminine thanks to its ruffled duvet and pillows, but it also feels mature thanks to the vintage floral wall art and faux birch wallpaper. It's the perfect mix of feminine and vintage for the grown-up girly girl.
3. Blue with Pink Accents
Blue and pink are a classic decor combo, and I love how the two shades are used in this colorful pastel room. The light blue wallpaper makes a bold statement that's balanced out by the white bedding and nightstand.
Pale pink is the accent color here, seen on the sheets and in the wall art, and it makes for such a cute contrast against the blue.
4. Light Yellow
This light yellow accented room has much in common with most of the aesthetic rooms we featured last week, thanks to its minimal, modern vibe. That said, the pale yellow also makes it super cute and feminine.
Again, the base of this room is a neutral white bed, and the pops of yellow are added by the artwork and textiles. I love this decorating style because it would be super easy to swap these items out if you wanted to feature a new color next season.
5. Purple for Girl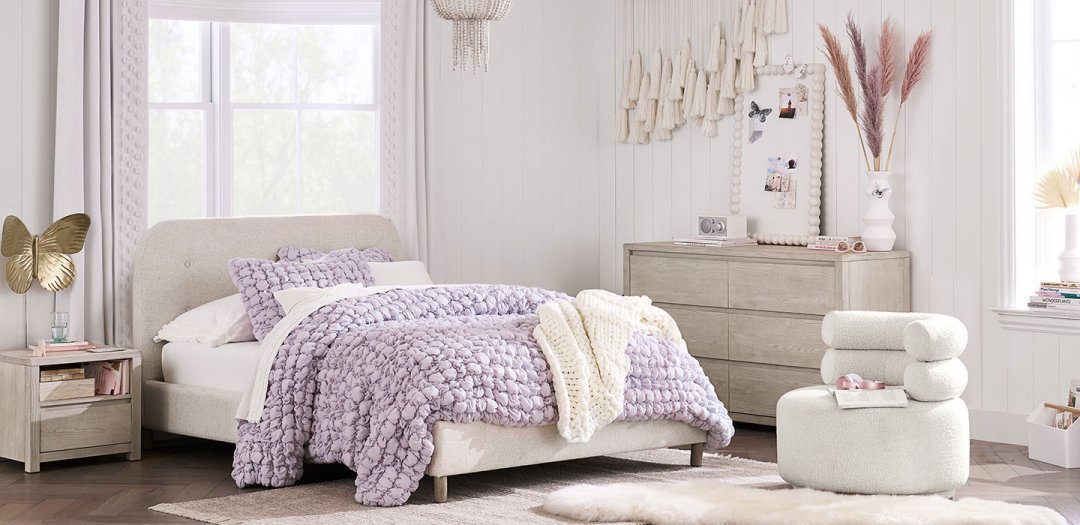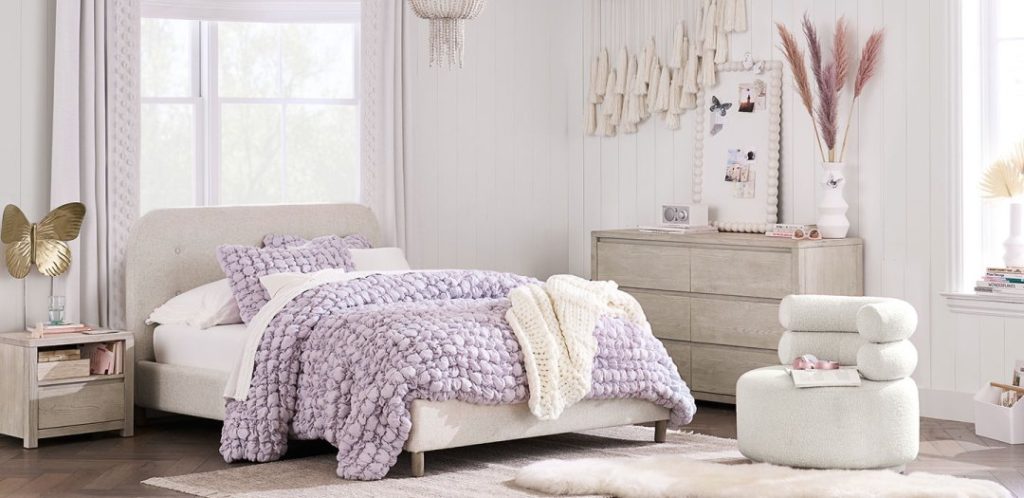 Shop this room:
Purple is my current favorite color to decorate with, so I obviously fell in love with this girly lavender and white room from PBDorm.
In this room, a lavender duvet cover and pillow set are the focal point of the room, and additional pops of purple are added in through accessories like books and pampas grass. This room proves that you don't need to paint your walls purple to bring color to your space!
6. Glam Golden Room
If I had this cozy-glam golden room, I would probably never leave my house. It looks like the perfect space to relax while you do your makeup or an indulgent skincare routine.
To copy this relaxing, girly space, focus on luxurious, light-colored bedding and make sure to invest in a wall of golden string lights! Then add more gold and neutral tones with accessories, and voila — a room so cute, you'll never want to leave.
7. Rainbow Color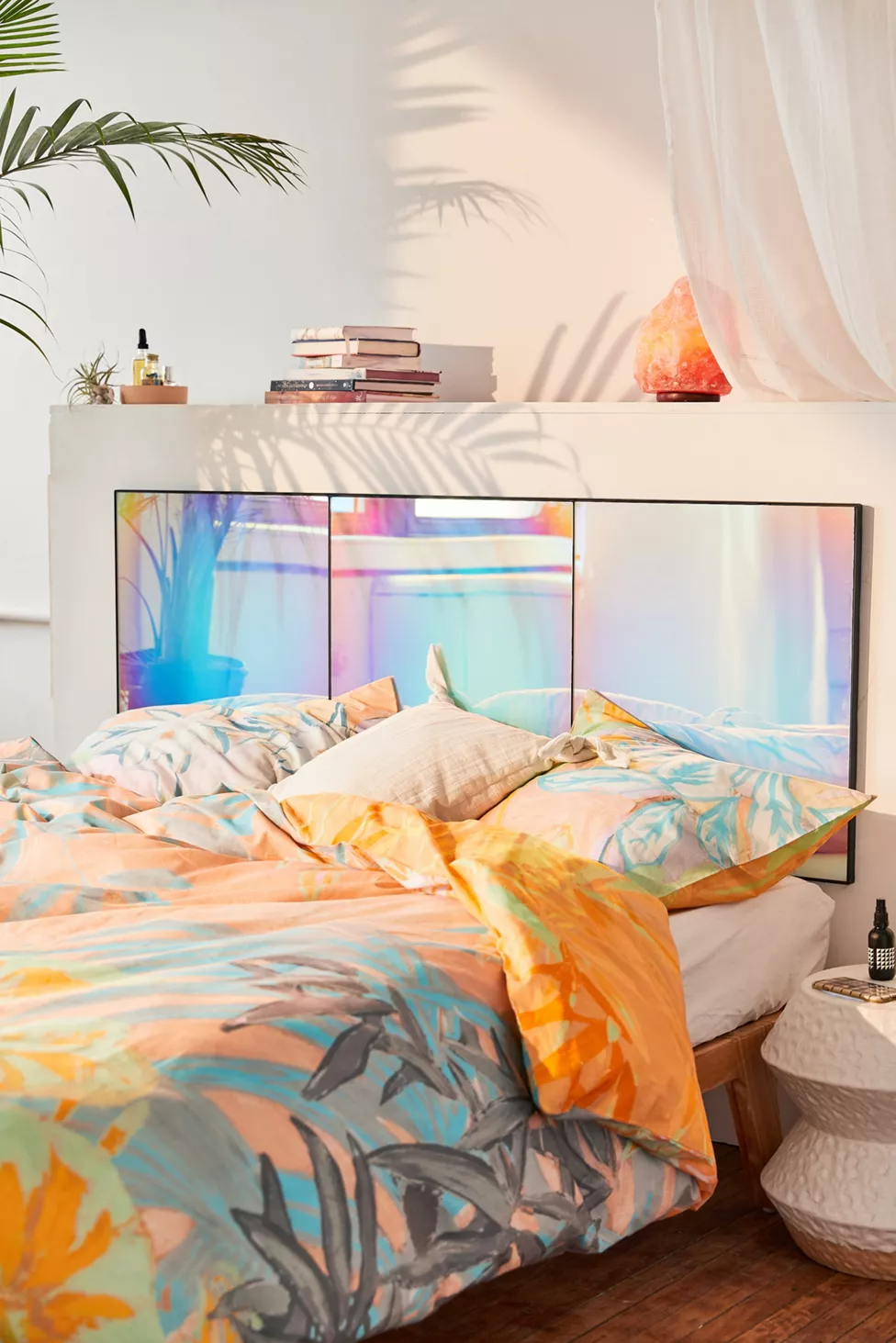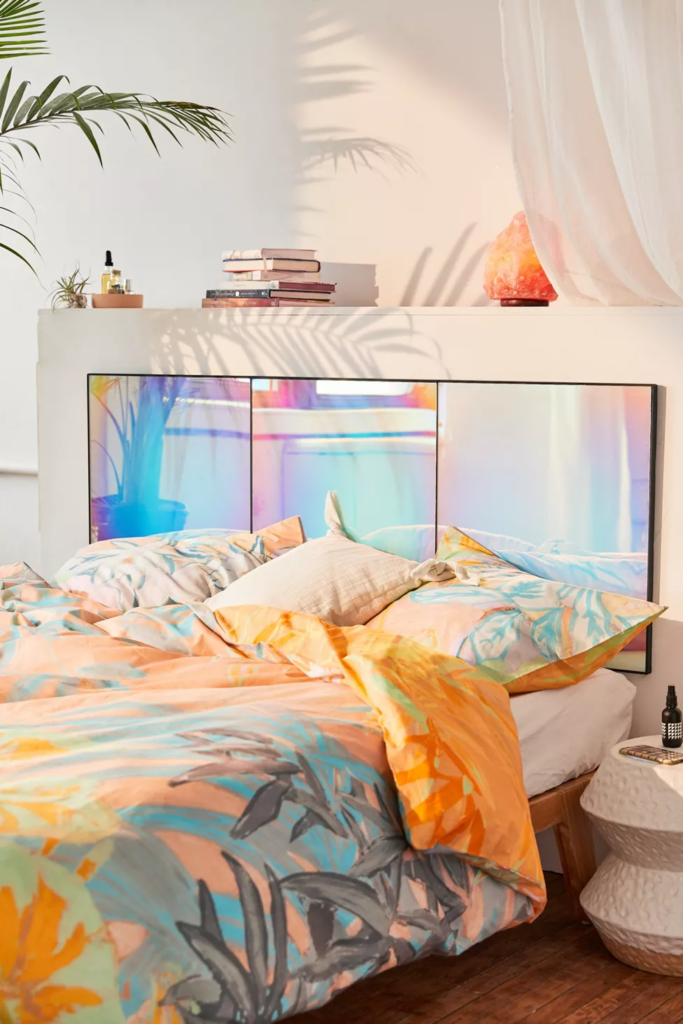 Shop this room:
Not for the timid, this rainbow-colored room is perfect for anyone with a bold personality!
I love that this room isn't explicitly rainbow-colored, but it still reads as a rainbow room thanks to the boldly printed duvet and the AMAZING rainbow holographic headboard. (You can add this to any bed — seriously, so cool!)
8. Cute Pastel Green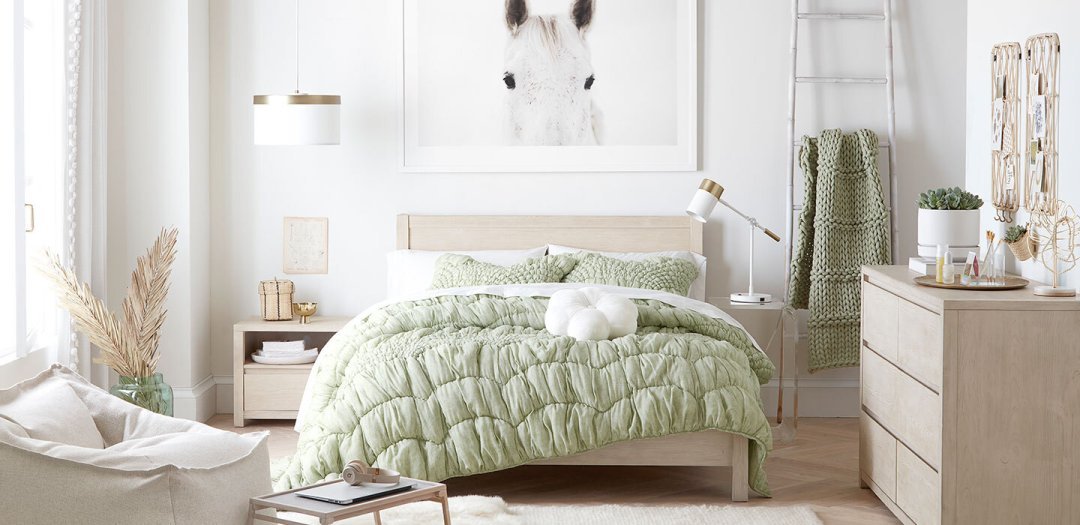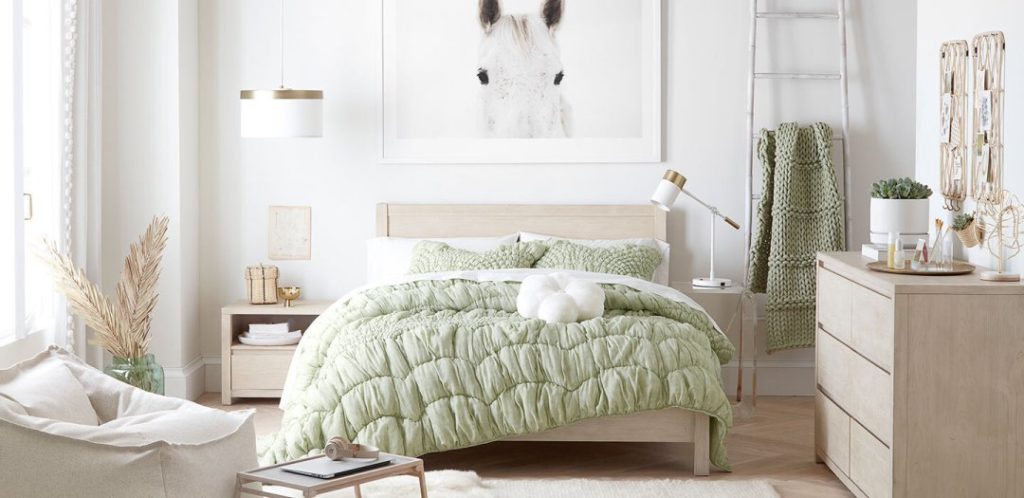 Shop this room:
Green is the color of life, of renewal, prosperity, and harmony, and it's also one of the trendiest colors in fashion and decor right now. So it's only right that we feature this stunning pastel green room in our roundup.
Getting this room for yourself could not be simpler. Invest in a pastel green duvet cover set, then keep the rest of your room neutral, adding additional pops of green with some easy-care plants. You'll be obsessed with the clean, calm vibes this space gives off.
Cute Room Decor Ideas
Now that we've seen some examples of cute rooms in full, here are some specific cute room ideas to try if you want to bring a little more cuteness to any space.
9. Try a Gallery Wall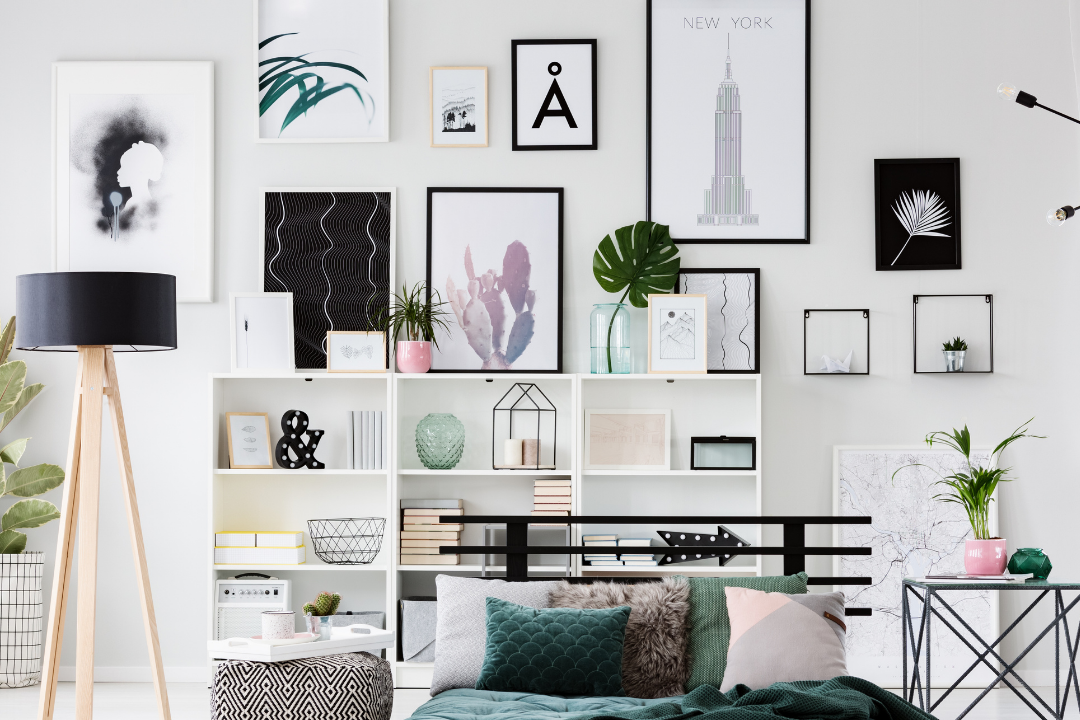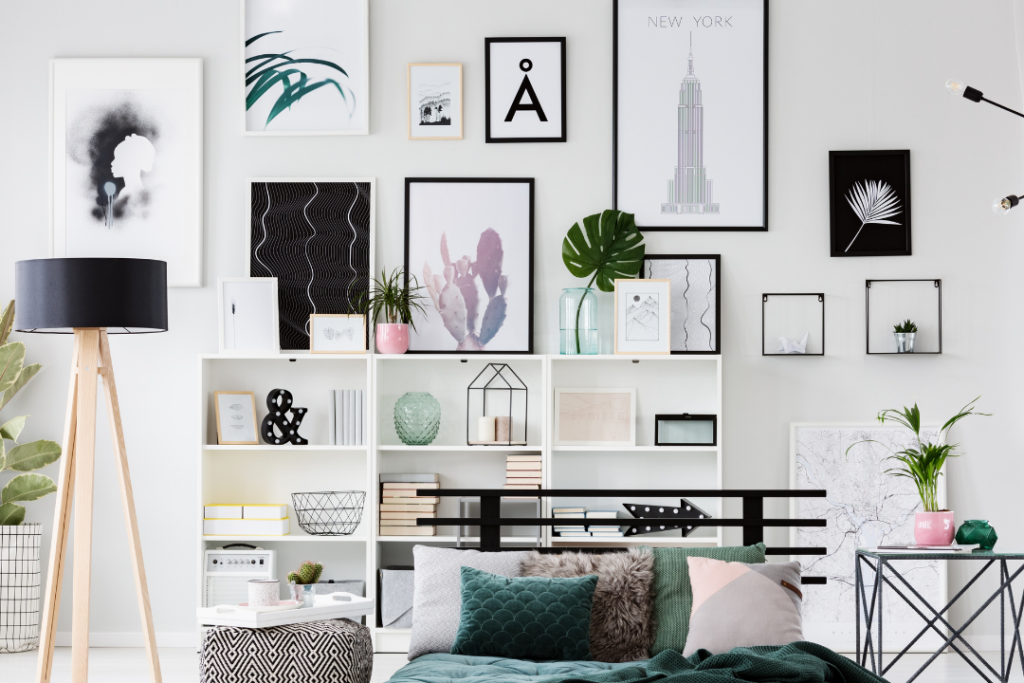 We are obsessed with gallery walls here at CF, and for a good reason: Small pieces of art are generally less expensive than large ones, so gallery walls are perfect choices for decorating on a budget.
For full instructions on creating a gallery wall, see our guides to decorating with photos and posters and creating a photo wall in your room.
10. Stick to White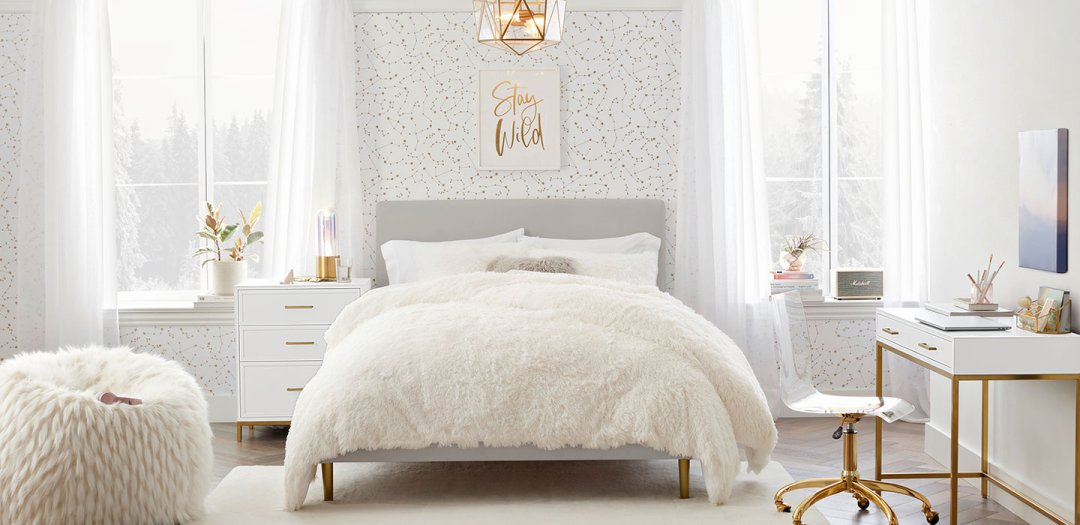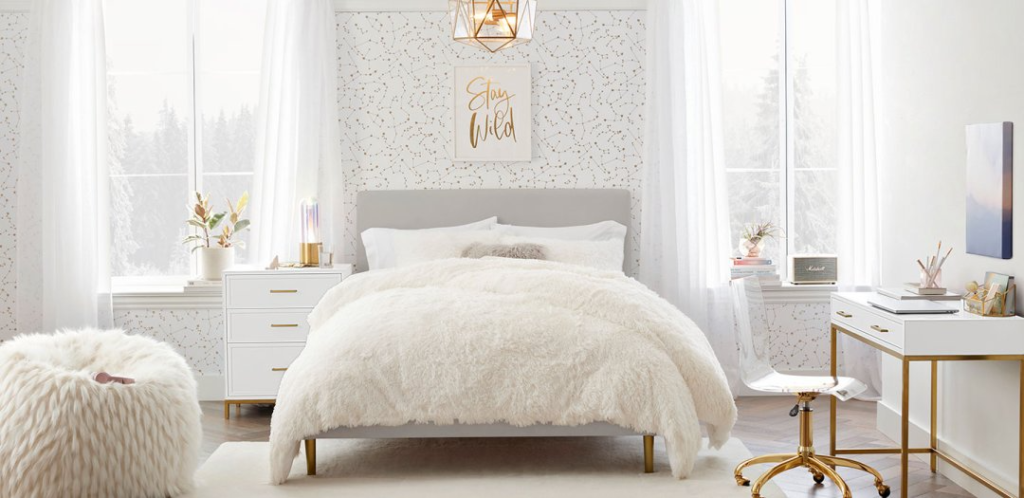 This is my personal go-to rule for my space because I love a bright, airy feeling in my home. Whenever possible, I opt for white or light-colored furniture (this includes white walls and white textiles), and I layer in my color with accessories and wall art.
In addition to looking super chic and airy, white is a great decor choice if you tend to be fickle about your accent colors. Want a purple room all of a sudden? Swap in some purple pillows. Feeling a cute room with green? A new wall collage and some plants can bring color into your space.
11. Create a Starry Night
As mentioned in our post on aesthetic room ideas, star projectors are a huge trend in room decor right now and they are such a cute idea to add ambience to your space!
This star projector from Amazon comes top rated and includes a white noise machine, a bluetooth speaker for your music, and 10 color options, plus a unique shooting star effect.
12. Pinboard and Hanging Lights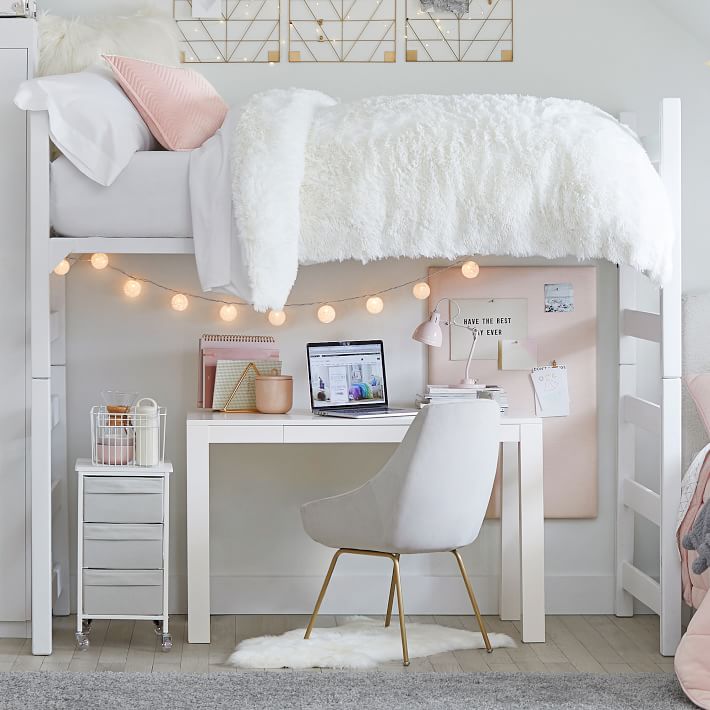 I love how this cute dorm room utilizes a no-nails pinboard and hanging lights to create a cozy study space beneath a lofted bed.
You definitely don't need a lofted bed to make this decor trick work, either. It would be a super cute way to accent a vanity or desk space, plus it's a great way to add additional lighting to your room.
13. Make an Earthy Room
I've seen "Earthy rooms" trending in a big way this season, and you can either go all-in on this idea or use it as inspiration to add more nature to your space.
The video above shows a full Earthy, jungle-inspired room, if you want to go all-in on this aesthetic. (Who wouldn't want to hang out in here?)
However, to add a little bit of an Earthier feel to your space, invest in plants (real or faux) and bring more creams and browns to your decor. So easy and so on-trend!
14. Pom Pom Rug
Pom-pom rugs are such a fun DIY to try if you want a cool rug on a small budget. The look is so fun and whimsical, you can't help but smile when you see one of these! It's definitely one of my favorite cute room ideas.
These cute rugs are also a great way to add a bunch of color to a more neutral space. Check out the tutorial above to see how to make one.
15. DIY Frame for Polaroids
If you have a lot of polaroids or Instax photos lying around, this cute little DIY project is a great way to display them in your room.
I know these photos are super popular right now, so display them the cute way with this tutorial. Clip lights like these are another cute way to display your photos, if you'd rather purchase something ready-made.
16. Starry Night String Light Decor for Your Bedroom
String lights are one of the best ways to add some cute ambience to your room. They make any space so warm and cozy, all year round. There's nothing better than turning off your other lighting and letting some string lights illuminate your space.
I love these ones that can be strung across the wall — they're makeshift art and a light source in one!
What are your favorite cute room ideas?
Any cute room ideas you've used in your own space that we missed here? Are you going to try any of these? Let us know by leaving a comment down below.
If you love these cute room ideas, you might also want to see more of our dorm room ideas below —